Sunday | July 26, 2020
open printable version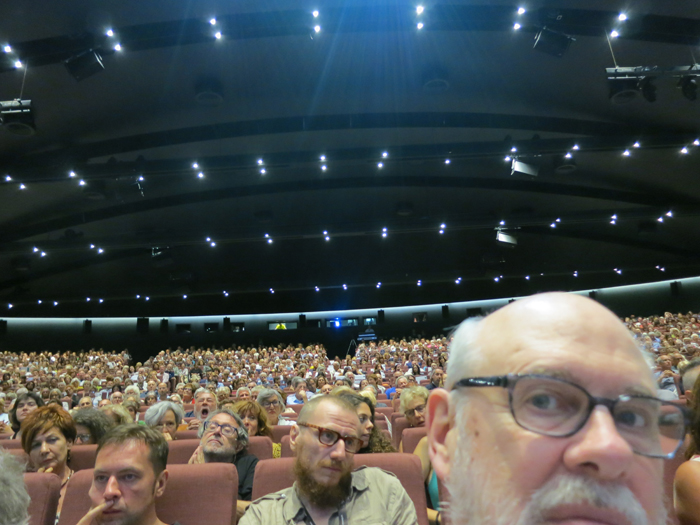 Venice International Film Festival screening 2017 of Rosita, in the Sala Darsena. Pre-coronovirus, no social distancing.
Both of us here:
Kristin:
This, our 1000th entry in this blog, comes at a strange point in our lives, and everyone else's. Films, all facets of which are our main subject, are nearly gone from the big screens upon which we prefer to view them. Normally at this time we would be anticipating another trip to the Venice International Film Festival, which shows films in venues with very big screens and superb sound systems. Now we're streaming and watching discs on a medium-size TV.
Back when our first entry appeared, on September 26, 2006, we weren't thinking about whether we would ever get this far. We didn't really know what the blog would contain. We hadn't even come up on our own with the idea of starting it. One of the users of our textbook, Film Art: An Introduction, suggested it.
Back in those days, textbooks were simple things. They were physical, without digital iterations. They might have a handful of online resources, and perhaps teachers could assemble their own custom text from parts of the book. As each revision rolled around, McGraw-Hill invited around a dozen users of the book to fill out a detailed questionnaire, picking out its most useful parts and making suggestions for changes.
We occasionally found these comments helpful, but most of them involved adding more material. We weren't allowed any additional pages for new editions, so those suggestions, often reasonable, had to be ignored.
I remember vividly, however, one unique comment that ran something like this: "Why don't the authors start a blog?" (The questionnaires were anonymous, but if you recognize yourself as the culprit, let us know and we'll all share a virtual laugh.)
Naïve souls as we were, we thought this suggestion might be a good idea. We could provide little essays that complemented the textbook, expanding it, as it were, without extra pages. Of course, it would also publicize Film Art and its companion, Film History: An Introduction.
Starting the blog was relatively easy. David had already created a website (thanks to Jonathan Frome and Vera Crowell) that could host it. Later our long-time web tsarina Meg Hamel set up the blog, to which we could add posts and photos ourselves.
Widened horizons
In the first brief entry, of 26 September 2006, David wrote about Christine Vachon's recently released book, A Killer Life: How an Independent Film Producer Survives Deals and Disasters in Hollywood and Beyond. The idea was that Vachon touched upon aspects of film form and style that were relevant to ideas we discussed in Chapters 1 t0 3 of our textbook. Soon, though, we departed from the idea of tailoring our content strictly to Film Art.
The next two entries (here and here), again by David, reported from the Vancouver International Film Festival. The timing was purely coincidental. Tony Rayns had invited him to be a judge for the Dragons and Tigers competition for young Asian filmmakers, and it was his first visit. So he was officially there as a guest, not a blogger, but those two entries were already more substantial than the opening one. And of course he was happy to see two old Madison friends, film programmer Alissa Simon and filmmaker, and former DB teaching assistant, James (Jim) Benning.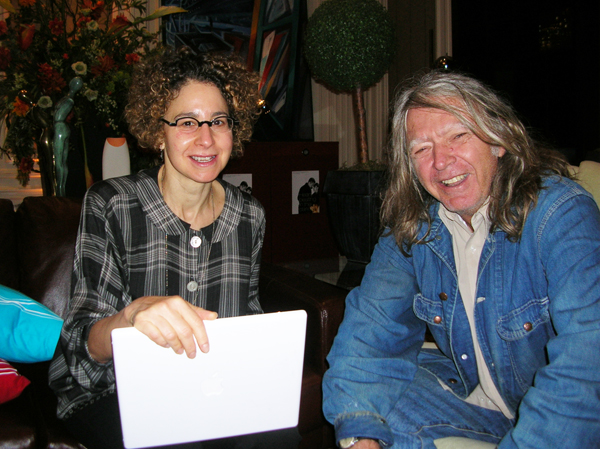 He followed those immediately with two reports (here and here) from the American Society for Aesthetics conference, which happened to take place in Milwaukee that year. And I followed that by tearing apart disagreeing with an article in the Wall Street Journal. Its author predicted the end of logical Hollywood plotting because one interactive movie had been released. Its title, "The end of cinema as we know it–yet again," could have been used for quite a few pieces we have written over the years. These early entries, modest though they were, set a pattern for some of the motifs that have run through the blog ever since (at least, until the present crisis).
In short, we branched out in any direction that events or our fancies took us. David even did some non-film pieces, mostly about related arts and about current politics.
Some of our entries could be of use to teachers and students. Each year in advance of the start of the school year, I post an entry called "Is there a blog in this class?" (This year's is coming up soon.) There I suggest, chapter by chapter, which entries are relevant to each. We also started putting call-outs to selected entries in the textbooks themselves. In the e-editions these are live links. We hope these are of use to the people who were the original putative targets of the blog.
After sixteen years, we have noticed how the blog has changed us as scholars and cinephiles. Mostly this has been for the better.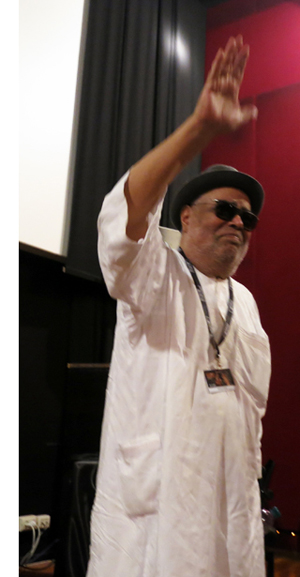 For one thing, publishing outside academic, peer-reviewed contexts has given us the freedom to write in a bit less formal prose. I had already adopted this approach for The Frodo Franchise: The Lord of the Rings and Modern Hollywood, in which I tried to balance research with a more casual style that could appeal to fans of Peter Jackson's adaptation. (That book had recently gone to into press when we started the blog.) David's two most recent books and the one he is working on now reflect this change, and that has been commented on–mostly favorably.
Perhaps more importantly, the blog made us more visible in film circles outside of academia. After all, blogs are part of social media, albeit by now a rather old-fashioned element in that vast internet swirl. By flinging our stuff out into the ether, we had unwittingly ventured into journalism of a sort. We found ourselves able to get press accreditation to actual events out in the real world.
David's visit to Vancouver in 2006 was not as a blogger, but over the years that followed, we remained welcome guests in part because we reported regularly on the films we saw. In advance of David's retirement from university teaching in 2004, we had envisioned ourselves, among other things, having more time to attend festivals. This turned out to be feasible, as we added reports on Hong Kong (which David had already started attending), Il Cinema Ritrovato (Bologna), Cinédécouvertes (Brussels, sadly no longer held), Ebertfest, Palm Springs, Torino, and for the past three years, Venice, as well as our own Wisconsin Film Festival. On the right, you see Med Hondo, who visited Bologna in 2017.
The blog also led us in a modest way into the world of streaming. We have long had a friendly relationship with the dedicated team at The Criterion Collection. We've done supplements for them and with their cooperation used clips from their classic films in online educational materials for our textbooks. (The folks there view us as educating their future customers, and we hope that has been the case.) Whether they would have asked us and our collaborator Jeff Smith to contribute a series of video essays on the films streaming on The Criterion Channel is unclear, but we, and possibly they, thought of such a series as a sort of extension to the blog. Indeed, we gave it the same name, "Observations on Film Art."
Entries in that series are more elaborate than blog entries, of course, and we feel it is something of an accomplishment to have reached thirty-seven to date, with more unedited material already "in the can." It is a privilege to be involved, even in a small way, with what has quickly become the leading art-house/indie/classic film streaming service, and we suspect we owe that in part to the blog.
Film history passing before our eyes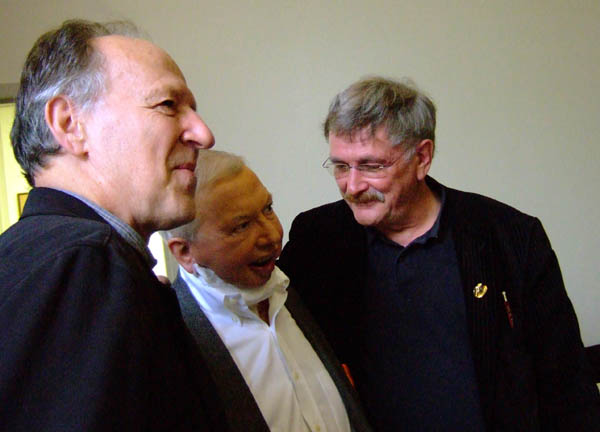 Werner Herzog, Roger Ebert, and Paul Cox at Ebertfest 2007.
Our regular attendance at the festivals has been a huge boon in allowing us to keep up with many of the year's new films on the big screen rather that waiting for the home-video release or, more recently, streaming availability. Lately we have been revising Film History for its fifth edition, and I found myself going back to our festival reports for succinct descriptions of films we considered important enough to figure in our updates of the late chapters.
Festivals also provide a delightful way to follow the careers of young filmmakers without realizing until later that one was doing so. For example, on July 15 the Venice festival announced that the head of the jury for the Giornate degli Autori program for promising filmmakers would be Israeli director Navad Lapid, whose Synonymes (2019) won the Golden Bear at Berlin last year. I wrote about it when we saw it at the Torino festival in November. The press release mentioned that Lapid had previously directed two other features, as well as many shorts. I had seen both of the features at Vancouver and blogged about them: Policeman (2011) and The Kindergarten Teacher (2014). So I had seen all of Lapid's feature films without planning it that way. It is impressive to see the leap in complexity with Synonymes after two good films that I might never have seen had I not regularly visited that and other festivals.
Similarly, our long relationship with Ebertfest has given us a chance to meet both established and upcoming film artists. Thanks to Roger's support, and the continuing efforts of Chaz Ebert and Nate Kohn, that remarkable event in Champaign-Urbana has become central to US film culture. Through Ebertfest we forged tight friendships with Jim Emerson, Matt Zoller Seitz, and other people working to broaden audiences and deepen appreciation of life-changing movies.
Apart from attending film festivals, getting press accreditation has benefited me in another situation. As part of my involvement in researching the Jackson Lord of the Rings films, I participated in a panel put on by TheOneRing.net at Comic-Con 2008. (I blogged about that banquet of popular culture here, here, and here.) Years later, I wanted to attend Comic-Con 2014 to witness the last of the big Hall H promotional events for a Jackson Tolkien adaptation, the third film of the Hobbit series. That time I wasn't a guest, but I applied for a press pass based on being a blogger and got one.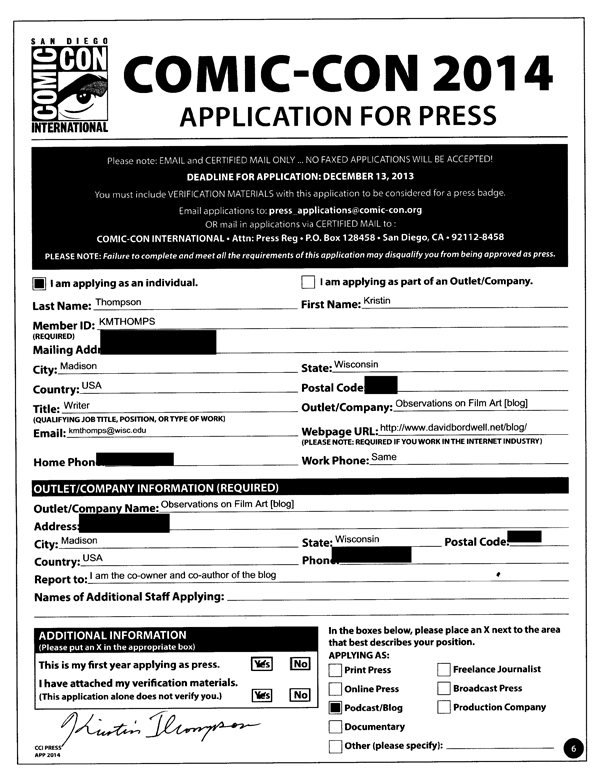 I haven't gone back, and I think my accreditation has lapsed, but as long as we keep the blog going, I probably have the option.
For us personally, the blog has played a role that a plain old-fashioned log of events would. (It's worth remembering that "blog" comes from "weblog.") We haven't keep lists of the films we see, but sometimes I wish I had. Going back through the blog, though, is a great way of waxing nostalgic over the wonderful travels we have enjoyed and the friends in so many parts of the world that we have visited and shared meals with in happier circumstances–opportunities which we hope will come again.
We are reminded of films we saw, as well. Every now and then we have occasion to look back over older entries, seeking to create a link in a new blog. We often run across entries we don't recall writing and titles we don't remember seeing until the blog posts jog our memories. After a certain point we vowed to include illustrations in every entry, and that makes these visits to our past all the more vivid and enjoyable.
DB here:
I second everything KT has said. And more! See below.
Expanding the conversation and rapid response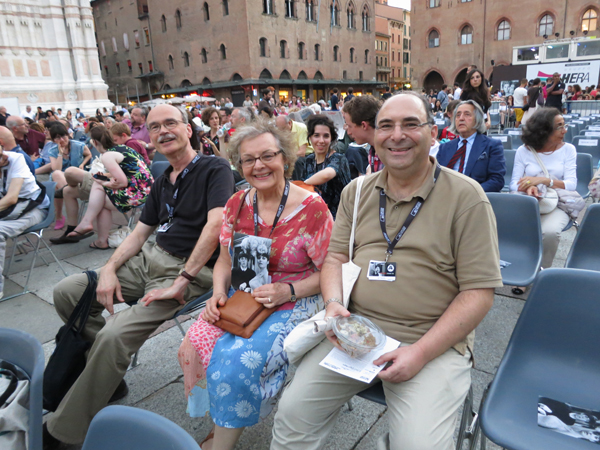 Bologna, Piazza Maggiore screening of A Hard Day's Night, 2014: Richard Koszarski, Diane Koszarski, and Lee Tsiantis.
Living online has given my retirement years a new dimension–of thinking, of access to art and ideas and new friends. I sometimes say that our blog is Internet 1.5–a publishing platform without the bombardment of instant comments. We'd get more traffic if we allowed comments, but (a) so many comments columns are insults to the human spirit and (b) we don't want to spend time monitoring them. (But you can send an email.) The result is something like a more-or-less weekly magazine column, except that we can say what we want, write as long as we want, and include stills and clips. And there's no editor saying we can't use "diegetic."
From another angle, the blog has been a substitute for my teaching. It allows me to develop ideas in ways that are informal, less precisely chiseled than they would be in a book or article. Call it "para-academic," or "informal scholarship." The blog has also let me send out communiqués about research findings around movies I was studying in Brussels (say, here or here) or at the Library of Congress (here and here). And, as Kristin mentioned I think the blog has encouraged me to write more conversationally than an academic publication would.
Retirement has encouraged me to think through recent events in film culture more fully than I could when I was teaching, and so some blog entries have become more topical. The big example is my decision to write about the digital conversion of exhibition back in 2011. I thought that somebody could record things as they were happening on the ground, and I tried to do that in a series of entries. One looked at how a small theatre in Harmony, Minnesota, confronted the crisis.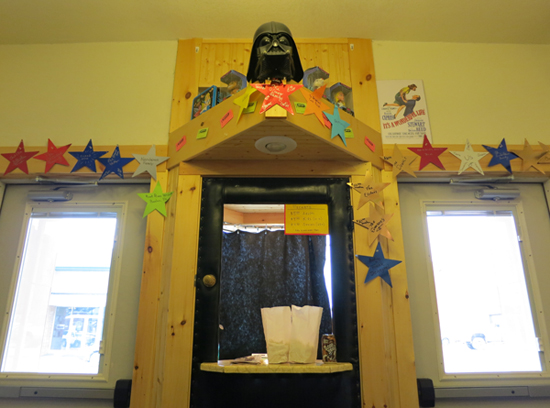 That series in turn became a little digital book that has generated a surprising amount of interest and remains, I think, a useful thumbnail history of a transitional period. From another angle, our interest in Christopher Nolan's films allowed us to write about them as they came out, and then to revisit them in a broader perspective in another digital book, now in its second edition. It ruffled some feathers,  leading me to speculations about blunt-force cinephilia. As ever, the blog proved a good forum for developing further ideas.
Speaking of new editions, having a web presence has enabled us to make available out-of-print versions of our work. Kristin's Exporting Entertainment was put up on the main website in its original 1985 form, but I revamped both Planet Hong Kong and On the History of Film Style for digital editions when my publisher put them out of print. For both, I was able to use blog entries (here and here) to introduce them to a wider range of readers than would probably learn of them otherwise. It's been gratifying to see both used as textbooks in courses as well.
Go back to the "para-academic" idea. I've been surprised to see that while academics have been supportive of our online efforts, they seem still to treat them as secondary to our print publications. By contrast, I've learned that there are a great many people who love films but who have found a lot of academic talk about cinema  intimidating, dense, or dull. Some of these cinephiles are interested in ideas, if those ideas are presented in concrete and vivid ways. Our blog entries try to bring our notions about film form and style, about film history and film experience, to those readers.
An example is my never-ending crusade against reflectionist interpretation, the idea that a movie coming out today (well, maybe no movie is coming out tomorrow) reflects the Zeitgeist or national character or current events in a straightforward way. I won't bore you with my arguments against this idea (see here and here and here), but without a blog I don't think I'd be able to ride this hobby horse so intently. Thanks to the rapid-response capability of blogging, I can draw on current releases from The Dark Knight to The Hunt. I don't know if I've convinced anybody that we can talk about film and culture more subtly if we take into account form, style, and genre. But the opportunity to use recent releases as AV demos has helped me refine my case.
This isn't "popularizing" our research, I think. It's an effort to see how research can stimulate people. Many readers, I think, know us only through the blog, and that's fine. I like reader-friendly texts. I like to read in art history, cognitive psychology, music history, philosophy, and the like, but I'm not equipped to grasp the most technical literature in those fields. I need the "outreach" publications of Gombrich, Barzun, Baxandall, Sontag, Pinker, Taruskin,  Hogan, Alex Ross, Mary Beard, Noël Carroll, and the many more academics and intellectuals who are not only researchers but, in the strongest sense, writers.
People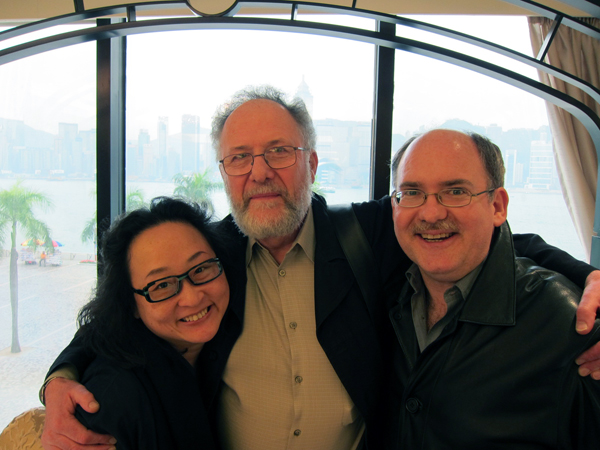 Hong Kong International Film Festival 2011: Joanna Lee, Michael Campi, and Ken Smith.
The blog has given us a chance to call attention to institutions we think deserve wider recognition. Those include the Arthouse Convergence, the Danish Film Institute and its archive, the Konrad Wolf Film School at Babelsberg, the Fox archive, the AMPAS archive, the Munich Film Archive, the Austrian Film Archive, George Eastman House (and its magnificent Nitrate Fest), and of course our stalwart rock through the years, the Royal Film Archive of Belgium (now called Cinematek). There's our own Cinematheque too, as well as little theatres we come across in our travels (here and there). We even find a "lost" film on home turf. There's the annual Summer Film College in Antwerp, which has proven endlessly stimulating to my thinking (and viewing). And of course there's the Society for Cognitive Studies of the Moving Image; we try to cover its annual get-together.
We also like supporting hard-working distributors like Milestone  (and here), Flicker Alley, Editions Filmmuseum, and again of course Criterion, who devote great energy to opening up unknown byways of cinema. The Criterion team–Peter Becker, Kim Hendricksen, Grant Delin, Curtis Tsui, Elizabeth Pauker, Abbey Lustgarten, Susan Arosteguy, and many others–have made our lives continually exhilarating.
The blog has brought us closer to film artists too. At Ebertfest Kristin interviewed Nina Paley, and I got to talk to Doc Erickson about his long career working at Paramount and with Hitchcock. We've done a couple of interviews with director/screenwriter David Koepp (here and here), and Kristin questioned archival honchos Mike Pogorzelski and Schawn Belston about the prospect for a celestial multiplex–which even streaming is unlikely to deliver. We got to meet Bill Forsyth, Terence Davies, James Mangold, and Damien Chazelle, and because we try to understand the creative choices filmmakers face, we got to ask them about their craft.
As for critics–well, there are too many to mention here. Online and at festivals, we've come closer to a great many smart, dedicated critics and reviewers I have to mention at least Manohla Dargis, Kent Jones, Dave Kehr (now a sterling archivist), Justin Chang, Chuck Stephens, Bérénice Reynaud, and the Venice College team (Glenn Kenny, Stephanie Zacharek, Mick LaSalle, Michael Phillips, Chris Vognar, Ty Burr, all under the avuncular guidance of Peter Cowie).
The rapid-response advantage has also given us the opportunity to celebrate colleagues, particularly when they've written books we think cinephiles would enjoy. Then there are the colleagues we mourn. In the last year, the deaths have come quickly. I haven't fully come to terms with the loss of Peter Wollen, Paul Spehr, Thomas Elsaesser, and Sally Banes. But we have acknowledged the importance of others who touched our lives, from Andrew Sarris and Edward Yang to Richard Corliss and Edward Branigan and of course Donald Richie and Roger Ebert. Necrology, the blog has taught me, is a heavy obligation.
On a less somber chord, the blog has given us the happy chance to host many excellent guest bloggers. We tapped them because their research is first-rate, and they widen out our explorations of film art within film history. So feel free to visit the contributions of:
Matthew Bernstein on Preston Sturges' cleverness.
Kelley Conway on three women of Cannes, on French Films at Vancouver, and on La La Land.
Leslie Midkiff DeBauche on silent-era fangirls.
Eric Dienstfrey on recording and mixing in La La Land.
Rory Kelly on the character arc in Hollywood screenwriting.
Charles Maland on James Agee.
Nicola Mazzanti on silent frame rates.
Amanda McQueen on La La Land as a modern musical.
Tim Smith on eye-scanning and watching There Will Be Blood.
Malcolm Turvey on mirror neurons.
Jim Udden on visiting the set of Hou Hsiao-hsien's The Assassin and the film that resulted.
David Vanden Bossche on 3D in Europe.
And of course the many guest entries by our collaborator on our Criterion Channel series Jeff Smith, who has written about Foreign Correspondent, Trumbo, The Player, The Devil and Daniel Webster, the Atmos sound system, Memories of Underdevelopment, Three Colors: Red, Once Upon a Time . . .  in Hollywood (here and here), True Stories, Breaking the Waves, and Oscar song nominations (here and here and here and here). Watch for  Jeff's upcoming entry on Ennio Morricone.
Back in 2011, we put together a collection of blog entries as a book: Minding Movies: Observations on the Art, Craft, and Business of Filmmaking (University of Chicago Press). It consisted of 31 entries, grouped in rough thematic sections. This leads us to muse on how many books one thousand entries equates to. That's roughly 32, though far from all of our entries are worth anthologizing. (The entire blog, however, is being archived by the Wisconsin Center for Film and Theater Research here on campus.) Could we have used our time better in writing actual books? We think not. There is a pleasure in writing on minor subjects occasionally and in getting our thoughts to the reading public immediately. Books, after all, require more research than we put into most of our entries, and there is the editorial and publishing process to go through. And we are past the points in our career where we need to expand our CVs.
In short, although we occasionally feel uninspired, especially in these days of no travel, limited socializing, and practically no theatrical film exhibition, we are glad that we started the blog nearly fourteen years ago. Once those activities resume, we'll have the places we go, the friends we pal around with, and the movies we see to write about. We seriously doubt that we will ever make it to 2000 entries, but who knows?
Venice International Film Festival, 2019. Photo by Gerwin Tamsma.