Sunday | January 24, 2016
open printable version
Bryan Cranston as Dalton Trumbo; John Frankenheimer and Dalton Trumbo.
DB here:
Who better to comment on the historical implications of Jay Roach's Trumbo than our friend and collaborator on Film Art, Jeff Smith? He's not only an expert on film sound, as he showed in his guest post on Brave, but he has written a book on the Hollywood blacklist. Jeff offers these observations on the film.
Last week, I was delighted to see that Bryan Cranston received an Oscar nomination as the star of Trumbo. Throughout the month of November, I was "johnny-on-the-spot" for local media interested in covering the new biopic about Dalton Trumbo. The story had a local angle. In 1962, Trumbo donated a large collection of scripts, notes, contracts, photos, and business correspondence to the Wisconsin Center for Film and Theater Research. Since then, scholars interested in the Hollywood blacklist have been making pilgrimages to Madison to probe Trumbo's collection as well as the papers of five other members of the Hollywood Ten (Albert Maltz, Ring Lardner Jr., Herbert Biberman, Samuel Ornitz, and Alvah Bessie.)
I had done a lot of work with the collection, so I could do interviews with WMTV, WISC, The Wisconsin State Journal, and University Publications. Unfortunately I had not yet seen Trumbo, the Jay Roach film based upon Bruce Cook's 1977 biography. I could talk about Trumbo's life and career and the buzz I'd heard about the movie, but until it played Madison, I had to stay mum about the movie itself.
After a couple of weeks in distribution in limited release, Trumbo went wide just before Thanksgiving. Now that I've seen it, I am delighted to report that Trumbo merits every bit of the hype that surrounded it. To my mind, it is the best fictional film about the blacklist that Hollywood has yet produced.
Buoyed by a standout performance by Cranston, Trumbo is fast-paced and funny, and rather nimbly summarizes many of the political and industrial issues that led to the institution of the blacklist in 1947. It also showcases the effect that "unemployable" writers working on the black market had in undermining the rhetoric of the blacklist throughout the Cold War period. It became hard to say with a straight face that you were protecting American screens from the taint of Red propaganda when films secretly written by Communists were winning awards and topping the box office.
I was struck by some of the choices made by Roach and screenwriter John McNamara in bringing Trumbo's story to the big screen. Although Trumbo's career has been well documented by film scholars, Roach and McNamara faced the same challenges in adapting Cook's biography that any filmmaker does in transforming a literary property into a classical narrative structure. How do you make Trumbo an active, goal-oriented protagonist despite the fact that he was the victim of historical circumstance? How do you deal with the welter of historical actors and subplots that populate Cook's biography? How do you boil down a complex historical situation into a clear, transmissible narrative?
Witnesses, friendly and otherwise
Dalton Trumbo at work.
Like many contemporary Hollywood biopics, Trumbo doesn't try to convey the full sweep of its subject's quite colorful life. It omits reference to young Dalton's Christian Scientist upbringing, his early toils in the Davis Perfection Bakery, or even the publication of his first story in 1933. Indeed, the film also makes only offhand references to Trumbo's early achievements as a novelist and screenwriter. These are briefly acknowledged near the film's start through a series of shots in Trumbo's office at the Lazy-T Ranch that reveal his award for Johnny Got His Gun and his Oscar nomination for Kitty Foyle.
Instead the film focuses on the period of Trumbo's career during which the screenwriter became one of Hollywood's sacrificial lambs at the altar of HUAC's anti-Communism. When the film begins in the mid-forties, Trumbo was the most highly paid screenwriter in Hollywood, earning $75,000 per script. In today's currency, that amounts to about $800,000 per picture, a remarkable sum for someone under studio contract.
Just a few years later, Trumbo would appear as an "unfriendly witness" during hearings conducted by the House Committee on Un-American Activities (HUAC) in October of 1947. As a result, he'd eventually be convicted of Contempt of Congress charges and sent to federal prison in Ashland, Kentucky.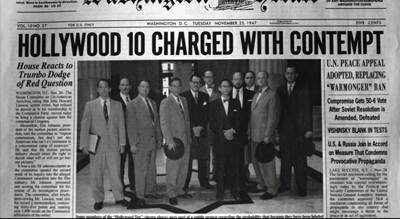 Although HUAC was concerned about the potential subversion of American screen content, it was not, in fact, illegal to be a member of the Communist Party. It was, however, a criminal offense to advocate for the overthrow of the American government according to the provisions of the Alien Registration Act (aka the Smith Act) passed in 1940.
About six months after HUAC concluded their hearings on Hollywood, a dozen Communist Party leaders were indicted for Smith Act violations.   Defendants insisted that political change in America could be accomplished through democratic process and constitutional principle. But prosecutors claimed these statements couldn't be trusted since Communists employed "Aesopian language" and therefore did not really mean what they said. The attack proved successful and effectively criminalized membership in the Communist Party as a result. Since any individual's denial of revolutionary rhetoric would be viewed with suspicion, you were likely seen as guilty of the Smith Act if you simply owned a copy of Marx and Engels' The Communist Manifesto.
Even before the Foley Square trials, as they came to be known, many of the Communist Party's rank and file, including the Hollywood Ten, also feared that they would be prosecuted on similar grounds if they admitted their membership. This proved to be one factor that favored the Ten's failed "first amendment" defense. True, they risked getting cited for Contempt of Congress. But that had the prospect of looking more dignified than simply being hauled off in cuffs on Smith Act charges.
When he returned from prison, Trumbo encountered an industry that wanted him, but not his name on the credits. Producers recognized his talent, and he continued to write through the circuitous network of fronts and pseudonyms. Trumbo would win two Oscars for his work as a black market screenwriter: one for the Gregory Peck/Audrey Hepburn classic, Roman Holiday (below) and another for a Disneyesque "boy and bull" story, The Brave One.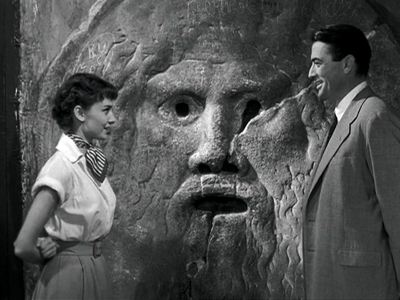 By the end of 1960, Trumbo's name would once again grace movie screens as the credited screenwriter on Kirk Douglas' Spartacus and on Otto Preminger's Exodus. This moment essentially ended what remained of the Hollywood blacklist. In moving from the limelight to the shadows and back again, Trumbo's life had the kind of plot arc that Hollywood loves. It's a story of redemption in which the hero overcomes overwhelming odds to regain the professional respect and recognition he'd been denied.
Although all of this suggests that Trumbo is a pretty conventional biopic, it's quite unconventional in its treatment of the blacklist. As the late Jeanne Hall noted years ago, Hollywood's representation of this dark chapter of its past was surprisingly evasive, getting on the right side of history but for all the wrong reasons.
Bad Faith in Appleton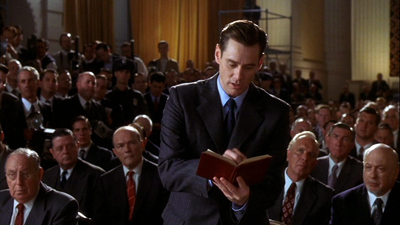 The Majestic (1999).
In titles like The Way We Were, The Front, and Guilty by Suspicion, filmmakers pulled a "bait and switch." They substituted obvious cases of injustice for the much messier questions posed about HUAC's abrogation of basic civil rights protections. The Hollywood Ten tried to defend themselves on First Amendment grounds, questioning whether HUAC itself had the right to invade their privacy or to limit their freedom of assembly. But in most of these earlier films about the blacklist, HUAC's inquiry eventually entangles someone who was never a member of the Communist Party. In The Way We Were, the WASP-y Hubbell comes under suspicion for his relationship with the Jewish radical, Katie. In The Front, Howard comes under suspicion after selling black market scripts by Communist writers under his own name. Both of these instances present obvious cases of individuals wrongfully accused. They recruit our sympathies for characters that suffer as a result of HUAC's tactics, but gloss over more fundamental questions about whether someone should be denied employment on the basis of their political beliefs.
No film, however, displays the equivocation evident in previous representations of the blacklist as vividly as Frank Darabont's The Majestic. The protagonist, Peter Appleton, is a Hollywood screenwriter who has just been named by the committee. Distraught, he takes a drive out of Hollywood, but has an accident en route. Suffering from amnesia, Appleton finds himself in the small town of Lawson, California where is mistaken for Luke Trimble, a soldier killed in action some nine years earlier. Appleton becomes immersed in the Lawson community, helping his "father," Harry, restore the small town theater that gives the film its title. Prompted by a combat film shown in the Majestic, Appleton regains his memory, and confides the truth of his situation to his new girlfriend. After his car is discovered, federal agents give Appleton a summons to testify about his Communist affiliations.
During the climax, Appleton appears before HUAC with the aim of clearing himself. Congressman Elvin Clyde confronts Appleton with evidence that he attended a meeting of the "Bread Instead of Bullets" club. Appleton pleads innocence, saying he only went because he was a "horny, young man" seeking to impress his date, Lucille Angstrom. Just as he is about to deliver his prepared statement purging himself of Communist associations, Appleton changes his mind. Instead he gives an impassioned speech that cites his First Amendment rights and denounces the investigation as a betrayal of America's real ideals. Appleton saunters out of the hearing to the loud applause of onlookers. Yet Appleton's lawyer later tells him that Angstrom is currently a CBS producer on Studio One, and his reference to her as a member of the Communist front organization is viewed as cooperation with the Committee.
In The Majestic's civic fantasy, the committee hearing revives the "wrongly accused" trope seen in earlier blacklist films. Worse, it shows its hero successfully using the First Amendment legal defense that had spectacularly failed when the Hollywood Ten used it during the 1947 hearings. Moreover, because Appleton is a political naïf, his inadvertent naming of names redounds to his benefit. Given the film's hopelessly confused politics, perhaps there is unintentional irony in the fact that Appleton is also the name of the Wisconsin hometown of Senator Joseph McCarthy (below), the man synonymous with the Cold War's anti-Communist campaign.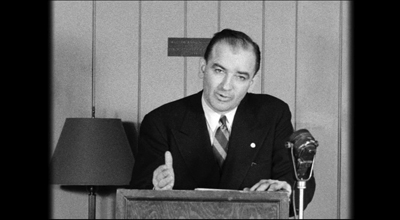 Trumbo, in contrast, doesn't pull any punches. The film condemns HUAC's activities not because it was prone to wild, unproven accusations like those of McCarthy, but rather because the very nature and essence of its inquiry was itself an abuse of power. The movie does nothing to deny Trumbo's guilt. Indeed, the real-life Trumbo freely admitted it. In the 1976 documentary Hollywood on Trial, Trumbo described his reaction to his trial thusly: "As far as I was concerned, it was a completely just verdict. I had contempt for that Congress and have had contempt for several since."
Yet, while not excusing Trumbo's actions, the film dramatizes the debilitating effects of being blacklisted, both in his professional and personal life. The burden of Trumbo's black market work put a strain on his marriage and his family, all of whom were enlisted to perform services he himself could not do publicly.
The blacklist: More than Red-baiting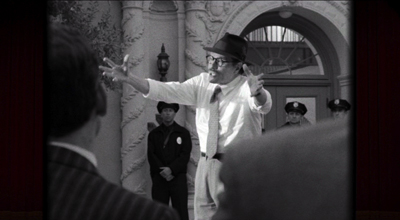 Besides providing a more accurate picture of Red-baiting and its effects, Trumbo also proves remarkable in making passing reference to some of the important secondary causes that eventually led to the blacklist. An early scene, for example, shows Trumbo (above) on a picket line during the vituperative Congress of Studio Union strikes that took place in 1945. Film historian Jon Lewis argues that one reason for the studio's cooperation with HUAC's investigation was that it served their interests in their long-term relationship with Hollywood's craft guilds. Once Communists within the film industry's labor unions became targets of government scrutiny, only the more moderate factions remained. Whether or not HUAC's investigation was a direct cause, Hollywood did not experience another strike until more than four decades later.
Trumbo refers to another cause of the blacklist: anti-Semitism. Although it was something of a stereotype, Communists were popularly associated with European Jews. In fact, when Warner Bros. released I Was a Communist for the FBI in 1951, several moviegoers wrote studio head Jack Warner complaining that the film repeated the lie that all Jews were Communists. Said one Julius Newman of Roxbury, Massachusetts: "I demand that this dangerous, rotten, and libelous bit of propaganda be withdrawn immediately before some Jewish mother somewhere, gets her son's skull cracked for Mother's Day."
The perception that anti-Semitism was an underlying cause of the blacklist was aided by the fact that three of the Committee were members of the Ku Klux Klan at the time of the 1947 hearings, including the Chair, J. Parnell Thomas. Moreover, in a speech before the House of Representatives, another HUAC member, Mississippi Democrat John Rankin, attacked members of the Committee for the First Amendment, who had lobbied on behalf of the Hollywood Ten. Rankin claimed that certain performers were suspect because their Anglicized names hid their actual Jewish origins:
One of the names is June Havoc. We found that her real name is June Hovick… Another one is Eddie Cantor, whose real name is Edward Iskowitz. There is one who calls himself Edward Robinson. His real name is Emanuel Goldenberg. There is another here who calls himself Melvyn Douglas, whose real name is Melvyn Hesselberg.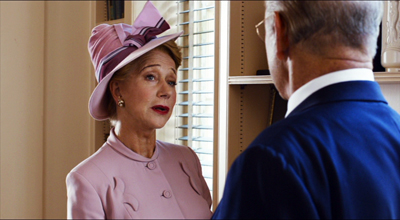 Screenwriter John McNamara wrote a similar speech for Trumbo, but placed it in the mouth of gossip columnist Hedda Hopper. When MGM boss Louis B. Mayer reminds Hopper that the legal situation was complicated by the fact that several of the Hollywood Ten had contracts, she responds:
Then how about I make crystal clear to my thirty-five million readers who runs Hollywood and won't fire these traitors? How about I name names, real names? Like yours, Lazar Meir; or Jack Warner, Jacob Varner; Sam Goldwyn, Schmuel Gelbfisz.
The presence of Hedda Hopper in Trumbo hints at a third underlying cause of the blacklist: the role of the trade press and gossip columnists, who prosecuted and enforced it. Hopper was not alone in this endeavor. Publishers like Billy Wilkerson of The Hollywood Reporter and columnists like Walter Winchell and Ed Sullivan "cheered" HUAC's efforts from the sidelines. They also helped the enforcement of the blacklist once it was instituted, calling public attention to the surreptitious presence of banned writers on the black market.
All of these elements in Trumbo's script make it a richer, more sophisticated depiction of the Hollywood blacklist than that offered by its predecessors. They also remind us that its operations were about more than just politics. Once the blacklist was established, studio bosses gained the upper hand in their dealings with labor, gossipmongers used rumor and accusation to fill column inches and sell papers, and anti-Semites exploited the common association of Communism and Jewish intellectuals to thwart activism among progressives, including those in the Civil Rights movement.
In sum, Trumbo offers a more nuanced sense of the various factors at play at the time of the blacklist than virtually all of its cinematic predecessors. This makes it all the more surprising then that the film nonetheless rewrites history in other ways. In an effort to both streamline and personalize its protagonist's story, Trumbo invents new characters, revises the order of historical events, and shorts the achievements of other black market screenwriters who also contributed to the blacklist's ultimate demise.
The eleventh member of the Hollywood ten
Although most film audiences expect that movies will generally portray historical events with some degree of accuracy, Hollywood cinema rewrites history all the time. Despite the fact that this is common practice, some films that take such liberties are hurt by negative publicity, especially around awards time. Recall the controversy surrounding Selma's depiction of President Lyndon Johnson as an opponent of Martin Luther King's famous march rather than as a "behind the scenes" ally. Some believe that the loud complaints coming from the LBJ camp cost director Ava DuVernay an Oscar nod.
Trumbo is no exception to this principle, even though it has been unusually forthright about the changes made to the historical record. My spidey senses were alerted to this during the movie when they introduced Louis CK's character as "Arlen Hird." I'd never heard of Arlen Hird.
Both in interviews and in an article in the New York Times, screenwriter John McNamara has acknowledged that Hird is a composite character, whose traits and experiences are based on five other members of the Hollywood Ten. Louis CK, for example, physically resembles the real-life Alvah Bessie, who, like the character, was a member of the Abraham Lincoln Brigade in the Spanish civil war.
Moreover, when Hird is in prison, he hears a radio broadcast of Edward G. Robinson's "friendly" testimony. Robinson calls him "the top fellow who they say is the, uh, commissar out there," a swipe that blacklist historians would immediately associate with John Howard Lawson. And sadly, like Samuel Ornitz, Hird dies after battling cancer, having never seen the blacklist come to its ignoble end.
As Nicolas Rapold observes in the Times, Hird is meant to stand in for other Communist screenwriters whose attitudes were more doctrinaire than Trumbo's. Yet I believe the real purpose of using a composite character is to simplify the historical record to make it more digestible for the viewer. Rather than tracing out Trumbo's relation to all of the eighteen other "unfriendly witnesses" subpoenaed by HUAC, McNamara opts to consolidate them into a single character. Such a decision makes some intuitive sense, since viewers would be hard pressed to keep tabs on a parade of many characters. By creating Hird as a composite, Trumbo's interactions with him gain vividness and salience.
Still, McNamara's narrative technique is merely one approach among a larger menu of options, each of which has its own strengths and weaknesses. He could have treated the Hollywood Ten as a group protagonist, who all share the same goal in legally challenging HUAC's authority. Such a gambit, though, would have displaced Trumbo from the center of the story early on. That decision would have weakened the causal motivation behind his later emergence as a black market crusader.
Alternatively, McNamara could have dramatized Trumbo's individual interactions with Bessie, Lawson, and Ornitz, et.al., using a superimposed title to identify each one. The gain in accuracy, though, would likely mean a loss of dramatic clarity and a mildly more self-conscious style of narration. More important perhaps, it also would make for a less emotionally engaging story. The film shows Hird confiding in Trumbo at the Lazy-T ranch, participating in the Ten's legal strategy, serving his prison term, and undergoing surgery for lung cancer. The accumulation of these details provide for a more fully fleshed out character. There's also the opportunity to feel empathy for Hird's children at his funeral, an effect that couldn't have been as focused if Hird's problems were scattered among separate individuals.
None of this is meant to suggest that McNamara absolutely made the right choice in deciding to treat so many members of the Ten as a composite. Rather, it is simply the recognition that such a technique is the result of a deliberate choice and further that one creative decision can lead to a cascade of others. Had McNamara stayed doggedly faithful to the historical record, Trumbo would have been a different film, but perhaps not a better one.
Perhaps we should recognize that screenwriters often must adapt historical narratives in the same way that they adapt literature. And the same sorts of questions about fidelity will bedevil us as when films change details of our favorite novels and stories. Rather than being dogmatic in expecting that historical films stick close to the facts, maybe we simply should ask whether the film is faithful to the spirit of the historical record, especially when its creators are so open and honest about the changes they made. Such a stance would at least recognize the difficulties faced by screenwriters in balancing the weight of classical narrative conventions against the strict measure of historical accuracy. If, as many screenwriters argue, films differ from literature in their emphasis on conflict and action, then the decision in Selma to treat LBJ as an obstacle to Martin Luther King's goal makes a certain dramatic sense. Here again, one can debate the merits of that creative choice. But at least we do so with a fuller understanding of why such choices are made in the first place.
Get me rewrite!
Besides creating composite characters, McNamara rewrites history in other ways. Perhaps the most obvious is when he creates a scene in prison between Trumbo and HUAC chair, J. Parnell Thomas, which never actually happened. True, Thomas was convicted on corruption charges and was sent to federal prison. But he served his term in Danbury, Connecticut rather than Ashland, Kentucky where Trumbo was incarcerated.
In this case, the real-life story proves more entertaining than what appears in the film. While at Danbury, Thomas encountered two other members of the Hollywood Ten – Lester Cole and Ring Lardner, Jr. — serving their time on Contempt of Congress charges. Upon seeing Thomas working in the prison yard, Cole made a wisecrack that led the former HUAC chair to respond, "I see that you are still spouting radical nonsense." Cole's sharp retort: "And I see you are still shoveling chicken shit."
In other cases, McNamara revises the chronology of events. In the film, Trumbo first meets with the King Brothers, Frank and Hymie, just after he is released from prison. In reality, Trumbo started working for the King Brothers just weeks after his HUAC testimony. Almost immediately after being suspended by MGM, Trumbo did black market work on the screenplay for the King Brothers' cult classic, Gun Crazy, using fellow writer Millard Kaufman as a front. With Kaufman serving as intermediary, the Kings likely did not know of Trumbo's involvement. But the brothers began working directly with Trumbo shortly thereafter. In fact, Frank King personally visited the Lazy-T ranch just prior to the Trumbo's departure for prison, offering to pay him $8,000 to write the script for Carnival Story.
Trumbo coyly acknowledges the screenwriter's contribution to Gun Crazy by featuring posters of the film in several shots. But by revising the historical circumstances of Trumbo's first involvement with the Kings, the film more or less denies him actual credit attribution, ironically engaging in the same sort of opportunism displayed by the producers who surreptitiously hired him.
McNamara's most significant changes to blacklist history, though, involve omissions. Trumbo's Oscar victory for The Brave One is well documented and the episode – both in the film and in real-life – neatly captures his role as industry gadfly. But the same year that the mysterious "Robert Rich" won the Academy Award for Best Original Story, Michael Wilson also was nominated for a project for which he was publicly denied screen credit.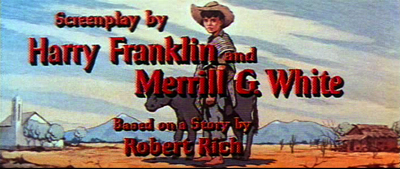 Wilson had completed a first draft of Friendly Persuasion for director Frank Capra in 1946, but no film was made from the script until producer/director William Wyler took over the project in 1955. When it came time to determine the screenwriter credit, Wyler suggested that it go to Robert Wyler and Jessamyn West for their extensive revisions, including many rewrites completed on set during shooting. When Wilson became aware of this, he immediately protested Wyler's decision and forced arbitration by the Screen Writers Guild. The Guild ruled in Wilson's favor, but also reminded the film's distributor, Allied Artists, that they could legally deny credit to any screenwriter who had failed to clear himself before HUAC. When Friendly Persuasion was released in 1956, its only writing credits read "From the Book by Jessamyn West."
Despite a good deal of press coverage of the dispute, the incident might have been a mere blip on the cultural radar if not for the 1957 Oscar nominations. When they were announced, a film with no credited screenwriter unexpectedly received a nomination for a screenwriting award. And with public acknowledgement of Wilson's contribution to Friendly Persuasion more or less verboten, the text of the nomination simply said the writer was ineligible under Academy rules.
Worried that a public victory by a blacklisted writer would give the industry a big ol' black eye, the Academy reportedly instructed Price Waterhouse to excise the nomination from the Oscar ballots that were sent to voters. Yet, even though the Academy essentially rigged the vote against Wilson, Groucho Marx offered an incisive quip about Wilson's situation at the Writer's Guild Awards banquet held about two weeks before the Oscars. Said Groucho, "The Ten Commandments. Original story by Moses. The producers were forced to keep Moses's name off the credits because they found out he had once crossed the Red Sea." Given all the effort that went into preventing Wilson from receiving the award, Trumbo's Oscar win as "Robert Rich" must have tasted even sweeter. The award was given in absentia by Deborah Kerr, and Jesse Lasky, Jr. accepted it.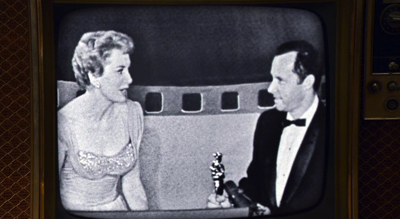 Moreover, the Rich incident was hardly the last humiliation that the Academy would suffer. The very next year novelist Pierre Boulle received a Best Adapted Screenplay nomination for The Bridge on the River Kwai, which was based on his book. But Boulle had been a front for Carl Foreman and Michael Wilson, who had taken the assignment as black market work for producer Sam Spiegel. When Boulle's name was announced as the winner, the novelist was nowhere to be found. Instead, Kim Novak accepted the award on his behalf. But insiders knew exactly why Boulle was absent. As someone who wrote and spoke in French rather than English, his stumbling acceptance speech would have exposed the hypocrisy by which Foreman and Wilson were denied an award that they merited. (Sadly, neither Foreman nor Wilson would live to see their work duly recognized. In 1984, the Academy posthumously recognized them as the true authors of Kwai's screenplay.)
Nathan E. Douglas = ?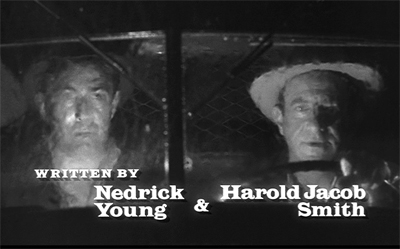 The original credits sequence of The Defiant Ones (1958) listed Nedrick Young as a coauthor under his pseudonym Nathan E. Douglas. He appeared in a bit part coinciding with his credit listing, along with coauthor Smith, in the cab of the truck. Video versions such as this have restored his name. 
Things didn't end there. The Oscar nominations in 1959 saw yet another brewing controversy regarding eligibility of a black market scribe. The writing team of Harold Jacob Smith and Nathan E. Douglas earned a nod for Best Original Screenplay for The Defiant Ones, even though the latter was a pseudonym for blacklisted writer Nedrick Young. If anything, Young's participation in the making of The Defiant Ones was signaled by producer-director Stanley Kramer's giving him a notable cameo in the film. During the opening credits, Young and Smith are both seen as prison guards riding in the front seat of a truck used to transport convicts. In a rather coy gesture, when the film's writing credits are shown, Young's pseudonym "Nathan E. Douglas" is superimposed over the man himself. Even though the general public didn't know Young from Adam, his cameo made his participation an open secret in Hollywood.
During awards season, Young as "Nathan Douglas" collected a lot of hardware, including awards from the New York Film Critics Circle and the Writer's Guild of America. With the nominations imminent, leadership within the Academy recognized that a third straight public relations disaster was in the offing. Just before Christmas in 1958, former Academy president George Seaton approached Young and Smith seeking assistance in overturning the Academy bylaw prohibiting blacklisted personnel from eligibility for awards. For his part, Trumbo himself stayed abreast of the situation and even rescheduled a media interview order to avoid fanning any flames of opposition from within the Academy.
On January 15, 1959, Seaton, Young, and Trumbo all got their wish as the hated bylaw was officially rescinded, passed by the Academy's Board of Governors with near unanimous support. Two days later, Trumbo confirmed to newsman Bill Stout that he was, indeed, Robert Rich. On Oscar night a few months later, Young enjoyed the spotlight in a way that had been denied his predecessors. And when The Defiant Ones won the Oscar for the Best Story and Screenplay Written Directly for the Screen, Young strode to the podium along with Smith and offered a humble thank you. Ward Bond, one of John Wayne's allies in the Motion Picture Alliance for American Ideals, observed: "They're all working now, all these Fifth-Amendment Communists. We've just lost the fight. It's as simple as that."
Where does all of this backstory fit into the story told in Trumbo? As it turns out, nowhere. In choosing to concentrate on Trumbo's story, the movie keeps all of this rich contextual material offscreen. As is often the case, the historical realities surrounding the end of the Hollywood blacklist were much denser, messier, and more complex than what can easily fit into a standard two-hour film. Classical Hollywood narrative, with its emphasis on goal-orientation and clearly motivated, causally linked events, tends to nudge screenwriters away from the sprawl more often found in novels or television miniseries. In the case of Trumbo, screenwriter John McNamara likely opted for the virtues of clarity and concision. He concentrated only on those incidents that directly involved the titular character, eliminating or minimizing anything that would detract from that narrative focus.
That being said, the creative choices of McNamara and director Jay Roach are, above all, choices. The screenplay for Bridge of Spies, for example, manages to convey something of the complex bilateral negotiations that linked the downing of U2 pilot Francis Gary Powers with the seemingly unrelated espionage case of KGB officer Rudolf Abel. One could imagine Roach and McNamara devising very brief scenes of Wilson, Foreman, and Young in their Academy imbroglios. Or alternatively, the film might have included Trumbo's voiceover reading the text of his actual letters to Wilson, many of which commented on the perpetually changing conditions of the black market. As before, the inclusion of such material wouldn't necessarily make Trumbo a better film. But it would make it a different one.
Although Dalton Trumbo led the fight against the blacklist, often using the industry's greed, hypocrisy, and mendacity against itself in the process, my brief synopses of these other screenwriters' Academy Award travails show that he was not alone. Many individuals taking small incremental actions led to the blacklist's end. It wasn't smashed; it crumbled through erosion. The fact that one of Hollywood's "untouchables" was able to openly accept a major industry award made open screen credit a logical next step. Dalton Trumbo happened to be the lucky individual to regain his name without having to bow and scrape before HUAC. But even he knew it could just as easily have been Nedrick Young. Or Michael Wilson. Or Albert Maltz.
Come Oscar night on February 28th, if Bryan Cranston is lucky enough to hoist the Best Actor prize above his head, it will be a fitting tribute to a man whose struggles with this same institution helped to define him and his era. Yet an Oscar victory would also pay tribute to all those whose stories have not reached the screen, but whose grit and determination made Trumbo's triumph possible. And Mr. Cranston, if you get to deliver that acceptance speech, be sure to remember all those unsung heroes that joined Trumbo in the fight.
---
Trumbo is based on Bruce Cook's biography, which was first published in 1977. Readers should also check out Larry Ceplair and Christopher Trumbo's massive, exhaustively researched new biography, Dalton Trumbo: Blacklisted Hollywood Radical. Ceplair is also the co-author, with Steven Englund, of the standard work on the Hollywood blacklist itself, The Inquisition in Hollywood: Politics and the Film Community, 1930-1960. My book, Film Criticism, the Cold War, and the Blacklist: Reading the Hollywood Reds, also considers Trumbo's contribution to Spartacus.
Trumbo's collection of correspondence, speeches, business papers, scripts, and photographs is held at the Wisconsin Center for Film and Theater Research. A rich sampling of material from it is available here. Several of the photos in this entry come from the WCFTR collection. Go here to listen to excerpts from his HUAC testimony.
Excerpts from John Rankin's infamous speech about Jewish actors in Hollywood can be found in Gordon Kahn's Hollywood on Trial: The Story of the Ten Who Were Indicted. Trumbo himself commented on the role of anti-Semitism in HUAC'S investigations in The Time of the Toad: A Study in Inquisition in America.
Franklin Leonard interviewed John McNamara last November about his work on Trumbo for his Black List Table Reads podcast. Nicolas Rapold offers a useful guide to the individuals profiled in Trumbo, including its composite characters. If you're interested, you can see actual footage of the announcements of various screenwriting awards at the Oscar ceremonies of 1957, 1958, and 1959.
For more on how adaptation works, see the thirteenth chapter of the new edition of Film Art: An Introduction, forthcoming next week. That chapter is available for courses as an add-on to both the printed edition and the McGraw-Hill electronic edition.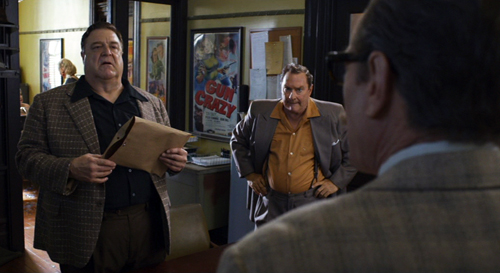 Trumbo.