Archive for the 'Directors: Andersson' Category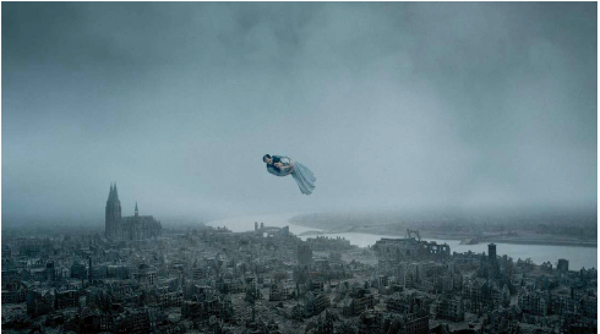 About Endlessness (Roy Andersson, 2019).
DB here:
In the midst of the frenzy of fast cutting in films of the 1990s, a few directors reminded us of the virtues of simply putting your camera on a tripod and letting the action unfold in front of it. Abbas Kiarostami, Hou Hsiao-hsien, Kitano Takeshi, Tsai Ming-liang, and several other filmmakers reminded us that the fixed camera and long take, i.e. the "theatrical" cinema so despised in the 1920s and 1930s, still harbored great expressive resources.
It's a lesson we have to keep learning–with Warhol and Tati in the 1960s, Akerman and Duras and Angelopoulos in the 1970s, Iosseliani in the 1980s, and not least with one of the greatest exponents of the tendency, Manoel de Oliveira. His 1963 film Rite of Spring initiated his persistent, endlessly inventive exploration of the tableau shot. Doomed Love (1978; briefly discussed here) is a superb example; Francisca (1981) is another, and we were lucky to catch a superb restoration on display in the Venice Classics section. I hope to write about it soon!
After four years of production, Roy Andersson's Songs from the Second Floor was released in 2000 and established his distinctive approach to the tableau tradition. Since then he has made only three features, the most recent of which played in competition at Venice 76. Of course we had to see it, and to visit his press conference.
This is visionary cinema of a unique kind.
Landscapes of unhappiness, minor and major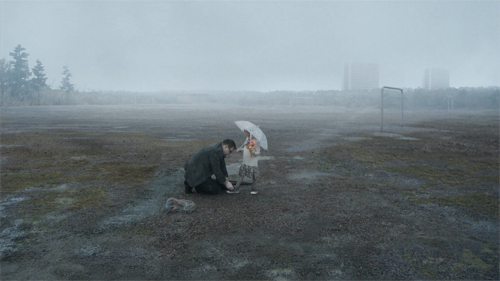 Start with some brute facts. About Endlessness runs only seventy minutes (without credits), and it consists of 32 one-shot scenes. As in Andersson's other films since 2000, most scenes stand alone, without narrative connection to others.
Some are bare-bones situations, as when a young man watches a young woman watering a plant, or when a father ties his little girl's shoe in a rainstorm. Others unfold a dramatic crisis. A man bursts into tears on a city bus, complaining that he doesn't know what he wants. A dentist, put off by a patient's yowls of pain, simply walks out of the consultation and ends up in a bar.
Some shots draw on our knowledge of a broader story, as when Hitler stalks into one chamber of his bunker and his lieutenants, exhausted by the bombardment, sporadically salute him. He hardly seems to notice. A few tableaux present a recurring thread, like minimalist running gags. A man recognizes a schoolmate, but wonders why the man won't greet him. A priest feels himself losing his faith, gets drunk while celebrating mass, and consults a doctor for advice. And one recurring image shows a woman cradled in a man's arms floating in the sky–at one point drifting over the ruins of the bombed Cologne of World War II.
What makes Andersson's cinema so fascinating is his effort to design intricate, gradually unfolding compositions that harbor powerful emotional expression. Dialogue is at a minimum; objects are arranged with the precision of still lifes. His people are often doughy and plodding, with hangdog expressions and complexions like pumice, living in a world dominated by grays and pastel browns. His movies reveal how many shades of beige there can be.
The grandeur of the distant framings accentuate the impotence of the characters. These sad creatures are caught in strict, unsympathetic perspective, all sharp angles and endless vistas. They stand exposed by flat, minimally sculptured lighting. "I avoid shadows," he explained at the press conference. "I want to make pictures where people can't hide. A light without mercy."
The same mercilessness is seen in the settings, which may look fairly naturalistic but are wholly artificial. Andersson uses miniatures, background painting, and digital effects to create his picture-book landscapes. Streets, cities, train platforms are all the product of years of preparation. Like Tativille in Jacques Tati's Play Time, Andersson's sets create a beguilingly realistic version of a wholly fake city.
The sets are calculated to make sense from a single vantage point, as Renaissance paintings are. In a shot like the first one below, moving the camera would reveal the forced-perspective buildings outside.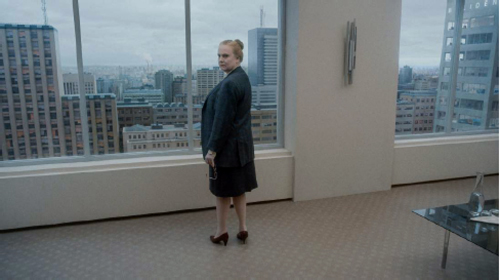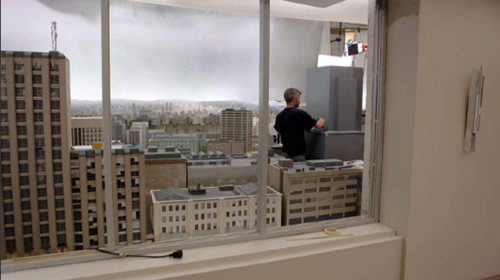 Some of these landscapes are as eerie as de Chirico's, but without any of the sensuous shading.
Which means that posture, gesture, and objects near and far have to carry the drama, however anecdotal it may be. The man who thinks his old friend has snubbed him tells us that the friend has a Ph.D. His wife consoles him (after all, they've been to Niagara Falls), but he's still anxious. His puzzled fretfulness is carried by his slumped bearing, his plaintive expression, and his clinging to his slotted spoon. Meanwhile we hear his pasta simmering ever more loudly in the kettle in lower frame right, a light objective correlative to his annoyance.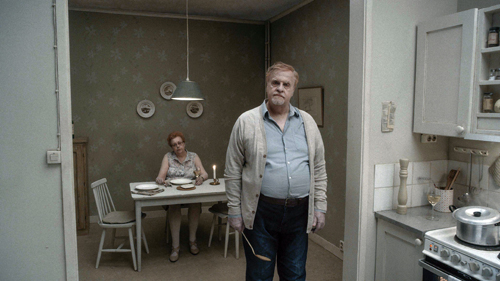 Andersson teases us by letting us imagine how a micro-story might unfold. In a cafe, a woman sits alone, with no drink in front of her. She's in the classic posture of waiting, A man eats dinner behind her (his cutlery clinks) and an empty table on far right bears the traces of another customer. In comes a large, lumpish fellow brandishing a bouquet. He hesitantly asks for Lisa Larsson. So it's a rendezvous?
Nope. A bald man enters from frame left bearing two beers.
The lady doesn't admit to being Ms. Larsson. Maybe she really isn't, or maybe she found a better date. In any case, the newcomer turns and leaves, a bit sadly. Of course, there's always the possibility that the absent customer on the right was his date. We, and he, won't know.
Note, in passing, Andersson's use of classic staging techniques. Tableau cinema needs to guide our attention through pictorial tactics such as central placement, frontal positioning, and patterns of blocking-and-revealing. By giving the bald man a central position in the format and letting him mask our view of the man eating in the corner, Andersson makes sure we'll register the confrontation between him and the intruder.
Most of the tableaux are accompanied by a brief voice-over, a woman saying, "I saw…" followed by a single-sentence description of the action. Andersson claims to see her as a bit like Scheherazade, but she has as little commitment to a full story as he does. Her narration provides very little judgment on the scene but does supply a bit of information–often grim, as when we learn that a busker lost his legs in combat.
Indeed, war is a recurring motif in the film, making it bleaker than any of the other Andersson films I recall. Now the minor miseries and absurdities of modern life sit along a continuum of death  and destruction. A sequence of spontaneous dance here, a father's awkward love for his daughter there–these don't wholly compensate for a wartime execution or the bombing of Dresden. The gags are fewer now, and Andersson's fantastical but stubbornly tangible cities have never looked more oppressive. The idea of endlessness stretches in many provocative directions: the infinite vistas of city and sky, the pinpricks of guilt and frustration in everyday life, the obscene endlessness of war. Lucky are those who can in a gentle embrace float above it all.
Andersson's last film, A Pigeon Sat on a Branch Reflecting on Existence, won the Golden Lion for Best Film in Venice in 2014. Maybe this one will too? It's one of the best new films I've seen here this year. More on the others, in later entries!
---
Thanks to Paolo Baratta and Alberto Barbera for another fine festival, and to Peter Cowie for his invitation to participate in the College Cinema program. We also appreciate the kind assistance of Michela Lazzarin and Jasna Zoranovich for helping us before and during our stay.
We've written bits on Andersson's films elsewhere in our blog entries. See our entries on tableau staging for lots more on how this stylistic approach works. I discuss the technique as well in On the History of Film Style and Figures Traced in Light: On Cinematic Staging.
To go beyond our Venice 2019 blogs, check out our Instagram page.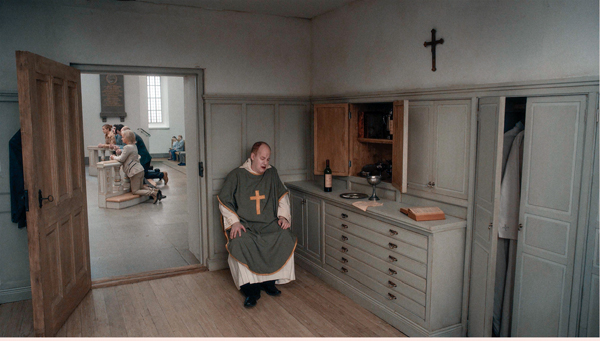 About Endlessness (2019).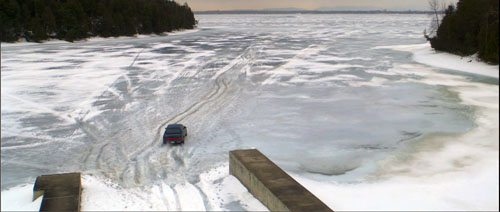 Art is not reality; one of the damned things is enough.
Attributed to Virginia Woolf, Gertrude Stein, and others.
DB here, with another followup to Ebertfest:
Ebertfest, once known as the Overlooked Film Festival, has always been keen to support American independent filmmaking. In previous incarnations, Roger spotlighted Junebug, Tarnation, and other movies that flew below the multiplex radar. This year's crop was especially ripe. Besides The Fall and Sita Sings the Blues, there were important documentaries like Begging Naked and Trouble the Water. In particular, two fiction features set me thinking about types of independent storytelling and how they might be considered realistic.
The river is wide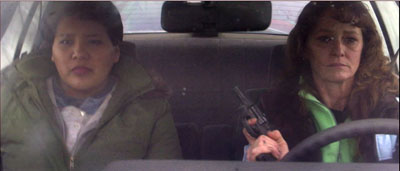 Roger noted that when he first saw Frozen River, he wanted to bring it to his festival, but then it became the very opposite of an overlooked movie. It has grossed $4.3 million worldwide, a very healthy amount for a small-budget film without big stars. It won eleven national awards and was nominated for fourteen others, including a Best Original Screenplay Oscar. By now, you've probably seen it. I had been away during its Madison run, so I was happy to catch up with it.
"You have five minutes to show the audience you're in charge," commented director Courtney Hunt in the Q & A, and her film follows that advice. Seconds into Frozen River, we hit a crisis. Ray finds that her no-good husband has grabbed their savings and taken off to gamble, even as she waits for the delivery of their new prefab home. What begins as a drama of pursuit, with Ray trying to track down her husband, turns into a blocked situation. He's gone and she has to not only pay off their mortgage but also keep her two sons going, counting on their school lunches to offset their domestic meals of popcorn and Tang.
Drama is about choices, and good drama is about bad choices. Ray has clearly made her share of mistakes—addictive mate, kids she can't support, a bigscreen TV she can't afford—and the plot shows her making the biggest of all. To scrape together money she agrees to transport illegal immigrants from Canada to upstate New York, driving across the frozen St. Lawrence. She casts her lot with Lila Littlewolf, a Native American with her own bad choices, and their common fate creates a series of parallels about motherhood that are resolved through Ray's final sacrifice. The film also activates some current concerns about immigration, racism, and the problems shared by poor whites and ethnic minorities.
Resolutely unHollywood in its setting, theme, and characters—deglamorized women, especially—Frozen River still adheres to classical script structure. We have characters with goals, encountering obstacles and entering into conflicts, and the turning points come at the standard junctures. The ending is a resolution, although not an entirely happy one. In the course of the plot, suspense is built up at many points. Will Ray and Lila be caught by the state troopers who grimly monitor their comings and goings? What will become of that abandoned baby? The film is a sturdy example of how classic principles of construction can be applied to subject matter that is worlds away from our prototype of Hollywood filmmaking.
Neo-neo and all that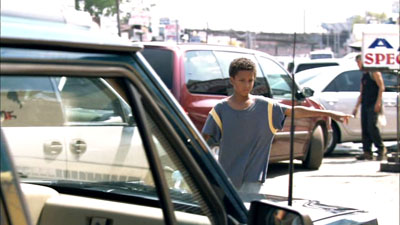 Ramin Bahrani's Chop Shop, which I was also just catching up with, offers another flavor of independent dramaturgy. Roger has been a staunch supporter of Ramin's films since Man Push Cart, and he has declared him "the new great American director."
Bahrani has mastered a somewhat different narrative tradition than the crisis-driven plotting of Frozen River. "Neo-neorealism," A. O. Scott has called it, linking Goodbye Solo to Wendy and Lucy, Treeless Mountain, Old Joy, and other films that offer us an "escape from escapism." Now, Scott suggests, American cinema is having its delayed Neorealist moment. Richard Brody offers some useful, sometimes scornful, qualifications of Scott's conjecture, reminding us of the urban dramas of the 1940s and the rise of Method acting. Scott has replied, claiming that their dispute essentially depends on their differing tastes in movies.
Here's my $.02. "Neorealism" isn't a cinematic essence floating from place to place and settling in when times demand it. The term, like the films it labels, emerged under particular circumstances, and it's hard to transfer the label to other conditions. Moreover, there are many problems just with applying the term to Italian cinema, since it tends to cover not only the purest cases, like Bicycle Thieves, but also more mixed ones like the historical drama The Mill on the Po.
Still, because postwar Italian cinema had a big influence on other national cinemas, we have a prototype of The Italian Neorealist Movie. The filmmaker focuses on the lives of working people. He emphasizes their daily routines and travails. The film will be shot on location (at least in the exteriors) and may use nonactors in some or all roles. Bazin pointed out that we're likely to find an elliptical or unresolved plot. It's also very likely that we'll see washlines and women in slips.
Why not just call this an Italian variant of that broad tradition of naturalism or verismo or "working-class realism" that we find in many national cinemas? In France there was the work of Andre Antoine (e.g., La Terre, 1921) and Jean Epstein's Coeur fidele (1923) and his lyrical barge romance La Belle Nivernaise (1923). More famous are Renoir's Toni (1935) and The Lower Depths (1936). (Recall that Visconti was Renoir's assistant on A Day in the Country, 1936.) In Italy, there were harbingers too, not only the famous ones like Four Steps in the Clouds (1942) but also the charming Treno Popolare (1933). And Japan gave us many instances in the 1930s, notably Ozu's Inn in Tokyo (1935) and The Only Son (1936).
Realer than real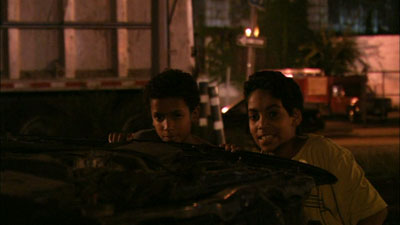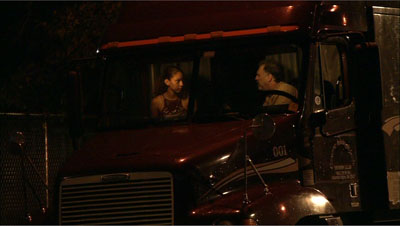 On an Ebertfest panel Ramin Bahrani argued for a realist aesthetic. "Most people in movies never seem to pay rent or keep track of how often they can eat out . . . [Ordinary people] have day-to-day struggles; they ask how to survive." That's to say that a realistic work is distinguished primarily by its subject matter, the social milieu it presents. Bahrani also mentioned that some plot devices are unrealistic. Criticizing Slumdog Millionaire, he remarked: "My world doesn't end in a Hollywood fantasy." He didn't deny the need for a dramatic structure, but he did insist on avoiding "obvious plot points like 'He crossed the door and can't go back.'"
This leads me to another $.02 contribution. I'm reluctant to contrast realism with something like artifice or formula. To me, realism comes in many varieties, but none escapes artifice. All realisms I know rely on conventions shaped by tradition.
For example, Chop Shop shows us a slice of life that most of us don't know, the world of garages and salvage yards clustered around Shea Stadium. Such a low-end milieu is a convention of literary naturalism (Zola, Gorki). In this tradition, an artwork acknowledging the lives of the poor gains a dose of realism that, say, a novel by P. G. Wodehouse or a play by Noël Coward will lack. Some critics complained that when Rossellini's Europa 51 and Voyage to Italy presented upper-class life, he left Neorealism behind.
There seem to me other conventions at work in Chop Shop. In one garage we find a boy, Alejandro, who has two goals. He wants to set up a food van that will sell meals to the men working in the neighborhood, and he wants to keep his sister Isamar safe from bad companions. Goal-driven plotting is central to Hollywood dramaturgy, as it is to much literary realism (e.g., An American Tragedy). It's true that in real life people often form goals, but many do not, and those who do seldom come to a state of heightened awareness in the time frame typical of a movie's plot. Alejandro fails to achieve one goal but partially achieves another, so we have an open, somewhat ambivalent ending—another convention of realist storytelling and modern cinema (especially after Neorealism). Life goes on, as we, and many movies, often say.
Instead of following a crisis structure, as Frozen River does, Chop Shop presents what we might call "threads of routine." Most scenes consist of ordinary activities: the work of the garage, Alejandro's sales of candy and DVDs, opening and closing the shop, Alejandro watching from the window of his room. But these vignettes aren't sheer repetitions. They vary as Alejandro encounters progress or setbacks with respect to his goals. Most of the routines establish a backdrop against which moments of change and conflict will stand out.
Building a movie out of routines can also make convenient coincidences seem plausible. For instance, dramas have always relied on accidental discoveries of key information—the overheard conversation, the token that betrays what's really happening. In Chop Shop, Ale and his pal Carlos discover that Isamar has become one of the hookers who service men in the cab of a tractor-trailer. They might have discovered this, as in life, by simply wandering by the spot on a single occasion. Instead, Bahrani's script motivates their discovery by explaining that they habitually spy on the truck assignations. "Let's go to the truck stop and see some whores." Planting information in scenes of everyday activities seems more natural than giving it special emphasis at a moment of crisis. In two later scenes, the truck-stop becomes an arena for conflict, so Ale's initial discovery motivates his later actions.
As for plot points, Chop Shop has them. (At about 15 minutes, the zone of the Inciting Incident, Ale declares his intention to buy the van. At about 30 minutes he discovers that Isamar is turning to prostitution.) Likewise, the threaded routines yield poetic motifs, such as the pigeons that are carefully established early in the film. Bahrani's plotting is meticulous, and it highlights the paradox of realism: It takes effort and calculation to "capture reality." De Sica was said to have endlessly rehearsed the boy in Bicycle Thieves.
What gives the film a more episodic organization than Frozen River, I think, and what gives it a greater sense of "dailiness," is that it lacks deadlines. There's relatively little time pressure on the action, except for Ale's sense that he's getting close to having enough money for the van. Chop Shop's refusal of Hollywood's ticking clock seems to me to confirm the observation, made by Geoff Andrew and J. J. Murphy, that in some respects American indie film is located midway between classical narrative cinema and "art cinema."
The threads-of-routine pattern can be harnessed to character-driven drama, as in Chop Shop, but it can also be more opaque or minimalist. During at least half of Elia Suleiman's Chronicle of a Disappearance, we watch anonymous characters go through routines, but instead of revealing their psychological drives, the scenes show the people overwhelmed by their surroundings. Narrative development is charted through changes in the spaces that the figures inhabit and vacate. The result is a "surreal realism" that evokes the anxieties of Magritte or de Chirico.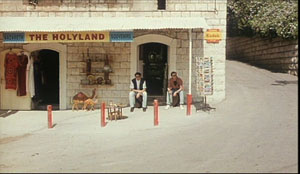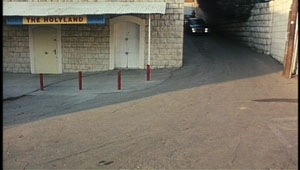 To say that realist traditions rely on conventions doesn't make them less worthwhile. Chop Shops seems to me quite a good film. Nor would I deny that realist conventions do capture some aspects of real life. Both the crisis structure and the threads-of-routines structure can be taken as realistic. Sometimes our lives are in crisis, and at other times we do just plod along. But more stylized narrative forms can capture important aspects of reality too. The Searchers, a work of high artifice, renders a portrait of a self-destructive racist that many of us recognize in the world outside the movie house. Has any film better caught the adolescent yearning for romantic love and family stability than Meet Me in St. Louis?
The problem comes when we think that only one variant of realism can lay claim to validity, let alone beauty. Sometimes fidelity takes a back seat to vivacity. In Roy Andersson's films, everyday nuisances like checking in to a plane flight or waiting in a clinic are inflated to grotesque, gargantuan proportions, becoming torments in a vision of hell. Like all caricatures, the exaggeration captures something true.
Comparing Wilkie Collins and Dickens, T. S. Eliot notes that both writers give us vivid characters. Collins' characters are "painstakingly coherent and life-like," terms of praise that we could assign to Bahrani's films as well. But, Eliot adds, "Dickens' characters are real because there is no one like them."
---
What was Neorealism? Some of André Bazin's invaluable essays on the subject can be found in
What Is Cinema?
vol. 2 (Berkeley: University of California Press, 1971). Kristin and I offer a survey of some historical factors in Chapter 16 of
Film History: An Introduction
. (Go
here
for a little bibliography.) For more on art cinema and its commitments to realism and open endings, see my essay, "The Art Cinema as a Mode of Film Practice," in
Poetics of Cinema,
151-169. On American indies' borrowing of art-cinema conventions, see Geoff King,
American Independent Cinema
(Bloomington: Indiana University Press, 2005) and J. J. Murphy,
Me and You and Memento and Fargo
(New York: Continuum, 2007). J.J. also has a blog entry on
Chop Shop
here
. The quotations from T. S. Eliot come from "Wilkie Collins and Dickens,"
Selected Essays
(New York: Harcourt, Brace, 1950), 410-411.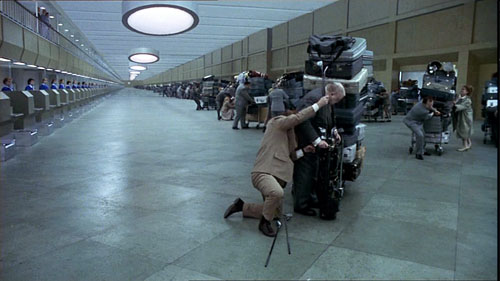 Songs from the Second Floor (Roy Andersson, 2000).

Drizzle every day can't dampen audiences' enthusiasm.
DB again:
More dispatches from the Vancouver International Film Festival.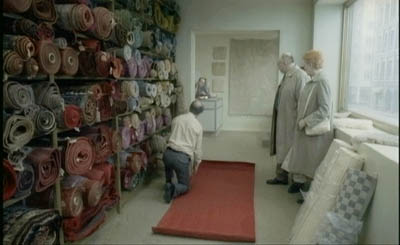 "Be pleased, then, you living one, in your delightfully warmed bed, before Lethe's ice-cold wave will lick your escaping foot." As a tram destination, Lethe makes a brief appearance in the Swedish film You, the Living, Roy Andersson's latest comedy of trivial miseries. The line from Goethe is apt. After ninety minutes of drab apartments and Balthus-like figures, all bathed in sickly greenish light, you're ready to stay in bed forever.
As in Songs from the Second Floor, Andersson gives us a loose network narrative, with barely characterized figures threading their way through urban locales. Long-shot, single-take scenes turn clinics and dining rooms into monumentally desolate spaces. Humans, either bulbous or emaciated, trudge through torrential rain and peer out from distant windows. The bodies may be distorted and careworn, but the spaces are even more so. We get a sort of dystopian Tati, in which gags, near-gags, and anti-gags are swallowed up in the cavities we call home and workplace. A carpet store stretches off into the distance, and a cloakroom seems like a basketball court.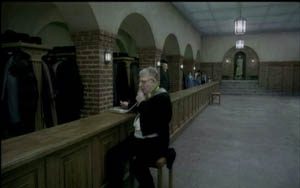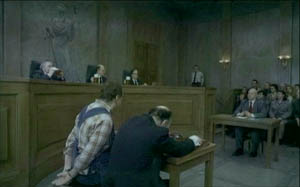 In You, the Living, Andersson's characters recount their dreams, and these open onto areas only a step beyond our world in their lumpish crowds and eerie vacancy. Judges at a trial are served beer as they condemn the accused. Spectators at an electrocution snack on popcorn from supersized buckets. How can I not like a filmmaker so committed to moving his actors around diagonal spaces, even if the frame is either sparse or uniformly packed, and though he does treat his people like sacks of coal? Don't look for hope here, only a sardonic eye attracted by banality and pointlessness, images made all the bleaker by an occasional song.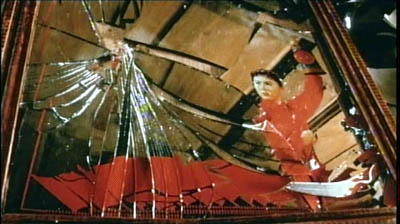 I'm drawn to directors who create a powerful visual and auditory world more or less out of phase with reality as we usually see it (in life and in movies). Andersson is one such director; Jiang Wen is another, whose audacious The Sun Also Rises is one of my favorites of the festival so far. Not doing so well with Mainland Chinese audiences, according to the International Herald Tribune, it hasn't warmed up a lot of Western critics either. Amazingly, it was declined for competition at Cannes.
It seems impossible to discuss The Sun Also Rises without using the word "magic," as in magic realism, but I saw it as more of a fairy tale or fable. Set in the Cultural Revolution, it tells two stories in the first two sections. A young boy's mother goes a little mad on a labor farm; in another village, a teacher is compromised by the passionate love of a nurse and an accusation of sexual misconduct. The two stories intersect in a third section, which leads to a jubilant, if disconcerting, final stretch.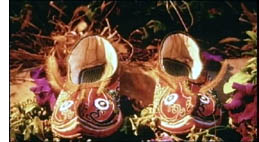 At the center of each plot stands a vivacious, passionate woman who unleashes a cascade of unhappy events. Yet the tone of the film is cheerful, almost giddy, thanks not only to Joe Hisaishi's buoyant score (he may now be the Nino Rota of Asian cinema) but to Jiang's fresh, assured technique. The movie starts with tight close-ups—the fish-design shoes the mother wants, her feet and hands, her son's hands at the abacus—edited at a cracking pace. Staccato movements in and out of the frame give the whole passage a visual snap that launches the movie. Characters lunge through the shots, running this way and that without catching breath, and Jiang's camera follows them without pausing for the sort of stately scene-setting that audiences may expect. Likewise, the second story opens with hands at play and work, the teacher stroking his guitar strings and a bevy of woman kneading bread dough.
The exuberance of the characters and the style contrasts with the usual presentation of this cruel era of PRC history. Jiang finds real pleasure in Cultural Revolution kitsch, and he links a snapshot of the missing father to an iconic image from The Red Detachment of Women. It's another knot joining the two plot strands; in the second section, villagers watch a screening of that film. Jiang makes the event a real festivity, with couples courting, the teacher humming along with the tunes, and an old lady feeding fish in a pond. Jiang dares to suggest that the force-fed popular culture of Maoism, so scoffed at now, gave genuine enjoyment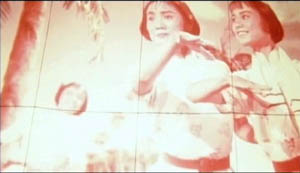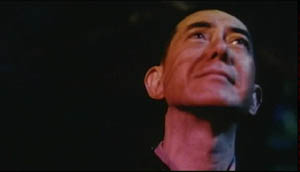 The fairy-tale atmosphere is conjured up by little mysteries, such as a talking bird and the possibility of taking dictation on an abacus, and bigger ones about fatherhood, a stone hut in the forest, and a shadowy figure named Alyosha, whose identity is more or less revealed in the film's final long sequence. Variety's Derek Elley found The Sun Also Rises both rushed and dawdling, but you could say that about 8 ½ too. Like Fellini's film, Jiang's shows a filmmaker at the top of his powers inviting us to savor the exhilarating attractions of imagination.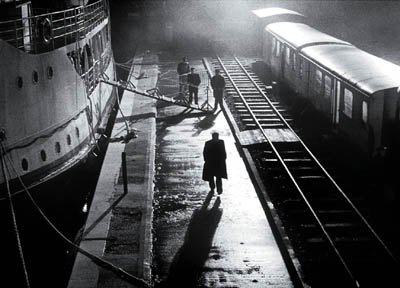 Another world, another vision. The camera frames a rope descending into black water and tilts slowly, really slowly, up to reveal the ship's prow and the deck, swathed in darkness. Two silhouettes are visible, and one says, "Don't follow me too soon." Soon we're following the transfer of a small suitcase, the disembarking of passengers making their way to a train. This nearly thirteen-minute shot (!) gives way to another long take, in which we see, in the distance, a murder on the quay.
Béla Tarr has called The Man from London a film noir, and he explained that to me by saying, "Not an American film noir. They were done by bad directors. More like the original French film noirs." Indeed, the opening shot, with its mists and murky waterfront, suggests Quai des brumes. But here the plot action is slight, presented at a distance, and opaque in its motives; 10 % story, we might say, but 90 % atmosphere. The camera coasts across the waterfront town with the same grave deliberation we see in Damnation, Sátántangó, and Werckmeister Harmonies, swallowing up the Simenon situation in Tarr's fluid way of seeing, a scanning of ever-shifting surfaces and vistas.
With fewer than thirty shots across about 133 minutes, The Man from London is another exercise in long-take virtuosity, but I thought I noticed some fresh departures. For one thing, there are few characters and relatively few locales, and situations are brought out with unusual explicitness (for Tarr). Instead, it seemed to me that Tarr was exploring new possibilities in one of his pet techniques, the over-the-shoulder long shot I mentioned in an earlier entry.
The opening shot, at first an apparently objective survey of the moored ship, turns out to be a view from the tower manned by Maloin. In shooting the wharf, the camera is forever oscillating, within a single shot, between what we can see outside, at a distance, from a high angle, and glimpses of Maloin at his post, his head or shoulder sliding into the foreground. Imagine Rear Window without the reverse shots of Jimmy Stewart watching.
In earlier films, Tarr tended to be quite clear when his foreground character was noticing something in the distance; his chief interest lay in suppressing the character's reaction. What we get here can be seen as a refinement of the opening shot of Damnation, with its awesome landscape gradually reframed by Karrer looking out his window, or of passages of the doctor at his window in Sótántangó. Several of the tower scenes in The Man from London, are elaborations of that image scheme, but with more ambiguity. The camera, slipping from long-shot background and close-up foreground, coasts along without telling us whether Maloin has seen exactly what we've seen. The result is a suspenseful uncertainty not only about what's happening in the noir plot but also about what Maloin knows.
There are many other points of interest in the new film, and after one viewing I can't claim to have a grip on them. But I do think critics have overlooked its sheer visual beauty and Tarr's efforts to turn his style toward a fluid pictorial suspense.
Altogether less flamboyant than any of these was Suo Masayuki's I Just Didn't Do It (Japan), which I'd been looking forward to since my February entry. It's definitely a change of pace for a director known for comedies that satirize youth culture and middle-aged boredom. A young man is accused of groping a schoolgirl on a crowded traincar. The police advise him to confess and pay a fine, but he insists on his innocence. This decision drops him into a judicial mill that grinds slow and altogether too fine.
The script carpentry seems to me excellent. The presentation of each phase of the boy's case could have been dry, but Suo makes each step hinge on a detail of fact or inference, so small questions keep popping up—including questions about whether the boy really might have done it. The finale, which recalls Kurosawa's Ikiru in its methodical summing up of everything we have seen, becomes grueling, but in a salutary way. In Japan, the film is a trailblazing critique of the criminal justice system, where most people arrested confess in order to avoid the almost inevitable guilty verdict in a trial. Eliminating a jury, barring defense counsel's discovery of prosecution evidence, and capriciously replacing one judge by another midway through a case, the system encourages cynical submission.
Suo avoids stylistic pyrotechnics. He plays down his signature mugshot framings (the publicity still above is an exception) and has recourse to handheld camerawork simply to distinguish the train scenes from the rest of the film. Still, his shooting displays a quiet agility. The high point is probably the testimony of the schoolgirl, her identity protected by screens set up around her. Suo finds a remarkable variety of camera setups here, each well-judged to impart a particular piece of information. (In its resourceful changes of viewpoint, the sequence reminded me of Mizoguchi's courtroom scenes in Taki no Shiraito and Victory of Women.) The title suggests a strident social-problem film, but Suo's calm plainness of handling yields a quality rare in the genre: tact.
Many more films to report on, including Johnnie To's latest, but I must rush off to—what else?—another movie. I'll try for a wrapup on Thursday, while I'm on that highway in the sky.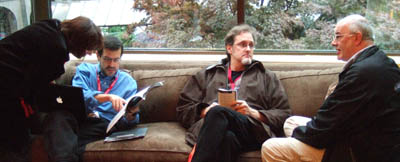 The critics line up: Bérénice Reynaud, Shelly Kraicer, Chuck Stephens, and Tony Rayns.