Thursday | July 31, 2008
open printable version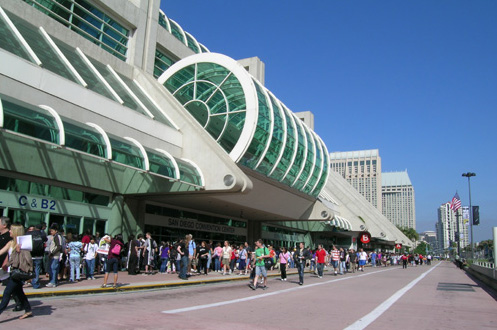 Kristin here–
From July 23 to 27, I was at Comic-Con for the first time. For the past few years I have contemplated attending, since it is the largest pop-culture fan event in the world. Last year the Con sold out its 125,000 tickets for the first time, and that feat was repeated this year. Comic-Con has become important for the launching of blockbuster fantasy and sci-fi movies. Ian McKellen, on break from playing Gandalf, made a surprise appearance there in 2000 to promote the first X-Men film. Innumerable franchise items for big-budget films have made their debut at the Con.
This year I received an invitation from TheOneRing.net to participate on the site's first Comic-Con panel in five years (i.e., since 2003, the year of The Return of the King). My fellow panelists were Chris "Calisuri" Pirrotta (co-founder of TORN), Cliff "Quickbeam" Broadway (long-time contributor to the "Green Books" section), and Larry "MrCere" Curtis (contributor to TORN and coordinator of many line parties for the trilogy). That was the extra push that made me decide that this was the year to take the plunge. (See MrCere's coverage of Comic-Con here, here, and here.)
Coincidentally, pop-culture expert Henry Jenkins was also attending his first Comic-Con. We never spotted each other during the Con itself, but after it ended on Sunday afternoon, we got together for a conversation about our thoughts and reactions. Henry's now on vacation and wisely not checking email, but I'm going to write up another entry with lengthy excerpts from that conversation. Once I get a chance to run the result past Henry and get his suggestions, probably in a couple of weeks, I'll be posting that as well. Here I'll just give an account of my own experiences and what I learned about Comic-Con. I'll also be blogging specifically about the news-media coverage of the event.
Four-day passes were already sold out by the time our panel was officially accepted (early June), but TORN took care of reserving "Professional" passes for the group. The basic passes seem to be Four-Day, Professional, Press, Exhibitor and One-Day. Eventually I received an email confirmation, complete with barcode to be scanned when I picked up my pass.
Comic-Con takes place every year at the San Diego Convention Center. There's no way a photo or even a bunch of photos can convey how big the place is. The space centers around an exhibit hall divided into sections A to H, corresponding to the lobby doors through which one enters. I assume these can be closed off from each other for smaller events, but in this case the entire space apart from Hall H was open. The total exhibition space is 525,701 square feet, with Hall H being 64,842 of that. (More about Hall H later.) David and I live in a large house, but this exhibition hall has about 100 times more floor space.
There's only one other floor, apart from the mezzanine. The mezzanine was fairly small and taken up by gaming and some small booths which I didn't investigate. On the second floor are the meeting rooms, varying considerably in size but adding up to 204,114 square feet. The "Sails Pavilion," a large, column-free open space, is a further 90,000 square feet. That's where people lined up to get the autographs of major guests, and where the freebies tables and "portfolio review" area were set up. Apart from all that, there are large halls and lobbies where lines form, people socialize, and snack carts sell expensive food and drink. These zones total 284,494 square feet. Rumor has it that after its contract with the Convention Center ends in 2012, Comic-Con may seek an even bigger venue, most likely in Las Vegas or Los Angeles.
Wednesday evening (July 23), there was a three-hour preview for anyone with a pass for the entire event. Arriving at the Convention Center was an overwhelming experience. Thousands of people were heading for the same place, and tens of thousands already there in line. I arrived at the building and saw vast lines on either side of me along the sidewalk. The one to the left seemed to stretch to the horizon; the one to the right looked somewhat less daunting.
Apparently newbies at Comic-Con commonly get into a line, wait until they reach the front, and realize that they were supposed to be in the other one. Luckily I had arrived at about the mid-point of the building and noticed that the big line was for people picking up purchased four-day passes. The other was for professionals and press. After a short hike, I took my place at the end. The wait was enlivened by people constantly pausing and asking which line this was. Occasionally fans in costume passed by, though these represented a much smaller portion of the crowd than the media would lead us to believe.
The wait seemed long but was probably only about 25 minutes. Once I got inside, the registration process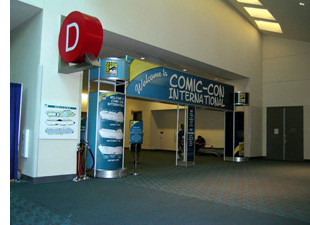 was speedy, with the barcode read and a badge generated and slipped into its plastic case in the blink of an eye. There were no events scheduled that night. It was simply an opportunity to get a look at the exhibition hall, with its thousands of booths and, in the case of the big companies, display areas. Familiar logos were everywhere, and the place stretched out further than one can see.
I mostly spent the evening checking out the companies related to The Lord of the Rings: Weta Workshop, Sideshow Collectibles, and the tiny booth shared by TheOneRing.net andSlave Boy Films (which produces fan-related video, mainly for websites). I was to do three one-hour signings there in the course of the Con, and it became my pied à terre for the duration of the event. (Thanks to producer Justin Sewell and his team for their hospitality!) I also visited the New Line display, but it was mainly there to sell DVDs of Harold and Kumar Escape from Guantanamo Bay. Sure, people could order it online, but the official release date wasn't until July 29—two whole days after Comic-Con ended.
(I've written up an account of LOTR and The Hobbit at Comic-Con on my "Frodo Franchise" blog.)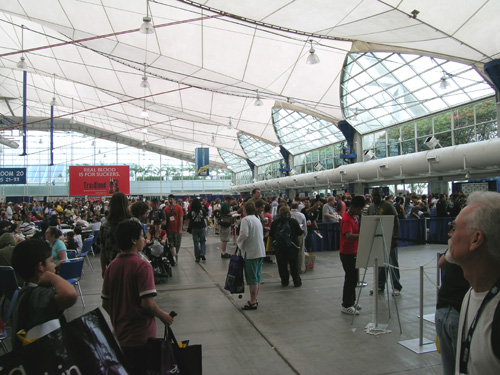 Many types of activities go on simultaneously. There are continuous movie and television previews with stars, directors, and/or writers present. There are autographs to be had, with the most famous people signing in the Sails Pavilion (above) and others at booths in the exhibition hall. (I spotted Marcia Wallace, aka Mrs. Crabapple in The Simpsons, signing at one table.) There are things to be bought, though numerous small promotional items are given away. There are panels and artists' lectures to attend. There are open spaces in which costumed fans can perform or pose for pictures. Aspiring comics artists can show their profiles to representatives from big publishers like Dark Horse. Gamers can try out previews of forthcoming games. Lots of socializing goes on. After the Harry Potter fandom panel ended, I saw the owners of The Leaky Cauldron meeting ardent fans whom they had only known online up to that point. In short, one cannot possibly do and see more than a small fraction of what happens.
Apart from my signing sessions, I concentrated on panels. I was afraid from the long line that I would get shut out of the "Masters of the Web" panel on Thursday morning, but I got in easily—and indeed, throughout the event I didn't get shut out of anything, though I didn't try often to get into the big Hollywood previews. The panels, by the way, start at the civilized hour of 10 am. Those of us taking the shuttle buses from distant hotels could still get up at a reasonable time, get breakfast, and make it to them.
Our TORN panel took place on Friday morning. Not everyone who wanted to attend could get into the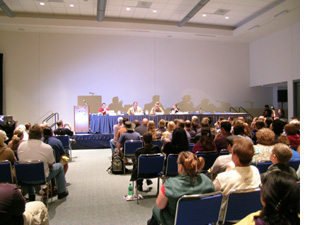 room. Apparently one fan who was shut out got unruly and had to be subdued by security staff! Those who did get in were an enthusiastic bunch, and we spent the session speculating on casting and on possible approaches to adapting The Hobbit and especially to writing the mysterious "Film 2" that is to create a "bridge" covering the sixty-year gap between The Hobbit and The Lord of the Rings. Judging from the applause, Martin Freeman (familiar in this country mainly as Declan in Shaun of the Dead) would be a popular choice for Bilbo. He does look like he would make a plausible hobbit. My suggestion of Mark Ruffalo for Thorin should definitely be taken seriously by the filmmakers.
Other panels I attended involved the Disney "story process," Sideshow and Marvel toys, and HP fandom. I heard Tolkien artist John Howe's and comics master Lynda Barry's talks, definitely two of the highlights of the Con for me. I had long loved John's Tolkien illustrations and had corresponded with him during the writing of The Frodo Franchise, and it was a huge treat to get to meet him in person—and find that he had read and admired my book. Immediately we were talking like old friends.
Arriving early for Lynda's talk, I sat through the end of a presentation on an animated series that I had never heard of. During this, Lynda came in and happened to sit down right next to me! (No one who has seen her self-portraits in her comics could fail to recognize her.) I hesitated to ask for her autograph, since some people don't like to be bothered when they're about to go onstage. When someone else asked and she didn't seem to mind, I took my chance. I introduced myself as a fellow Wisconsinite, and she was most charming about signing my program. A good thing, too, since I didn't figure out her schedule of autograph sessions at the Drawn and Quarterly table until after they were over.
The only disappointing panel was "The Culture of Popular Things: Ethnographic Examination of Comic-Con." The panelists were a bunch of undergrads (and one grad students) doing a class project which consisted of interviewing exhibitors and fans on various subjects! I'm sure the students are smart and enthusiastic, but they didn't belong on a panel. If Comic-Con organizers want to add an academic thread—and given the miniscule attendance at these events, I don't see why they would—they should find some pop-culture experts to make up the panels.
[August 2: I have heard from Dr. Peter Coogan concerning my remarks on the panel "The Culture of Popular Things: Ethnographic Examination of Comic-Con 2008." He offers some information about the Comic Arts Conference.
The CAC, which has been associated with the Comic-Con since 1992 and a formal part of the Comic-Con since 1998. We run four panels per day for over 20 hours of programming and are one of the largest programming tracks at Comic-Con. Last year the CAC was a small part of the successful argument that the Comic-Con made against San Diego's attempt to get it reclassified as a for-profit corporation in terms of the rate it would be charged for city services.
Regarding attendance, the CAC was originally located down in room 17 (about 80 seats), but moved up to 7A (about 150 seats) after a few years, and last year to 30AB (about 200 seats). We have consistently filled or overfilled our space, and so have been rewarded with ever larger venues. Attendance was down at CAC panels this year, as it was at many non-media panels across the con. Because of the increased attendance at the con, the lines for the larger Hollywood panels have increased, and attendees, paradoxically, are less free to attend other panels because of all the time they spend waiting in lines.
No doubt I generalized too much on the basis of one panel, for which I apologize. More information on the CAC can be found at its Website.]
The exhibition hall, previews, and panels officially end at 7 pm. Films are screened at night, but I didn't go to any of them. The main evening events are parties put on by big studios and manufacturers at hotels and screenings held by the studios in local movie theaters. I had a sample of each.
As a member of the TORN panel, I got invited to the Gentle Giant/ Lucasfilm/ Weta/ Sideshow party on Friday evening. I expected that there would be some sort of promotion for upcoming films and products, but there wasn't anything at the party itself. An adjacent room held a large stack of swag-bags, but I didn't think I would want to haul home most of what was in them, so I never found out what they contained. I had another chance to talk with John Howe, then briefly with Richard Taylor, and then went off to get a solid eight hours in preparation for the next day.
One of the films being shown in its entirety was Hamlet 2. Our good friend James Shamus of Focus Features got me onto the VIP/Press list, so on Saturday night I was off to the Gaslamp 15 multiplex. The film, which was a hit at Sundance this year, is an amusing and cheerily offensive film which has the potential to be one of this year's indie sleepers. Director-writer Andrew Fleming, co-writer Pam Brady, and star Steve Coogan were there for a Q&A after the screening. It was definitely a more relaxed and personal session than the one I witnessed for a big studio films, where the guests were tiny dots in the distance and had to be viewed on giant TV screens.
That one preview and Q&A that I witnessed was for Terminator Salvation, which I had sort of assumed that I would miss. I had been avoiding the giant Hall H, where the big studios held their promotional events, because I had heard horror stories about hours waiting in line for one of the 6500 seats. There was plenty to do elsewhere. But I definitely wanted to see the 2:30 Pixar presentation of scenes from upcoming features Bolt and Up. That was at I decided to go early and get in the Pixar line just after Terminator Salvation started at 1:15.
It turned out that there was in fact just one line for Hall H, moving continuously as seats became available. This makes it difficult to gauge when to queue up for a specific event. That line snaked from the entrance across the plaza and made several long loops across the grass. Some people had settled in for lunch. But at about 1:20 we began to move surprisingly quickly. Turned out that the Terminator Salvation show was running a bit late, and I made it just as the preview reel started. It looked like it might be good, though my ears hurt for two days afterward (especially since they showed it again at the end). Director McG and some of the actors held a Q&A afterward—mostly the usual stuff about how wonderful it was to be working with each other. The high point came when a young Asian-American man from the audience asked a question in a perfect "Arnold" voice. He was called up to the stage to help field questions, keeping up the Arnold imitation flawlessly. By the way, Christian Bale (starring as John Connor) wasn't there, though maybe if he had showed up, he could have avoided a spot of trouble he got into in London a few days earlier.
The Pixar session was a double preview. Co-directors Byron Howard and Chris Williams introduced some lengthy clips from Bolt, to be released November 26. It's about a dog who plays a super-dog on TV and thinks he really has super powers. The footage cut together storyboard images, unrendered animation, and finished shots, which the audience didn't seem to mind in the slightest. We're used to seeing DVD supplements on pre-viz or storyboarding, but to see them all mixed together and edited into sequence, the way the filmmakers themselves see them during post-production, is a rare treat.
Then it was co-director Peter Docter's turn to introduce Up. This sounds like one of the odder Pixar premises: a 78-year-old man avoids life in a nursing home by tying a giant bunch of helium balloons to his house and flies it to South America, discovering a stowaway boy and ending up in the jungle. The footage shown looked charming. Up is due out May 29. What with WALL-E this summer and these two coming soon, it looks like Pixar is managing to pick up the pace of production to more than one feature per year.
Hall H is essentially impossible to photograph. It's too dark to shoot without flash, and flash only lights up a small area. To give a sense of scale, though, that orange rectangle near the center of the photo is the stage where the celebrities sit for their sessions. Sitting near the back, I could see them only as small dots, except on the monitors.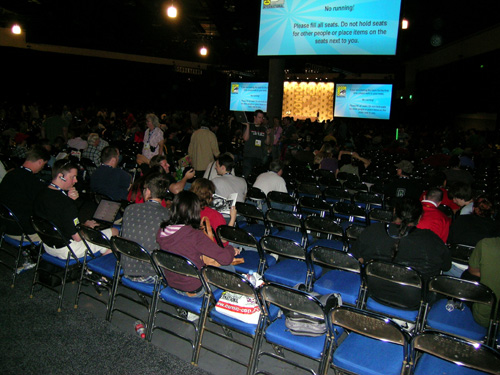 On Sunday I wandered around the exhibition hall, which I hadn't really explored up to then. It's divided into
general sections by type of display. There's an aisle for upcoming video games; that round thing in the photo at the right is the Electronic Arts sign. Gamers crowded it to try out the new titles. Artists' Alley is where independent artists and aspiring artists can rent small display tables. Despite the proliferation of media publicized and sold at Comic-Con, comics still command a substantial portion of the floor. Dealers may offer old comics, original artwork, animation cels, and posters. Henry was delighted to find and purchase an original newspaper page with a well-preserved Winsor McCay comic-strip on it.
The big studios have large display areas for films and TV shows. Aisles around them seemed always to be choked with people, I gather getting autographs from cast members. I never did get close enough for a good look, but obviously these booths are very popular.
Action and collectible figures are represented, there's an area for comic and graphic-novel publishers, such as Drawn and Quarterly.
Overall I enjoyed Comic-Con. I don't think it will be one of those events I long to attend every year, but I would like to go back. Presumably in a year or two publicity for The Hobbit will start showing up at the Con, and that I definitely would like to see.