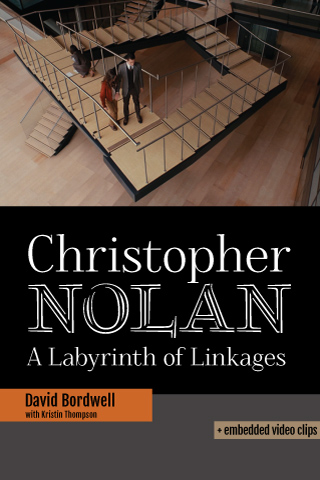 Christopher Nolan: A Labyrinth of Linkages
by David Bordwell with Kristin Thompson
62-page PDF, 6 × 9 inches.
US$1.99
For background on Christopher Nolan: A Labyrinth of Linkages, see this blog entry, and read below on this page.
with embedded
video clips (274 MB):
Buy Now
no video (11 MB):
Buy Now
There are two PDF versions of this book:
The audiovisual version of Christopher Nolan: A Labyrinth of Linkages includes six embedded video extracts which are closely analyzed. This version is a large file: 274 MB. You can play the clips whether you're online or not. It costs $1.99.
The clips play smoothly on laptops and desktops, whether PC or Mac. As far as we know, Android-based tablets will play the clips automatically. Still, some operating systems on some devices may not natively display the videos. Most notably, the Adobe PDF Reader on the iPad/iPhone will not run the clips. But there is at least one iOS application available, PDF Expert, which will play them well. Probably other apps exist or will be developed. You may want to experiment for best results.
A version without video extracts is also available. It offers the full text and the same color illustrations. Consisting of a PDF file of 11 MB, it will display well on any computer or tablet. It too costs $1.99.
Both books are available through PayHip, which uses PayPal to process payments. You can use your existing PayPal account or many major credit and debit cards. When checking out using a credit or debit card, PayPal will ask for your address and telephone number. This is for PayPal's verification of your credit card only; we do not keep your address or telephone number on file.
After you make your purchase, you will be directed back to the PayHip site to download the book. An email will also be sent to the address you provided, with a download link.
Christopher Nolan is widely considered one of the most accomplished living filmmakers. The Dark Knight, Inception, and many other of his films rank high in moviegoers' esteem. This book traces out some of his contributions to modern American cinema—particularly his unique experiments in narrative form.
More generally, his career offers us an occasion to think through some issues about creativity and originality in modern Hollywood. How innovative can filmmakers be without losing the audience? How to combine complexity with clarity? Nolan's career offers some solutions to these questions.
Christopher Nolan: A Labyrinth of Linkages is derived from several popular entries on the blog, Observations on Film Art. The book recasts these entries and integrates them into a continuous argument, while adding illustrations and new material written especially for the book. The result analyzes some of Nolan's most challenging movies, including Following, Memento, The Prestige, and Inception. It gauges his command of editing and scene construction, and it goes on to consider his innovations in cinematic storytelling.
Table of Contents
Introduction: How to innovate
Chapter One: Style without style?
Chapter Two: Following, forward and backward
Chapter Three: Dream a little dream within a dream with me
Conclusion: Midcult auteur?
Appendix: Based on Uncle Scrooge? That's rich!
References and further reading