Archive for the 'Directors: Rivette' Category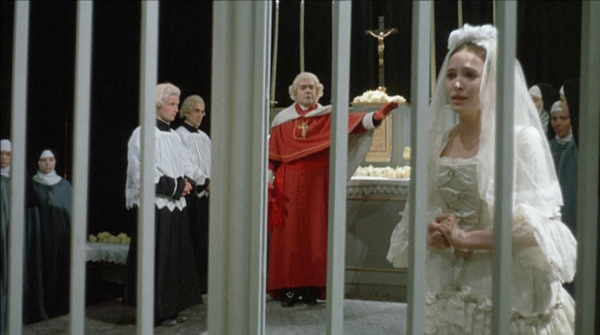 Suzanne Simonin, La religieuse de Denis Diderot (1966).
The Wisconsin Film Festival is over, and already we're looking forward to the next one. In the meantime, here are our last thoughts on some films that impressed us.
Kristin here:
Dürrenmatt in Dakar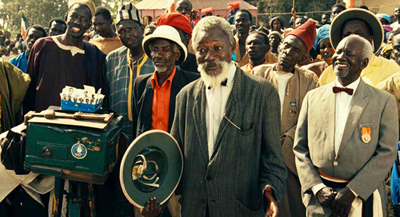 Hyenas (1992).
Senegalese director Djibril Diop Mambéty is known mostly for his two feature films, Touki Bouki ("The Hyena's Journey," 1973) and Hyenas (1992), and less so for a handful of shorts. Though unable to direct for long stretches of time, Mambéty, who died of cancer in 1998, has been well-served by preservationists. In 2013, Touki Bouki was released by the Criterion Collection in a box set of restorations by Martin Scorsese's World Cinema Project. Now the Cinémathèque Suisse has sponsored a 4K restoration of Hyenas. As the echoes in the two titles suggests, Hyenas was intended to be the second film in a thematic trilogy about the corruption of ordinary people by greed. The third film, Malaika, was planned, but Mambéty's early death intervened.
Hyenas is based on Swiss playwright Friedrich Dürrenmatt's dark 1956 comedy, Der Besuch der alten Dame, known in English as The Visit. The film follows the story of the original fairly closely, at least in the play's first two acts.
The action is set in the village of Colobane (Mambéty's hometown, where Touki Bouki was also set). The village has fallen on hard economic times, and the genial local shopkeeper, Dramaan, helps keep the place going by extending credit to his regular customers. City officials announce the imminent arrival of Linguère Ramatou, a Colobane woman who left the village and has become extremely wealthy. Dramaan, who had courted Ramatou in their youth, is delegated to greet and butter her up (above). She, however, accuses him of having impregnated her and refused to confess to being her baby's father. Forced to go abroad, she became a prostitute, was severely maimed in a plane crash, and ended up rich. (How is never explained). Now she promises the villagers great financial aid if they will agree to kill Dramaan.
Although the mayor indignantly refuses, Dramaan soon notices that his fellow citizens are buying luxurious goods that they should not be able to afford. He futilely tries to get local officials to protect him from assassination. All this is played for bitter comedy by an engaging cast of non-professionals. The thematic point is made clear, especially when Mambéty intercuts a pack of hyenas lurking in the nearby brush with a mob of locals who prevent Dramaan from fleeing the town.
It helps to know something about the setting, which would be familiar to Senegalese audiences. The film gives the impression that Colobane is a remote country village. In fact it is a small arrondissement of greater Dakar, a major port on the west coast of Senegal.  In a lengthy overview of the director's life, including an interview with Mambéty shortly before his death, N. Frank Ukadike explains:
The Colobane of Hyènes is a sad reminder of the economic disintegration, corruption, and consumer culture that has enveloped Africa since the 1960s. "We have sold our souls too cheaply," Mambéty once said. "We are done for if we have traded our souls for money. That is why childhood is my last refuge." But what remains of Colobane is not the magical childhood Mambéty pines for. In the last shot of Hyènes, a bulldozer erases the village from the face of the earth. A Senegalese viewer, one writer has claimed, "would know what rose in its place: the real-life Colobane, a notorious thieves' market on the edge of Dakar."
The last shot is startling, as it reveals for the first time (at least to non-Senegalese viewers) that Colobane is located right up against a city. Possibly in Mambéty's childhood it was a village later absorbed by the spread of Dakar. It's not clear from the film when the action is taking place, although Ukadike suggests that it must be in the 1960s or later. The implication of the final shot is that the corruption of the villagers is as much an urban problem as a rural one–if not more so.
The restoration has resulted in vibrantly colorful images that emphasize the indigenous costumes, particularly of Ramatou and her entourage (see bottom). Metrograph is releasing the film theatrically in the US, and with luck a Blu-ray will eventually make it more widely available.
David here:
Anomalies in the space-time continuum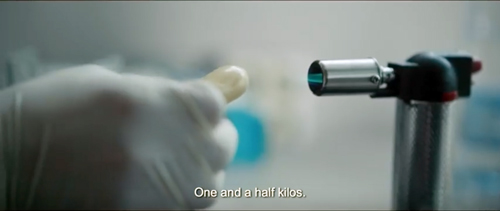 Vultures (2018).
Almost from the start, popular moviemaking has played tricks with linear time and space. Edwin S. Porter's Life of an American Fireman (1903) contains both a dream and editing that replays key actions from two viewpoints. The more developed silent cinema explored flashbacks, subjective viewpoints, and other strategies. By the 1940s, filmmakers around the world were trying these tricks in sound movies, all seeking to enhance curiosity or suspense or surprise.
Most of the movies that play with space and time resolve the uncertainties clearly. The opening of Mildred Pierce skips over important moments without telling us, but by the end a flashback fills them in. This sort of gamesmanship has remained a permanent resource of mainstream cinema, especially in genres that rely on crime and mystery. Think of Pulp Fiction or Memento or The Usual Suspects, or more recently Identity, Side Effects, or the many heist movies that conceal crucial parts of the plan.
Börkur Sigpórsson's debut feature Vultures is a good example of a conventional crime film made more intriguing by the way it's told. The basic story is formulaic. An Icelandic real-estate developer needs to replace money he's embezzled, and so sets up a drug-smuggling deal. He enlists his ex-con brother Atli to help the mule, a Serbian woman named Zonia, get through airport security. After that, Zonia has to be sequestered until she evacuates the pellets of cocaine she's swallowed. In the meantime, Lena the policewoman gets on the trail. The whole scheme falls apart when Zonia collapses and Atli starts to take pity on her, while Erik decides to get the pellets by any means necessary.
This straightforward arc of action is presented in fragments that jump among time frames. Before the credits, we see Zonia hesitantly gulping down the pellets, getting sick on the flight into Reykjavík, and hiding in a toilet. She's frightened when she hears a knock on the door.
Flash back to follow Atli and Erik planning the smuggling scheme. Then, via brief replays, we're back with Zonia swallowing the pellets, Zonia on the plane (with Atli now revealed as a fellow passenger), and Zonia bolting to the toilet. He's the one knocking on the door.
This sort of back-and-fill pattern sharpens our interest by delaying the revelation of who's knocking on the door, while also filling us in on the brothers' scheme. The interpolation also allots some sympathy to Atli. In the flashback he's shown visiting his drug-devastated mother and trying to reassure his wife that he's going to be providing for her and his son. Soon we see him distracting the airport police so that Zonia can pass through freely. The deal seems to have come off. All they have to do is retrieve the pellets.
Abruptly we skip far ahead in time to reveal a bit of the end of the story. I won't provide a spoiler, but let's just say that whatever certainty we gain about the outcome is provisional and partial. Still, with this small anchor in Now, the narration doubles back again through a long flashback that traces the unraveling of Erik's scheme.
As often happens with flashback construction, the time-shifting in Vultures has a double impact. It teases us with hints about what will happen, and it forces us to concentrate on how and why it happens. (Something similar is at work in Duvivier's Lydia, which I analyze in this month's "Observations on Film Art" installment on the Criterion Channel.) Told more linearly, Vultures wouldn't have been so engaging, I think. Nor would it have so sharply focused our concern about the characters' decisions. And that crucial glimpse of the future allows us to hope that Zonia's fate isn't what it would have seemed to be if her story had been presented in 1-2-3 order. As usual, the how of storytelling is as important as the what.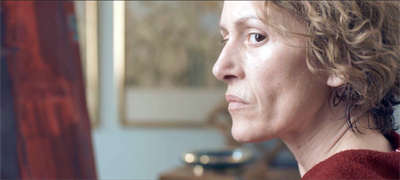 During the 1950s, films not only fractured their action in challenging ways but also refused to resolve all the questions that were raised. We might not fully understand everything that happened. This strategic ambiguity has been central to what's sometimes called "art cinema," and is nicely showcased in Pause, another debut feature. If Vultures plays hob with the crime movie, Cypriot director Tonia Mishiali gives us a jagged  domestic drama, a diary of a going-mad housewife.
Elpida is falling apart. The darkly comic opening scene, with a doctor ticking off a virtually endless list of her ailments, portrays her as enervated and beaten-down. How she got that way becomes clear. Her husband Costas shovels in food in angry silence. He watches soccer on their main TV, while she has to watch her violent crime videos with headphones. He comes and goes as he pleases; she steals time to attend a painting class or have coffee with a neighbor. When he decides to sell her car without further discussion, and when a young contractor comes to repaint their apartment house, Elpida dares to imagine life without the lout she married.
Imagine is the key word. From her drab routines we pass without warning into fantasies of resistance, escape, and payback. At first, the visual narration makes clear that these acts of rebellion are wholly in her mind. As the film goes along, however, the boundary gets fuzzy. Is the breezy workman making a pass at her, or is she just wishing for it? Is she really drugging Costas' coffee? And is murder in the offing?
The cinematography won't tell us. Like Vultures, Pause presents its story through a now-standard blend of planimetric framings and a "free-camera" handheld style that suggests nervous urgency. The fantasies are treated through both techniques.
A woman's domestic discontents, projected through fantasy, has been a mainstay of cinema since at least Germaine Dulac's Smiling Madame Beudet (1923). Here, Mishiali's careful pacing of Elpida's household chores establishes a solid rhythm that's broken by the imaginary moments. Like many modern films, the drama builds up by immersing us in the characters' routines and then disturbing them with sudden outbursts. Yet the climax is remarkably quiet, further teasing us about what may or may not have happened. In any case, by the end, Elpida may be liberated. Yet her final laughter, echoing through the end credits, doesn't feel especially jubilant.
Get thee from a nunnery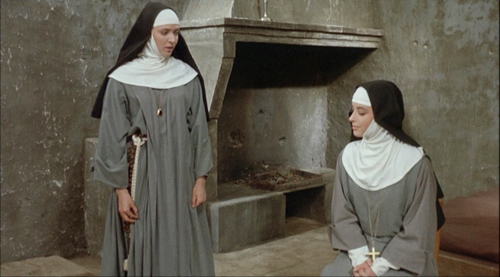 Suzanne Simonin, La religieuse de Denis Diderot was Jacques Rivette's second feature. In 1962 he submitted a screenplay to censorship authorities but was told that if the film were made it would probably be banned. After another try in 1963, a third version was cautiously accepted, with the warning that it might well be forbidden to viewers under 18.
Shooting began in September of 1965. Catholic groups immediately objected. After a public outcry, in which Godard called on Minister of Culture André Malraux to intervene, there was a screening at the 1966 Cannes Film Festival. The film wasn't released in France until July of 1967. Usually known as La religieuse (The Nun), it's gone largely unseen in America. We were lucky to screen the sparkling 4K version that Rialto is now distributing.
The story is set in the years 1757-1760. Suzanne, illegitimate daughter of a prominent household, is parked in a convent, like many women who had no other life chances. Her first Mother Superior, who treats her with affection, dies and is succeeded by a harsh younger woman. Suzanne loves God but resists the rigid discipline. She's beaten and starved, denied access to her Bible, and believed to be possessed.
She's rescued by church officials and a kindly lawyer, who oversee her transfer to a very different convent. That's run by a sexy, permissive Mother Superior who seems anxious to bed our heroine. Suzanne finds the license of her new home as disquieting as the asceticism of the old one. In the end, she escapes with a priest who abandons his vows. Soon she's on her own in a grimy secular milieu.
No wonder the French church was outraged. True, Diderot's novel was a classic, and Rivette had already mounted the story as a play. But on film the revelation of ecclesiastical corruption was vivid and shocking, and the presence of New Wave star Anna Karina gave it undeniable prestige. Popularity, too: It attracted more than 2.9 million spectators, making it the ninth most successful release of the year. (Films by Godard, Rohmer, Bresson, Bergman, and Chabrol drew fewer than half a million.) Rivette's first feature, Paris nous appartient (1961) had drawn only about 29,000. As often happens, creating a scandal proved good for business.
Seen today, La religieuse is hard to imagine as a mass-audience hit. Rivette presents his inflammatory plot with a calm austerity. The dominant colors, at least for the first seventy minutes or so, are shades of beige, brown, white, and black. Shot in very long takes, usually at a distance from the action, the scenes are confined largely to chapels, corridors, and sparsely furnished rooms. La religieuse exemplifies what one wing of Cahiers du cinéma called "classical" direction. As a critic, Rivette admired Hawks, Preminger, Rossellini, the American Lang, and late Dreyer for their sober, unemphatic staging of performances. In place of flashy angles and aggressive cutting, mise-en-scène should center on expressive bodies and faces captured from a respectful distance.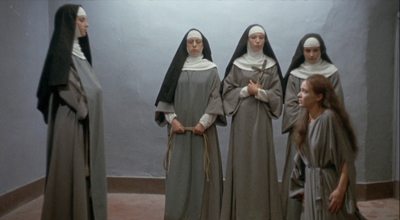 In a 1974 interview, Rivette explained that his most proximate influence was Mizoguchi Kenji–a director who made the restrained, long-take scene central to his style. While most scenes in La religieuse are cut up a little, Rivette seldom moves nearer than medium-shot distance. He uses close-ups with the same parsimony that Mizoguchi displays. Most directors would have cut in to a closer view of Suzanne when, kneeling, she's asked to pray to Jesus, but Rivette obstinately makes her gesture part of a nearly two-minute shot.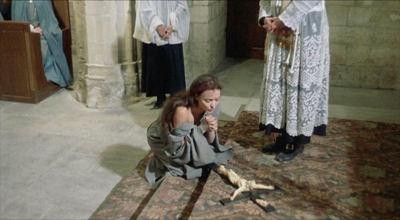 This might seem a stagy approach, especially if you remember Rivette's interest in varieties of theatre. But like other Cahiers critics, he believed that "classical" filmmaking harbored qualities that also kept cinema "modern," on the aesthetic and moral edge.
In the abrupt editing of the long takes in Dreyer's Gertrud (1964), Rivette found a revival of the powers of montage. Dreyer didn't hesitate to interrupt moving shots. Rivette felt that the film exploited "tantalizing cuts, deliberately disturbing, which mean that the spectator is made to wonder where Gertrud 'went'; well, she went in the splice."
In La religieuse, most cuts within scenes are axial, not reverse angles, and they often mismatch action in ways that break the flow of the long takes.
At other moments, Rivette's editing subjects his distant shots to ellipses that recall Godard's jump-cuts and Resnais' experiments in Muriel. We get space-time anomalies more abrasive than those in Vultures and Pause.
Suzanne is in her cell, fretfully pacing. She pauses and, thanks to a cut, seems to look at herself at prayer.
She drifts to her needlework, and suddenly a cut takes her back to the other side of the room.
While she looks in the mirror, the camera backs up and, continuing over a cut, arcs to the right to reveal that she's already flung herself onto her bed.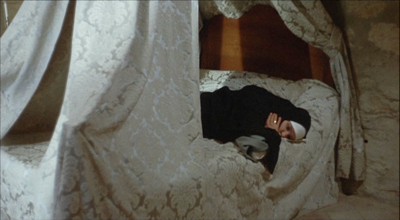 Where did Suzanne go? Well, she went in the splices.
It's wonderful to have this quietly astonishing film available again. The ever-reliable Kino Lorber is bringing out a Blu-ray edition next month, with commentary by Nick Pinkerton, a critical essay by Dennis Lim, and a new documentary about the production. Don't you want one? I bet you do.
---
Thanks as usual to the coordinators of our film festival–Jim Healy, Ben Reiser, Mike King, and Zach Zahos–as well as their colleagues and the hordes of cheerful volunteers who kept everything running smoothly.
The information about Colobane from N. Frank Ukadike is from his article on California Newsreel. For a trailer of the restored Hyenas, see here.
The information on La Religieuse's censorship struggles comes from Jean-Michel Frodon, L'Âge moderne du cinéma français: De la Nouvelle Vague à nos jours (Flammarion, 1995), 149-151. Rivette's comments on Mizoguchi's influence are in this Film Comment interview from 1974. His remarks on Gertrud are part of a 1969 Cahiers du cinéma panel discussion, "Montage," translated in Rivette: Texts and Interviews, ed. Jonathan Rosenbaum (British Film Institute, 1977), 86-87. The conversation is available online at DVDBeaver. I derived attendance figures from Simon Simsi, Ciné-Passions: 7e art et industrie de 1945 à 2000 (Dixit/CNC, 2000), 46-47.
What's an axial cut? Glad you asked. Kurosawa uses them (here too), as does Eisenstein and his Soviet peers and French avant-gardists. Silent cinema has plenty, but so do the films of Wes Anderson and John McTiernan. And The Simpsons, often.
Our first full day of the festival opened with a screening of Ozu's Good Morning (Ohayo), selected by guest Phil Johnston, and the final show a week later presented Jackie Chan's Police Story. (The first is already available in a Criterion disc, the second is coming soon.) Now that's what I call a film festival.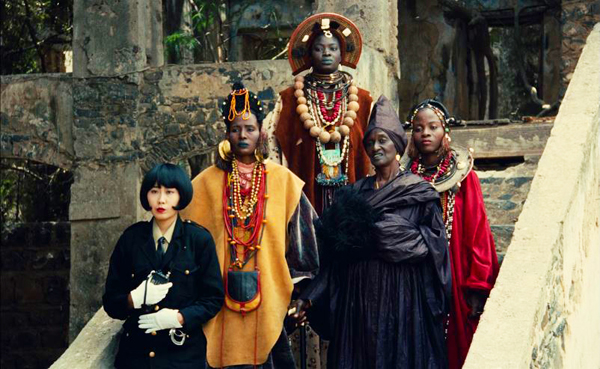 Hyenas (1992).