Thursday | October 9, 2014
open printable version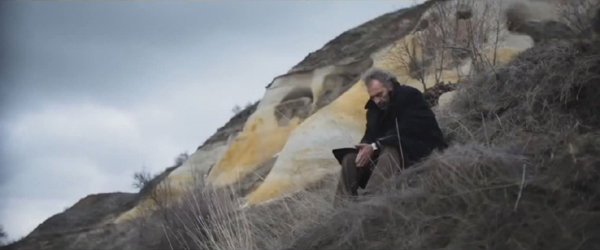 Winter Sleep.
Kristin here:
Iranian cinema moves on
Maybe it's just the particular selection of Iranian films at this year's festival, but I sensed a shift from the ones we've seen in previous years. Last year I titled one of my entries "Familiar Middle-Eastern filmmakers return to Viff." This year familiar names are missing, including Kiarostami, Panahi, Rasoulof, and Farhadi. (Mohsen Makhmalbaf's new feature, The President, was at Venice but not here at VIFF.) Moreover, all three of the Iranian fiction features this year depart from some conventions we've grown used to in the New Iranian Cinema of the past decades.
Whether A Girl Walks Home Alone at Night (2014) is actually an Iranian film is debatable, though it is listed as such in the program. Its director, Ana Lily Amirpour, was raised in England and subsequently moved to the USA, where she studied filmmaking at UCLA. A Girl Walks Home Alone at Night is her first feature and has American backing (including Elijah Wood as one of several executive directors) and was shot in California. Amirpour is of Iranian descent, and the film is in Farsi, which may be enough to have it considered Iranian.
It's hard to imagine, however, such a film being made in Iran. It's a vampire film, taking place in an imaginary town called Bad City, perhaps located in Iran but perhaps not. Its setting look distinctly like the less picturesque parts of the American West: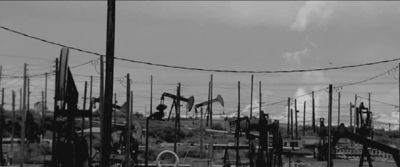 Amirpour has fashioned a remarkably good pastiche of an American widescreen, black-and-white genre film of the late 1950s or early 1960s, as this image and the one at the bottom of this entry demonstrate. As the Variety review points out, the look is also informed by graphic novels, notably Sin City. Indeed, this summer Amirpour has published a brief graphic novel with the same title as her film; it's apparently a prequel to the movie's story. Given that it is labeled #1, the artist presumably envisions a series.
The genre is the vampire film, though this one is hardly conventional. The vampire is the Girl of the title, and the director has taken amusing advantage of the resemblance between her triangular black hijab and the classic floor-length cloak worn by screen vampires, such as that of Bela Lugosi in the 1931 Dracula: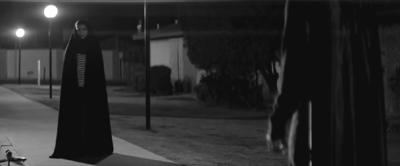 The heroine moves eerily through the streets of the town (see bottom), picking as her victims men who have exploited women. A romance develops between her and a more sensitive young man, clearly modeled on James Dean.
A Girl Walks Home Alone at Night played at Sundance and has been picked up for American Distribution by Kino Lorber, apparently with an October release planned.
The two other Iranian films are what David has dubbed "network narratives." One is straightforwardly so, the other far less so.
Rakhshan Bani-Etemad's Tales (2014) in some ways develops on the classic quest narrative of so many Iranian classics since the 1980s, where hero or heroine (often a child) doggedly set out to accomplish something, with the struggle laid out in detail. In Tales the questing characters are multiplied, with their paths crossing and sometime re-crossing.
Unlike in most of the earlier films, these quests don't always yield results, and hence closure. The characters are mostly involved in seeking help of some sort, sometimes from other people, sometimes from a government institution.  The cumulative effect is to suggest a society that has lost the ability or the will to respond, even to desperate pleas.
The film begins with a filmmaker riding in a friend's cab, shooting the passing cityscape. He immediately drops out of the story, though he will return. Ironically, the story's action begins with a failed attempt to help someone. The cab driver is hailed by a prostitute with a sick child. Recognizing her as an old friend of his family's, he buys medicine and a toy for the child, only to find that the woman has disappeared into the night.
Arriving home, he tells his mother of this encounter. We then follow her in a scene in an office building, where she tries to fill out a form complaining about not having received her pension. A gentleman in the corridor helps her, and we follow him into a meeting with a petty bureaucrat who takes calls from his wife and mistress, ignoring what the man is trying to tell him.
A central scene returns to the mother, now on a bus of protestors. The same filmmaker whom we saw at the opening is making a film about their personal plights. We watch through the viewfinder as the mother pleads for help. It's not clear whom the film is aimed at or who will eventually see it. Later in Tales, the filmmaker remarks that all films eventually get seen, but this seems far too vague to hold out much hope for those caught in a maze of bureaucratic red tape and neglect.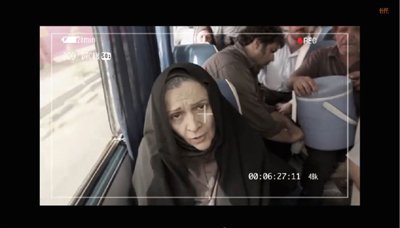 The network structure reportedly resulted from the fact that under the Ahmadinejad  regime Bani-Etemad could only get a license to make a series of shorts. Subsequently she was able to weave these together into a feature.
Bani-Etemad, who also produced Tales, is considered Iran's top female director. Here she brings back some characters from her earlier films, including Dr. Dabiri, from Gilaneh (2005), and Sarah, from Nargess (1992). The VIFF program quotes her as saying, "Tales returns to the characters of my previous films under today's circumstances."
Finally there is Fish and Cat (2013), which elicited mostly praising reviews when it debuted in Venice. (For an example, see our friend Alissa Simon's take on it for Variety.)
Despite running a lengthy 134 minutes, director Shahram Mokri shot the entirety as one lengthy take, without benefit of CGI. A sinister mood is set up immediately when a title hints that it will concern some restaurant owners in a remote district who may have used human flesh in their meat dishes. Two owners of the restaurant are introduced in the opening scene, and we follow them as they set out on a path through the nearby woods, carrying weapons, tools, and a bag soaked in what looks like blood: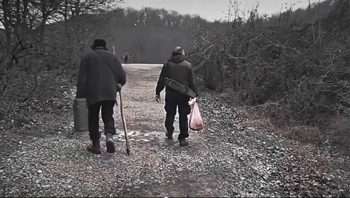 The pair chat until their path crosses that of Kazim, a young man participating in an annual kite-flying event to take place by a nearby lake; he's trying to ditch his clinging father. We follow him to the lake, then leave him to latch onto Parviz, who is trying to organize the young people arriving for the event. And so it goes, until eventually the brief scenes between the people who meet and part begin to repeat, but from a different vantage point. Much of the action involves the camera tracking with the characters from behind, as in the frame above, resulting in an occasional difficulty in identifying whom we're watching.
The tone remains ominous throughout, with the two thugs and a third accomplice intruding at intervals, perhaps with murderous intentions. There's also plenty of dark humor as well, and despite the slow unrolling of the action, the film remains absorbing throughout. Some viewers will be tempted to see the film on DVD/BD again, trying to work out the complicated looping chronology of the plot–possibly diagramming it, as the filmmakers presumably had to.
Those who can't do
We wrote about Israeli director Nadav Lapid's first feature, Policeman, in our 2011 VIFF report. This year he is back with his second, The Kindergarten Teacher (2014).
The film is a psychological study of young woman, Nira, who is an apparently ordinary and devoted kindergarten teacher. She learns that one of her small charges, Yoav, a shy, uncommunicative five-year-old boy, has an odd habit. Occasionally he begins to pace back and forth, declaring "I have a poem" and then reciting a short poem that would do credit to an adult author.
Nira's reaction to this apparent prodigy is shifting, occasionally ambiguous, and increasingly disturbing. We are confined almost entirely to what she observes and does, so we get no other view of Yoav except when his nanny and father talk with Nira.
Initially she seems inclined to take advantage of Yoav. We witness her reciting one of his poems as her own at a poetry-writing group that she attends. This premise is soon dropped, however, when Nira takes Yoav under her wing. She favors him over his classmates and encouraging his artistic impulses. Eventually she tries to take control of him, clearly picturing herself as gaining reflected glory from being a mentor to a great artist.
Given the limited point of view, we are encouraged to speculate as to how Yoav comes up with his poems and how far Nira will go in crafting the triumphant public career that she clearly wants for the boy. When she discovers that his boorish, business-minded father has no use for poetry, she increasingly tries to control Yoav, taking him to a public poetry-reading and getting him to recite onstage: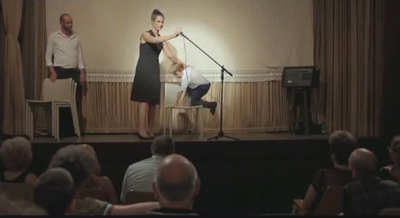 Cumulatively the film traces a slow and disturbing path toward her greater obsession. A subtly presented clue suggests the nature of Yoav's recitations–to us, that is, if we catch it. Nira misses it, or chooses to ignore it.
Once again in Anatolia
Three years ago we wrote about Nuri Bilge Ceylan's Once upon a Time in Anatolia as one of our favorite films of the 2011 VIFF. Now Ceylan is back with another long film, Winter Sleep (2014), and again it stood out among the films we saw this year.
The film was shot in the Cappadocia region of Anatolia in central Turkey. The area is a major tourist attraction, with caves, "fairy chimneys" and other spectacular stone formations, rock-cut chapels, and structures from antiquity.
The protagonist, Aydin, is an ex-theater actor now retired and running a hotel made up partly of rooms cut into the picturesque rock formations. It's the winter season, with only a Japanese couple and a motorcycle devotee staying at the hotel, and Aydin has plenty of time to write columns for the local paper and bicker with his young wife Nihal and embittered, recently divorced sister Necla: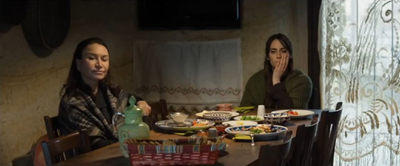 This time there is no crime investigation or mystery around which the plot centers. Instead the narrative is a character study, played out partly in long conversations between Aydin and the two women. There are also scenes in which Aydin reacts with indifference to the sufferings of his impoverished tenants.
The early part of the film is given over to Aydin, who at first seem mildly sympathetic, brilliant and creative. But as he converses with Necla in a lengthy central scene in his study, his remorselessly sardonic sister picks apart his flaws in a verbal duel between two equally witty characters. Later, Nihal feels beaten down by Aydin's opposition to her charitable work, the only activity that gives her satisfaction in this isolated life, and she finishes the job of exposing Aydin's selfishness.
The program notes compare the film to the plays of Chekhov, and there is a definite similarity, both in the conversations and in the contrasts between the wealthy family and the working-class people who resent being dependent upon them. Despite the fact that much of the film consists of long conversation scenes–and runs for 196 minutes–the large, sold-out audience with whom we watched the film were dead silent, clearly captivated by the story. Unlike Chekhov, in the end the film offers a glimmer of hope for the characters.
Ceylan has said that he shot in the distinctive landscapes of Cappadocia only reluctantly:
I actually didn't want to use it, but I had to. I originally wanted a very simple, plain place, but the film had to be set in a tourist area, and I needed a hotel that is a little isolated, outside of town. Cappadocia was the only place I could find that in the winter time still had tourists.
I was afraid of shooting in Cappadocia because it might have been too beautiful, too interesting. But I didn't show it too much, I hope.
Ceylan succeeded, I think. There are enough shots of the rock formations to impress us, but they are used sparingly. One might interpret the landscapes as reflections of the characters' inner turmoil, in much the way that Maurice Stiller and especially Victor Sjöström used Scandinavian landscapes in their classic films of the 1910s and 1920s. (See top, where Aydin pauses to think near some rocky outcroppings.)
It certainly shows enough that Winter Sleep might cause a rise in tourism among art-cinema audiences. One hotel's blog has already mentioned the film as a way of luring customers.
Winter Sleep won the Palme d'Or at Cannes this year and will receive an "awards-season" release in the USA by Adopt Films.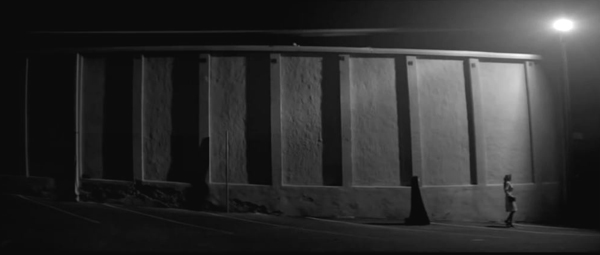 A Girl Walks Home Alone at Night.