Archive for the 'Is there a blog in this class?' Category
Kristin here:
The year since I posted our previous "Is there a blog in this class?" entry has been a strange one for filmmaking, film-going, film reviewing, film journalism, and film teaching. We managed to keep on blogging about film, though some of our usual sources of inspiration for subject matter were far less active. Fewer films to see, of course. But also less for the trade papers like Variety and The Hollywood Reporter to publish about.
Journalists have to keep filling those column inches, so many turned to speculating about the impact of the pandemic on the cinema, discussing measures productions were using to resume filming, and profiling a lot of actors. With filmmaking on hold for a long time, there was less coverage of actual industry events–the kind of reportage that sometimes goaded us to write a retort to claims made by a writer. Streaming, both from commercial services and festivals, provided fewer new releases and restorations than we would usually see. (From five in-person film festivals in 2019, we dropped to zero in 2020 and are still looking forward to having a safe way to attend one in the future.)
Nevertheless, we managed to write fairly regularly, and some of the entries might be of use to teachers as sources of information for their lectures or as readings they might assign to their students.
As always, the entries listed here might also be of use to readers who have not visited the blog on a regular basis. The earlier entries in this series can be found here: 2007, 2008, 2009, 2010, 2011, 2012, 2013, 2014, 2015, 2016, 2017, 2018, 2019, and 2020.
Chapter 1 Film Art and Filmmaking
In "Five critics, one of them a killer," David examines four books on individual films by critics. The fifth, But What I Really Want to Do Is Direct, is by Ken Kwapis, TV and film director (The Sisterhood of the Traveling Pants); he considers it one of "the most acute personal reflections on Hollywood directing."
Chapter 3 Narrative Form
Aaron Sorkin is widely admired as a skillful scriptwriter and director. On the occasion of the release of his third directorial effort, David surveys his major films and discusses how they draw upon and play with the conventions of Hollywood narrative in "THE TRIAL OF THE CHICAGO 7: Aaron Sorkin samples the menu."
Narration is a key part of narrative. Filmmakers can create their own intrinsic norms of point-of-view and lead the spectator to notice them. David analyzes such norms in Robert Bresson's A Man Escaped, Alfred Hitchcock's Strangers on a Train (above), and Curtis Hanson's The Hand that Rocks the Cradle in "Learning to watch a film, while watching a film."
David examines the differences between Quentin Tarantino's novelization, entitled Once upon a Time in Hollywood, of his film Once upon a Time . . . in Hollywood. He suggests various functions played by the considerable changes in the presentation of the central story: "Once Upon a Time in Hollywood, again: Tarantino revises his fairy tale."
Chapter 5 The Shot: Cinematography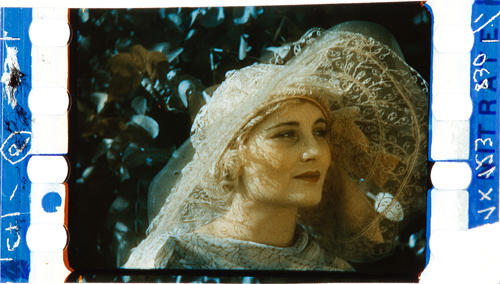 Guest blogger Barbara Flueckiger contributed an epic entry on her and her research team's work on the history of color technology, culminating in the creation of a website offering a vast collection of images taken from archival prints. For a generous selection of these gorgeous images and a link to the site, see her "Historical film colors: A guest entry by Barbara Flueckiger."
Chapter 7 Sound in the Cinema
Our Film Art and Film History collaborator Jeff Smith continued his tradition of doing brief analyses of the Oscar-nominated songs in "Oscar's Siren Song (A Slight Return): Best Original Song" and scores in "Oscar's Siren Song (A Slight Return): Best Original Score." His predictions of the winners went one for two, but the analyses are the real point of these entries.
Chapter 9 Film Genres
Anyone teaching a unit on the western is likely to consider showing at least one by a master of the genre, John Ford. Most of his early features in the 1910s were westerns, but only two survive more-or-less complete. The release of Hell Bent (1918) and particularly Straight Shooting (1917) on Blu-ray finally makes good prints of these two major films available. Hell Bent is more a film of great sequences and shots, while Straight Shooting has a tight story and great style throughout. I discuss them both in "When John was Jack: Ford's early westerns rescued."
David is a big Stephen Sondheim fan, ans he blogged about how the composer-lyricist-playwright adapted various genres into musicals, for both stage and screen in "Merrily he rolls along: A belated birthday tribute to Stephen Sondheim."
Chapter 10 Documentary, Experimental, and Animated Films
Oskar Fischinger's short abstract animated films straddle the categories of animation and experimental cinema. Almost all of them are set to musical pieces, both classical and popular. If you want to convince your students that experimental films can be accessible and entertaining, include a few Fischingers in your program. His work is still too little known, having become less available with the decline of 16mm rental prints. (We, like other fans, still cling to the marvelous video disc that was released back in the 1990s.)
Now most of the surviving films are available on two DVD collections, which I describe in "German classics for the pandemic and beyond." If you show only one, it probably should be the gorgeous Motion Painting No. 1 (bottom), though I recommend throwing in Study No. 7, an irresistibly lively tango which would only add a few minutes to your program.
One abstract film we saw during the Vancouver International Film Festival is Jóhann Jóhannsson's Last and First Men, but in this case the abstraction is created with black-and-white cinematography of real objects. "The filmmaker builds a film out of patterns of sensuous visual qualities," as David writes in his analysis of the film in "Vancouver: First sightings.
"The "documentary" label has come to include "mockumentary" as well. Sacha Baron Cohen's Borat Subsequent Moviefilm: Delivery of Prodigious Bribe to American Regime for Make Benefit Once Glorious Nation of Kazakhstan is a unconventional amalgam of staged fictional mockumentary scenes and candid conversations involving real people who participate in improvised scenes on the assumption that Borat is a real person and they are in a real documentary. In "Keep it stupid, simple," David explores how Cohen's film fits into the satirical tradition of the grotesque.
Chapter 12 Historical Changes in Film Art: Conventions and Choices, Tradition and Trends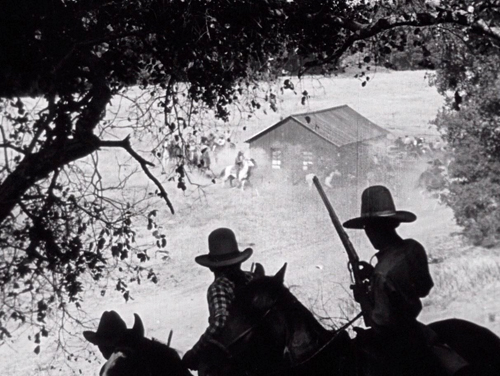 The entry ""When John was Jack: Ford's early westerns rescued" mentioned in the Chapter 9 section could also be useful for the "Development of the Classical Hollywood Cinema (1908-1927)" section of the film history chapter. Straight Shooting (above) is an excellent example of a classical film from 1917, the year when the conventions of the continuity style fully gelled.
"German classics for the pandemic and beyond," mention in the Chapter 10 section, also contains my discussion of the Blu-ray of the restored Waxworks (1924), Paul Leni's contribution to the German Expressionist movement.
At the end of each year, I post our only ten-best list–ten great films from ninety years ago. Last December it was 1930's turn, with "The ten best films of … 1930." I usually try to mix well-known classics with a few less known but worthwhile films. For 1930 there's a range from The Blue Angel and Earth to Ozu's That Night's Wife and Duvivier's Au Bonheur des Dames.
One of David's main areas of interest has been Hong Kong cinema. Last year a Chinese long-form translation of his Planet Hong Kong: Popular Cinema and the Art of Entertainment was published. He took the occasion to update his account for the blog in "PLANET HONG KONG comes to … Hong Kong."
We wish teachers and students well in what promises to be another difficult year of pandemic-era education!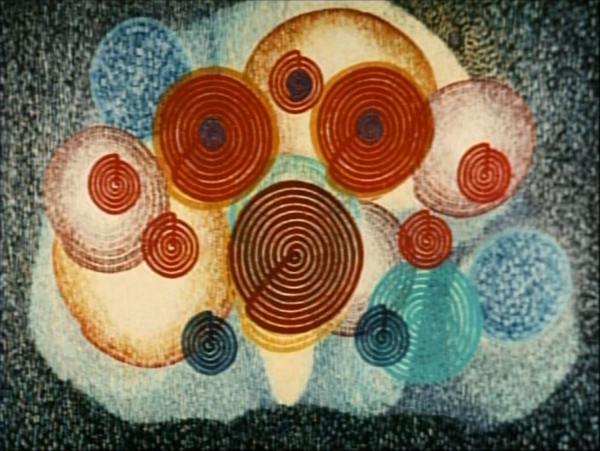 Motion Painting No. 1