Archive for the 'Directors: Fassbinder' Category
The Bitter Tears of Petra von Kant (1972).
Privacy is the seat of Contemplation, though sometimes made the recluse of Tentation… Be you in your Chambers or priuate Closets; be you retired from the eyes of men; thinke how the eyes of God are on you. Doe not say, the walls encompasse mee, darknesse o're-shadowes mee, the Curtaine of night secures me… doe nothing priuately, which you would not doe publickly. There is no retire from the eyes of God.
Richard Brathwaite, The English Gentlewoman (1631)
DB here:
We're in the midst of a wondrous national experiment: What will Americans do without sports? Movies come to fill the void, and websites teem with recommendations for lockdown viewing. Among them are movies about pandemics, about personal relationships, and of course about all those vistas, urban or rural, that we can no longer visit in person. ("Craving Wide Open Spaces? Watch a Western.")
Cinema loves to span spaces. Filmmakers have long celebrated the medium's power to take us anywhere. So it's natural, in a time of enforced hermitage, for people to long for Westerns, sword and sandal epics, and other genres that evoke grandeur.
But we're now forced to pay more attention to more scaled-down surroundings. We're scrutinizing our rooms and corridors and closets. We're scrubbing the surfaces we bustle past every day. This new alertness to our immediate surroundings may sensitize us to a kind of cinema turned resolutely inward.
Long ago, when I was writing a book on Carl Dreyer, I was struck by a cross-media tradition that explored what you could express through purified interiors. I called it "chamber art." In Western painting you can trace it back to Dutch genre works (supremely, Vermeer). It persisted through centuries, notably in Dreyer's countryman Vilhelm Hammershøi (below).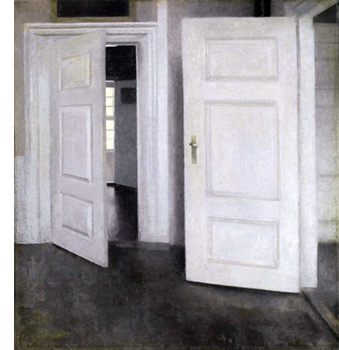 Plays were often set in single rooms, of course, but the confinement was made especially salient by Strindberg, who even designed an intimate auditorium. For cinema, the major development was the Kammerspielfilm, as exemplified in Hintertreppe (1921), Scherben (1921),  Sylvester (1924), and other silent German classics. Kristin and I talk about this trend here and here.
In the book I argued that Dreyer developed a "chamber cinema," in piecemeal form, in his first features before eventually committing to it in Mikael (1924) and The Master of the House (1925). Two People (1945) is the purest case in the Dreyer oeuvre: A couple faces a crisis in their marriage over the course of a few hours in their apartment. (Unfortunately, it doesn't seem available with English subtitles.) But you can see, thanks to Criterion, how spatial dynamics formed a powerful premise of his later masterpieces Vampyr (1932), Day of Wrath (1943), Ordet (1955), and Gertrud (1964).
Dreyer wasn't alone. Ozu tried out the format in That Night's Wife (1930), swaddling a husband, wife, child, and detective in a clutter of dripping laundry and American movie posters.
Bergman exploited the premise too, in films like Brink of Life (1958), Waiting Women (1952), his 1961-1963 trilogy, and Persona (1966). (All can be streamed on Criterion.)
Chamber cinema became an important, if rare expressive option for many filmmaking traditions. Writers and directors set themselves a crisp problem–how to tell a story under such constraints?
The challenge is finding "infinite riches in a little room." How? Well, you can exploit the spatial restrictiveness by confining us to what the inhabitants of the space know. Limiting story information can build curiosity, suspense, and surprise. You can also create a kind of mundane superrealism that charges everyday objects with new force.
On the other hand, you need to maintain variety by strategies of drama and stylistic handling. Chamber cinema–wherever it turns up–offers some unique filmic effects, and maybe sheltering in place is a good time to sample it.
Herewith a by no means comprehensive list of some interesting cinematic chamber pieces. For each title, I link to streaming services supplying it.
Bottles of different sizes
From David Koepp I learned that screenwriters call confined-space movies "bottle" plots. There's a tacit rule: The audience understands that by and large the action won't stray from a single defined interior. In a commentary track for the "Blowback" episode of the (excellent) TV show Justified, Graham Yost and Ben Cavell discuss how TV series plan an occasional bottle episode, and not just because it affords dramatic concentration. It can save time and money in production.
Usually the bottle consists of more than a single room. The classic Kammerspielfilms roam a bit within a household and sometimes stray outdoors. But their manner of shooting provides a variety of angles that suggest continuing confinement. Dreyer went further in The Master of the House. He built a more or less functioning apartment as the set, then installed wild walls that let him flank the action from any side. Then editing could provide a sense of wraparound space.
The variations in camera setups throughout the film are extraordinary. Dreyer would create more radically fragmentary chamber spaces in La Passion de Jeanne d'Arc (1928), while his later films would use solemn, arcing camera movements to achieve a smoother immersive effect. (For more on Dreyer's unique spatial experimentation, here's a link to my Criterion contribution on Master of the House.  I talk about the tricks Dreyer plays with chamber space in Vampyr in an "Observations" supplement on the Criterion Channel.)
Likewise, Koepp's screenplay for Panic Room allows David Fincher to move 360 degrees through several areas of a Manhattan brownstone. The film also offers a fine example of how our awareness of domestic details gets sharpened by a creeping camera.
Trust Fincher to find sinister possibilities in a dripping bathtub leg and a kitchen island.
Confined to quarters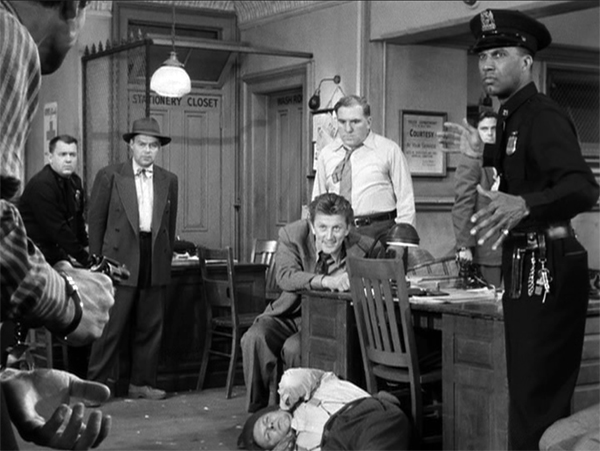 Detective Story (1951).
Many chamber movies are based on plays, as you'd expect. Unlike most adaptations, though, they don't try to "ventilate" the play by expanding the field of action. Or rather, as André Bazin pointed out, the expansion is itself fairly rigorous. They don't go as far afield as they might.
Bazin praised Cocteau's 1948 version of his play Les parents terribles (aka "The Storm Within") for opening up the stage version only a little, expanding beyond a single room to encompass other areas of the apartment. This retained the claustrophobia, and the sense of theatrical artifice, but it spread action out in a way that suited cinema's urge to push beyond the frame. The freedom of staging and camera placement is thoroughly "cinematic" within the "theatrical" premise.
Depending on how you count, Hitchcock expanded things a bit in his adaptation of Dial M for Murder. Apart from cutting away to Tony at his club, Hitchcock moved beyond the parlor to the adjacent bedroom, the building's entryway, and the terrace.
An earlier entry on this site talks about how 3D let Sir Alfred give an ominous accent to props: a particularly large pair of scissors, and a more minor item like the bedside clock.
Hitchcock gave us a parlor and a hallway in Rope (1948), but when Brandon flourishes the murder weapon, the framing audaciously reminds us that we aren't allowed to go into the kitchen.
Bazin did not wholly admire William Wyler's Detective Story (1951), despite its skill in editing and performances; he found it too obedient to a mediocre play. True, the film doesn't creatively transform its source to the degree that Wyler's earlier adaptation of The Little Foxes (1941) did; Bazin wrote a penetrating analysis of that film's remarkable turning point. Detective Story is more obedient to the classic unities, confining nearly all of the action  to the precinct station. Although I don't think Wyler ever shows the missing fourth wall, he creates a dazzling array of spatial variants by layering and spreading out zones of the room. In his prime, the man could stage anything fluently.
As Bazin puts it: "One has to admire the unequaled mastery of the mise-en-scène, the extraordinary exactness of its details, the dexterity with which Wyler interweaves the secondary story lines into the main action, sustaining and stressing each without ever losing the thread."
Some films are even more constrained. 12 Angry Men (1957), adapted from a teleplay, is a famous example. Once the jury leaves the courtroom, the bulk of the film drills down on their deliberation. Again, the director wrings stylistic variations out of the situation; Lumet claims he systematically ran across a spectrum of lens lengths as the drama developed.
But you don't need a theatrical alibi to draw tight boundaries around the action. Rear Window (1954), adapted from a fairly daring Cornell Woolrich short story, is as rigorous an instance of chamber cinema as Rope. Here Hitchcock firmly anchors us in an apartment, but he uses optical POV to "open out" the private space.
With all its apertures the courtyard view becomes a sinister/comic/melancholy Advent calendar.
Fassbinder's Bitter Tears of Petra von Kant (1972) denies us this wide vantage point on the outside world. This space seems almost completely enclosed. But Fassbinder finds a remarkable number of ways to vary the set, the camera angles, and the costumes. We're immersed in the flamboyant flotsam of several women's lives. The result is a cascade of goofily decadent pictorial splendors.
It's virtually a convention of these films to include a few shots not tied to the interiors. At the end, we often get a sense of release when finally the characters move outside. That happens in 12 Angry Men, in Panic Room, in Polanski's Carnage (2011) , and many of my other examples. Without offering too many spoilers, let's say Room (2015) makes architectural use of this option.
On the road and on the line
Filmmakers have willingly extended the bottle concept to cars. The most famous example is probably Kiarostami's Ten (2002), which secures each scene in a vehicle and mixes and matches the passengers across episodes. The strictness of Kiarostami's camera setups exploit the square video frame and  always yield angular shot/reverse shots. They reveal how crisp depth relations can be activated  through the passing landscape or in story elements that show up in through the window.
Perhaps Kiarstami's example inspired Danish-Swedish filmmaker Simon Staho. His Day and Night (2004) traces a man visiting key people on the last day of his life, and we are stuck obstinately in the car throughout. This provides some nifty restriction, most radically when we have to peer at action taking place outside.
Staho's Bang Bang Orangutang (2005), a portrait of a seething racist, takes up the same premise but isn't quite so rigorous. We do get out a bit, but the camera stays pretty close to the car. I discuss Staho's films a little in a very old entry.
Like autos, telephones provide a nice motivation for the bottle, as Lucille Fletcher discovered when she wrote the perennial radio hit, "Sorry, Wrong Number." The plot consists of a series of calls placed by the bedridden woman, who overhears a murder plot. The film wasn't quite so stringently limited, but the effect is of the protagonist at the center of several crisscrossed intrigues.
A purer case is the Rossellini film Una voce umana (1948), in which a desperate woman frantically talks with her lover. It relies on intense close-ups of its one player, Anna Magnani.
It's an adaptation of a Cocteau play, which Poulenc turned into a one-act opera. In all, the duration of the story action is the same as the running time.
I wish Larry Cohen's Phone Booth displayed a similarly obsessive concentration, but we do have the Danish thriller The Guilty, where a police dispatcher gets involved in more than one ongoing crime. We enjoyed seeing it at the 2018 Wisconsin Film Festival.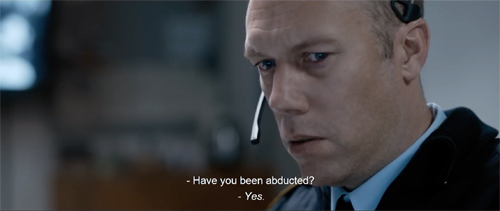 And of course car and phone can be combined, as they are in Locke (2013)–another play adaptation. Tom Hardy plays a spookily calm businessman driving to a deal while taking calls from his family and his distraught mistress. Those characters remain voices on the line while he tries to contend with the pressures of his mistakes.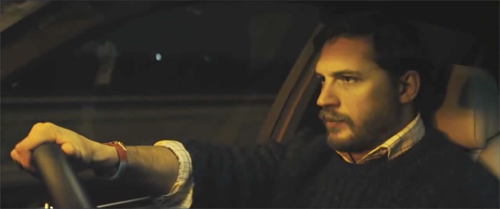 House arrest, arresting houses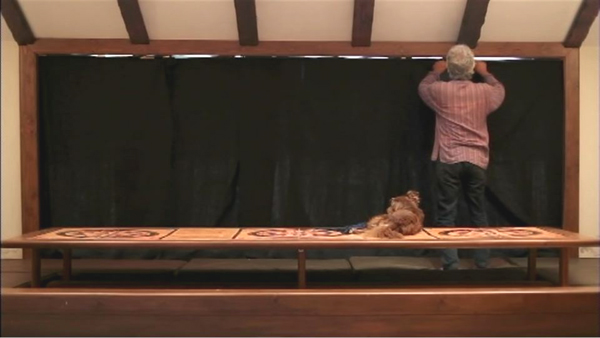 Sometimes you must embrace the chamber aesthetic. In 2010 the fine Iranian director Jafar Panahi was forbidden to make films and subjected to house arrest. Yet he continued to produce–well, what? This Is Not a Film (2012) was shot partially on a cellphone within (mostly) his apartment.
Wittily, he tapes out a chamber space within his apartment. Then he reads a script to indicate how absent actors could play it and how an imaginary camera could shoot it.
But his imaginary film still isn't an actual film, so he hasn't violated the ban. So perhaps what we have is rather a memoir, or a diary, or a home video? Panahi's virtual film (that isn't a film) exists within another film that isn't a film. Yet it played festivals and circulates on disc and streaming. The absurdity, at once touching and pointed, suggests that through playful imagination, the artist can challenge censorship.
Panahi slyly pushed against the boundaries again with Closed Curtain (2013, above). Shot in his beach house, it strays occasionally outside. Next came Taxi (2015), in which Panahi took up the auto-enclosed chamber movie, with largely comic results.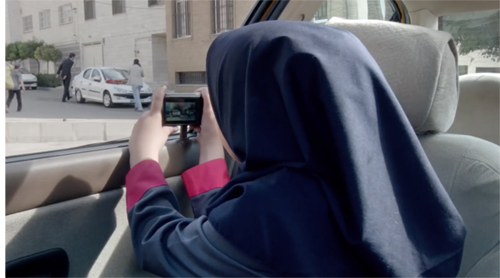 More recently, he has somehow managed to make a more orthodox film, 3 Faces (2018), which considers the situation of people in a remote village.
The chamber-based premise needn't furnish a whole movie. As in Room, Kurosawa's High and Low (1963) is tightly concentrated in its first half. We are in two enclosures, a house and a train. The film then bursts out into a rushed, wide-ranging investigation. Large-scale or less, the chamber strategy remains a potent cinematic force.
They say that the last creatures to discover water will be fish. We move through our world taking our niche for granted. Cinema, like the other arts, can refocus our attention on weight and pattern, texture and stubborn objecthood. We can find rich rewards in glimpses, partial views, and little details. Chamber art has an intimacy that's at once cozy and discomfiting. Seeing familiar things in intensely circumscribed ways can lift up our senses.
So take a break from the crisis and enjoy some art. But return to the world knowing that for Americans this catastrophe is the result of forty years of monstrous, gleeful Republican dismantling of our civil society. Rebuilding such a society will require the elimination of that party, and the career criminal at its head, as a political force. This pandemic must not become our Reichstag fire.
Yeah, I went there.
---
Thanks to the John Bennett, Pauline Lampert, Lei Lin, Thomas McPherson, Dillon Mitchell, Erica Moulton, Nathan Mulder, Kat Pan, Will Quade, Lance St. Laurent, Anthony Twaurog, David Vanden Bossche, and Zach Zahos. They're students in my seminar, and they suggested many titles for this blog entry.
Bazin's comments on Detective Story come in his 1952 Cannes reportage, published as items 1031-1033, and as a review (item 1180), in Écrits complets vol. I, ed. Hervé Joubert-Laurencin (Paris: Macula, 2018), pp. 918-922, 1059. My quotation comes come from the review, where he does grant that Wyler is the Hollywood filmmaker "who knows his craft best. . . . the master of the psychological film."
The tableau style of the 1910s probably helped shift Dreyer toward the chamber model, which he learned to modify through editing. I discuss Dreyer's relation to that style in "The Dreyer Generation" on the Danish Film Institute website. Also related is the web essay, "Nordisk and the Tableau Aesthetic."
Some other examples could be mentioned, but I didn't find them on streaming services in the US. It would be nifty if you could see the tricks with chamber space in Dangerous Corner (1934); fortunately it plays fairly often on TCM. There's also Duvivier's Marie-Octobre (1959), a tense drama about the reunion of old partisans.
I especially like the 1983 Iranian film, The Key, directed by Ebrahim Forouzesh and scripted by Kiarostami. It's a charming, nearly wordless story of how a little boy tries to manage household crises when Mother is away. It has the gripping suspense that is characteristic of much Iranian cinema, and the boy emerges as resourceful and heroic (though kind of messy). Kids would like it, I think.
Also, I've neglected Asian instances. Maybe I'll revisit this topic after a while.
P.S. 1 April 2020: Thanks to Casper Tybjerg, outstanding Dreyer scholar, for corrections about the nationality of The Guilty and the Staho films.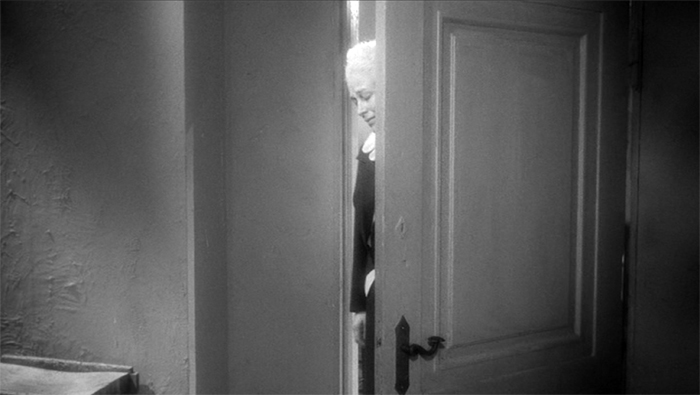 Gertrud (1964).
DB here:
Normally our co-conspirator Jeff Smith would be guest-blogging to fill in background on his new installment on the Criterion Channel. That entry is devoted to Fassbinder's great social melodrama Ali: Fear Eats the Soul. But Jeff is ramping up for the start of a semester, and we're hustling to get ready for a trip, so let this notice do duty.
In this month's entry, Jeff digs deep into Fassbinder's directorial style and shows how it connects to the film's portrayal of bigotry–ethnic, racial, age-related. Since at least Katzelmacher (1969), and right up to Querelle (1982), Fassbinder was constantly experimenting with performance and staging. Ali is one of his triumphs. Jeff is especially acute, I think, in showing how before-and-after parallels in the drama emerge from shrewd repetitions of compositions and mise-en-scene. Thanks to the boffins at Criterion, these become crystal-clear through judicious split-screen.

Jeff's entry is one of our very best, and we hope subscribers to FilmStruck and the Criterion Channel will enjoy it. The transfer is very pretty too. Coming up in future months: entries on M, The Phantom Carriage, Brute Force, and Chungking Express.
As for Kristin and me, we're off to the Venice International Film Festival. Peter Cowie has kindly invited me to be on the panel devoted to discussing the projects in the Biennale College Cinema 2017. From the press release:
"The thirteen feature films already produced and screened during the first four years of the Biennale College Cinema program have met with acclaim throughout the world. Produced on an ultra-modest budget, each of them showed an unusual talent and an innate gift for filmmaking," notes moderator Peter Cowie (film historian and former Int'l Publishing Director of Variety). "The Biennale College Cinema scheme is exciting chiefly because it is in essence a workshop – a workshop and laboratory that places the focus squarely on two essential themes: the making of low-budget films in a period of global recession, and the need to find youthful auteurs if the cinema is to be reinvigorated." The laboratory was created by the Biennale di Venezia in 2012 and is open to young filmmakers from all over the world.
This is very exciting. And while we're in Venice, we hope to reconnect to old friend Mark Johnson (producer of innumerable outstanding films, including Rain Man, Logan Lucky, and Galaxy Quest) and newer friend Alexander Payne. They're arriving with Downsizing. Many other major films will be there, and we hope to report on some of them here over the next two weeks. And then there's some scary Virtual Reality….
---
Thanks as ever to Peter Becker, Kim Hendrickson, Grant Delin, and all their teammates at Criterion. A complete list of the Observations on Film Art series (ten already!) is here.
Videos of earlier Biennale College Cinema panels can be found here. Glenn Kenny discusses last year's event on RogerEbert.com.
Our own efforts at split-screen analysis yielded a comparison of the murder and its replay in Mildred Pierce. You can see that here, and the accompanying blog entry here.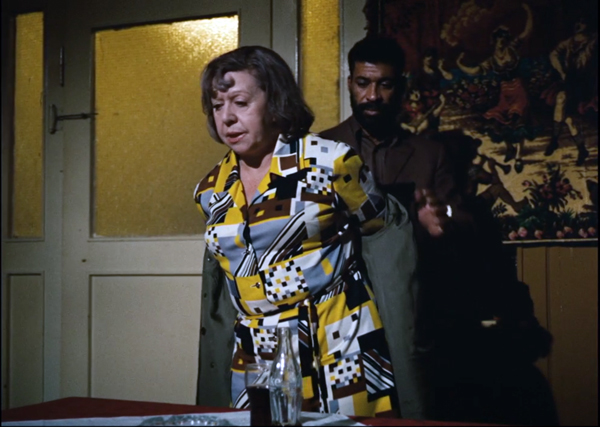 Ali: Fear Eats the Soul.