Sunday | April 20, 2014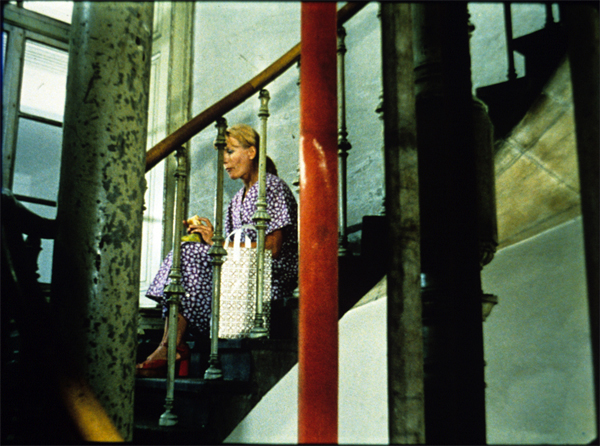 Ali–Fear Eats the Soul (Fassbinder, 1974). 35mm frame.
A moment comes when everything is exactly right, and you have an occurrence—it may be something exquisite or something unnameably gross; there is in it an ecstasy which sets it apart from everything else.
            Gilbert Seldes, The Seven Lively Arts, 1924
DB here:
This is the final entry in a series of blogs on major American film critics of the 1940s: Otis Ferguson, James Agee, Manny Farber, and Parker Tyler. The entries are offshoots of a book I'm writing on Hollywood storytelling at the period. Some readers have assumed that these are portions of or trial balloons for the book. Actually, I conceived them as free-standing pieces that I could refer to in the finished book, just to save time. But they have taken on a life of their own, and perhaps I'll make a e-book out of them some day.
Today's entry offers three things. First, I summarize the arguments I've made in the preceding entries. Then I trace the afterlife of Agee's work and the subsequent writing of Farber and Tyler. Finally, I offer a few general reflections on their legacy.
The case so far
This blog series was probably even more forbidding than the one called Pandora's Digital Box because it wasn't on a topic of current interest, and it was more academic-historical than reportorial. The entries were conceptually denser than what I usually offer, and they were certainly long. So probably a summary would be helpful, even for those brave souls who read the originals. If you haven't yet read them, maybe this will guide you.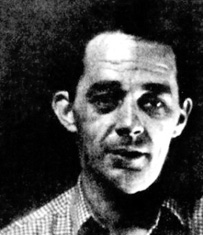 The prologue to the series was my late 2013 entry on Otis Ferguson (left). Ferguson, a critic for The New Republic between 1934 and 1942, laid out some terms for appreciating Hollywood sound cinema. The well-wrought movie would be "smooth, fast-moving, effortless." It would display an honest, unshowy naturalism about how people behave–particularly how they do their work. It would integrate revealing details and moments of emotional impact into an arc of clean, cogent action, both physical and dramatic. An example is given here, from Fitzgerald's Love of the Last Tycoon.
What makes all this possible, Ferguson maintained, is a discreet technique.
The very reason you don't see it is its own justification: you are not conscious of camera or effects, for the little bit flickers past in the final version and you are conscious only that a story is starting as you follow. Only!
Although the mechanics might be invisible to the audience, Ferguson thought that critics should be more curious. They should possess "a constant and humble passion to know everything of what is being done and how everything is being done." As a jazz critic, he knew the tricks of the trade, and late in his career he visited Hollywood to watch filmmakers like Wyler and Lang at work. This is one way to appreciate honest craft: "The camera way is the hard way."
Ferguson left film reviewing in 1942 for the Merchant Marine and was killed early in World War II, but three other critics continued on his way—although they did so in their own, idiosyncratic fashion. They were James Agee, Manny Farber, and Parker Tyler.
Some of what Ferguson had proposed was already commonplace among critics who were movie-friendly. They recognized film as a popular art, considered it primarily a visual medium communicating through movement, and rejected the artiness associated with Russian and avant-garde film. Hollywood's admirers put story first and—though people like to think Farber originated this—recognized that the liveliest film was often the unpretentious comedy or melodrama. Prestige pictures, especially literary adaptations, were no guarantee of vitality.
My three critics accepted these premises but, like Ferguson, they went further. They wrote criticism that was pungent, slangy, creatively ungrammatical. They accepted the advantages of minor genres but pushed very hard against highbrow tastes. They had an eye for technique as it might work in privileged moments to convey character or the taste of reality. And they freshened up the familiar faults-and-beauties rhetoric of reviewing with paradox (Farber), a drama of decision (Agee), or an inversion of what a reasonable person might expect (Tyler).
In the first series entry I called them the Rhapsodes, by analogy with the ancient reciters of verse who, inspired by the gods, became carried away. My purpose was to emphasize the offbeat, passionate force of their prose. But of course they weren't really carried away. They were wholly in charge. They were seeking to differentiate themselves as personalities while conveying something of the punch and sway of the movies themselves.
As prose artists, they broke with the urbane, murmuring tastemongers of their day, as well as with the thinkers who populated the highbrow journals. In those journals, partly because of a disenchantment with Stalinism and its antagonism to avant-garde experiment, there emerged a new high culture centered on High Modernism and its heirs.
For the Serious elite, Hollywood films were the most threatening face of Western mass culture. Manufactured in bulk and jammed down the throats of the unwary multitudes, movies were a betrayal of authentic art—a turn away from both the authenticity and spontaneity of folk art and the revolutionary force of the avant-garde. The result was, inevitably, that movies could only be kitsch, either lowbrow, or worse, middlebrow. My second entry in the series suggested that the Rhapsodes detoured around the arguments about mass culture.
At this period, new methods of "close reading" had emerged in literary studies, musicology, and art history. Obviously film critics couldn't examine their "texts" as minutely as critics of other media could; there was no home video, and no way to study current releases on viewing machines. Still, within the constraints of the time, these critics managed to subject films to scrutiny. And their probing of particular shots and scenes was a powerful counter to the vague denunciations of the Partisan Review crowd.
Focusing on the planning and labor of production—specifically, the shooting of one scene in The Little Foxes—became Ferguson's preferred path to close reading. His successors found other ways. Agee was since his youth a film fan who, otaku-like, wrote imaginary screenplays flaunting sheer technique. This sensitized him to the what and the how of filmic creation. Farber, trained as a painter, brought a concern with fastidious craft, pictorial design, and emotional expressivity to his thinking about films. Parker Tyler, a Surrealist poet, had an eye for slippery detail that would allow him to expand, associatively, from an image or dramatic conflict or story premise to some quite surprising implications.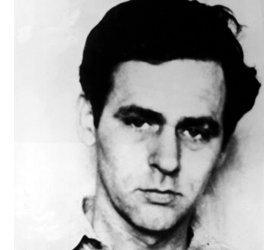 Agee (right), I argued in the third entry, possessed a Romantic sensibility. Both outward-looking and introspective, he hoped for radiant revelations from cinema; he also dramatized, in his hesitant probes, the difficulty of finding them. His fiction and nonfiction sought "the illusion of embodiment" and the piercing moment of emotion, both of which cinema could provide. His short reviews in The Nation throughout the 1940s often only hinted at these qualities, but his longer pieces develop these ideas further. He offered a sort of New-Critical interpretation of Chaplin's Monsieur Verdoux and stylistic commentary on the visual strategies of John Huston.
Agee's contemporary and sometime rival Manny Farber has become famous as the most pictorially sensitive critic of the time, one who brought his awareness of modernist painting to bear on movies. I argued that this standard view needs nuancing. For one thing, modernism in the approved sense of the period—basically, abstract painting as praised by Clement Greenberg—didn't get full backing in Farber's art reviews, which I considered in the fourth entry. He was receptive to all manner of representational art as well as abstraction, and he was in a rather old-fashioned way committed to emotional expression. Farber was also, contra Greenberg, completely open to popular graphic art, including comic strips.
By the time he came to movies, Farber was able to focus more acutely on visual detail than Agee did. Over a few years of reviewing for The New Republic (1942-1946), he moved toward vivid evocations of space in cinema. Yet these, I argued in the fifth entry, didn't reflect the ideology of modernist painting. Farber agreed with Ferguson that Hollywood was committed to smooth storytelling. He thus believed that film was an appropriate home for the "illusionism" and "illustration" that the Greenberg school condemned in modern art.
It was only later that Farber saw Hollywood as converging with modern painting, and he found that trend objectionable. He wrote in 1950:
Directors, by flattening the screen, discarding framing and centered action, and looming the importance of actors—have made the movie come out and hit the audience with almost personal savagery.
Shadow-boxing with Agee, Farber objected to John Huston's crowded, self-consciously composed frames. Throughout this period, Farber adhered to Ferguson's aesthetic of crisp, lean storytelling that didn't call attention to itself.
Parker Tyler didn't worry about storytelling, smooth or otherwise. Instead, in the Surrealist tradition of "irrational enlargement" of moments in the films he saw, his books The Hollywood Hallucination (1944) and Magic and Myth of the Movies (1947) looked for crevices in the polished surface of Hollywood narration. Chopping plots to bits, he sought mythic and Freudian reverberations in the most mundane pictures. And as a gay man he had no hesitation about twisting and spindling the gender implications of everything he saw.
Serious thinkers called Hollywood a dream factory, but Tyler went farther; he re-dreamed what was on the screen. He celebrated the "baroque energy and protean symbolism" of stars (really charade performers), stories (with their evocative imagery and conventional closure), and special effects (harking back to primitive magic). My previous entry tried to show how, in finding scandalous entertainment value in Hollywood, he was driven to scrutinize the films with a sensitivity parallel to that on display in Agee and Farber. Working at book length, he could develop his claims more fully than a reviewer could, on a scale appropriate to the Hollywood Hallucination itself. At the same time, the dandyish sprezzatura of his critical performance made him no less a conjuror with the English language than were his contemporaries.
The making of celebrity criticism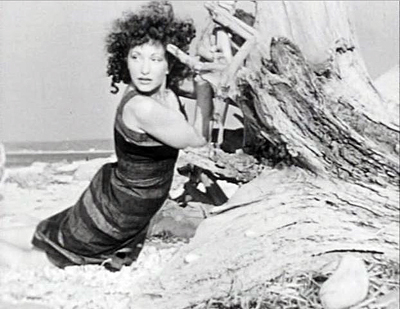 At Land (Deren, 1944).
I wish I knew more about how these three critics, all based in New York, got on with each other. Farber and Agee were friends, but did they go to movies together? Did they meet at MoMA screenings? Both reviewed Maya Deren's 1946 screenings of her films in Greenwich Village. Very likely Tyler attended those as well, as he performed as an actor in At Land and Ritual in Transfigured Time.
Mostly we have to rely on the published record. Farber at this period never mentioned his counterparts, though in later decades he had plenty to say about Agee. Tyler, similarly, ignored the others until in 1971 he called Agee America's greatest film fan. In 1946 Farber wrote an insulting review of Deren's work, which may explain why Tyler ignored him ever after.
Agee was more generous. He mentioned Farber occasionally, and sometimes he carved out a Farberian sentence: "[Stage Door Canteen] is a nice harmless picture for the whole family; and it is a gold mine for those who are willing to go to it in the wrong spirit." (Paraprosdokian again.) Agee also refers directly to Tyler when speaking of Deren's film lyrics. In the year that Tyler postulated Hollywood's starlets as somnambules, Agee seems to have picked up the cue, speaking of his beloved Elizabeth Taylor as having "a natural-born sleepwalking sort of guile."
In the short run, Agee had the most influence, but it came posthumously. His reviews had a specialist following in the 1940s, but he ceased writing them in 1950, and for the rest of his life he concentrated on screenwriting and a novel. He died from a heart attack in 1955. After A Death in the Family won the Pulitzer Prize, the 1958 publication of Agee on Film prepared the way for a stream of review collections.
During the 1940s two of the major British reviewers, James Agate and C. A. Lejeune, had gathered their movie journalism in book form, and even in the US, critics-at-large like Mark Van Doren and John Mason Brown had bundled their film reviews with their literary essays. But Agee was, as James Naremore has pointed out, the most famous American literary figure to review movies at the period. The anthology of his articles not only enhanced his standing but gave film journalism a new stature. Mass-market periodicals, political magazines, and even literary quarterlies (the Reviews Kenyon, Sewanee, Southern, Hudson, et al.) decided they needed movie coverage, and a new generation of writers came forward.
It took a little while for publishers to sense that a market was there, but in the 1960s anthologies formed a solid genre. Between 1960 and 1973, I count over twenty collections of reviews by Hollis Alpert, John Simon, Pauline Kael, Stanley Kauffmann, Raymond Durgnat, Judith Crist, Renata Adler, Dwight Macdonald, Andrew Sarris, Herman G. Weinberg, Graham Greene, Richard Schickel, William S. Pechter, Rex Reed, and Vernon Young. That doesn't include the mixed cinema-and-literature bundles by Susan Sontag, Penelope Gilliatt, Wilfred Sheed, and others. Doubtless the output was boosted by Kael's I Lost It at the Movies (1965), which became something of a best-seller. Drowsing over TCM revivals, some geezers still look back longingly at this era, "when cinema was worth fighting about."
Tyler and Farber were in a position to benefit from the anthology genre. Both had continued writing about film and other things. After leaving The New Republic, and while still writing art criticism, Farber reviewed films for The Nation (1949-1954), Cavalier (1966) and Artforum (1967-1971). He wrote long-form essays for venues as varied as Commentary, Commonweal, and Film Culture. From these later pieces came nearly everything that he included in Negative Space (1971), the anthology that introduced him to the auteurist generation. "The Gimp," "Hard-Sell Cinema," and "White Elephant Art vs. Termite Art," along with other long-form pieces on Hawks, Walsh, and Preston Sturges, came to define the Farberian ethos and aesthetic.
Tyler too wrote on other subjects, notably avant-garde literature and painting. Always the practical free-lancer, he could turn out copy to order. He produced slim but informed monographs on French painters for a series at Doubleday. The picture book Classics of the Foreign Film (1962) was in tune with America's emerging interest in French, Italian, and Swedish imports, and it inspired many a Baby Boomer cinephile. Yet Tyler could pursue rarefied interests no less copiously: a biography of poet Florine Stettheimer (1963), a study of heroes in literature (Every Artist His Own Scandal, 1964), a monumental, gossipy life of Pavel Tchelitchew (1969).
He was quick off the mark with his own essay collections. Only two years after Agee's anthology, Tyler put out The Three Faces of the Film (1960). He updated it in 1967 and followed with Sex Psyche Etcetera in the Film (1969). The long out-of-print Hollywood Hallucination and Magic and Myth of the Movies were reissued in 1970. In 1971 Tyler added to the British edition of Magic and Myth a long introduction that staked his claim as the originator of dream-oriented film interpretation.
After writing, with Patricia Patterson, essays on avant-garde cinema and New German Film, Farber ceased writing in 1977 to devote himself wholly to teaching and painting. Some of his paintings bear a close relation to his film criticism. Tyler too continued as a creator, writing surrealistic poetry, but he didn't let go of cinema. He stirred up avant-garde ire with Underground Film: A Critical History (1969) and proposed a curious account of cinema's poetic powers in The Shadow of an Airplane Climbs the Empire State Building: A World Theory of Film (1972). At the same time, as sexual mores were changing, he wrote frankly and amusingly about all varieties of eroticism in Screening the Sexes: Homosexuality in the Movies (1973) and followed it up with A Pictorial History of Sex in Films (1974). This last book displays some of the most lubricious photo pairings and captions you'll ever see.
The pad as playpen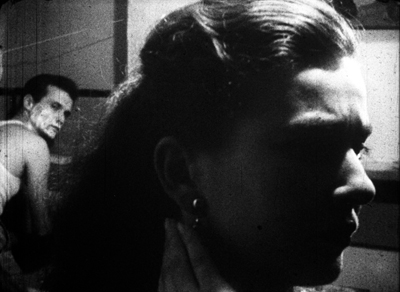 Reflections on Black (Brakhage, 1955).
The two men's later work intertwined in fascinating ways. Tyler's style became simpler but more loquacious, even pedantic. ("Perhaps in passing a definition of the aesthetic content of the term tact may be given.") Farber's writing became more impacted and hermetic, jammed with adjectives and bursting with pinwheel associations that force you to either pause or skip on. Ozu's "rigidly formalized, quaint homeliness," he says, is "a blend of Calvin Coolidge, Blondie, and Mies's neo-plastic esthetic." I see the Mies, and sort of see the Blondie (but is it the mundane domestic crises, the wisdom of woman, the locked-down camera positions?), but on the Cool Cal reference I give up.
The most intriguing comparisons between Tyler and Farber, though, aren't stylistic. Each man devoted more attention to European cinema and the avant-garde, and in ways that echo their 1940s concerns.
The renaissance of the foreign film in the US after World War II seized Tyler's attention, though in a typically contrarian way. In a 1950 essay he objected to the "cheap melodrama" of Open City and the "mere surface naturalism" of Bicycle Thieves. Instead, and long before it became a critics' darling, he picked out Rules of the Game as a brilliant work, at once social satire and tragicomic morality tale. He also found Cocteau's Les Parents terribles an ingenious reworking of the Oedipus myth, one that exploited "a poetry of the deposed and vengeful matriarchic spirit."
In the years that followed, Tyler would construct a European counter-tradition to Hollywood. It's seen in its most schematic form in Classics of the Foreign Film. The table of contents seems to be cycling through the 1960 film-buff canon, from the MoMA classics (Caligari, Last Laugh, Potemkin, Metropolis, Jeanne d'Arc) to the postwar imports (the Neorealists, Rashomon, Ugetsu, Hiroshima, mon amour, Wild Strawberries, L'Avventura, La Dolce Vita). But Tyler sifts through the Greatest Hits for imaginative and poetic resonances, not realism or, at the other extreme, the "free-form ambiguities" of Last Year at Marienbad and Jules and Jim.
He retrofits official classics to his interpretive tastes. In Throne of Blood he finds primitive magic; Maedchen in Uniform is "a chaste ode to sexuality." The book revises his 1950 views of the Neorealists, but on his own terms. What's valuable in Bicycle Thieves is not its realism but its function as "a lucid moral fable"; it even bears the ancient stamp of "an initiation rite." Even the most naturalistic work may harbor form, artifice, and poetic evocation, and it is these that make something a Tylerian classic.
In the early 1970s, he revisited current European cinema, along with contemporary Hollywood, and found defiantly unchaste odes to sexuality. His books on sex and gender onscreen return to the polymorphically perverse themes that he found in 1940s Hollywood. He continued to read against the grain, so that The Great Escape and Husbands become "homosexual mystery stories" and The Damned becomes a gay charade. Yet now filmmakers, as if they had read Tyler's first books, were flaunting scandalous desires. With a jaundiced delight he surveyed the vicissitudes of the erotic instinct in Senso, I Am Curious (Yellow), The Last House on the Left, and scores of other films, high, low, and very low. The Pictorial History of Sex in Films suggests an aging connoisseur of erotica proudly opening his filing system and exhuming some prize images while offering outrageous commentary. ("Taped down or strapped down, when your transsexualized doctor has dildo rape in mind, you're in for it.") The book, in short, is a scream.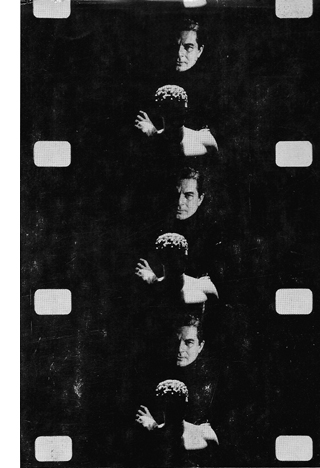 Ironically, the Freudian dimensions Tyler discerned behind the Hollywood charade were being paraded not only in mainstream commercial production but in the Underground. Making a piquant subtext overt was liberating for Hollywood, which was perhaps too repressed for its audience's good, but it steered the avant-garde toward self-indulgence and frivolity. The 1950 article defending Rules of the Game praised the experimental films screened at Cinema 16, but he issued a warning.
The danger of the experimental cult is formlessness and lack of a wide artistic culture. It needs discipline and more intellectual power.
Tyler thought that 1960s filmmakers ignored his warnings. Underground Film: A Critical History examines the emergence of Warhol, Jack Smith, Ken Jacobs, Michael Snow and others in relation to the "classic" avant-garde. Tyler's book is not a complete demolition—his list of "the central canon of avant-garde into Underground" includes many 1960s classics, from Harlot to Star-Spangled to Death—but it does plead for artistic standards, sophistication, and "firmness of outline." Underground films , he argued, achieved their distinctive shapelessness by prolonged, free-form improvisation, usually in some loft. Thus was born the "pad film," a playground for the infantile exhibitionism of early Warhol and the "boredom unlimited" of Wavelength.
Worse, all the narcissism, erotic symbolism, and camp lurking in the crevices of 1940s studio films took center stage in Underground films. "The slant on which I had first concentrated was now taking hold with people who made films rather than with people who looked at them." Joe Dallesandro and Jack Smith, Taylor Mead and Paul America, Edie Sedgewick and other purported Superstars were in their druggy haze mocking the gods and goddesses of the classic years. In this negation, Tyler believed, the filmmakers were abandoning their responsibility to their tradition, and to history as a whole.
By the time he died in 1974, aged seventy, he had shaped that history. Many of the motifs he wrote about in Hollywood films became tropes of the American avant-garde. The somnambule, the vacant, succulent man or woman who drifted through Hollywood movies, reappears in so many 1940s films that P. Adams Sitney borrowed Tyler's formulation to describe an entire genre of "trance films." Similarly, it may be that Gregory Markopoulos' exploration of classical myth and Kenneth Anger's fascination with magic (that is, magick) owe something to Tyler's Magic and Myth of the Movies. Perhaps Tyler was more of a conduit for ideas circulating in artistic culture than a point of origin himself, but there remain some striking affinities between the 1940s-1950s American avant-garde and Hollywood. Is Brakhage's Reflections on Black not a sort of film noir?
Double spaced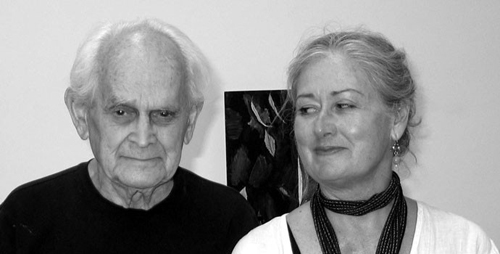 Manny Farber and Patricia Patterson, 2004. Photo by Gabe Klinger.
Manny Farber remained largely uncaptivated by the postwar foreign-language influx. He praised a portmanteau release of three Pagnol, Renoir, and Rossellini shorts (Ways of Love, 1950), but he had no sympathy for Miracle in Milan ("moronically oversimplified") or Rashomon ("slow, complacent, Louvre-conscious, waiting-for-prizes"). Tyler's favorites, The Rules of the Game and Les Parents Terribles, go unreviewed by Farber, along with releases by Fellini, Visconti, Mizoguchi, Clair, Carné, and many others diligently covered by his contemporaries. The reason is, as usual, taste.
The worst Hollywood B has more cinematic adrenaline than most English or French movies, and no one is more eclectic than the English director Olivier, reactionary than the Frenchman Pagnol, victimized by easy sensibility than the Italians De Sica and Rossellini.
Farber's distaste continued into his early and mid-1960s pieces. Godard offered "complex boredom," Fellini treated bit players as "wasteful clutter," Red Desert was "a silly film." The 1967 New York Film Festival offered him a bleak buffet of new European entertainment characterized by "the character who is no deeper, no more developed, prepared, explained than the people in fashion advertisements."
But soon Farber discovered Warhol and Michael Snow. The Underground films that Tyler found shallow and narcissistic seemed to Farber, in 1968, adventurous. Warhol, surprisingly, earned Farber's prize adjective: his close-ups were "virile." Thereafter Farber found Wavelength "a pure, tough forty-five minutes" and Joyce Wieland's films reminded him of Manet and Caravaggio.
Farber's interest in the avant-garde, coinciding with his new assignment as film critic for Artforum (1967-1972), seems to have led him to reappraise recent Europeans. Soon, with Patricia Patterson, he was writing career appreciations of Godard, Buñuel, and Fassbinder (whom he considered akin to Warhol). Later, the two would champion Herzog, Duras, and Straub as well. He planned, but didn't complete, a book on the new Munich filmmakers.
What joined the worthwhile Europeans to the American experimentalists was a concern with fresh articulations of space. Farber's critical calling card became his claim that a self-conscious sense of space, in both literal and metaphorical senses, was a defining feature of contemporary cinema.
By the end of the 1940s, Farber asserted, Hollywood's concern for intricate visuals had begun to overtake narrative clarity and expressiveness. This was one thrust of his critique of Huston, Stevens, Kazan and other Gimp/White Elephant stylists. Now an image with "more grip per square inch than ever before" was ruling both Hollywood and alternative cinemas. In The Graduate, Persona, Red Desert (below), and other films, "the design play becomes as important as the story theme. As seldom happened in pre-1960s naturalism, the movie is constantly drumming a pattern in which dominant and subordinate are contested."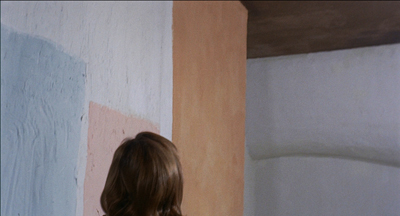 Against this trend Farber sets filmmakers who define a particular space for each project. Chabrol finds a "measured flow" for La Femme infidèle, while Touch of Evil presents an allegorical space of disorientation and grotesquerie. Fassbinder uses "flat, boldly simple formats. . . Fassbinder's intense shadowless image is not like anyone else's." Most exemplary is Godard's career, "a movie-by-movie exploration of one image or another."
In a curious way, Farber's concern with framed space crops up at the same time that Tyler criticized the passive Underground camera for ignoring the potential for editing to create new forms of space (and time). But Farber grants that a film's space includes more than the field of view on the screen. It encompasses the actor's performance ("psychological space") and "the area of experience and geography that the film covers." As for negative space, he redefines that 1940s concept as a sort of synthesis of what the filmmaker supplies and what the spectator adds. I take this as a metaphorical parallel to the solid masses and tacit relationships that the term summoned up for Hans Hofmann and his acolytes.
Another twist: While Tyler was publishing a great deal on post-Impressionist painting, Farber gave up art criticism for art practice, but focused his art-historical sensibility upon films. Scattered through the late essays are dozens of references to painters both classic and modern, something we almost never find in his 1940s film writing. It's as if Hollywood's expressive naturalism made it proudly distinct from other visual arts. Now, with filmmakers fretting over the look of each shot, Farber characterizes both weak and strong directors by analogies with Rothko, Johns, Vermeer, and other masters of plastic values.
For Farber, then, the dynamic interplay of painting style and cinematic style had altered since the 1940s. Yet the war and the postwar era remained Farber's point of departure, even for reviews of recent releases. The Wild Bunch yields "a virile ribbon image"; Kaspar Hauser reminds him of Sturges; one moment in Taxi Driver echoes Odds Against Tomorrow, and another turns Travis into Cary Grant. Like Farber's references to old comic strips, these create a constant dialogue between Old Hollywood and contemporary cinema.
Farber stayed in touch with the 1940s in another way. Before he ceased writing in 1977, he and Patterson signed tributes to Hawks, Walsh, Siegel, and Fuller that blended his Gimp-and-Termite arguments with the new sense of directors as impresarios of space. In a way, these essays show the writers joining the auteurist debates of the period. At the same time, these pieces tie the directors to artistic traditions outside movies: Walsh and Brueghel, Siegel and Robert Frank.
Reckoning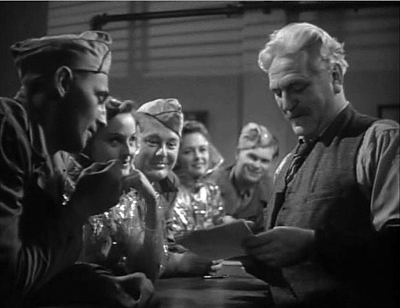 The Human Comedy (Brown, 1943).
The classic avant-garde versus that of the Underground; the postwar foreign imports versus the New Eurocinemas of the late 1960s, These realignments gave Tyler and Farber fresh prominence. By focusing on their beginnings I may have given short shrift to their later, greater fame. But there's also a value, I think, in seeing that their "mature" positions, as people tend to remember them, have sources in the earlier years.
In those years they helped forge a sense of an aesthetic of the American film. The reach of their imaginations and the sheer dazzle of their prose made a case, against all the skeptics who disdained Hollywood as a factory of mass delusion, that something deeply artful was at the base of studio cinema.
They deplored much of what they saw as routine and shabby. But they also found, where no one else had noticed, poignant expression (Agee), unassuming pictorial intelligence (Farber), and cracks opening onto myth, black magic, and sexual fantasy (Tyler). They raised our awareness of conventions, not in a crudely demystifying way, but by treating them as enabling depth, vigor, and impact. In a tradition that always swung between artifice and realism, Hollywood filmmakers found new methods of artifice and new approaches to realism, and our critics responded in sympathy.
These writers activate so many aspects of the classics, and they draw our attention to striking films now largely forgotten, that I'm surprised that they didn't flag things that pop out for us. They mostly missed the stylistic revolution of deep focus, the long take, and camera movement. They missed what seem to us obsessive plot patterns—the man on the run, the woman entrapped, the way homicide smashes domesticity, the doubts and guilts that assail the protagonists of war pictures, home-front pictures, even neurotic comedies. They never heard of that academic standby The Crisis of Masculinity, and they didn't notice the way postwar drama thrusts women back into the kitchen. Tyler is sublimely indifferent to directors altogether (except Welles and avant-gardists), while Agee and Farber largely neglect Preminger, Mann, Siodmak, Sirk, Fuller, Minnelli, and Ophuls.
You can argue that they also missed the soft side of Hollywood. Agee can spare a tremor of sentiment, and Tyler can respect even the saccharine religiosity of Song of Bernadette; but Farber, the director most suited to our tastes today, usually presents himself as the toughest guy in the back room. Before The Human Comedy (1943), a nearly plotless, no-villains slice of small-town life, he is a hanging judge. He doesn't mention that it's narrated by a dead man, a trick that arrests our attention in a post-Sunset Boulevard world. He ignores the film's direct appeal to the home front: the action centers on a telegraph office through which most war news comes, and that news is mostly about boys who won't be coming back. Farber finds, with some justice, that MGM's marmalade treatment smothers Saroyan's fantasy and eccentricity.
Agee seems to have registered the appeals of the thing more acutely. Writing in The Nation, he labels Saroyan a "schmalz-artist," but that's a characteristically mixed call, praising his sweet nature while objecting to his mawkishness. Knowing that the intelligentsia will despise The Human Comedy, the contrarian Agee musters some support for it, savoring the soft clink of horseshoes at dusk. Meanwhile, his anonymous Time review goes all the way unchecked: "The Saroyan touch leaves nothing ordinary; the film is electric with the joy of life." You have to wonder whether the pathos of boys growing up without their father, and the naïvete of boys who can't read wandering in awe through the town library, got close to Agee's own memories.
The Hollywood Reporter called The Human Comedy "the best picture this reviewer has ever seen," and Variety declared, "This is one of the screen's immortals." I'm not trying to echo that praise, although the film seems to me reasonably good, even somewhat daring. It's just that it's unashamedly sentimental, and sophisticated cinephiles have to make a special effort to enjoy it. Ten minutes into it, you get a lump in your throat, and you may feel like a sucker. It hits us below the belt again and again, and this is part of Hollywood too.
Farber taught us to admire the tough, cynical side of the forties. Double Indemnity and The Maltese Falcon don't plead for tears. But we may have learned the lesson too well. If today more people enjoy Hawks than Ford, or Walsh than Clarence Brown, or His Girl Friday than The Shop around the Corner, that's partly because our tastes favor hard-boiled aggression (look at our current pantheon, from Scorsese to Paul Thomas Anderson) over modest virtue (Wreck-It Ralph, We Bought a Zoo). Agee and Tyler were better attuned to the tender side of Hollywood movies .
I've also considered these three critics as providing worthwhile efforts at cinematic "close reading." Since I've been promoting that angle for many years, I know it looks like special pleading to trace it back to the 1940s. In my defense, I'd add that at the same time, analysis showed up even more vigorously in Paris. André Bazin and his cohort, kept from Hollywood releases for many years, were flooded by the pent-up stock of American movies. Primed by what they'd read, and gifted with exceptional intelligence, they noticed the new Hollywood stylistics of long take, deep space, and narrative complexity.
There is nothing in American film criticism of the time to match the understanding of narrational principles we find in Claude-Edmonde Magny's Age of the American Novel: The Film Aesthetic of Fiction between the Two Wars (1948), or the stylistic subtlety of Pierre Bailly's meditation on the values of the lengthy, static shot in Welles and Hitchcock. French critics discovered that what Yanks called melodramas could be considered in the Gallic tradition of film noir. While Tyler was psychoanalyzing Chaplin, and while Agee and Farber were quarreling about Huston, Bazin was writing analyses of Welles and Wyler that were unprecedented in their depth and precision. Christophe Gauthier notes that France's ciné-clubs held many prints, in both 16mm and 35mm. As a result, Bazin, Rohmer, and their comrades could re-watch the films and study them to a degree that the Americans couldn't.
A good portion of what we take for granted about Hollywood artistry of the 1940s stems from French cinephiles who considered scrutinizing films to be as natural as explicating literary texts. Perhaps my Americans would, under more favorable conditions, have done the same. After all, Ferguson was keen to watch scenes being shot, and Agee wrote absurdly detailed screenplays. Tyler acted in films and lived for decades with filmmaker Charles Boultenhouse. When Farber began teaching at UC San Diego, he tickled the analytical projector like a needle-dropping DJ.
The other risk I've run is attributing too much to critics, here or elsewhere. If there hadn't been films that pushed the boundaries of cinematic storytelling, even the cleverest reviewers couldn't have written so fruitfully. Without Sturges and Welles, Huston and Wyler, Hitchcock and Wilder, Wellman and Walsh, Lang and Preminger, Mankiewicz and Val Lewton; without perversities like The Portrait of Dorian Gray and Salome Where She Danced and Turnabout; without ambitious pictures like Citizen Kane and The Story of GI Joe alongside dozens of sturdy programmers, the Rhapsodes would have had little to work with. The cascade of overpowering, exuberant, piercing, and crazy films of the 1940s surely pushed them to go all out. Great criticism can flourish, it seems, when there is great cinema.
---
Thanks, as ever, to Kent Jones and Jim Naremore for information and feedback. I'm grateful to Judith Noble for information about Tyler's relation to Maya Deren. Thanks as well to Christophe Gauthier for information about screenings at postwar French ciné-clubs, and to Kelley Conway for acting as liaison. Finally, thanks to Gabe Klinger for the photo of Farber and Patterson above.
Apart from Tyler's books, these collections have been my principal sources for the critics I've considered: The Film Criticism of Otis Ferguson, ed. Robert Wilson (Temple University Press, 1971); James Agee: Film Writing and Selected Journalism, ed. Michael Sragow (Library of America, 2005); and Farber on Film: The Complete Film Writings of Manny Farber, ed. Robert Polito (Library of America, 2009). Agee's review of The Human Comedy is in Time (22 March 1943), 54.
My characterization of critical commonplaces about Hollywood is drawn from a variety of sources. Some of them may be found in the writings of Gilbert Seldes, whom I've discussed elsewhere. Others emerge in writers who became prominent somewhat after my Rhapsodes. See Robert Warshow, The Immediate Experience: Movies, Comics, Theatre and Other Aspects of Popular Culture (Atheneum, 1962) and Vernon Young, On Film: Unpopular Essays on a Popular Art (Quadrangle, 1972) and The Film Criticism of Vernon Young, ed. Bert Cardullo (University Press of America, 1990).
No less interesting, but impossible to cover here, are the British reviewers. C. A. Lejeune and the somewhat younger Dilys Powell wrote shrewd, unsnobbish pieces about 1940s cinema that are still worth reading. See Lejeune, Chestnuts in Her Lap, 1936-1946 (London: Phoenix House, 1947) and The C. A. Lejeune Film Reader, ed. Anthony Lejeune (London: Carcanet, 1991); and The Golden Screen: Dilys Powell—Fifty Years at the Films, ed. George Perry (London: Headline, 1990) and The Dilys Powell Film Reader, ed. Christopher Cook (London: Carcanet, 1991).
The breeziness of the English style can be disarming; Powell admits that she was late for the press screening of Citizen Kane and missed the opening line, so the rest of the movie was fairly opaque to her. Their cozy pieces make a sharp contrast with the harder-edged American critics I've discussed.
The other major specimen of BritCrit of the period, notable then but largely forgotten, is James Agate. Agate was a bluff theatre critic and memoirist who took pride in knowing nothing about cinema, an admission as charming as it was accurate. Reviewing for the fashion and gossip mag The Tatler, Agate filled column inches with chitchat, smoking-room mockery, and anecdotes radiating self-regard. He liked walking out of films partway through and revealing surprise endings. (He referred to Kane's boyhood sled frequently.) The reviews collected in Around Cinemas (two series, Home and Van Thal, 1946, 1948) remind me of Nabokov's line, "Nothing is more exhilarating than Philistine vulgarity."
There were more specialized and serious film writers at the period in Britain, notably at Sequence (1946-1952), but that journal deserves discussion on its own. Somewhat parallel was French criticism of the period, which is surveyed in Antoine de Baecque's La Cinéphilie: Invention d'un regard, histoire d'une culture 1944-1968 (Paris: Fayard, 2003).
Farber's painting career is covered in two catalogues: Manny Farber (Los Angeles: Museum of Contemporary Art, 1985) and Manny Farber: About Face (San Diego: Museum of Contemporary Art, 2003). Both include biographical information, and several essays in each volume discuss the relation of Farber's painting to his film criticism. Cahiers du cinéma published an extensive interview with Farber on the same topics, in special number 334-335 (April 1982), 54-65, 130. See also Jonathan Rosenbaum's 1983 essay "Thinking About (Personal) History Lessons: The Movie Paintings of Manny Farber," Rouge (2008) and "They Drive by Night: The Criticism of Manny Farber," on Jonathan's site.
Tyler's early ideas about European imports and the American avant-garde are drawn from "Movie Letter: Lament for the Audience—and a Mild Bravo," Kenyon Review 12, 4 (Autumn 1950): 689-696. Thanks to the Net, you can listen to a precious recording of a 1953 panel discussion on "Poetry and the Film," which brought together Tyler, Deren, and others, including a boorish Dylan Thomas, at Amos Vogel's Cinema 16. A transcript is on Paul Cronin's site The Sticking Place.
Agee reviewed a 1946 program of Maya Deren's films, and she replied with a letter to The Nation. As I indicated in an earlier installment, Farber reviewed the same program and called the films "lesbianish" and "pansyish." Deren was, rightly, angered, and asked the editors of The New Republic to publish her reply. After several go-rounds, they agreed and her scathing letter to the editor appeared in the issue of 16 November 1946. See The Legend of Maya Deren: A Documentary Biography and Collected Works Vol. I, Part Two, "Chambers: (1942-1947), ed. Catrina Neiman (New York: Anthology Film Archive, 1988), 382-385, 410-417.
Farber took another dig a few years later, when he noted that the bandit's sword in Rashomon "somehow rises (Maya Deren-fashion) as if it had just had a big meal of sex hormones" (Farber on Film, 377). In 1956, Deren talked back to Farber's essay, "The Gimp": "Mr. Farber is not writing a criticism of Citizen Kane. He is having a tantrum." See Maya Deren, "The Village Voice Pieces," Film Culture no. 39 (Winter 1965), 46-49.
The Bazin essays I'm alluding to are "La technique du Citizen Kane," Les temps modernes 2, no. 17 (1947), 943-949; "William Wyler, or the Jansenist of Directing," Bazin at Work: Major Essays and Reviews from the Forties and Fifties, ed. Bert Cardullo (Routledge, 1997; orig. 1948), 1-22; and Orson Welles: A Critical View, trans. Jonathan Rosenbaum (Harper and Row, 1978; orig. 1950). The Pierre Bailly essay, "Avis aux usagers du plan fixe," is in Gazette du cinéma no. 4 (October 1950), 7. For more on French stylistic analysis of the period, see the third chapter of my On the History of Film Style.
The vertical illustration of Tyler and the bust comes from Three Film Portraits by Charles Boultenhouse.
From Parker Tyler, A Pictorial History of Sex in Films (1974).