Archive for the 'Directors: Martel' Category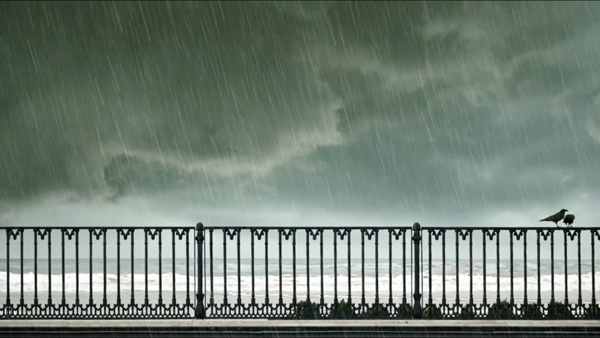 24 Frames (2017)
Kristin here:
David and I started this blog way back in 2006 largely as a way to offer teachers who use Film Art: An Introduction supplementary material that might tie in with the book. It immediately became something more informal, as we wrote about topics that interested us and events in our lives, like campus visits by filmmakers and festivals we attended. Few of the entries actually relate explicitly to the content of Film Art, and yet many of them might be relevant.
Every year shortly before the autumn semester begins, we offer this list of suggestions of posts that might be useful in classes, either as assignments or recommendations. Those who aren't teaching or being taught might find the following round-up a handy way of catching up with entries they might have missed. After all, we are pushing 900 posts, and despite our excellent search engine and many categories of tags, a little guidance through this flood of texts and images might be useful to some.
This list starts after last August's post. For past lists, see 2007, 2008, 2009, 2010, 2011, 2012, 2013, 2014, 2015, 2016, and 2017.
This year for the first time I'll be including the video pieces that our collaborator Jeff Smith and we have since November, 2016, been posting monthly on the Criterion Channel of the streaming service FilmStruck. In them we briefly discuss (most run around 10 to 14 minutes) topics relating to movies streaming on FilmStruck. For teachers whose school subscribes to FilmStruck there is the possibility of showing them in classes. The series of videos is also called "Observations on Film Art," because it was in a way conceived as an extension of this blog, though it's more closely keyed to topics discussed in Film Art. As of now there are 21 videos available, with more in the can. I won't put in a link for each individual entry, but you can find a complete index of our videos here. Since I didn't include our early entries in my 2017 round-up, I'll do so here.
As always, I'll go chapter by chapter, with a few items at the end that don't fit in but might be useful.
[July 21, 2019: In late November, 2018, the Filmstruck streaming service ceased operation. On April 8, 2019, it was replaced by The Criterion Channel, the streaming service of The Criterion Collection. All the Filmstruck videos listed below appear, with the same titles and numbers, in the "Observations on Film Art" series on the new service. Teachers are welcome to stream these for their classes with a subscription.]
Chapter 3 Narrative Form
David writes on the persistence of classical Hollywood storytelling in contemporary films: "Everything new is old again: Stories from 2017."
In FilmStruck #5, I look at the effects of using a child as one of the main point-of-view figures in Victor Erice's masterpiece: "The Spirit of the Beehive–A Child's Point of View"
In FilmStruck #13, I deal with "Flashbacks in The Phantom Carriage."
FilmStruck #14 features David discussing classical narrative structure in "Girl Shy—Harold Lloyd Meets Classical Hollywood." His blog entry, "The Boy's life: Harold Lloyd's GIRL SHY on the Criterion Channel" elaborates on Lloyd's move from simple slapstick into classical filmmaking in his early features. (It could also be used in relation to acting in Chapter 4.)
In FilmStruck #17, David examines "Narrative Symmetry in Chungking Express."
Chapter 4 The Shot: Mise-en-Scene
In choosing films for our FilmStruck videos, we try occasionally to highlight little-known titles that deserve a lot more attention. In FilmStruck #16 I looks at the unusual lighting in Raymond Bernard's early 1930s classic: "The Darkness of War in Wooden Crosses."
FilmStruck #3: Abbas Kiarostami is noted for his expressive use of landscapes. I examine that aspect of his style in Where Is My Friend's Home? and The Taste of Cherry: "Abbas Kiarostami–The Character of Landscape, the Landscape of Character."
Teachers often request more on acting. Performances are difficult to analyze, but being able to use multiple clips helps lot. David has taken advantage of that three times so far.
In FilmStruck #4, "The Restrain of L'avventura," he looks at how staging helps create the enigmatic quality of Antonionni's narrative.
In FilmStruck #7, I deal with Renoir's complex orchestration of action in depth: "Staging in The Rules of the Game."
FilmStruck #10, features David on details of acting: "Performance in Brute Force."
In Filmstruck #18, David analyses performance style: "Staging and Performance in Ivan the Terrible Part II." He expands on it in "Eisenstein makes a scene: IVAN THE TERRIBLE Part 2 on the Criterion Channel."
FilmStruck #19, by me, examines the narrative functions of "Color Motifs in Black Narcissus."
Chapter 5 The Shot: Cinematography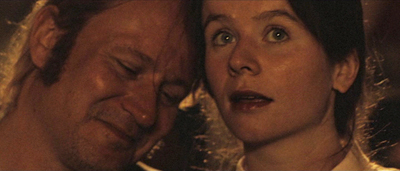 A basic function of cinematography is framing–choosing a camera setup, deciding what to include or exclude from the shot. David discusses Lubitsch's cunning play with framing in Rosita and Lady Windermere's Fan in "Lubitsch redoes Lubitsch."
In FilmStruck #6, Jeff shows how cinematography creates parallelism: "Camera Movement in Three Colors: Red."
In FilmStruck 21 Jeff looks at a very different use of the camera: "The Restless Cinematography of Breaking the Waves."
Chapter 6 The Relation of Shot to Shot: Editing
David on multiple-camera shooting and its effects on editing in an early Frank Capra sound film: "The quietest talkie: THE DONOVAN AFFAIR (1929)."
In Filmstruck #2, David discusses Kurosawa's fast cutting in "Quicker Than the Eye—Editing in Sanjuro Sugata."
In FilmStruck #20 Jeff lays out "Continuity Editing in The Devil and Daniel Webster." He follows up on it with a blog entry: "FilmStruck goes to THE DEVIL",
Chapter  7 Sound in the Cinema
In 2017, we were lucky enough to see the premiere of the restored print of Ernst Lubitsch's Rosita (1923) at the Venice International Film Festival in 2017. My entry "Lubitsch and Pickford, finally together again," gives some sense of the complexities of reconstructing the original musical score for the film.
In FilmStruck #1, Jeff Smith discusses "Musical Motifs in Foreign Correspondent."
Filmstruck #8 features Jeff explaining Chabrol's use of "Offscreen Sound in La cérémonie."
In FilmStruck #11, I discuss Fritz Lang's extraordinary facility with the new sound technology in his first talkie: "Mastering a New Medium—Sound in M."
Chapter 8 Summary: Style and Film Form
David analyzes narrative patterning and lighting Casablanca in "You must remember this, even though I sort of didn't."
In FilmStruck #10, Jeff examines how Fassbender's style helps accentuate social divisions: "The Stripped-Down Style of Ali Fear Eats the Soul."
Chapter 9 Film Genres
David tackles a subset of the crime genre in "One last big job: How heist movies tell their stories."
He also discusses a subset of the thriller genre in "The eyewitness plot and the drama of doubt."
FilmStruck #9 has David exploring Chaplin's departures from the conventions of his familiar comedies of the past to get serious in Monsieur Verdoux: "Chaplin's Comedy of Murders." He followed up with a blog entry, "MONSIEUR VERDOUX: Lethal Lothario."
In Filmstruck entry #15, "Genre Play in The Player," Jeff discusses the conventions of two genres, the crime thriller and movies about Hollywood filmmaking, in Robert Altman's film. He elaborates on his analysis in his blog entry, "Who got played?"
Chapter 10 Documentary, Experimental, and Animated Films
I analyse Bill Morrison's documentary on the history of Dawson City, where a cache of lost silent films was discovered, in "Bill Morrison's lyrical tale of loss, destruction and (sometimes) recovery."
David takes a close look at Abbas Kiarostami's experimental final film in "Barely moving pictures: Kiarostami's 24 FRAMES."
Chapter 11 Film Criticism: Sample Analyses
We blogged from the Venice International Film Festival last year, offering analyses of some of the films we saw. These are much shorter than the ones in Chapter 11, but they show how even a brief report (of the type students might be assigned to write) can go beyond description and quick evaluation.
The first entry deals with the world premieres of The Shape of Water and Three Billboards outside Ebbing, Missouri and is based on single viewings. The second was based on two viewings of Argentine director Lucretia Martel's marvelous and complex Zama. The third covers films by three major Asian directors: Kore-eda Hirokazu, John Woo, and Takeshi Kitano.
Chapter 12 Historical Changes in Film Art: Conventions and Choices, Traditions and Trends
My usual list of the ten best films of 90 years ago deals with great classics from 1927, some famous, some not so much so.
David discusses stylistic conventions and inventions in some rare 1910s American films in "Something familiar, something peculiar, something for everyone: The 1910s tonight."
I give a rundown on the restoration of a silent Hollywood classic long available only in a truncated version: The Lost World (1925).
In teaching modern Hollywood and especially superhero blockbusters like Thor Ragnarok, my "Taika Waititi: The very model of a modern movie-maker" might prove useful.
Etc.
If you're planning to show a film by Damien Chazelle in your class, for whatever chapter,  David provides a run-down of his career and comments on his feature films in "New colors to sing: Damien Chazelle on films and filmmaking." This complements entries from last year on La La Land: "How LA LA LAND is made" and "Singin' in the sun," a guest post featuring discussion by Kelley Conway, Eric Dienstfrey, and Amanda McQueen.
Our blog is not just of use for Film Art, of course. It contains a lot about film history that could be useful in teaching with our other textbook. In particular, this past year saw the publication of David's Reinventing Hollywood: How 1940s Filmmakers Changed Hollywood Storytelling. His entry "REINVENTING HOLLYWOOD: Out of the past" discusses how it was written, and several entries, recent and older, bear on the book's arguments. See the category "1940s Hollywood."
Finally, we don't deal with Virtual Reality artworks in Film Art, but if you include it in your class or are just interested in the subject, our entry "Venice 2017: Sensory Saturday; or what puts the Virtual in VR" might be of interest. It reports on four VR pieces shown at the Venice International Film Festival, the first major film festival to include VR and award prizes.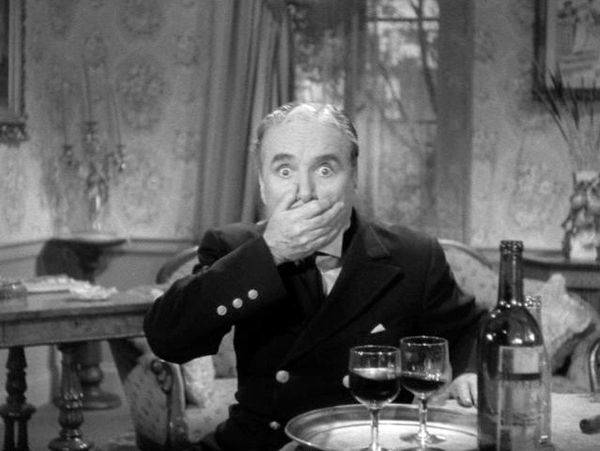 Monsieur Verdoux (1947)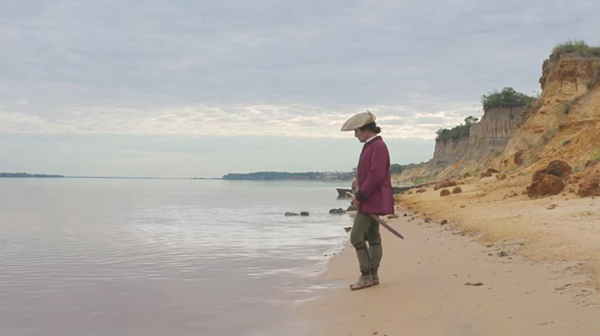 Kristin here:
Lucrecia Martel's Zama (pronounced "sama") happened to be only the third film we saw at the Venice International Film Festival, on the evening of its first day. As the credits faded, David asked, "Have we just seen a masterpiece?" Neither of us doubted that we had, and we suspected that we had also watched the best film we would see during the entire festival. Of course, we haven't seen every title on offer here, but having just come back from my twenty-fourth and final film, I don't doubt that it is.
It is also a challenging film, which we watched a second time to try and grasp the basics of what plot there is. Those of us who admired Martel's earlier work, particularly The Headless Woman (which we also felt compelled to watch twice, this time at the Vancouver International Film Festival in 2009 and wrote about here), had looked forward to her follow-up film. It was eight years in coming, and it is quite different from her earlier films in several ways.
First, while the three earlier features are set set in modern middle-class milieus, Zama is a period piece. The others had original screenplays, written or co-written by Martel, but Zama is based on a 1956 novel by Antonio Di Benedetto (translated into English in 2016). Martel was also working with a higher budget here, one which required patching together many sources of financing. The result is a co-production involving, Argentina, Spain, France, the Netherlands, the USA, Brazil, Mexico, Portugal, Lebanon, and Switzerland and  a patchwork of sixteen companies. At the press conference (below) Martel said that the long gap between films was not occupied with making all these arrangements and with shooting the film, which was actually a reasonably short process. She did make a few short films during this time and was ill enough to cease working for a while.
The result of the film's elaborate production situation is not a typical historical epic. There are impressive landscape shots in some scenes, but no uniformed crowds and grand buildings. No vast battles take place; instead there are a few small skirmishes. The bulk of the action takes place in a ramshackle group of buildings thrown up to house the Spanish colonial government of the provincial town of Asunción, already in decline by the 1790s. The money clearly was spent on creating authentic costumes and furnishings, as well as transporting the cast and crew to locations in Paraguay.
Frustrations of a colonial bureaucrat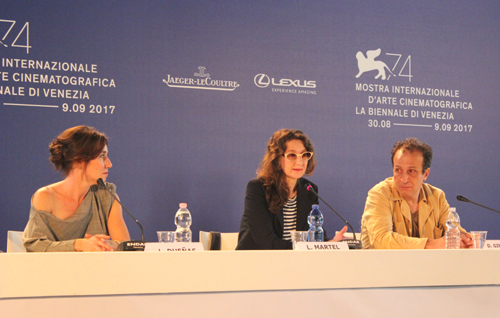 Lola Dueñas (Luciana), Lucretia Martel, and Daniel Giménez Cacho (Zama).
We quickly  learn the story's basic premise, that Don Diego de Zama is an official stationed in this backwater town and that he fervently longs to be transferred to a more important city–ideally where his wife and children live. He is not in charge of this outpost but serves under a governor whose request to the Spanish crown is necessary for such a transfer.
We are certainly not invited to like Zama when we first meet him. The first shot shows him standing and looking down the river (see top). We later learn that he was probably watching for the boat carrying mail, which he hopes will include a letter from his wife or some official news concerning his situation. He spies on some naked indigenous women smearing themselves with mud, and when they taunt and chase him, he turns on one and slaps her viciously. In the second scene he presides over the torture of a young man who refuses to divulge some unspecified information the governor needs.
As the action proceeds, however, we witness the countless little frustrations, embarrassments, bafflements, slights, and misfortunes that Zama seems to experience constantly. A brandy merchant who arrives with his wares, seemingly one of Zama's few friends (below), dies suddenly of the plague. Luciana, a wealthy local beauty, teases him with suggestive conversation but ultimately takes a younger man as a lover. A new governor's arrival hints that Zama is back to square one as far as his hopes for a transfer are concerned. The man takes over Zama's modest home and office, leaving him to haul his sparse furnishings to a barely habitable inn. When no letter from his wife arrives, Zama imagines a conversation with her in which they lament the long delay in their reunion, though we must suspect that her failure to correspond means that she has given up on him. Through all this we come to sympathize with him. We never learn how long he has been in this posting, but when someone asks he replies glumly, "a long time," and we believe him.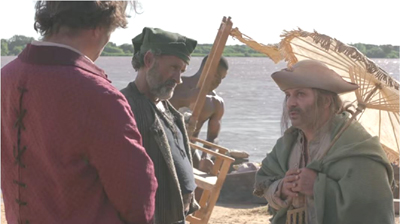 Zama might seem at first to be the epitome of a goal-oriented protagonist, but he is hardly the striving, active Hollywood-style hero. There is nothing he can do to better his current situation or to further his desire for escape. Instead, the action consists of one new, often bizarre challenge after another, creating situations that simply play out, usually to no conclusion. None of these situations furthers Zama's cause. Gradually we become aware that he is actually losing ground, as when the new governor reveals that he must write not one but two letters to the king, a process that could take a year or two. The final portion of the film takes him in a radically new direction as he tries one desperate bid to gain stature and perhaps his long-delayed transfer, a bid that only leads to worse troubles for him.
There is little sense of how much times passes in the course of this accretion of frustrating incidents. During the press conference (above), the cinematographer Rui Poças and Martel said that they sought a visual way to convey a sense of Zama's agonizing wait, a way to give "the sensation of time that has stopped," as Martel put it. They deliberately avoided some of the conventions of historical films. One of these was to eliminate fires and candles. Martel added, "In order to be able to think, you must be deprived of things." This rule was strictly obeyed, with one shot that turned out to contain a candle flame in the background being eliminated. When one thinks about it, lamps, candles, and fireplaces tend to figure quite prominently in suggesting the past in films, which became particularly evident, for example, when a great deal of fuss was made about the new ability to shoot dark scenes only by candlelight in Kubrick's Barry Lyndon (1975).
Thinking, being deprived of things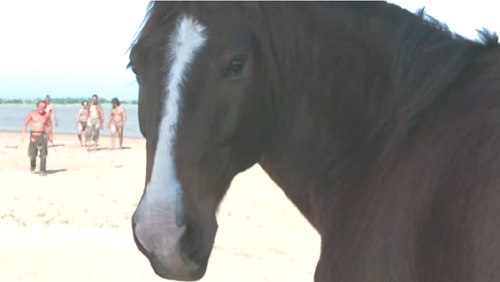 As Martel also pointed out, the original novel was told in the first person by Zama, with few descriptions of locales or nature. The film opens the tale out with the occasional landscape views in the early portions and a move into a savanna setting for its last stretch of action (see bottom). For much of the film, however, Martel uses the style I described in The Headless Woman, " shooting largely in tight shots filmed with highly selective focus." We stay almost exclusively with Diego, scanning his face for his reactions, so that the film becomes a psychological study, though the title character is a man who manages to carry on by keeping his thoughts and emotions well hidden.
Mexican actor Daniel Giménez Cacho gives a remarkable performance as Zama. We soon realize that the character has very little understanding of the bizarre things that happen around him and of the attitudes that other people have toward him. At times he adopts the faintest of smiles, ready in case what is being said to him is supposed to be amusing. More often he looks mildly worried, as if expecting another mocking remark or revelation of some new indignity to be offered. In his court his face could be taken to convey an appropriate dignity and wisdom (below), but it might just as well be puzzlement over the case before him. With Luciana he seems passive, but his face conveys hints of lust, hope, and an anticipation of ultimate rejection. In a meeting with a superior official, he struggles to ignore the ludicrous presence of a llama (which we had seen outside when he arrived) wandering around the office behind him as he pleads his case.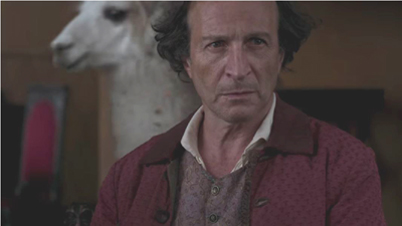 All in all, despite the fact that Cacho's craggy, earnest face seems to suggest competence, we emerge from the film with no real sense of whether Zama is in fact competent and unfairly treated or simply a man out of his depth who deservedly remains stuck where he is.
One extraordinary moment which I cannot resist mentioning comes late in the film when a horse in the foreground of a scene turns and looks directly into the lens (top of this section). Its stare is even more enigmatic than Zama's face, just another little mystery that Martel provides.
It is not surprising that Zama was the first in a series of three novels that have come to be called Di Benedetto's "Trilogy of Expectations." The second, El silenciero (1964), and third, Los suidicas (1969), share no plot elements with Zama but are thematically linked to it. It is also not surprising to learn that the novelist first read Kafka in 1954, just before writing Zama.
Guy Lodge, in his enthusiastic review for Variety, refers to Zama's "unjust placement in a non-competition slot at Venice." It has garnered quite a few reviews as laudatory as Lodge's, as well as a few which dismissed it as cryptic and not engaging. A good summary of the coverage, regularly updated, is provided by David Hudson. The film deserves to gain a higher profile in its upcoming screenings at the Toronto and New York festivals. Perhaps it will also pick up a North American distributor. Somehow it should be made available on home video (Criterion, perhaps?), since this is going to be considered a classic.
---
The most detailed account of Di Benedetto's life and work available online is an essay by the translator of the English-language version, Esther Allen.
Again, we are grateful to the Mostra and those who serve it, particularly Alberto Barbera and Michela Nazzarin. Thanks as well to Peter Cowie and David's colleagues on the Biennale College Cinema panel, who have all been good company.
[October 1, 2017: Argentina has chosen Zama as its nomination for best-foreign-language Oscar. I doubt it will make it into the final five, given how challenging it is. Still, maybe it will, and in any case, it's good to see Martel getting respect in her home country.]
[October 16, 2017: Strand Releasing picked up the North American distribution rights for Zama last month, shortly before its American premiere at the New York Film Festival. It plans a theatrical release in early 2018.]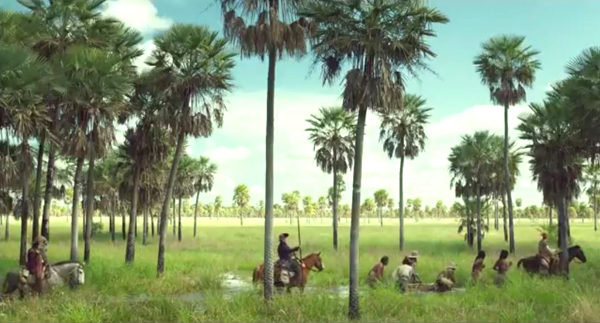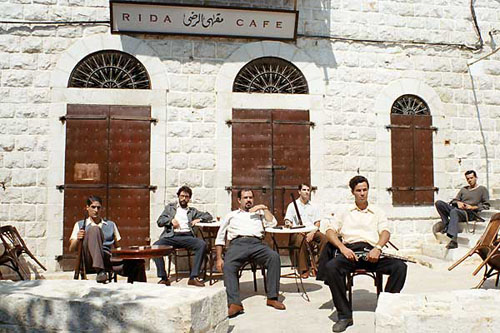 The Time that Remains.
Kristin here:
Last year I remarked on how festivals like Vancouver are increasingly showing films from countries that have barely contributed to world cinema until recently. Not surprisingly, the trend continues. Yesterday I saw The Search (dir. Pema Tseden), the second feature to by made in Tibet by a team of Tibetans. (The first was also by Tseden.) It's strongly reminiscent of Kiarostami's best-known films, with a small film team traveling through the countryside trying to cast a movie based on a classic indigenous opera.
So far, however, most of the films I've seen have been from more established filmmaking regions.
Latin America
Latin American cinema continues to grow beyond Mexico, Brazil, and Peru, largely thanks to European co-productions and occasionally co-productions between countries within the region. For me, the first day of the festival concentrated on Latin America.
The first stop was Peru, with the surprise winner of this year's Golden Bear at Berlin, Claudia Llosa's The Milk of Sorrow. The plot concerns Fausta, a young woman whose mother, pregnant with her, was raped and tortured during era of the government's war against the Shining Path insurgents (1980s-1990s).
Haunted by a fear of being raped herself, Fausta imitates a trick that a woman supposedly employed to fend off attackers. She places a potato in her vagina, hoping that the protruding shoots will repel a would-be rapist. Her terror of leaving home alone limits her freedom, though she manages to take a job as a maid to an eccentric female pianist. Her plight is ironically emphasized by the fact that her uncle is a wedding coordinator, and there are several scenes involving outgoing young women who are attuned to modern life and eager to marry.
The Milk of Sorrow is beautifully shot, with a minimal plot that proceeds at a languorous pace. It fits very much into the art cinema destined primarily for festival and big-city screenings.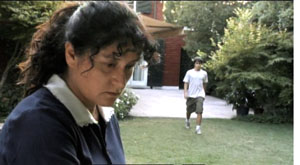 Two other two films of the day were distinctly more reminiscent of Hollywood in their pacing and strong plots. Sebastián Silva's The Maid has a familiar plot, the repressed character who needs to learn to enjoy life and other people. Raquel has served the same family for decades and become obsessed about her own little domain of power, pampering one child she adores, annoying another, and running the household to suit herself. Eventually, when an outgoing second maid is hired, Raquel is surprised to find herself with a friend and begins to come out of her shell.
Stylistically there's nothing of great interest. As with so many films these days, it was shot in real locales, mostly the interior of one large house, and so consists mostly of medium shots and lots of panning. It's essentially an actor's film, though, and I could easily imagine it being remade in English as a vehicle for someone like Meryl Streep. It effortlessly balances drama and humor and is continually entertaining. It also features the only unequivocally upbeat ending among the films I'm discussing here, which no doubt says something either about the state of the world or about what filmmakers assume festival programmers look for.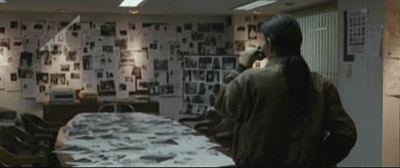 Equally skillful but miles away in tone is the Mexican feature Backyard, by Carlos Carrera. Focusing on the astonishingly frequent rape, torture, and murder of women in Juàrez, the film follows a lone female detective in a police force which refuses to arrest or prosecute any of the perpetrators. (Above, she is confronted with hundreds of photos of the dead and missing.) The reasons behind both the numerous murders and official indifference turns out to be a combination of circumstances: at least one serial killer with the means to pay off the police, the executive of a Japanese factory that doesn't want bad publicity, and random abusive husbands and young punks who take advantage of the situation to dump their victims in the desert with impunity.
The story is handled in taut classical fashion, intercutting between the detective's investigations and the story of one young factory girl factory who eventually becomes a victim. This is the stuff of CSI and other crime shows, but all based on a horrific real-life situation that goes beyond what any mainstream drama would dare to show and that continues to this day right, as the title emphasizes, in America's backyard.
One of the best films we've seen so far is Lucrecia Martel's third feature, The Headless Woman. Although I had admired her visually gorgeous La ciénaga (2001), I found it a bit obvious in its use of the central swamp metaphor to characterize the upper-middle class. The Headless Woman, though, is the epitome of subtlety, with the plot being a puzzle with easily missed clues doled out sparingly. (The Variety review considerably mis-describes what happens, and I suspect others do as well.)
The opening is simple enough, with some boys playing in a dry concrete canal. Nearby, Veró, the woman of the title, helps her sister Josefina shoo a group of noisy kids into one car, while Veró takes off alone in the other. In a remarkable long take, she drives until the car lurches, causing her to bump her head on the windshield. Rather than cutting to what Veró hit, the camera stays with her as she sits, dazed. After a long pause she drives on, and a new framing allows us to briefly glimpse a large dead dog on the road in the distance. Soon the heroine stops and gets out of the car, walking out of focus as we stay in the car and the first heavy drops of a storm strike the windshield (below). One hint: even the exact moment when the rain starts becomes a clue to unraveling the action to come.
The rest of the film stays with Veró, who is present onscreen or off in every scene. We watch her uncertainty, caused by a concussion, but those around her barely notice, attributing her memory loss to tiredness or illness. Eventually Veró tells her husband that she thinks she has killed someone on the road. It would be unfair to reveal more, since experiencing the twists and implications of the plot should be up to the viewer.
Stylistically the film develops on Martel's characteristic technique of shooting largely in tight shots filmed with highly selective focus. Often one must search for the one significant character. At other times, the camera lingers on Veró's face, glancing vaguely around with a slight, defensive smile, pretending that nothing is wrong, as more significant actions by the other characters occur out of focus in the background. Often children swarm around, placing the thin thread of the central drama in the context of insignificant gestures of everyday life but making the clues all the harder to notice.
So well hidden is the plot that many viewers will mistakenly decide that it's a film where nothing much happens. Those who engage with it will discover quite the opposite. But be warned, only a very alert viewer could figure out the plot correctly on a single viewing. I'll admit I missed a crucial remark on the first pass.
(See also Jim Emerson's take on The Headless Woman.)
The Middle East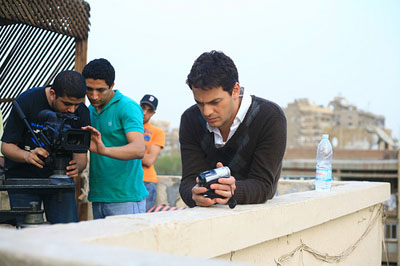 Ahmad Abdalla behind the camera shooting Heliopolis.
David and I both saw Heliopolis, he because it's a network narrative and I because it's an interesting district of Cairo that I know only slightly. Egypt may in the past have been the main supplier of mainstream entertainment movies for the Middle East, but Heliopolis is very much an indie, made by first-time director Ahmad Abdalla with a tiny crew shooting on location for a mere two weeks.
In a rare move for this kind of narrative, the characters from the various plotlines barely intersect. Instead, Heliopolis itself is the focus. It's a suburb near the airport that tourists drive through on their way to the central city but seldom visit. Once an enclave of foreigners, it is now is one of the main districts for middle- and upper-middle-class Egyptians. The beauty of the old buildings, some now shells and threatened with demolition, contrasts with an increasingly westernized youth culture on the streets. Similarly the characters, all with their own aspirations, suffer disappointments in the end, creating a bittersweet tone that becomes generalized to the district.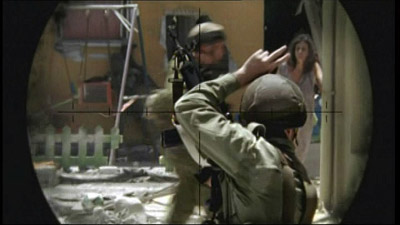 Lebanon, the Israeli film that won the top prize at the Venice Film Festival, tells a compressed story set during the first day of the Israeli-Lebanon war. It centers on a four-man team in a tank, all going into real combat for the first time. Director Samuel Maoz confines his camera to the interior of the tank for nearly all of the action, limiting our knowledge to the characters' viewpoints (above). What we see of the war appears through the crosshairs of the mens' scopes, though the director does not cue us to identify consistently with any of the individual team members.
The increasingly fetid interior of the tank becomes tangibly apparent as the men's stubbly faces gleam with sweat and grime. At intervals Maoz cuts to grotesquely lyrical details of the tank's surfaces, with oil oozing into dials or down the walls and filthy liquid on the floor rippling with the machine's vibrations.
Many of the conventions of the men-at-war film are present, including the young man being killed just as his message assuring his parents of his safety is delivered and the novice gunner who fails to fire when he should but then kills an innocent passerby. But such conventions are renewed through the claustrophobia of the setting and the refusal to hold back in showing the confusion, terror, and savagery of war. Only the opening and closing shots, whether consciously or not an echo of Dovzhenko, offer a hint of peace.
As an admirer of Elia Suleiman's Divine Intervention, I anticipated most seeing his new film, The Time that Remains: Chronicle of a Present Absentee. It did not disappoint, though it is less ingratiating than the earlier film. Where Divine Intervention is largely based on subtle, ironic comedy played out primarily in Tati-esque long shots, The Time that Remains mixes long stretches of pure drama with the irony. I've read tepid reviews that reflect a lack of patience in figuring out what Suleiman was up to this time.
There are no Arrafat-face balloons flying over Jerusalem or fantasy ninja-revenge scenes here. Instead, apparently working with a larger budget, Suleiman ambitiously sets parts of his film in 1948 and other key years of the struggle between Palestinians and Israelis. His father appears as a constant participant in that struggle (seen in dark trousers in the frame at the top). The child Elia shows up partway through and becomes a silent witness to much of this. (As in Divine Intervention, the director plays himself but never speaks.) He acts more as a sympathizer than as an active participant in the conflict, going into exile as a young man and, as we know returning at intervals to make films that comment on the political situation. Hence the "present absentee" of the title.
The older scenes include staged skirmishes and chases, with genuine suspense, before the film settles into the modern era and the humorous, sometimes blackly humorous, life of Suleiman's aging family and neighbors. As the earlier film dealt with his father's final illness, the new one lingers over his mother's.
Despite the drama, there are some characteristically hilarious moments. An unarmed Palestinian man takes out his garbage and paces during a cellphone conversation, ignoring all the while an enormous tank whose gun-turret swivels to cover his every move from a few feet away. Young Palestinians dance to loud music, seen through the glass walls of a discotheque. An Israeli jeep stops outside, vainly trying to make a curfew warning heard over the din, and the soldiers inside unwittingly start bobbing their heads slightly in time to the music.
We're off to another day of film-viewing and will post again soon.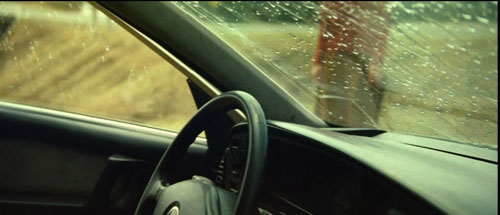 The Headless Woman.