Monday | October 12, 2009
open printable version

Oxhide II.
DB here, with more from the Vancouver film fest:
Two of the more innovative films I saw evoked film history—one explicitly, the other obliquely. Raya Martin's Independencia is part of a planned series devoted to the history of the Philippines, told from the bottom up. In this first installment, villagers flee into the jungle to hide from the American "liberation" of their islands. The film centers on a mother and son who, joined by a woman the son finds, create a new family. After years, the son and the woman have a child, but their new life is threatened by the encroachment of the invaders.
What sets Independencia apart is Martin's effort to create the look and feel of a 1930s fiction feature. He shot the movie wholly in a studio, and the evidently faked backdrops are counterbalanced by gorgeously controlled lighting effects, and even dashes of color. Since virtually no Filipino films survive from this period, Martin gives us less a pastiche than a possibility, a sort of hypothetical archival film. The fact that the film makes aggressive use of Dolby sound, especially during a tremendous storm sequence, only adds to the sense of history being reimagined for today.
More traditional, at first glance, is Puccini and the Girl, a historical drama by Paolo Benenuti and Paolo Baroni. Facts of the case: In 1909, a maid in Puccini's Tuscan villa, accused of being his concubine, committed suicide. But an autopsy revealed that she was a virgin.
The film's reconstruction of what happened behind the scenes, tracing the veins of jealousy and deceit running through the household, relies on recent research into the tragedy.
At the same time, we have an homage to silent cinema. In most scenes we hear no dialogue: actors whisper at a distance from us, or simply conduct themselves without speaking. What words we do hear are recited pro forma (the Mass) or sung (in a waterside tavern, or in nondiegetic accompaniment). There is only one line of conversation, and that is given greater saliency by being a cry from the heart.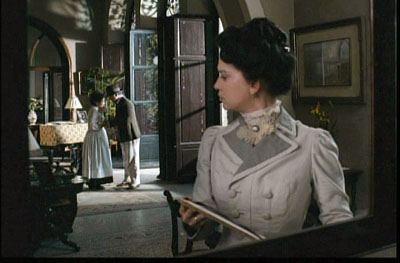 So we're largely confronted with a silent film, accompanied by music and sound effects. To add to the estranging effect, characters communicate chiefly through letters and telegrams—exactly as in the films of the period. We hear the letters' text read aloud, but the sense of stately compositions propelled by written commentary, distinctive features of 1910s cinema, remains. An unwitting homage, perhaps, but one that pleased this fan of classic tableau cinema.
Independencia was part of the Dragons and Tigers thread, one of the hallmarks of the Vancouver event. Year after year it gives an unequaled view of current Asian cinema. This year's program, assembled by Tony Rayns and Shelly Kraicer, was at least as fine as ever. Eight films compete for the $10,000 prize given to first or second features. The winning film, Eighteen by Jang Kun-jae, centered on the familiar situation of teenage lovers separated by parents and school pressures. I didn't see all the competitors, but my own favorite was Chris Chong's Karaoke, a Malaysian story of a young man coming to terms with his mother's decision to sell her karaoke bar. The first ten minutes are quite creative, disorienting the audience through complicated sound mixing, while the boy's community, devoted to the production of palm oil, is presented with a documentary directness.
Outside the competition, I saw several Asian films of consequence. I've already discussed Yang Heng's Sun Spots and Bong Joon-ho's Mother. Ho Yuhang's At the End of Daybreak marks a shift from his lyrical first feature, Rain Dogs, which I reviewed at Vancouver in 2006. A plot situation close to that of Eighteen is treated in much darker tones. A young man falls in love with a high-school girl, but he's driven to murder by her growing indifference to him. The familiar elements of furtive sex, drinking parties, and demands from the girl's family for reparations are given a noirish treatent. Ho's admiration for American crime novels shows in his increasingly bleak handling of the affair. Here the femme fatale is a high-school girl, and the entrapped male's revenge is complicated by an unexpected erection.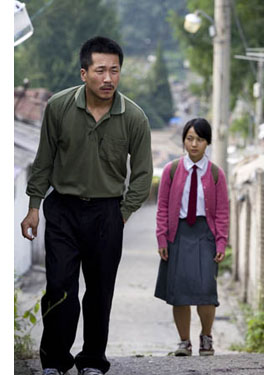 Also under the influence of classic crime films was Yang Ik-June's Breathless from Korea (right). It shows a brutal debt collector coming to terms with his childhood. Under a harsh surface realism, the film has the contours of the familiar redemption of a hard case, including the decision to reform that comes a tad too late. (Whenever a crook vows that this will be the last time he pulls a job, wait for the ironic retribution.) I thought that the character parallels (two scenes of murdered mothers) were somewhat too neat, but the director plays the anti-hero with conviction and deadpan humor, and Kim Kkobbi supplies an exhilarating turn as the tough high-school girl who becomes his companion.
Bong Joon-ho has been something of a leitmotif on this site lately, with my comments on Influenza and Mother. Under the rubric "Bong Joon-Ho & Co.," Dragons and Tigers screened a collection of shorts paying tribute to the Korean Academy of Film Arts. Most were from the 2000s, but Kim Eui-suk's Chang-soo Gets the Job, dated from 1984. Focusing on a gang of teenage purse snatchers, Kim's film was a little rough technically, but it built its story deftly. The quality of the rest was quite strong, with the grisly and wacky Anatomy Class (2000, Zung So-yun) being a high point. Meanwhile, Bong's Incoherence (1994) shows that his urge to deflate official hypocrisy, seen in Memories of Murder and The Host, was already present in his student days.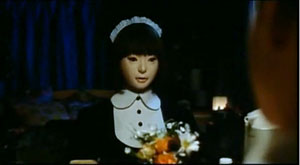 My admiration for Hirokazu Kore-eda runs high, as I indicated in my discussion of Still Walking at last year's VIFF. But Air Doll, while full of vagrant pleasures, left me unsatisfied. The Kafkaesque premise, derived from a manga, is that an inflatable saucy-French-maid dolly comes to life, endowed with speech and movement but retaining her seams and air valve (both of which will figure in the plot). Her sad-sack owner doesn't notice the transformation, but while he's at work, she takes a job at a video store and wanders the city.
The aim, I think, is to defamiliarize ordinary city life by seeing it through Nazomi's eyes. The fact that a sex effigy is the most innocent character in the movie is part of the point. Makeup, money, and fashion start to seem extensions of sad, solitary eroticism, and the line between mainstream movies and porn gets blurred. But all the thematic elements didn't blend very well, and at moments, as during the music montages showing people's desperate loneliness, I worried that for once Kore-eda had slipped into conventional sentimentality. The tone also shifts, with a climax that revises the big scene of In the Realm of the Senses. Kore-eda deserves credit for his unflagging effort to try something fresh with every project, but here, it seemed to me, that the film was defeated by an overcute conceit and underdeveloped execution.
The most exciting Asian film I saw at VIFF was Liu Jiayin's Oxhide II. Her first feature, Oxhide, was screened at Vancouver in 2005. (Full disclosure: I was on the jury that awarded that film the D & T prize.) This one seemed to me even better.
To say that this 132-minute film is about a family making dumplings is accurate but misleading. To add that the action consumes only nine shots makes it sound like an arid exercise. In fact, it's a consistently warm, engaging—I don't hesitate to say entertaining—film that is also a demonstration of how a simple form, patiently pursued, can yield unpredictable rewards.
In the first Oxhide, we saw the comedy and tensions of Liu's life with her parents, who run a leatherwork shop. By the time she shot part two, they had already lost their business, but the sequel presupposes that the shop is still going, albeit coming to a critical point. So there's a quasi-documentary aspect, as the family's financial strains, discussed cryptically at various points, hover over the mundane process of wonton cookery. Yet although everything looks spontaneous, it was all completely staged—written out in detail, rehearsed over months, reworked in test footage, and eventually played out in "real time."
And in real space. The first shot, which consumes twenty minutes, shows Liu's father pummeling a hide in his vise and eventually clearing the table for serious food preparation.

Actually, the film's subject is that table. On its surface, a meal is prepared; around it, the family gathers; we even see what happens underneath. We watch father and mother chop scallions, mince pork, twist and yank dough, pinch the dumpling wrappers around the filling. We watch the daughter try to match her parents' dexterity. This is a movie about housework as handiwork, and family routines and frictions.
For minutes on end, we see only hands and arms; Liu's 2.35 frame often chops off faces. Liu employed a construction-paper mask to create the CinemaScope format within HD video. Why the wide frame? Most filmmakers use it for expansive spectacle, she remarks; but "I wanted to see less." And the horizontal stretch further emphasizes the table.

As if this weren't rigorous enough, Liu has filmed the table from a strictly patterned arc of camera positions, dividing the space into 45-degree segments. These unfold in a clockwise sequence around the table. What could seem an arbitrary structural gimmick is justified by the fact that each setup proves ideally suited to each stage of the process. When father and mother team up to start the meal, the angle gives us two centers of interest. And Liu feels free to "spoil" her mathematical structure by varying the height and angle of her camera. Plates, bowls, and an articulated lamp become massive outcroppings in this micro-landscape.

Oxhide II is unpretentiously inventive, quietly virtuosic. Evidently it took a Chinese filmmaker (whose day job is writing TV dramas) to blend domestic life with the rigor of Structural Film. Liu displays the fine-grained resources yielded by several cinema techniques, from framing and staging to lighting and sound. The finished dumplings get constantly rearranged on the cutting board. Each family member has a different technique for pulling off bits of dough, and each gesture yields its own distinctive snap.
I had to think, almost with pity, of all those US indie filmmakers who believe they have to cultivate CGI and slacker acting, to seduce investors and strain for outrageous sex and edgy violence. Liu made this no-budget, low-key masterpiece over years in a single room, and with her parents. That's a new definition of cool.
Liu promises us another installment. In the meantime, every festival that's serious about the art of cinema should pledge to show Oxhide II.
Puccini and the Girl.
PS 12 October: Thanks to Matthew Flanagan for correcting an embarrassing typo.
PS 15 October: Thanks to Ben Slater for correcting yet another one!