Tuesday | March 13, 2018
open printable version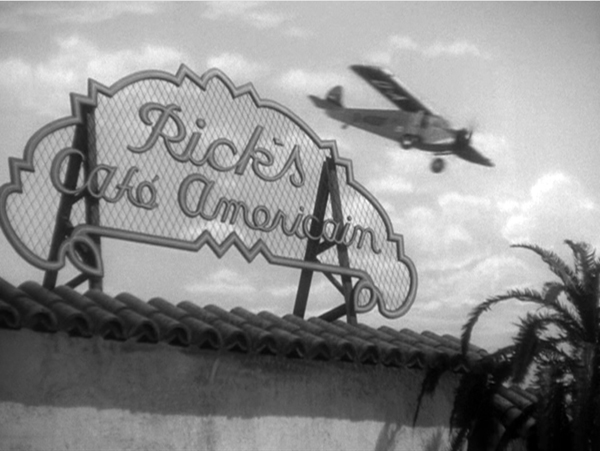 Casablanca (1943).
DB here:
How could I have written a longish book on 1940s Hollywood and have devoted so little space to Casablanca?
This question was brought home to me when Pauline Lampert, mastermind of Flixwise, asked me to be a guest on her podcast….and to talk about Casablanca. You can listen to our conversation here. Yes, Joan Crawford is involved.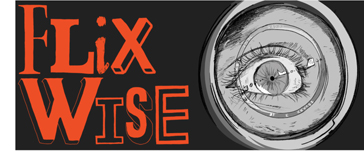 Reinventing Hollywood mentions Casablanca in a few places, but it doesn't discuss it in the depth it devotes to, say, A Letter to Three Wives or Cover Girl or Five Graves to Cairo or Unfaithfully Yours, let alone Swell Guy or Repeat Performance or The Guilt of Janet Ames. I suppose it's partly because many of those movies are less famous and more peculiar.
In addition, I confess that I've never been a big fan of Casablanca. I admire it as a solid piece of work, but it hasn't aroused my passion. I'm much more emotionally attached to How Green Was My Valley, The Magnificent Ambersons, Shadow of a Doubt, Notorious, Meet Me in St. Louis, Mildred Pierce, The Little Foxes, On the Town, and many other movies of its time.
Admittedly, my book doesn't dwell on most of these either, although I've written about most of them elsewhere (including on this site). Basically, I suppose I neglected Warners' evergreen classic because its canonical status made it unnecessary for me to talk about it. It's a typical 40s film that everybody knows well, and I guess I trusted that interested readers would apply to it the ideas I float in the book. And another factor may have blocked my considering Casablanca.
Learning from a classic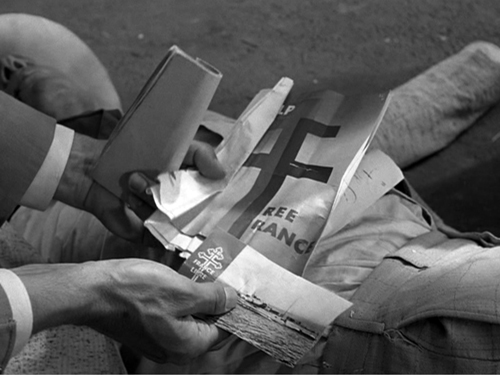 When historians want to explain changes in film artistry, they have some options. One possibility is to focus on the influential individual, the great artist who inspires successors. Charles Rosen makes this case in The Classical Style, which concentrates on Haydn, Mozart, and Beethoven as prime innovators. Traditional film historians have singled out Griffith for this role; I'd add Ozu and Antonioni, in their respective contexts, as significant influencers.
A second option is to zero in on an individual work that became a prototype for other works. The Birth of a Nation, Potemkin, Citizen Kane, and The Bicycle Thieves have played this role in film histories.
A third possibility is to explain change through patterns of collective practice. Creative choices, disclosed in several (perhaps minor) works, propagate through a community and eventually establish norms. This seems to have been what happened with tableau staging and the system of continuity editing. They emerged in bits and pieces, as ad hoc practices that were forged into firm craft practice.
Without denying that some individuals, like Welles and Hitchcock, matter, and without denying that there are powerful models, such as Kane, my book was mostly committed to showing how narrative norms, pressured by competition and other factors, mutate across the 40s ecosystem. This emphasis on norms is one aspect of my research program.
So in re-watching Casablanca for my meeting with Lady P.'s podcast, I noticed some norm-abiding and norm-tweaking things I could have written about.
Classical plot construction (of course). Despite the legend of last-minute screenplay fixes, this is a tightly organized plot. Kristin' s four-part structural template is in force. After shrewdly distributed exposition, Laszlo and Ilsa stroll into Rick's at the 25-minute point. At the midpoint (about 50:00), Rick calls Ilsa a whore and she departs to meet Renault. The climax, I'd say, starts around 80:00, when Rick and Ilsa reconcile and he hatches his plan to rescue her and Laszlo.
The parallels are also well-carpentered. Rick is compared to Laszlo; both have been activists. Rick's also like Renault, in that both are now in-between men, apolitical cynics who will convert to the cause. Ilsa is paralleled to Rick's high-strung paramour Yvonne, as well as the Bulgarian woman who has concealed from her husband the fact that she traded her body for safe passage out of Casablanca.
Ticking the 40s boxes: Voice-over narration to open the thing? Check. Crisis structure that launches an explanatory flashback? Check.
Franker sexuality and Parker Tyler's Morality of the Single Instance? Check-plus. When Ilsa comes to Rick's apartment, they obviously do the thing. He later says they "got Paris back last night."
And of course it's a feast of 40s character actors, including Rains, Lorre, Greenstreet (in a silly fez), Veidt, Kinskey, Dalio, and Sakall (aka Cuddles).
Even John Qualen shows up. Casablanca is as much an oddball hangout as Casablanca is.
Domesticating deep focus: Part of the influence of Citizen Kane stemmed from its flaunting of big-foreground depth. A head or an object would be pasted in the front plane, and other figures would stretch out in the distance.
Kane wasn't the first film to use this strategy, but Welles and Gregg Toland made it vivid by playing out these shots in very long takes. After Kane, 1941 became the Year of the Big Head, apparent in The Little Foxes and, surprisingly, Ball of Fire. Toland shot these.
But these films didn't treat such compositions in long takes. Wyler and Hawks integrated the wide-angle shots into a standard analytical editing breakdown, using the big foregrounds for orthodox shot/ reverse shot. We see the trend as well in tighter-than-usual over-the-shoulder shots like these from The Maltese Falcon, also 1941.
Curtiz wasn't as flamboyant a stylist as Welles, but he often added pictorial zest to his shots. He too integrates the wide-angled foreground into standardized setups and editing patterns. Interestingly, his cinematographer was Arthur Edeson, who shot Falcon.
In this respect, Casablanca exemplifies how a new norm was diffused as a toned-down version of a more self-conscious technique.
Smooth visual and verbal narration: This time around I admired the opening passage, with rapid exposition based on adjacency. We start at street level, as the police capture suspected agents of the Free French. One is gunned down, in a moderate deep-space composition. And everything is explained by a chatty pickpocket.
The Bulgarian couple is planted in a panning shot that follows the secret agent and settles on them. (Again, the wide angle accentuates foreground action.)
We get continuity by contiguity. A neat touch: Major Strasser's plane arriving is glimpsed in conjunction with Rick's sign, setting up that location well before we visit it. (See still up top.) At the airport, Renault closes the loop, explaining to Strasser that everybody comes to Rick's. That initiates a dialogue hook to the café, where we'll spend the next thirty minutes of screen time. And the arrival of Strasser's plane rhymes neatly with the departure of the one carrying Ilsa and Laszlo at the end.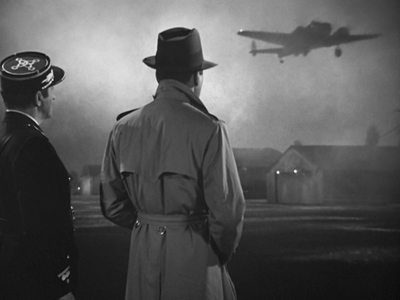 Motifs, motifs: In a movie where every scene has a famous tagline, I was struck this time by one tweak. Meeting Strasser, Renault says that he'll round up "twice the usual number of suspects." In the epilogue, that phrase becomes the nonchalant one everybody remembers, "Round up the usual suspects." It's a reminder of corrupt policing, a guarantee that Rick will not be charged, a sign of Renault's new loyalties, and a contrast to Renault's initial obedience to the man Rick has just killed.
Seeing eye to eye: I've written elsewhere (here and here and here) about the importance of eye behavior in storytelling cinema. In Casablanca, I noticed how Edeson's cinematography made the women's eyes glisten. This is standard female lighting for the period, but Ingrid Bergman often gets an extra princess sparkle.
As for Bogart, often a blinker, he lowers his eyes ambiguously when he says that Renault has always kept his word.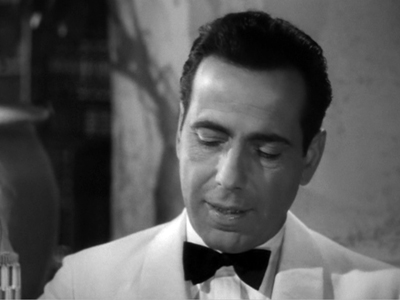 When the Bulgarian woman asks about a woman who keeps secret something to save her husband, he manages to shift into a stricken stare for eleven seconds: "Nobody ever loved me that much."
Actually, Bergman beats him when Sam plays "As Time Goes By." Ilsa stares, slightly shifting her head but with a largely blank expression, though her mouth opens slightly.
She doesn't blink for twenty-four seconds. Nearly all the action is in those eyes, as a glint of light jumps from her right eye to her left.
A 1940s movie, over-solemn as it can sometimes be, has this virtue: it can show people thinking.
When you try to study filmmaking norms, often you find that the individual film becomes a "tutor text," as the French Structuralists used to call it. The movie shows you things about movies. His Girl Friday, I've argued, is such a film for me. Maybe Casablanca should be. In any event, we can learn a lot from it, and in the process still enjoy its drama of love sacrificed to political commitment.
---
Thanks to Pauline for having me on Flixwise. Kristin's analysis of four-part plotting, first floated in Storytelling in the New Hollywood, has been applied and expanded in my The Way Hollywood Tells It and many of our site entries, as here and here. I discuss Parker Tyler's Morality of the Single Instance in The Rhapsodes. My deep-focus arguments can be found in Chapter 27 of The Classical Hollywood Cinema and developed at greater length in On the History of Film Style, soon to be available in an updated version on this site. See also this entry and this one and this one.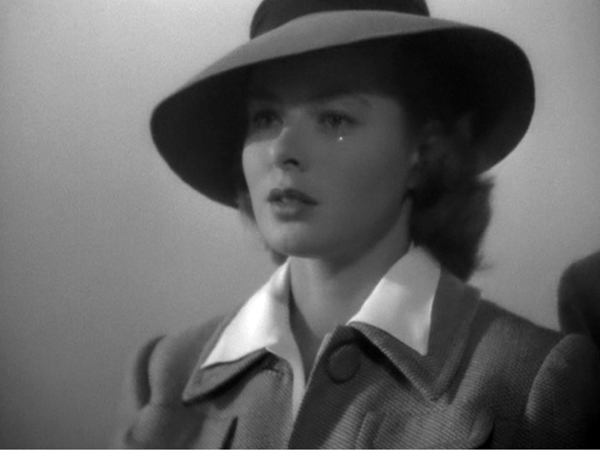 Casablanca.