Archive for August 2018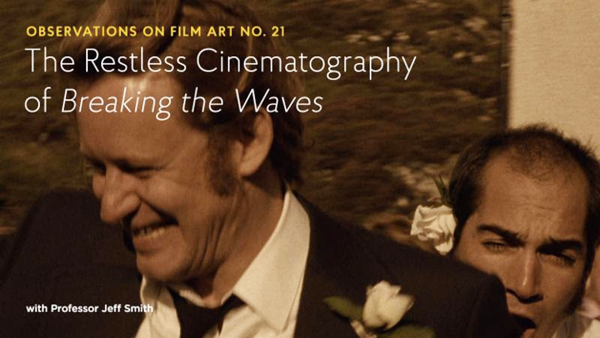 Jeff Smith's analysis of von Trier's film has been posted on our series on the Criterion Channel of FilmStruck. Here, as is his custom, he offers more insights into this extraordinary work.
I still remember the shock I felt watching Lars von Trier's Breaking the Waves for the first time. Some of it was undoubtedly a response to the film's emotionally unsettling narrative. Yet I also wasn't quite prepared for the caught-on-the-fly quality of Robby Müller's handheld cinematography.
Was this the same director who had created such striking, high-contrast, black and white images for Zentropa?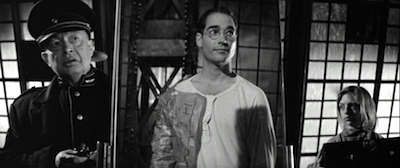 Was this the same Robby Müller who composed the austere, yet stylish landscapes shots in Kings of the Road, Paris, Texas, and Down by Law?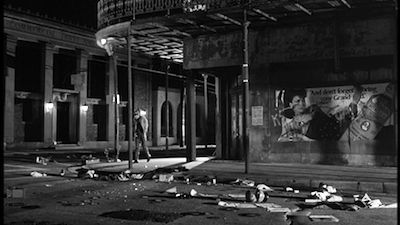 In contrast to the very controlled look of those titles, the prologue to Breaking the Waves establishes a more muted visual style. Interior spaces look washed-out and the color is drained from the beautiful Scottish landscape. This effect was created by shooting on 35mm, scanning the negative to video, and transferring the altered footage back to film.
The camera also moves constantly. It anxiously follows action as it unfolds to capture a sense of both intimacy and immediacy. In Zentropa, the actors mostly were subsumed into the overall visual design of the image. In Breaking the Waves, the specific choices in editing and cinematography were subordinated to the actors' performances. For Trier, this choice was partly dictated by the material. He wanted to preserve a sense of existential mystery about the film's events. The decision to shoot in a raw, naturalistic style was necessary to keep the film believable.
Breaking the Waves also laid down a marker in terms of von Trier's commitment to the dictates of the Dogme 95 manifesto. Although the film departs from those principles in significant ways, it previews the even nervier approach von Trier takes in The Idiots.
Yet elements of pictorial stylization are retained in Breaking the Waves, and they foreshadow the formal tensions that characterize much of von Trier's later work. In Dancer in the Dark, the juxtaposition of stylization and naturalism is evident in the way Bjork's musical numbers provide escape from the grim misery of Selma's daily existence. Antichrist opens with luminous black and white imagery in super-slow -motion that directly contrasts with the slightly more desaturated color seen in the rest of the film.
Melancholia begins with fantastic, colorful, almost still tableaux accompanied by an excerpt from Wagner's Tristan and Isolde. This differs markedly from the rest of the film which is shot in the semi-documentary style seen in Trier's Dogme work.
In what follows, I trace the way Breaking the Waves' dialectic between naturalism and stylization is expressed in particular visual motifs. I also show how these techniques reinforce some of von Trier's larger thematic concerns. Warning: some spoilers ahead.
Camera playing catchup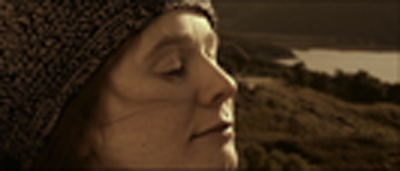 Robby Müller's handheld cinematography in Breaking the Waves fulfills a number of different objectives. First and foremost, the constant, restless movement adds a visual dynamism that contrasts with the locked-down camera frequently seen in "slow cinema." Secondly, the association of this style with documentary adds a jolt of authenticity to the scenes of Jan aboard ship and the various emergencies that occur at the hospital. Lastly, the "caught on the fly" quality of the images lends a sense of intimacy and immediacy to the character's interactions.
Breaking the Waves' most common technique involves the use of rapid pans to convey a feeling of imminence–the sense of pushing us toward what is just about to happen in the scene. Those anticipatory pans pans serve a number of storytelling functions.
They're often used during dialogue scenes as a variant of more conventional shot/reverse shot techniques. In the hospital, when Bess and Dodo discuss Jan's sick fantasies, the camera swivels between the two speakers some eight times.
The entire conversation is handled in five longish takes instead of the dozen or so shots we'd get if von Trier had used shot/reverse shot.
More commonly, von Trier's dialogue scenes use quick pans to capture another character's reaction before then cutting back to the other speaker. Near the midpoint of Breaking the Waves, we see Richardson rifling through the pages of Bess's file. Richardson asks Bess about her care under another doctor. The camera swings swiftly over to Bess who professes ignorance of this prior episode.
The camera then pans back to Richardson.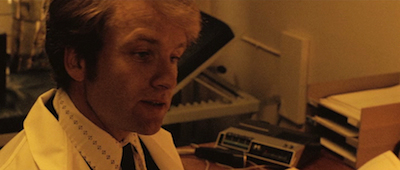 He acknowledges that her treatment was related to her brother's death before von Trier eventually cuts back to Bess. Given the emphasis on performance during shooting, these panning movements keep the actors in the moment, enhancing the impression of dramatic intimacy and visual energy. But the style also enables Trier to shoot coverage so that he can select between different takes during editing.
In some instances, these rapid shifts from one character to another preserve the interactions of the ensemble within a single take. This occurs, for example, as the wedding party reacts to the sudden appearance of rain. We see it again later when Jan and his buddies pass around a flask of booze.
In still other cases, these rapid pans enhance the dramatic impact of eyeline matches. The viewer is often cued to these moments by a character's glance offscreen and their facial expression. The camera then pivots to reveal what is in the offscreen space. A fairly early instance of this is when Dodo returns to Bess's house to find her sitting quietly and Bess's mother asleep.
Later Trier uses Bess's glance offscreen to cut during a whip pan to a rabbit on the side of the road.
The moment serves as counterpoint to what we've just seen. Bess has vomited in disgust after a sexual encounter on a bus. The way she wrinkles her nose at the bunny reminds us of her childlike naiveté.
The panning motif pays off during the inquest into Bess's death. Dr. Richardson testifies that Bess died because of her inherent goodness. Unsurprisingly, this claim is met with skepticism from the magistrate presiding over the hearing. Von Trier then cuts to a close-up of Dodo.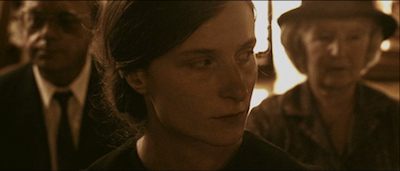 The camera tilts down and pans right as she grasps someone's hand. It then tilts back up, to reveal Jan seated next to her.
The revelation comes as a bit of surprise because Trier has omitted the narrative action that connects the hospital scenes to the hearing. As mysterious as Bess's death is, Jan's recovery prompts even deeper questions. How is it that Jan survived when it appeared that his own death was imminent? More pertinent, how was his paralysis cured? In exploring the nature of the miraculous as part of the everyday, von Trier presents us with an enigma that he refuses to explain. It is here that we first begin to grasp the meaning of Bess' religious faith and the impact of her self-sacrifice.
Are you there, God? It's me, Bess.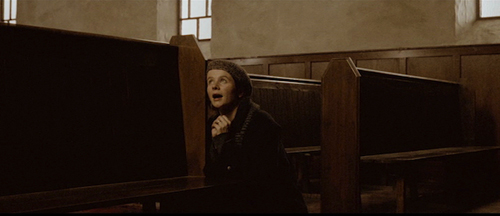 Another important visual motif involves the long takes used for Bess' talks with God. For the most part, Breaking the Waves' average shot length is relatively short. But Trier sets off these moments of prayer by shooting them in a markedly different style.
More often than not, Müller's camera photographs Bess in close-up or medium close-up to focus our attention on her face. Emily Watson uses the simplest of means to indicate the two sides of her dialogues with God. She shifts her gaze either upward or downward and changes her style of speech. Notably, in a suggestion of the degree to which Bess has internalized the church's doctrines, her vocal impersonation of God sounds uncannily like one of the church elders.
These shots of prayer often unfold in real time lasting a minute or more. Their duration and more static framing convey both a sense of intimacy and important information about Bess' motivation. Her imagined conversations with the heavenly father help to explain her actions in what would otherwise seem like wildly improbable changes in character.
These scenes also invite the viewer to consider Bess' mental stability. Because of her childlike nature, Bess' belief that God talks directly to her initially seems delusional. Yet, as the film goes on, Bess' devotion to both God and her husband introduces the possibility that her actions are divinely inspired. By demonstrating her selfless love for Jan above all else, including her own safety, von Trier suggests that Bess' sacrifice might be the reason for Jan's recovery.
Or it could all just be a coincidence. Jan's recuperation might not have any explicable cause, either physical or spiritual.
An energetic but casual style: raw immediacy as studied nonchalance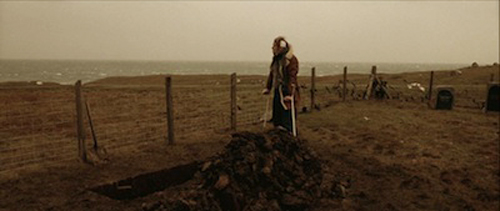 Throughout much of Breaking the Waves' running time, von Trier's narration seems to be rather communicative. The relentless camera movement and frequent cutting suggest a desire to capture the story as it unfolds and to transmit the most narratively salient material.
At key moments, however, the film's visual techniques prove surprisingly reticent. Significant plot developments are sometimes handled in an offhand fashion. This strategy seems to be an extension of von Trier's interest in making the film's melodramatic narrative seem plausible. (Indeed, Breaking the Waves plays as a sort of Magnificent Obsession for the art film crowd.) More than that, though, this restraint also encourages viewers to form their own conclusions about the events depicted.
Consider Jan's observation that Bess has blood on her wedding dress after consummating their marriage in the bathroom of the reception hall.
Another director would likely cut to an insert from Bess's pov to underscore this image. It would serve as a symbol of her loss of innocence and as a grim foreshadowing of her ultimate fate (i.e. love as a form of blood sacrifice). But Trier refuses to force that interpretation on the viewer. Instead, by showing Bess calmly rinsing out the stain, von Trier allows the moment to resonate more organically.
This motif reaches a kind of apotheosis in the shot of Jan standing on crutches at Bess's gravesite. The whole story has built toward this moment. Yet Trier treats it in a pointedly cursory fashion. Jan is photographed in long shot. The camera's distance mollifies the character's evident grief and refuses the viewer the kind of emotional catharsis we commonly associate with such rituals.
Jan's silence also preserves the sense of mystery about how this turn of events occurred. Is Jan's ability to walk evidence of the hand of God? Perhaps. Yet it might also be seen as a kind of cosmic joke, proof that humanity's existence is ruled by forces of Kierkegaardian absurdism.
Rendering the kitsch sublime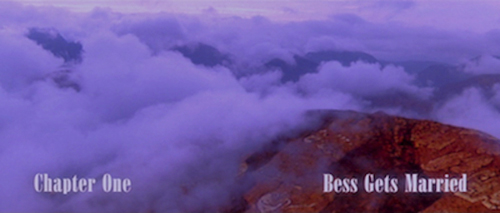 Breaking the Waves' most striking shots appear in the film's chapter titles. Von Trier worked with the artist Per Kirkeby to create these images using fairly simple computer animation tools. Early in the production, they were described as merely panorama shots. But as the work developed, Trier described them as natural landscapes that evoked the Romantic tradition. This picture-postcard imagery is simultaneously both beautiful and banal, sublime and kitschy.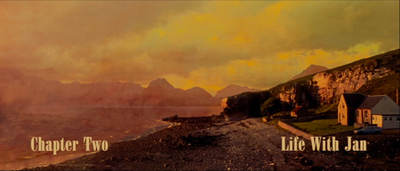 These more conventionally picturesque shots are further differentiated by Trier's use of music. Each chapter title is accompanied by a different seventies classic: Elton John's "Goodbye Yellow Brick Road," Mott the Hoople's "All the Way to Memphis," Procol Harum's "A Whiter Shade of Pale," and David Bowie's "Life on Mars." The combination of music and saturated color enable these proleptic titles to function as the antithesis of the film's handheld camerawork. As Kirkeby himself explained, they contrasted with Müller's "tropistic intimacy."
By using these titles to structure the narrative, von Trier preserves the opposition between naturalism and stylization until Breaking the Waves' final shot. After Jan and his pals give Bess an impromptu burial at sea, they awaken the next morning to the sounds of bells ringing. We know from the scenes of Jan and Bess' wedding that the source of the sound can't be the church. Rather miraculously, the bells ring in the clouds unmoored from any terrestrial structure.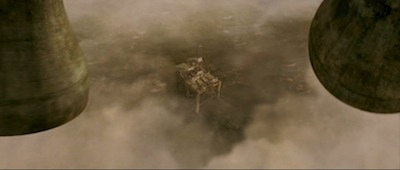 Von Trier denies us narrative closure by refusing to explain the meaning of Bess' actions. But he gives us a kind of formal closure by synthesizing within a single image the different styles of cinematography seen throughout Breaking the Waves.
A riddle, wrapped in a mystery, inside an enigma 
Breaking the Waves has always fascinated me as a study in contradictions. The film is about a miracle, but it is rendered in a style that seems wholly naturalistic. The cast was encouraged to improvise to create the desired sense of spontaneity. Yet Stellan Skarsgård reported that the actors mostly stuck to the script because the dialogue was so good as written. The plot hinges on an answered prayer, but the outcome is such a cruel twist of fate that it leads the viewer to doubt the nature of divinity entirely.
Even the central characters are defined by contradictions. Jan is a worldly outsider whose passions and joie de vivre raise the hackles of the strict Calvinist community where the principal actions take place. Bess was raised inside this overtly patriarchal structure, but she displays such childlike innocence that the inherently sinful nature of humanity somehow eludes her. Only von Trier would make a film in which a character's adultery and debauchery are construed as holy acts of spiritual self-sacrifice. Bess might seem like a secular saint. But her sainthood is achieved by almost completely abasing herself.
This sense of contrast and contradiction also extends to Trier's sources for Breaking the Waves. Much of the inspiration for Bess came from a children's book entitled Gold Heart. The title character is a young girl who enters the woods with bread and other foodstuffs in her pockets. By the end of her journey, she is left naked and empty-handed. Her innate goodness and generosity makes her vulnerable, almost to the point of self-destruction. To quote von Trier, "Gold Heart is Bess in the film. She is goodness in its most absolute gestalt."
At the other end of the cultural spectrum, though, von Trier incorporates ideas drawn from the films of his Danish predecessor, Carl Theodor Dreyer. The original title of Breaking the Waves was "Love is Everything," the aphorism that Gertrud's protagonist wanted as her epitaph. The basic dramatic situation is also reminiscent of Ordet. Like Inger, Jan is bedridden and near death. Like Johannes, Bess is the holy fool whose insistence on faith acts as a counter to science and rationality. And as in Dreyer's work (La Passion de Jeanne d'Arc, Day of Wrath) a woman's decisive actions put her at odds with a community steeped in religious dogma.
Breaking the Waves accent on contrasts is perhaps best epitomized in one of the film's lighter moments. During Jan and Bess's wedding reception, Terry and the Chairman of the church elders chug their beverages.
A close-up shows Terry crushing his beer can in an homage to a similar contest of machismo in Jaws.
It takes a rather dark turn, however, when the Chairman breaks the glass he's holding with his bare hand.
Although the scene is a bit of a throwaway, it in many ways epitomizes the tonal shifts that mark von Trier's work as a whole. All of his films contain moments of bleak humor, episodes where laughter slightly obscures the stories' violent undertones and dark menace. To quote the spirit animals in Antichrist, "Chaos reigns" in the von Trier universe. And whether it is death, nightmare visions, or the literal end of the world, the prototypical von Trier hero confronts this chaos mindful of the immense absurdity of the inexplicable.
---
Thanks to Kim Hendrickson, Grant Delin, Peter Becker, and the whole Criterion team for their superb work on the video. A complete list of our FilmStruck installments is here.
Several different editions of Breaking the Waves have been released on home video. I recommend the Criterion dual-format edition. As one would expect, it contains lots of goodies in the extra features. These include deleted and extended scenes, interviews with Emily Watson and Stellan Skarsgård, and selected-audio commentary by von Trier, editor Anders Refn, and location scout Anthony Dod Mantle.
The published screenplay from Faber & Faber includes introductory essays by von Trier, artist Per Kirkeby, and Swedish film critic Stig Björkman.
Collections of interviews with Denmark's enfant terrible can be found here and here. There's also a good online interview with von Trier about Breaking the Waves.
The quote from Stellan Skarsgård can be found at Mental Floss.
I also want to thank the film faculty at the University of Copenhagen and Lars von Trier himself. I had the rare privilege of hearing the director discuss his work after a special screening of Antichrist that was arranged for attendees of the Society for Cognitive Studies of the Moving Image conference in 2009. I learned a lot from the experience, especially about von Trier's fondness for mixed pictorial styles within his films.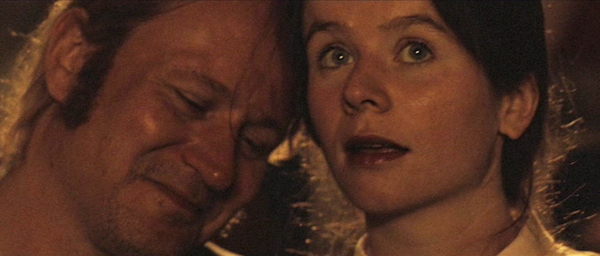 Breaking the Waves (1996).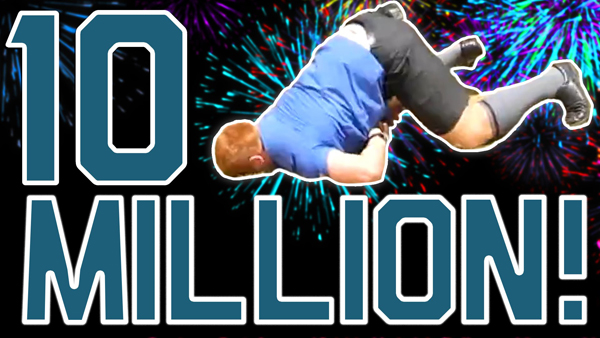 DB here:
On Tuesday 7 August, at some point midway through the morning (CST), somebody–in Key West, or Singapore, or Yale, I can't be sure–logged onto this site and paid us our ten millionth visit.
No, prizes are not involved.
This site began counting visits on 26 September 2006, when we started the blog. Those first entries were embarrassingly basic affairs. It would be months before we figured out how to include pictures, and years before we started to embed clips.
Since 2006 we have posted 876 entries (including this one) and run up many millions of words. We've hosted some roundtables and several guest posters: Tim Smith, Leslie Midkiff DeBauche, Rory Kelly, Nicola Mazzanti, Matthew Bernstein, Kelley Conway, Eric Dienstfrey, Amanda McQueen, Jim Udden, and our collaborator Jeff Smith. We've recorded encounters with Nina Paley, David Koepp, Joe Dante, Damien Chazelle, Phil Solomon, and other filmmakers. Mostly, though, this stuff has been churned out by Kristin and me.
We thought of the site as a supplement to Film Art, but it's gone far beyond that. We've used it to provide access to published essays and books (Ozu and the Poetics of Cinema, Exporting Entertainment), to report on film festivals and conferences, to support other writers' work, to jump into some current flaps both academic and journalistic, and to revisit research questions that obsess us. We've used it to set up video lectures, and to announce new books, by us and by others. Hell, some entries became books (Minding Movies, The Rhapsodes, Pandora's Digital Box, Christopher Nolan: A Labyrinth of Linkages).
We've commented on trends in the film industry, such as 3D and global marketing. We've also tried to stir up enthusiasm for activities we think worthwhile, such as cognitive film studies, ambitious DVD publishing initiatives, and the FilmStruck streaming service.
It has been a ton of fun, and we don't expect to stop any time soon. We busy ourselves with other things as well–writing for print publication, lecturing and visiting festivals, mounting our monthly Criterion Channel installments (which bear the same title as the blog). But the website has been a uniquely rewarding part of our lives. Through it we've made dozens of new friends and been exposed to fresh opinions and ideas.
I'm still surprised that we've drawn so many readers, since we decided at the start not to include Comments. We didn't, and don't, have time to monitor them. We're stubbornly stuck in Web 1.5, treating this as essentially a personal, self-published magazine. But email responses, including corrections, are welcome.
We can't yet imagine stopping. We're delighted that in the age of Twitter, which oversimplifies every scrap of human affairs, and faced with the decline of blogs in general, thousands of people remain willing to click on, and maybe read, longish, para-academic efforts in film criticism and history.
So thanks to all our readers for encouraging us. And watch for our coverage of the upcoming Venice International Film Festival starting the end of the month!
---
We remain eternally grateful to our web tsarina Meg Hamel and our stalwart IT caballero Peter Sengstock.
The illustration up top comes, of course, from that exhilarating chronicle of human folly FailArmy.
KT and DB, Venice International Film Festival, 2017.
DB here:
After nine years, here comes another Thompson/Bordwell boulder: Film History: An Introduction in a fourth edition.
When I was in college (1965-1969) my university offered no courses in film. The year after I graduated, two courses appeared: one, a survey history, the other a study of adaptations. Those pretty much defined the early zones of film studies on most campuses.
In the 1970s, however, the survey history was supplemented by a survey of film aesthetics (sometimes called "film language"), which organized the course not chronologically but conceptually. Weekly topics took up categories like "editing" and "acting," and usually something about adaptation. Eventually the aesthetic survey became more popular than the historical overviews, and often it served as the introductory course for a major. (Film majors were starting then too.)
It's likely that our textbook Film Art: An Introduction (1979) contributed to the rise in aesthetic surveys. For reasons rehearsed here, we tried to make it more comprehensive and in-depth than earlier books of that type. We tried to synthesize the ideas developed by film researchers about narrative, filmic modes (documentary, animation), authorship, genre, and film as a vehicle of ideology. We also floated ideas about form and style we developed in our research. Film Art's approach proved influential; many later books adopted our conceptual layouts, our terms, and our explications of techniques.
We also tried something that wasn't common in other "film-language" texts. We included a chapter surveying film history. It was short and very selective, of course, but we tried to show that the expressive resources we surveyed conceptually could also be understood as part of a larger historical dynamic.
About a dozen years after the first edition of Film Art, we published our own version of a synoptic film history. Again, we tried to incorporate film research as we understood it, and—
But wait. I already wrote this, back in 2009. To save you a click, let me quote myself, with some light modifications.
The 1970s: More than disco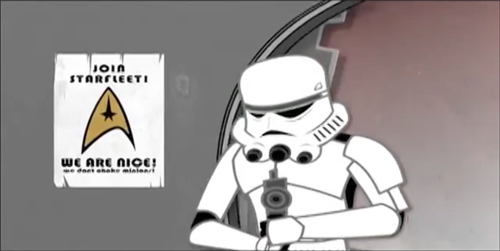 Star Wars Uncut: Director's Cut (Casey Pugh et al., 2010).
For a long time, and sometimes still, film histories written by Americans took a very partial look at the phenomenon of cinema. For one thing, they tended to focus on a series of masterpieces, films that had been deemed important within a narrow canon. The earliest lineup went pretty much this way: Lumière films, Méliès' Trip to the Moon, Porter's Great Train Robbery, Griffith's The Birth of a Nation and/ or Intolerance. Then came national schools, such as German Expressionism (The Cabinet of Dr. Caligari), Soviet Montage (Battleship Potemkin), and Continental Dada and Surrealism (Entr'acte, The Andalusian Dog). Early sound was M and Sous les toits de Paris and maybe Love Me Tonight. The 1940s was Grapes of Wrath and Citizen Kane and Enfants du Paradis and Italian Neorealism. And so on.
But in the 1970s archivists began opening their doors to researchers. Thanks to wider and deeper viewing, new film historians, young and old, were questioning the canon. André Gaudreault and Charles Musser showed that Porter's Life of an American Fireman, which supposedly gave birth to crosscutting, did not do so; in fact the version people had used for years was a re-cut print! In Jay Leyda's seminars at NYU, young scholars like Roberta Pearson were tracing what Griffith actually did and didn't do, a task taken up by Joyce Jesionowski as well. At the same time, Eileen Bowser, Tom Gunning, Noël Burch, and others began questioning the idea that "our cinema" developed step by step from "primitive" beginnings. In England, Ben Brewster, Barry Salt, and others were minutely analyzing changes in film technique in the earliest years. Here at Madison, Tino Balio and Doug Gomery were revising the study of Hollywood as a business enterprise. Specialists working on national cinemas, from Russia, Italy, and the Nordic countries, were showing that there was far more diversity in world cinema than was dreamt of in orthodox histories.
We were part of this generation of revisionists. In the 1970s and 1980s Kristin concentrated on European and American silent film, studying both stylistic movements and film distribution. She also studied particular filmmakers like Eisenstein, Godard, and Tati. I studied European and Japanese cinema. We spent years working on a reconsideration of the history of American studio film in collaboration with Janet Staiger. Writing The Classical Hollywood Cinema: Film Style and Mode of Production to 1960 we realized that asking fresh questions was both necessary and exciting.
That's what made our task perilous. Everything, it seemed, needed to be rethought.
Most obviously, countries outside Europe and North America had been neglected. Our book was, I think, the first synoptic history in English to make use of statistical information on production and exhibition, and the numbers brought out a striking omission.
In the mid-1950s, the world was producing about 2800 feature films per year. About 35 percent of these came from the United States and Western Europe. Another 5 percent were made in the USSR and the Eastern European countries under its control. . . . Sixty percent of feature films were made outside the western world and the Soviet bloc. Japan accounted for about 20 percent of the world total. The rest came from India, Hong Kong, Mexico, and other less industrialized nations. Such a stunning growth in film production in the developing countries is one of the major events in film history.
Traditional histories, and film history textbooks, had virtually ignored the bulk of film-producing nations. Only one or two major directors would step in from the shadows. Kurosawa summed up Japan, Satayajit Ray stood in for India. And the books' layout of chapters indicated this second-class status.
The history of film was portrayed as Euro-American, with East Asia, Southeast Asia, South America, and Africa, appearing, if at all, in periods when westerners first got glimpses of their film culture. So Japan was typically first mentioned after World War II, when Rashomon won a prize at the Venice Film Festival. One would hardly know that there were many, and many great, Japanese filmmakers working in a long-standing tradition.
As if this weren't enough, we were determined to include other varieties of artistic filmmaking. Documentary cinema, animation, and experimental film had attracted subtle historians like Bill Nichols, Mike Barrier, and P. Adams Sitney. We weren't experts in these areas, but we were keenly interested in the debates in that domain, and so, guided by these and other scholars, we sought to integrate the histories of documentary, avant-garde, and animated cinema into our survey.
1980s-2000s: Kristin and David's excellent adventure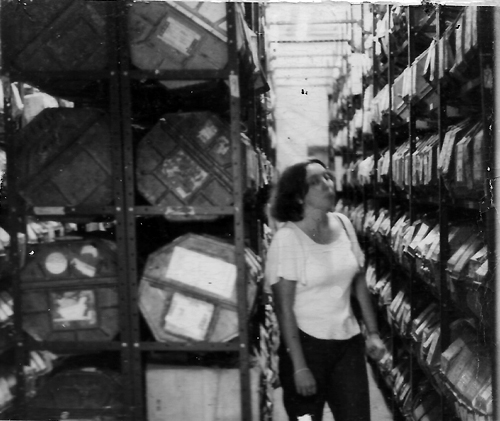 Kristin at Bonded Storage, Fort Lee New Jersey.
In sum, we decided that we could write a plausible international history of cinema—not a be-all and end-all, but a new draft that reflected the rich variety of new findings and fresh perspectives. Like all historians, we had to be selective. We couldn't, for instance, track every nuance of the "false starts and detours" in early film technique. More globally, we decided to concentrate on three lines of inquiry.
First, we studied changes in modes of film production and distribution. This inquiry committed us to a version of industrial history. How filmmaking was embedded in particular times and places, how it connected to local culture and national politics: these factors affected the ways films were made and circulated. For example, the early distribution of films followed the trade routes of late nineteenth-century imperialism. That global system started to crack with the start of World War I. A new world power, the United States, became the major film exporting country—a position it has enjoyed for most years since then.
Secondly, we studied changes in film form, style, and genre. We treated these artistic matters as not wholly the products of individual innovators but also as more widely-developed practices and norms. This emphasis on norms allowed us to link, in some degree, the development of technique to opportunities and constraints presented by film industries.
This angle of approach also meant looking at older works with a fresh eye, informed by others' research but also by our own interests in film as an art. We were obliged to seek out films lying outside the orthodox story. Birth and Caligari and M featured in our account, but so did The Cheat and Liebelei and Assunta Spina (1913, below). In those pre-DVD days, few of the titles we sought could be found on video, but we preferred to watch film on film anyway.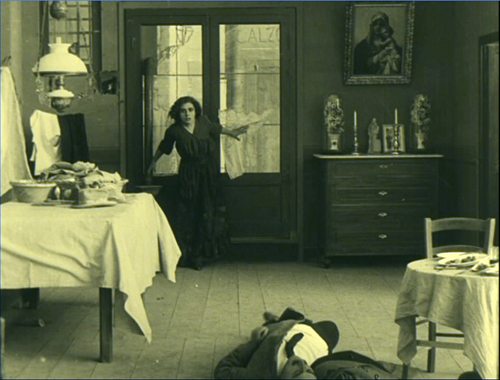 So it was off to the archives. Fortunately, many collections were wide-ranging. We saw Egyptian and Swedish films in Rochester, French and Italian films in London, Indian and Japanese films in Washington, D. C., Polish and African films in Brussels. Committed to documenting our claims with frame enlargements, not production stills, we were lucky to be able to take photos from many of the movies we saw.
In looking at national film industries and artistic change, we wanted to go beyond local observations. So a third question pressed upon us. What international trends emerged that knit together developments in different countries? We could not claim expertise in all the relevant national traditions, but we could, by drawing on films and other scholars' writings, create a comparative study that gave a sense of the broad shape of film history.
For example, we could point to the emergence of tableau cinema in many countries in the 1910s. We could consider various models of state-controlled cinema in the 1930s and discover the "New Waves" that emerged not only in France but around the world in the late 1950s and early 1960s. Citizen Kane popularized a "deep-focus" look, but comparative study showed us that its principles were prefigured in Soviet cinema of the 1930s and spread to most major filmmaking nations in the 1940s.
Not all trends march in lockstep, but there was enough synchronization to let us plot broad waves of change across the 100 years of film. Our aim was a truly comparative film history.
As a kind of overarching commitment, we wanted readers to think about what historical processes had shaped earlier writers' frames of reference. How, for instance, did the "standard story" and the mainline canon get established in the first place? Part of the answer lies in the growth of film journalism and film archives. Why did Fellini, Bergman, Kurosawa, and other directors get so much fame in the 1950s and 1960s? True, they made exceptional films, but so did many other directors who remained unknown to a wider public. We suggested that the "golden age of auteurs" owed a good deal to developments in film criticism and to the postwar growth of film festivals.
What led Japanese anime to a period of international popularity in the 1980s? Not only worldwide television distribution, but also devoted fans who spread their gospel through videocassettes, the youthful Internet, and such fanzines as Protoculture Addicts and Mecha Press.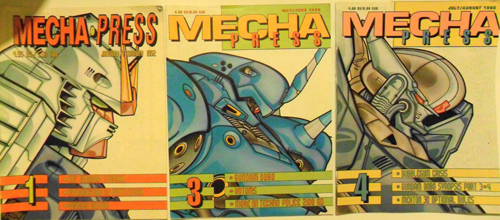 In general, the "institutional turn" in film research of the 1970s and 1980s pushed us to consider how film industries and international film culture governed the way films were made and circulated.
The research programs that were launched in the 1970s were characterized by a greater self-consciousness than we had seen before. Historians questioned their assumptions and explanations. Why attribute originality only to "great men" without also examining their circumstances? Why presuppose that film technique grows and progresses in a linear way? To capture this new self-consciousness about purposes and methods, we incorporated something that had never been seen in a film history before: an introduction to historiography. Originally in the printed text, in its latest incarnation it can be found elsewhere on this site.
We also appended to each chapter short "Notes and Queries" discussing intriguing side issues, debates in the field, and topics for further research. Those were put online for download. The  third edition's are here; sample them through the "Choose a Chapter" dropdown menu. The fourth edition's updates will soon be available.
2018: Results just in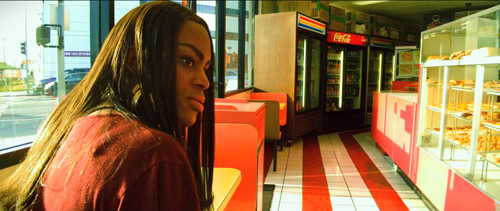 Tangerine (Sean Baker, 2015).
The first edition was published by McGraw-Hill in 1994, a second edition in 2002, a third in 2009—when I wrote the sections you've just read. Now we have a fourth edition, published in June. After ten years or so, what's changed?
We have the same chapter breakdown. Part One deals with Early Cinema, from the beginning to the end of the 1910s. Part Two surveys the late silent era to 1929. Part Three considers the sound cinema up to 1945. Part Four considers post-World War II filmmaking, through the 1960s. Developments from the late 1960s are reviewed in Part Five. The last part deals with the age of New Media, including analyses of changes in Hollywood, the rise of globalization, and the emergence of digital technologies.
We've incorporated new lines of research in some early chapters. The chief change involves Alberto Capellani, a director who was little-known before a retrospective at Cinema Ritrovato in Bologna brought many of his works to attention. He worked between 1905 and 1922, making extraordinary films like L'Assommoir (1909) and Germinal (1913), discussed here by Ben Brewster. In the new edition we contrast Capellani's delicate staging within the shot to the editing-oriented approach of his much more famous contemporary D. W. Griffith. This is the sort of historical contextualizing we've striven for in all the editions of the book.
Likewise the availability of films on DVD has enabled us to explore fresh examples of films in the Young German Cinema, the Japanese New Wave, and other movements. We didn't give up on 35, though. A lot of frames still come from prints. For example, thanks to Haden Guest of the Harvard Film Archive, we were able to obtain a frame from Med Hondo's extraordinary West Indies.
As you'd expect, the bulk of new material comes in the final stretches. In Chapter 24, we incorporate discussion of The Missing Picture, The Act of Killing, the work of Wang Bing, and the emergence of the animated documentary (Waltz with Bashir, Tower). Our survey of experimental cinema widens to include Liu Jiayin's work (a favorite of the blog), as well as films by Chick Strand, Marlon Riggs, Phil Solomon (ditto), and Mark LaPore, along with internet experiments like Matt Bucy's Of Oz the Wizard (2016).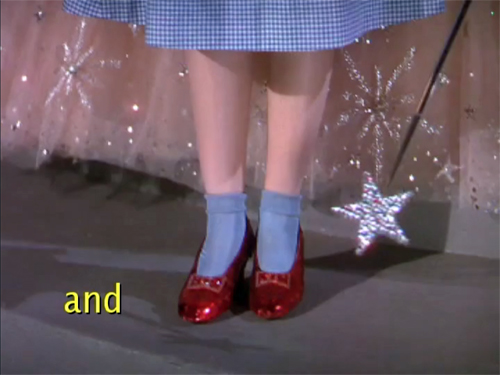 In considering national cinemas outside Hollywood, we catch up with industrial developments in Europe and Russia. Naturally, we take account of new talents, such as Serge Loznitsa and the directors of the Romanian New Wave. The last edition spotlighted many directors still powerful on the international stage, from Almodóvar and Haneke and Denis to Herzog and Varda, but I'm glad we found room for updates on Oliveira and Alexei German, whose beyond-bleak Hard to Be a God (2013) is one of the most tactile films I've ever seen.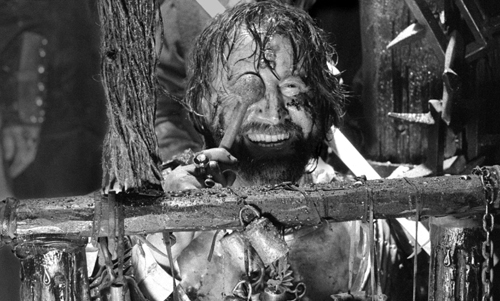 What do we do with "slow cinema"? We treat it as a development out of classic art-cinema strategies of prolonged duration and "dead time." We also counterpose it to the nervous "free-camera" style on display in films like Gomorrah (2008) and Toni Erdmann (2016). Our approach to cinema remains comparative, showing how creative alternatives can operate in the same historical period.
DVD availability allowed us to expand our treatment of Nollywood in Chapter 26. There we also trace the emergence of Iran's Asghar Farhadi (I still admire About Elly) and Cuba's Fernando Pérez. We've especially widened our treatment of Indian cinema, which not only dominates its local market but, in the period since our last edition, has emerged with international successes. I was also happy to learn, thanks to the advice of Lalita Pandit and Patrick Hogan, of the striking films of Rituparno Ghosh. (This hallucinatory scene is in The Last Lear, 2007).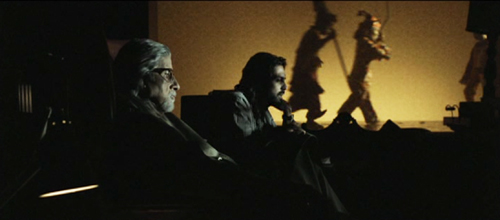 Chapter 27, devoted to Pacific Asia and Oceana, brings those national industries up to date while discussing Taika Waititi, Kiyoshi Kurosawa, and others. Of course we retain considerations of Hou Hsiao-hsien, Hong Sangsoo, Apichatpong Weerasethakul, and many other major artists. Our box on Sony, which I always liked, has been exiled to the Notes and Queries online, the better to make room for a box in which we pay tribute to the great Hayao Miyazaki. And of course our section on China has been largely redone, to reflect its rise to international power. We analyze how government officials and private investors leveraged a minor national industry into one of the filmmaking behemoths of our time. Not that it always goes well, as The Great Wall (2017) showed.
Similarly, Hollywood changes so fast that we needed to recast many stretches of Chapter 28's survey. But the search for synergy across conglomerate domains, the shift from one-off blockbusters to franchises, the impulse toward mergers and acquisitions that marry "content" to delivery systems (cable, the internet): these and other business strategies emerged in even sharper relief ten years after our last edition. Fortunately for our timing, the acquisition of Fox by Disney began while the book was in press, so we were able to sneak that initiative into a new box devoted to the Disney empire. Too bad we didn't have this frame from Ralph Breaks the Internet: Wreck-It Ralph 2 to illustrate that.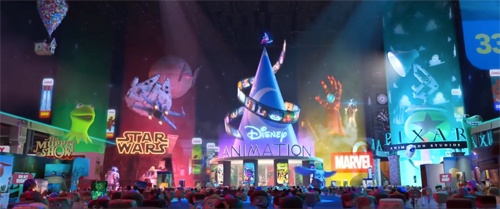 Of course American cinema is more than the studios, so we've updated our consideration of indie films, with discussions of auteurs, genres, and trends. (Yes, Wes Anderson and Damien Chazelle are involved.) The third edition considered Mumblecore; now we've got coverage of directors like Lena Dunham moving to television and streaming.
Chapter 29, on globalization, runs through several trends that are still with us, from piracy and festivals to diasporic filmmaking and the multiplex strategy. We consider how worldwide fan culture has exposed new possibilities of filmic expression, through mashups, video essays, and DIY exercises like Star Wars Uncut: Director's Cut (2010).
The chapter also analyzes how countries outside the US are trying to make international hits. The Europeans mostly sought to do this through art-cinema channels, while other countries found some success with popular entertainments. Baahubali 2: The Conclusion (2017) garnered $81 million outside India.
Chinese filmmakers have become less reliant on exports, since the stupendous growth of the exhibition sector created a mega-market at home. A hit like Wolf Warrior 2 (2017), which was reported as earning over $850 million, can rival Hollywood's global revenues within a single territory. Interestingly, the popular successes are often heavily indebted to Hollywood: Baahubali 2 owes a great deal to 300 and other special-effects-heavy spectacles, while Wolf Warrior 2 revives the action style and conventions of Rambo and Mission: Impossible.
For the previous edition, we added a final chapter on digital technology's impact on cinema. That was as up-to-date as we could make it in the late 2000s, but obviously our treatment needed a big makeover. In  Pandora's Digital Box, I traced how digital tools entered cinema. For FH 4.0 we update that by tracking the changes in preproduction and postproduction, in early efforts to shoot digital, and then in more ambitious production possibilities, along with internet publicity and marketing. We then cover digital convergence, chiefly through Hollywood's Digital Cinema Initiative's effect on theatre conversion and digital production.
Naturally, we also analyze some of digital technology's effects on film form and style: the possibilities of 3D, the opportunities for longer takes and photographic experimentation, and the new prominence of digital animation. A box contrasts David Fincher, whose embrace of digital yielded new possibilities for classical storytelling, with—who else?—Jean-Luc Godard, whose digital work such as Éloge de l'amour (2001, below) challenges just that tradition.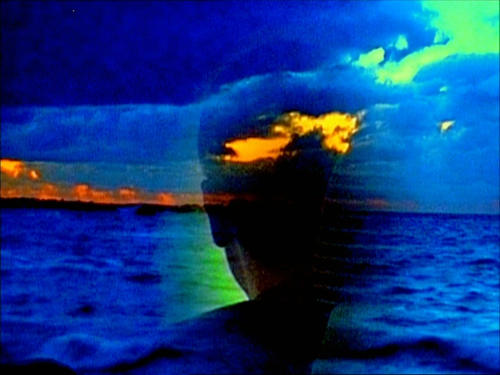 The convergence story wraps up by tracing how digital distribution, beginning with the DVD and passing through online distribution, arrived at piping films directly to theatres. The chapter ends by looking at how the Internet, video games, and Virtual Reality have interacted with modern cinema.
Our emendations and updates bring home to me the advantages of seeing change against a background of continuity. The film industry replays time-honored business strategies, such as the impulse toward vertical integration. Amazon and Netflix, not content with controlling distribution and (home) exhibition, move into production to assure themselves of a flow of product—just as 1910s exhibition chains created studios to supply their screens. And as I write this, the 1948 consent decrees are being reconsidered as anachronistic.
Likewise, filmmakers of the 2010s confront choices about technique familiar from earlier eras. Since a digital shot can be indefinitely long, when should I cut? I can reframe a shot in postproduction, but I still have to decide on the shot scale. With highly spatialized sound in theaters, where should I locate this effect? Even with new technologies and changing circumstances of reception, the basic demands of form and style persist.
Here's a taste of our conclusion:
Digital convergence worked hand in hand with global­ization and the power of the American studios. The top Hollywood pictures were successful in most countries, and they could be delivered on many platforms. But in the swift media churn, with new formats coming up all the time, would traditional filmmaking die?
Evidently not. For one thing, the number of feature films was surging. In 2002, the world made over 4,000 fea­ture films. In 2016, that number was over 7600. This vast output included blockbusters, modest independent films, and every form in between. The boom took place in the face of home video, cable, satellite, DVD, Blu-ray, VOD, and streaming. It happened despite the fact that a handful of American blockbusters ruled nearly every national market.
But perhaps theaters, the public side of film culture, were in danger? Just the opposite. Screen growth was robust through the 2010s. In 2016, the world had over 163,000 screens. Even without counting the millions of television monitors, computers, and mobile devices, there were far more movie screens than ever before. And plenty of people wanted to visit them. The year 2015 set a record high in worldwide attendance, 7.4 billion admis­sions. This amounted to about one ticket for every man, woman, and child on Earth.
Digital convergence, boosted by globalization, encour­aged the spread of cinema. Personal computers, the Inter­net, mobile phones, game consoles, tablets, and portable music devices initially could not display films, but all were eventually adjusted to do that. Film wriggled its way into every media device that came along. From broadcast tele­vision and videotape to DVD and streaming, films spread beyond the theater. They entered our living rooms and went with us anywhere. Today, more people are watching more hours of motion pictures than at any other time in history. As newer technologies emerge, we suspect that they too will serve the cinematic traditions that have devel­oped over 120 years.
 Optimistic, eh? Yep, that's us. We know that the book is far from perfect, and we'll be trying to correct mistakes and misjudgments. Still, we hope that Film History: An Introduction tells a story that will encourage young filmmakers and filmgoers to embrace all the traditions of cinema. Those traditions have fascinated us for fifty years, and we hope to communicate some of our enthusiasm to readers.
---
Film History: An Introduction's fourth edition is available in several formats, some frankly innovative. To understand why, it's useful to try to answer the constant question: Why are college textbooks so expensive?
There are plenty of factors to consider, of course, but I want to focus on just one. Much of what follows is my personal speculation, but I think it makes sense if we entertain the prospect that people can act as rational agents.
The professor rationally decides that she wants her students to read a specific book in order to study aspects of the subject. She assigns it.
Some students will decide to borrow a copy, check out a library copy, or risk not reading the book at all. Those are all justifiable courses of action. But many students, deciding that owning the book will help them succeed in the course, buy it. Still, (a) it's pretty expensive; and (b) they may not wish to keep it after taking the course. Textbooks are among the few books which users are forced, more or less, to buy.
Many students want to recoup part of their investment, so they resell the book for what they can get. Jobbers and campus bookstores buy the books and resell them to new students. Those folks, themselves rational agents, are glad to get a lower price. I speak as someone who's bought thousands of used books, including textbooks.
But the publisher and authors reap no rewards from a resale, which replaces the purchase of a new copy. It seems likely (though I have no evidence that this shapes our or any company's decisions) that publishers assume that nearly all purchased textbooks will be resold. Therefore, in order to maintain profitability, the publisher could set the price (wholesale/retail) at a point that will offset at least one future resale.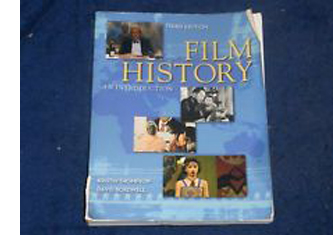 So the real cost to the student is the difference between what she pays initially and what she can get on buyback. A $100 textbook might be sold back to the bookstore for $25 or $30. If it's in decent shape, it could be resold for $60 or more. The money the store gets doesn't flow back to the publisher, and the student in effect rented the textbook for $70-$75.
This has all the marks of an arms race. If publishers raise prices to offset resales, this gives purchasers a greater incentive to resell, thus flooding the market with more used copies. Publishers could also speed up the revision cycle, hoping that new editions will render the old ones less desirable.
I stress that this line of reasoning is my own thinking. Yet it's evident that the textbook market has presented accelerating prices and growing resentment among faculty and students. Even college administrators have joined the complaint about price rises. (Said administrators aren't usually inclined to lower tuition, however.) In recent years, the pressure got more intense thanks to two other factors: digital piracy and Amazon.
Start with piracy. Once pdfs of a textbook show up online, publishers suffer big losses. That could prod them, as rational agents, to raise the purchase price. (Lowering the price might seem a way to undercut pirate copies that are sold, but you can't make the book cheap enough to make a difference.) In effect, when somebody buys a textbook they're helping subsidize someone else's download. This creates an incentive for rational agents to download the text themselves, thus pushing the price of the physical book ever upward.
As for Amazon: In past decades, the used-book jobbers were quite adroit at distributing used copies to campus stores, but Amazon's online model proved far more efficient. Moreover, Amazon revived the long tradition of renting books, and the economies of scale made it easy. As rational agents, the Amazonians bought copies from the publisher and then offered them for rent.
Other companies rent textbooks too, on a smaller scale. In all cases, renters are vulnerable to the frailties of human nature. You can read sad stories of renters who failed to return the book in a timely fashion and ran up charges greater than the cost of a straight purchase.
Publishers have responded to Amazon's rental initiative by launching rental programs themselves. This is what McGraw-Hill has done with our book.
Let's go through the options. If you go here and then click on "Print/ebook" and "Bundles," you can see them all.
Film History exists in both digital and print form. The digital edition may be bought or rented. There's also the option to fold the e-book into a broader platform called Connect, which gives access to a rich array of material: study aids, an ebook format, questions, video supplements, and more.
The book exists in hard copy as well. It can be rented as a bound volume. Alternatively, it can be bought in a loose-leaf version. If I were buying it, that's the format I'd pick.
Prices across all these options range from rentals for $60-$80 and purchase for $118–$130.66 and mixtures of both for up to $150.
What about buying the bound version? As you'd expect, that's the most expensive option. McGraw-Hill offers bound copies on a rent-to-own basis. As I understand it, the customer first rents the book and if she decides to keep it, she pays the rest of the full price. That price is currently $229, a lot, but following my line of reasoning, that price would offset possible resales.
Anecdotes suggest that film majors hang on to their books and try to build personal libraries. If that's true, I'm happy, for more than one reason. And I learn that Film History will continue to be sold in bound copies outside North America. In my experience, overseas students don't complain as much about the cost of books, perhaps partly because they attend schools that have low or no tuition fees.
Would I prefer the old days, when you just bought the book and owned it or sold it or gave it away? As a book collector, I would. But Kristin and I are old, old school; we have thousands of volumes in our library. (Many of those won't be online in our lifetime.) And we also have dozens of e-books, which are great for ephemeral reading or sturdier research. We recognize that publishing, and authoring, are changing because of technology and social dynamics, and so we adjust. The main thing is to get ideas and information and opinions out there for our readers to consider.
For this edition of Film History: An Introduction, we want to thank the staff at McGraw-Hill Higher Education: our editors Sarah Remington and Alexander Preiss, and their colleagues Jen Thomas, Anju Joshi, and Ann Marie Janette. They have helped us make this edition something we're very proud of.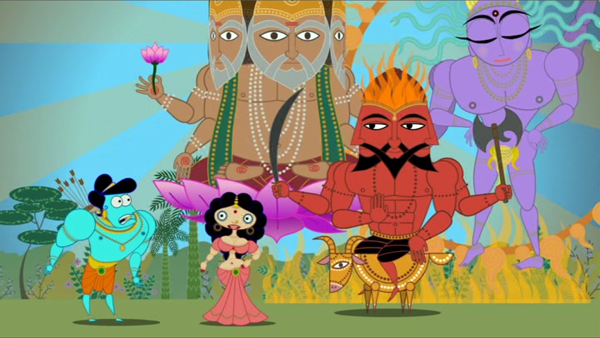 Sita Sings the Blues (2008, Nina Paley).