Saturday | August 11, 2018
open printable version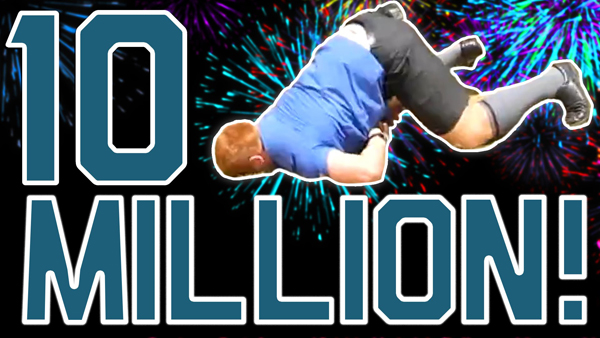 DB here:
On Tuesday 7 August, at some point midway through the morning (CST), somebody–in Key West, or Singapore, or Yale, I can't be sure–logged onto this site and executed our ten millionth pageload.
No, prizes are not involved.
This site began counting pageloads, along with visits and other data, on 26 September 2006, when we started the blog. Those first entries were embarrassingly basic affairs. It would be months before we figured out how to include pictures, and years before we started to embed clips.
Since 2006 we have posted 876 entries (including this one) and run up many millions of words. We've hosted some roundtables and several guest posters: Tim Smith, Leslie Midkiff DeBauche, Rory Kelly, Nicola Mazzanti, Matthew Bernstein, Kelley Conway, Eric Dienstfrey, Amanda McQueen, Jim Udden, and our collaborator Jeff Smith. We've recorded encounters with Nina Paley, David Koepp, Joe Dante, Damien Chazelle, Phil Solomon, and other filmmakers. Mostly, though, this stuff has been churned out by Kristin and me.
We thought of the site as a supplement to Film Art, but it's gone far beyond that. We've used it to provide access to published essays and books (Ozu and the Poetics of Cinema, Exporting Entertainment), to report on film festivals and conferences, to support other writers' work, to jump into some current flaps both academic and journalistic, and to revisit research questions that obsess us. We've used it to set up video lectures, and to announce new books, by us and by others. Hell, some entries became books (Minding Movies, The Rhapsodes, Pandora's Digital Box, Christopher Nolan: A Labyrinth of Linkages).
We've commented on trends in the film industry, such as 3D and global marketing. We've also tried to stir up enthusiasm for activities we think worthwhile, such as cognitive film studies, ambitious DVD publishing initiatives, and the FilmStruck streaming service.
It has been a ton of fun, and we don't expect to stop any time soon. We busy ourselves with other things as well–writing for print publication, lecturing and visiting festivals, mounting our monthly Criterion Channel installments (which bear the same title as the blog). But the website has been a uniquely rewarding part of our lives. Through it we've made dozens of new friends and been exposed to fresh opinions and ideas.
I'm still surprised that we've drawn so many readers, since we decided at the start not to include Comments. We didn't, and don't, have time to monitor them. We're stubbornly stuck in Web 1.5, treating this as essentially a personal, self-published magazine. But email responses, including corrections, are welcome.
We can't yet imagine stopping. We're delighted that in the age of Twitter, which oversimplifies every scrap of human affairs, and faced with the decline of blogs in general, thousands of people remain willing to click on, and maybe read, longish, para-academic efforts in film criticism and history.
So thanks to all our readers for encouraging us. And watch for our coverage of the upcoming Venice International Film Festival starting the end of the month!
---
We remain eternally grateful to our web tsarina Meg Hamel and our stalwart IT caballero Peter Sengstock.
The illustration up top comes, of course, from that exhilarating chronicle of human folly FailArmy.
P.S. 3 March 2019: This entry has been corrected. Originally it claimed ten million visits, not pageloads. Actually there were about seven million visits. I apologize for the error.
KT and DB, Venice International Film Festival, 2017.