Archive for the 'Directors: von Trier' Category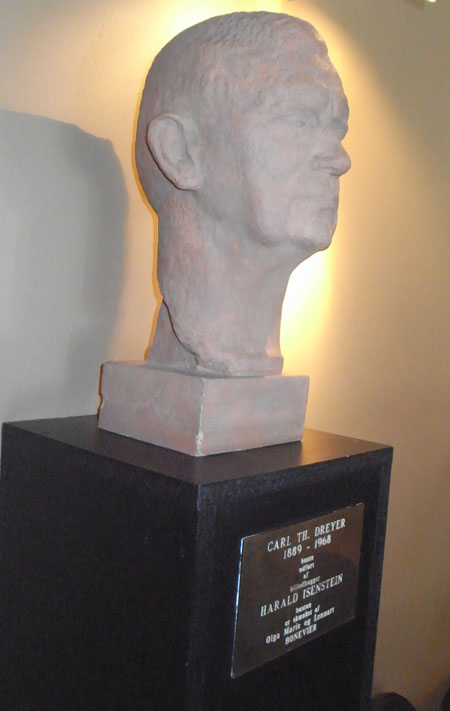 Bust of Carl Theodor Dreyer in the Dagmar Bio, the film theatre he once managed.
DB here:
Denmark was the first foreign country I ever visited. Having never been to Canada or Mexico, I took off in the early summer of 1970. Technically, I touched down in Reykjavik first because I was flying Icelandic Airlines, the Ryanair of its day. You flew Icelandic to get to Europe as cheaply as possible. Although a few people got off at Reykjavik, most of us sat patiently on the tarmac before heading off to Copenhagen.
Ever since that summer, when blinding light invaded my basement room at 4:00 AM, I've had a soft spot for Denmark. Ib Monty, then head of the Danish Film Archive, kindly screened for me all the Dreyers I hadn't seen, and in spare moments I learned the joys of Copenhagen's canals and restaurants. Six years later I would spend nearly another whole summer there watching the same Dreyer films on a flatbed viewer in the archive vaults, a somewhat renovated army fort. Many visits later, including a couple to the charming city of Aarhus, I'm still a fan of the Danes. They manage to be modest yet accomplished, hard-working yet hard-partying. They put cultural figures like composer Carl Nielsen on their currency. We're told that they are the happiest people in the world. I don't doubt it.
So it was with special pleasure that I returned to Copenhagen for two weeks in June. The second week was consumed by a day of talks and seminars at the University of Copenhagen and then by the convention of the Society for Cognitive Studies of the Moving Image. I've given two long-winded previews of the latter event, and I hope to have more coverage of it in a later entry. Today, a smorgasbord of other things Danish–without, alas, mention of H. C. Andersen, Vilhelm Hammershøi, or Victor Borge.
Chaos reigns, more or less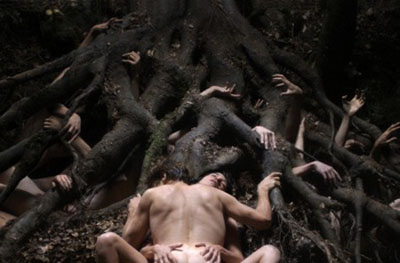 The organizers of our SCSMI event pulled off a coup: Not only were we shown Antichrist in Asta, one of the Danish Film Institute's fine theatres, but along came Lars von Trier to spend an hour talking about it afterward.
The film struck me as mid-level von Trier, not as good as The Idiots, The Kingdom, Dancer in the Dark, and The Boss of It All (though others would call me out for admiring this last). It lacks the element of game-playing that I enjoy in what von Trier calls his "mathematical" works, most famously The Five Obstructions. Instead, Antichrist provides perhaps the most unadulterated surge of emotion and mystical/ mythical implication to be found in all his work. It tries to be an intellectual horror film somewhat in the David Lynch mode, with a plaintive, roiling soundtrack and unearthly visions, including a fox snarling, "Chaos reigns!"
I was surprised that the elements so sensationalized by the press are pretty brief; snip out four brief shots and you'd have a ferocious but much less controversial movie. It starts as your basic two-handed psychodrama, with a couple tearing at each other. As in those other duologues Strindberg's The Stronger and Bergman's Persona, the film presents a fluctuating power struggle–the man trying to rule through cool rationality, the woman tapping depths of grief and repressed anger.
Yet the film goes beyond psychodrama into realms of history and myth. The grieving mother rises into demonic fury by getting in touch with witchcraft, the subject of her unfinished university thesis. Antichrist could thus be read as an exercise in misogyny or as a celebration of woman's primal energies. (For what it's worth, several women in our audience said they liked the film a lot.) Of course the whole thing looks very fine, with a stylized black-and-white prologue (some shots taken at 1000 frames per second), and the rest rendered in that dodging, wandering camera style von Trier and the brilliant cinematographer Antony Dod Mantle have made their own.
The entire Q & A with von Trier, moderated by Peter Schepelern, is available as an audio file on the SCSMI conference website, perhaps to be followed by a video record. Some excerpts: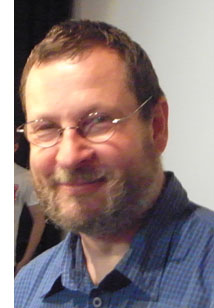 Von Trier explained that the film came out of a period of prolonged depression. "I used this project to get out of bed [every day]." Yet it's less personal than his other works, he thinks, because it lacks his usual interest in rules, obstacles, and formal play–"a little more messy." And he feels that by not operating the camera, he lost some intimacy with actors.
The Antichrist project seems to have brought out a mystical side of von Trier that hasn't been so prominent in his public image. Years ago he conceived a film in which Satan created the earth, but that dissolved. Certain elements of the film, especially the emblematic forest creatures–blackbird, deer, and fox–come from his interest in shamanism. He has, he claims, traveled in alternative worlds with animal guides. "Never trust the first fox you meet."
Is it a horror film? At least it has sources in the genre. Uncharacteristically, von Trier prepared for the project by revisiting not only classic horror films he admired, The Exercist, The Shining, and Carrie, but also The Ring and Dark Water. He was particularly influenced in his youth by Altered States, another venture into "fantasy travels."
He commented on how his free-camera technique imposed certain constraints in sound work. If you execute a "time cut"–that is, cutting directly to a new scene starting on a shot of a character–you must alter the sound somehow; otherwise the audience is likely to think that the action is continuous. This got me thinking about how The Boss of It All violated that convention, when each continuity cut actually yields a different sound ambience because each of the many cameras is miked separately.
Why is the film dedicated to Tarkovsky? "It was a way of getting rid of psychology."
"I do not work with the audience in mind. I make films I would like to see myself."
The Last is not least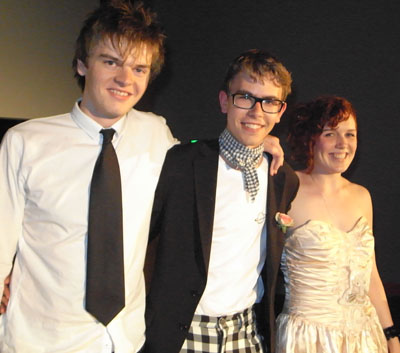 Last Friday night the filmmaking program at the University of Copenhagen gave out its student film awards. The crowd was large and boisterous, the atmosphere festive and tipsy. I was honored to present the prize for the best fiction film, which went to desidst (punning on De sidst, "The Last"). The three winning filmmakers, pictured above, were Sissel Marie tonn-Petersen, Niels Holst-Jensen, and Toke Westmark Steensen.
Before I read the result, though, I was confronted with some damaging evidence in a copy of Film History: An Introduction.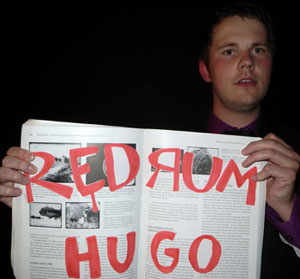 Peaking in the 1910s
During my first week in Copenhagen, I was viewing Danish films from 1911 to 1915. As long-time readers of this blog know, I'm fascinated by the films of the 1910s, and Denmark boasts some of the most sophisticated works of the time. Thomas Christensen and Mikael Brae of the Danish Film Archive kindly let me watch several films, mostly from the once-mighty Nordisk film company.
The most remarkable films I saw were Ekspeditricen (1911), Dyrekøbt Aere ("Hard-Won Honor," 1911), and Under Blinkfyrets Straaler ("Under the Beam of the Lighthouse," 1913). All three of these offer sophisticated examples of the dominant storytelling technique of that period, what has been called the tableau style.
I can't offer any visual analyses here, as I don't have frame stills available in digital form, but here's an example of the kind of thing I'm studying, taken from August Blom's The Ballet Dancer (1911). Camilla (Asta Nielsen) has been seduced by Jean, a man-about-town, and she has come to sing for a society soirée at which Jean is present. But Jean is also carrying on an affair with the host's wife.
The scene starts with the host Simon walking with his wife to the middle of the salon. Note the mirror in the upper area of the frame, just left of center.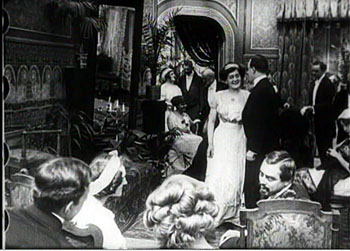 She goes out frame right, and the host welcomes Camilla, bringing her to the central zone of the shot.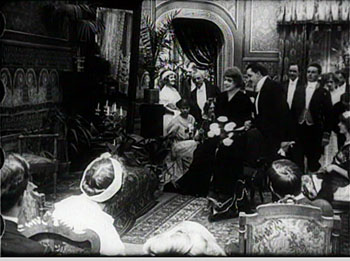 The hostess returns from off right to greet Camilla. Now we can see Camilla's lover Jean in the mirror.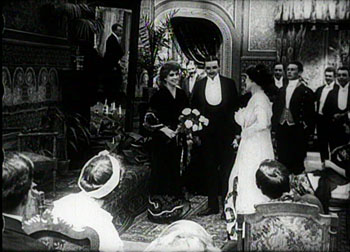 The hostess leaves the frame again, her husband settles into a chair, and Camilla starts to sing. But in the mirror we can see Jean bending over to kiss the hostess.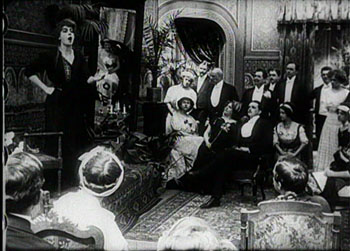 Soon Camilla notices Jean's flirtation, and he straightens up.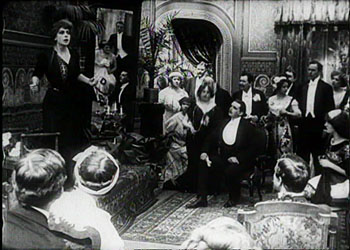 Camilla interrupts her song, shouting and thrusting an accusing finger at the couple across the room.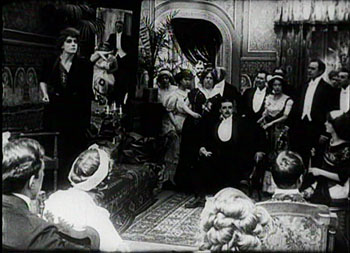 I especially like the way in which Camilla's finger points both at the offscreen couple and directly at her guilty lover's reflection. If we haven't noticed Jean's infidelity yet, we certainly should now.
Today the same scene would be handled with lots of cutting and point-of-view framings, but the mirror allows Blom to pack a single long shot with simultaneous actions. (Mirrors were something of a signature device in Danish films of the period.) It's a nice example of Charles Barr's notion of gradation of emphasis, a principle that was at the heart of the intricate, sometimes exquisite ensemble staging we find so often in the 1910s.
Far from being a static, "theatrical" rendering of the action, the tableau technique looks forward to the deep-space stagings we associate with Welles and Wyler, as well as the distant long-take style of Theo Angelopoulos and Hou Hsiao-hsien. Studying film history is often our best way to understand the cinema of our moment, and perhaps of our future. At a more primal level, a week of prime examples of the tableau tradition gave me a fine dose of Danish happiness.
---
For background on the Society for Cognitive Studies of the Moving Image conference this year, try here and here. Earlier blog entries on this site have dealt with other aspects of 1910s cinema: director Yevgenii Bauer, tight staging in De Mille's Kindling (1915), the emergence of classical film style around 1917, editing in William S. Hart movies, the years 1913 and 1918, and the triumph of Doug Fairbanks. I've proposed more complete accounts of 1910s staging strategies, and their impact on film history, in On the History of Film Style and Figures Traced in Light: On Cinematic Staging.
An excellent introduction to Danish cinema of this period is Ron Mottram's 1988 Danish Cinema before Dreyer, a book which deserves to be reissued or put online. You can sample Danish 1910s films at the DFI archive database, where several clips are posted. Try these fragments: København ved nat (1910),  Den frelsende Film (1916), and Kaerlighedsvalsen (1920). DVD versions of some 1910s classics, including The Ballet Dancer, can be ordered from the DFI Cinemateket shop; in the US, the titles are available for institutional purchase from Gartenberg Media. Everyone interested in silent cinema should own the Dreyer, Christensen, Psilander, and Asta Nielsen discs.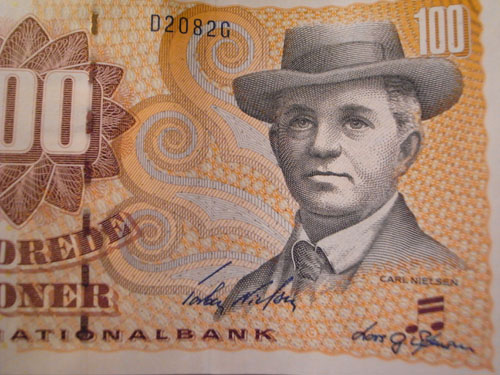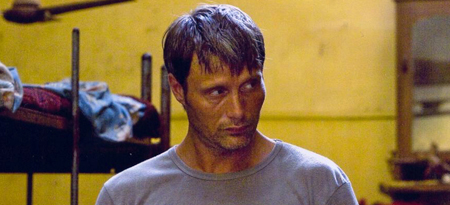 After the Wedding.
Can't stop bloggin' about those blonde, smørrebrød-loving Nordics. Why?
Well, there's news. First, two Danish films have been nominated for Academy Awards. Susanne Bier's After the Wedding (I talk a bit about it here) is up for best foreign-language film, and Søren Pilmark's Helmer and Son is nominated for best short. You can read more at the Danish Film Institute site, and stock up on Carlsberg or Tuborg to cheer them on Oscar night.
Second, the new English-language issue of the Danish Film Institute's magazine Film is online here, as a pdf. It's a must for von Trier fanatics, with lots on The Boss of It All. I also have an essay in it (pp. 16-19).
Third, Thomas Christensen, a Boss of It All at the Danish Film Archive and a graduate of our UW film program, alerted me to YouTube video from a Danish band, Phonovectra. It swipes—sorry, appropriates—Dreyer's classic short film They Caught the Ferry.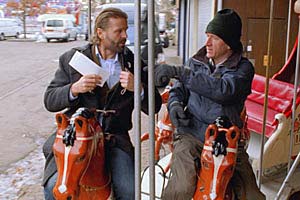 DB here:
"Life is a Dogme film. It's hard to hear, but the words are still important." This is one of the many in-jokes peppering Lars von Trier's The Boss of It All, his newest feature. I watched it while preparing an essay for the Danish Film Institute, which superbly promotes Danish cinema to the world. But I wasn't ready for what I saw.
It's a comedy, of course, with a classic bait-and-switch premise. For shadowy motives, a corporate lawyer entices an idle actor to pretend to be the superboss whom the IT staff has never met. Unfortunately, through emails to the staff, the lawyer has constructed a persona for the boss–in fact, several personae, a different one for every worker. Our actor must play many parts before finally, in a series of reversals, he gets to "find" the real character.
In tone, the film is as mixed as most von Trier works, hovering between sympathy for idealistic underdogs and a sour realization that they will always be victims. It reminded me somewhat of Kaurismaki and the Fassbinder of Fox and His Friends. But the film is a breezy piece of work; nothing really serious faces his innocent here. There's a lively satire of the corporate world, mocking management catchphrases du jour (not outsourcing, we're told, but offshoring) and touchy-feely hugging. The hostile incomprehension between Denmark and Iceland provides some good gags too. Von Trier also pokes fun at actors, perhaps invoking his well-publicized feuding with divas like Kidman and Björk. Our hero/loser Kristoffer is a sort of Method man, but he learns that he gets the best results through shameless sentiment.
Here the words are important–it's a very talky movie–but so are the pictures. Shot in 16mm in available light, The Boss breaks with von Trier's normal commitment to handheld camerawork. Except for some interpolated crane shots outside the office building, the camera never moves, not even panning. But the image is constantly being refreshed through incessant cutting (there are over 1500 shots). The film boasts more jump cuts than Breathless or Matchstick Men, and each one creates a bump. There's very little sound overlap between shots–the ambient noise usually drops out for a fraction of a second–and there are often visual mismatches, so (as in The Idiots), nearly every cut feels like an ellipsis. A film, von Trier has said, should be as irritating as a pebble in your shoe, and his abrasive tempo gives his comedy an anxious edge.
Then there are the very peculiar framings. Here's a string of three brief shots from the first scene, with continuous dialogue (in gappy duration). The lawyer is trying to persuade the actor to perform as the boss.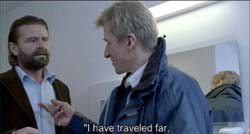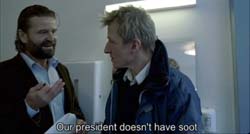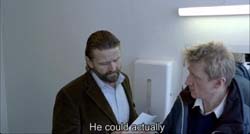 (Yes, these are three separate shots, not three stages of one wobbly shot.)
These cuts break the so-called 30-degree rule, which mandates that if you're cutting to different angles on the same subject, your second angle should vary by at least 30 degrees from the first. In addition, the later off-center compositions seem gratuitous; why not just sustain the first shot, since the next two hardly vary from it? Sometimes you get results like this.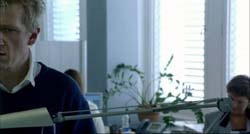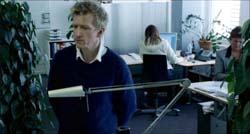 It turns out that there is method to the madness, although the method, granted, is a bit mad. You can read about Automavision here, if you want to know in advance why the movie looks this way. But if you want to be as startled as I was, refrain. Let's just say that von Trier's famous 100-camera technique of Dancer in the Dark has been repurposed in a pretty unexpected way. And don't believe what he says about surrendering to chance; the cuts are often very careful.
Whether you do your homework in advance or not, you'll probably enjoy The Boss of It All. After my criticisms of editing in The Departed (which made me seem to be raining on the Scorsese parade) and my comments about classical principles of coverage, I'm happy to report on a film which offers something new and strange. The vivacious Danish film culture makes a space for von Trier to set up creative obstructions, for both himself and his viewers.
Postscript: Since I wrote this, von Trier announced that he's added more tricks to his bag. Turns out that The Boss of It All employs Lookey, a game that challenges the viewers to spot objects that don't belong in a scene. "For the casual observer it's just a glitch or mistake," he says, "but for the initiated it's a riddle to be solved." The purpose is to keep viewers alert and active. Film's great flaw, he claims, is that "it's a one-way medium with a passive audience." Lookey, however whimsical, fits well with the agitating effects of the cut and sound dropouts.
The first viewer in Denmark to identify all the Lookeys correctly wins a cash prize and a chance to be an extra in von Trier's next film.
PPS: Thanks to Vicki Synott of the Danish Film Institute.
PPPS 28 December: I just discovered a frisky website devoted to Nordic filmmaking, where Mirja Julia Minjares has gathered some interesting quotes from von Trier and his sound recordist Ad Stoop. Von Trier says that the computer program also selects for sound gain and filter. Adds Stoop: "When a computer program chooses the settings for the sound and cinematography between each shot, every edit gets underlined in the finished film."
PPPS 31 December: Check perceptual psychologist Tim Smith's blog for more insights into von Trier's games with continuity editing.
–dB