Archive for the 'Directors: Chazelle' Category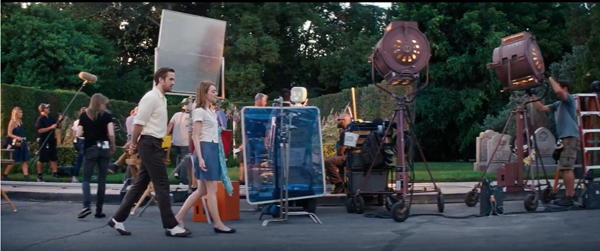 La La Land (2016).
DB here:
In our Film Studies program at the University of Wisconsin–Madison, one of our aims is to  integrate critical analysis of movies with a study of film history. Sometimes that means researching how conditions in the film industry shape and are shaped by the creative choices made by filmmakers. We also study how filmmakers draw on artistic norms, old or recent, in making new films. This effort to put films into wider historical contexts is something that you don't get in your usual movie review.
Take, yet again, La La Land. Awards and critical debates continue to swirl around the surprising success of this neo-musical. Two entries on this blog have already considered what the film owes to 1940s innovations in Hollywood storytelling (here) and to more basic norms of movie plot construction and the classic Broadway "song plot" (here). But there's plenty more to say.
Enter three Madison researchers as guest bloggers. Kelley Conway is an authority on the French musical from the 1930s to the present and author of an excellent book on Agnès Varda (reviewed here). She also gave us an earlier entry on films at the Vancouver Film Festival. Today, in an oblique rebuttal to some complaints about the principals' singing and dancing in La La Land, she situates Damien Chazelle's film within a trend toward "unprofessional" musical performance.
Eric Dienstfrey studies developments in acoustic technology and how those have affected the way movies sound. In his contribution, he traces how film's recording methods shape the auditory texture of the numbers, with special attention to the soft boundary between diegetic (story-world) sound and non-diegetic sound.
Amanda McQueen is a specialist in Hollywood and TV musicals of the last fifty years. Here she considers how  La La Land is designed to overcome audiences' current resistance to "integrated" musicals. She proposes that it offers one way to revive the genre for modern Hollywood.
These experts take the conversation in new directions I think you'll enjoy. They remind us that a movie coming out today automatically becomes a part of history; it's just that the history is sometimes hard to discern. Along the way they show the virtues of thinking beyond the talking points put out by the PR machine or circulating endlessly in reviews. In my view, good film criticism involves ideas and information as well as opinions, and all three are on vivid display here.
Amateurism as authenticity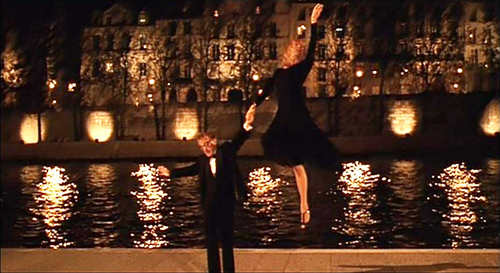 Everyone Says I Love You (Woody Allen, 1998).
Kelley Conway: For me, La La Land's references to classical Hollywood musicals and to the films of Jacques Demy provide a major source of its pleasure. (Sara Preciado's video essay demonstrates the film's homages) The film's nods to other traditions remind us of something about the relationship between Hollywood and other national cinemas: mutual influence is the norm.
Directors associated with the French New Wave absorbed and subverted Hollywood genres. Hollywood directors of the late 1960s and '70s, in turn, were inspired by the narrative ambiguity and stylistic playfulness of the New Wave. Sometimes, the influence travels full circle in quite a direct way. John Huston's Asphalt Jungle (1950) directly influenced Jean-Pierre Melville in the making of Bob le flambeur (1956), while Tarantino's Reservoir Dogs references both Melville's minimalist gangster films and Hollywood heist films.
La La Land demonstrates a similarly rich exchange between Hollywood and France. In 1967, Jacques Demy's Demoiselles de Rochefort paid loving homage to Hollywood films such as Singin' in the Rain, West Side Story, and Gentlemen Prefer Blondes. Chazelle's film returns the favor, adopting the dancing pedestrians and location shooting of Demoiselles and the saturated colors, recitative, and downbeat ending of Parapluies de Cherbourg. Chazelle is equally smitten with classical Hollywood; La La Land brims with references to the choreography, costumes, and set design of Shall We Dance (1937), Singin' in the Rain (1952), The Band Wagon (1953), West Side Story (1961), and many others.
La La Land not only cites the style of other musicals, it also develops and tweaks narrative elements from older musicals in interesting ways. For example, Chazelle's film, like Demy's Parapluies de Cherbourg, thwarts the creation of the couple. In Parapluies, the Algerian war initially separates Guy (Nino Castelnuovo) and Geneviève (Catherine Deneuve).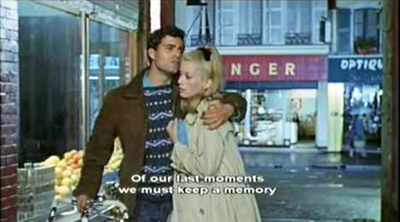 Later, an unplanned pregnancy and her mother's machinations push Geneviève to marry a wealthy jeweler. At the end of the film, when they run into one another at Guy's gas station, they exchange only a few perfunctory words; Guy even declines Geneviève's invitation to meet their daughter. There is neither anger nor the warmth of nostalgia in their exchange; just a delicately drawn emotional distance that leaves viewers feeling wistful.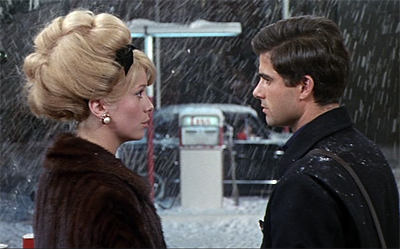 In contrast, the relationship between Mia and Sebastian fails because they decide to put their romance on hold in order to pursue their dreams. "Where are we?" Mia asks Sebastian after her audition for the film role that will take her to Paris and launch her career. "We'll just have to wait and see," he replies. Five years later, he owns a jazz club and she has become an A-list actress, but she is married to someone else and has a child.
When they cross paths at his club, Chazelle supplements Demy's delicate gas station meet-up with an exuberant fantasy montage, a kind of dream ballet often used in the classical Hollywood musical, in which the couple manages to stay together. The production number is full of invention and energy, combining animation, simulated home movie footage, a trumpet solo, and a tribute to the "Broadway Melody" number of Singin' in the Rain. As Mia prepares to leave the club, she and Sebastian exchange tender glances and rueful smiles. She departs as he launches into his next song. The love is still there, the film suggests, but Sebastian and Mia chose art over love and they would probably make the same decision today. Different from Demy's characters, Sebastian and Mia are not victims of implacable destiny, but committed artists. It's an ending that feels fresh to me.
As Amanda McQueen reveals below, La La Land conforms to various trends in the 21st century musical. Consider just one element: song performance. Neither Ryan Gosling nor Emma Stone possesses a powerful, belt-it-out voice. Instead, much of the singing in La La Land is modest, thin, and breathy. Take, for example, the number "The Fools Who Dream," a climactic moment in the film.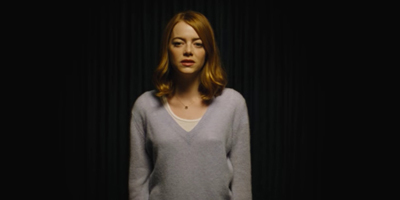 Asked by the casting director to tell a story, Mia begins a poignant monologue ("My aunt used to live in Paris…") in a quiet speaking voice marked by a bit of vocal fry. She slowly moves into an a capella ballad and, after a few bars, is accompanied by piano. Eventually, the music swells, Mia goes big ("Here's to the ones who dream…"), and then the song winds back down to the concluding notes, delivered a capella. The staging of the song – black background, circular camera movement, a big swell of emotion, a long take – is reminiscent of the splashy production number in Agnès Varda's New Wave masterpiece Cléo de 5 à 7. But Stone's voice reminds me of the wonderfully whispery, intimate singing voices of Birkin, Bardot, and Karina.
As Eric Dienstfrey points out below, the techniques used in the recording of the songs affect our impression of the story world and our sense of the film's aesthetic achievement. In a Song Exploder podcast about the creation of this song, composer Justin Hurwitz emphasizes the difficulty of shooting this one-shot production number. He explains that Stone performed the song live on set, as opposed to lip-synching it. Hurwitz speaks of his struggle to keep up with Stone while accompanying her on set:
Because I was letting Emma lead the song, I was reacting to her. So a lot of times the piano is a little bit behind the vocal. It sounded like a recital or something where you know the singer is leading it and the piano is there to accompany. That's what happens when two people make music together; things are not perfectly in sync. That's why it feels musical and why it feels real and honest.
Directors of many recent film musicals similarly seek to create the impression of aural and emotional authenticity, either through non-professional singing or on-set recording. Woody Allen's musical Everyone Says I Love You (1996) employs actors who are not professional singers, and Baz Luhrmann's Moulin Rouge (2001) uses the relatively modest singing talent of Nicole Kidman and Ewan McGregor in a mixture of playback and live recording. Likewise, publicity for Les Misérables (2012) made much of the fact that Anne Hathaway, Hugh Jackman and Russell Crowe performed their songs on the set.
Christophe Honoré also tends to employ singing performances by non-singers. Here, in Dans Paris (2006), a couple breaks up over the phone while singing in a breathy, halting fashion.
For his musical Pas son genre (aka "Not My Type," 2014), Belgian director Lucas Belvaux cast Emilie Dequenne (of Rosetta fame) as a karaoke-singing hairdresser who woos a philosophy professor. Belvaux insisted that Dequenne avoid taking lessons so as to preserve the imperfect quality of her singing voice. Here, Jennifer (Dequenne) and her pals rehearse the Supremes' "You Can't Hurry Love":
There is, in fact, a broad spectrum of singings styles and capabilities used in contemporary film musicals. In La Captive (2000), Chantal Akerman employs an aria from Mozart's Così fan tutte. Two women sing to one another flirtatiously from their windows across an apartment courtyard without accompaniment. One woman is a trained opera singer, while the other, the film's elusive female protagonist (Sylvie Testud), is untutored. The contrast in the women's voices provides an unexpected pleasure.
The use of the modest singing voice by Chazelle and others to convey emotion and authenticity is quite different, for example, from Alain Resnais' use of song in On connaît la chanson (aka "Same Old Song," 1997). Here, fragments of songs spanning the history of twentieth-century popular French chanson are lip-synched by actors. Like Dennis Potter, whose Singing Detective (1986) inspired On connaît la chanson, Resnais foregrounds the artificiality of dubbing. This creative choice works against the traditional commitment in film musicals (and in sound cinema more generally) to the impression of fidelity and authenticity. Here, Josephine Baker's delicate singing voice is grafted onto the body of a Nazi commander. The humor in non-synchronization loops us right back to Singin' in the Rain.
Directors of contemporary film musicals did not pioneer the use of the untrained singing voice. As Jeff Smith reminded me recently in an email, "There is a long tradition of celebrating the raw, unpolished singing styles of rock and rollers, dating back at least to the time of Mick Jagger, Bob Dylan and Roger Daltrey, and using those marks of authenticity as a means of distinguishing them from pop performers." Unlike the musicians of rock and punk, though, Chazelle doesn't seem particularly interested in denigrating pop music. He clearly loves John Legend's musical performances in La La Land and those 1980s pop tunes he pretends to mock.
Many have criticized La La Land's singing, but in fact, Chazelle is operating well within the tradition of employing imperfect vocalization to connote realism and to convey emotional power. The modest singing voices add another dimension to Chazelle's participation in the ongoing conversation between Hollywood and French cinema.
La La canned vs. La La live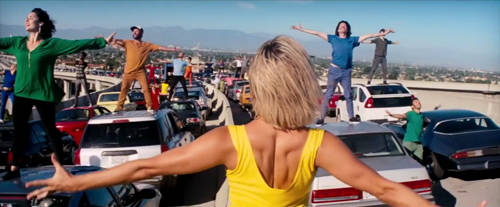 Eric Dienstfrey: I agree with Kelley's observations about the remarkable number of cinematic references in La La Land. For example, the opening number, "Another Day of Sun," embeds a host of influences within Chazelle's mise-en-scène. For me, this exit-ramp romp immediately recalled the ferry ride in Jacques Demy's Les Demoiselles de Rochefort and the traffic jam in Jean-Luc Godard's Weekend. Amanda McQueen, below, notes how the scene reminded her of the films of Vincente Minnelli. And as Chazelle himself indicates, one might even see traces of Rouben Mamoulian's Love Me Tonight and Alfred Hitchcock's Rear Window.
Thanks to such references, we can consider the significance of La La Land's numbers as extending well beyond Justin Hurwitz's melodies and Benj Pasek's and Justin Paul's rhymes. The film's allusion to Rear Window, for instance, may encourage audiences to compare the onscreen chemistry between Emma Stone and Ryan Gosling to that of Grace Kelly and James Stewart. To catch these subtle references, filmgoers need to pay close attention to the camerawork, the staging, the costumes, and even the choreography. Similarly, we can discover new layers of meaning by analyzing its songs and their sound designs.
How many ways are there for sound technicians to record and mix a musical number? Quite a few, it seems. One basic way is to record the vocal performances live on the set. During the earliest years of talking pictures, this technique often required the presence of an on-set orchestra to provide accompaniment from behind the camera. More recent strategies, however, merely ask singers to wear small earpieces that play pre-recorded accompaniment.
Another option is for technicians to record the vocal performances in an acoustically controlled studio and then mix these recordings into the final film. Sometimes technicians will record the studio performance before filming, and then require actors to lip-synch to playback on the set. Other times, technicians will ask the singers to perform the song live on the set, but then use a studio recording in the final mix due to unforeseen circumstances.
In some instances, the set might be too noisy to record a clean vocal performance, or the dance number might be so physically demanding that the actor can't help but introduce heavy breathing and other vocalized efforts. A live recording may be ideal, but the studio recording is often the more practical solution.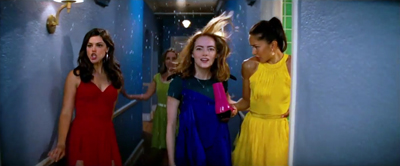 The musical numbers in La La Land display both recording techniques. Some were recorded live—such as "Fools Who Dream," which Kelley discusses above—and some were recorded in a separate studio—such as "Another Day of Sun." Steven Morrow, the film's sound mixer, suggests that each choice was informed by various practical concerns. The acoustics along the exit ramp, for instance, reportedly made it too difficult to record live singing.
Such concerns even led to strange incidents where a single song would contain a mixture of both live and studio recordings. Morrow notes how "Someone in a Crowd" relies upon Emma Stone's live recordings, while studio recordings were used for the other actresses. This decision to blend together live and studio recordings can become a storytelling device—say, if the director wants to create a contrast between two or more characters—but for most songs, the choice to use either technique is generally determined by shooting conditions and budgetary considerations.
Still, can the acoustical differences between live and studio recordings function beyond practical filmmaking needs? It is worth noting that both techniques parallel another cinematic binary: diegetic sound and non-diegetic sound. Diegetic sound commonly refers to all the dialogue, effects, and music that emanate from sources within the film's setting, such as radios and footsteps. Non-diegetic sounds are those added to the story world as a form of commentary, such as a moody orchestral score. As many film scholars rightfully argue (here and here), the diegetic/non-diegetic binary is not perfect, but for the vast majority of films the distinction remains a useful initial categorization for sound's narrative functions.
Musicals are an exception. In his groundbreaking study of Hollywood musicals, theorist Rick Altman argues that the clean distinction between diegetic and non-diegetic sound breaks down during moments when characters burst into song. Specifically, the interaction between diegetic singing and non-diegetic musical accompaniment lifts characters out of the story world toward fantastic settings. Consider Elvis Presley's performance of "I Can't Help Falling in Love with You" from Blue Hawaii.
Presley begins the song while accompanied by a small on-screen music box. But during his performance something interesting happens: the sound of the music box fades into the background while the drums and guitars of a non-diegetic orchestra magically appear. For Altman, this audio substitution is critical to understanding how the musical genre operates:
We have slid away from a backyard barbecue in Hawaii to a realm beyond language, beyond space, beyond time. […] We have reached a 'place' of transcendence where time stands still, where contingent concerns are stripped away to reveal the essence of things." (66)
In other words, this dissolve from the music box to the orchestra tells us that Elvis… well… has left the building. He has transcended the purely diegetic universe of the film's story-world reality, and has temporarily entered a non-existent space that is supra-diegetic fantasy.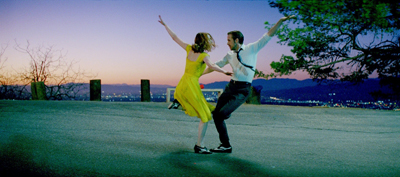 Altman's observations apply to La La Land as much as they apply to Blue Hawaii. When Mia and Sebastian sing "A Lovely Night" while searching for their cars, the non-diegetic accompaniment fades in and the two characters interact with the music through song and dance. In turn, Mia and Sebastian transcend Los Angeles and enter a supra-diegetic universe. This diegetic boundary crossing is punctuated further by their stroll through Hollywood's hills, a vantage point which allows Mia and Sebastian to literally look down upon the city as they chart this transcendence.
Yet La La Land is more than just a pastiche of earlier musical traditions. It also demonstrates how different recording techniques can be thematically integrated within the film's narration. Here we might once again compare the playback of "Another Day of Sun" to the live recording of "Fools Who Dream." Both numbers are similar in their reliance upon non-diegetic musical accompaniment, yet the production process creates contrasting narrative implications.
"Another Day of Sun" was recorded in a studio, and the acoustical details of this studio environment—namely frequency response, microphone placement, reverberation time, and overall cleanliness of the recording—are remarkably distinct from the those of an outdoor location. These subtle textural differences produce the sense that the performers' voices have left the diegetic space of the freeway and traveled to an unseen studio for the song's duration.
"Fools Who Dream" has the opposite effect. It was recorded live, and throughout the scene the acoustical details that shape Stone's voice never really change. The sonic signature of the room remains audible in her vocals from the time she introduces herself to the casting directors, to the time she finishes singing. As a result, Mia does not transcend the story world; instead, the non-diegetic piano and orchestra seem to materialize inside the room.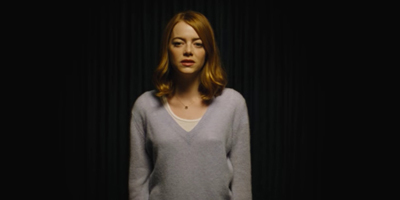 These two examples demonstrate how alternative recording techniques offer filmmakers different ways for characters and accompaniment to interact. Studio recordings specifically lift the vocals up toward the space of the non-diegetic accompaniment, whereas live performances can pull traditional musical accompaniment down into the story world. Both techniques defy the norms of realism, yet their production differences render each vocal performance with unique narrative weight. And for La La Land—a musical about two artists who wish to become famous stars while simultaneously remaining pragmatic and down-to-earth—the ways Mia and Sebastian interact with musical accompaniment can reveal if and when the characters are grounded in reality or lost in fantasy.
As criticism surrounding contemporary musicals would suggest, Hollywood routinely favors live performances over other techniques. Live performances are not only valued for being more authentic, they are harder to record and, thus, a more prestigious cinematic accomplishment. This preference for live recordings, however, need not dictate how all musicals are made. A creative integration of both live and studio recordings can open up storytelling possibilities for the sound technicians and directors who wish to innovate within the musical genre.
Yes, I know: it seems unlikely that many filmmakers will play with these acoustical parameters in their movies. Nonetheless, La La Land's sound design points to the possibility that at least a few musicals will create rewarding experiences not just for visually minded historians, but for audiophiles as well.
A musical without quotation marks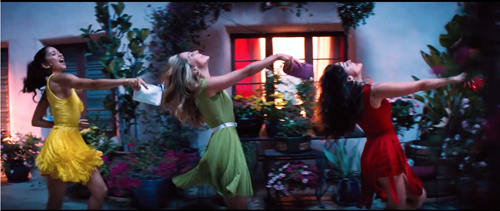 Amanda McQueen: Much of La La Land's critical reception has focused on its relationship to film musicals of the past. As Kelley, Eric and David have all noted, much of the film's meaning derives from its citation and revision of film and stage musical traditions. But what's the status of La La Land as a musical in the 21st century? How does this shape the film's approach to the genre's conventions?
The early 2000s witnessed a minor revival of the Hollywood live-action musical, a genre that had been considered box office poison for several decades. But despite the renewed interest in musicals, producers worried that contemporary audiences no longer accepted one of its key conventions: the integrated number.
Integration commonly refers to those moments when characters spontaneously burst into song to express feelings or advance the plot, usually accompanied by sourceless music, as Eric points out above. Not all musicals have integrated numbers, but many critics and scholars assume that integrated musicals constitute the genre's core. Audiences, however, were assumed to find this particular break with cinematic realism both antiquated and alienating. Moviegoers would suspend disbelief to accept lightsabers, superheroes, and wizards, but someone walking down the street and singing—no way!
Fear of the integrated number has caused many contemporary musical films and television shows to distance themselves from this convention. Some musicals ensure the song-and-dance numbers are otherwise motivated. In Chicago and Nine (2010), all the songs are figments of the characters' imaginations, while Dreamgirls (2006) transformed the integrated numbers of the Broadway original into diegetic stage performances.
Other musicals, including Enchanted (2007), The Muppets (2011), Annie (2014), and Pitch Perfect 2 (2015) opt for comic reflexivity, using integrated numbers to comment on their very artifice. The campy medieval musical Galavant (ABC 2015-2016) is perhaps the epitome of this technique. The lyrics of the second season's opening number, for instance, address the series' unexpected renewal ("Give into the miracle that no one thought we'd get"); the excessive repetition of the theme song in the previous season ("It's a new season so we won't be reprising that tune"); and a perceived lack of motivation for musical performance ("There's still no reason why we bust into song"). The four-minute ensemble song-and-dance concludes with Galavant (Joshua Sasse) commenting with satisfaction, "See, now that was a number!"
Over the years, concern over audience acceptance of the integrated musical seems to have abated, particularly for Broadway adaptations. But it hasn't disappeared, as La La Land's critical reception makes evident. Articles on the film have routinely stressed that musicals are "an extinct genre," that "some moviegoers may, no doubt, feel a little tentative about the genre," and that musicals are no guarantee at the box office. Manohla Dargis' review in The New York Times, aptly titled "'La La Land' Makes Musicals Matter Again," discusses this issue at some length. She explains how "For decades, the genre that helped Hollywood's golden age glitter has sputtered," reappearing only in Broadway adaptations or diluted (read, non-integrated) forms, and that as a result, "Musicals have been for kids, for knowing winks and nostalgia."
What perhaps feels so novel about La La Land is its sincere approach to the "old fashioned" integrated musical form. As writer/director Damien Chazelle told Hollywood Reporter:
On the screen, there is this big gap right now that you have to cross to do a musical. At least an earnest musical, where you're not immediately putting quotation marks on it.
With its opening number, "Another Day of Sun," La La Land unabashedly announces that this is an integrated musical, and it never qualifies that position. There are no cheeky winks at the camera, no characters asking why they're singing to each other, and most of the songs function as pure expressions of thoughts and feelings. Mia and Sebastian are real people in a modern city, who just happen to be singing and dancing and falling in love. For Chazelle, "Another Day of Sun" functions as "a warning sign to people in the audience. If people are not going to be comfortable with it, they'll leave right away." La La Land thus almost dares audiences to accept and celebrate this unrealistic cinematic convention, and for a 21st century musical, that's a somewhat rare approach to take.
Yet La La Land has its own methods of rendering the integrated musical acceptable for contemporary audiences. First, there is its obvious nostalgia. La La Land's visual style—35mm, CinemaScope, long takes and long-shots scaled to choreography—and its many allusions create a critical distance, an awareness that this type of cinema is a relic of another age. It's not so much a throwback to studio-era musicals as it is a modern version of the auteurist musicals of 1970s New Hollywood (most of which were also resistant to the traditional integrated number). Indeed, La La Land has been compared to Martin Scorsese's New York, New York (1977) or Francis Ford Coppola's One From the Heart (1981).
I think it's also akin to Ken Russell's The Boy Friend (1971), which has a lighter tone and takes a similar approach to its citations. Russell updates Busby Berkeley's kaleidoscopic stagings with color and widescreen, and Chazelle updates Vincente Minnelli's sequence-shots with a Steadicam. Like The Artist (2011), which tutored modern viewers in the conventions of silent cinema, La La Land is an affectionate lesson in a mode of filmmaking that is not likely to return.
Then there's the ending, in which Mia and Sebastian find success in their artistic pursuits, but only because they have parted romantically. As Kelley explains, La La Land owes its bittersweet ending to Jacques Demy's Umbrellas of Cherbourg (1964). This gives the film a melancholy at odds with the studio era Hollywood musicals it so frequently references—films like An American in Paris (1951) and Singin' in the Rain (1952), in which the couple lives happily ever after. By eschewing the union of its romantic couple, La La Land tempers the artifice of the integrated musical with a more realistic narrative, one that acknowledges that life does not always work out exactly the way we want. Such a conclusion is far more typical of American independent cinema than it is of the classical Hollywood musical.
Significantly, La La Land does give us a traditional happy ending, but through the device of the dream ballet. One of the most overtly stylized conventions of stage and screen musicals, dream ballets generally function to convey character subjectivity, and they allow for especially abstract mise-en-scène. La La Land tackles this generic trope with the same sincerity it displays in its handling of integrated numbers.

Set to a medley of the film's musical themes, the sequence functions much like that in An American in Paris, arguably the most famous cinematic dream ballet. The sequence recaps the characters' emotional journey and romantic relationship entirely through dance. Yet while the ballet in Paris shows a stylized version of what has actually occurred, La La Land's presents an alternative reality where Sebastian and Mia stay together while also achieving their artistic goals. As Owen Gleiberman puts it in Variety, this "the very movie we would have been watching had 'La La Land' simply been the delectable old-fashioned musical we think, for an hour or so, it is." In the end, though, the film affirms that Mia and Sebastian's happily-ever-after is only a fantasy; when the dream ballet ends, the two part ways.
The first time I saw La La Land, I found myself daring Chazelle to subvert my expectations and use the dream ballet as a device to create a happy ending. Instead of concluding the fantasy sequence with a return to reality, I hoped the dream ballet would function to re-write the narrative. To my mind, turning the imagined world of the dream ballet into the characters' actuality would have been an interesting twist on how this device usually functions. At the same time, it would have more radically embraced the integrated musical tropes the film otherwise celebrates.
Yet I suspect viewers would have found this ending contrived, and it would have been. La La Land's critical and commercial success, I think, has depended on it keeping the model of the classical Hollywood integrated musical slightly at arm's length. The film's unique combination of nostalgia and realism is clearly resonating with modern audiences, but it's also in keeping with the larger approach to the integrated musical in the contemporary moment. As long as film musicals are considered risky properties, certain forms of the genre will likely have to be relegated firmly to the past.
---
Kelley Conway is a Professor in our department and winner of a Distinguished Teaching Award. She has written Chanteuse in the City: The Realist Singer in 1930s French Film (University of California Press), Agnès Varda (University of Illinois Press), and essays on classical and contemporary French film. She is currently at work on a book about postwar French film culture.
Eric Dienstfrey is a doctoral candidate in our department. His dissertation traces how theories of acoustical fidelity shaped stereophonic technology from 1930 to 1959. Eric's research interests include silent film musicians and the cultural history of dictaphones. He recently received the 2017 Katherine Singer Kovács Essay Award from the Society for Cinema and Media Studies.
Amanda McQueen, a Faculty Assistant in our department, finished her Ph.D. in 2016. Her dissertation is titled "After 'The Golden Age': An Industrial History of the Hollywood Musical, 1955-1975." It examines how the breakup of the studio system helped create several musical cycles, each aimed at a niche audience, and each designed to prolong the genre's viability in the new marketplace. Apart from studying musicals on stage, screen, and TV, Amanda's interested in media industries, film technologies, and genre theory and history.
Thanks as well to Jeff Smith for his comments on these entries. Watch for his annual blog entry (first two, here and here) analyzing the Oscar-nominated songs and scores.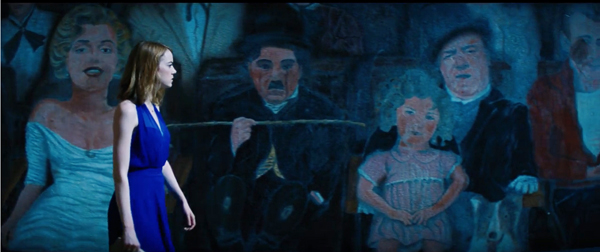 La La Land.

La La Land (2016).
The formal method is fundamentally simple. It's the return to craft (masterstvo).
Viktor Shkovsky, 1923
DB here:
Not how it was made. We'll get "The Making of La La Land" as a DVD bonus, and there are already behind-the-scenes promos.
No, this is about how it is made.
On this site, we mostly practice a criticism of enthusiasm. We write about what we like, or at least about films that intrigue us from the standpoint of history or aesthetics. Sometimes, what interests us intersects with a current controversy. Take La La Land.
Some of my cinephile friends disapprove of it. It  swipes too much, they say, from classic studio musicals and the work of Demy, and it doesn't live up to either model. But tastes change. I remember when the classic musicals that we venerate were considered fluff, and I recall how Demy's films, especially Les Demoiselles de Rochefort, were held at arm's length by many of my 60s pals. "He tries too hard," a friend remarked. Some say that about Chazelle, and perhaps in a few decades La La Land will be remembered fondly.
In any case, I'm not aiming to denounce this ambitious, agreeable film. I'm more interested in asking how La La Land accords with the craft of studio musicals and Demy's efforts. I'm also interested in tracing its affinity with a third tradition of song-and-dance: the Broadway show.
Along all three dimensions, I hope to take Shklovsky's advice and ask about craft. La La Land is both derivative and original. Actually, most movies are, though in various proportions.
The song plot

If we want to understand how film form and style work, we can't neglect the nuts and bolts of moviemaking. In trying to achieve particular effects, filmmakers have created craft traditions, favored options bounded by loose limits. Mostly these traditions grow up intuitively, as solutions that just feel right. In any case, behind the cluster of preferred practices we can often find principles of design and execution that can be made explicit.
A lot of what Kristin and I have been doing since the 1970s consists of trying to bring to the surface filmmakers' underlying habits and conventions. Those help shape how viewers respond to films. We aren't maniacs for systematization—art can't be utterly systematized—but as analysts we want to discern patterns of story and style, what earlier entries have called schemas. And as historians we want to understand how patterns of story and style get passed down from earlier films, and passed around among contemporaries.
For example, some narrative schemas of American studio cinema are what I aim to lay bare in Reinventing Hollywood: How 1940s Filmmakers Changed Movie Storytelling. Without invoking the big guns of theory, I try to point out how craft traditions of plotting and narration got recast in those crucial years. A recent entry hereabouts tries to show the legacy of those years surfacing in current releases, La La Land included.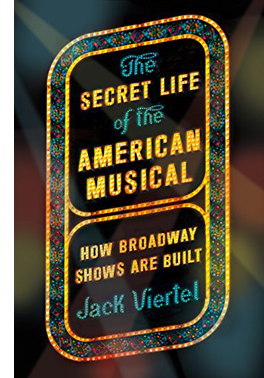 Other researchers work along these lines, and not just in film. Art historians have been doing this sort of research for a long time, as have musicologists. A more recent example in the domain of theatre aesthetics is Jack Viertel's exhilarating book The Secret Life of the American Musical. Its subtitle, How Broadway Shows Are Built, is a throwback (inadvertent, I suppose) to Shklovsky's essay "How Don Quixote Is Made." The impulse is the same: to x-ray an art work, to reveal some fundamental principles of construction, while also doing justice to its revisions of inherited traditions.
What Viertel brings to the table is the "song plot," a sequence of musical numbers that has become conventional in Broadway shows. Often, of course, many numbers enhance the dramatic action, but sometimes they're inserted for a change of mood or a burst of energy. The song plot both echoes the action plot and provides its own arc of pleasure, with musical numbers that may be more or less extraneous to the main action.
What makes Viertel's anatomy of shows interesting is that even the narratively "irrelevant" numbers tend to occur in the same spot from show to show, and they have a common emotional quality. They aren't just "spectacle interrupting narrative," to use a film-studies commonplace. As spectacle, they have their own pattern, and that's gratifying alongside the pleasures of the story. Viertel's macro-schema is probably known to many insiders and fans, but it was all news to me, and it helps me understand the musical spine of this recent movie.
Hence today's title, of an entry that is 100% spoiler-filled. I'll consider La La Land as a classically constructed film. Then I'll test its "making" against Viertel's template of a musical. I conclude with some remarks on how analyzing these patterns highlights the movie's variance from adjacent traditions.
From meet-cute to remeet, and re-remeet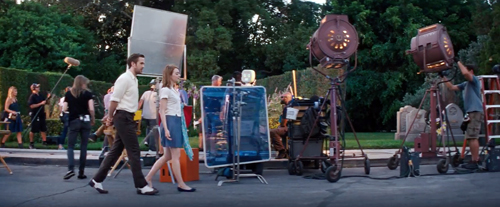 Start with the Hollywood plot structure. Kristin has argued that even though mainstream American screenwriters sometimes claim to be following a three-act plot model, their craft practice often pushes them to a four-part schema. (She has discussed this here, and I've given examples here and here.) Specifically, the long second "act" is usefully thought of as two separate parts split by the film's midpoint.
The conventional plot pattern consists of a Setup in which protagonists define their goals; a Complicating Action that redefines those goals; a Development that muddles, delays, or intensifies the goals; and a Climax that resolves them. These parts typically run 20-30 minutes, and films of varying lengths, long or short, can include more or fewer parts than these four. In most cases there will also be an epilogue or "tag."
La La Land runs almost exactly 120 minutes, not counting the opening logos or the end credits. The Setup (running 25 minutes) establishes Mia and Sebastian as dual protagonists, caught in the midst of the initial traffic jam.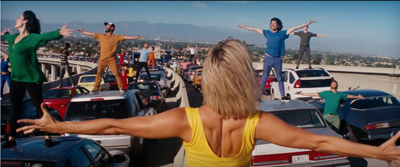 We then follow Mia through her day as a barista, her failed audition, her return to her apartment, and her agreement to go out to a networking party with her flatmates.
A flashback returns us to the traffic jam, and now we follow Sebastian to his apartment, where in a parallel to Mia's day he makes coffee, rummages through unpaid bills, and talks with his sister. He goes on to his job as pianist playing Christmas music at a cocktail bar. Mia, who's come in by accident, stands before him, moved by his switch into improvised jazz. But Sebastian is fired, and disgruntled, he coldly bumps past her.
The Complicating Action starts after Mia fails another audition. She goes to a pool party and sees Sebastian in the ensemble. She teases him, and they leave the party together. Although there's friction between them, they start a friendship. They confess their dreams: she wants to be an actress and he wants to start a club that hosts classic jazz.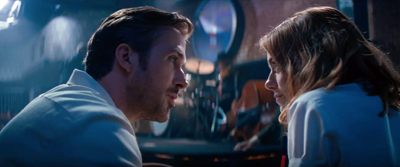 Mia absentmindedly agrees to go to a movie with him on a night she has a date with her boyfriend. But she's haunted by Sebastian's music and she finds him at the theatre, watching Rebel without a Cause. They go to the planetarium featured in the film and kiss. At the end of the Complicating Action, about 60 minutes in, Mia resolves to write a one-woman show for herself.
The Development is the stretch where backstory is introduced, obstacles create delays, and subplots intertwine with the main action. Since in La La Land the romance seems solid (there are no love rivals), and there are no secondary characters of consequence, the film is devoted to the other major plotline: the obstacles encountered in our couple's quest for success. Those in turn affect the romance.
A Development also typically relies on montage sequences, and we get plenty here. Mia works on her show, while Sebastian is offered a chance to join his friend Keith's combo. To stabilize his life with Mia, he takes the job.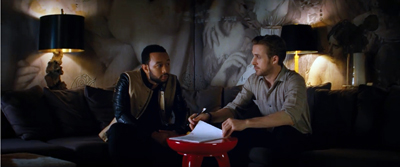 Soon he's on tour, and the band finds some success, though he's compromising his principles. "Do you like the music you play?" Mia demands, and he evades answering. The crisis comes when a photo shoot delays his arrival at her premiere, which is a fiasco.
Mia declares: "It's over"—meaning both her career and their affair. She goes back home. We're at the 90-minute mark.
We're ready for the Climax, which is often driven by a deadline. Sebastian takes the call asking Mia to audition, and he rushes her back to it. She gets the part, and the two of them decide to wait and see how their relationship develops.
Five years later, Mia is now a success. This seems an abrupt, even anti-climactic turn of events, coming only eleven minutes after the Climax started. Apparently, despite their declarations of undying love, the couple's romance was never rekindled. We see Mia visit the café where she was once a barista and return to her hotel and her husband and daughter. Her activities are crosscut with glimpses of Sebastian alone in his apartment. In effect, this passage balances our alternating introduction to the couple during the Setup.
Mia and her husband drop in on a club that turns out to be Sebastian's. Mia and Sebastian eye each other longingly. Mia watches him play Their Song, and this launches an apparently shared fantasy of an alternate-world climax and resolution.

There's a replay of the two of them at the cocktail bar, but this time Sebastian doesn't brush past her. They kiss passionately. After this what-if premise, the race to the audition is replayed in stylized form, and the trajectory of Mia's career—going to Paris, finding screen success, forming a family—is reenacted with Sebastian as her mate. At the end, Sebastian, not her husband, is sitting with her in the club (listening in effect to himself), and they kiss.
This soufflé of flashbacks and fantasies ends the plot on the conventional romantic clinch. But the film's tag, of course, is their return to reality and the sad smiles shared as she goes off with her husband. In all, this double climax/ resolution turns out to run almost thirty minutes, which would be unusually long for a non-musical.
As is customary in Hollywood narrative, motifs and parallels crisscross the film. The opening song on the freeway lays out hints of what is to come. The sequence alternates a woman singing about a career as a film star ("It called me to be on that screen") and a man singing about a career honoring old music ("ballads in the bar rooms left by those who came before"). Anticipating the finale, the woman's song includes mention of a boy seeing her on the screen and remembering that he knew her.
More parallels and rhymes follow. Mia nearly stands up Sebastian on their date; he misses her show. Each encourages the other to keep struggling. Mia's blockhead boyfriend anticipates her eventual GQ husband, as if she has decided not to go for the edgy type Sebastian is. The motif of Mia's beloved aunt, who inspired her love of movies and her urge to act, gets dramatized twice, once in her one-woman show and more successfully in her audition song, "Here's to the Ones Who Dream," which wins Mia the movie part.
So many things are doubled that it's not surprising that the Setup parallels each protagonist's day and establishes the crucial moment at the supper club. That too gets replayed—once in the real world, as she and her husband hear Sebastian's performance of his tune for her, and once at the start of the fantasy projection of their future, which becomes a replay of her actual life with her husband.
So far, so classical. But—duh, as they say–La La Land is also a musical.
That's the Broadway melodies
My outline of La La Land's construction is fairly hollow, and could be filled in with closer consideration of the moment-by-moment process of conflict and change, or the flow of information as we're attached to one character or the other. But we get access to another layer of "making" by considering the film as a musical–more specifically, a Broadway musical. (No surprise that the lyricists are stage-based.) Viertel is a big help here. His account of the prototypical song plot fits La La Land fairly well, and the places where it doesn't are pretty interesting too.
Broadway shows of the Golden Age (roughly 1942-1975) tend to have the double plotline characteristic of Hollywood films. Both shows and movies make romance central, and this permits the action plot and the song plot to fit together. In Broadway shows, as in many films, paired protagonists try to find happiness in both love and work. Intertwined goals are central to getting the action moving, and so goals are ingredient to the song plot.

Director Damien Chazelle apparently hesitated about opening with the freeway-gridlock number, but he and editor Tom Cross decided to announce the film's song-and-dance premises immediately. I think the pressure of show-biz tradition helped. According to Viertel, the prototypical musical might start with a solo, as with Oklahoma!'s "Oh, What a Beautiful Mornin'." But it may also start with a "blowout," and La La Land's  "Another Day of Sun" surely counts as that. It establishes milieu and mood, in somewhat the manner of the bouncy introduction to Damon Runyon's world in Guys and Dolls, and it announces the central goal of showbiz success.
Viertel marks the next number as crucial. It's the "I Want" song, the initial crystallizing of the protagonist's goals. In La La Land, that position is occupied by "Someone in the Crowd," which starts as an ensemble number with Mia's brassy roommates but devolves into a solo for her. By then, the "someone" she seeks isn't only a career-enhancing meetup but a love partner.

After the plot moves into the Complicating Action phase, Mia and Sebastian meet cute again at the pool party. He's playing in a lame retro band and she teases him, in revenge for his brushoff at the piano bar. There follows the next key item in the song plot, what Viertel calls "the conditional love song." The prototype is "If I Loved You" (Carousel). Essentially it declares how wrong the boy and girl are for each other. It has the function of blocking and deferring the goals of the love plotline, and in non-musical rom-coms, it takes the shape of verbal sparring, quarrels, and competition (as in, say, You've Got Mail).
Clearly, "A Lovely Night" is a conditional love song, as Mia and Sebastian remark on how the LA view would be perfect for a couple who were really in love. But as often happens, while the words refuse romance, the music and the choreography show that the two ought to be together.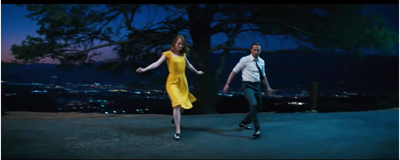 At this point in the song plot, Viertel suggests, the show needs a burst of energy. In La La Land, what he calls The Noise is delivered by the instrumental number at the jazz club, called in the soundtrack album "Herman's Habit." It's not narratively gratuitous, as it's an AV demo of the sweet collective creativity Sebastian admires in classic jazz. The number also marks Mia's growing affection for Sebastian and her belief in his dream.
But now Viertel's Broadway template diverges from La La Land, and it points up a crucial factor in the film. The conventional song plot typically devotes a number to a second couple or a subplot. Think of the comic couple in The Pajama Game, and the number "I'll Never Be Jealous Again," which expresses Hines's unreasonable fear of losing Gladys. That show also includes the subplot of labor negotiations with the devious Mr. Hasler. But La La Land doesn't have a subplot involving a second couple, a romantic triangle, or a villain. So no such song appears.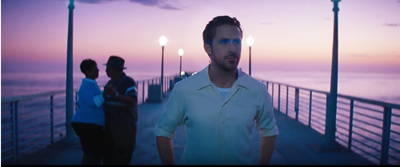 Next on the Viertel template is a star turn, a distinctive number for one of the major players. That function is fulfilled by "City of Stars," the introspective musing of Sebastian on the pier. Viertel indicates that the following number tends to be a high-energy tentpole that starts the buildup to the first-act curtain. That position is occupied by the airy pas de deux at the Griffith Observatory on their first date.

We're now into the Development section, with Mia working on her one-woman show and Sebastian touring with his friend's combo. The summer montage sequences offer other numbers, including Sebastian's performance with the jazz group and the "City of Stars" duet with the couple at the piano. These bits don't fit easily into Veirtel's template, but what does is the "curtain song," the Messengers' "Start a Fire" number. It's splashily performed at the concert that makes Mia apprehensive.

The performance functions as a curtain song, I think, because of Viertel's claim that the close of the first act typically signals dashed hopes. The curtain numbers of Gypsy, Guys and Dolls, Carousel, West Side Story, and other shows announce a failure to achieve goals. "The most typical kind of first act curtain," Viertel explains, is "the unraveling, in an instant, of everything everyone has planned." It's too strong a description of La La Land's concert, but Sebastian's cynical keyboard tweaks during the band's blast of adult contemporary R&B mark him as a sellout. "Do you like the music you play?" He seems to have given up his dream, a failure that becomes the first crack in the couple's relationship.
There are fewer discrete numbers in the film's last stretch; it lacks several songs in the Viertel template (the Welcome-Back number, the second star turn, more subplot songs, and the first big showpiece). Owen Glieberman has noted that the film's second hour is notably less buoyant, and the first full-blown number in the Climax is melancholic.

"The Fools Who Dream" is gently confessional, in contrast to the overheated delivery of Mia's earlier auditions. It's what Viertel calls a second-act showpiece, and true to that convention it yields a big plot point: She wins the role.
The resolution of the plot, what Viertel calls the "next-to-last scene," need not be a number at all. It's often a "book scene," and so it is here. After Mia wins the role, she and Sebastian admit both their love and the difficulty of staying together.
There follows the finale, a bookend to the freeway opening. "The 11:00 scene," as Viertel points out, is often a wide-ranging reprise. La La Land's eight-minute sequence presents a synthesis of the musical motifs and a revised, stylized version of Mia's career.

Oklahoma! is usually credited with popularizing the fantasy ballet interlude, a convention that was picked up in the "Miss Turnstiles" daydream of On the Town, the Girl Hunt of The Band Wagon, and many other what-if sequences in Hollywood musicals. As a stroke of novelty, La La Land saves its fantasy ballet for the end, and makes it a bittersweet contrast to the real resolution.
Reports on the creative process behind La La Land  indicate that the filmmakers were constantly weighing their choices about where to put their musical interludes. The fact that they settled on a layout that sticks fairly closely to the Broadway template suggests that Viertel's song plot has advantages that creators intuitively gravitate towards. Its emotional arc both complements and extends the drama-driven plot.
The long and the short of it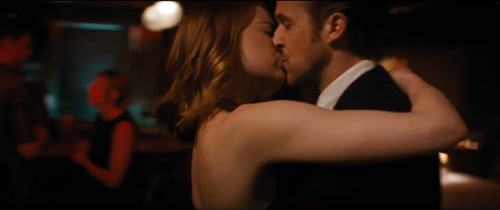 Viertel's anatomy of the Broadway song plot nicely fills out some patches of classical dramaturgy. It helps us better understand the tacit guidelines that creators follow, and it shows how even movies not drawn from stage shows have absorbed some of their conventions.  Yet Viertel's layout does more than point up the affinities between La La Land and stage musicals. It also helps us see where the film rejects the traditional schema.
The film's deletions from the song plot omit love triangles (of any consequence), subplots, villains, and parallel couples. Sebastian's sister is basically an expositional device, while Mia's roommates are barely characterized and her parents barely seen. The bandleader Keith is mostly a mouthpiece for a musical idiom, and the other members of the combo aren't individualized. No secondary character is granted a show-stopper like "Sit Down, You're Rocking the Boat" or "Steam Heat" or "Make 'Em Laugh."
In sacrificing subplots and side bits, La La Land forfeits what such devices add: a different range of emotions, thematic contrasts, relief from overexposure of the two lovers, and comic relief. The film gives up accessory pleasures, like the counterpoint romance of Nathan Detroit and Adelaide in Guys and Dolls, or the ballad of the parents at the piano in Meet Me in St. Louis. In a bold genre change, La La Land stands or falls by its two principals.
Strangely, this spare plot consumes two full hours. Compare its Hollywood counterparts. Cover Girl, another showbiz tale, runs fifteen minutes shorter, but has time for a fully-rendered sidekick, a competitor for the heroine Rusty, a nice role for Eve Arden, and a parallel plot (thanks to flashbacks) devoted to Rusty's grandmother. At 95 minutes, On the Town squeezes in three couples and a New York travelogue. As for the often-invoked Demy, compare the 90-minute Umbrellas of Cherbourg, which manages to deck the plot out with two old ladies and two deftly characterized rivals for the central couple. Better yet, recall Les Demoiselles de Rochefort. Granted, it too runs two hours, but it has to pack in five couples, one triangle, a starstruck café waitress, and for good measure a serial killer.
More broadly, La La Land doesn't give its protagonists sharply defined goals. They just want to succeed, through rounds of auditions or short-term music gigs. In Cover Girl Rusty is given clear-cut options: To sign on as a model or stay a club dancer? To marry a piano player or a Broadway impresario? And as Viertel points out, there's often a bigger issue at play—statehood in Oklahoma!, modernizing a country in The King and I, moving a family from St. Louis to New York. Nothing like this hovers over the couple in this rather hermetic movie.
What fills up that extra running time in La La Land? For one thing, the very parallels that I've mentioned, notably the extended scenes in the café; but also, I think, the pool party, with its sideswipes at the movie industry, and the planetarium dance, pretty as it is. A older studio-era film would have gotten the romance going sooner, in the Setup, sharpened the choices facing the characters, and fleshed out their milieu with friends, family, and minor players who get a little bit of the spotlight. (Keith would almost certainly have gained a romantic partner, hopefully a wise-cracker.) A Demy film would have added more characters as well, with a crisp geometry of counterparts and substitutions. Everything would be color-coded too.
The slimness of the plot can be taken as a point against the film, but focusing a musical so tightly on the couple was probably worth trying. If anybody cares, I enjoyed the film, and—to invoke the distinction between taste and judgment—I think it's a solid, sometimes stirring effort. But what matters to me now is the way that thinking about craft traditions, particularly as they affect structure, allows us to plot some ways in which La La Land is both traditional and original. Evaluation is important, but it can be guided by analysis. An essential part of criticism involves studying how things are made.
---
Thanks to Jeff Smith for advice about the Messengers' musical idiom, and to Michael Campi and Peter Rist for discussions about the film.
The quotation from Shklovsky at the start comes from the extract from A Sentimental Journey (1923) in Viktor Shklovsky: A Reader, ed. and trans. Alexandra Berlina (Bloomsbury, 2017), 150. For another Shklovskyan foray into contemporary moviemaking, you can try "Pulverizing Plots." My quotation from Viertel on first-act curtains comes from The Secret Life of the American Musical, p. 152.
More on the making: A fairly detailed account of LLL's choreography is provided at the Verge, with more film references than you can shake a stick at. On the authenticity dimension, Glenn Kenny gets on the case of jazz purists.
Kristin's discussion of four-part structure is at its fullest in Storytelling in the New Hollywood: Analyzing Classic Narrative Structure. I discuss it and apply it to some examples in The Way Hollywood Tells It: Story and Style in Msodern Movies. For more examples, visit our category Narrative Strategies.
P.S. 24 January 2017: LLL has garnered a heap of Oscar nominations this morning. Now this Los Angeles Times story supplies more information on how it was made (financially).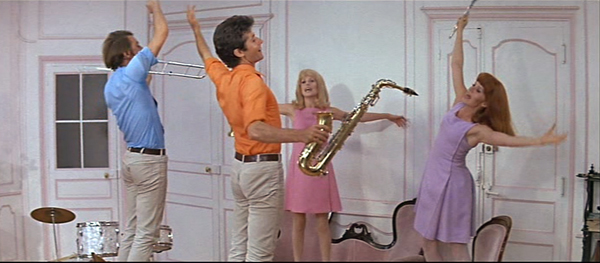 Les Demoiselles de Rochefort (1967).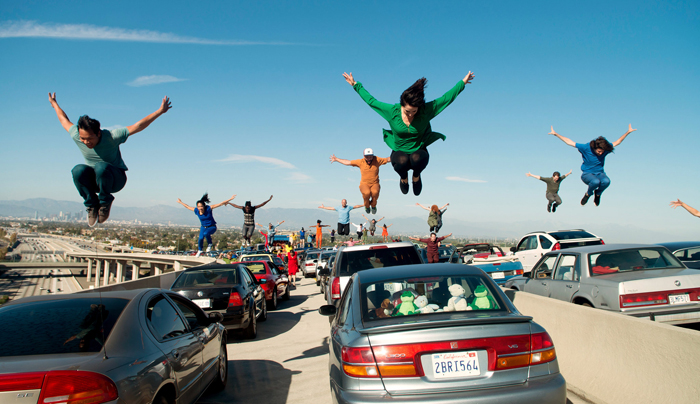 La La Land.
DB here:
After I see a new movie, I like thinking about its ties to film history. This isn't a matter of sneering, "They did it better in the old days," though often that's true. Rather, I like exploring how our films both rely on and swerve from the traditions they invoke.
I'm not talking only about movies that self-consciously point at Hollywood's past, as La La Land does. Every new release participates in film history—and sometimes changes it. Most critics don't have the space or inclination to point this up, but those of us who study film as an art can. Looking closely at form and style makes the past present to us in a vivid way.
Students are taught that in the 1910s Griffith took crosscutting to a new level, and true enough. But it's not often mentioned that crosscutting has remained a permanent expressive option for filmmakers today. Very often they use it as Griffith did: to build tension, especially in a chase or a race against time; or to highlight narrative parallels, as he did in Intolerance. What excites young audiences in the work of Christopher Nolan, for example, are in large measure smart elaborations on principles that go back a hundred years.
This isn't to complain that Nolan isn't original—originality in the strong sense is very rare—but rather to point up an overarching dynamic of continuity and change across the history of the art. We understand what Nolan's doing better when we see how he recasts inherited techniques, as when Inception takes parallel crosscutting to a kind of limit in its embedded dreams.
My upcoming book, Reinventing Hollywood: How 1940s Filmmakers Changed Movie Storytelling, is an effort to refine an argument I made in The Way Hollywood Tells It: that major narrative techniques of contemporary cinema got consolidated in the 1940s. The techniques I have in mind include general principles like non-chronological plotting and subjective probing of character's experience, as well as particular devices like flashbacks, voice-over, and fantasy scenes.
I say "consolidated" because many of those strategies can be found sporadically in the silent era and the 1930s. Forties writers and directors adapted them to the sound cinema, made them popular, and explored them in ways that go beyond most earlier instances. These filmmakers added a body of resources to the classical tradition: after the 1940s, later filmmakers could develop the techniques in fresh ways. There were new colors on their palettes.
I talk about several films, and among those I significantly spoil The Shallows, Manchester by the Sea, The Birth of a Nation, Nocturnal Animals, Moonlight, and La La Land. But you should be able to skip the films you fear I've overshared on.
Schemas and their sneaky ways
Reinventing Hollywood argues that we can understand the process as one of schema and revision. I borrow from E. H. Gombrich the idea that a schema is a pattern handed down by earlier artists that becomes a point of departure for those who follow.
For example, shot/reverse-shot cutting is a stylistic schema, going back to the 1910s. Every professional filmmaker knows how to execute it, though some will find fresh ways to use it. The Shallows, a summertime thriller from the talented director Jaume Collet-Serra, uses it in orthodox ways throughout.
Most filmmakers apply the shot/reverse-shot schema to phone conversations as well. But here Collet-Serra innovates (mildly) by using cellphone technology to give us a phone conversation with a redoubled shot/reverse-shot pattern. The editing schema is given within a single frame as Nancy talks with her father.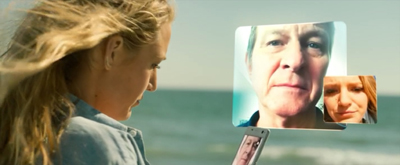 This isn't, I think, a mere gimmick. For one thing, we're primed for it by the scene of Nancy's arrival, when she browses through photos of her dead mother. Those are delivered to us as paste-ups in the same frame, rather than as optical POV shots of Nancy's phone. Soon after, still during her ride to the beach, we see an instant message from her friend.
So the pseudo-shot/reverse-shot has been prepared for by these other displays of her screen. We're ready for this to be an intrinsic norm of this film. Later we'll get the ticking-clock deadlines through inserts of of her watch.
More generally, the film as a whole tightly restricts us to Nancy's experience. Nearly everything we see and hear is filtered through her consciousness. (The film's momentary detours from her range of knowledge work to maximize suspense, in the manner of the bomb under the table.) During the phone conversation, cutting back to her father at home in Galveston would have made him a more important character. As it is, the narration keeps the emphasis on her situation and the beautiful but menacing landscape, the "perfect beach" that she needs to conquer as her mother did.
Shot/reverse-shot is a schema for handling stylistic options. I suggest that there are narrative schemas too, tried-and-true storytelling patterns that filmmakers can repeat, reject, or revise. Novelty builds on familiarity. As Damien Chazelle describes La La Land: "I'm trying to hark back to certain old traditions but hopefully show you something you haven't seen before."
For the viewer, schemas supply a certain predictability. We're used to the back-and-forth of shot/reverse-shot cutting. Likewise, we expect a flashback to supply background information that clarifies the situation in the present. In the American studio tradition, a filmmaker who revises a schema needs to give us enough of the pattern to make us realize the alterations. The Shallows' revision of shot/reverse-shot is clear to us because, given our knowledge of FaceTime/Skype technology, we can grasp the images as diagrammatic presentations of a familiar editing pattern. Similarly, we can sense a flashback even when it's quick or cryptic, and we anticipate that things will clarify later. The dynamic of familiarity and novelty will work only if the the new twist plays off something recognizable.
Back in September, I noted that almost every film I was seeing seemed indebted to 1940s storytelling, but I talked only about Sully. Today I go wider and look at several 2016 films, both pop and prestigious, that rely on methods of roundabout storytelling that coalesced back then. We're so used to these methods that we tend to forget their debts. By analyzing how our writers and directors draw on this tradition, we better understand their roots in film history–and their genuine contributions to changing it.
In her, and his, shoes
One of the most taken-for-granted narrative strategies is that of subjectivity. Here filmmakers use images and sounds to reveal a character's mind and senses. The main schemas have become very familiar.
Today we scarcely notice optical POV shots or fantasy imagery. They were common in silent film, became less common in Hollywood in the 1930s, and grew very common in the 1940s. The sustained optical POV of Lady in the Lake (1947) is one instance, and so are the protracted dream and delirium sequences in psychological films like Spellbound (1945) and The Lost Weekend (1945).
Go back to The Shallows and you'll find plenty of POV shots. When Nancy regains consciousness after the climax, we get a mixture of optical viewpoint and imaginary shots, when she first sees Carlos and then "sees" her mother's approval of her courage.
Dreams are another common device for rendering subjectivity. They became commonplace in the psychoanalytical films of the 1940s, and have been used ever since to probe the more or less unconscious impulses of our characters. We're let in on characters' dreams in A Quiet Passion, Hacksaw Ridge, and Kubo and the Two Strings.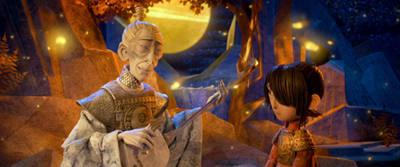 Both visions and dreams become important motifs in The Birth of a Nation. Early in the film, the child Nat Turner, who has been called "a leader and a prophet" by an elder slave, dreams of himself in tribal paint running through a forest. Later, grown-up and developing a sense of himself as a rebel against oppression, he re-experiences the dream, only now the child encounters himself as an adult, who moves to protect him. The child becomes father to the man.
These plunges into subjectivity run along with images of Nat's revelation: an angel he sees at moments of greatest torment, on the whipping block and on the gallows.
On the second occasion, the figure is more fully revealed as an angel, and she seems ready to embrace him. The nocturnal spirituality of the opening has been counterbalanced by something like Christianity, but it's hardly the white folks' version: Nat sees a dark angel.
Frames and breaking frames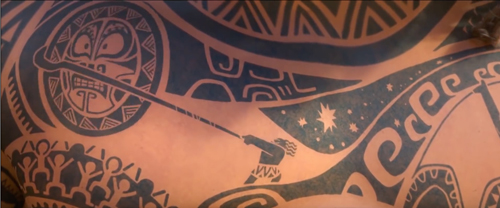 Moana.
Subjectivity can also shape our sense of time, thanks to flashbacks. Very common nowadays is the brief flashback representing a sudden memory. In Allied, a shot of Max and Marianne on their rooftop bed-sit in Casablanca comes when Max is recalling their mission, after he's learned she might be a German spy. A parallel device is the auditory flashback, as when a character recalls earlier lines of dialogue, which might not be accompanied by imagery from the past scene. Several of these films drop in sonic flashbacks, which serve as reminders to the audience as well as recollections for the characters.
A subjective push into the past can take over the whole structure of the film. This happens when big stretches of the plot are presented through flashbacks to events that characters tell or remember. A fairly pure case is Billy Lynn's Long Halftime Walk. It intercuts three time periods: the present, as Billy and his comrades in arms visit a Thanksgiving football game; Billy's return to his family two days before the game; and the more distant events of Billy's tour of duty in Iraq, culminating in the death of his beloved sergeant Shroom.
Throughout the film we're largely restricted to what Billy experienced in both present and past.
In most films, though, flashbacks don't represent memories. Often a flashback is initiated as a character's recollection or testimony, but it presents events that a character didn't know about. In these cases, the film has it both ways–subjective when it wants us to feel with the character, but wider-ranging when the extra information can yield suspense or another perspective on what the character knows. This happens in Jackie, in which Jacqueline Kennedy tells a journalist about the JFK assassination and its aftermath. We mostly adhere to what she could have seen and heard, but some incidents occur outside her ken. The interview situation motivates the return to the past, and that's usually what we find in these partly subjective flashbacks.
The flashback technique was fairly common in Hollywood's silent era but rarer in the 1930s. It emerged as a major creative option in the Forties; there are more flashbacks in 1944 feature releases than in all of the Thirties. Nowadays most films, even Moana, resort to it. (Maui's boasting song "You're Welcome" reviews his gifts to humanity.) Virtually every film I mention today employs at least one flashback–a testimony to the enduring power of this storytelling norm.
Since even the most personal flashbacks tend to stray from what characters could have witnessed, it's not surprising that today we commonly have completely "objective" flashbacks. The plot simply jumps to and fro through time without the alibi of character memory. Hollywood has occasional early instances (Beau Geste, 1927; A Man to Remember, 1938; Confidence Girl, 1952; The Killers, 1955), but the "external" flashback is rare before the 1960s. Over the decades, filmmakers and audiences became comfortable with the flashback that simply admits itself as such. The time shift may be signaled by a title ("Two Days Earlier" in Billy Lynn), but some films find other ways to announce the flashback.
A simple example is Ben-Hur. Steered by a voice-over narrator (who will turn out to be a character in the film), the opening shows the start of a chariot race in a Roman Circus. Two young bravos swap lines that arouse curiosity: "You should have stayed away." "You should've killed me." "I will." Then the race starts, the camera pans left to follow it, and the shot dissolves (a graphic match) to an image of two horsemen racing around a rock.
They are youthful versions of the competitors we've just met, and we'll learn that Messala is Judah Ben-Hur's adopted brother. The rest of the plot follows the friends' careers that lead them to the fateful chariot competition. And that opening stretch is replayed when the flashback catches up with the frame situation. We're reintroduced to the Circus, and identical shots show them exchanging the same lines we heard at the start.
This sort of overlapping return to the frame is common when the flashback consumes a large chunk of the film. One traditional schema, used in Ben-Hur, presents the frame story as a situation in crisis. This serves to grab our attention, to raise questions, and to hold the outcome of present-time events in suspension while the backstory clicks in.
The crisis structure is seen in Hacksaw Ridge, when after glimpses of a ferocious battle we see the protagonist rushed along on a stretcher. Thanks to a title, "Seven Years Earlier," we shift to the past in another "objective" flashback. Eventually we'll loop back to the wounding and rescue of Doss at Hacksaw Ridge.
The earlier versions of Ben-Hur didn't resort to flashback construction. Similarly, Sergeant York (1941), which has similarities to Hacksaw Ridge, relies on straightforward chronology. The crisis schema became popular in the 1940s (e.g., The Big Clock, 1947), but it's even more common now than it was then.
So is a willingness to put flashbacks inside flashbacks. Hacksaw Ridge's main flashback breaks its own chronology to show scenes of domestic violence in Doss's youth. The main flashback of Ben-Hur plays host to embedded flashbacks too. The large-scale Chinese-box construction of 1940s films like The Locket (1946) and Passage to Marseille (1944) is still uncommon, but brief flashbacks wedged inside a long-term one pose no problems for current audiences.
Ben-Hur and Hacksaw Ridge set up the Now situation straightforwardly and at some length. At the opposite extreme is the present-time opening of Don't Breathe: a slow swoop down to a barren street along which a man drags a young woman's body. A second shot isn't very informative about him or her, and the two shots consume only 63 seconds.
Probably most viewers forget about this cryptic but intriguing crisis situation until it's repeated at the climax–the shots in reverse order, the woman more clearly visible, and the two shots clipped to a mere nine seconds. This is compact storytelling.
The Shallows sets up its Now through attachment to a minor character. A little boy finds a video camera on a helmet floating in the surf. He plays the footage and, seeing a shark attack recorded there, runs to get help.
Later the boy's discovery is shown again, and now we're in a position to appreciate its importance. But like the opening sequence of Mildred Pierce, this prologue has omitted key information: the boy's replay of Nancy's recorded plea for help. At the climax that footage, which we've seen her make, is is now re-run for us as the boy watches it. Again the boy is shown running for help. This overlap brings us up to the original Now.
At the start there was an enigmatic rack-focus to the buoy in the distance. In the replay, while the boy studies the video, we see Nancy bobbing there, waiting for the shark to attack.
This scene, incidentally, shows how a flashback structure can take the sting out of a convenient coincidence. If something unlikely–the boy discovering the camera in time to help the heroine–is shown before the main action, then it doesn't seem as out-of-nowhere as it would if presented in straight chronology. After seeing the somewhat cryptic opening, we might even be looking forward to the revelation, as presumably some viewers are when a scene in the flashback introduces the surfer with the camera helmet.
Interestingly, neither Don't Breathe nor The Shallows resorts to a title announcing the transition from Now to the past. Can it be that our genre pictures can live with a little less redundancy than our Oscar bait?
Strands, mosaics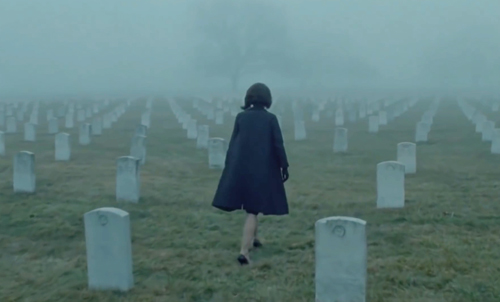 Jackie.
Filmmakers never tire of tweaking flashback conventions. A more subdued variant of the crisis setup is used in Manchester by the Sea. Joe Chandler dies and his brother Lee, working as a maintenance man in Boston, is summoned back home to Manchester. These scenes alternate with episodes from the past, out of order, showing the brothers' relationship and Joe's eventual death. The crisis comes about fifty minutes into the plot, when in a lawyer's office Lee learns that Joe wanted him to take custody of his son Patrick and move back to Manchester.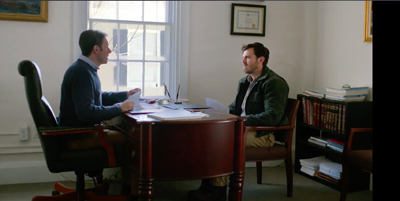 Lee's resistance to this plan is explained in another string of flashbacks that show the disintegration of Lee's marriage, the death of his children, and his attempted suicide. He has left the town behind and lives in self-inflicted pain and isolation.
At this point, the film reverts to chronology in the Now. The drama pivots around Lee forging a relationship with Patrick and coming to terms with his past. Only two brief flashbacks break up the story line, and those relate to Joe's disappointment at Lee's retreat from the world into a menial job. If the first half had been presented chronologically, we would have lost the sharp contrast between Lee's scowling reluctance to reach out to Patrick and the more vigorous, emotionally open man he once was. Hollywood films may not excel at portraying gradual character change, but flashbacks allow a sharp sense of Before and After that can suggest how humans remake themselves in response to events.
The mosaic quality of the flashbacks dotting Manchester by the Sea can be seen to a lesser extent in Jackie. Here there are four principal strands of time to be interwoven, with glimpses of others. One strand involves the Kennedy assassination and its aftermath–the public ceremony of the display of his body and his burial in Arlington. Another involves Jackie's consultation with a priest some time after JFK's death, discussing her plans to bury their first two children, who died as babies, alongside him. A third strand, temporally pre-assassination, presents her famous 1962 tour of the White House. Finally there's her post-assassination interview with a reporter who asks her questions about her role as First Lady and her handling of the horrific Dallas tragedy. We also get glimpses of the 1960 inauguration ball and Pablo Casals' 1961 concert at the White House.
The film opens with the reporter calling on Jackie and the two settling down for their talk. He's a bit provocative and probing, she's guarded and self-censoring. The somewhat odd angle of the shot/reverse-shot framings, with her eyeline only a little off-center and sometimes straight at the camera, conveys an eerie ceremonial stiffness.
The reporter's interview seems to be the frame for the flashbacks. Not only does their meeting occupy the normal position of a framing situation, but we're aware that another schema triggering flashbacks is a testimony situation. In court, in a police station, at home quizzed by a reporter: These often set up a flashback narrative. The probing-reporter schema was crystallized in the 1940s with, of course, Citizen Kane (1941) but also with earlier films like The Escape (1939), Edison the Man (1940), and The Great Man's Lady (1941).
Snowden is a good contemporary example of the reporter-interview frame. Long blocks of flashbacks are enclosed within a ticking-clock situation in the present. Snowden retells his life, in chronological order, for Laura Poitras and Glenn Greenwald.
The film's narration is largely tied to his range of knowledge during those periods, especially when suspense is at stake. We get plunges into subjectivity when he's struck by epilepsy, and much optical POV cutting, notably when he downloads the NSA files as officials mill around outside his cubicle. As often happens in classical filmmaking, the narration widens its perspective to provide montages of news reports and reactions to Snowden's revelations by his associates around the world.
Snowden tidily frames its past episodes by the present-time action before and after the big interview. The final scenes, and the credits, show the consequences of his whistle-blowing in the days and years afterward. But Jackie  revises the testimony schema in an unusual way.
As the film goes on, it's revealed that the reporter's interview with Jackie isn't the ultimate Now. The last events in the story chronology are Jackie's consultation with the priest and the burial of her children. But from about 45 minutes onward, the priest's attempts to console her are intercut with the interview. They are, in other words, flash-forwards.
They're initially concealed as such because they follow Bobby Kennedy's suggestion, in the assassination's aftermath, that Jackie talk to a priest. That cue inclines us to assume that the priest's advice is given during her final days in the White House. Only when the reporter phones his editor and says Jackie intends to bury the children beside Jack, and when Jackie tells the priest that the reporter's story went around the world, are we aware of the burial scene's place at the very end of story chronology.
This is a cogent example of schema revision: a frame that doesn't enclose everything that, by convention, it should. One effect is to make the burial of the children an unexpected climax–a revelation of how much death this woman has seen, and a counterpoint to the glittering image of "Camelot" on which the film closes.
So where you put your flashbacks turns out to be crucial. Had the flashbacks to Lee's tragic mistakes in Manchester come earlier, we'd probably be less sympathetic to him than we are; by the time of their arrival, we've seen his long-term suffering and are prepared to have a complex judgment of him. The timing of flashbacks also shows to good effect in Nocturnal Animals.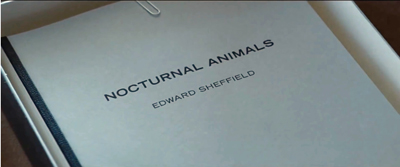 Most of Nocturnal Animals is dominated by another device for braking chronology: the embedded story. Here a plot involving new characters is wedged within the main story. Novels have done this for some time, as when a character discovers a manuscript that opens a story world containing a completely new cast. In the comic book Watchmen, the story Marooned is read by a minor character in the main plot.
In films of any period, such discrete embedded tales are rare. In the 1940s, the chief variant involves dream plots: the protagonist falls asleep and the dream consumes the bulk of the film, as a long flashback might. The main character might retain her identity, as Dorothy does in The Wizard of Oz (1939), or the dream character might be a new persona, as in Du Barry Was a Lady (1943), where Red Skelton becomes King Louis XV. Either way, an alien story world is opened up.
Nocturnal Animals contains an elaborate embedded story. Art-gallery owner Susan Morrow is in the dumps; her chi-chi friends are cold and her husband is having an affair. She receives the manuscript of a novel from her first husband Edward. Over some days Susan reads this harrowing pulp exercise set in west Texas, and it's dramatized for us in chunks. interspersed with her daily routines.
At first we might think that the novelistic sections are "objective" presentations of the scenes, a parallel fictional world. But about 45 minutes into the film, we get a flashback to Susan meeting Edward at the start of their romance. (Actually, it's a re-meeting; they had crushes on each other years before.) Thereafter flashbacks to their courtship and their marriage are interspersed with more stretches of the novel. Tony, the hapless, somewhat spineless protagonist of the novel, is played by Jake Gyllenhaal, who also plays Edward.
The flashbacks invite us to find a dose of subjectivity here. Is Susan reading the novel as a portrayal, deliberate or unwitting, of Edward's feelings of inadequacy in their marriage? She cheated on Edward with the man who became her second husband, so she may also be projecting her own guilt onto the terrifying fate of Tony's wife–interestingly, not played by Amy Adams, the actress portraying Susan.
In Nocturnal Animals, the frame is neater than in Jackie; at the film's end we return to Susan's present life. But an ambiguous ending asks us to consider how fully we have entered into her imagination.
There's a more drastic revision of the flashback schema, or rather the audience's presuppositions about it, in Arrival, which I've talked about here. But interesting flashbacks with a 40s flavor are also at work in James Schamus's Indignation, analyzed here.
Strands or blocks?
I think these examples show that it can be useful to think about film narrative from the standpoint of craft. Since the filmmakers made choices, what rationale justifies them choosing what we have rather than what we might have had?
For example, it would have been perfectly possible to arrange the time-layers of Jackie or Manchester by the Sea as blocks, separate chapters (perhaps given titles or dates) rather than as interwoven strands. Similarly, Nocturnal Animals could have shown us Susan's marriage to Edward as one block, then her life with her second husband, and then the embedded novel as one long stretch. Thinking about how these alternatives would alter our experience can give us insight into the benefits and costs of the choices the filmmakers went with.
Block construction became a somewhat popular storytelling option in the 1940s. Long flashbacks balanced against one another can create blocks, as in Citizen Kane and A Letter to Three Wives (1948). Similar were "chaptered" films like Holiday Inn (1942) and Meet Me in St. Louis (1944) and the episode-based films Fantasia (1942), Tales of Manhattan (1942), Flesh and Fantasy (1943), and others. Welles, always alert to trends, planned such a structure for It's All True.
2016 has given us two pure examples of block construction, both of considerable interest. The most visible one is Moonlight, which tells its character-centered story in three phases of the life of Chiron: his boyhood, his teenaged years, and his early adulthood.
The sections are announced by titles: Little, Chiron, and Black. The first two stretch over several weeks and show Chiron bullied by other kids and neglected by his crack-addicted mother. He also encounters helpers, at first the easygoing drug dealer Juan and his girlfriend, and later his schoolmate Kevin, who in the second episode is forced by the other boys to beat Chiron. The final episode unfolds in a single night. Chiron, now called Black and grown to be a powerful man, has become a drug dealer and is filmed somewhat parallel to Juan.
Black visits a diner where Kevin works. Tentatively their affection and sexual yearning for one another are rekindled.
As with any creative choice, there are trade-offs. Moonlight's sharply-edged episodes refuse a smooth arc of action; they sample his life and deny us a clear "coming of age" process. There are gaps between the stories, and the one between the second and the third episodes is crucial. We're left to imagine what happened to Chiron that turned him into the muscled, tough Black. Perhaps the fight that got him sent out of school–the moment when he fought back at the main bully–marks his turning point. Surely too his prison experiences shaped his transformation, but we neither see those nor hear him tell about them. Director-screenwriter Barry Jenkins has left us to note the vivid change in character without supplying what Henry James called the "weak specification" of all the events that shaped him. Block construction has left empty spaces for our imagination to fill.
Another fairly pure case of block construction is Paterson. (I discuss it briefly here.) The plot consists of a week's worth of events, broken into days starting on Monday. We follow Paterson the bus driver on his daily rounds of going to work, doing his driving, coming home to his wife, walking their dog, and sometimes paying a night visit to a local tavern. Some incidents are variants of others, such as the morning conversations with Donny, Paterson's supervisor, or the glimpses of different sets of twins around town.
The daily blocks are marked, at least initially, by a title stating the day of the week, but this pattern is varied: No titles for the weekend. Another marker is the opening shot of each segment showing Paterson and his wife in bed from straight above them.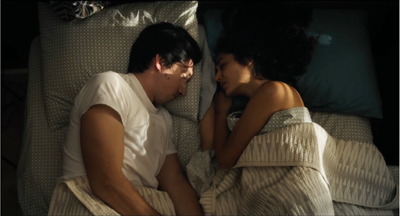 This image varies too, with different compositions and shot scales each morning, and in one case, Paterson alone. Cinematographer Frederick Elmes explains that each day changes:
So there's a routine. He's going to leave and return to the house at the same time every day, so it's going to look the same. I said to Jim [Jarmusch, the director], "It might be nice to have some gentle differences between them, to define one day from the next." That became our task, finding ways of keeping things visually interesting without going too far.
Today block construction often calls forth the sort of stylistic tagging pointed out by Elmes. The same differentiation of visual textures is found in flashbacks. A funny example occurs in Sausage Party, when Firewater explains how the Non-Perishables created the myth of humans as kindly gods. The framing situation in the present is given in chiaroscuro imagery with thick volumes and plausible (for a cartoon) depth. The flashback to humans' slaughter of the groceries is rendered in a screeching, retro/headcomix style and an abstract space.
This style is maintained for the fantasy version that Firewater and his cronies concocted to keep the groceries from panicking. Then we return to the narrating frame.
Not gentle differences here: glaring ones, suitable to comic exaggeration.
Something in-between operates in several of the films I'm considering. In Café Society, two cinematographic styles differentiate between the major locales, Hollywood and New York. Jackie's post-asssassination flashbacks are filmed in a free-camera style distinctly different from the locked-down, planimetric shots of the interview and the more studio-bound images of the TV filming of the White House Tour.
Likewise, Nocturnal Animals assigns three different "looks" to its three levels. DP Seamus McGarvey explains that Susan's present had to be "colorless, [with a] low-contrast anemic aspect to it." The story within the story is "colorful, more primaries." The flashbacks to Susan's and Edward's marriage have a softer, glowing texture.
Visually tagging blocks, fantasies, and flashbacks wasn't uncommon in the silent era, when filmmakers marked them with vignettes and soft focus. These optical devices, along with distorting lenses, were occasionally used in the sound era too, along with occasional shifts between color and black-and-white (The Wizard of Oz; Portrait of Jennie, 1949). On the whole, differentiating strands or blocks became a firm craft convention somewhat later, from the 1980s on. I talk about how that happened in The Way Hollywood Tells It.
Ooh-La-La Land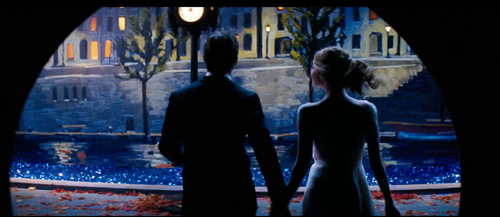 Believe it or not, I haven't exhausted the debts of 2016 movies to Hollywood in the Forties. There is, for instance, the device of voice-over, so common in that decade, which reappears in various guises, most notably that of the gossipy narrator of Café Society. There's also the strategy of confining the bulk of the film's action to a single location, which became notable in Angels over Broadway (1940), Lifeboat (1944), Rope (1948), and The Time of Your Life (1948). That method, common to low-budget thrillers, was ingeniously exercised in 10 Cloverfield Lane, The Shallows, and Don't Breathe. In another entry I've discussed how Sully uses the device of replay that became common in the 1940s.
La La Land sums up several of the tendencies I've mentioned. It displays block construction, with sections labeled Winter, Spring, Summer, Fall, and Winter… Five Years Later. The film's first section uses the flashback technique too. After we follow Mia out of the traffic jam and to the party and the piano bar, the narration jumps back to the traffic jam and tracks Sebastian through his day up to the moment he pounds out jazz at the piano. This brings them together. As she's about to compliment him on his playing, he brushes past her and leaves. At about 25 minutes in, this is the turning point ending the film's first part.
The rest of the film traces their other coincidental meetings until they fall in love, try to maintain their relationship, and ultimately break up. They re-meet at Sebastian's club, with Mia now married to a courteous side of beef. As the two look at each other and Sebastian takes over the piano to play their love theme, the film skips back to the first piano-bar encounter. Instead of passing Mia, though, Sebastian grabs her and they kiss.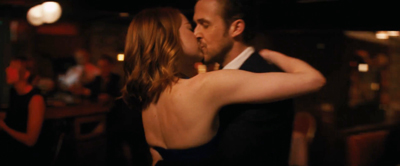 Now the narration posits an alternative story line in which they marry, become parents, and still have success. This what-if scenario is rendered in stylized settings, accompanied by moments of dance.
Like the visual tagging of blocks and flashbacks, this sequence needs to abstract its settings, theatricalizing them so they're set off from the real-world locales in which our characters have also been singing and dancing.
La La Land revisits a schema that was explored a little in 1930s and 1940s Hollywood: the alternative-universe story line created by forking paths. I've talked about the clearest early example, the 1934 film adaptation of the play Dangerous Corner. It's a Wonderful Life (1947) did it negatively: Imagine a universe without you (or George Bailey). A little-known instance from that period is Repeat Performance (1947), which offers its actress-heroine a narrative reset like that to come in Groundhog Day (1993), Run Lola Run (1998), Source Code (2011, talked about here), Edge of Tomorrow (2014), and many other media texts, including comics.
Again,the schema is creatively reworked. The past the couple might have had is played out with parallels to the real-world life that Mia found. The result is an epilogue balancing the traffic-jam prologue–these people, unlike the gridlocked drivers, have found their success in Show Biz–but at the cost of love. By showing us what might have been, the final sequence provides something both wistful and satisfying.
I regret missing certain films this year, particularly Kelly Reichardt's Certain Women, which seems to constitute an intriguing instance of block construction merged with a minimal network narrative. I look forward to catching up with it. And I've confined myself to Hollywood and off-Hollywood films, but I could easily have stretched the boundaries to include Elle (flashbacks), I Am Not Madame Bovary (block construction), Sieranevada (confined-space shooting, discussed by Kristin), Julieta (flashbacks, voice-over, etc.. etc., discussed in another entry), and many other imported films. These narrative strategies now belong to contemporary movie storytelling as a whole.
I don't want to leave the impression that as I'm watching new release a little homunculus historian in my skull is busily plotting schema and revision, norm and variation. I get as soaked up in a movie as anybody, I think. But at moments during the screening, I do try to notice the film's narrative strategies. Later, when I'm thinking about the movie and going over my notes (yes, I take notes), affinities strike me. By studying film history, most recently Hollywood in the 40s, I try to see continuities and changes in storytelling strategies. These make me appreciate how our filmmakers creatively rework conventions that have rich, surprising histories.
Thinking along these lines has made my 2016 moviegoing all the more fun. And a happy 2017 to you too.
---
E. H. Gombrich explains the concept of the schema throughout Art and Illusion, particularly in Chapter V and on pp. 313-314.
My quotation from Damien Chazelle comes from Mark Dillon, "City of Stars," American Cinematographer 98, 1 (January 2017), 57. The same issue's story "Quotidian Vision," by Iain Marks, includes the remark from Frederick Elmes (p. 22). Seamus Garvey's comments on the visual styles of Nocturnal Animals comes from Carolyn Giardina, "Beginning First in the Darkness, Then Moving toward the Light," Hollywood Reporter, Awards no. 1 (December 2016), 48; apparently not available online. In the same article Vittorio Storaro talks about differentiating New York and Hollywood pictorially in Café Society.
The cellphone conversation in The Shallows is an interesting turn back to a much older schema for representing phone conversations, using split screen. The first one below is is from College Chums (1907). We've seen similar phone-call diagrams since then in Pillow Talk (1959), Bye Bye Birdie (1963),  and Down with Love (2003, also below). Everything comes back eventually.
Other discussions of stylistic schemas hereabouts are in entries on lipdubs, shot/reverse-shot cutting, and Wes Anderson's narrative worlds.
There's another flashforward in these films: La La Land embeds a montage of the couple's creative work in their "City of Stars" duet at the piano. Another, smallish block, it anticipates the looped construction of the final fantasy epilogue.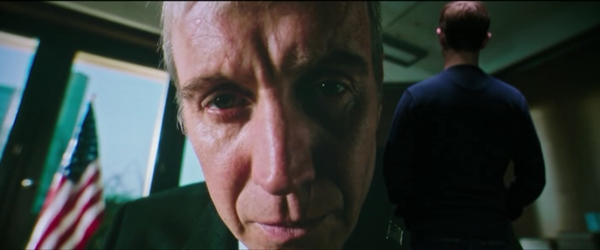 Snowden: Yet another revision of the shot-reverse shot schema, adapted for what John Dean called "telephonic communication."