Archive for March 2019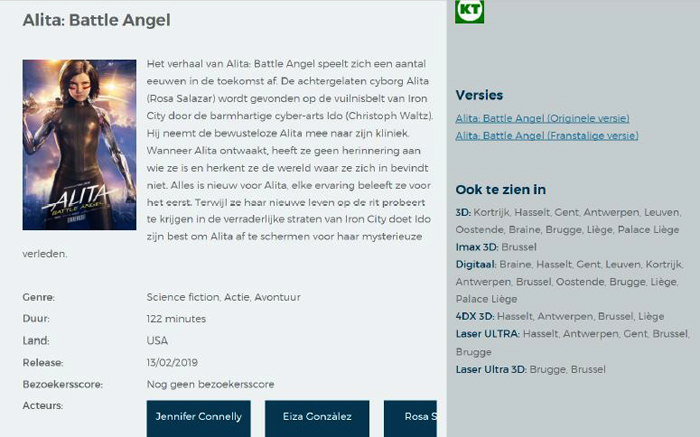 Kristin here:
On February 13, the day after I posted my blog entry, "3D in 2019: Real Dvided?," I received an email message from Belgian film critic David Vanden Bossche. He had been intrigued enough by my post to investigate the number of 3D screenings on offer in Belgian cinema chains in comparison with "standard" or "premium" 2D screenings. I had found 3D screenings the distinct minority in our local Madison theatres, even early in films' runs. David found the opposite in Belgium
To extend his investigation, David enlisted his colleague Tim Bouwhuis to analyze the proportions of 3D screenings in the Netherlands.
David and Tim's resulting online article, "Filmbeleving als Format: A 3D State of the Union," was posted on March 13 on Enola.be, a film and music site in Flemish. David kindly offered to send me an English translation of the piece. It turned out to be quite intriguing, since 3D in Belgium and the Netherlands is considerably more robust than in the US. I mentioned in my post that areas of the world outside North America have a higher proportion of 3D-equipped screens than we do here. The attention usually focuses on the Chinese market's enthusiasm for 3D. This enthusiasm is often credited with encouraging Hollywood studios to keep making 3D films despite their waning popularity in North America. But other countries favor 3D as well, and it's valuable to have an examination of a pair of small European markets.
Our thanks to David and Tim for allowing us to present their article here as a guest post.
On 12 February, following the American premiere of Alita: Battle Angel, Kristin Thompson posted a new entry, 3D in 2019: Real Dvided? Thompson investigated the state of 3D within the contemporary theatrical environment in the United States. Her conclusion was crystal clear: 3D's share within American movie screenings has steadily declined in the last decade, when Avatar urged most theatre chains to make the switch to 3D projection. The numbers Thompson presents abundantly show that American multiplexes are less and less inclined to include large numbers of 3D screenings in their programs, and that 3D is losing ground to another 'premium' format such as IMAX.
Those findings were intriguing enough suggest a closer look into the Belgian situation. Because that is ultimately a small market, I contacted fellow film critic Tim Bouwhuis, who lives in the Netherlands and could thus provide some information on the particular situation in his home country. Our research allowed us to collect an acceptable amount of material and provide us with numbers that paint a rather different picture than the one to be found in Thompson's piece. The data we collected show a different evolution for 3D in these two countries and possibly in the whole of Europe. Further research could shed some light on this. Even a limited study, however, offers some possible explanations for these differences. This entry will tackle some of them.
United States: RealDvided
Before dealing with the situation in Belgium and the Netherlands, it is probably a good idea to summarize what Thompson presents in her piece.
Starting with screenings in her hometown Madison, Wisconsin, she observes that 3D's share in the number of screenings of recent blockbusters is surprisingly limited. Thompson broadens the scope with additional numbers from other cities, concluding that this is definitely not a local issue.
The growth in 3D emerges with the success of Avatar and the consequent peak in 3D earnings in 2010. Since then, 3D's share of film grosses has been in decline. Production of 3D television sets – a prime feature in store windows just a few years ago – has all but halted. Even if one should exercise some prudence in declaring the death of 3D in a theatrical environment, it is safe to state that its intrusion into the living room has failed spectacularly.
It is remarkable that other 'premium formats' (Thompson refers to these as PLF – Premium Large Formats,' a term we will stick with here) such as IMAX or various "ultra" and "grand" large-screen auditoriums (usually offering extra comfort and superior sound) are gaining in popularity, while 3D is on the decline. That means the public is willing to pay extra for a 'premium' – PLF upcharges are as high or higher than those of 3D – and apparently often prefers to pay for PLF rather than for 3D. This process obviously suits the theatres' economic agenda: a large part of the extra income returns to the distributor and – as Thompson points out – there's also the extra cost for 3D glasses. The upcharges may also make the visitor less inclined to spend money on food & beverages, a vital source of income for theatres. That means the final balance might be rather negative from the theatre's point of view in the case of 3D revenues. The fact that PLF's may net a larger profit thus adds another extra factor working against 3D.
One might expect that in case of Alita the figures would be rather different. The film is produced by James Cameron, one of 3D's most prolific advocates and arguably one of the few directors – along with Ang Lee, Martin Scorsese, Werner Herzog, Gan Bi and (even) Jean Luc-Godard–who actually tried to explore the true potential of 3D's formal cinematic language.
The numbers Thompson presents, however, show that even an "event" film such as Alita does not always encourage US theatre owners to schedule more 3D screenings. Thompson points out that there might also be a more practical issue at work here: the clarity of the image is one of the more troublesome issues 3D faces. To solve this, Cameron and Roberto Rodriguez (who took the directing honors when it turned out Cameron was too busy preparing the Avatar sequels) made sure the DCP's (digital cinema package, used to send movies to theatres since the disappearance of film stock) came with a set of guidelines. These technical complexities, combined with pricey investments and low returns, make for a cocktail that encourages theatres to drastically cut back on the number of 3D screenings.
Belgium: The Kinepolis experience
Intrigued by Kristin Thompson's article, I gathered comparable statistics for Alita in Belgium. See the top image for an ad listing the formats available during the first week of release at Kinepolis Group theatres in Belgium.
That's a lot of 3D ! No fewer than four of these six formats integrate 3D into the theatrical experience. Obviously, a film such as Alita is likely to receive such a treatment and definitely during its first week. It is also necessary to look – as Kristin Thompson did – at the relative percentage of 3D versus "standard" 2D screenings. A ten day interval seemed ideal to reassess the situation. Here are schedules for two Kinepolis theatres ten days after the film's opening.


As it turns out – depending on the Kinepolis theatre one chooses to visit – 3D still makes up between 42 and 67 percent of Alita's daily screenings. The highest number is reserved for Kinepolis Brussels, with the theatre being the only one equipped with a full-fledged IMAX screen. IMAX as a PLF in Belgium is used  exclusively for 3D screenings, save for some very rare exceptions.
As pointed out already, Alita can be regarded as an exceptional production that integrates 3D as part of its raîson d'être and its promotion. Alita's figures might be exceptional, so looking at a comparable title might be necessary. The Lego Movie 2 made its debut about three weeks later, is also shown in 3D and thus makes for a perfect comparison.

3D's share is smaller here, but still 40 percent of the screenings are in the 3D format, a number well above the American averages.
Because two titles might still represent a distorted sample, we contacted Kinepolis Group Belgium and asked them to provide us with some material that would allow to have a better general idea about the significance of 3D within their total number of screenings and their profits and the way this share has evolved (or is evolving).

These numbers are clear enough to allow some conclusions. Both in 2017 and 2018, 4 out of 5 of the most popular films for Kinepolis Belgium were 3D movies. 2018's numbers even show that both the relative share and the absolute numbers (and thus the weight of the top 5 and 3D) are indeed increasing. Obviously that does not mean that every paying visitor opted for 3D (or one of the various combinations of 3D and PLF), but as the general share of 3D screenings for every movie released in this format at Kinepolis theatres in Belgium is situated anywhere between 40 and 60 percent of the total number of screenings. That means this percentage can be applied to these numbers.
The Kinepolis representative pointed out that the percentage of 3D screenings for a movie is determined on the basis of the quality of the 3D imagery and the way the 3D format enhances the viewing experience. Alita is perceived to be a prime candidate for these arguments and thus the number for 3D screenings is very high and at the lower end for The Lego Movie 2. Even if one sticks to the lower end of the scale, however, the importance of 3D screenings within the total number of screenings is still remarkable.
Beyond Kinepolis
All those results lead to a single clear picture: unlike the American situation, 3D is still positions itself as the preferred "premium format" in Belgium. Its impact on the total number of screenings (in Kinepolis theatres) is still very significant and shows no signs of diminishing.
I believe there are a few elements at play to create this situation. One of the first emerges when we take a look at the Alita screenings outside of Kinepolis theatres. Another large chain of theatres, UGC, provides a useful comparison. (Most independent movie houses have not screened Alita). The schedule immediately below is for a UGC cinema in Antwerp, and below that, one in Brussels.

In Antwerp there is not a single 3D screening to be found; in UGC Brussels, there's just one, while the same day lists 8 standard screenings. The discrepancy between these numbers and the ones at Kinepolis are easily explained: UGC has a very limited number of 3D screens.
Slowly it becomes clear that the very specific situation of the Belgian movie theatre environment is an important factor in all of this.
Kinepolis Group was formed through the joining of two large family companies, the Claeys & Bert Groups. At the start of the 19080s, they began setting up a chain of theatres that no longer consisted of the smaller movie theatres Belgium had known up to that point. Their theatres introduced multiplex to the country. "Decascoop" in Ghent (first 10 screens, with two added later) and the other early Kinepolis theatres benefited from the rise in ticket sales in the early eighties and consolidated their position by being the only theatres around the country able to show box-office hits such as E.T., The Extra-Terrestrial and the "Indiana Jones" trilogy, on multiple screens. 1988 saw the inauguration of Kinepolis Brussels – at that time one of the largest theatres in Europe – along with the first IMAX screen in the country (and most neighbouring countries).
At that time though, IMAX was a used only to screen spectacular documentary films that offered the sensation of flying through the Grand Canyon, diving into the ocean or being in outer space. Production of these films was rather limited. When the audience started to lose interest, Kinepolis halted its programming in 2005, just when the US market was taking its first steps towards IMAX screenings of regular releases. Christopher Nolan's films were instrumental in the process that eventually turned IMAX into a popular "premium format."
More or less simultaneously 3D resurfaced. The format enjoyed some popularity during the fifties (Hitchcock's Dial M for Murder comes to mind) and returned in the early eighties, blessing film history with a few horrendous films as Jaws 3D and Friday The Thirteenth – Part III 3D. The more recent revival of 3D gained impetus with the releases of animated films, notably The Polar Express (2004) and Chicken Little (2005) and was given a boost by U23D (2008). Other animated and concert films followed, but it was Avatar, with its combination of 3D with the latest state-of-the-art special effects technology, that pushed theatre owners to convert their screens to digital projection, the necessary prerequisite for add-on 3D capability. Its huge success started an evolution that promised the full potential of the 3D cinematic language would finally be explored. When Scorsese, Lee, and Godard took up experiments, it even briefly seemed this would actually be true.
In the US, although Cameron's smash hit dictated the rapid spread of 3D technology, the format still had to face competition from the already established IMAX format. That was not the case in Belgium or the Netherlands. Kinepolis Group – the dominant chain by now – solely promoted 3D, and this position dictated the whole theatrical environment. The IMAX screen reopened in 2016, when 3D was well established as the preferred premium format. IMAX was (and is) used almost entirely for 3D screenings.
It is necessary to include another element here: the exceptionally high projection standards at Kinepolis Group. When John McTiernan came to Brussels in 1988 to launch Die Hard, he claimed that there was probably no better projection of his film to be seen anywhere in the world. Those might have been the words of an overly enthusiastic director, but they illustrate the high technical standards within Kinepolis Group. Other theatre chains were more or less forced to follow suit.
Because quality projection became the standard, any other "premium" format faced a high hurdle when it came to distinguishing itself. "Laser Ultra" already offers an exceptional viewing experience on a very large screen, so further investment had to be justified by something beyond image quality or a larger screen. 3D offered such a distinctive element and extra added value and initially did not face any competition from PLF's. When that changed, Kinepolis kept promoting 3D, with combinations: "Laser Ultra 3D" and "4DX," which adds vibrations to the experience.
All of the above means that 3D's position in the Belgian environment is very different from its position in the US. Obviously Kinepolis also needs to pay the distributors, but a new deal with RealD on the use of 3D glasses consolidates Kinepolis' position and intensifies their efforts to promote 3D. All of this means that the format will remain popular in Belgium. In this way, Kinepolis Group's market position also dictates 3D's standing as the preferred "premium" format in Belgium.
The Netherlands: Experiences & attractions
The Kinepolis Group is also a dominant factor in the Netherlands, which makes comparing the situation in both countries an interesting endeavour. The Netherlands' theatrical environment has two major chains, Pathé and Kinepolis, both of them part of larger European concerns.  Pathé is part of the French group 'Les Cinémas Gaumont Pathé' – a company that has its roots in the early days of cinema. Pathé owns 28 theatres, spread out over 20 Dutch cities. Kinepolis is a branch of the Belgian company and owns 17 theatres in the Netherlands.
With 21 theatres, "Vue Nederland" also deserves to be mentioned, although  their total seating capacity is rather limited and has its main focus on smaller provincial towns.
The rise of new technologies, PLFs and "extra" movie attractions such as 4DX, has lead to a situation in which standard screenings have become something of a curiosity in the multiplexes of most major cities. Almost every theatre in a major city boasts 3D, Dolby Atmos or another premium feature. Developments in sound and imagery are promoted: Pathé even distinguishes between Dolby Atmos and Dolby Cinema, with the first emphasizing immersive sound.
Six IMAX screens are spread throughout the country, although most of them would not stand up to a purist's scrutiny: the largest one – Pathé Arnhem – measures 21×12 metres, whereas a standard IMAX screen is supposed to be at least 22x16m. The Dutch IMAX venues pale in comparison to Brussels' enormous 27.6 x 19.3 screen.
This variety of screens, systems, and venues makes it difficult to get a good grip on the partition of different formats, so once again we turned to specific Alita screenings available on February 2, 2019 :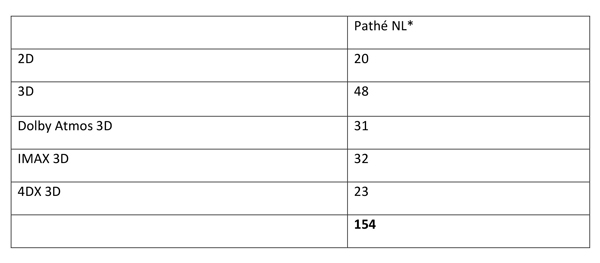 At first glance, standard 2D and 3D screenings are balanced by premium screenings. That perception changes, when we take into account that only 5 out of 25 theatres feature 4DX, 5 offer Dolby Atmos 3D and 6 offer IMAX. That means that in some theatres it has become all but impossible to see a standard 2D screening.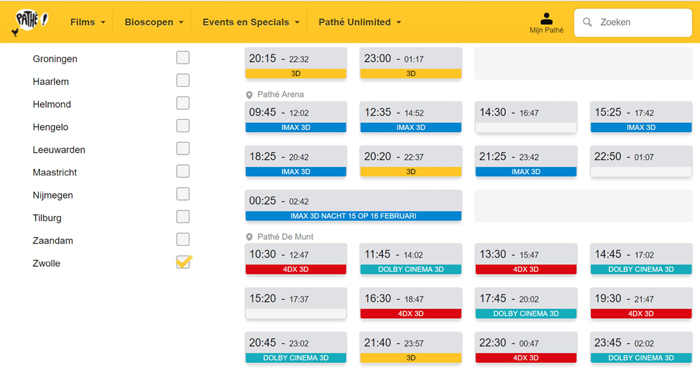 The most important factor here is the fact that theatres that offer 4DX/Dolby Atmos 3D/IMAX, focus almost entirely on these formats. Those theatres are usually situated in larger cities, thus rendering it almost impossible to see a standard screening there. Amsterdam/Rotterdam (see above and below) are prime examples:  out of 44 combined screenings only three of them are standard screenings. In Scheveningen, Maatsricht or Eindhoven there are no standard screenings to be found at all on the same day.
Most theatres are still located in smaller cities, and a general overview would thus suggest a rather balanced field of standard and 3D screenings. But even in those smaller venues – that do not offer the extra attractions 4DX, Dolby Atmos 3D or IMAX, the 3D screenings still outnumber standard screenings (see below)
3D vs 2D in theatres without 4DX, Dolby Atmos and/orIMAX as of February 15, 2019: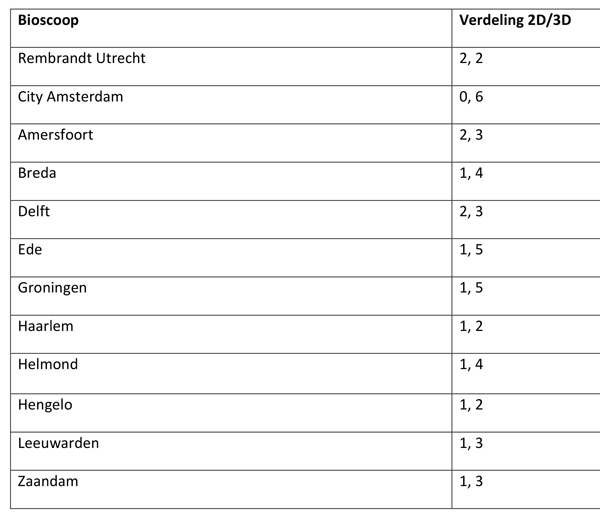 With 1 out of 3/3/4 , it is clear that 3D screenings are dominant in Pathé theatres. Even daytime screenings on weekdays are 3D, which relegates standard 2D screenings to the position of a rarity.
Kinepolis' available number of formats in the Netherlands is more limited than in Belgium. Neither IMAX nor 4DX is an option here. For Alita that results in: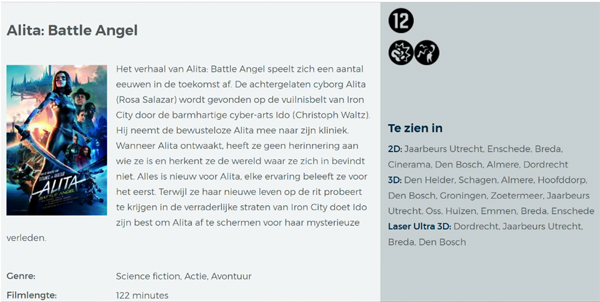 The Vue chain competes with Kinepolis and Pathé in offering DX theatres that combine Dolby Atmos with superior projection technology. As in Belgium, the dominant chain sets the technical standard. A select number of theatres offers D-Box chairs that move with the action on screen. The American film critic Jeffrey Wells describes D-Box chairs as "4 DX's less dynamic cousin." (D-Box is Canadian in origin, while 4DX is South Korean).
Pathé, Vue and Kinepolis promote their different PLFs in exactly the same way, using "experience" and "immersion" as unique selling propositions. With 4DX the movements and effects start competing with the images for the viewer's attention, returning the cinematic experience in a ironic way to its attraction-based origins when it was something to be experienced at fairgrounds and other shows.
In sum, the Dutch theatrical environment resembles the Belgian. A high technical standard has become the zero-line for movie screenings and 3D has penetrated the market to such an extent that it is no longer perceived as being a "premium" format, which leads to a set of various attraction-based formats that try to justify the extra cost.
At this point Dolby Atmos, Imax, and 4DX are still perceived as novelties, but it is likely that exhibitors will need additional attractions in years to come. Rising admissions for PLFs and anything "premium" suggest that visitors are constantly looking for more immersive experiences (according to the "Dutch Foundation for Film Research" in their 2018 yearly review). The number of available PLFs has significantly risen in the last few years and as long as the dominant chains continue to invest in these formats, others will follow suit. Kinepolis and Pathé set the standard, competing chains adapt.
Whether or not the public is actually asking for these technologies remains a topic open to discussion. One could claim the public merely adapts to the industries' innovations. Still, there is no denying that PLFs turn a large profit.  In Pathé Rotterdam the regular ticket price for PLF is 18 euros, while a standard screening will cost you 11 euros. Despite the cut that needs to return to the distributors, the cost for 3D glasses, and the "hardware" investments, 3D in all its forms is dominant when it comes to movie screenings in the Netherlands. The late entry of IMAX into this environment (as in Belgium and contrary to the US) meant 3D had little or no competition and consolidated its position as the preferred "premium" format.
These conclusions to come with some nuances. The Dutch part of this piece limits itself to one title and three dominant chains. Independent movie theatres were not addressed and obviously Alita: Battle Angel has some standard screenings outside of the major theatre chains. There is enough conclusive evidence, however, to support the claim that standard screenings have all but vanished in the larger cities.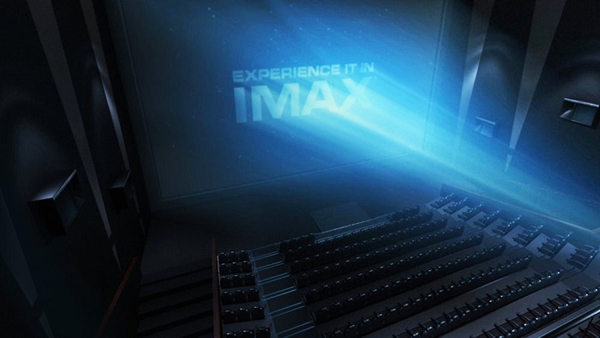 A publicity image for Kinepolis, Brussels.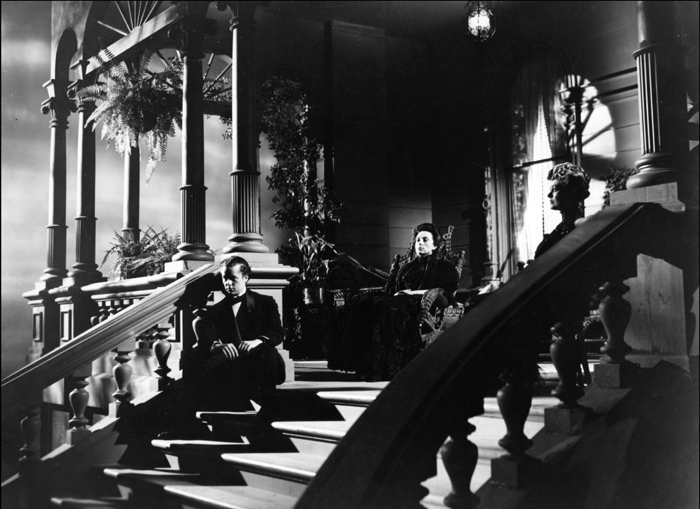 The Magnificent Ambersons (1942). Production still from lost scene.
DB here:
This is the third blog entry amplifying on the paperback edition of Reinventing Hollywood: How 1940s Filmmakers Changed Movie Storytelling. This mini-series tries to enhance the book's arguments by taking into account books and DVDs that have come out since the hardback publication in 2017. (Previous entries are here and here.) Today I want to talk about what T. S. Eliot called "tradition and the individual talent" in a realm Eliot would disdain: American studio cinema.
Curtiz, pronounced Cur-tess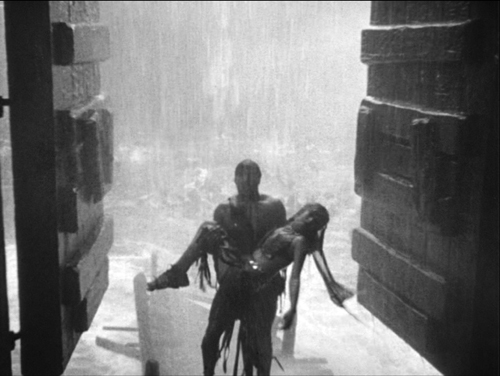 Noah's Ark (1928).
Reinventing Hollywood offers itself as an alternative to two major ways of understanding the films of a period. One angle is to see creativity flowing from gifted filmmakers. The story often concentrates on how they have to struggle against the constraints of the film industry. In the Forties, Orson Welles would be a prime instance, though Preston Sturges and others could also be invoked. Without denying the talent and originality of key filmmakers, and without neglecting the stubborn ignorance of many executives, I wanted to show that in many ways creativity can be enabled by the conditions of the industry.
Genre is an obvious instance. Without the Western, where would John Ford be? The musical brought out the gifts of Minnelli and Donen, just as the crime film spurred Huston and Anthony Mann. I wanted to suggest that filmmakers were challenged to work with other normative factors than genre—factors centering on how stories were told. Writers and directors collectively amassed a menu of narrative options, from flashbacks to voice-overs, that got quite refined in the course of a dozen years or so.
Some sympathetic readers have considered the book anti-auteurist because I emphasize those pooled resources that any filmmaker, weak or strong, could draw upon. To some extent, that's right: stretches of the book resemble "art history without names." Tony Rayns warned readers that they should read Reinventing Hollywood with Leonard Maltin's Movie Guide at hand.
Not a bad idea. A single paragraph compares A Child Is Born (1940), One Crowded Night (1940), Busses Roar (1942) and Dial 1119 (1950). None of them is exactly a lustrous classic, and I didn't mention the directors or the screenwriters. My main point is that these films play out variants of the Grand Hotel plot, and they show how even artisans can take the opportunity to revamp current norms.
So for my project, creators of whatever rank matter. In the course of my research, it struck me that three "creative producers"–Hal Wallis, David O. Selznick, and Darryl F. Zanuck–are as important as many directors. The same goes for screenwriters, such as Casey Robinson, Vera Caspary, and Ben Hecht. And now that we have biographies of Victor Fleming and William Wellman, we're starting to understand the importance of skilled directorial artisans. I'll take even so-so craftsmen (and craftwomen) if they can teach us secrets of Hollywood carpentry. Charles Lang and Walter Lang are no Fritz Lang, but they made more popular films, and we can study the ways they instantiate filmmaking norms.
Then there's Michael Curtiz.
Andrew Sarris claimed that "Curtiz reflected the strengths and weaknesses of the studio system," and most writers have agreed.  Although Curtiz is mentioned by name only twice in Reinventing Hollywood, I draw examples from ten of his films, from Four Daughters (1938) to Young Man with a Horn (1950). I devote most space to Passage to Marseille (1944). Mildred Pierce (1945) is absolutely central to the book's arguments, but as I've written about it before, both in print and online, I didn't rehash my argument in the book.
Which is to say, I guess, that Curtiz exemplifies what I was analyzing. He was a master craftsman who has a lot to teach us about norms, both inside and outside Hollywood.
Alan K. Rode's biography, Michael Curtiz: A Life in Movies, focuses on the man and his accomplishments, and it paints a vivid portrait of a director of intense creative and sexual appetites. He also liked polo. Drawing on memos, production records, and memoirs published and unpublished, Rode provides brisk, telling background on dozens of films. He dwells, as you'd expect on the milestones: Noah's Ark, the early 30s horror films like Dr. X,  Angels with Dirty Faces, Yankee Doodle Dandy, Casablanca, and the Flynn vehicles. But he doesn't neglect the fleet-footed programmers like The Kennel Murder Case (1933) and The Case of the Curious Bride (1935), projects enlivened with fancy angles, propulsive pace, and bold tracking shots.
On-the-set anecdotes keep things lively. Rode is careful to debunk some of the most famous stories, but he leaves a lot of good ones in. His conversational style is likewise engaging. He compares Peter Lorre to "a sinister kewpie doll" and calls Alexis Smith lissome, using a word I had forgotten exists. Although Rode isn't as interested in the questions I pursued, his book set me thinking about creativity in the studio system. Specifically, we can broaden our view of Curtiz's career, which ran from 1912 to 1962, and see it as encapsulating some major trends in commercial entertainment cinema, inside Hollywood and out.
Starting well before DeMille, Ford, Hitchcock, Hawks, Walsh, and other Hollywood auteurs, he was initiated into the standard tableau style of the 1910s. Fairly distant shots in long takes relied on deep sets, staging and performance. Cutting was used principally to shift the scene, show adjacent locales, or occasionally enlarge a detail. The Undesirable of 1914 (available in a stunning restoration distributed by Olive) shows fairly orthodox choreography of figures in depth and across the frame, with foreground figures masking irrelevant background action.
Apart from Lubitsch and DeMille, most of the directors who had long careers in the studio system didn't come out of tableau cinema. They began by practicing the rapid editing and close-up framings that emerged in America in the mid-1910s. Curtiz was more or less up to speed with them in his stupendous Viennese production Sodom und Gomorrha (1922, available on a well-restored DVD version). He breaks up vast shots with axial cuts, close-ups, and occasional reverse angles. This nutty film, surely one of the biggest productions of the day, used kitschy modern sets for the contemporary story, expressionist ones (with cadaverous jailers) for dreams, and gigantic pseudohistorical ones for Biblical bacchanals.
His first American film, The Third Degree (1926), tries to bring into Hollywood some fashionable European stylization. Curtiz showcases flashy camera movements, rapid rack-focusing, swift montage, and distorted subjectivity reminiscent of French Impressionist cinema. The specific reference is Dupont's Variety (1925). Curtiz's tightrope shots mimic Dupont's trapeze angles, and prismatic superimpositions of eyes during the cops' third degree recall the swirl of the spectators' eyes in Variety.
When a detective drops down to investigate a clue, Curtiz doesn't hesitate to cut to a skewed view framed by the arm and leg of his crouching colleague.
Much of Noah's Ark (1928) uses standard silent-film continuity style, although Hal Mohr's lighting sparkles even more than in The Third Degree. Curtiz's opening montage relies on wide-angle compositionss of a type resembling Murnau's late silent pictures. Here we dissolve from Biblical worshippers of gold to modern stockbrokers, and the dense packing of figures recalls William Cameron Menzies' work of the same period.
But Curtiz's most flamboyant effects are reserved for the spectacle, especially in the preposterously vast flood scenes with devastation that recalls the rain of fire in Sodom und Gomorrha.
In his sound pictures Curtiz was less outré, but he never lost his taste for momentary flourishes. Anybody who starts a film called The Keyhole (1933) by moving the camera through a keyhole gets points from me.
Curtiz made his name as a master of crowd effects, and he didn't shrink from handling groups in tight interiors. A hotel-suite party in Kid Galahad (1937) runs thirteen minutes and is packed with movement. The first shot starts on a phonograph, two abandoned drinks, and a carelessly smoldering cigarette–details indicating a wild party, and setting up the importance of serving drinks in the scene to come. Tilt up to a mirror that hints at a space we'll soon visit.
The next shot launches a leftward track across two rooms, motivated by a damsel's wild shimmying. People are packed into the foreground and distance. In the next room the dancing woman carries us to card players before we settle on the fight promoter played by Edward G. Robinson, who calmly gets a haircut amid all the revelry. (After all, the party has lasted three days.)
As these Kid Galahad shots show, Curtiz favored low angles and moderately wide-angle lenses to jam his figures together. In the party scene, he multiplies setups freely, almost never repeating one exactly. (Compare the slightly different framings of the second and third image.) The confrontation of two prizefight gangs is played out in a tricky mirror shot.
By comparison, W. S. Van Dyke's handling of an apartment party in The Thin Man (1934) looks timid.
Watch Four Daughters (1938) and Four Wives (1939) to see how adroitly you can choreograph a big bunch of people strewn around a parlor. In the first film, Curtiz never lets us forget the defensive outsider Mickey (John Garfield), disturbed by this loving household and shielding himself behind the piano. Some might say that Curtiz's use of "distant depth" is less heavy-handed than Welles' in-your-face foregrounds in Kane, three years later.
Rode shows how Curtiz managed to control his films while shooting. From the start, in The Third Degree, he freely added scenes to the script. Thereafter, producer Hal Wallis railed at his "overshooting" with more angles than most directors would use, and he added props and actors without permission. Hawks, Hitchcock, and Ford would work uncredited on the screenplay, but Curtiz simply changed the script on the fly. As he gained more authority, he prepared new dialogue and business at night with his wife Bess Meredith.
Often over budget and schedule, constantly berated by his bosses, Curtiz got away with it all because the films were usually successful and critically acclaimed. Besides, the complaints usually came too late; he was already at work on the next movie. In some years he turned out six features. He's a good example of a how a vigorous Hollywood artisan could leverage the system through both craft and craftiness.
Wellesapoppin'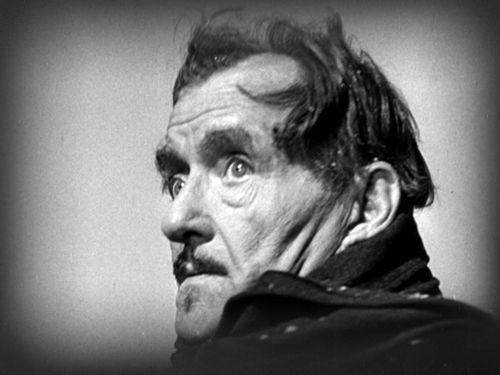 I can't foreswear auteurs altogether.  Reinventing Hollywood does spare some time for Preston Sturges, Mankiewicz, Hitchcock, and a few others.
Notable among those is Orson Welles, who threads through my story. Citizen Kane helped popularize flashback narrative for A-pictures, and I argue that its use of the device blended several options that had floated around in the years just before. In the chapter on Hollywood's efforts to interpret its own traditions, Welles and Sturges come forth as proto-film-geeks citing film history. The Magnificent Ambersons is imbued with a nostalgia for silent films. There's the edge-vignetting on the early scenes (above), the famous iris that closes the snow idyll, the final credits showing the players more or less addressing the viewer, and the very geeky posters I illustrate in this entry and those leading up to it. The now-lost scene on the veranda with George, Aunt Fanny, and Isabel, shown at the top of today's entry, included a vision of Lucy appearing to George "in transparency (the shadowy ghost figure from the silents)."
Most extensively, Reinventing discusses Welles and Hitchcock as directors who shaped 1940s storytelling conventions and then had to respond to others' use of them. I'm again trying to set auteurist claims in a wider context, that of a flourishing ecosystem of creative choices. Just as important, both directors continued using 1940s strategies throughout their later careers. Welles' importation of Theatricalist stage theory into film, along with his reliance on flashbacks, voice-over, and embedded stories, are central to his later work.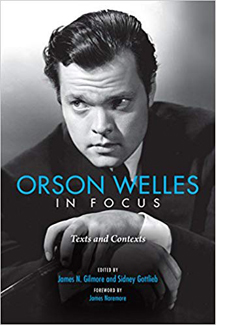 Research on Welles never stops, and so I'm happy to welcome new developments. There's of course the rehabilitation of The Other Side of the Wind, which features flashback construction, films-within-the-film, voice-over, and other preferred Wellesian tactics. Now we also have Orson Welles in Focus, edited by James N. Gilmore and Sidney Gottlieb, with an introduction by James Naremore.
It's a set of papers from a 2015 centenary conference on Welles at Indiana University, and they're all stimulating and wide-ranging. Margaret Rippy reveals the roles of Asadata Dafora and Abdul Assen in collaborating with Welles on the 1936 Macbeth, while Catherine L. Benamou, an expert on It's All True, shows how the episodes open up different options for transcultural critique in the documentary mode. Welles' 1946 Broadway musical Around the World gets careful consideration by Vincent Longo, who intriguingly relates it to Bazin's contemporaneous reflections on theatre and film. François Thomas incisively exposes the financial and legal tangles around Mr. Arkadin (1955).
Welles the fighting liberal gets important attention in two essays. Sidney Gottlieb, who has been assiduously collecting Welles' writings for years, surveys the director's journalism for The New York Post. Similarly, James N. Gilmore scrutinizes Welles's 1946 correspondence, where he continued to denounce racism and antisemitism.
The two essays most relevant to Reinventing Hollywood touch on Welles as cinephile and Welles as storyteller. Matthew Solomon provides a detailed account of Welles' love of "old-time movies." Solomon is especially enlightening on Welles's fondness for citing films made before his birth, as if there he found the most powerful images of  "pastnesss." Shawn Vancour traces how Welles' use of first-person narration in the 1938 War of the Worlds broadcast develops norms of radio storytelling that were emerging at the moment. Using manuals for radio scriptwriting, Shawn shows that Welles' shifts between present and past, first-person and third-person narration became common in the years that followed. Both of these essays enrich points I tried to make in my book.
Then there's that triumph of modern DVD publishing, Criterion's long-awaited version of The Magnificent Ambersons. A gorgeous transfer is accompanied by a booklet of discerning essays by Molly Haskell, Luc Sante, Geoffrey O'Brien, Welles himself (on his father), and Farran Smith Nehme (on Welles' speaking voice, which definitely deserves analysis).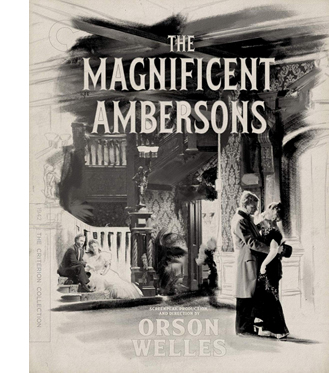 On the AV bonus front, producer Issa Clubb has wisely retained many items that made the company's pioneering 1986 laserdisc release a demo of what that format could deliver. We get Robert Carringer's sensitive voice-over commentary, an audio recording of Welles' radio adaptation of Tarkington's novel, some interview bits of Welles discussing the film, and the remaining clips from Pampered Youth (1925), an earlier adaptation of the book.
We've unfortunately lost Carringer's visual essay on the film's style, and Welles' storyboards and shooting script, rendered in that single-frame technology that made CAV discs clunkily hypnotic. But the new material more than compensates. Clubb has turned a treasure chest into a cornucopia.
We get a second Mercury Theatre radio play, this one based on Tarkington's Seventeen. A second audio commentary track, featuring James Naremore and Jonathan Rosenbaum, finds illuminating new things to say about this all-but-masterpiece. I also learned an enormous amount from François Thomas's essay on the mix of cinematography styles in the film, which he tracks through daily production reports. Stanley Cortez, whom Kristin and I once interviewed across two fruitless hours, was only one of several DPs working on the movie.
Christopher Husted shows how the careful parallel scenes of the full-length version received delicate scoring by Bernard Herrmann, who took his name off the film when RKO recut it. A panoply of interviews with Welles, Simon Callow, Peter Bogdanovich, and Joseph McBride is sure to interest old fans and newcomers. The story of Ambersons will never grow old, and we've made remarkable progress in understanding its intricacies.
Magnificent ruin
Welles went to Brazil at the behest of the US government, to make a film supporting the "Good Neighbor" policy toward South America. Shooting on Ambersons finished in January 1942, and Welles left his notes with Robert Wise, the film editor who was to oversee postproduction. Wise was to bring a draft result to Welles in Rio, where they would fine-tune it. But wartime travel restrictions, and perhaps RKO's reluctance, kept Wise at home.
In the trade papers, RKO claimed that Welles was fully engaged in finishing and cutting Ambersons in Rio. "Orson Welles So Tireless, Cuts 'Ambersons' by Wireless," ran a rhyming headline in Hollywood Reporter. The first sneak preview was reported as being 2 1/2 hours, a second around two hours, but Robert Carringer in his authoritative study, The Magnificent Ambersons: A Reconstruction, has suggested on the basis of production correspondence that the first preview version probably ran about 101 minutes, the second around 117.
Reacting to harsh audience criticism, Welles' associates at RKO decided that film had to be cut and new scenes had to be shot. Joe McBride's Criterion interview exxplains that the studio had lost faith in the project and was ignoring the detailed instructions that Welles sent by cable. By this time, because of contract renegotiations after Kane, Welles no longer had right of final cut. But RKO continued to claim, as in this 29 April Variety story, that the director was fully on board.

Actually,  two weeks earlier, Carringer tells us, studio head George Schaefer had transferred authority over the final cut to Wise.
The studio announced that changes were being made, though they seem never to have been specified. Press releases built on Hollywood's continuing dislike of the boy genius. One story was put out that Welles had demanded that Joseph Cotten send him "weekly shipments of Chinese dishes" by air, as if defying wartime privation.
Ambersons had been planned as a "special" alongside other big RKO-distributed titles (The Pride of the Yankees, Bambi), and aiming at an Easter release. Instead, it was eventually absorbed into a block of titles, which was the standard way of packaging A and B pictures together. The recutting pushed the film's release into the doldrum days of summer, the graveyard for second-tier product. After a July debut in Los Angeles, it didn't appear in New York until August. Box office was initially good in some venues, but nothing compared to the big hits of 1942: Mrs. Miniver ($5.4 million in rentals), Yankee Doodle Dandy, Random Harvest, Reap the Wild Wind, Holiday Inn, The Road to Morocco, The Pride of the Yankees, and Wake Island.
A quick sampling of newspapers around the country shows that into the fall, the film sometimes appeared alone on a program (even in La Crosse, Wisconsin). Elsewhere it seems to have been the top of a double bill that includes such items as Syncopation, Her Cardboard Lover, Little Tokyo, USA, Ellery Queen's Desperate Chance, and most notoriously, Mexican Spitfire Sees a Ghost. 
Was it Ambersons that sank Welles' future? Some have said so. According to a 1952 record of RKO profits and losses across the studio's history, the film was claimed to have lost $620,000. Before that, only Abe Lincoln in Illinois (1940) was registered as a bigger flop for the studio.
McBride's interview explains that the Amberson debacle was part of a larger effort to undermine Welles. RKO was in turmoil, having lost many key executives. Building off his book What Ever Happened to Orson Welles? A Portrait of an Independent Career, Joe suggests that after the problems with Ambersons and Welles' departure for Rio, factional fights broke out among the suits. Schaefer, attacked for the disappointing box office of Kane, was caught between defending Welles and trying to save his job by cutting Ambersons.
Executives worked to sabotage Welles' next project as well. One powerful piece of evidence that Joe discovered shows that RKO lied to Welles about the budget for It's All True, so they could attack him for imaginary overruns. In his interview and book Joe reveals that Welles was under budget by over $440,000 when he was fired for going over budget.
Joe also cites a damning transcript of an  April 1942 conversation between two RKO executives, Phil Reisman and Reginald Armour, who conspired to keep information from Welles.
The reference is to Jack Moss, Welles' business manager. Reisman and Armour go on to discuss the possibility of getting Welles drafted and speculate what could be salvaged from It's All True–perhaps a couple of shorts?–and Armour adds: "George will lose his job out of this." Schaefer was fired from RKO at the end of June.
Soon after the release of Ambersons in July, Welles' Mercury unit was moved off the RKO lot. Welles returned from Rio still hoping to rescue It's All True, but soon he would become a director for hire.
The Criterion disc release reminds us of how original Welles was in his storytelling strategies. Reinventing Hollywood argues that in Ambersons Welles found a fresh way way to treat time shifts. He keeps major action offscreen and prior to the scene we see, so that each character becomes a narrator reporting action to others, without benefit of flashbacks. The famous scene of Fanny and George in the kitchen is a good example, as he tells her that Eugene joined their trip to the college commencement.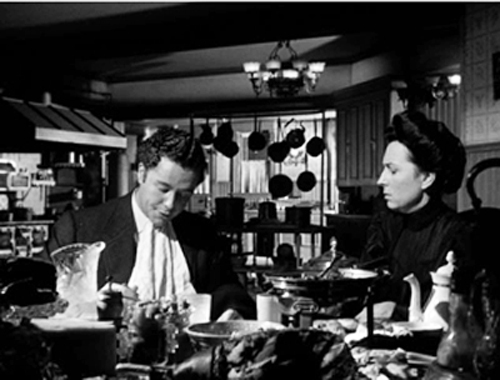 There are many other examples; nearly every scene's dialogue reaches back to the recent or distant past.
This rather literary strategy of replacing showing by telling echoes the narrative strategies of Henry James and Joseph Conrad–the latter a writer whose work influenced Welles strongly. In the 1940s Hollywood context, all this recounting in retrospect constitutes a "knight's move," a swerving response to the emerging flashback conventions of the time. I believe that Welles rethought his radio brand, "First Person Singular," for Ambersons.
Welles' original ending, which shows Eugene and Fanny reminiscing in her boarding house, was in keeping with this strategy of suppression. Eugene recounts the resolution we haven't seen: the reunion of George and Lucy, and George's contrite reconciliation with Eugene.  "We shook hands." Ending with George and Lucy, the new generation, would have been conventionally upbeat, but Welles wanted to linger on the old people–one the automobile pioneer, the harbinger of dubious progress, and the other a castaway of plutocratic pride and self-absorption.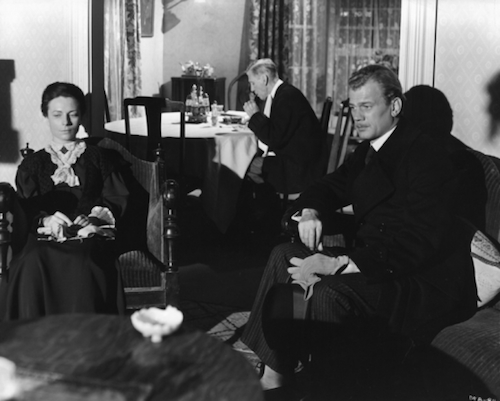 The reshot scene in the hospital corridor exudes a hollow cheerfulness that generations of critics have rightly found a travesty.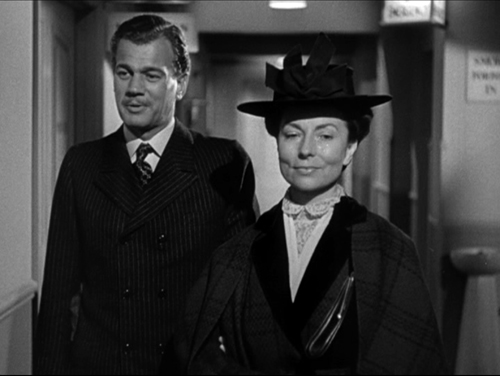 This hospital shot lacks the pathos of Welles' scene, in which a numb, impoverished Fanny is left alone while Eugene drives back into the grimy city. Still, at least the shot preserves much of the original dialogue and it sustains a narration that keeps crucial events (George's apology and the lovers' reunion) offscreen and in the past. To the end, action is replaced by reaction–or rather, by reflection.
My title today is a bit misleading. The artist/artisan distinction is fuzzy. Curtiz and Welles are both.  The difference might come down to this: The creators we call artisans are adept at solving problems set by tradition or their contemporaries. But those we deem artists think up new problems and solve them with aplomb. They may even set themselves problems that seem ridiculously constraining (such as Ozu's decision about low camera height). In any case, we need to recognize craft in any medium, because that helps us appreciate achievement of every sort.
---
I owe a big debt to Joseph McBride for his careful checking of earlier drafts of the Welles section of this entry. His What Ever Happened to Orson Welles is an indispensable guide to the director's career. Any mistakes or misjudgments that remain in this entry are my doing. Thanks as well to Eric Hoyt for help on RKO financial information.
Joe also points out that Simon Callow's Criterion interview contradicts other researchers' findings about Welles' calls and cables from Brazil. In addition, I wonder whether Rode's citations of the Curtiz films' grosses shouldn't be called their rentals–that is, the chunk of the gross box-office receipts returned to the studio. For example, he lists Casablanca's grosses as being $$4.496 million. This is close to Variety's figure of $4.145 million for the film's rentals. See Lawrence Coh, "All-Time Film Rental Champs," Variety (24 February 1992), 164. Typically a picture's rentals were about half of its gross.
Patrick Keating's new book The Dynamic Frame: Camera Movement in Classical Hollywood calls the kind of tracking shot in Kid Galahad the "follow and switch." He has much to say about Curtiz's work in his fascinating account of how Hollywood filmmakers thought about and deployed the moving camera.
Curtiz would likely have seen Dupont's Variety during his stay in Austria, or even in the US in 1926; it played Los Angeles in June and New York in July. Curtiz arrived in the US on 6 June 1926, and The Third Degree was released on 26 December. As Rode points out (p. 77), the trade paper Variety saw an affinity between Curtiz's film and Dupont's, though the reviewer scoffed at the "trick camera stuff" and "freak shots" (5 January 1927, p. 17).
I consider Casablanca in this entry, which ties in both to Reinventing and  to Pauline Lampert's podcast Flixwise. My fullest discussion of Ambersons online is here; the section in Reinventing is somewhat different. On Welles the silent-era cinephile, this entry on his centenary is also relevant, as is this later one.
The following errors are in the hardcover version of Reinventing Hollywood but are corrected in the paperback.
p. 9: 12 lines from bottom: "had became" should be "had become". Horrible.
p. 93: Last sentence of second full paragraph: "The Killers (1956)" should be "The Killing (1956)". Duh. I try to do the film, and its genre, justice in another entry.
p. 169: last two lines of second full paragraph: Weekend at the Waldorf  should be Week-End at the Waldorf.
p. 334: first sentence of third full paragraph: "over two hours" should be "about one hundred minutes." What was I thinking?
We couldn't correct this slip, though: p. 524: two endnotes, nos. 30 and 33 citing "New Trend in the Horror Pix," should cite it as "New Trend in Horror Pix."
Whenever I find slips like these, I take comfort in this remark by Stephen Sondheim:
Having spent decades of proofing both music and lyrics, I now surrender to the inevitability that no matter how many times you reread what you've written, you fail to spot all the typos and oversights.
Sondheim adds, a little snidely, "As do your editors," but that's a bridge too far for me. So I thank the blameless Rodney Powell, Melinda Kennedy, Kelly Finefrock-Creed, Maggie Hivnor-Labarbera, and Garrett P. Kiely at the University of Chicago Press for all their help in shepherding Reinventing Hollywood into print.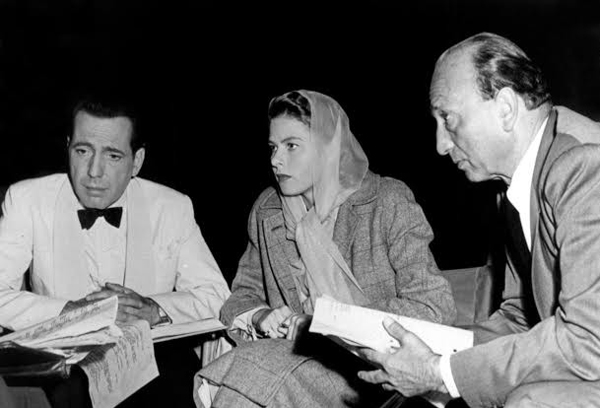 On the set of Casablanca.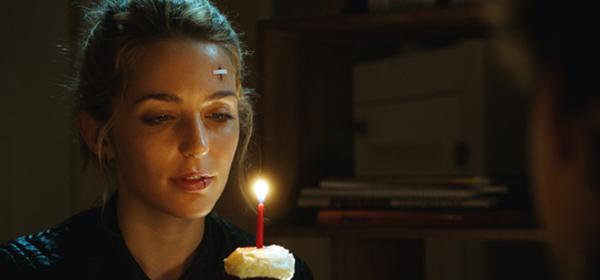 Happy Death Day (2017).
DB here:
Reinventing Hollywood: How 1940s Filmmakers Changed Movie Storytelling came out about eighteen months ago in hardcover. Amazon and other sellers have been offering it at robust discounts. Now there's a paperback, priced at $30, though that could also be discounted. I hope all these options put it within the range of readers interested in the period, in Hollywood generally, and in the history of storytelling in commercial cinema.
But of course time doesn't stand still. Since I turned in the manuscript around Labor Day 2016 I've encountered some intriguing things that were more or less relevant to my research questions. (I've also found a few errors, most of them corrected in the paperback edition. Meet me in the codicil if you're curious.) In this blog entry and some followups, I'll discuss some films, books, and DVD releases that came out after I finished the book. They don't force me to change my case, I think, but they're things I wish I could have cited, if only in endnotes.
The first entry in this series is here.
Seeing Happy Death Day 2U reminded me of one of the central arguments of Reinventing. But before I get to that, let me talk about English drama of the years 1660-1710. No, really.
500 plays and more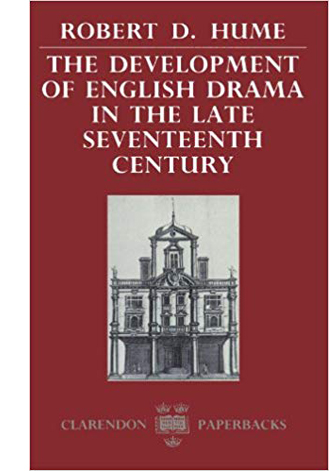 In the late 1960s a young scholar named Robert D. Hume became curious about Restoration drama. Going beyond the canon, he started reading minor works, eventually discovering a collection of microform cards that included virtually all English plays between 1500 and 1800. The set cost about 10% of his pre-tax annual salary, and he struggled to read the bad reproductions of 17th century printing. Still, the effort revealed something important. "All the modern criticism was so radically selective that the critics had no grasp at all of what was really being performed in the theatre."
Hume's method was simple and drastic. He read all of the preserved plays publicly performed in London between 1660 and 1710. Along with revivals, pageants, translations, and adaptations, there were about five hundred "new" plays, and these he concentrated on. They included famous ones like Marriage à la Mode and The Way of the World, as well as many obscure pieces.
The result was The Development of English Drama in the Late Seventeenth Century (Oxford: The Clarendon Press, 1976). Its first part surveys the conventions and formulas found in subgenres of comic and serious drama (sentimental romance, horror tragedy, and many others). In the second part Rob traces the development of these types across the period.
From the standpoint of my research I was fascinated to see that Rob reveals a teeming set of variations on generic schemas. Characters, situations, and plot twists are mixed and matched. A plot based on romance leading to marriage commonly shows the couple outwitting blocking characters. Sometimes, though, the man must win the woman over. Or she must conquer him. Similarly, when extramarital seduction drives the action, a man may pursue a woman but
occasionally an amorous, often older woman is the pursuer (She wou'd if she cou'd; The Amorous Widow) or an ineffectual male, usually a henpecked husband, is a comic pursuer (Sir Oliver Cockwood in She wou'd).
In Planet Hong Kong I called this tendency of mass entertainment a "variorum" one, by analogy with editions that print all the versions of a major text.
Once a genre gains prominence, a host of possibilities opens up. Horror filmmakers are likely to float the possibility of demonic children, if only because the competition has already shown demonic teenagers, rednecks, cars, and pets. Similarly, once the male-cop genre is going strong, someone is likely to explore the possibility of a tough woman cop.
You might object that using the term "variorum" is just a fancy way to talk about the mechanical formulas of mass entertainment. But by putting the emphasis on variety within familiarity, the label points up the need for constant innovation, great or small. Fans of film genres readily recognize this churn, but what I began to realize is that it's common as well in both folk narratives and more "industrialized" ones, like theatre and popular literature.
Monuments of scholarship like Hume's Development remind us that the variorum principle is a primary engine of popular entertainment. The urge for novelty puts pressure on artists to try to fill every niche in the ecosystem, sometimes forcing competitors to strain for far-fetched possibilities. The wild treatment of noir conventions in Serenity is a recent example.
Beyond genre: Style and narrative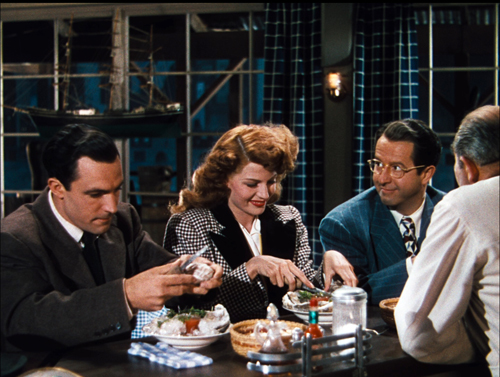 Cover Girl (1944).
Some time in the 1990s I began to realize that a lot of my research applies the variorum principle to domains outside genre. For instance, Figures Traced in Light and the last chapter of On the History of Film Style look at cinematic staging from this standpoint, showing how basic principles of staging got realized in many ways across film history. I applied the variorum principle to particular narrative techniques in some essays in Poetics of Cinema, considering the options of forking-path plots and network narratives.
Reinventing tries to trace a wide range of storytelling options as they consolidated in the 1940s. Rob Hume could study every preserved play, but I couldn't do that for films. I managed to watch about 600. (Later entries in this blog series will mention some I missed.) Not surprisingly, I found the variorum principle at work in the narrative techniques on display.
I set out a couple of prototypes for the most common plots: the single-protagonist one (Five Graves to Cairo) and the plot based on a romantic couple (Cover Girl). Beyond those, I considered less common plot options, such as multiple protagonists and network narratives. Then I went on to consider narrational strategies that cut across all types. What strategies were available for mounting flashbacks, or expressing subjective states? In effect, I tried to reconstruct Forties Hollywood's storytelling menu, largely independent of genre.
Another way to put this is that I was tracking norms. But the variorum principle shows that a norm isn't just a mandate: Do this. Any normative practice is a cluster of stronger and weaker options.
These options lead to a cascade of further (normative) choices. Shoot a dialogue scene in a two-shot and you'll need to adjust performances for viewer pickup. Shoot using a lot of close-ups and you'll need to cut among your actors more frequently to keep everybody "in the scene"–that is, salient for the audience.
Choose a flashback and you're forced to decide how far back to start it, what to include that's relevant to the present action, and how to remind the audience of action that preceded the flashback. Of course you may also choose to try to make viewers forget, because you've misled them. That's what happens in Mildred Pierce and Pulp Fiction.
Usually we find the variorum principle working among several films. What if creators put the principle to work within a single film?
The first day of the rest of your life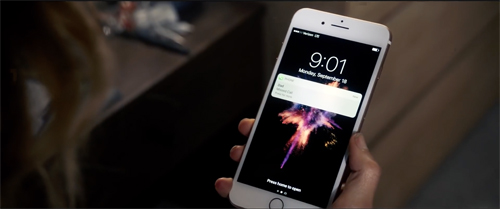 Every now and then filmmakers try out forking-path narratives. These plots, I suggest in this essay, trace out alternative futures for their characters. Blind Chance and Run Lola Run are prototypes, though there are plenty of examples earlier and later.
Sometimes the protagonist is dimly aware of the options. The protagonists of Blind Chance and Run Lola run seem to learn from their mistakes in the parallel lines of action. This can yield "multiple draft" narratives in which later story lines show characters struggling to achieve the best revision of circumstances they can.
I'd distinguish plots like these from Groundhog Day, which presents not alternative futures but identical replays of a specific time period. What makes each iteration different is that Phil, realizing he's living the same day over and over, struggles to behave differently. This pattern has come to be called a time-loop narrative.
The time-loop and forking-path patterns usually provide only changes in the story-world elements of each track. Phil's changing his routines takes place against a background of recurring situations. Similarly, the protagonist of Source Code gets to try out different ways to stop a train bomber.
What, though, if a looped or forking-path movie tried to survey several alternative genre conventions? That would give us a sense that the variorum idea has been swallowed up within a single film.
This happens, I think, in Happy Death Day. By now it's not a spoiler to indicate that this slasher movie borrows the Groundhog Day premise and loops a single day in the life of mean girl Tree Gelbman. Each day she's killed by a stalker in a babyface mask. Each time she dies, she awakes in the bed of Carter Davis, who brought her to his dorm room (without sexytime) to recover from a night of partying. As the days repeat, Tree becomes more desperate to avoid her fate and tries a variety of stratagems. They fail, until they don't. In the course of them Tree learns to become a nicer person.
What's interesting to me is that several variorum alternatives of the slasher genre are squeezed into this one film. The stalker kills Tree in a shadowy underpass, in a bedroom during a frat party, in her sorority bedroom, under a friend's window, on a campus trail, and after chasing her through a hospital, a parking ramp, and a highway. She's knifed, bludgeoned, hanged, run over, and stabbed with a broken bong.
Of course the shooting-gallery premise of slasher films often generates a string of variations across the film. Boyfriends, girlfriends, figures of authority, and passersby are dispatched by Jason or Freddie Krueger in ever more exotic ways. But in Happy Death Day, the sense of genre replay is heightened by Tree's being the sole target of the ten variant homicides (one of which is a forced suicide). It's as if we were watching a performer auditioning for screen tests in which she might be cast as one victim or another. But here the victim is always the Final Girl.
The comedy that haunts many slasher films is enhanced by the preposterous premise that Tree will survive. The deaths become vivid as replays by virtue of their tongue-in-cheek humor, as each slaying tries to outdo the earlier ones and as Tree sarcastically comments on her fate.
With the time-loop convention put into place by Groundhog Day, our interest goes beyond changes in the story world and concentrates more on narrative structure. We watch for scenes we've already seen, expecting them to be revised in surprising ways. The handling of the replays foregrounds film technique as well, as when in Happy Death Day Tree's frantic walk across the quad after a late reset is rendered in distorted imagery reflecting her confusion. We register this as a variant on her earlier stride down the same route–hung-over, but not yet desperate.
One virtue of such repetitions for low-budget cinema is that the variant passages can be shot quite economically. You can save time on location by reusing camera setups, with the actors altering their performance, or their costumes and makeup. In the DVD bonus material, director Christopher Landon talks of following this production strategy. Why does low-budget cinema explore odd narrative options? They can come cheap.
Variants times 2 or 3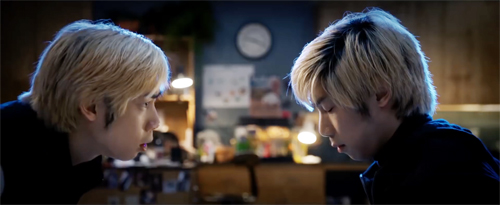 Happy Death Day 2U (2019).
A film series often self-consciously varies the story world that the continuing characters confront. In the studio era, Charlie Chan went to the circus and the opera, Mr. Moto got involved in a prizefight scheme, and Ma and Pa Kettle visited Waikiki. Today's superhero franchises rely on fully-furnished, constantly changing story worlds. Back to the Future, though, launched a series that did more than present a story world that shifted from film to film. The trilogy self-consciously reorganized its plot structure and narration, with replays and alternative outcomes enabled by a time-travel premise. We're expected to appreciate the altered replays as part of the film's experience.
The sequel Happy Death Day 2U has just been released in that Dead Zone in which low-end American genre cinema flourishes. I have a lot to say about it, but it's probably too soon. Still, it's no spoiler to indicate that it offers a set of variants on the givens of the first film. For one thing, what caused the time loop of the original is now explained. The birthday motif gets elaborated via Tree's backstory, with strong doses of sentiment. And suspects who were eliminated in the initial film step forward as plausible culprits in this one.
Just as important, there's an added structural premise that gives the new entry an acknowledged affinity with Back to the Future II and other forking-path tales. To top things off, the second installment supplies a revised version of the outcome of the first one.
Although the sequel isn't thriving at the box office, perhaps there will be a third entry.
I have the third movie and I have already pitched it to Blumhouse. Everybody is ready to go again if this movie does well. I keep shifting the tone, genre a little bit. The third movie I know is going to be a little different. It's going to be really bonkers and really fun.
Bonkers or not, having another version would show that the Variorum never sleeps.
Two last points. First, a film I discussed last time, Confession (1937), internalizes the variorum impulse in a milder way, by replaying a key scene from a different character's viewpoint. More unusually, Confession is a remarkably close remake of a German film, Mazurka, and thus constitutes a homegrown variation on the original.
Secondly, why study the variorum principle? Hume points out:
To insist on analyzing the famous writers and plays in isolation is a mistake: much may be learned by viewing them as they originally appeared–variably successful in the midst of a prolific, unstable, and rapidly changing theatre world.
So one argument is that we can best understand and appreciate masterful filmmaking against the background of normal practice. That seems right to me, but I think there are other good reasons to ask these questions.
For one thing, through bulk viewing of a lot of films, you may discover accomplished works. Many well-regarded films have gained their renown through accidents of release and critical reception. (His Girl Friday is one such.) Good films lurk in many crevices of film history.
I also think that the norms are of interest in themselves. They can show that craft practices harbor more variety than we sometimes think. Studying norms can also reveal offbeat possibilities that are sketched for future development. In Reinventing, I sometimes point to films, either obscure or awkwardly constructed or both, which anticipate trends to come. One example would be the strange, time-shifting exercise Repeat Performance (1947). It's a Forties counterpart to Dangerous Corner (1934), a two-path plot looking toward more elaborate forking-path storytelling. It shows as well that rather unusual options can float around the edges of the variorum.
---
My quotations from Rob Hume come from correspondence and The Development of English Drama in the Late Seventeenth Century, pp. ix and 129. Thanks to Rob for sharing the backstory of the book's composition. Readers interested in his method can learn much more about it in his later study Reconstructing Contexts: The Aims and Principles of Archaeo-Historicism (Oxford, 1999).
This entry relies on a distinction among a film's story world, its plot structure, and its narration. The idea is explained in this essay and applied to a single film in a blog entry on The Wolf of Wall Street. Plots with loops and forking paths are connected with the idea that "form is the new content" in films from the 1990s and after. I try to chart that ecosystem in The Way Hollywood Tells It: Story and Style in Modern Movies. See also this entry for a quick summary of early examples of multiple-draft plotting. For more on the virtues of Charlie Chan and Mr. Moto, go here.
The following errors in the hardcover version of Reinventing Hollywood are corrected in the paperback.
p. 9: 12 lines from bottom: "had became" should be "had become". Oops.
p. 93: Last sentence of second full paragraph: "The Killers (1956)" should be "The Killing (1956)". Arrgh. Elsewhere on this site I discuss Kubrick's heist film at some length.
p. 169: last two lines of second full paragraph: Weekend at the Waldorf  should be Week-End at the Waldorf.
p. 334: first sentence of third full paragraph: "over two hours" should be "about one hundred minutes." Doggone.
We couldn't correct this slip, though: p. 524: two endnotes, nos. 30 and 33 citing "New Trend in the Horror Pix" should cite it as "New Trend in Horror Pix."
Whenever I find goofs like these, I take comfort in this remark by Stephen Sondheim:
Having spent decades of proofing both music and lyrics, I now surrender to the inevitability that no matter how many times you reread what you've written, you fail to spot all the typos and oversights.
Sondheim adds, a little snidely, "As do your editors," but that's a bridge too far for me. Instead I thank the blameless Rodney Powell, Melinda Kennedy, Kelly Finefrock-Creed, Maggie Hivnor-Labarbera, and Garrett P. Kiely at the University of Chicago Press for all their help in shepherding Reinventing Hollywood into print.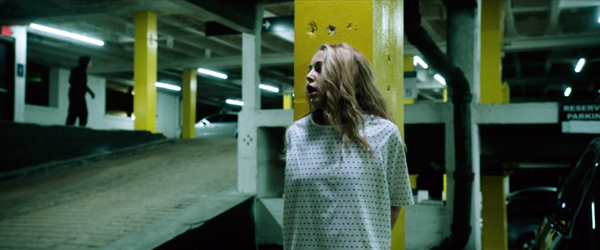 Happy Death Day (2017).