Archive for the 'Directors: Keaton' Category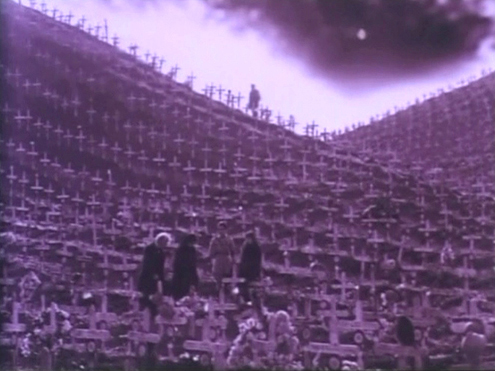 The Four Horsemen of the Apocalypse.
Kristin here:
To end the year, we're continuing our tradition of picking the ten best films not of the current year but of ninety years ago. Our purpose is twofold. We want to provide guidance for those who may not be particularly familiar with silent cinema but who want to do a bit of exploring. We also want to throw in occasional unfamiliar films to shake up the canon of classics a bit.
Like last year, it was strangely difficult to come up with ten equally great films. There were some obvious choices, but beyond them there were a lot of slightly less wonderful items jostling for the other places on the list. The problem had several causes. Some master directors who routinely figure in our year-end ten choices had off-years. In 1921 D. W. Griffith released only one film, Dream Street, a notably weak item. (What I have to say about it can be found on pp. 108-113 of the British Film Institute's The Griffith Project, Vol. 10.) Ernst Lubitsch released two films that seem like less interesting attempts to repeat earlier successes: Anna Boleyn (a pale imitation of Madame Dubarry) and Die Bergkatze (nice, and I was tempted to include it, but it's less amusing than the Ossi Oswalda comedies, here and here). Cecil B. DeMille's The Affairs of Anatol is not nearly as well structured as his earlier sophisticated rom-coms.
In other cases, films simply don't survive. John Ford released seven films in 1921, all of which are lost.
Death comes calling, twice

Probably the easiest decision was to include The Phantom Carriage (also known as The Phantom Chariot), by Victor Sjöström. As I noted recently, the Criterion Collection has recently issued a beautiful restoration of it (DVD and Blu-ray).
When I first saw The Phantom Carriage, I was probably still an undergraduate. Given its reputation as a great classic, I was somewhat disappointed. No doubt it was partly the battered 16mm copy I watched, but the film is a bit formidable for someone not accustomed to the aesthetic of silent cinema–and especially of the great Swedish directors of the era. Its protagonist, played by Sjöström himself, is a thoroughly, determinedly unlikeable fellow, and the complex flashback structure can be a bit disconcerting on first viewing. But the effort to watch until one "gets" Sjöström is well worth it, since he's undoubtedly one of the half dozen greatest silent directors.
The story opens on New Year's Eve with Edit, a young Salvation Army volunteer, on her deathbed. She unexpectedly begs her colleague and mother to fetch the town drunk, David Holm, to her bedside. At the same time, Holm sits drinking in a graveyard as midnight approache. He tells two fellow inebriates the legend of the phantom carriage, the vehicle that picks up the souls of the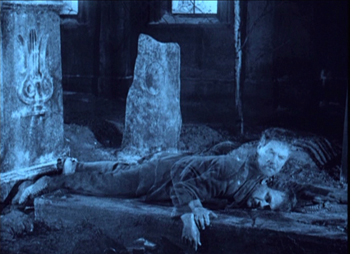 newly dead; it is driven each year by the last person to die at the end of the previous year. Holm then dies, and the carriage arrives, with its current driver ready to turn over the job to him. Flashbacks enact both the circumstances of how the heroine met Holm and the happy family whom Holm had alienated through his drunkenness.
It's a deeply affecting story, wonderfully acted and staged. In most scenes the lighting and staging are impeccable, and the famous superimpositions that portray the carriage and the dead are highly ambitious for the period and impressively executed. The filmmakers have managed to make the carriage, superimposed on real landscapes, appear to pass behind rocks and other large objects. In short, a film that has everything going for it.
Death himself appears in Der müde Tod (literally "The Tired Death," often called Destiny, or occasionally in the old days, The Three Candles). Here the great German director Fritz Lang hits his stride, and you can expect him to figure on most of our lists from now on.
In Destiny (available on DVD from Image Entertainment) a young woman's fiancé is killed early on. Death, a sympathetic figure who regrets what he must do, gives her three chances to find another person whose demise can substitute for her lover's. The three episodes in which she tries take place in Arabian-Nights Baghdad, Renaissance Venice, and ancient China; each story casts her as the heroine and her lover as the hero.Things don't go well, and Death actually gives her a fourth chance when she returns to the present.
This was Lang's first venture into the young German Expressionist movement, which had been launched the year before with Das Cabinet des Dr. Caligari. The style shows up only intermittently, perhaps most dramatically in the Venetian episode when the lover shinnies up a rope along a wall painted with a gigantic splash of light. (See bottom.)
Each film has a "happy ending." I leave it to you to determine which is grimmer.
I'm turning over the keyboard to David now, to describe a film he knows better than I do.
More Northern European drama
Mauritz Stiller alternated urban comedies (Thomas Graal's Best Film, 1917; Thomas Graal's Best Child, 1918; Erotikon, 1920) with more lyrical dramas and romances set in the countryside (Song of the Red Flower, 1919; Sir Arne's Treasure, 1919). Johan (1921) is in the pastoral vein. Its integration of landscape into the drama suggests it was an effort to recapture the production values that overseas critics had praised in Sjöström's Terje Vigen (1917) and The Outlaw and His Wife (1918). Like the Sjöström films, however, Johan offers more than splendid spectacle; it's the study of the undercurrents of a marriage.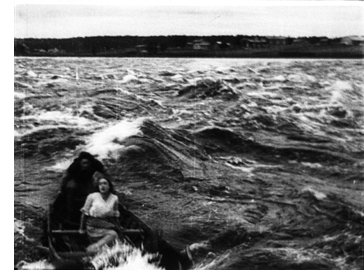 At the core is a love triangle. The fisherman Johan is the somewhat thick-headed son of a domineering mother. He is fond of the girl Merit, whom he and his mother rescued as a waif and brought into their household. But this synopsis is actually skewed, because Stiller and the scriptwriter Arthur Norden have told the story in an unusual way.
We're introduced to the couple by following the rogue Vallavan's entry into the town; Johan seems almost a secondary character until Vallavan leaves. When Johan breaks his leg, Merit agrees to be his wife. Now we're attached to her standoint and see her life of drudgery under the petty tyranny of Johan's mother. Vallavan returns, and Merit falls under his spell. Taking her hand, he says, "I want to rescue you." After she has fled with him, Johan clumsily wanders the rocky shore. "Will I ever see Merit again in this life?" The narrational weight passes to him as he decides to pursue the runaways.
Like Sjöström's Sons of Ingmar (1918-1919), Johan presents marriage as a trap for unwary women. Our shifting attachment, from Vallavan to Merit and eventually to Johan, allows us to see the situation in many dimensions. As a sort of parallel, Stiller makes fluid use of the now solidly-established conventions of continuity editing. Vallavan's seduction of Merit is played out in tense shot/ reverse-shot, and there's an engrossing moment involving delicate shifts in point of view. When the bedridden Johan sees Merit leaving, after his mother has cast her out of the house, he must smash a window pane with his elbow in order to call to her. Stiller's dynamic eyelines, direction of movement, and precise changes of camera setup here show that he had mastered the American style.
Alongside this finesse, there is still plenty of outdoor action, highlighted when Vallavan rows Merit away in the tumultuous river. Filmed from another boat, the actors are all but engulfed by the waves. It was presumably scenes like this that the parent company, Svensk Filmindustri, hoped would attract international attention. At this period Svensk, dominant in the local industry, was hoping to sell its films on a global scale. That ambitious plan failed, but it left us with many outstanding movies and soon brought Stiller, along with Sjöström, to Hollywood.
Johan is available on a Region 2 PAL DVD, coupled with Kaurismaki's Juha, another adaptation of the Juhani Aho story.
The joys of small-town life
Last year I included two films by William C. deMille, the considerably less famous brother of Cecil B. The year 1921 saw the release of what is today his best-known film, Miss Lulu Bett. It was based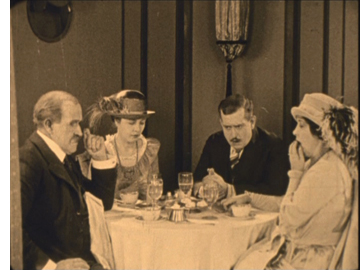 on the popular novel and play by Wisconsin author Zona Gale, who received her MA here at the University of Wisconsin-Madison and in 1921 became the first woman to win a Pulitzer Prize for drama. The story centers around the heroine, a spinster who lives with her sister's family, including her niece, nephew, and brother-in-law, Dwight Deacon. Dwight is a tyrant who delights in taunting Lulu over her unwed status, and the rest of the family treats her as a servant.
The return of the husband's globetrotting younger brother Ninian after a twenty-year absence injects some life into the situation. Taking the family out to dinner, he realizes just how boring the family is (right), and to liven things up, suggests that he and Lulu perform mock marriage vows.  Dwight realizes that the ceremony is legally binding, and, already attracted to Lulu, Ninian suggests that they treat it as a real marriage. Desperate to escape her dreary situation, Lulu agrees. The relationship proves agreeable, and Lulu declares that she will learn to love Ninian–when he reveals that he had previously been married, though he doesn't know whether his first wife is dead (in which case he and Lulu are married) or alive (in which case they aren't). Unwilling to take a chance, Lulu returns to the Deacons, who consider her disgraced and treat her even worse.
The film avoids melodrama. Ninian is not a villain; he's kind to Lulu and sorry for the position he's placed her in. It remains to Lulu to summon the gumption to leave the family and find her own happiness.The whole thing is told with restraint and little touches of humor that draw the viewer into a deep sympathy with Lulu's plight.
Lois Wilson's performance as Lulu is crucial in this. She is at once plain enough that we can believe she is in danger of becoming an old maid and pretty enough to plausibly attract the attention of the handsome local schoolteacher. Wilson's most prominent role came two years later, when she starred as the heroine in James Cruze's The Covered Wagon.
Miss Lulu Bett is the only one of William's films available on DVD, paired with Cecil's Why Change Your Wife? As so often happened, William seems to take a back seat to his famous brother, but the pairing is a logical one, in that William wrote the script for Why Change Your Wife?
Another small-town drama of the same year is Lois Weber's The Blot. In 1981, when I was teaching a course on American silent film at the University of Iowa, I wanted to quickly demonstrate to the students that the silent period was not an era of exaggerated acting and naively melodramatic plots. I showed a double feature of The Blot and King Vidor's Wine of Youth (1924).  The latter portrays changing sexual mores through the story of three generations of the same family, with a young woman of the Roaring Twenties questions the necessity of marriage when she discovers that her mother is contemplating divorce. I think Wine of Youth (unfortunately not available on video) and The Blot convinced my class that silent films could be both sophisticated and subtly acted.
The "blot" of Weber's title refers to the notion that people in professions depending on intelligence and education are poorly paid, while tradespeople and children from rich families are well off. The representatives of the underpaid are a college teacher, Prof. Griggs, and a young, idealistic minister. The parallels to recent events are striking. College professors may not be so badly paid as in the 1920s, but the move toward institutions of higher learning depending on adjunct lecturers has created a similar issue. In general, the income gap is familiar:  the rich young wastrels taking Prof. Griggs's course represent what we now call the one percent, while the professor and minister live on a much lower plane.
Weber's drama is not quite this bald, however. Various levels of prosperity are represented. The professor's family lives in shabby gentility, his wife grimly struggling to keep food on the table and his daughter Amelia, in delicate health due to a lack of nourishing food, working in the local library. Their neighbors are the family of a successful shoemaker, who live well but lack education. The shoemaker's wife in particular resents what she perceives as intellectual snobbishness in the professor's family and takes every opportunity she can to flaunt her comparative wealth.
Her son, however, has a crush on Amelia, as does the poor minister. Into this situation comes Phil West, the professor's rich but indolent and mischievous student. Also attracted to Amelia, Phil for the first time encounters real poverty and is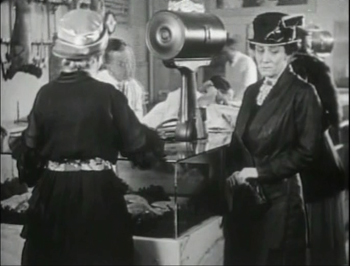 shocked by it. As the plot develops, Amelia falls ill, and her mother's increasingly desperate efforts to obtain the food necessary to nurse her to health become one of the main threads of the drama. To say that a large part of the action in the second half of the film centers on Mrs. Griggs's temptation to steal a chicken from her neighbors might make the situation seem a trifle comic, but Margaret McWade's remarkable performance vividly conveys the wife's struggle in the face of real lack and her humiliations in the eyes of the shoemaker's gloating wife. When Mrs. Griggs succumbs to temptation, the result is a brief but wrenching scene.
The plot is remarkably dense and unpredictable. Every scene involves glances that lead to new knowledge or serious misunderstanding, deflecting the plot into new directions. Early on it is impossible to say which of the three young men Amelia will end up with, and even by the late scenes, when only two plausible romantic candidates remain, we have no idea which she will pick. As in many of Weber's films, she does a bit of preaching about the social problem involved, but in The Blot she leaves this until near the end and gets it over quickly and fairly believably. The considerable but gradual change in Phil's attitude toward education and the problems of poverty is also made believable. The prosperous neighbor's change of attitude may seem a bit sudden, though it is somewhat motivated by a line early on.
But on the whole, even more than with Miss Lulu Bett, this is an absorbing story with characters for whom we care. Weber uses motifs as skillfully as any director in the early phase of the classical Hollywood cinema. Watch in particular how many different ways she uses the Griggs family's cat and her two kittens: to demonstrate the family's poverty, to be the main means of the neighbor lady's spite, to introduce some comedy, and so on. Even more pervasive is the way that shoes become tokens of characters' various social positions.
The Blot is available on DVD from Image. Those interested in Weber as a director should note that next summer's Il Cinema Ritrovato festival in Bologna plans a retrospective of her work.
Which is best? Damfino.

In past year-end lists, we've watched Harold Lloyd, Charles Chaplin, and Buster Keaton creeping toward their great features of the 1920s. This year two of them move cautiously into longer films, and the other releases two more terrific one-reelers.
The Boat is one of Keaton's most admired shorts. In it, he, his wife, and their two young sons build a boat, the Damfino, and unwisely launch it on the open ocean. Everything that can go wrong does: the life-preserver sinks, the anchor floats, and naturally a storm hits. The wife's pancakes aren't edible, but one temporarily patches a leak. Throughout the intrepid band carries on against all obstacles.
Less perfect but more dazzling and (perhaps) funnier is The Playhouse. The premise of a small variety theater creates an episodic, messy narrative, but it allows Keaton to play out a series of four "acts." Initially we see Keaton buy a ticket and enter an auditorium where the audience, the orchestra, and all the performers are played by "Buster Keaton." As one of the audience members remarks, "This fellow Keaton seems to be the whole show," which is true in more way than one. The multiple images of Keaton were accomplished entirely in the camera, by cranking back the film with precise timing and uncovering a different part of the lens at each pass. The precision when one Keaton figure talks to or dances with another is amazing.
This all turns out to be a stagehand's dream. (Keaton being the stagehand.) The multiplication motif returns as an act involving two pretty girls who happen to be twins–something Buster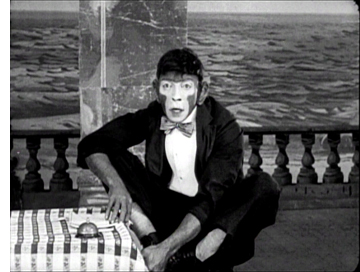 doesn't know, making his encounters with them ever more baffling. Later an orangutan escapes, and Buster dons make-up and costume to replace him. All hilarious stuff, though unfortunately the final act, a Zouave Guard drill, is the least funny one. Still, it's a terrific film with a big dose of the surrealist quality that will run through the later shorts and the features.
The Boat is included on Kino's disc of The Navigator and The Playhouse with their out-of-print DVD of The General. Still in print, however, is Kino's eleven-disc set of the features and shorts. For those in the UK and other region-2 countries, Eureka! has a "Masters of Cinema" three-disc set, "Buster Keaton: The Complete Short Films 1917-1923," which includes many of his earlier films with Fatty Arbuckle.
The year saw Lloyd and Chaplin make their first feature films, though both releases were still fairly short. I'm not really counting A Sailor-Made Man as one of the top ten of the year, since it's a delightful but decidedly light item. Just another reminder that Lloyd is inching toward greatness.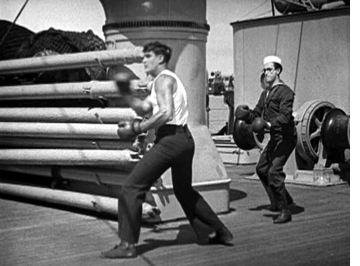 Lloyd presents his "glasses" character as a brash young man who impulsively proposes to a rich man's daughter. When the father demands that he get a job to prove his worth, Harold enlists in the navy. Highjinks ensure, culminating in a lively chase-and-rescue scene when the heroine gets kidnapped by a lecherous Arabian sheik.
The shipboard scenes allow Harold to get in some funny bits, mainly involving him trying to be tough and succeeding at first by sheer accident. Later, however, he is inspired by the heroine's danger to become a real rescuer. It's a sign of bigger things to come.
New Line's Harold Lloyd boxed set is out of print, but you can still get the volumes separately. A Sailor-Made Man is in Volume 3, along with such delights as Hot Water and For Heaven's Sake.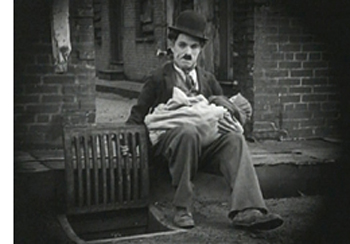 Chaplin's first feature, The Kid, is a skillful blend of the rough-and-tumble slapstick that had characterized his early shorts and the sentimentality that would gradually become a more prominent trait of his films. A unmarried woman (played by Edna Purviance, the elegant beauty who made such a contrast with the Little Tramp in many of his films) abandons her infant in an expensive car which happens to get stolen moments later. Charlie finds the baby, and after numerous attempts to get rid of it–including a brief contemplation of an open storm-sewer grate–decides to raise it. The baby grows into the adorable and amusing Jackie Coogan.
In the meantime, the mother has become a rich singer, and coincidentally she comes to the slums doing charitable work. The authorities eventually try to remove the Kid to an orphanage, and later a flop-house proprietor turns him in to receive a reward. Still, Chaplin doesn't milk the pathos, and a happy ending duly arrives.
The Kid is available in a decent print along with A Day's Pleasure and Sunnyside on the "Charlie Chaplin Special" DVD. Our recording off Turner Classic Movies strikes me as being slightly better quality, so you might keep an open to see if they reshow it. It was also announced this week that The Kid has been added to the National Film Registry of the Library of Congress.
Fuzzy movies, big and small
Soft-style cinematography had been tried in some films of the late 1910s, most notably in Griffith's Broken Blossoms. But in the 1920s it spread. In Hollywood, it was mainly a technique for making beautiful images and especially for creating glamorous close-ups of actresses. In France, it was a way of tracking a character's inner life.
Vicente Blasco Ibáñez's 1918 novel, The Four Horsemen of the Apocalypse was a huge bestseller, and the first film adaptation in 1921, directed by Rex Ingram, was equally successful. To many, it is remembered for having made a super-star of its main actor, Rudolph Valentino. Anyone who has seen him as the caricatured Latin Lover of his later films will be pleasantly surprised to discover that the man could act, as could his leading lady, the lovely Alice Terry.
Ingram was the quintessential middlebrow director of the 1920s, doing big-budget, respectable adaptations of popular literature (e.g., Scaramouche, The Prisoner of Zenda). To me, Four Horsemen escapes the stodginess of the later films, at least to some extent (as does his other 1921 film, The Conquering Power). It and the other film in this section were borderline cases, chosen as much for their historical importance as their quality, perhaps, but definitely worth watching.
One of Four Horsemen's greatest strengths is its photography. Ingram worked consistently with one of the greatest cinematographers of the 1920s, John F. Seitz, who created glowing images of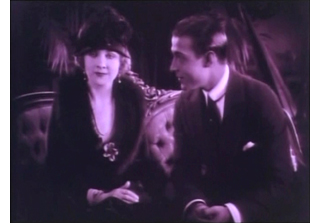 sets and actors with selective lighting and all sort of means of softening the image. This film, more than Broken Blossoms, brought the soft style into vogue. It eventually culminated in the Dietrich films of Josef von Sternberg before a more hard-edged look came to dominate the 1940s.
Four Horsemen was also an early entry in the anti-World War I genre of the 1920s and 1930s. Its final scene in a vast military cemetery of identical white crosses remains a powerful one. (See above.) Here, however, the Germans are still stereotypes, militaristic puppets with no redeeming features. Even that notion would gradually change, however, until nine years later All Quiet on the Western Front could recount the war from the German point of view.
Four Horsemen is available on DVD on demand from Amazon, supplied on DVD-R. In the same format, one can order it on a set with a documentary on Valentino. The reviews of the latter suggest that the visual quality is good.
(For more on this photographic style, see my "The soft style of cinematography," in The Classical Hollywood Cinema, pp. 287-293.)
I'm not a huge fan of Marcel L'Herbier, and I'm not entirely sure that El Dorado is a full-fledged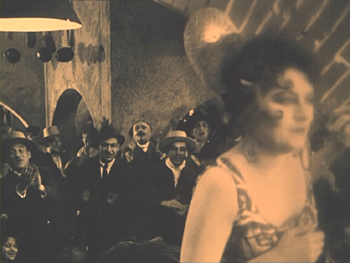 masterpiece. But it has many virtues, and arguably it's historically important as the first film of the French Impressionist movement to thoroughly explore ways in which camera techniques could convey perceptual and psychological states. It focuses largely on Sibilla, a singer-dancer who is the main attraction in a tawdry Spanish bar. She and some other women are performing as the story begins, but Sibilla is distracted by worries about her sick son. L'Herbier experimented with tracing her attention by placing gauzy filters over her face when she starts thinking of the boy. In the frame at the left, for example, she is in sharp focus when onstage, but as she passes into the backstage area, she goes fuzzy.
In a way this is a somewhat silly, literal notion, and yet it's exciting to see filmmakers exploring new devices relatively early in film history. Gauzy filters, distorting mirrors, slow-motion superimpositions, rhythmic cutting, and subjective moving camera were soon to be in common use by a small group of French directors. El Dorado was also the first film to be filmed within the Alhambra, which lends it considerable visual interest.
If we're still writing this blog in 2019, our list will probably include the culminating film of the movement, and arguably L'Herbier's best silent film, L'Argent.
Not many French Impressionist films are available in the U.S. If you have a multi-region player, El Dorado is paired with L'Herbier's earlier L'homme du large (1920) on a French DVD.
Tigers and lepers and a mysterious yogi
We tend to think of serials as having many episodes and being low-budget additions to programs. That's the American model, but in Europe things were different. Louis Feuillade's serials are among the gems of the 1910s. In Germany, serials tended to have fewer episodes but bigger budgets–much bigger. Many were only two parts, most famously Dr. Mabuse, der Spieler (coming next year to our top-ten list) and Die Nibelungen (coming in 2014). Lang had launched into serials with Die Spinnen (1919 and 1920). The two parts have terrific things in them, but Lang never went on to finish it.
He was, however, still collaborating on screenplays for director Joe May, who specialized in epic serials set in exotic countries and starring his wife, Mia May. Highly entertaining though these films are, they are largely forgotten, even by most lovers of silent cinema. Das indische Grabmal is the exception, though even now few have had a chance to see it. In 1996 it was shown at "Il Gionate del Cinema Muto" festival in Pordenone and was all too briefly available on an Image DVD (as The Indian Tomb) now out of print. Track it down if you can.
Full of the stars of its day, Das indische Grabmal is set largely in India, and its plot was inspired by the Taj Mahal. A ruthless maharajah (played with relish by Conrad Veidt) cloaks his cruelty under a veneer of European courtesy. He plots to shut his unfaithful princess (Erna Morena) in a beautiful tomb along with her lover (Paul Richter, better known to modern audiences as Siegfried). He calls in a famous European architect (Danish star Olaf Fønss) to build it, and the architect's fiancée (Mia May), rightly fearing dirty work afoot, follows. One pit full of tigers and one of lepers lie waiting to endanger the visitors. The sets are beautiful. The Germans by this point could do them at full scale (above left) and as marvelously deceptive miniatures (above right). Das indische Grabmal is constantly entertaining and perhaps the best of its type, at least of the films we have access to.
Lang directed a two-part remake of this film in 1959. Both are good, but I prefer the silent one.
Some runners-up
As I mentioned, we had trouble narrowing down our list this year. Here are some others that could have replaced some of our prime choices. The German stage director Leopold Jessner adapted the play Hintertreppe (Backstairs). It's a Kammerspiel, set in two apartments and the courtyard between them, and concerns a simple love triangle among a maid, her absent lover, and the postman who loves the maid so much that he forges letters from her sweetheart to keep her happy. Antti Alanen kindly reprinted my notes on the film here.
Carl Dreyer's third feature, Leaves from Satan's Book, remains one of the most widely-admired variants on the Intolerance formula of presenting thematically linked historical episodes. The dynamic final last-minute non-rescue shows that Dreyer learned a good deal from Griffith's crosscutting too. Leaves is available on a Danish DVD with English subtitles and an alternate ending. Murata Minoru's Japanese feature Souls on the Road, another exercise in complex crosscutting, and Feuillade's polished L'Orphéline are solid runners-up as well. Neither is available on commercial DVD, as far as we know.
Destiny.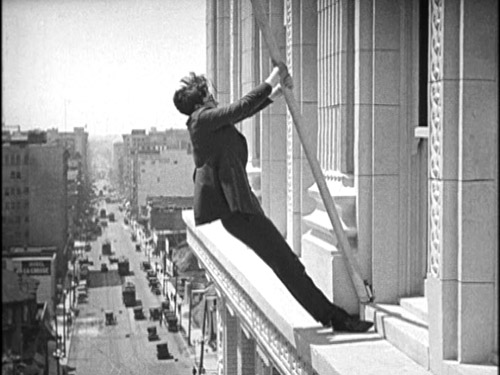 High and Dizzy
Kristin here:
Three years ago, we saluted the ninetieth anniversary of what was arguably the year when the classical Hollywood cinema emerged in its full form. The stylistic guidelines that had been slowly formulated over the past decade or so gelled in 1917. We included a list of what we thought were the ten best surviving films of that year.
In 2008 we again posted another ten-best list, again for ninety years ago. This annual feature has become our alternative to the ubiquitous 10-best-films-of-2010 lists that print and online journalist love to publish at year's end. It's fun, and readers and teachers seem to find our lists a helpful guide for choosing unfamiliar films for personal viewing or for teaching cinema history. (The 1919 entry is here.)
There were many wonderful films released in 1920, but, as with 1918, I've had a little trouble coming up with the ten most outstanding ones. Some choices are obvious. I've known all along that Maurice Tourneur's The Last of the Mohicans (finished by Clarence Brown when Tourneur was injured) would figure prominently here. There are old warhorses like Das Cabinet des Dr. Caligari and Way Down East that couldn't be left off—not that I would want to.
But after coming up with seven titles (eight, really, since I've snuck in two William C. de Mille films), I was left with a bunch of others that didn't quite seem up to the same level. Sure, John Ford's Just Pals is a charming film, but a world-class masterpiece? A few directors made some of their lesser films in 1920, as with Dreyer's The Parson's Widow or Lubitsch's Sumurun. Seeing Frank Borzage's legendary Humoresque for the first time, I was disappointed—especially when comparing it with the marvelous Lazy Bones of 1924. (Assuming we continue these annual lists, expect Borzage to show up a lot.) Chaplin didn't release a film in 1920, and Keaton and Lloyd were still making shorts, albeit inspired shorts. Mary Pickford's only film of the year, the clever and touching Suds, is a worthy also-ran. Choosing Barrabas over The Parson's Widow or Why Change Your Wife? over Sumurun has a certain flip-of-the-coin arbitrariness, but we wanted to keep the list manageable. But they all repay watching.
The year 1920 can be thought of as a sort of calm before the storm. In Hollywood a new generation was about to come to prominence. Griffith would decline (Way Down East may be his last film to figure on our lists). Borzage will soon reach his prime, as will Ford. Howard Hawks will launch his career, and King Vidor will become a major director. The great three comics, Chaplin, Keaton, and Lloyd will move into features. In other countries, an enormous flowering of new talent will appear or gain a higher profile: Murnau, Lang, Pabst, Eisenstein, Pudovkin, Dozhenko, Kuleshov, Vertov, Ozu, Mizoguchi, Jean Epstein, Pabst, Hitchcock, and others. The experimental cinema will be invented, and Lotte Reiniger will devise her own distinctive form of animation. Watch for them all in future lists, which will be increasingly difficult to concoct
In the meantime, here's this year's ten (with two smuggled in). Unfortunately, some of these films are not available on DVD. They should be.
The great French emigré director Maurice Tourneur figured here last year for his 1919 film Victory. The Last of the Mohicans is just as good, if not better. I haven't read the Cooper novel, set during the French and Indian War, but it's obvious that Tourneur has pared down and changed the plot considerably. The sister, Alice, is made a less important character, with the plot focusing on two threads: the Indian attack on the British population as they leave their surrendered fort and on the virtually unspoken attraction between the heroine Cora and the Mohican Indian Uncas. The seemingly impassive gazes between these characters, forced to conceal their attraction, convey more passion than many more effusive performances of the silent period. The actress playing Cora also wore less makeup than was conventional, de-glamorizing her and making her a more convincing frontier heroine.
The film is remarkable for its gorgeous photography, with spectacular location landscapes, some apparently shot in Yosemite (below left). Tourneur's signature compositional technique of shooting through a foreground doorway or cave opening or other aperture appears frequently (below right). (Brown's account of the filming in Kevin Brownlow's The Parade's Gone By makes it sound as though he shot most of the picture, but in watching the film I find this hard to believe.)
Finally, the film stands out from most Hollywood films of its day for its uncompromising depiction of the ruthless violence of the conflict between the British and those Indians allied with the French. The scene in which the inhabitants of the fort leave under an assumed truce and are massacred can still create considerable suspense today, and the outcome puts paid to the notion that all Hollywood films end happily.
The word melodrama gets tossed around a lot, and many would think of much of D. W. Griffith's output as consisting of little besides melodramas. But Way Down East is the quintessential film melodrama. An innocent young woman (Lillian Gish) is lured into a mock marriage and ends up deserted and with a baby. The baby dies and she finds a place as a servant to a large country family, where the son (Richard Barthelmess) falls in love with her. Her sinful status as an unwed mother leads the family patriarch to order her out, literally into the stormy night. She ends up on an ice flow, headed toward a waterfall. Along the way there's comic relief from some country bumpkins and a naive professor who falls for the hero's sister. It all works, partly because Griffith treats the main plot with dead seriousness and partly because Gish elicits considerable sympathy for her character.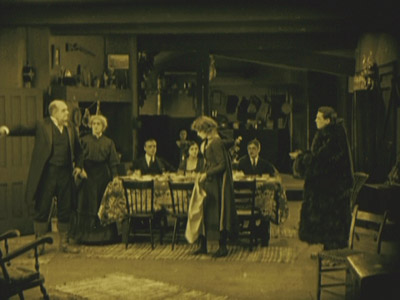 Not only is it a great film, but it provides a window into the past, preserving a popular nineteenth-century play and giving insight into the drama of that era. It's hard to think of another feature film that conveys such a genuine record of the Victorian theater, directed by a man who had made his start on the stage of the same period. (Unfortunately the film does not survive complete. The Kino version linked above is from the Museum of Modern Art's restoration, which provides intertitles to explain what happens during missing scenes.)
Way Down East displayed a conservative attitude toward sex that was rapidly receding into the past–at least as far as the movies were concerned. The same year saw two films that set the tone for the Roaring '20s in their more risqué depiction of romantic relationships:  Cecil B. De Mille's Why Change Your Wife? and Mauritz Stiller's frankly titled Swedish comedy Erotikon.
De Mille has featured on our previous lists, for Old Wives for New in 1918 and Male and Female in 1919. Why Change Your Wife? ramped up the sexual aspect of the plot, however, as a Photoplay reviewer made clear: ""Having achieved a reputation as the great modern concocter of the sex stew by adding a piquant dash here and there to Don't Change Your Husband, and a little more to Male and Female, he spills the spice box into Why Change Your Wife?" The plot is not nearly as daring as this suggests. Gloria Swanson plays a wife who is straight-laced and intellectual, driving her husband to spend time with a stylish woman who tries to seduce him. Yet he flees after one kiss, and after his wife divorces him on the assumption that he has cheated on her, he marries the seductress. The heroine discovers the error of her ways and becomes sexy in her dress and behavior. As a result the husband regains his old love for her, and they remarry. No actual adultery occurs, and the first marriage is affirmed with a happy ending.
Why Change Your Wife? may have seemed more daring because De Mille here externalizes the shifting relationships through the costumes to the point where no viewer could miss the implications. Initially the wife's demure dresses mark her as prudish, while the woman who lures her husband away is dressed like a vamp. Once the wife lets go, she dons similar revealing, expensive designer clothes. As a result, the male members of the audience might revel in a fantasy of their ideal wife, and the women would delight in displays of fashions most of them could never own in reality. It proved a successful combination. We tend to forget it now, but the 1920s was full of variants and imitations of Why Change Your Wife?, often featuring a fashion-show scene that was nothing but a parade of models in outlandish clothes. (Early Technicolor was sometimes shone off in such sequences.) Top designers like Erté were recruited to bring their talents to such films.
Fashion as a selling point in films remains with us. The glossy new version of The Hollywood Reporter, recently decried by David, now has a regular "Hollywood Style" section. The November 24 issue ran "Costumes of The King's Speech," and the December 1 issue describes "Fashions of The Tourist," with photos of Angelina Jolie in her various costumes. In addition to shots of the stars, both articles feature enticing close-ups of lipstick, shoes, jewelry,and purses.
A double feature of Why Change Your Wife? and Erotikon would provide a vivid sense of the differing moral outlooks of mainstream America and Europe in the post-war years. In Erotikon, the situation is reversed. An absent-minded entomologist neglects
his sexy wife, who is having an affair with a nobleman. She is in love, however, with a sculptor, who is having an affair with his model. The sculptor returns her love, but eventually becomes jealous, not of her husband, who is his best friend, but of her lover. When the husband finds out that his wife has been unfaithful, he is mildly upset, but he settles down happily with his cheerful young niece, who pampers his taste for plain cooking and an undemanding home life. About the only thing these two films have in common is that they view divorce, which was still quite a controversial issue in the 1920s, as sometimes benefiting the people involved. Adultery actually occurs rather than being hinted at but avoided, though faithful monogamy is ultimately put forth as the ideal.
Erotikon reflects some of the influences from Hollywood that were seeping into European films after the war. Sets are larger, cuts more frequent (though not always respecting the axis of action), and three-point lighting crops up occasionally. Yet Stiller maintains the strengths of the Scandinavian cinema of the 1910s, with skillful depth staging (left) and a dramatic use of a mirror. In the opening of a crucial scene where the sculptor confronts the wife with her adultery, tension builds because she does not know he is watching her until she sees him in the mirror (see bottom). Still, apart from its European sophistication, Erotikon could pass for an American film of the same era. Stiller and lead actor Lars Hansen would both be working in Hollywood by the mid-1920s.
I can't allow the nearly unknown director William C. de Mille to take up two slots this year, though it's tempting. William's career was shorter than that of his much better-known brother Cecil. It peaked in 1920 and 1921, though, and I still  look back fondly on the  films by him that were shown in "La Giornate del Cinema Muto" festival of 1991. That year saw a large retrospective of Cecil's films, and the organizers wisely decided to include a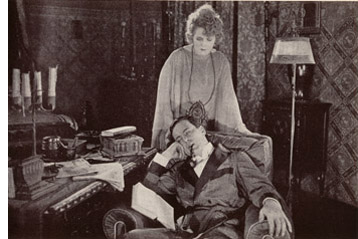 sampling of William's surviving work.
The two men's approaches were markedly different. Where Cecil by this point was setting his films among the rich and using visual means like costumes to make the action crystal-clear to the audience, William was more likely to favor middle-class settings with small dramas laced with humor and presented with restrained acting and small props. Despite William's skill as a director and his ability to create sympathy for his characters, he never gained much prominence, especially compared to his brother. He retired from filmmaking in 1932, at the relatively young age of 54. Yet obviously he was attuned to his brother's style, having written the script for Why Change Your Wife? It may be characteristic of the two that Cecil capitalized the De in De Mille, while William didn't.
Relatively few of William's films survive, but these include two excellent films from 1920, Jack Straw and Conrad in Quest of His Youth. I don't remember Jack Straw well enough to describe it. It involved the hero's falling in love with a woman when they both live in the same Harlem apartment building. When her family becomes rich, Straw disguises himself as the Archduke of Pomerania in order to woo her. Sort of a Ruritanian romance but played out in the U.S.
I remember Conrad in Quest of His Youth better. The hero returns from serving as a soldier in India. He feels old and decides to try and recover his youth. The first attempt comes when he and three cousins agree to return to their childhood home and indulge themselves in the simple pleasures of their youth. Eating porridge for breakfast is a treasured memory, but the group discovers that this and other delights are no longer enjoyable to them as adults. Conrad goes on to seek romance elsewhere and eventually finds a woman who makes him feel young again. The film's poignant early section manages in a way that I've never see in any other film to convey both nostalgia for the joys of childhood and the sad impossibility of recapturing them.
Neither film is available on DVD. Indeed, I couldn't find an image from either to use as an illustration. The only picture I located is a rather uninformative one from Conrad in Quest of His Youth, above right, which I scanned from William C.'s autobiography (Hollywood Saga, 1939). It's no doubt an indicator of William's modesty that the frontispiece of this book is a picture of his brother directing a film.
Maybe this entry will serve as a hint to one of the DVD companies specializing in silent movies that these two titles deserve to be made available. They're high on my list of films I would love to see again.
Most people who study film history see Das Cabinet des Dr. Caligari very early on, though they probably push it to the backs of their minds later on. I have a special fondness for Caligari precisely because I did see it early on. I took my first film course, a survey history of cinema, during my junior year. Maybe I would have gotten hooked and gone on to graduate school in cinema studies anyway, but it was Caligari that initially fascinated me. It  was simply so different from any other films I had seen in what I suddenly realized was my limited movie-going experience. It inspired me to go to the library to look up more about it, a tiny exercise in film research.
Some may condemn it as stage-bound or static. Despite its painted canvas sets and heavy makeup, however, it's not really like a stage play. Many of the sets are conceived of as representing deep space, though often only with a false perspective achieved by those painted sets:
Still, in an era when experimental cinema was largely unknown, Caligari was a bold attempt to bring a modernist movement from the other arts, Expressionism, into the cinema. It succeeded, too, and inaugurated a stylistic movement that we still study today.
I haven't watched Caligari in years (I think I know it by heart), but I'm still fond of it. The plot is clever grand guignol. It has three of the great actors of the Expressionist cinema, Werner Krauss, Conrad Veidt, and Lil Dagover, demonstrating just what this new performance style should look like. The frame story retains the ability to start arguments. The set designs area dramatically original, and muted versions of them have shown up in the occasional film ever since 1920. Even if you don't like it, Caligari can lay claim to being the most stylistically innovative film of its year.
As I did for our 1918 ten-best, I'm cheating a bit by filling one slot of the ten with a pair of shorts by two of the great comics of the silent period. Both have matured considerably in the intervening two years. In 1918, Harold Lloyd was still working out his "glasses" character. By this point he is much closer to working with his more familiar persona. Similarly, in 1918, Buster Keaton was still playing a somewhat subordinate role in partnership with Fatty Arbuckle. In 1920, he made his first five solo shorts, co-directing them with Eddy Cline.
The Lloyd film I've chosen is High and Dizzy, the second short in which he went for "thrill comedy" by staging part of the action high up on the side of a building. (See the image at the top.) Four years later he would build a feature-length plot around a climb up such a building in Safety Last, one of his most popular films. In High and Dizzy, Harold is not quite the brash (or shy) young man he would soon settle on as the two variants his basic persona. The opening shows him as a young doctor in need of patients. He soon falls in love with the heroine, and through a drunken adventure, ends up in the same building where she lies asleep. She sleepwalks along a ledge outside her window, and when Harold goes out to rescue her, she returns to her bedroom and unwittingly locks him out on the ledge. The film is included in the essential "Harold Lloyd Comedy Collection" box-set, or on one of the two discs in Kino's "The Harold Lloyd Collection," Vol. 2."
Neighbors was the fifth of the five Keaton/Cline shorts made in 1920. (It was actually released in early 1921, but I'll cheat a little more here; there are other Keaton films to come in next year's list.) It's a Romeo and Juliet story of Keaton as a boy in one working-class apartment house who loves a girl in a mirror-image house opposite it. Two bare, flat yards with a board fence running exactly halfway between them separate the lovers. Naturally the two sets of parents are enemies.
Lots of good comedy goes on inside the apartment blocks, but the symmetrical backyards and the fence inspire Keaton. We soon realize that his instinctive ability to spread his action up the screen as well as across it was already at play. The action is often observed straight-on from a camera position directly above the fence, so that we–but usually not the characters–can see what's happening on both sides. For one extended scene involving policemen, Keaton perches unseen high above them, hidden. Even though we can't see him, the directors keep the framing far enough back that the place where we know he's lurking is at the top of the frame as we watch the action unfold. The playful treatment of the yard culminates in an astonishingly acrobatic gag that brings in Keaton's early music-hall talents.
The boy and girl have just tried to get married, but her irate father has dragged her home and imprisoned her in a third-floor room. She signals to Keaton, across from her in an identical third-floor window. A scene follows in which two men appear from first- and second-story windows below Keaton, and he climbs onto the shoulders of the two men below. This human tower crosses the yard several times, attempting to rescue the girl; each time they reach the other side, they hide by diving through their respective windows:
They perform similar acrobatics on the return trips to the left side, carrying the bride's suitcase or fleeing after her father suddenly appears.
Neighbors is included as one of two shorts accompanying Seven Chances in the Kino series of Keaton DVDs, available as a group in a box-set.
Our final two films lie more in David's areas of expertise than mine, so at this point I turn this entry over to him.
DB here:
With Barrabas Feuillade says farewell to the crime serial. Now the mysterious gang is more respectable, hiding its chicanery behind a commercial bank. Sounds familiar today. As Brecht asked: What is robbing a bank compared with founding a bank?
Over it all towers another mastermind, the purported banker Rudolph Strelitz. In his preparatory notes Feuillade called him "a sort of sadistic madman, a virtuoso of crime . . . a dilettante of evil." Against Strelitz and his Barrabas network are aligned the lawyer Jacques Varèse, the journalist Raoul de Nérac (played by reliable Édouard Mathé), and the inevitable comic sidekick, once again Biscot (so perky in Tih Minh).
The film's seven-plus hours (or more, depending on the projection rate) run through the usual abductions, murders, impersonations, coded messages, and chases. But there's little sense of the adventurous larking one finds in Tih Minh (1919), in which the hapless villains keep losing to our heroes. The tone of Barrabas is set early on, when Strelitz forces an ex-convict into murder, using the letters of the man's dead son as bait. The man is guillotined. The epilogue rounds things off with a series of happily-ever-afters in the manner of Tih Minh, but these don't dispel, at least for me, the grim schemes that  Strelitz looses on a society devastated by the war. Add a whiff of anti-Semitism (the Prologue is called "The Wandering Jew's Mistress"), and the film can hardly seem vivacious.
According to Jacques Champreux, Barrabas was the first installment film for which Feuillade prepared something like a complete scenario, although it evidently seldom described shots in detail. The film has a quick editing pace (the Prologue averages about three seconds per shot), but that is largely due to the numerous dialogue titles that interrupt continuous takes. With nearly twenty characters playing significant roles and some flashbacks to provide backstory, there's a lot of information to communicate.
Of stylistic interest is Feuillade's movement away from the commanding use of depth we find in Fantômas and other of his previous masterworks. Here the staging is mostly lateral, stretching actors across the frame. Very often characters are simply captured in two-shot and the titles do the work, as if Feuillade were making talking pictures without sound. Once in a while we do get concise shifting and rebalancing of figures, usually around doorways. Here Jacques vows to go to Cannes and tell the police of the kidnapping of his sister. As Raoul and Biscot start to leave, Jacques pivots and says goodbye to Noëlle, creating a simple but touching moment of stasis to cap the scene.
Full of incident but rather joyless, Barrabas will never achieve the popularity among cinephiles of the more delirious installment-films, but it remains a remarkable achievement. The ciné-romans that would follow until Feuillade's death in 1925 would lack its whiff of brimstone. They would mostly be melodramatic Dickensian tales of lost children, secret parents, strayed messages, and faithful lovers. Barrabas is not available on DVD.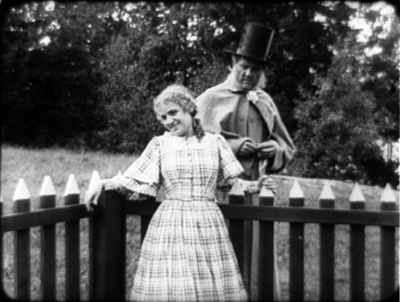 You might think that a movie that opens with a frowning old man studying a skeleton would also be somewhat unhappy fare. Such isn't actually the case with Victor Sjöström's generous-hearted Mästerman, a story of a village pawnbroker obliged to take a young woman as a housekeeper. With his stovepipe hat and air of sour disdain, Samuel Eneman, known to the village as Mästerman, is a ripe candidate for rehabilitation. Once Tora is installed and has put a birdcage (that silent-cinema icon of trapped womanhood) on the window sill, the scene is set for Mästerman's return to fellow feeling. But she is there merely to cover the debts and crime of her sailor boyfriend, and eventually Eneman realizes he must make way for young love. The drama is played out in front of the townspeople, and as often happens in Nordic cinema (e.g., Day of Wrath, Breaking the Waves) the community plays a central role in judging, or misjudging, the vicissitudes of passion.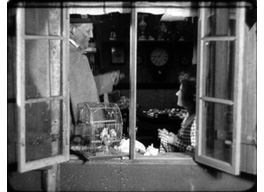 As a director Sjöström is a marvel. His finesse in handling the 1910s "tableau style" shines forth in Ingeborg Holm (1913), but unlike Feuillade and most of his contemporaries, he immediately grasped the emerging trend of analytical editing. His The Girl from the Marsh Croft (1917) and Sons of Ingmar (1918-1919) show a mastery of graded shot-scale, eyeline matching, and the timing of cuts. In Mästerman he continued to use brisk editing and close-ups to suggest the undercurrents of the drama. He moves people effortlessly through adjacent rooms, and his long-held passages of intercut glances recall von Stroheim. On all levels, Mästerman deserves to be more widely known–an ideal opportunity for an enterprising DVD company.
---
For a valuable source on Feuillade's preparation for Barrabas and other of his works see Jacques Champreux, "Les Films à episodes de Louis Feuillade," in 1895 (October 2000), special issue on Feuillade, pp. 160-165. I discuss Feuillade's adoption of editing elsewhere on this site.
Tom Gunning provides an in-depth discussion of Sjöström's style at this period in "'A Dangerous Pledge': Victor Sjöström's Unknown Masterpiece, Mästerman," in Nordic Explorations: Film Before 1930, ed. John Fullerton and Jan Olsson (Sydney: John Libbey, 1999), pp.204-231. For more on some of the directors discussed in this entry, check the category list on the right.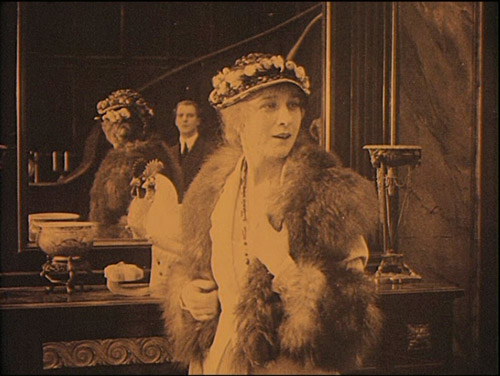 Erotikon.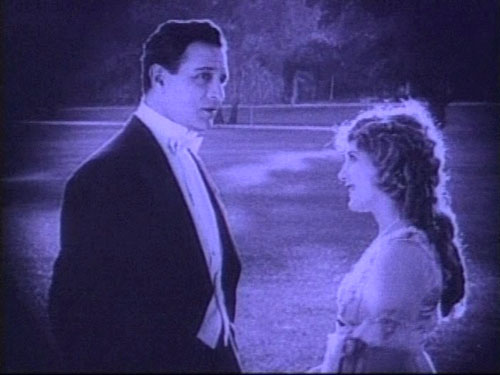 Kristin here–
We ended 2007 with a salute to the 90th anniversary of the solidification of the classical Hollywood filmmaking system. 1917 was not only the year when all the guidelines—continuity editing, three-point lighting, and unified story structure—gelled in American cinema. It was also one of those years (like 1913, 1927, and 1939) when a burst of creativity took place internationally. For those years, it's hard to keep one's greats list to ten.
Enough of you enjoyed that entry that we thought we would come up with another list to end 2008. For some reason, 1918 doesn't yield the plethora of great films that obviously should go on such a list. Maybe it's the sheer accident of preservation. After a string of masterpieces from Douglas Fairbanks in 1917, there seems to be a dearth of his films extant from the following year. Some filmmakers, like Cecil B. De Mille, simply released fewer films in 1918. And of course, some masterpieces may still lie gathering dust on archive shelves, waiting to be discovered.
Still, great films were made that year, some familiar—some that should be better known. Some are available on DVD, and some are excellent candidates for release by some of the enterprising companies like Kino International, Image Entertainment, and Flicker Alley.
1. The list isn't in rank order, but for me the outstanding film of 1918 is Berg-Ejvind och hans hustru, better known to most as The Outlaw and His Wife, by Victor Sjöström. This tale of an enduring love between a man
hunted by the police and a rich landowner who falls in love with him, and, as one title says, "Hearth and home and every man's respect—she gave it all up for his sake." The result is one of the cinema's great romances as the pair flees to the mountains and spend the rest of their lives amidst the natural landscapes that create spectacular backdrops for the action.
This year Kino also brought out a disc with the dynamite double bill of two tragedies Ingeborg Holm (1913) and Terje Vigen (1916). David and I have both written about the staging in Ingeborg Holm, and David has had much to say on tableau staging in 1910s cinema. Watch these three films, and you will understand why we consider Sjöström perhaps the great director of the decade. It's a shame that more of his films are not available yet in the U.S. Buy copies of these, and maybe Kino will bring more of them out.
2. Another master of this era, Louis Feuillade, made a sequel to his Judex (1916): La Nouvelle Mission de Judex. David discusses both in the second chapter of his Figures Traced in Light. Although Judex is available on DVD, so far the second serial is not.
3. I suspect that Hearts of the World is one of those D. W. Griffith features that a lot of film enthusiasts have heard of but not seen. Remarkably, it's not available on DVD. (Keep your old laserdisc if you've got one!) I have to admit, it's not one of my favorite Griffiths, though it does have a charming performance by Dorothy Gish and contains scenes that were actually shot near the front lines in France.
4. Ernst Lubitsch was making the transition from shorts to features in 1917 and 1918. While Carmen is historically important for his development toward his mature style, most audiences these days would probably find Ich möchte kein Mann sein ("I don't want to be a man") more entertaining. It's a comedy about an independent young lady who escapes her strict governess and guardian by going out on the town disguised as a man—in the process joining her guardian without his recognizing her (see the frame at the bottom). Its star, Ossi Oswalda, was an outgoing blonde dynamo, quite different from Pola Negri, whom Lubitsch turned to for his later historical epics.
Kino has made several of Lubitsch's films from the late 1910s and early 1920s available. Ich möchte kein Mann sein can be bought on a single disc with Die Austerinprinzessin ("The Oyster Princess," 1919), another Oswalda comedy. I'd recommend getting it as part of the larger "Lubitsch in Berlin" set, which also includes the hilariously imaginative Die Puppe ("The Doll," 1919), the Expressionist satire Die Bergkatze ("The Wildcat," with Negri in her one comic role for Lubitsch, 1921), an Arabian-nights epic Sumurun (1920), and the historical epic Anna Boleyn (1921), as well as a documentary on Lubitsch.
5. In 1918 Cecil B. De Mille made a film that would change his career's trajectory: Old Wives for New. At the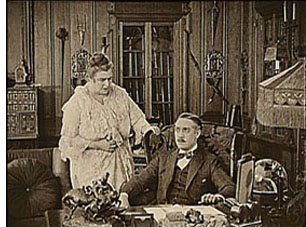 time, this romantic drama that seemed risqué in its casual depiction of adultery, golddiggers, and especially divorce as creating a happy outcome. Up to that point De Mille had been working in a whole range of genres, creating imaginative films that helped define the classical style. The success of Old Wives for New led him to specialize in spicy romances known for their haute couture costumes. The film is available on a disc from Image that includes De Mille's other major film of 1918, The Whispering Chorus.
6. Hell Bent, by John Ford, was long thought to be among his many lost westerns from the early years of his career. It was rediscovered in the Czechoslovakian archive and shown years ago in Pordenone at the Il Giornate del Cinema Muto festival. I must confess that I don't remember it very well, apart from one spectacular tilt downwards as a stagecoach (?) races down a winding mountain road. Not as good as Straight Shooting, and Hell Bent survives in rocky shape (perhaps too much so for DVD release), but Ford films of this era are so rare that I've listed this one.
7. Like Lubitsch, in the late 1910s Charlie Chaplin was making a gradual transition from shorts to features. In 1916 and 1917 he released a remarkable string of Mutual two-reelers, from The Rink (December 1916) to The Adventurer (October 1917). In 1918, with A Dog's Life and Shoulder Arms, he increased the films' length to three reels, or roughly 45 minutes, and started releasing through First National. He also cut back on the number of titles released each year. Apart from a brief promotional film for war bonds, A Dog's Life and Shoulder Arms were his only 1918 releases. Which is better? I suppose most people would say Shoulder Arms. To me it's a toss-up.
8. David and I started attending Il Giornate del Cinema Muto in 1986, when the festival was launching its great series of national retrospectives. In quick succession, these retrospectives revealed three hitherto virtually unknown but major auteurs of the 1910s: the Swede, Georg af Klercker, in 1986; the Russian, Evgeni Bauer, in 1989; and the German Franz Hofer, in 1990. Bauer's career ended with his death in 1917. Hofer remained active until the early 1930s. The Giornate's German program contained only six of his films, however, and those from the 1913-1915 period. I suspect that means the later teens titles are lost.
In contrast, nearly all of af Klercker's films survive, mostly in the original negatives. The prints shown at Pordenone were stunning. The director had a great eye for settings, using beaded curtains, mirrors, and other elements to considerable effect. He made three films in 1918: Fyrvaktarens dotter, Nobelpristagaren,Nattliga toner, the first two of which were shown in the 1986 retrospective.
Unfortunately since then the films have not been made widely available, either in prints or on DVD. Having not seen the two titles just mentioned since 1986, I can't say that I remember them well enough to judge between them. So I'll just leave all three films here, along with the advice to seize any chance you may get to see those or af Klercker's other films.
(Given how little known af Klercker's work is outside Sweden, I should point out a major English-language piece on the director's style, Astrid Söderbergh Widding's "Towards Classical Narration? Georg af Klercker in Context," in editors John Fullerton and Jan Olsson's Nordic Explorations: Film Before 1930 [Sydney: John Libbey, 1999].)
9. Stella Maris, directed by Marshall Neilan, was the first of five features Mary Pickford starred in in 1918. Its reputation lies mainly in the fact that Pickford played a double role, the bed-bound but lovely title character, and an ugly, slightly deformed orphan. In its outline, the story sounds abstract and overly symmetrical. Stella Maris's relatives shut her off from all ugliness in the world, keeping her in happy innocence well into her teens. Unity, the orphan, has known nothing but deprivation. As Stella comes to glimpse the grim side of life, Unity is adopted and has glimpses of the beauties enjoyed by the rich. Both become miserable as a result.
The overall implication is pretty grim. Stella's world is initially wonderful only because everyone lies to her. She becomes embittered when she finally discovers this. At the heart of the tale is the deception that life is beautiful. Unity, who has not been deceived, knows better from the start. Even one brief reference to the war, as a troupe of soldiers passes by the estate where Stella lives, makes it seem tragic—this in a film that came out about two months after the U.S. had entered World War I.
The balance between the two characters is made less artificial than it might sound by Pickford's extraordinary performance—not so much as Stella, who is a rather passive version of the typical Pickford persona, but as Unity. The waif's frequent disappointments and outright suffering create a strong effect that shadows even the quasi-happy ending. It's a beautifully made film as well, with the use of glamorous backlight (as in the image at the top of this entry). Stella Maris is available on DVD from Image.
10. I have been hard put to find a feature to round out the list, so I'm substituting a group of shorts. They're not masterpieces by any means, but each displays the talents of a great silent comic well on the way toward his most fruitful period.
There's no single great film to mark Harold Lloyd's transition, but during 1918 he was developing his "glasses" character. He had had a modest success with his "Lonesome Luke" series from 1915 to 1917, where he essentially created a variant of Chaplin. In September, 1917, Lloyd first wore his famous black, lens-less glasses in Over the Fence. His early one-reelers wearing those glasses were still sheer slapstick, with little of the characterization that he would later develop to go with his new look. Arguably it was 1919 or even 1920 before he had fully nailed that persona. Still, during 1918 one can see him groping toward the formula.
Kino's "The Harold Lloyd Collection" volumes contain four films from that year, all co-starring Lloyd's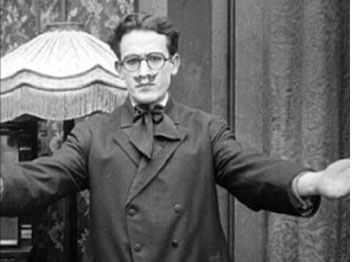 regular co-stars, Snub Pollard and Bebe Daniels. The Non Stop Kid (the title on the film; filmographies mistakenly give it as The Non-Stop Kid; May 21), Two-Gun Gussie (May 19), The City Slicker (June 2, all three on volume 2), and Are Crooks Dishonest? (June 23, on volume 1). The development clearly came in fits and starts. Two-Gun Gussie and Are Crooks Dishonest? are both slapstick affairs involving tricks and mistaken identify. The Non Stop Kid, though, has Lloyd in a more familiar situation, using his wits to foil a crowd of suitors and win the heroine's hand. The City Slicker has a similar feel to it, though unfortunately the end is missing. The Non Stop Kid also has Lloyd donning a disguise in the form of a false moustache that somewhat resembles the one he had worn as Luke. This scene has a startling effect, blending the glasses character and the Luke character.
1917 and 1918 formed the high point of the string of comic shorts directed by Fatty Arbuckle, in which he also co-starred with Buster Keaton and Al St. John. When Keaton went solo, he proved to be a far better director than Arbuckle. Arbuckle tended to simply face his camera perpendicularly toward the back of the set for every shot, just cutting to whatever scale of framing would best display a gag. Here it's the perfectly timed and executed gags that dazzle, and the films are often hilarious. In 1918, the team made The Bell Boy, Moonshine, Out West, Good Night Nurse, and The Cook. The latter shows off Arbuckle and Keaton's dexterity at juggling props and Fatty's surprising grace, as when he improvises a Salome dance with a head of lettuce standing in for that of John the Baptist!
The 13 surviving Arbuckle-Keaton films (some with missing bits) are available on Eureka's definitive boxed set, "Buster Keaton: The Complete Short Films." (That's Region 2 format only, and available from Amazon UK.) Image's "The Best Arbuckle Keaton Collection" has 12 films, missing only the more recently rediscovered The Cook. Image brought out The Cook on a disc with Arbuckle's A Reckless Romeo (1917, sans Keaton). Kino's two separately available volumes of "Arbuckle & Keaton" (here and here) contain 10 shorts total, again missing The Cook.
Apart from all these films, it's worth noting that in the world of animation, 1918 saw the release of Winsor McCay's fourth cartoon, The Sinking of the Lusitania, and Dave Fleischer's first, Out of the Inkwell, which launched the enduring series.
Next year, 1919. Happy 2009 to all our readers!