Wednesday | December 31, 2008
open printable version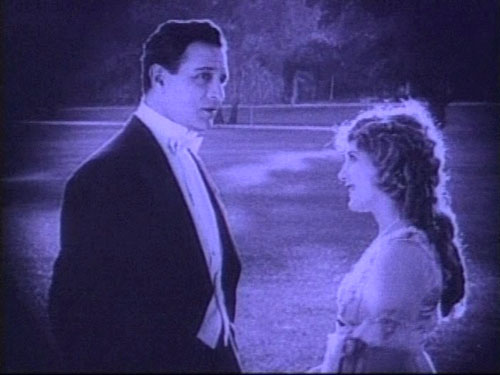 Kristin here–
We ended 2007 with a salute to the 90th anniversary of the solidification of the classical Hollywood filmmaking system. 1917 was not only the year when all the guidelines—continuity editing, three-point lighting, and unified story structure—gelled in American cinema. It was also one of those years (like 1913, 1927, and 1939) when a burst of creativity took place internationally. For those years, it's hard to keep one's greats list to ten.
Enough of you enjoyed that entry that we thought we would come up with another list to end 2008. For some reason, 1918 doesn't yield the plethora of great films that obviously should go on such a list. Maybe it's the sheer accident of preservation. After a string of masterpieces from Douglas Fairbanks in 1917, there seems to be a dearth of his films extant from the following year. Some filmmakers, like Cecil B. De Mille, simply released fewer films in 1918. And of course, some masterpieces may still lie gathering dust on archive shelves, waiting to be discovered.
Still, great films were made that year, some familiar—some that should be better known. Some are available on DVD, and some are excellent candidates for release by some of the enterprising companies like Kino International, Image Entertainment, and Flicker Alley.
1. The list isn't in rank order, but for me the outstanding film of 1918 is Berg-Ejvind och hans hustru, better known to most as The Outlaw and His Wife, by Victor Sjöström. This tale of an enduring love between a man
hunted by the police and a rich landowner who falls in love with him, and, as one title says, "Hearth and home and every man's respect—she gave it all up for his sake." The result is one of the cinema's great romances as the pair flees to the mountains and spend the rest of their lives amidst the natural landscapes that create spectacular backdrops for the action.
This year Kino also brought out a disc with the dynamite double bill of two tragedies Ingeborg Holm (1913) and Terje Vigen (1916). David and I have both written about the staging in Ingeborg Holm, and David has had much to say on tableau staging in 1910s cinema. Watch these three films, and you will understand why we consider Sjöström perhaps the great director of the decade. It's a shame that more of his films are not available yet in the U.S. Buy copies of these, and maybe Kino will bring more of them out.
2. Another master of this era, Louis Feuillade, made a sequel to his Judex (1916): La Nouvelle Mission de Judex. David discusses both in the second chapter of his Figures Traced in Light. Although Judex is available on DVD, so far the second serial is not.
3. I suspect that Hearts of the World is one of those D. W. Griffith features that a lot of film enthusiasts have heard of but not seen. Remarkably, it's not available on DVD. (Keep your old laserdisc if you've got one!) I have to admit, it's not one of my favorite Griffiths, though it does have a charming performance by Dorothy Gish and contains scenes that were actually shot near the front lines in France.
4. Ernst Lubitsch was making the transition from shorts to features in 1917 and 1918. While Carmen is historically important for his development toward his mature style, most audiences these days would probably find Ich möchte kein Mann sein ("I don't want to be a man") more entertaining. It's a comedy about an independent young lady who escapes her strict governess and guardian by going out on the town disguised as a man—in the process joining her guardian without his recognizing her (see the frame at the bottom). Its star, Ossi Oswalda, was an outgoing blonde dynamo, quite different from Pola Negri, whom Lubitsch turned to for his later historical epics.
Kino has made several of Lubitsch's films from the late 1910s and early 1920s available. Ich möchte kein Mann sein can be bought on a single disc with Die Austerinprinzessin ("The Oyster Princess," 1919), another Oswalda comedy. I'd recommend getting it as part of the larger "Lubitsch in Berlin" set, which also includes the hilariously imaginative Die Puppe ("The Doll," 1919), the Expressionist satire Die Bergkatze ("The Wildcat," with Negri in her one comic role for Lubitsch, 1921), an Arabian-nights epic Sumurun (1920), and the historical epic Anna Boleyn (1921), as well as a documentary on Lubitsch.
5. In 1918 Cecil B. De Mille made a film that would change his career's trajectory: Old Wives for New. At the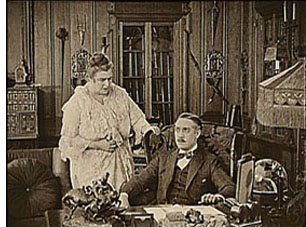 time, this romantic drama that seemed risqué in its casual depiction of adultery, golddiggers, and especially divorce as creating a happy outcome. Up to that point De Mille had been working in a whole range of genres, creating imaginative films that helped define the classical style. The success of Old Wives for New led him to specialize in spicy romances known for their haute couture costumes. The film is available on a disc from Image that includes De Mille's other major film of 1918, The Whispering Chorus.
6. Hell Bent, by John Ford, was long thought to be among his many lost westerns from the early years of his career. It was rediscovered in the Czechoslovakian archive and shown years ago in Pordenone at the Il Giornate del Cinema Muto festival. I must confess that I don't remember it very well, apart from one spectacular tilt downwards as a stagecoach (?) races down a winding mountain road. Not as good as Straight Shooting, and Hell Bent survives in rocky shape (perhaps too much so for DVD release), but Ford films of this era are so rare that I've listed this one.
7. Like Lubitsch, in the late 1910s Charlie Chaplin was making a gradual transition from shorts to features. In 1916 and 1917 he released a remarkable string of Mutual two-reelers, from The Rink (December 1916) to The Adventurer (October 1917). In 1918, with A Dog's Life and Shoulder Arms, he increased the films' length to three reels, or roughly 45 minutes, and started releasing through First National. He also cut back on the number of titles released each year. Apart from a brief promotional film for war bonds, A Dog's Life and Shoulder Arms were his only 1918 releases. Which is better? I suppose most people would say Shoulder Arms. To me it's a toss-up.
8. David and I started attending Il Giornate del Cinema Muto in 1986, when the festival was launching its great series of national retrospectives. In quick succession, these retrospectives revealed three hitherto virtually unknown but major auteurs of the 1910s: the Swede, Georg af Klercker, in 1986; the Russian, Evgeni Bauer, in 1989; and the German Franz Hofer, in 1990. Bauer's career ended with his death in 1917. Hofer remained active until the early 1930s. The Giornate's German program contained only six of his films, however, and those from the 1913-1915 period. I suspect that means the later teens titles are lost.
In contrast, nearly all of af Klercker's films survive, mostly in the original negatives. The prints shown at Pordenone were stunning. The director had a great eye for settings, using beaded curtains, mirrors, and other elements to considerable effect. He made three films in 1918: Fyrvaktarens dotter, Nobelpristagaren,Nattliga toner, the first two of which were shown in the 1986 retrospective.
Unfortunately since then the films have not been made widely available, either in prints or on DVD. Having not seen the two titles just mentioned since 1986, I can't say that I remember them well enough to judge between them. So I'll just leave all three films here, along with the advice to seize any chance you may get to see those or af Klercker's other films.
(Given how little known af Klercker's work is outside Sweden, I should point out a major English-language piece on the director's style, Astrid Söderbergh Widding's "Towards Classical Narration? Georg af Klercker in Context," in editors John Fullerton and Jan Olsson's Nordic Explorations: Film Before 1930 [Sydney: John Libbey, 1999].)
9. Stella Maris, directed by Marshall Neilan, was the first of five features Mary Pickford starred in in 1918. Its reputation lies mainly in the fact that Pickford played a double role, the bed-bound but lovely title character, and an ugly, slightly deformed orphan. In its outline, the story sounds abstract and overly symmetrical. Stella Maris's relatives shut her off from all ugliness in the world, keeping her in happy innocence well into her teens. Unity, the orphan, has known nothing but deprivation. As Stella comes to glimpse the grim side of life, Unity is adopted and has glimpses of the beauties enjoyed by the rich. Both become miserable as a result.
The overall implication is pretty grim. Stella's world is initially wonderful only because everyone lies to her. She becomes embittered when she finally discovers this. At the heart of the tale is the deception that life is beautiful. Unity, who has not been deceived, knows better from the start. Even one brief reference to the war, as a troupe of soldiers passes by the estate where Stella lives, makes it seem tragic—this in a film that came out about two months after the U.S. had entered World War I.
The balance between the two characters is made less artificial than it might sound by Pickford's extraordinary performance—not so much as Stella, who is a rather passive version of the typical Pickford persona, but as Unity. The waif's frequent disappointments and outright suffering create a strong effect that shadows even the quasi-happy ending. It's a beautifully made film as well, with the use of glamorous backlight (as in the image at the top of this entry). Stella Maris is available on DVD from Image.
10. I have been hard put to find a feature to round out the list, so I'm substituting a group of shorts. They're not masterpieces by any means, but each displays the talents of a great silent comic well on the way toward his most fruitful period.
There's no single great film to mark Harold Lloyd's transition, but during 1918 he was developing his "glasses" character. He had had a modest success with his "Lonesome Luke" series from 1915 to 1917, where he essentially created a variant of Chaplin. In September, 1917, Lloyd first wore his famous black, lens-less glasses in Over the Fence. His early one-reelers wearing those glasses were still sheer slapstick, with little of the characterization that he would later develop to go with his new look. Arguably it was 1919 or even 1920 before he had fully nailed that persona. Still, during 1918 one can see him groping toward the formula.
Kino's "The Harold Lloyd Collection" volumes contain four films from that year, all co-starring Lloyd's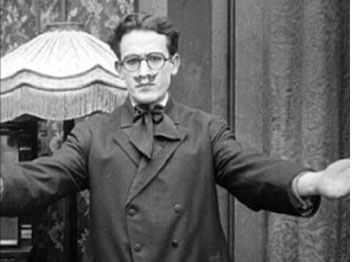 regular co-stars, Snub Pollard and Bebe Daniels. The Non Stop Kid (the title on the film; filmographies mistakenly give it as The Non-Stop Kid; May 21), Two-Gun Gussie (May 19), The City Slicker (June 2, all three on volume 2), and Are Crooks Dishonest? (June 23, on volume 1). The development clearly came in fits and starts. Two-Gun Gussie and Are Crooks Dishonest? are both slapstick affairs involving tricks and mistaken identify. The Non Stop Kid, though, has Lloyd in a more familiar situation, using his wits to foil a crowd of suitors and win the heroine's hand. The City Slicker has a similar feel to it, though unfortunately the end is missing. The Non Stop Kid also has Lloyd donning a disguise in the form of a false moustache that somewhat resembles the one he had worn as Luke. This scene has a startling effect, blending the glasses character and the Luke character.
1917 and 1918 formed the high point of the string of comic shorts directed by Fatty Arbuckle, in which he also co-starred with Buster Keaton and Al St. John. When Keaton went solo, he proved to be a far better director than Arbuckle. Arbuckle tended to simply face his camera perpendicularly toward the back of the set for every shot, just cutting to whatever scale of framing would best display a gag. Here it's the perfectly timed and executed gags that dazzle, and the films are often hilarious. In 1918, the team made The Bell Boy, Moonshine, Out West, Good Night Nurse, and The Cook. The latter shows off Arbuckle and Keaton's dexterity at juggling props and Fatty's surprising grace, as when he improvises a Salome dance with a head of lettuce standing in for that of John the Baptist!
The 13 surviving Arbuckle-Keaton films (some with missing bits) are available on Eureka's definitive boxed set, "Buster Keaton: The Complete Short Films." (That's Region 2 format only, and available from Amazon UK.) Image's "The Best Arbuckle Keaton Collection" has 12 films, missing only the more recently rediscovered The Cook. Image brought out The Cook on a disc with Arbuckle's A Reckless Romeo (1917, sans Keaton). Kino's two separately available volumes of "Arbuckle & Keaton" (here and here) contain 10 shorts total, again missing The Cook.
Apart from all these films, it's worth noting that in the world of animation, 1918 saw the release of Winsor McCay's fourth cartoon, The Sinking of the Lusitania, and Dave Fleischer's first, Out of the Inkwell, which launched the enduring series.
Next year, 1919. Happy 2009 to all our readers!