Sunday | December 5, 2010
open printable version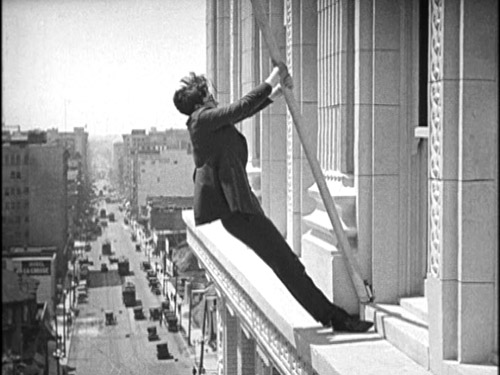 High and Dizzy
Kristin here:
Three years ago, we saluted the ninetieth anniversary of what was arguably the year when the classical Hollywood cinema emerged in its full form. The stylistic guidelines that had been slowly formulated over the past decade or so gelled in 1917. We included a list of what we thought were the ten best surviving films of that year.
In 2008 we again posted another ten-best list, again for ninety years ago. This annual feature has become our alternative to the ubiquitous 10-best-films-of-2010 lists that print and online journalist love to publish at year's end. It's fun, and readers and teachers seem to find our lists a helpful guide for choosing unfamiliar films for personal viewing or for teaching cinema history. (The 1919 entry is here.)
There were many wonderful films released in 1920, but, as with 1918, I've had a little trouble coming up with the ten most outstanding ones. Some choices are obvious. I've known all along that Maurice Tourneur's The Last of the Mohicans (finished by Clarence Brown when Tourneur was injured) would figure prominently here. There are old warhorses like Das Cabinet des Dr. Caligari and Way Down East that couldn't be left off—not that I would want to.
But after coming up with seven titles (eight, really, since I've snuck in two William C. de Mille films), I was left with a bunch of others that didn't quite seem up to the same level. Sure, John Ford's Just Pals is a charming film, but a world-class masterpiece? A few directors made some of their lesser films in 1920, as with Dreyer's The Parson's Widow or Lubitsch's Sumurun. Seeing Frank Borzage's legendary Humoresque for the first time, I was disappointed—especially when comparing it with the marvelous Lazy Bones of 1924. (Assuming we continue these annual lists, expect Borzage to show up a lot.) Chaplin didn't release a film in 1920, and Keaton and Lloyd were still making shorts, albeit inspired shorts. Mary Pickford's only film of the year, the clever and touching Suds, is a worthy also-ran. Choosing Barrabas over The Parson's Widow or Why Change Your Wife? over Sumurun has a certain flip-of-the-coin arbitrariness, but we wanted to keep the list manageable. But they all repay watching.
The year 1920 can be thought of as a sort of calm before the storm. In Hollywood a new generation was about to come to prominence. Griffith would decline (Way Down East may be his last film to figure on our lists). Borzage will soon reach his prime, as will Ford. Howard Hawks will launch his career, and King Vidor will become a major director. The great three comics, Chaplin, Keaton, and Lloyd will move into features. In other countries, an enormous flowering of new talent will appear or gain a higher profile: Murnau, Lang, Pabst, Eisenstein, Pudovkin, Dozhenko, Kuleshov, Vertov, Ozu, Mizoguchi, Jean Epstein, Pabst, Hitchcock, and others. The experimental cinema will be invented, and Lotte Reiniger will devise her own distinctive form of animation. Watch for them all in future lists, which will be increasingly difficult to concoct
In the meantime, here's this year's ten (with two smuggled in). Unfortunately, some of these films are not available on DVD. They should be.
The great French emigré director Maurice Tourneur figured here last year for his 1919 film Victory. The Last of the Mohicans is just as good, if not better. I haven't read the Cooper novel, set during the French and Indian War, but it's obvious that Tourneur has pared down and changed the plot considerably. The sister, Alice, is made a less important character, with the plot focusing on two threads: the Indian attack on the British population as they leave their surrendered fort and on the virtually unspoken attraction between the heroine Cora and the Mohican Indian Uncas. The seemingly impassive gazes between these characters, forced to conceal their attraction, convey more passion than many more effusive performances of the silent period. The actress playing Cora also wore less makeup than was conventional, de-glamorizing her and making her a more convincing frontier heroine.
The film is remarkable for its gorgeous photography, with spectacular location landscapes, some apparently shot in Yosemite (below left). Tourneur's signature compositional technique of shooting through a foreground doorway or cave opening or other aperture appears frequently (below right). (Brown's account of the filming in Kevin Brownlow's The Parade's Gone By makes it sound as though he shot most of the picture, but in watching the film I find this hard to believe.)
Finally, the film stands out from most Hollywood films of its day for its uncompromising depiction of the ruthless violence of the conflict between the British and those Indians allied with the French. The scene in which the inhabitants of the fort leave under an assumed truce and are massacred can still create considerable suspense today, and the outcome puts paid to the notion that all Hollywood films end happily.
The word melodrama gets tossed around a lot, and many would think of much of D. W. Griffith's output as consisting of little besides melodramas. But Way Down East is the quintessential film melodrama. An innocent young woman (Lillian Gish) is lured into a mock marriage and ends up deserted and with a baby. The baby dies and she finds a place as a servant to a large country family, where the son (Richard Barthelmess) falls in love with her. Her sinful status as an unwed mother leads the family patriarch to order her out, literally into the stormy night. She ends up on an ice flow, headed toward a waterfall. Along the way there's comic relief from some country bumpkins and a naive professor who falls for the hero's sister. It all works, partly because Griffith treats the main plot with dead seriousness and partly because Gish elicits considerable sympathy for her character.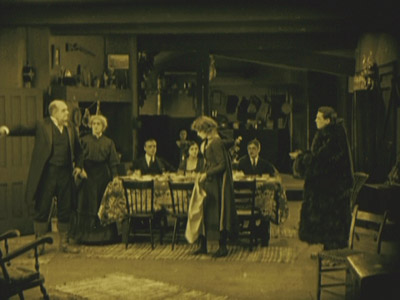 Not only is it a great film, but it provides a window into the past, preserving a popular nineteenth-century play and giving insight into the drama of that era. It's hard to think of another feature film that conveys such a genuine record of the Victorian theater, directed by a man who had made his start on the stage of the same period. (Unfortunately the film does not survive complete. The Kino version linked above is from the Museum of Modern Art's restoration, which provides intertitles to explain what happens during missing scenes.)
Way Down East displayed a conservative attitude toward sex that was rapidly receding into the past–at least as far as the movies were concerned. The same year saw two films that set the tone for the Roaring '20s in their more risqué depiction of romantic relationships:  Cecil B. De Mille's Why Change Your Wife? and Mauritz Stiller's frankly titled Swedish comedy Erotikon.
De Mille has featured on our previous lists, for Old Wives for New in 1918 and Male and Female in 1919. Why Change Your Wife? ramped up the sexual aspect of the plot, however, as a Photoplay reviewer made clear: ""Having achieved a reputation as the great modern concocter of the sex stew by adding a piquant dash here and there to Don't Change Your Husband, and a little more to Male and Female, he spills the spice box into Why Change Your Wife?" The plot is not nearly as daring as this suggests. Gloria Swanson plays a wife who is straight-laced and intellectual, driving her husband to spend time with a stylish woman who tries to seduce him. Yet he flees after one kiss, and after his wife divorces him on the assumption that he has cheated on her, he marries the seductress. The heroine discovers the error of her ways and becomes sexy in her dress and behavior. As a result the husband regains his old love for her, and they remarry. No actual adultery occurs, and the first marriage is affirmed with a happy ending.
Why Change Your Wife? may have seemed more daring because De Mille here externalizes the shifting relationships through the costumes to the point where no viewer could miss the implications. Initially the wife's demure dresses mark her as prudish, while the woman who lures her husband away is dressed like a vamp. Once the wife lets go, she dons similar revealing, expensive designer clothes. As a result, the male members of the audience might revel in a fantasy of their ideal wife, and the women would delight in displays of fashions most of them could never own in reality. It proved a successful combination. We tend to forget it now, but the 1920s was full of variants and imitations of Why Change Your Wife?, often featuring a fashion-show scene that was nothing but a parade of models in outlandish clothes. (Early Technicolor was sometimes shone off in such sequences.) Top designers like Erté were recruited to bring their talents to such films.
Fashion as a selling point in films remains with us. The glossy new version of The Hollywood Reporter, recently decried by David, now has a regular "Hollywood Style" section. The November 24 issue ran "Costumes of The King's Speech," and the December 1 issue describes "Fashions of The Tourist," with photos of Angelina Jolie in her various costumes. In addition to shots of the stars, both articles feature enticing close-ups of lipstick, shoes, jewelry,and purses.
A double feature of Why Change Your Wife? and Erotikon would provide a vivid sense of the differing moral outlooks of mainstream America and Europe in the post-war years. In Erotikon, the situation is reversed. An absent-minded entomologist neglects
his sexy wife, who is having an affair with a nobleman. She is in love, however, with a sculptor, who is having an affair with his model. The sculptor returns her love, but eventually becomes jealous, not of her husband, who is his best friend, but of her lover. When the husband finds out that his wife has been unfaithful, he is mildly upset, but he settles down happily with his cheerful young niece, who pampers his taste for plain cooking and an undemanding home life. About the only thing these two films have in common is that they view divorce, which was still quite a controversial issue in the 1920s, as sometimes benefiting the people involved. Adultery actually occurs rather than being hinted at but avoided, though faithful monogamy is ultimately put forth as the ideal.
Erotikon reflects some of the influences from Hollywood that were seeping into European films after the war. Sets are larger, cuts more frequent (though not always respecting the axis of action), and three-point lighting crops up occasionally. Yet Stiller maintains the strengths of the Scandinavian cinema of the 1910s, with skillful depth staging (left) and a dramatic use of a mirror. In the opening of a crucial scene where the sculptor confronts the wife with her adultery, tension builds because she does not know he is watching her until she sees him in the mirror (see bottom). Still, apart from its European sophistication, Erotikon could pass for an American film of the same era. Stiller and lead actor Lars Hansen would both be working in Hollywood by the mid-1920s.
I can't allow the nearly unknown director William C. de Mille to take up two slots this year, though it's tempting. William's career was shorter than that of his much better-known brother Cecil. It peaked in 1920 and 1921, though, and I still  look back fondly on the  films by him that were shown in "La Giornate del Cinema Muto" festival of 1991. That year saw a large retrospective of Cecil's films, and the organizers wisely decided to include a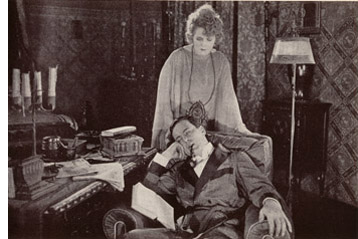 sampling of William's surviving work.
The two men's approaches were markedly different. Where Cecil by this point was setting his films among the rich and using visual means like costumes to make the action crystal-clear to the audience, William was more likely to favor middle-class settings with small dramas laced with humor and presented with restrained acting and small props. Despite William's skill as a director and his ability to create sympathy for his characters, he never gained much prominence, especially compared to his brother. He retired from filmmaking in 1932, at the relatively young age of 54. Yet obviously he was attuned to his brother's style, having written the script for Why Change Your Wife? It may be characteristic of the two that Cecil capitalized the De in De Mille, while William didn't.
Relatively few of William's films survive, but these include two excellent films from 1920, Jack Straw and Conrad in Quest of His Youth. I don't remember Jack Straw well enough to describe it. It involved the hero's falling in love with a woman when they both live in the same Harlem apartment building. When her family becomes rich, Straw disguises himself as the Archduke of Pomerania in order to woo her. Sort of a Ruritanian romance but played out in the U.S.
I remember Conrad in Quest of His Youth better. The hero returns from serving as a soldier in India. He feels old and decides to try and recover his youth. The first attempt comes when he and three cousins agree to return to their childhood home and indulge themselves in the simple pleasures of their youth. Eating porridge for breakfast is a treasured memory, but the group discovers that this and other delights are no longer enjoyable to them as adults. Conrad goes on to seek romance elsewhere and eventually finds a woman who makes him feel young again. The film's poignant early section manages in a way that I've never see in any other film to convey both nostalgia for the joys of childhood and the sad impossibility of recapturing them.
Neither film is available on DVD. Indeed, I couldn't find an image from either to use as an illustration. The only picture I located is a rather uninformative one from Conrad in Quest of His Youth, above right, which I scanned from William C.'s autobiography (Hollywood Saga, 1939). It's no doubt an indicator of William's modesty that the frontispiece of this book is a picture of his brother directing a film.
Maybe this entry will serve as a hint to one of the DVD companies specializing in silent movies that these two titles deserve to be made available. They're high on my list of films I would love to see again.
Most people who study film history see Das Cabinet des Dr. Caligari very early on, though they probably push it to the backs of their minds later on. I have a special fondness for Caligari precisely because I did see it early on. I took my first film course, a survey history of cinema, during my junior year. Maybe I would have gotten hooked and gone on to graduate school in cinema studies anyway, but it was Caligari that initially fascinated me. It  was simply so different from any other films I had seen in what I suddenly realized was my limited movie-going experience. It inspired me to go to the library to look up more about it, a tiny exercise in film research.
Some may condemn it as stage-bound or static. Despite its painted canvas sets and heavy makeup, however, it's not really like a stage play. Many of the sets are conceived of as representing deep space, though often only with a false perspective achieved by those painted sets:
Still, in an era when experimental cinema was largely unknown, Caligari was a bold attempt to bring a modernist movement from the other arts, Expressionism, into the cinema. It succeeded, too, and inaugurated a stylistic movement that we still study today.
I haven't watched Caligari in years (I think I know it by heart), but I'm still fond of it. The plot is clever grand guignol. It has three of the great actors of the Expressionist cinema, Werner Krauss, Conrad Veidt, and Lil Dagover, demonstrating just what this new performance style should look like. The frame story retains the ability to start arguments. The set designs area dramatically original, and muted versions of them have shown up in the occasional film ever since 1920. Even if you don't like it, Caligari can lay claim to being the most stylistically innovative film of its year.
As I did for our 1918 ten-best, I'm cheating a bit by filling one slot of the ten with a pair of shorts by two of the great comics of the silent period. Both have matured considerably in the intervening two years. In 1918, Harold Lloyd was still working out his "glasses" character. By this point he is much closer to working with his more familiar persona. Similarly, in 1918, Buster Keaton was still playing a somewhat subordinate role in partnership with Fatty Arbuckle. In 1920, he made his first five solo shorts, co-directing them with Eddy Cline.
The Lloyd film I've chosen is High and Dizzy, the second short in which he went for "thrill comedy" by staging part of the action high up on the side of a building. (See the image at the top.) Four years later he would build a feature-length plot around a climb up such a building in Safety Last, one of his most popular films. In High and Dizzy, Harold is not quite the brash (or shy) young man he would soon settle on as the two variants his basic persona. The opening shows him as a young doctor in need of patients. He soon falls in love with the heroine, and through a drunken adventure, ends up in the same building where she lies asleep. She sleepwalks along a ledge outside her window, and when Harold goes out to rescue her, she returns to her bedroom and unwittingly locks him out on the ledge. The film is included in the essential "Harold Lloyd Comedy Collection" box-set, or on one of the two discs in Kino's "The Harold Lloyd Collection," Vol. 2."
Neighbors was the fifth of the five Keaton/Cline shorts made in 1920. (It was actually released in early 1921, but I'll cheat a little more here; there are other Keaton films to come in next year's list.) It's a Romeo and Juliet story of Keaton as a boy in one working-class apartment house who loves a girl in a mirror-image house opposite it. Two bare, flat yards with a board fence running exactly halfway between them separate the lovers. Naturally the two sets of parents are enemies.
Lots of good comedy goes on inside the apartment blocks, but the symmetrical backyards and the fence inspire Keaton. We soon realize that his instinctive ability to spread his action up the screen as well as across it was already at play. The action is often observed straight-on from a camera position directly above the fence, so that we–but usually not the characters–can see what's happening on both sides. For one extended scene involving policemen, Keaton perches unseen high above them, hidden. Even though we can't see him, the directors keep the framing far enough back that the place where we know he's lurking is at the top of the frame as we watch the action unfold. The playful treatment of the yard culminates in an astonishingly acrobatic gag that brings in Keaton's early music-hall talents.
The boy and girl have just tried to get married, but her irate father has dragged her home and imprisoned her in a third-floor room. She signals to Keaton, across from her in an identical third-floor window. A scene follows in which two men appear from first- and second-story windows below Keaton, and he climbs onto the shoulders of the two men below. This human tower crosses the yard several times, attempting to rescue the girl; each time they reach the other side, they hide by diving through their respective windows:
They perform similar acrobatics on the return trips to the left side, carrying the bride's suitcase or fleeing after her father suddenly appears.
Neighbors is included as one of two shorts accompanying Seven Chances in the Kino series of Keaton DVDs, available as a group in a box-set.
Our final two films lie more in David's areas of expertise than mine, so at this point I turn this entry over to him.
DB here:
With Barrabas Feuillade says farewell to the crime serial. Now the mysterious gang is more respectable, hiding its chicanery behind a commercial bank. Sounds familiar today. As Brecht asked: What is robbing a bank compared with founding a bank?
Over it all towers another mastermind, the purported banker Rudolph Strelitz. In his preparatory notes Feuillade called him "a sort of sadistic madman, a virtuoso of crime . . . a dilettante of evil." Against Strelitz and his Barrabas network are aligned the lawyer Jacques Varèse, the journalist Raoul de Nérac (played by reliable Édouard Mathé), and the inevitable comic sidekick, once again Biscot (so perky in Tih Minh).
The film's seven-plus hours (or more, depending on the projection rate) run through the usual abductions, murders, impersonations, coded messages, and chases. But there's little sense of the adventurous larking one finds in Tih Minh (1919), in which the hapless villains keep losing to our heroes. The tone of Barrabas is set early on, when Strelitz forces an ex-convict into murder, using the letters of the man's dead son as bait. The man is guillotined. The epilogue rounds things off with a series of happily-ever-afters in the manner of Tih Minh, but these don't dispel, at least for me, the grim schemes that  Strelitz looses on a society devastated by the war. Add a whiff of anti-Semitism (the Prologue is called "The Wandering Jew's Mistress"), and the film can hardly seem vivacious.
According to Jacques Champreux, Barrabas was the first installment film for which Feuillade prepared something like a complete scenario, although it evidently seldom described shots in detail. The film has a quick editing pace (the Prologue averages about three seconds per shot), but that is largely due to the numerous dialogue titles that interrupt continuous takes. With nearly twenty characters playing significant roles and some flashbacks to provide backstory, there's a lot of information to communicate.
Of stylistic interest is Feuillade's movement away from the commanding use of depth we find in Fantômas and other of his previous masterworks. Here the staging is mostly lateral, stretching actors across the frame. Very often characters are simply captured in two-shot and the titles do the work, as if Feuillade were making talking pictures without sound. Once in a while we do get concise shifting and rebalancing of figures, usually around doorways. Here Jacques vows to go to Cannes and tell the police of the kidnapping of his sister. As Raoul and Biscot start to leave, Jacques pivots and says goodbye to Noëlle, creating a simple but touching moment of stasis to cap the scene.
Full of incident but rather joyless, Barrabas will never achieve the popularity among cinephiles of the more delirious installment-films, but it remains a remarkable achievement. The ciné-romans that would follow until Feuillade's death in 1925 would lack its whiff of brimstone. They would mostly be melodramatic Dickensian tales of lost children, secret parents, strayed messages, and faithful lovers. Barrabas is not available on DVD.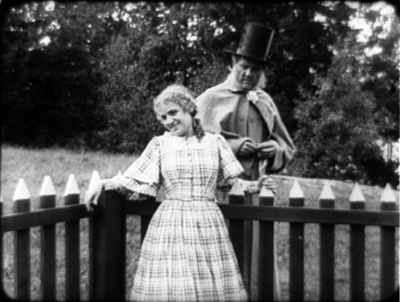 You might think that a movie that opens with a frowning old man studying a skeleton would also be somewhat unhappy fare. Such isn't actually the case with Victor Sjöström's generous-hearted Mästerman, a story of a village pawnbroker obliged to take a young woman as a housekeeper. With his stovepipe hat and air of sour disdain, Samuel Eneman, known to the village as Mästerman, is a ripe candidate for rehabilitation. Once Tora is installed and has put a birdcage (that silent-cinema icon of trapped womanhood) on the window sill, the scene is set for Mästerman's return to fellow feeling. But she is there merely to cover the debts and crime of her sailor boyfriend, and eventually Eneman realizes he must make way for young love. The drama is played out in front of the townspeople, and as often happens in Nordic cinema (e.g., Day of Wrath, Breaking the Waves) the community plays a central role in judging, or misjudging, the vicissitudes of passion.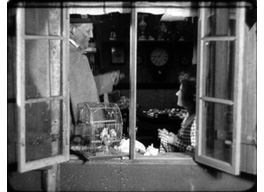 As a director Sjöström is a marvel. His finesse in handling the 1910s "tableau style" shines forth in Ingeborg Holm (1913), but unlike Feuillade and most of his contemporaries, he immediately grasped the emerging trend of analytical editing. His The Girl from the Marsh Croft (1917) and Sons of Ingmar (1918-1919) show a mastery of graded shot-scale, eyeline matching, and the timing of cuts. In Mästerman he continued to use brisk editing and close-ups to suggest the undercurrents of the drama. He moves people effortlessly through adjacent rooms, and his long-held passages of intercut glances recall von Stroheim. On all levels, Mästerman deserves to be more widely known–an ideal opportunity for an enterprising DVD company.
---
For a valuable source on Feuillade's preparation for Barrabas and other of his works see Jacques Champreux, "Les Films à episodes de Louis Feuillade," in 1895 (October 2000), special issue on Feuillade, pp. 160-165. I discuss Feuillade's adoption of editing elsewhere on this site.
Tom Gunning provides an in-depth discussion of Sjöström's style at this period in "'A Dangerous Pledge': Victor Sjöström's Unknown Masterpiece, Mästerman," in Nordic Explorations: Film Before 1930, ed. John Fullerton and Jan Olsson (Sydney: John Libbey, 1999), pp.204-231. For more on some of the directors discussed in this entry, check the category list on the right.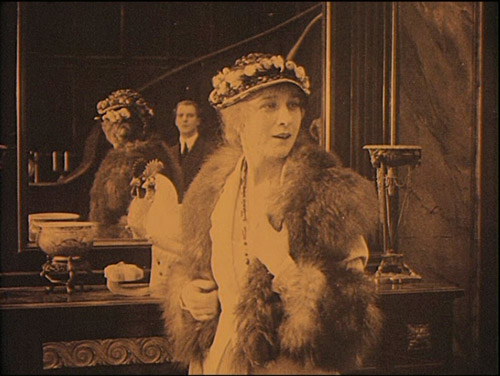 Erotikon.