Thursday | December 29, 2011
open printable version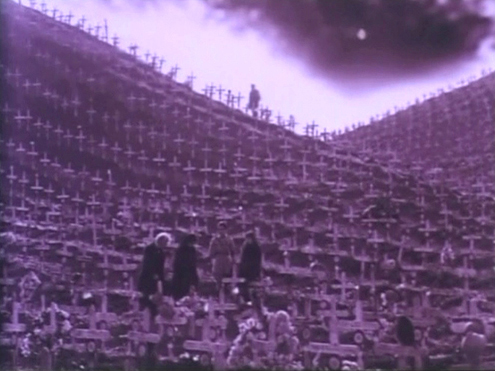 The Four Horsemen of the Apocalypse.
Kristin here:
To end the year, we're continuing our tradition of picking the ten best films not of the current year but of ninety years ago. Our purpose is twofold. We want to provide guidance for those who may not be particularly familiar with silent cinema but who want to do a bit of exploring. We also want to throw in occasional unfamiliar films to shake up the canon of classics a bit.
Like last year, it was strangely difficult to come up with ten equally great films. There were some obvious choices, but beyond them there were a lot of slightly less wonderful items jostling for the other places on the list. The problem had several causes. Some master directors who routinely figure in our year-end ten choices had off-years. In 1921 D. W. Griffith released only one film, Dream Street, a notably weak item. (What I have to say about it can be found on pp. 108-113 of the British Film Institute's The Griffith Project, Vol. 10.) Ernst Lubitsch released two films that seem like less interesting attempts to repeat earlier successes: Anna Boleyn (a pale imitation of Madame Dubarry) and Die Bergkatze (nice, and I was tempted to include it, but it's less amusing than the Ossi Oswalda comedies, here and here). Cecil B. DeMille's The Affairs of Anatol is not nearly as well structured as his earlier sophisticated rom-coms.
In other cases, films simply don't survive. John Ford released seven films in 1921, all of which are lost.
Death comes calling, twice

Probably the easiest decision was to include The Phantom Carriage (also known as The Phantom Chariot), by Victor Sjöström. As I noted recently, the Criterion Collection has recently issued a beautiful restoration of it (DVD and Blu-ray).
When I first saw The Phantom Carriage, I was probably still an undergraduate. Given its reputation as a great classic, I was somewhat disappointed. No doubt it was partly the battered 16mm copy I watched, but the film is a bit formidable for someone not accustomed to the aesthetic of silent cinema–and especially of the great Swedish directors of the era. Its protagonist, played by Sjöström himself, is a thoroughly, determinedly unlikeable fellow, and the complex flashback structure can be a bit disconcerting on first viewing. But the effort to watch until one "gets" Sjöström is well worth it, since he's undoubtedly one of the half dozen greatest silent directors.
The story opens on New Year's Eve with Edit, a young Salvation Army volunteer, on her deathbed. She unexpectedly begs her colleague and mother to fetch the town drunk, David Holm, to her bedside. At the same time, Holm sits drinking in a graveyard as midnight approache. He tells two fellow inebriates the legend of the phantom carriage, the vehicle that picks up the souls of the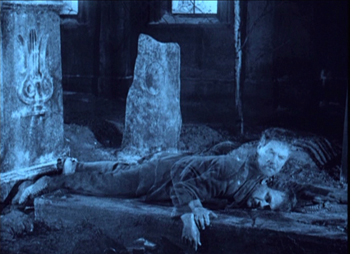 newly dead; it is driven each year by the last person to die at the end of the previous year. Holm then dies, and the carriage arrives, with its current driver ready to turn over the job to him. Flashbacks enact both the circumstances of how the heroine met Holm and the happy family whom Holm had alienated through his drunkenness.
It's a deeply affecting story, wonderfully acted and staged. In most scenes the lighting and staging are impeccable, and the famous superimpositions that portray the carriage and the dead are highly ambitious for the period and impressively executed. The filmmakers have managed to make the carriage, superimposed on real landscapes, appear to pass behind rocks and other large objects. In short, a film that has everything going for it.
Death himself appears in Der müde Tod (literally "The Tired Death," often called Destiny, or occasionally in the old days, The Three Candles). Here the great German director Fritz Lang hits his stride, and you can expect him to figure on most of our lists from now on.
In Destiny (available on DVD from Image Entertainment) a young woman's fiancé is killed early on. Death, a sympathetic figure who regrets what he must do, gives her three chances to find another person whose demise can substitute for her lover's. The three episodes in which she tries take place in Arabian-Nights Baghdad, Renaissance Venice, and ancient China; each story casts her as the heroine and her lover as the hero.Things don't go well, and Death actually gives her a fourth chance when she returns to the present.
This was Lang's first venture into the young German Expressionist movement, which had been launched the year before with Das Cabinet des Dr. Caligari. The style shows up only intermittently, perhaps most dramatically in the Venetian episode when the lover shinnies up a rope along a wall painted with a gigantic splash of light. (See bottom.)
Each film has a "happy ending." I leave it to you to determine which is grimmer.
I'm turning over the keyboard to David now, to describe a film he knows better than I do.
More Northern European drama
Mauritz Stiller alternated urban comedies (Thomas Graal's Best Film, 1917; Thomas Graal's Best Child, 1918; Erotikon, 1920) with more lyrical dramas and romances set in the countryside (Song of the Red Flower, 1919; Sir Arne's Treasure, 1919). Johan (1921) is in the pastoral vein. Its integration of landscape into the drama suggests it was an effort to recapture the production values that overseas critics had praised in Sjöström's Terje Vigen (1917) and The Outlaw and His Wife (1918). Like the Sjöström films, however, Johan offers more than splendid spectacle; it's the study of the undercurrents of a marriage.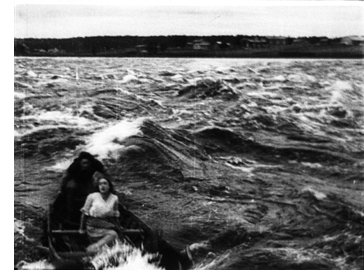 At the core is a love triangle. The fisherman Johan is the somewhat thick-headed son of a domineering mother. He is fond of the girl Merit, whom he and his mother rescued as a waif and brought into their household. But this synopsis is actually skewed, because Stiller and the scriptwriter Arthur Norden have told the story in an unusual way.
We're introduced to the couple by following the rogue Vallavan's entry into the town; Johan seems almost a secondary character until Vallavan leaves. When Johan breaks his leg, Merit agrees to be his wife. Now we're attached to her standoint and see her life of drudgery under the petty tyranny of Johan's mother. Vallavan returns, and Merit falls under his spell. Taking her hand, he says, "I want to rescue you." After she has fled with him, Johan clumsily wanders the rocky shore. "Will I ever see Merit again in this life?" The narrational weight passes to him as he decides to pursue the runaways.
Like Sjöström's Sons of Ingmar (1918-1919), Johan presents marriage as a trap for unwary women. Our shifting attachment, from Vallavan to Merit and eventually to Johan, allows us to see the situation in many dimensions. As a sort of parallel, Stiller makes fluid use of the now solidly-established conventions of continuity editing. Vallavan's seduction of Merit is played out in tense shot/ reverse-shot, and there's an engrossing moment involving delicate shifts in point of view. When the bedridden Johan sees Merit leaving, after his mother has cast her out of the house, he must smash a window pane with his elbow in order to call to her. Stiller's dynamic eyelines, direction of movement, and precise changes of camera setup here show that he had mastered the American style.
Alongside this finesse, there is still plenty of outdoor action, highlighted when Vallavan rows Merit away in the tumultuous river. Filmed from another boat, the actors are all but engulfed by the waves. It was presumably scenes like this that the parent company, Svensk Filmindustri, hoped would attract international attention. At this period Svensk, dominant in the local industry, was hoping to sell its films on a global scale. That ambitious plan failed, but it left us with many outstanding movies and soon brought Stiller, along with Sjöström, to Hollywood.
Johan is available on a Region 2 PAL DVD, coupled with Kaurismaki's Juha, another adaptation of the Juhani Aho story.
The joys of small-town life
Last year I included two films by William C. deMille, the considerably less famous brother of Cecil B. The year 1921 saw the release of what is today his best-known film, Miss Lulu Bett. It was based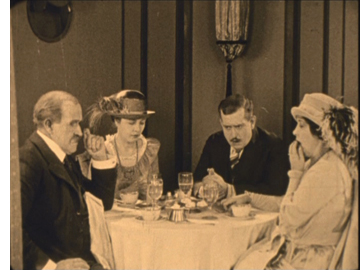 on the popular novel and play by Wisconsin author Zona Gale, who received her MA here at the University of Wisconsin-Madison and in 1921 became the first woman to win a Pulitzer Prize for drama. The story centers around the heroine, a spinster who lives with her sister's family, including her niece, nephew, and brother-in-law, Dwight Deacon. Dwight is a tyrant who delights in taunting Lulu over her unwed status, and the rest of the family treats her as a servant.
The return of the husband's globetrotting younger brother Ninian after a twenty-year absence injects some life into the situation. Taking the family out to dinner, he realizes just how boring the family is (right), and to liven things up, suggests that he and Lulu perform mock marriage vows.  Dwight realizes that the ceremony is legally binding, and, already attracted to Lulu, Ninian suggests that they treat it as a real marriage. Desperate to escape her dreary situation, Lulu agrees. The relationship proves agreeable, and Lulu declares that she will learn to love Ninian–when he reveals that he had previously been married, though he doesn't know whether his first wife is dead (in which case he and Lulu are married) or alive (in which case they aren't). Unwilling to take a chance, Lulu returns to the Deacons, who consider her disgraced and treat her even worse.
The film avoids melodrama. Ninian is not a villain; he's kind to Lulu and sorry for the position he's placed her in. It remains to Lulu to summon the gumption to leave the family and find her own happiness.The whole thing is told with restraint and little touches of humor that draw the viewer into a deep sympathy with Lulu's plight.
Lois Wilson's performance as Lulu is crucial in this. She is at once plain enough that we can believe she is in danger of becoming an old maid and pretty enough to plausibly attract the attention of the handsome local schoolteacher. Wilson's most prominent role came two years later, when she starred as the heroine in James Cruze's The Covered Wagon.
Miss Lulu Bett is the only one of William's films available on DVD, paired with Cecil's Why Change Your Wife? As so often happened, William seems to take a back seat to his famous brother, but the pairing is a logical one, in that William wrote the script for Why Change Your Wife?
Another small-town drama of the same year is Lois Weber's The Blot. In 1981, when I was teaching a course on American silent film at the University of Iowa, I wanted to quickly demonstrate to the students that the silent period was not an era of exaggerated acting and naively melodramatic plots. I showed a double feature of The Blot and King Vidor's Wine of Youth (1924).  The latter portrays changing sexual mores through the story of three generations of the same family, with a young woman of the Roaring Twenties questions the necessity of marriage when she discovers that her mother is contemplating divorce. I think Wine of Youth (unfortunately not available on video) and The Blot convinced my class that silent films could be both sophisticated and subtly acted.
The "blot" of Weber's title refers to the notion that people in professions depending on intelligence and education are poorly paid, while tradespeople and children from rich families are well off. The representatives of the underpaid are a college teacher, Prof. Griggs, and a young, idealistic minister. The parallels to recent events are striking. College professors may not be so badly paid as in the 1920s, but the move toward institutions of higher learning depending on adjunct lecturers has created a similar issue. In general, the income gap is familiar:  the rich young wastrels taking Prof. Griggs's course represent what we now call the one percent, while the professor and minister live on a much lower plane.
Weber's drama is not quite this bald, however. Various levels of prosperity are represented. The professor's family lives in shabby gentility, his wife grimly struggling to keep food on the table and his daughter Amelia, in delicate health due to a lack of nourishing food, working in the local library. Their neighbors are the family of a successful shoemaker, who live well but lack education. The shoemaker's wife in particular resents what she perceives as intellectual snobbishness in the professor's family and takes every opportunity she can to flaunt her comparative wealth.
Her son, however, has a crush on Amelia, as does the poor minister. Into this situation comes Phil West, the professor's rich but indolent and mischievous student. Also attracted to Amelia, Phil for the first time encounters real poverty and is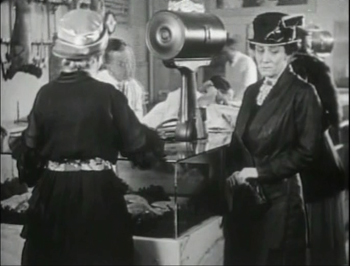 shocked by it. As the plot develops, Amelia falls ill, and her mother's increasingly desperate efforts to obtain the food necessary to nurse her to health become one of the main threads of the drama. To say that a large part of the action in the second half of the film centers on Mrs. Griggs's temptation to steal a chicken from her neighbors might make the situation seem a trifle comic, but Margaret McWade's remarkable performance vividly conveys the wife's struggle in the face of real lack and her humiliations in the eyes of the shoemaker's gloating wife. When Mrs. Griggs succumbs to temptation, the result is a brief but wrenching scene.
The plot is remarkably dense and unpredictable. Every scene involves glances that lead to new knowledge or serious misunderstanding, deflecting the plot into new directions. Early on it is impossible to say which of the three young men Amelia will end up with, and even by the late scenes, when only two plausible romantic candidates remain, we have no idea which she will pick. As in many of Weber's films, she does a bit of preaching about the social problem involved, but in The Blot she leaves this until near the end and gets it over quickly and fairly believably. The considerable but gradual change in Phil's attitude toward education and the problems of poverty is also made believable. The prosperous neighbor's change of attitude may seem a bit sudden, though it is somewhat motivated by a line early on.
But on the whole, even more than with Miss Lulu Bett, this is an absorbing story with characters for whom we care. Weber uses motifs as skillfully as any director in the early phase of the classical Hollywood cinema. Watch in particular how many different ways she uses the Griggs family's cat and her two kittens: to demonstrate the family's poverty, to be the main means of the neighbor lady's spite, to introduce some comedy, and so on. Even more pervasive is the way that shoes become tokens of characters' various social positions.
The Blot is available on DVD from Image. Those interested in Weber as a director should note that next summer's Il Cinema Ritrovato festival in Bologna plans a retrospective of her work.
Which is best? Damfino.

In past year-end lists, we've watched Harold Lloyd, Charles Chaplin, and Buster Keaton creeping toward their great features of the 1920s. This year two of them move cautiously into longer films, and the other releases two more terrific one-reelers.
The Boat is one of Keaton's most admired shorts. In it, he, his wife, and their two young sons build a boat, the Damfino, and unwisely launch it on the open ocean. Everything that can go wrong does: the life-preserver sinks, the anchor floats, and naturally a storm hits. The wife's pancakes aren't edible, but one temporarily patches a leak. Throughout the intrepid band carries on against all obstacles.
Less perfect but more dazzling and (perhaps) funnier is The Playhouse. The premise of a small variety theater creates an episodic, messy narrative, but it allows Keaton to play out a series of four "acts." Initially we see Keaton buy a ticket and enter an auditorium where the audience, the orchestra, and all the performers are played by "Buster Keaton." As one of the audience members remarks, "This fellow Keaton seems to be the whole show," which is true in more way than one. The multiple images of Keaton were accomplished entirely in the camera, by cranking back the film with precise timing and uncovering a different part of the lens at each pass. The precision when one Keaton figure talks to or dances with another is amazing.
This all turns out to be a stagehand's dream. (Keaton being the stagehand.) The multiplication motif returns as an act involving two pretty girls who happen to be twins–something Buster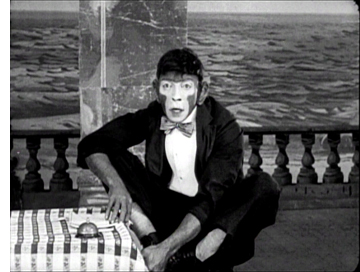 doesn't know, making his encounters with them ever more baffling. Later an orangutan escapes, and Buster dons make-up and costume to replace him. All hilarious stuff, though unfortunately the final act, a Zouave Guard drill, is the least funny one. Still, it's a terrific film with a big dose of the surrealist quality that will run through the later shorts and the features.
The Boat is included on Kino's disc of The Navigator and The Playhouse with their out-of-print DVD of The General. Still in print, however, is Kino's eleven-disc set of the features and shorts. For those in the UK and other region-2 countries, Eureka! has a "Masters of Cinema" three-disc set, "Buster Keaton: The Complete Short Films 1917-1923," which includes many of his earlier films with Fatty Arbuckle.
The year saw Lloyd and Chaplin make their first feature films, though both releases were still fairly short. I'm not really counting A Sailor-Made Man as one of the top ten of the year, since it's a delightful but decidedly light item. Just another reminder that Lloyd is inching toward greatness.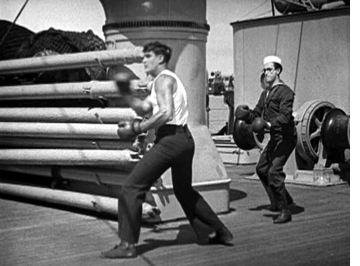 Lloyd presents his "glasses" character as a brash young man who impulsively proposes to a rich man's daughter. When the father demands that he get a job to prove his worth, Harold enlists in the navy. Highjinks ensure, culminating in a lively chase-and-rescue scene when the heroine gets kidnapped by a lecherous Arabian sheik.
The shipboard scenes allow Harold to get in some funny bits, mainly involving him trying to be tough and succeeding at first by sheer accident. Later, however, he is inspired by the heroine's danger to become a real rescuer. It's a sign of bigger things to come.
New Line's Harold Lloyd boxed set is out of print, but you can still get the volumes separately. A Sailor-Made Man is in Volume 3, along with such delights as Hot Water and For Heaven's Sake.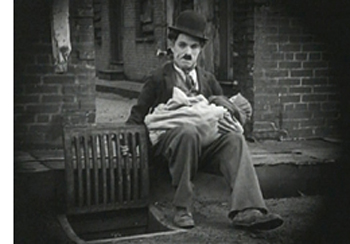 Chaplin's first feature, The Kid, is a skillful blend of the rough-and-tumble slapstick that had characterized his early shorts and the sentimentality that would gradually become a more prominent trait of his films. A unmarried woman (played by Edna Purviance, the elegant beauty who made such a contrast with the Little Tramp in many of his films) abandons her infant in an expensive car which happens to get stolen moments later. Charlie finds the baby, and after numerous attempts to get rid of it–including a brief contemplation of an open storm-sewer grate–decides to raise it. The baby grows into the adorable and amusing Jackie Coogan.
In the meantime, the mother has become a rich singer, and coincidentally she comes to the slums doing charitable work. The authorities eventually try to remove the Kid to an orphanage, and later a flop-house proprietor turns him in to receive a reward. Still, Chaplin doesn't milk the pathos, and a happy ending duly arrives.
The Kid is available in a decent print along with A Day's Pleasure and Sunnyside on the "Charlie Chaplin Special" DVD. Our recording off Turner Classic Movies strikes me as being slightly better quality, so you might keep an open to see if they reshow it. It was also announced this week that The Kid has been added to the National Film Registry of the Library of Congress.
Fuzzy movies, big and small
Soft-style cinematography had been tried in some films of the late 1910s, most notably in Griffith's Broken Blossoms. But in the 1920s it spread. In Hollywood, it was mainly a technique for making beautiful images and especially for creating glamorous close-ups of actresses. In France, it was a way of tracking a character's inner life.
Vicente Blasco Ibáñez's 1918 novel, The Four Horsemen of the Apocalypse was a huge bestseller, and the first film adaptation in 1921, directed by Rex Ingram, was equally successful. To many, it is remembered for having made a super-star of its main actor, Rudolph Valentino. Anyone who has seen him as the caricatured Latin Lover of his later films will be pleasantly surprised to discover that the man could act, as could his leading lady, the lovely Alice Terry.
Ingram was the quintessential middlebrow director of the 1920s, doing big-budget, respectable adaptations of popular literature (e.g., Scaramouche, The Prisoner of Zenda). To me, Four Horsemen escapes the stodginess of the later films, at least to some extent (as does his other 1921 film, The Conquering Power). It and the other film in this section were borderline cases, chosen as much for their historical importance as their quality, perhaps, but definitely worth watching.
One of Four Horsemen's greatest strengths is its photography. Ingram worked consistently with one of the greatest cinematographers of the 1920s, John F. Seitz, who created glowing images of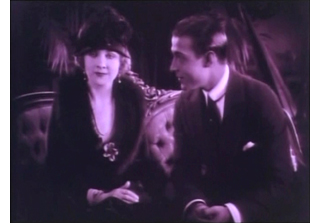 sets and actors with selective lighting and all sort of means of softening the image. This film, more than Broken Blossoms, brought the soft style into vogue. It eventually culminated in the Dietrich films of Josef von Sternberg before a more hard-edged look came to dominate the 1940s.
Four Horsemen was also an early entry in the anti-World War I genre of the 1920s and 1930s. Its final scene in a vast military cemetery of identical white crosses remains a powerful one. (See above.) Here, however, the Germans are still stereotypes, militaristic puppets with no redeeming features. Even that notion would gradually change, however, until nine years later All Quiet on the Western Front could recount the war from the German point of view.
Four Horsemen is available on DVD on demand from Amazon, supplied on DVD-R. In the same format, one can order it on a set with a documentary on Valentino. The reviews of the latter suggest that the visual quality is good.
(For more on this photographic style, see my "The soft style of cinematography," in The Classical Hollywood Cinema, pp. 287-293.)
I'm not a huge fan of Marcel L'Herbier, and I'm not entirely sure that El Dorado is a full-fledged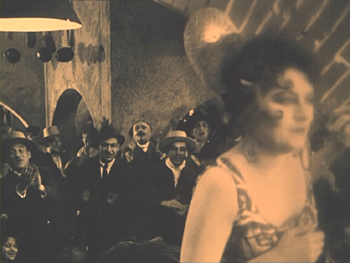 masterpiece. But it has many virtues, and arguably it's historically important as the first film of the French Impressionist movement to thoroughly explore ways in which camera techniques could convey perceptual and psychological states. It focuses largely on Sibilla, a singer-dancer who is the main attraction in a tawdry Spanish bar. She and some other women are performing as the story begins, but Sibilla is distracted by worries about her sick son. L'Herbier experimented with tracing her attention by placing gauzy filters over her face when she starts thinking of the boy. In the frame at the left, for example, she is in sharp focus when onstage, but as she passes into the backstage area, she goes fuzzy.
In a way this is a somewhat silly, literal notion, and yet it's exciting to see filmmakers exploring new devices relatively early in film history. Gauzy filters, distorting mirrors, slow-motion superimpositions, rhythmic cutting, and subjective moving camera were soon to be in common use by a small group of French directors. El Dorado was also the first film to be filmed within the Alhambra, which lends it considerable visual interest.
If we're still writing this blog in 2019, our list will probably include the culminating film of the movement, and arguably L'Herbier's best silent film, L'Argent.
Not many French Impressionist films are available in the U.S. If you have a multi-region player, El Dorado is paired with L'Herbier's earlier L'homme du large (1920) on a French DVD.
Tigers and lepers and a mysterious yogi
We tend to think of serials as having many episodes and being low-budget additions to programs. That's the American model, but in Europe things were different. Louis Feuillade's serials are among the gems of the 1910s. In Germany, serials tended to have fewer episodes but bigger budgets–much bigger. Many were only two parts, most famously Dr. Mabuse, der Spieler (coming next year to our top-ten list) and Die Nibelungen (coming in 2014). Lang had launched into serials with Die Spinnen (1919 and 1920). The two parts have terrific things in them, but Lang never went on to finish it.
He was, however, still collaborating on screenplays for director Joe May, who specialized in epic serials set in exotic countries and starring his wife, Mia May. Highly entertaining though these films are, they are largely forgotten, even by most lovers of silent cinema. Das indische Grabmal is the exception, though even now few have had a chance to see it. In 1996 it was shown at "Il Gionate del Cinema Muto" festival in Pordenone and was all too briefly available on an Image DVD (as The Indian Tomb) now out of print. Track it down if you can.
Full of the stars of its day, Das indische Grabmal is set largely in India, and its plot was inspired by the Taj Mahal. A ruthless maharajah (played with relish by Conrad Veidt) cloaks his cruelty under a veneer of European courtesy. He plots to shut his unfaithful princess (Erna Morena) in a beautiful tomb along with her lover (Paul Richter, better known to modern audiences as Siegfried). He calls in a famous European architect (Danish star Olaf Fønss) to build it, and the architect's fiancée (Mia May), rightly fearing dirty work afoot, follows. One pit full of tigers and one of lepers lie waiting to endanger the visitors. The sets are beautiful. The Germans by this point could do them at full scale (above left) and as marvelously deceptive miniatures (above right). Das indische Grabmal is constantly entertaining and perhaps the best of its type, at least of the films we have access to.
Lang directed a two-part remake of this film in 1959. Both are good, but I prefer the silent one.
Some runners-up
As I mentioned, we had trouble narrowing down our list this year. Here are some others that could have replaced some of our prime choices. The German stage director Leopold Jessner adapted the play Hintertreppe (Backstairs). It's a Kammerspiel, set in two apartments and the courtyard between them, and concerns a simple love triangle among a maid, her absent lover, and the postman who loves the maid so much that he forges letters from her sweetheart to keep her happy. Antti Alanen kindly reprinted my notes on the film here.
Carl Dreyer's third feature, Leaves from Satan's Book, remains one of the most widely-admired variants on the Intolerance formula of presenting thematically linked historical episodes. The dynamic final last-minute non-rescue shows that Dreyer learned a good deal from Griffith's crosscutting too. Leaves is available on a Danish DVD with English subtitles and an alternate ending. Murata Minoru's Japanese feature Souls on the Road, another exercise in complex crosscutting, and Feuillade's polished L'Orphéline are solid runners-up as well. Neither is available on commercial DVD, as far as we know.
Destiny.