Sunday | August 14, 2016
open printable version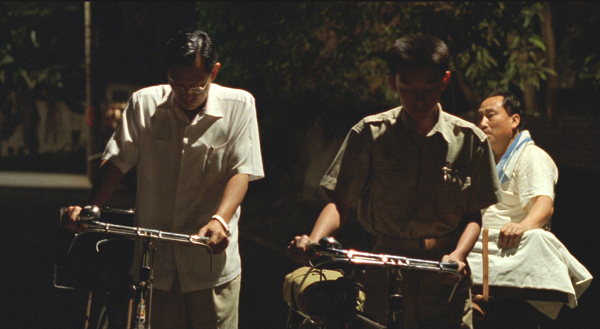 A Brighter Summer Day (Edward Yang, 1991).
KT here–
Another year has passed, and Observations on Film Art is approaching its tenth anniversary. The blog was never intended as a formal companion to our textbook Film Art: An Introduction. Basically we write about what interests us. Still, many of our entries use concepts from the book, and we hope that teachers and students might find them useful supplements to it.
As each summer approaches its end and teachers compose or revise their syllabi, we offer a rundown, chapter by chapter, of which posts from the past year might be relevant. (For previous entries, see 2007, 2008, 2009, 2010, 2011, 2012, 2013, 2014, and 2015.) For readers new to the blog, these entries offer a way of navigating through the site.
Chapter 1 Film as Art: Creativity, Technology, and Business
Film projection made the national news in late 2015 when Quentin Tarantino released his new film, The Hateful Eight, on 70mm film. Only 100 theaters in the USA, most of them specially equipped with old, refurbished projectors, could show it that way. We went behind the scenes to see how the theaters coped in THE HATEFUL EIGHT: The boys behind the booth and THE HATEFUL EIGHT: A movie is a really big thing.
This year the studios took tentative steps toward instituting The Screening Room, a system of streaming brand-new theatrical films to people's homes for $50. Whether or not this service succeeds, it represents one new distribution model that Hollywood is exploring to cope with the increasing delivery of movies via the internet. See Weaponized VOD, at $50 a pop.
Popular film franchises can go on generating new products and influencing other films for years. We examine the lingering impact of The Lord of the Rings thirteen years after the third part was released in Frodo lives! And so do his franchises.
Chapter 3 Narrative Form
In this chapter we put considerable stress on the concept of narration, the methods by which a film conveys story information to the viewer. There is no end to the ways in which narration can be structured. Often one of the characters in a film can to tell us what happened. . . even if that character is dead. This, as we show in Dead Men Talking, is not as rare as one might expect.
The Walk combines narrative and genre in an unusual way. The first part is a romantic comedy, the second a suspense film, and the third a lyrical piece. We suggest why in Talking THE WALK.
The way a film tells its story can vary considerably depending on whether it has a single protagonist, a dual protagonist, or a multiple protagonist (as in The Big Short, bottom). We examine some of the differences in Pick your protagonist(s).
Looking back over our blog as we passed 700 entries early this year, it occurred to us that several entries discussing principles of storytelling could be arranged to create a pretty good class in classical narrative strategy. We made up an imaginary syllabus in Open secrets of classical storytelling: Narrative analysis 101. No tuition charged.
With the very end of the Lord of the Rings/Hobbit franchise–the release of the extended DVD/Blu-ray version of the third Hobbit film–we discuss the strengths of the film and the plot gaps left unfilled in A Hobbit is chubby, but is he pleasingly plump?
To celebrate Orson Welles's 101st birthday, we examined some of the sources for some of the techniques used in Citizen Kane, a film we analyze in detail in Chapters 3 and 8. See Welles at 101, KANE at 75 or thereabouts.
In Hollywood it is a common assumption that the protagonist(s) of a film must have a "character arc." Filmmaker Rory Kelly, who teaches in the Production/Directing Program at UCLA, wrote a guest entry for our site. Rory analyzes the character arc in The Apartment, with examples from Casablanca, Jaws, and About a Boy as supplements. See Rethinking the character arc: A guest post by Rory Kelly.
James Schamus' Indignation, an adaptation of Philip Roth's novel, draws on novelistic narrative devices not in the original. In INDIGNATION: Novel into film, novelistic film, we suggest that those devices first became standard in cinema during the 1940s.
Chapter 4 The Shot: Mise-en-Scene
Teachers and students always want to us add more about acting to our book. It's a hard subject to pin down. We introduce the great stage actor Mark Rylance, who was largely unknown outside the United Kingdom before he won an Oscar for Steven Spielberg's Bridge of Spies, and discuss how he achieves his expressively reserved performances in that film and the series Wolf Hall. See Mark Rylance, man of mystery. (Above at left, on set with Tom Hanks and Spielberg.)
In an era when most staging of actors in movies follows a few simple conventions, we examine the more imaginative ways of playing a scene on display in Elia Kazan's Panic in the Streets (1950) in Modest virtuosity: A plea to filmmakers young and old.
Continuing with the theme of acting and staging, our friends and colleagues, Ben Brewster and Lea Jacobs have put a revised version of their in-depth study of silent-cinema acting online for free. Learn about it and the enhancements that internet publishing has allowed in Picturing performance: THEATRE TO CINEMA comes to the Net.
Chapter 5 The Shot: Cinematography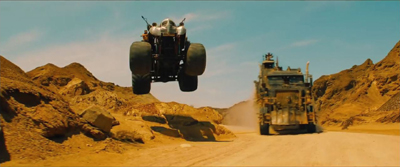 We look at the visual style of Anthony Mann's Side Street (1949) and show how a simple, seemingly minor technique like a reframing can create a strong reaction in the spectator. See Sometimes a reframing …
Framing a composition is one of the most basic aspects of cinematography. We discuss centered framing, decentered framing, balanced framing, framing in widescreen movies, and particularly framing in Mad Max: Fury Road (above) in Off-center: MAD MAX's headroom.
In a follow-up entry, we discuss framing in the classic Academy ratio, 4:3, with emphasis on action at the edges of the frame: Off-center 2: This one in the corner pocket.
Chapter 7  Sound in Cinema
For the new edition of Film Art, we had to eliminate our main example of sound technique, Christopher Nolan's The Prestige. But we put that section of the earlier editions online. THE PRESTIGE, one way or another takes you to it.
For those who have been looking for examples of internal diegetic sound, we take a close look (listen) at a sneaky one in Nightmare Alley: Do we hear what he hears?
The fact that the protagonist narrates The Walk in an impossible situation, standing on the torch of the Statue of Liberty and talking to the camera, bothered a lot of critics. We suggest some justifications for this decision in Talking THE WALK.
We offer brief analyses of the Oscar-nominated music from 2015 films in Oscar's siren song 2: Jeff Smith on the music nominations.
Chapter 8 Summary: Style and Film Form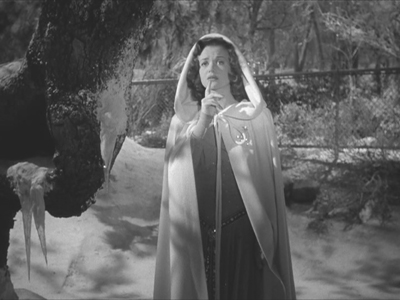 Many different filmic techniques can serve similar functions. Filmmakers of the 1940s had a broad range to choose from when they portrayed dead people, or Afterlifers, on the screen. We look at how their choices affected the impact of the scenes (as in Curse of the Cat People, above) in They see dead people.
Style and form in three films of Terence Davies: Distant Voices, Still Lives; The Long Day Closes; and especially his most recent work, Sunset Song. See Terence Davies: Sunset Songs.
Style and form in Edward Yang's A Brighter Summer Day, on the occasion of its magnificent release by The Criterion Collection, in A BRIGHTER SUMMER DAY: Yang and his gangs.
Chapter 10 Documentary, Experimental, and Animated
Leo Hurwitz's little-known documentary, Strange Victory (1948) has recently come out on Milestone's DVD/Blu-ray. Released shortly after the end of World War II, it suggests that the Nazi atrocities were only an extreme instance of the cruelty of racism. We discuss the film and its relevance to the current political situation in Our daily barbarisms: Leo Hurwitz's STRANGE VICTORY (1948).
Experimental filmmaker Paolo Gioli makes films without cameras, or at least, he cobbles together pinhole cameras of his own from simple materials. The results are remarkable. We describe his work and link to a recent release of his work on DVD in Paolo Gioli, maximal minimalist.
Chapter 11 Film Criticism: Sample Analyses
The eleventh edition of Film Art contains a new sample analysis of Wes Anderson's Moonrise Kingdom. We discuss some additional aspects of the film in Wesworld.
Chapter 12 Historical Changes in Film Art: Conventions and Choices, Traditions and Trends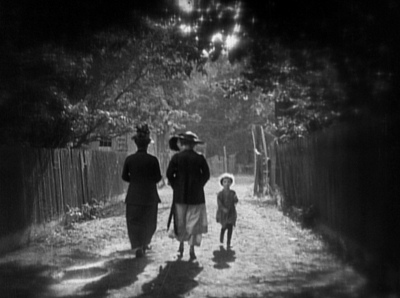 At the end of each year we avoid doing a standard ten-best list by choosing the ten best films of ninety years ago. For 2015, we dealt with The ten best films of … 1925 (including Frank Borzage's Lazybones, above). It was a very good year.
A rare French Impressionist film, Marcel L'Herbier's L'inhumaine, has been released on DVD/Blu-ray by Flicker Alley. We discuss the film and its background in L'INHUMAINE: Modern art, modern cinema.
Film Adaptations
Our eleventh edition offers an optional chapter on film adaptations from a wide variety of art forms and even objects.
For thoughts on popular female novelists whose books were adapted into films during the 1940s and 1940s (and who sometimes became screenwriters), see Deadlier than the male (novelist).
Adaptations can be made from nonfiction as well fictional books. We look at how Dalton Trumbo's life was made into a biopic in Living in the spotlight and the shadows: Jeff Smith on TRUMBO.
In a series of entries, we have commented on the adaptation of J. R. R. Tolkien's The Hobbit into a three-part film. For an analysis of the extended DVD/Blu-ray version of the third part, see A Hobbit is chubby, but is he pleasingly plump? (Links in that entry lead to earlier posts on this subject.)
As always, we have blogged about some recent books and DVDs/Blu-rays. See here (Vertov, sound technology, 3D), here, (Kelley Conway's new book on Agnès Varda), here (experimental films, the first Sherlock Holmes, the Little Tramp), here (Tony Rayns on In the Mood for Love), and here (on some older foreign classics that have finally made it to home video in the USA, primarily those of Hou Hsioa-hsien). The publication of the eleventh edition of Film Art led us to look back on how it was written and some of the ideas that went into it. We took the occasion to introduce our new co-author, Jeff Smith. See FILM ART: The eleventh edition arrives!
We were also profiled in Madison's local free paper, Isthmus, by Laura Jones, reporter and filmmaker. She read Film Art as a student.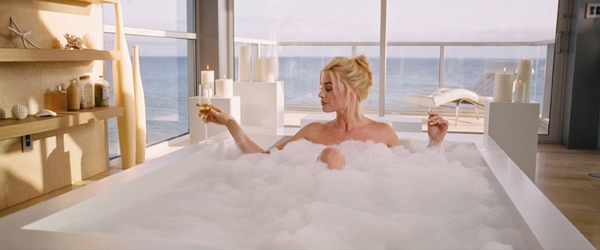 The Big Short (2015).