Monday | August 24, 2015
open printable version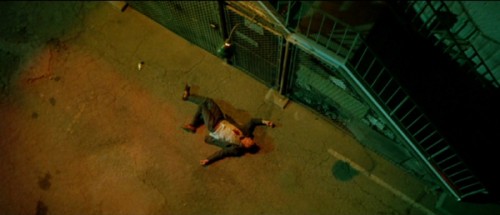 Confidence (2003).
DB here:
"So I'm dead."
At the start of Confidence we hear Jake Vig's voice as we see him lying bloodied on a pavement.  As the protagonist of a neo-noir, Jake recalls the classic start of Billy Wilder's Sunset Boulevard (1950). There Joe Gillis (an echo of gigolo?), floating face-down in a swimming pool, begins to recount his stay as a kept man of faded film star Norma Desmond. That opening has become a touchstone for the grim fatalism of film noir, as well as a mark of daring screenwriting. The guy telling the story is dead! How cool is that?
Anybody interested in how films tell stories has to be interested in narrators, those figures—either mere voices or tangible characters—who recount, recall, or replay the story action. And anybody interested in Hollywood film knows that such narrators are hallmarks of a giddy period of cinematic innovation, as recognizably "1940s" as flashbacks, moody subjective sequences, and twisty plots. In that era we find narrators well outside that terrain known as noir. Romantic dramas, family sagas, comedies, Gothics, musicals, and other genres made ample use of voice-over commentary, and it didn't always suggest a doom-laden atmosphere.
Still, dead narrators seem to be pushing things. They flout realism (How can a dead person tell anything?) and they raise problems of logic (To whom is this person speaking?). Is it a chatty corpse (Wilder originally wanted a morgue opening introducing Gillis) or an ethereal spirit divorced from the dead body?
Dead narrators turn up surprisingly often in the 1940s. During this period, as I've argued on this site and in the book I'm working on, many storytelling techniques we take for granted coalesced. There emerged a rough menu for handling them, and ambitious filmmakers played with several possibilities. That play didn't stop in the Forties; we still have new versions of flashbacks, subjectivity, and the like. So let's look at posthumous narrators in the Forties, with some glances at a trio of more recent efforts.
As a non-dead and highly reliable narrator, I must warn you of spoilers ahead.
Guiding spirits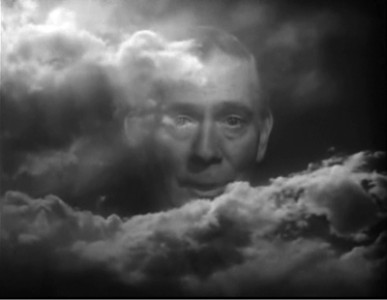 The Human Comedy (1943).
Most simply, posthumous narration can be motivated as letters (Letter from an Unknown Woman) or diary entries (Thatcher's journal in Citizen Kane). Similarly, Heaven Can Wait (1943) gives us a dead man explaining episodes from his life to an inquisitive official in the afterlife. The more flagrant cases, however, involve dead narrators who recount the entire film we see in voice-over, as in our prototype Sunset Boulevard. Knowing that the protagonist is dead at the start shifts our attention to how he or she will die.
Posthumous narrators go back a fair bit. In literature, Edgar Lee Masters' Spoon River Anthology (1915) presents the ruminations of the town dead, in the manner of the cemetery climax of Our Town (1938 play, 1940 film). Wilfred Owen's poetic monologue "Strange Meeting" (1918) presents soldiers reuniting in Hell, ending with the poignant line, "Let us sleep now…." Addie Bundren, the dead mother of Faulkner's As I Lay Dying (1930), narrates portions of the novel from her coffin. In a pulpish pastiche of Faulkner, Kenneth Fearing's mystery novel Dagger of the Mind (1941) includes a chapter narrated by a man who's been murdered. Radio drama also included voices from the beyond. Examples include "Ghost Ship" (1940), with a victim recounting his own murder, and Norman Corwin's "Untitled" (1944), which reveals the narrator to be a dead soldier.
In film, World War II brings forth the prospect of dead servicemen returning to tell their tales. "I am Matthew Macauley," says a face superimposed over imagery of radiant clouds. "I have been dead for two years. But so much of me is still living that I know now that the end is only the beginning." This is indeed a beginning, of The Human Comedy (1943). Having died in the war, Matthew will guide us back to his hometown and his household's daily routines.
Matthew's voice-over goes on to introduce his family members, including son Marcus on duty in the army. After a scene in which a spectral Matthew joins his wife at her work, his voice discreetly retires. It recurs only twice before he and his now-dead soldier son faintly enter to watch the family welcome their new member, Marcus's pal Toby.
"You see, Marcus, the ending is only the beginning." Matthew's address to us has become piece of fatherly advice.
The dead narrator of The Human Comedy never intervenes in the action on earth, but an all-seeing intelligence exercises more authority in The Seventh Cross (1944). Seven prisoners escape from a concentration camp, and Ernst Wallau's narration launches the film. During the escape sequence he rapidly introduces each of his comrades.
Fairly soon all but one are captured and executed on crosses planted in the prison yard. The first man to be crucified is Wallau, our narrator. After he is killed, his voice-over continues: "I was dead. I could see."
Wallau's commentary chiefly follows his friend George Heisler, who manages to elude the Gestapo while the other escapees are found and killed. Wallau's narration continues through the film, chronicling not only the fates of the other men but probing Heisler's state of mind. Wallau tells us what Heisler is thinking, guides us into his memory, notes things that Heisler has forgotten, and even informs us what other characters will do in the future. Confronted with this numb, almost mute character, we need the continual commentary of Wallau to give access to his inner life.
Wallau is that rare voice-over narrator who flaunts his omniscience. Being dead, he has total access to our world and can witness anything happening there. Despite Wallau's godlike power, in good Hollywood tradition his narration attaches itself chiefly to Heisler. But here that restriction reflects simply Wallau's foreknowledge, signaled at the start, that only Heisler will survive. The question becomes: How?
The answer comes through Wallau's goading Heisler to find faith in others. At the start, Heisler is close to despair, and his flight stems from sheer instinctual survival. At the film's midpoint, all his comrades have been killed, and Wallau's long-term escape plan has failed. Heisler can't any longer mechanically follow his mentor's instructions. He must forge a new goal, seize the initiative, and learn to trust people. He must learn what Wallau told him from the start: there remain traces of humanity in Germany.
As Heisler's hopes grow and his network of allies expands, Wallau's prodding voice-over subsides. It reappears near the end, at the moment Heisler realizes how much he owes others. Heisler speaks of his debts, and Wallau murmurs in antiphony the names of those who have helped him, including some Heisler has never met.
Now that Heisler has joined the struggle with full commitment, Wallau can vanish. "Goodbye, George Heisler. I can leave you now."
Ghostly narrators like Wallau and Matthew Macauley call to mind the nosy angels and spooks of so many 40s films. Those have their counterparts in radio dramas like "Good Ghost" (1948) and the parodic mystery novel Dead to the World (1947), with a dead detective narrating his efforts to solve a case.
As usual, a lot depends on timing of information. If we learn that the narrator is dead at the start, as in the films just mentioned and in Scared to Death (1947), a certain amount of the action can seem foreordained. Alternatively, there can be a surprise. Radio plays, it seems, tended to reveal their dead narrators as a twist ending. With less fanfare, a film can simply seem to forget the opening commentary. The Gangster (1947) is initially narrated, without a frame situation, by the crooked protagonist. As a result, we expect him to survive. Yet he dies in the course of the action. The filmmakers faced a problem: To return to the narration at the end or not? To revive his voice-over might suggest that he endures in some supernatural realm. Instead, an impersonal external voice takes over to balance the opening.
With the convention of the dead narrator in place, a film could flirt with the possibility that the initial voice we hear has no living source. The opening credits of Woman in Hiding (1950) strongly suggest that a betrayed wife, racing down a hillside at night before crashing over an embankment into a river, has been killed. Her commentary rises up during a scene of the police dragging the river, and she seems to be mocking her husband from beyond the grave.
Is this a female variant of Joe Gillis' voice-over? Watch the whole movie to find out.
In the same year as Woman in Hiding, Sunset Boulevard gave us another voice from the Beyond. If the film's technique seems less original coming after a string of dead narrators, at least it can be credited with making the narrator the protagonist (unlike The Human Comedy and The Seventh Cross) and for using the device in a full-blown A picture (unlike Scared to Death and The Gangster).
In sum, the dead-narrator technique became a schema, a pattern which filmmakers could simply copy, as in Scared to Death, or tweak, as in the apparently dead narrator of Woman in Hiding. Wilder offered his own variant on the schema. We tend to remember his as the prime example, maybe even as the first one. But it often happens in the 1940s that the originality of a noteworthy film stems from a revision of a schema that was already in circulation, not only in film but in other media.
The weekend Laura died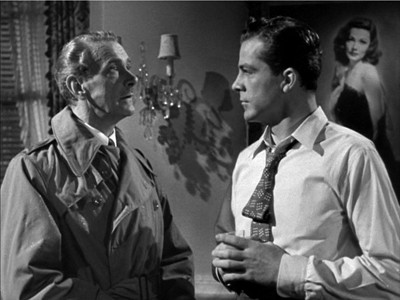 Occasionally, the variety of options at the period sets up more dissonant relations. Laura (1944) is probably the most famous example.
Vera Caspary's original book is divided principally into first-person blocks recounted by bon vivant Waldo Lydecker, detective Mark McPherson, and magazine editor Laura Hunt. Early versions of the screenplay attempted to capture multiple-viewpoint narration through flashbacks and voice-overs. What happened to this structure, however, reveals a process we'll encounter elsewhere: fiddling with the film in post-production yielded some startling, perhaps unintended novelties.
Laura Hunt has apparently been murdered by a shotgun blast to the face. When the film starts, McPherson is calling on her mentor Waldo Lydecker, an effete columnist and radio commentator. McPherson lets Waldo accompany him on his inquiries before the two retire for a dinner at the restaurant Laura loved. There, via flashbacks and voice-overs, Lydecker recounts Laura's rise to prominence. (In a scene cut from the final film, there's an indication that Waldo's tale is partly false—an early instance of a lying flashback.) The other characters' flashbacks and voice-overs were abandoned in production, so the rest of the film is rendered objectively.
We later learn that the original victim was not Laura, which makes Laura either a new suspect or a target for the killer's second try. At the climax, it's revealed that Waldo is the culprit; he concealed the gun in an antique clock that he had given Laura. While his pre-recorded program is broadcast, he returns to her apartment and tries to kill her. Laura eludes him and as he wildly fires his gun, he is shot by McPherson's team.
What makes the finale curious is the film's framing device. The first scene starts with Waldo's voice-over: "I shall never forget the weekend Laura died."
This appears to cast the entire film as a flashback, starting with McPherson's visit to Waldo. Within that flashback to the weekend, we have further flashbacks–that is, Waldo's dinner-table explanations to McPherson. Such Russian-doll embedding is found elsewhere during the 1940s. At the end of the evening, when Waldo leaves, the camera lingers on McPherson and we become attached to him for nearly all that follows.
In screenplay drafts, this last shot would have initiated Mark's voice-over narration, which would constitute a chunk parallel to Waldo's. This is further evidence that Waldo's string of flashbacks, including his opening voice-over, functions to write finis to "his" section of the film. But in the finished film, without McPherson's voice-over block, Waldo's initial voice-over hangs there, apparently framing the whole film. It would have been easy simply to cut that commentary and retain the opening camera movement revealing McPherson browsing among Waldo's treasures, perhaps with some more nondiegetic music. Then Waldo's offscreen admonition would bring in his voice for the first time. After this, Waldo's later flashbacks and his voice-over narration would become neatly nested and perfectly conventional.
Clearly, decision-makers wanted to retain Waldo's ripe commentary to open the film; it has expository value, and it introduces a very intriguing character. But we don't hear that enveloping voice again, so for the rest of the film we might take Waldo's remarks as akin to those that open Rebecca (1940) or Flamingo Road (1949). In these films and many others, a reminiscing character voice introduces the story action from an unspecified point in time and space. And the plot's shift to McPherson's activities seems to suggest that the whole opening stretch, including Waldo's initial recounting, should be taken as a unit, "his" section of the film. So when Waldo is shot down and starts to die, we might have a situation like that of The Gangster, where the narrator is killed in the course of the action he introduced, and the film forgets what started it all.
Instead, Laura takes the option that The Gangster avoided: it brings back the dead man's voice. After Waldo collapses, there's a cut to McPherson and Laura leaving the frame. As the camera moves in on the shattered clock face, we hear, "Goodbye, Laura. Goodbye, my love."
The line might be taken as Waldo's dying words spoken offscreen, except that the line is miked far more closely than his speech earlier in the scene, when he's actually closer to he camera. In its acoustic texture, this unsituated sign-off formally balances the unsituated opening. But it also raises the possibility that the dead Waldo has launched the whole story and now bids Laura farewell from that realm wherein defunct narrators dwell.
The opening does hint that something otherworldly is going on. A tart, suave voice wells up from sheer darkness, perhaps a noir equivalent to the sunny eternity from which Matthew Macauley speaks in The Human Comedy. Yet for a dead narrator, Waldo is either ill-informed or misleading. He speaks of "the weekend Laura died." But if he lived through the events of the film, he knows that she did not die. Of course, his fib helps the film mislead us; the first half presupposes that Laura was the victim. If we remember that an unused scene was going to reveal that his flashback tales to McPherson contained lies, we may conclude that  Waldo is as unreliable in death as he was in life.
Some of these inconsistencies apparently spring from late decisions in production. The original ending, as scripted and shot, lets Waldo survive. As he's led off, he says, "Thank you for everything, my dear. . . You're all I'll be thinking of—till Time stands still—for me. Goodbye, Laura." The speech is heard offscreen as the camera pans and holds on the clock.
Fox production head Darryl F. Zanuck was dissatisfied with many aspects of this conclusion and so a new version was filmed. In that version, Waldo is shot and dying. We see him speak the same lines, and only then does the camera pan to the clock. The release version, with Waldo's simpler, closely miked farewell over the shot of the clock, was evidently decided on still later.
For what it's worth, both the original shooting script and the revision distinguish between lines marked as "WALDO (narrating)" and "WALDO's voice" for offscreen delivery. In neither version are Waldo's dying lines marked as "narrating." And in neither do we get an indication of the final camera movement that lets Laura and McPherson leave the shot in order to target the shattered clock face. Yet we do have a sonic texture in the last lines that is closer to a narrator's voice.
In sum, while presenting a haunting conclusion—the clock was Waldo's gift to Laura, and the shattered face recalls his first victim—the soundtrack firmly reminds us of the opening. Do we have a dead narrator? Some cues are there, but they're sketchier than those in other films of the era. (For one thing, in those films, the narrator tells us he or she is dead.)
The unexplained return of Waldo's voice, now gentle, has a surprising poignancy. Because of its loose ends, the final moments become more evocative, and more poetically enticing, than the tidy, explicit wrapup of Sunset Boulevard. In such ways, Laura's final moments provide an eccentric revision of the dead-narrator schema. The result may have encouraged filmmakers who followed to risk inconsistency for the sake of powerful immediate effects.
In an earlier entry, I traced how studio pressures made the narration of Preston Sturges' The Great Moment oddly off-balance. Evidently something like this happened with Laura. In the pressure to get a film finished and out the door, to retain striking bits that may ultimately not make sense when put together, Hollywood filmmakers can innovate by accident.
Dead men tell no tales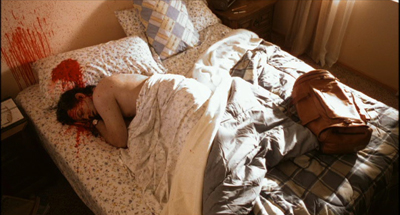 Auto Focus (2002).
Once the dead-narrator schema was available, Forties filmmakers were able to tweak it in various ways. And the changes didn't end then. To see how the same process of schema and revision has continued, consider three much more recent examples.
Paul Schrader's Auto Focus is a straightforward case. Bob Crane's voice-over appears early in the film, though not at the very start, and recurs six times before the final scene. The brief comments punctuate Crane's career decline and his descent into sex addiction. As happens with The Seventh Cross and other films using voice-over narrators, the second half employs the device less intensively than does the first. It's as if in a film's Development section we're expected to be absorbed enough in the action not to need explanation, and we're sufficiently primed to know what the important issues are.
When Crane's head is bashed in by his companion in sexual buccaneering, we have a case comparable to The Gangster: the narrator doesn't survive. Crane's voice has been silent for 28 minutes, so we might assume that we've lost his voice-over. But it returns over his bloody body, recounting in an offhand way the aftermath of his death. His voice remains as perky as it has been early in the film, in both his commentary and his explanations to his wives. "I'm a normal guy," he has insisted, and his bland wrapup shows him insouciantly unaware of the implications of living and dying as he did. He can't condemn his killer. "He was a cool guy in his way. . . . Men gotta have fun."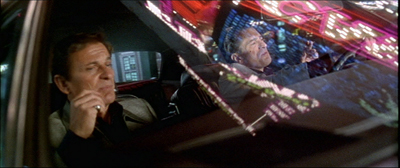 Martin Scorsese's Casino (1995) reworks the dead-narrator schema in more complicated ways, in the process borrowing other 40s conventions. During that period, multiple-narrator films became quite common. Again we have a prototype—Citizen Kane (1941)—but again it wasn't alone. Trial films featuring flashbacks that dramatize testimony had become fairly common in the 1930s, and a couple of detective films (e.g., Affairs of a Gentleman, 1934; Thru Different Eyes, 1942) used flashbacks to present different witnesses' versions of events. It would become a staple of crime films like The Killers (1946). Julien Duvivier's Lydia (1941) transposed the multiple-narrator technique to the melodrama, while The Affairs of Susan (1945) applied it to romantic comedy. Mankiewicz, who seems quite obsessed with the strategy, deployed it in A Letter to Three Wives (1949), All about Eve (1950), and The Barefoot Contessa (1954).
A less common 1940s convention is the replay—the passage that repeats a scene, usually in flashback and usually including information not shown in the first pass. The most famous example is Mildred Pierce (1945), which I've fretted at for years (in this entry and this video). We can find less crucial replays in, again, Kane (Susan's opera debut) and in more obscure films like Beyond Glory (1948).
Casino draws on the replay and the multiple-narrator format and blends them with the dead-narrator one. The film innovates in a couple of striking ways. First, in 1940s multiple-narrator films, the individual narrations are presented in blocks; a solid chunk from one voice, another from another. True, we see some leakage in All about Eve, but basically the narrators' tales are kept distinct. Scorsese and Nicholas Pileggi's script for Casino hops between two principal narrators, Ace Rothstein (Robert de Niro) and Nicky Santoro (Joe Pesci).
Ace and Nicky's voice-overs are mostly very brief, tagging a cascade of episodes tracing each man's rise in Vegas, with equally fleeting flashbacks to their origins. The first twenty minutes toggles ten times between the two men's clipped commentaries. This stretch constitutes a sort of training session, preparing us for the rapid switches in viewpoint that will dominate the film. Again, though, the voice-overs will subside for stretches in the middle, when the scenes become more fully developed. As a momentary, almost twitchy variant we get one extra voice-over—that of a go-between who, in a freeze frame, decides not to tell the mob boss about Nicky's betrayal of Ace. Significantly, the film's third major character, Ginger McKenna (Sharon Stone), is allotted no voice-overs.
So Scorsese and Pileggi have fractured the 1940s voice-over schema. But the to-and-fro commentaries I've mentioned come after an opening sequence that seems to announce that one of these wise guys is already dead. The first scene shows Ace being blasted out of his car by a bomb. A sprawling body, as if ejected from the explosion, floats through the opening credits. And Ace's next voice-over launches the film's cascade of flashbacks by saying they come from the period "before I got myself blown up." We seem to be in the full-fledged presence of a dead narrator.
We are, but it's not Ace. At the film's climax, it will be Nicky who dies at the hands of his own crew. In replays of the car explosion, it's revealed that Ace actually survived the blast. By 1995 Scorsese and Pileggi could revise the 1940s schema by splitting the narrators and misdirecting our expectations: the apparently living narrator is the one who will die.
What, finally, of Confidence? Jake's admission that he's dead fits snugly into the tradition we're considering, especially since it's a voice-over initiating a flashback. That flashback takes us to the moments before his execution at the hand of the triggerman Travis.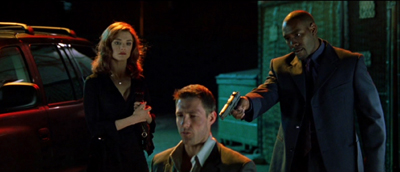 In those moments Jake explains how his team of grifters accidentally took money belonging to a gang boss and how they proposed to repay him with an even bigger con job. That central story action, itself peppered with backstory exposition, is interrupted by returns to the opening execution situation. Jake's first voice-over, apparently addressed to us, is differentiated by sonic texture from his explanations to Travis, but when his voice leads us to the past, it has the same degree of auditory presence. In effect, it's the same confusion of narrating levels that's promoted in the first long stretch of Laura.
At the climax of Confidence, we see Jake shot not by Travis but by the moll Lily. Travis flees, and so does she. Now we're back to the opening situation, and a replay of Jake's opening line, "So, I'm dead." He seems to sign off. But now more flashbacks reveal that Jake and Lily have staged her gunplay and that the whole scheme has been a very long con. The team reunites and goes off with their millions. Confidence has appealed to our knowledge of the dead-narrator convention to fake us out: the story action won't end with his death because he's stage-managed it.
Jake lied about being dead. But so did Ace when he referred to being "blown up." So did Waldo, maybe. And so do those films that don't signal that the protagonist has fallen into a dream or a reverie. Actually, narratives are incorrigibly deceptive and full of secrets. You can't even trust dead guys.
As ever, we're reminded that modern filmmakers inherit a vast tradition of narrative schemas. Those can be reiterated or revised in unpredictable ways. The tradition is kept alive and engaging, as long as novelty is balanced with familiarity, innovation with redundancy. (Let the narrators explain, throw in some replays,) The way Hollywoood tells it is always indebted to the ways Hollywood told it.
---
For more examples of dead narrators see the Wikipedia entry and TV Tropes. Long as they are, these lists tilt heavily toward contemporary examples, where posthumous narration seems very common. One reason I posted this entry was to acknowledge older instances of this convention.
Ray Collins was a well-known radio voice as well as a Welles Mercury player. As both Matthew Macauley and Wallau, he seems to have been the go-to man for reliable supernatural voice-over. He had a long Hollywood career, but most baby boomers remember him best as Lieutenant Tragg in the Perry Mason TV show.
I'm indebted to Neil Verma for information about the posthumous narrator in radio plays. Neil also mentions "The Hitch-Hiker" (1942), and these episodes of Quiet, Please: "Inquest" (1947), "In Memory of Bernadine" (1947),  "Anonymous" (1948), and "I Always Marry Juliet" (1948). (Listen to any of these here.) Filmgoers probably encountered more dead narrators on radio than on film. Neil's book, Theater of the Mind, is an excellent account of 1930s and 1940s radio narrative.
The shooting script of Laura is available here.  The revised ending is included as well. See also the detailed comparison of the two endings by Despina Veneti at Preminger Noir. The first analysis of the different versions was, I believe, carried out by Jacques Lourcelles in "Laura: Scénario d'un scenario," L'Avant-scène du cinéma no 211/212 (July-September 1978), 5-11. This publication includes a French-language transcript of the film as we have it, along with cut portions. A detailed account of Laura's production is provided by Chris Fujiwara in The World and Its Double: The Life and Work of Otto Preminger (Faber and Faber, 2008), pp. 36-48. I'm grateful to Jeff Smith for his advice about the sonic texture of Waldo's voice-over.
The narrational issues raised by Laura go beyond the deceased Waldo's voice. In the film's most famous scene, McPherson is becoming obsessed with the dead Laura and, after drinking heavily, he falls asleep in her apartment. The camera tracks slowly in on him as he drops off. There's the noise of a door from offscreen, and Laura walks in. McPherson is astonished. Laura, released the same week as The Woman in the Window, might seem to be hinting that Laura has been revived in McPherson's dream.
Kristin has traced the numerous dialogue motifs that reinforce this possibility. Yet most films of the 1940s mark a dream sequence very explicitly (e.g., wavy superimposed lines, dissonant music) or at the least with a dissolve and a close-up or track-in reinforcing the shift to subjectivity. Laura provides only two cues, the sleeping character and the track-in. But as Kristin indicates, these and other factors keep the dream option a possibility for a first-time viewer. See "Closure within a Dream? Point of View in Laura," Breaking the Glass Armor: Neoformalist Film Analysis (Princeton University Press, 1988), 162-194. Kristin's essay also offers a comprehensive discussion of the shifts in Waldo's narration.
The presence of dead narrators would seem to pose a problem for those scholars who believe that in a movie every narrator must have a narratee on the same logical level. For these theorists, film narrators are part of a symmetrical system of communication among personified entities. Those entities are either embodied in the text (McPherson is Waldo's narratee in the restaurant) or implicit in the very logic of narrative itself. No narrator without a narratee! According to this line of argument, there must be a narratee as dead as Waldo listening to his opening voice-over, but being very, very quiet.
In contrast, I've argued that films, and possibly all narratives, are freewheeling and illogical in their use of markers of communication. Films may mimic only parts of a communicative circuit in order to achieve specific effects. In provoking experiences in readers, films seem to me to rely on psychology, not ontology. I float this argument in this chapter of Poetics of Cinema. See also this blog entry.
Earlier entries have touches on the schema-and-revision dynamic of style and story in Hollywood. See for examples my discussion of 1913 films, a consideration of 1940s style, some remarks on walk and talk,  a piece on high-school lipdubs, a discussion of replays, and the entry on Gone Girl. Searching "schema" will bring up more. A roundup of entries on peculiar 1940s narratives is here. I analyze narration in All about Eve here. For more on the debt of modern film to 1940s innovations, see The Way Hollywood Tells It.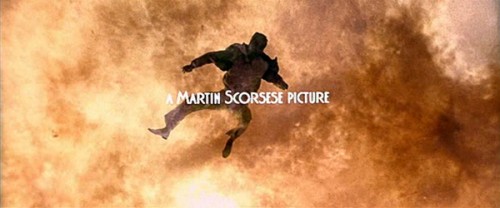 Casino.