Sunday | July 31, 2016
open printable version
Given the saturation of fantasy, sci-fi and superhero films we experience today, not to mention how frequently we quote from Lord Of The Rings, it bears reminding now and again (not too obsessively, mind) just what a game changer Lord Of The Rings was.
Jordan Adcock
Kristin here:
A little over ten years ago, in April 0f 2006, I finished the manuscript of The Frodo Franchise: The Lord of the Rings and Modern Hollywood (University of California Press, 2007). Given that I had previously written books and essays on films by such auteurs as Sergei Eisenstein, Jacques Tati, Jean-Luc Godard, Jean Renoir, and Robert Bresson, those who knew my work were perhaps bemused by this change of direction.
I had decided to tackle this project, which proved to be an enormous but richly rewarding one, in 2002, after the release of the first part of The Lord of the Rings, The Fellowship of the Ring (December, 2001). Already it was apparent to me that Peter Jackson's adaptation would be an enormously influential film, to the point where, whether or not one likes the movie itself, it would be among the most historically important films ever made. New Line used the internet to promote it at a time when it was still not common for a film to have its own studio-created website. The cooperation between the filmmakers and the video-game designers was unprecedented. The extended-version DVD releases, arriving only five years after the introduction of the format, had unique depth and breadth. The impact of its technical innovations, particularly in digital special effects and color grading, was enormous. The film's success boosted the many independent producers around the world who had largely financed it. Not to mention the ways in which the movie transformed New Zealand through tourism, a small but sophisticated and thriving film industry, and a surge of national pride. The film and the franchise impacted the Hollywood industry in almost any way one could imagine.
In 2002, to believe all of this was going to happen and to commit to spending time, money, and effort in researching all these topics required something of a leap of faith. It was one I was confident in making. Uncharacteristically for a historian, I made some predictions about the lasting power of LOTR and its franchise. This risk was inevitable, given that I was writing about a lengthy ongoing event, one which clearly would last far into the future. The book begins: "The Lord of the Rings film franchise is not over, not will it be for years." [p. XIII] Later I specified:
The franchise is not nearly over. Middle-earth-themed video games continue to appear. Additional licensed toys and collectible items are still being brought out. Fan activity remains lively in cyberspace and the real world. The phenomenon has reached into international culture in ways that go far beyond the commercial confines of the franchise. Politics, education sports, and religion all reflect the influences of the film. An extinct race of tiny people discovered on a Pacific island was instantly dubbed "hobbits" by headline writers and even the scientists who discovered them. [pp. 9-10]
I was reminded of these claims by two recent events. First, last week's Comic-Con included, as usual, a Weta Workshop booth, and, as usual, several of its popular limited-edition collectible figures from LOTR were debuted there. Second, on June 23, Jordan Adcock posted an intriguing article, "Can fantasy films escape Lord of The Rings' shadow?" on Den of Geek.  Yes, thirteen years after the release of The Return of the King (December, 2003) and ten after I ended the coverage in my book, the franchise goes on, as does the influence of Peter Jackson's film. The number of products and tie-ins is far smaller than at the height of the films' releases, but it seems to have settled down to a steady flow.
This combination suggested that it is an opportune time to point out that this film is still influencing the fantasy genre–perhaps too greatly–and that its franchise, though reduced, rolls on. I don't think I was being terribly prescient in predicting all this, but it's a bit of a relief to find out that I was right.
Collectibles, video-games, and more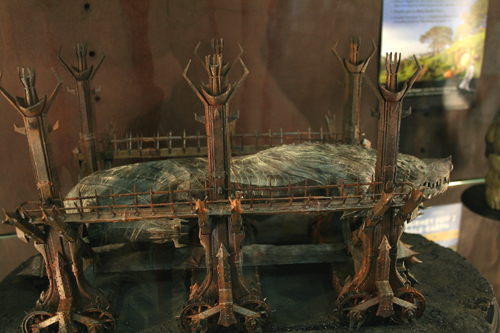 Fans and collectors continue to purchase LOTR studio-licensed and fan-generated items of all sorts. Some of these are from the era of the film's release, and some are new. A search on "Lord of the Rings" in the collectibles category on eBay generates 13,476 items, only a small percentage of which are related to products relating to the novel's franchise or that of the 1978 Ralph Bakshi film. Some of the upscale and/or rare items sell for hundreds of dollars. There is still a demand.
In my book I made no effort to catalog all the products made to that point. In fact, I don't think it would have been possible, unless I had had access to New Line's records of its licensing contracts. Besides, that wasn't part of the purpose of the book. In discussing licensed products, I was more interested in digital technology had affected what sorts of items were made. There was the motion-capture for the video games, for example. There were the DVDs–a format introduced as recently as 1997, the year when Miramax signed a contract with Saul Zaentz, thus obtaining the rights for Peter Jackson to make LOTR. (In Chapter 7 I give a little history of the introduction of DVDs and the part LOTR played in the studios efforts to move from rentals to purchases of home video.) There was the facial scanning of the actors for the action figures. There was, however, a dizzying array of hundreds, or more likely thousands of other, more conventional products licensed around the world. I once bought a lottery ticket in London not because I hoped to win a prize but because it was LOTR-themed and had a picture of Elijah Wood as Frodo on it.
Here I just want to give a few examples to show that New Line-licensed products are continuing to appear. I won't include any Hobbit-based licensed products except in passing. Obviously the second trio of films extended the original franchise, but here I am only concerned with the longevity of the LOTR's ability to generate more products and to influence the fantasy genre.
I mentioned the Weta Workshop collectible figures, which continue to be among the most popular products among devoted fans. The main fan-site, TheOneRing.net (Disclosure: I am a member of the staff) annually posts a video tour of the Weta booth at Comic-Con. This year's video, Collecting the Precious-Weta Workshop Comic-Con 2016 Booth Tour (by TORn staffer Josh Long, about 18 minutes), lovingly moves over the glass cases containing the new items, including statues of Lurtz and Boromir enacting the latter's death scene late in Fellowship. There's also a big piece with the battering-ram, Grond. (I have a sentimental attachment to Grond, since it was the only one of the large miniatures made by Weta Workshop that I saw during my 2003 tour of facilities at Stone Street Studios. See above for the miniature version of the minature.) In watching the video, I didn't keep count, but although over half of the figures are from The Hobbit, there are quite a few LOTR ones as well.
I have lost track of all the Middle-earth-based video games that have appeared since the last one the book covered: "The Battle for Middle-earth" (released on December 6, 2004, and, as far as I can tell, still in print). It was the fourth, and the first to concentrate on battles and strategies rather than on the plot of the movies themselves. By now here have been 22 of them, according to the "Middle-earth in video games" entry on Wikipedia, the most recent being "Middle-earth: Shadow of Mordor" (2014). Its action takes place between that of The Hobbit and of LOTR. The total given above includes "Lego The Lord of the Rings."
Lest one think that the only products are expensive ones aimed at the most enthusiastic core fans and dedicated gamers, I should mention that there are less pricey items. Inevitably, given the recent fad for adult coloring-books, there is one based on LOTR, list price $15.99, released May 31 of this year. (See top.) I expect a Hobbit one will follow. Warner Bros. has continued to bring out a film-based LOTR wall calendar each year. You can already pre-order the 2017 one, due out on September 15.
 The posthumous career of J. R. R. Tolkien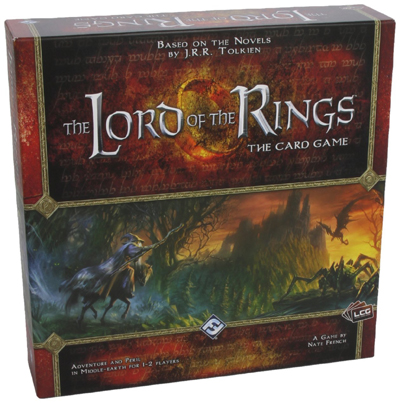 As I pointed out in The Frodo Franchise, there has long been a franchise based around Tolkien's original novels, which I discussed briefly. Lest we think that the film franchise must inevitably fade, it is worth noting that HarperCollins, Tolkien's publisher, has kept the novel-based one going for decades after the author's 1973 death.
There are, for example, numerous games like "The Lord of the Rings: The Card Game" (judging from the comments on Amazon, this must have appeared in 2013). HarperCollins publishes its own calendar, based on Tolkien's work as a whole rather than just LOTR. Many do center on LOTR, often featuring the work of a major Tolkien illustrator. With The Hobbit having been published in 1937, however, its 80th Anniversary is being featured for 2017, also available for pre-order.
The Tolkien-based franchise items tend to be somewhat more dignified than many of the film-derived ones. This is especially true given that many of the products consist of new or reissued works by Tolkien.
Non-fans of the books may not be aware that the Tolkien publishing juggernaut goes on as well. These are not all cobbled-together variants of existing Tolkien works. Actual new texts by him appear at intervals as his son Christopher Tolkien slowly releases editions of unfinished manuscripts by his father. By now Tolkien has far more literary works published posthumously than during his lifetime, even if one does not count Christopher's epic assemblage of the drafts for LOTR in the twelve thick volumes of "The History of Middle-earth." (Tolkien was a notorious non-finisher and left behind many incomplete academic manuscripts as well.)
Earlier this year there appeared The Story of Kullervo, retold by Tolkien from the Finnish epic The Kalevala. Amazingly, a second is due this year: The Lay of Aotrou and Itroun (out November 3). These poems, both with historical and formal analysis by notable Tolkien scholar Verlyn Fleiger, are not for the broad audience of Tolkien fans, but they obviously generate enough interest among core devotees and scholars to be worth publishing.
Tolkien was a talented amateur artist who occasionally illustrated his own work, most notably The Hobbit, and drew many sketches and maps to help him visualize Middle-earth. The ones for LOTR were published last October as The Art of The Lord of the Rings.
There are also, of course, as many different new editions of The Hobbit and The Lord of the Rings as the publishers can possibly justify in some fashion. Every now and then a "gift edition" with new illustrations appears. The one tied to the 80th anniversary of The Hobbit is a version illustrated by Jemima Catlin, announced for early next year. On September 22, the long-delayed facsimile of the first edition of The Hobbit is due to appear. (As I recall, it was originally supposed to be part of the 75th anniversary celebration.) This facsimile is of considerable interest to fans and scholars alike, since Tolkien revised portions of the original tale. Most notably, it contains a very different version of the famous riddles scene between Bilbo and Gollum, in which the Ring is introduced in a way completely incompatible with the premises concerning it established later by Tolkien in LOTR.
Even bits of film and audio recordings of Tolkien occasionally resurface. On August 6 at 8 pm London time, BBC Radio 4 will broadcast of "Tolkien: The Lost Recordings." This program is based around some newly rediscovered audiotapes of outtakes from the BBC's 1968 documentary, Tolkien in Oxford.
Fantastic stories and where to find them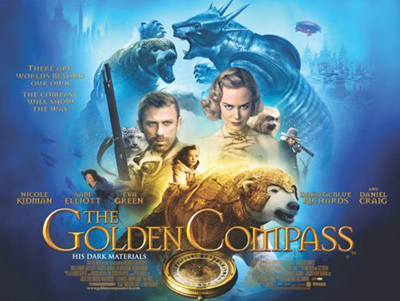 Jordan Adcock's "Can fantasy films escape Lord of the Rings' shadow?" was inspired by the release and failure of Warcraft: The Beginning. He uses the occasion both to explain why the Jackson's LOTR trilogy so dominates conceptions of filmic fantasy and to suggest how Hollywood might make films that won't be compared to it and inevitably found wanting.
Alcock largely credits the film's lingering impact to the depth and plausibility of its visual rendering of Tolkien's invented world, Middle-earth. He spends some time describing how Tolkien, with his brilliant command of history and ancient languages, managed across his lifetime to develop a consistent, appealing continent with different races, languages, countries, and landscapes, as well as its own history. Jackson's film manages to create "a fantasy world with both digitally-aided grandeur and a practical, lived-in feel […] Jackson recreates Tolkien's precision of time and setting."
Certainly the film's production design, its New Zealand locations, and its cinematography creates a Middle-earth that impressed even the film's harshest critics. Its treatment of the plot and characters, though less successful overall, stuck far closer to the novel than did the more recent Hobbit trilogy. (See here, here, here, and here for my comments on the strengths and failures of the three parts of the latter.) Long-time fans like me forgave LOTR a lot, including added schoolboy humor and Arwen supposedly dying, for the visuals and the music and the near-perfect casting. And, as David, who has never read Tolkien, remarked to me when we walked out of theater after his first viewing of Fellowship, "Well, it's better than Star Wars!" Within the fantasy genre, LOTR probably is the finest achievement in modern American moviemaking. It is no wonder that subsequent films, even twelve years later, are seen by critics either as pale imitations of it or as failed attempts to create a different but equally dense and coherent fantastical world.
Alcock's hints at how filmmakers might avoid such problems, but in the process he also admits that his solutions are nearly impossible to achieve. First, he points out that the fantasy world need not be created across several decades–and yet if it isn't, it will not measure up.
Authors and screenwriters don't have to go away and devote the rest of their lives [to] creating a universe as large and self-sustaining as Tolkien's, but against such a brilliant creation done such justice, all other attempts feel a little short-termist.
I assume "done such justice" refers to Jackson's film, the implication being that the screenwriters need not necessarily invent an entire world but might find it ready-made in a literary work. The fact that the Harry Potter serial achieved such fierce fan devotion and high BO seems to confirm that. Though not an impressive stylist, J. K. Rowling shares with Tolkien a remarkable imagination when it comes to making the Wizarding World vivid to readers. She also anchors it just enough in the real world to make it appealing and easy to relate to. Her novels bear almost no resemblance to LOTR, apart from the fact that the Dementors seem derived from the Black Riders. To a considerable extent, the strongest aspects of the film adaptation's version of Rowling's world parallels that of LOTR, superb design and excellent casting being perhaps foremost among them.
Creating an original screenplay with a similarly original world, however, seems an extremely tall order. To be sure, it is not impossible. George Miller's first Mad Max film was not a fantasy but an action-revenge film shot on the cheap with an unknown star-to-be. Its success, probably based on skillful direction and an appealing actor, allowed Miller to transform Max's ordinary Australian Outback into a distinctive fantasy world, a post-apocalyptic Wasteland. This, too, was fairly low-budget, requiring little more than a desert, a bunch of eccentric, souped-up vehicles, and a team of daredevil stunt performers. Even greater success allowed the third film a big Thunderdome set, some modest special effects, and a second star. Most recently Miller gained a blockbuster-size budget for special-effects, an Oscar-winning co-star, and a multiplication of the weird vehicles. This is not to say that Miller's created world is as complex as Middle-earth, but it has a visceral sense of reality and a distinctive look that set it apart from any other films, fantasy or not. But how often can you generate a Mad Mad-style franchise from almost nothing?
Alcock doesn't mention it, but fairy tales have become a fallback option for Hollywood fantasy. Such films, adapting the originals into versions aimed at adults, have largely failed to catch on. (Given the recent failure of The Huntsman: Winter's War, we might suspect that the success of Snow White and the Huntsman was due largely to the star power of Kristen Stewart, fresh off the Twilight series.) Fairy tales are sketchy stories with fantastical events and minimal characterization. They usually either take place more-or-less in our world or else spend little time describing the look of Faerie.The designers are left to their own imaginations to create  settings, most of which tend to be pretty conventional.
Following in the footsteps of the LOTR and Harry Potter filmmakers, finding a novel or other literary property with the built-in popularity to carry a big-budget special-effects film seems the way to go. Despite the plethora of fantasy novels since LOTR appeared in the 1950s, choosing just the right one has proven a considerable challenge.
New Line's adaptation of The Golden Compass, the first book in Philip Pullman's brilliant His Dark Materials trilogy, was creditable but not exciting enough to create a successful film, let alone a franchise justifying the expense. Perhaps the novel was too little known in the US. The same could be true for The BFG, another British children's classic, which is doing even worse at the box-office. (The studio could at least have had the sense to rename it The Big Friendly Giant, though that probably would not counteract what I suspect was the public's mistaken impression that the film was aimed strictly at children, and very young ones at that.)
Alcock carries on his speculations.
So how does a different fantasy film emerge from the shade that Middle-earth put over all the competition? Frankly, it'd have to be another masterpiece to do it. The problem is the cohesion of vision or sincerity of intent from these other would-be franchises.
"Make a masterpiece" is excellent advice but rather difficult to follow. It doesn't always work, either. Probably the two best mainstream American films I saw last year were Mad Max: Fury Road and Pixar's Inside Out. Both were fantasies. Neither, as far as I know, drew any comparisons to LOTR from critics or fans, so they did escape its shadow. Both were highly praised by critics and won Oscars. They may or may not be considered masterpieces in the long run, but they certainly could count as such in the context of contemporary Hollywood. One made lots of money and may eventually spawn a sequel, given Pixar's growing penchant for such things. The other, given its hefty budget, probably did not make a profit, or at any rate not one that Warner Bros. would consider large enough to justify taking the franchise to a fifth film–unless, perhaps, Miller went for a lower-budget project. So making a masterpiece may help distance a film from LOTR, but it does not guarantee a more practical sort of success.
On the issue of vision or sincerity mentioned above, Alcock touches on one subject that I think helps explain why it's extremely hard to produce successful fantasies that have not the slightest whiff of Middle-earth about them. His point also explains why we seem to be stuck in a dismal summer where every week the same set of interchangeable films come out. He discusses Hollywood's failure to follow up the LOTR with a fantasy franchise that would avoid the inevitable comparisons to LOTR.
Just think of The Golden Compass, New Line's attempt to create a new fantasy franchise out of Philip Pullman's His Dark Materials, much more lukewarmly received and whose box office led to New Line's end as an independent company. Now there's food for thought–would Warner Brothers [sic], who own New Line as all but a label today, have really greenlit Lord of the Rings in its ultimate form?
I think we know that the answer to that question is almost certainly no.
In fact, LOTR actually did fail to get greenlit in its final form, though at a different major studio. As I describe in The Frodo Franchise, in 1998 Harvey Weinstein was planning to produce LOTR as a two-feature film directed by Jackson and with a budget of $140 million. When the project was a year and a half into the scripting and design process, Weinstein was called into Michael Eisner's office at Disney, parent company of Miramax. Eisner demanded that he cut the film to one feature, made for $75 million. Jackson balked and persuaded Weinstein to put the project into turnaround for two weeks. Famously Jackson pitched it to Bob Shaye, founder and co-president of New Line, a man who knew the value of a franchise with a built-in fan base and proposed to make LOTR as three features.
Today's New Line, a mere production unit of Warner Bros., could not undertake such a project on its own accord, and today's Warner Bros. surely would not. With studios opting for the most established formulas, a film comparable in originality to LOTR being made, especially with all three parts shot simultaneously, would be little short of a miracle.
The only circumstance in which such things can happen would be an adaptation of a book so successful that it virtually guarantees box-office success. Warner Bros. undertook the Harry Potter series under such circumstances, given the overwhelming popularity of the book. That the resulting series of films pleased established fans and new audiences probably owes much to the fact that Rowling took an active role in consulting on the scripting and other aspects.
Today's largely unappealing lineup of summer films (and I am writing here of mainstream Hollywood films, not including such original independent fare as James Schamus' excellent Indignation) has been punctuated so far by two entertaining and satisfying items: The BFG and Pixar's Finding Dorie. Both fantasies, one an undeserved box-office failure, the other a record-breaker. Which goes to show, I suppose, that good, non-LOTR-influenced fantasy (whatever its box-office record) rests with auteurs and Disney/Pixar.
Is television the answer?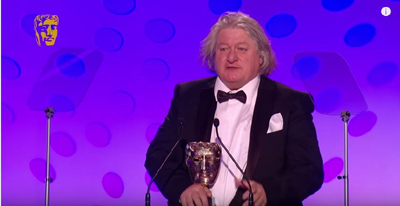 Like numerous other writers, Alcock offers Game of Thrones as a model for what fantasy films with richly realized worlds might be.
If Middle-earth has a "successor," it's Game of Thrones. Based on George R. R. Martin's books, the TV series has come far closer to Lord of the Rings' immersive world-building and cultural impact than any other fantasy, and perhaps suggests how Lord of the Rings might be adapted today.
He is far from the only writer to offer Martin's books and the TV series based on them as an example of successful world-building. Many would say, to be sure, that the shadow of Tolkien's and Jackson's influence hovers over it, but perhaps that does not matter. It has brought respected long-form fantasy to TV, just as LOTR brought it to the big screen. It has gradually achieved critical acceptance, garnered a healthy number of awards, and contributed familiar tropes to modern culture, even for those unfamiliar with the books or series. I myself gave up on the novel after reading the first volume and have seen no episodes of the series. Already by the end of the first book it seemed to me that Martin was starting repeat his own devices, and if he was doing that within one book, what would later volumes be like? I certainly can't see it as literature on a level even remotely approaching that of LOTR or even Harry Potter. I have not seen any episodes of the HBO series and hence cannot judge it. From what I can tell, it does not escape the shadow of Jackson's LOTR, but that's probably a matter of opinion.
Many fans who long to see an adaptation of Tolkien's The Silmarillion have suggested that long-form television would be a more plausible medium than theatrical film. I consider The Silmarillion utterly unfilmable, except possibly in the hands of a brilliant animator, but that's another issue. The point is that television, and especially powerful cable channels like HBO, are seen as the venue for long films that would be unlikely to be greenlit as high-budget theatrical features.
Despite appearances, I am not a keen fan of fantasy literature and films. The only fantasy novels (apart from children's books) I have enjoyed enough to reread are LOTR, the Harry Potter series, and Susannah Clarke's Jonathan Strange & Mr Norrell. The seven-part TV series based on the latter ended its American run on BBC 2 just over a year ago. I believe it is somewhat parallel to the LOTR film in being a reasonably successful–artistically at least–adaptation of a major work of literature It also bears no trace of Tolkien's influence.
How does it escape? If you asked someone who had read both Martin's books and Clarke's whether they had read Tolkien, he or she would probably guess that Martin had and would have no idea whether or not Clarke had.
Martin admits his debt to Tolkien freely. "I revere Lord of the Rings, I reread it every few years, it had an enormous effect on me as a kid. In some sense, when I started this saga I was replying to Tolkien, but even more to his modern imitators."
Clarke also was a Tolkien fan, but I have never seen anyone compare JS&MN to LOTR, either the original novel or the TV series. For one thing, she had other, quite different influences well, as described in a reader's guide on her publisher's website.
During an illness that required her to rest a great deal, Clarke re-read Tolkien's The Lord of the Rings, and when she finished she decided to try writing a novel of magic and fantasy. She had long admired the fantasy writing of Ursula Le Guin and Alan Garner, but also loved the historical fiction of Rosemary Sutcliff and novels of Jane Austen. These various influences were to come together in a novel which is part magical fantasy, part scrupulously researched historical novel, with teasing faux-academic footnotes referencing a bibliography of magical books entirely of her own invention.
Clarke also has a literary skill that elevates her above most writers in the genre. Her approach was not to invent an imaginary world à la Middle-earth, but to begin by setting her story in the actual English history of the Regency era. Into that she inserted two magicians seeking to revive the tradition of Faerie-derived English magic and use it to aid their country during the wars with Napoleonic France. Her seamless blend of real historical figures and events with her own inventions can leave many nonspecialist readers wondering which is which.
I have already written about the TV adaptation of Clarke's book, pointing out both what I consider some problems with the adaptation of the narrative and some real strengths of the series. As with LOTR, the adaptation's strengths have much to do with the design, the special effects, and the acting. Indeed,the series won two BAFTA TV Craft awards, for production design (above, designer David Roger accepts his award) and special effects. In some ways, it could have been to TV what LOTR was to film, though it was far less successful with audiences and thus will no doubt have concomitantly less influence.
The elusive "masterpieces" of fantasy that Adcock suspects might escape from the shadow of Jackson's LOTR could be either films or TV series. But unless the studios greenlight more imaginative fare, that shadow will persist for a long time.
---
On the point about whether Warner Bros. would greenlight a LOTR trio of films today. I discuss studio executives' decisions about which fantasy films to make, specifically in relation to Warner Bros. and Jack the Giant Slayer, in "Jack and the Bean-counters." In my 1999 book, Storytelling in the New Hollywood, I suggested that Hollywood's originality and risk-taking had declined so much, even by then, that many classic and successful films could not be greenlit; I suggested Witness, Chinatown, The Fugitive, and Alien as fairly recent examples. By now the system has become even more exclusionary.
The idea that series TV offers the advantage of more time to play out the narrative of a long book is not  true in all cases. Including credits, JS&MN runs a total of 406 minutes, while LOTR runs 558 minutes in its theatrical edition and an extra two hours in the extended home-video release. (In the 50th Anniversary edition, Tolkien's novel runs 1029 pages without the appendices. The first edition of JS&MN is 782 pages.) Ironically, in the wake of LOT's success, New Line optioned JS&MN as a possible successor to Jackson's film. The Golden Compass took precedence, and eventually JS&MN became available for the BBC to adapt. Made as a trilogy, with a higher budget, it would have looked great on the big screen.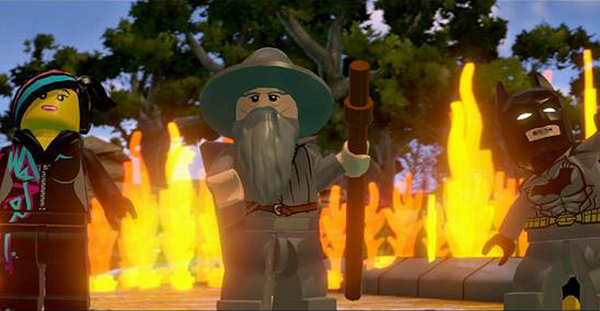 Wildstyle, Gandalf, and Batman in The Lego Movie (2014)