Monday | August 13, 2012
open printable version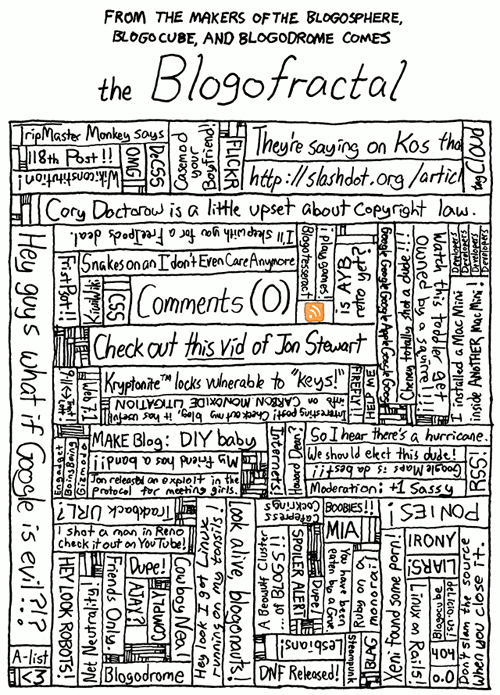 From the xkcd webcomic
Kristin here:
August is here, and many film teachers are back from summer research trips and starting to prepare syllabi for the fall. Those who are using the new tenth edition of Film Art will have noticed that tucked away in its margins are references to blog entries relevant to the topics of each chapter. But since the new edition went to press, we've kept blogging. As has become our tradition, we offer an update on blogs from the past year that teachers might want to consult as they work on their lectures or assign their classes to read. Even if you're not a teacher, perhaps you'd be interested in seeing some threads that tie together some recent entries.
For past entries in this series, see 2007, 2008, 2009, 2010, and 2011.
First, some general entries about the blog itself and the new edition of Film Art. On our blog's fifth anniversary last year, we posted a brief historical overview of it. That entry contains some links to some of our most popular items. If you're new to the blog and want some orientation, it could prove useful. Maybe students would be interested as well. At least the photos reveal our penchant for Polynesian adventure and shameless pursuit of celebrities.
In case you haven't heard about the changes we made for the new Film Art, including our groundbreaking new partnership with the Criterion Collection to provide online examples with clips from classic movies, there's a summary post available.
And here's another entry on the new edition, discussing a new emphasis on filmmakers' decisions and choices.
Now for chapter-by-chapter links.
Chapter 1
Understanding the movie business often means being skeptical of broad claims about supposed trends. We explained why the widespread "slump" of the movies in 2011 was no such thing in "One summer does not a slump make."
Trying to keep one step ahead of students (or just keep up with them, period) on the conversion to digital projection and its many implications? Our series "Pandora's Digital Box" explores many aspects:
In multiplexes: "Pandora's digital box: In the multiplex"
In small-town theaters: "Pandora's digital box: The last 35 picture show"
At film festivals: "Pandora's digital box: At the festival"
On home video: "Pandora's digital box: From the periphery to the center or the one of many centers"
In art-houses: "Pandora's digital box: Art house, smart house" 
Challenges to film archives: "Pandora's digital box: Pix and pixels"
How projection is controlled from afar: "Pandora's digital box: Notes on NOCs"
Problems introduced by digital:  "Pandora's digital box: From films to files"
Another case study of a small-town theater: "Pandora's digital box: Harmony"
Or you can pay $3.99 and get the whole series, updated and with more  information and illustrations, as a pdf file.
3D is a technological aspect of cinematography, but it's also a business strategy. We explore how powerful forces within the industry used it as a stalking horse for digital projection in "It's good to be the King of the World" and  "The Gearheads."
Independent films can be the basis for blockbuster franchises. "Indie" doesn't always equal "small," as we show in "Indie blockbuster franchise is not an oxymoron."
One of the top American producers and screenwriters of independent films is James Schamus, head of Focus Features. We profile him in "A man and his focus."
3D is probably here to stay, but it may have already passed its peak of popularity, as we suggest in "As the summer winds down, is 3D doing the same?"
The late Andrew Sarris played a crucial role in shaping the "auteur" theory of cinema. We talk about his work in "Octave's hop."
Chapter 2 The Significance of Film Form
"You are my density" is an analysis of motifs in Hollywood cinema, including a detailed look at a scene from Fritz Lang's Hangmen Also Die.
Chapter 3 Narrative Form
We offer a narrative analysis of a Tinker Tailor Soldier Spy, a film many viewers found difficult to follow on first viewing, "TINKER TAILOR: A guide for the perplexed." A follow-up, "TINKER TAILOR once more: Tradecraft," concentrates on the adaptation of Le Carré's novel.
A tricky narrative structure in Johnnie To's Life without Principle called forth our entry, "Principle, with interest."
In "John Ford and the Citizen Kane assumption," we consider the possibility that Kane, analyzed in this chapter, might not be the greatest movie ever made.
 Chapter 4 The Shot: Mise-en-scene
For some reason teachers (and apparently students) always want more, more, more on acting, the most difficult technique of mise-en-scene to pin down. "Hand jive" talks about hand gestures, which in the past were used a lot more than they are now. "Bette Davis eyelids" takes a close look at the subtleties of Bette Davis' use of her eyes.
"You are my density," already mentioned, offers several examples of dynamic staging in depth.
Chapter 8 Summary: Style as a Formal System
We have posted two entries dealing with form and style, specifically experimental artifice in 1940s Hollywood. These could be of interest to advanced students. "Puppetry and ventriloquism" deals in general with the topic, while "Play it again, Joan" looks at scenes that replay the same action or situation. The latter contains an analysis of a lengthy scene of Joan Crawford performing that could be useful in discussing staging and acting for Chapter 4.
Chapter 9 Film Genres
If you teach a unit on genre and choose to focus on mysteries, "I love a mystery: Extra-credit reading" gives some historical background information on the genre in popular literature and cinema.
Chapter 10 Documentary, Experimental, and Animated Films
"Solomonic judgments" centers on the gorgeous experimental films of Phil Solomon.
Chapter 11 Film Criticism: Sample Analyses
Our discussion of Tokyo Story in Film Art could be supplemented by this brief birthday tribute: "A modest extravagance: Four looks at Ozu."
Chapter 12 Historical Change in Film Art: Conventions and Choices, Traditions and Trends
Last September I found an extraordinary little piece of formal and stylistic analysis using video, Variation: The Sunbeam, David W. Griffith, 1912. A Spanish film student, Aitor Gametxo, had displayed the staging and cutting patterns of Griffith's Biograph short, The Sunbeam, by laying out the shots in a grid reflecting the actual spatial relations among the sets and running the action in real time. If you teach a history unit or just want an elegant, clear example of how editing of contiguous spaces works, this is a wonderful teaching tool. Classes may be particularly intrigued that a student was able to put together something this insightful. Plus The Sunbeam is a charming film that would probably appeal to students more than a lot of early cinema would. See "Variations on a Sunbeam: Exploring a Griffith Biograph film." Gametxo's film also provides an elegant example of how editing of adjacent spaces works and could be a useful teaching tool for Chapter 6.
Teachers showing a Georges Méliès film might have their students read "HUGO: Scorsese's birthday present to George Méliès," which has some background information on the career of this cinematic conjurer.
German silent film was the focus of "Not-quite-lost shadows."
Not strictly on the blog, but alongside it, is a survey of how developments in film history generated changes in film theory. The essay is "The Viewer's Share: Models of Mind in Explaining Film."
Further general suggestions
Looking for some new and interesting films to add to your syllabus? We cover quite a few in our dispatches from the Vancouver International Film Festival 2011: "Reasons for cinephile optimism," "Son of seduced by structure," "Ponds and performers: Two experimental documentaries,"  "Middle-Eastern crowd-pleasers in Vancouver," and "More VIFF vitality, plain and fancy."
Or if you seek information on historical films newly available on DVD, we occasionally post wrap-ups of recent releases, including a cornucopia of international silent films. See "Silents nights: DVD stocking-stuffers for those long winter evenings."
We have also carried on our tradition of a year-end ten-best list—but of films from 90 years ago. Not all the films on our list for 1921 are on DVD, but most are: "The ten best films of … 1921."
Every now and then we post an entry pointing to informative DVD supplements that might be useful teaching tools. It's surprising how few of them go beyond a superficial level where the actors and filmmakers sit around praising each other: "Beyond praise 5: Still more supplements that really tell you something."