Archive for the 'Directors: Preminger' Category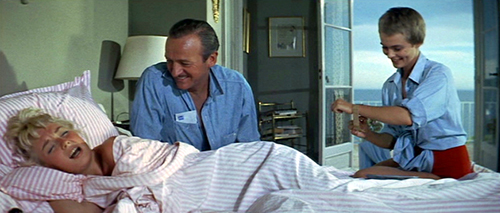 Kristin here:
Two days before David and I were to set out for Bologna and its annual Il Cinema Ritrovato festival, back pain struck him. He decided not to go, and so our coverage this year will be briefer. I struggled to see as much as possible, but if anything, the program was even more packed than last year.
The auteurs
The main threads included four directors who are of historical interest. Raoul Walsh was the main attraction, with emphasis less on familiar classics like Roaring Twenties and White Heat and more on hard-to-see items like Me and My Gal and other early 1930s films. Lois Weber, the first important female director in American cinema, was represented with as complete a retrospective as possible, including fragments from features not otherwise extant. Jean Grémillon, one of the less famous French prestige directors during the 1930s and 1940s, was extensively represented. And there was Ivan Pyriev (or Pyr'ev, going by the program notes' spelling), most famous as one of the main proponents of the "kholkoz [collective farm] musicals" of the last 1930s and 1940s.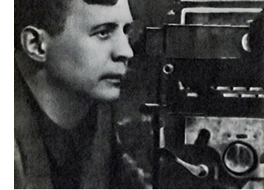 I had seen a couple of Pyriev's films and decided to see as many as possible of the series on offer, programmed by our long-time front-row neighbor in the Cineteca venues, Olaf Möller. Pyriev is an interesting case historically. He came to filmmaking just as the Soviet Montage movement of the 1920s was coming under official pressure for its formal complexity.
The Civil Servant (or The State Functionary, 1931) was a full-blown, skillful leap into Montage, with an prologue of trains coming into Moscow, shot with canted framings, low angles, and quick cuts with trains moving left, then right. The rest is a satire on bureaucracy within the national railroad system—ostensibly set during the Civil War but clearly a contemporary story. It's broad in its humor, and it has the obvious typage in the choice of actors, the wide-angle lenses that the Montage filmmakers explored in the late 1920s, and other scenes of quick cutting with jarring reversals of directions.
Official dislike of The Civil Servant kept Pyriev from directing again for three years. Turning his back on Montage, he went to the other extreme, helping to develop the kholkoz (collective-farm) musical and making some of its liveliest, most entertaining, and most enthusiastic examples of that genre. His Traktoristi of 1939 was not shown during the festival, but one that I hadn't seen, Swineherd and Shepherd (1941), is fully its equal. From the moment the film begins, with the camera madly tracking backward through a birch forest as the heroine runs full tilt after it, singing joyously to the masses of pigs that emerge from corrals and gallop along with her, the spectator realizes that this film will be exactly what one wants and expects from Pyriev.
A later entry in the genre, The Cossacks of the Kuban (1950), was even better, and I can see why it is Olaf's favorite. The opening vistas of immense wheat fields, gradually moving to scenes with tiny figures and finally to ranks of harvesting machines and trucks achieves a genuine grandeur, aided considerably by the fact that by this point Pyriev is working in color. The story goes beyond the simple stock figures of some of the earlier musicals, with a stubborn Cossack who heads one collective farm nearly missing his chance at romance with a widow who heads a rival farm.
Overall, I like these films a little better than those of his more famous colleague in the creation of buoyant musicals, Grigori Alexandrov. Yet it has to be mentioned that there is a certain underlying unease in being entertained by films that created hugely idealized images of life on collective farms. In reality many peasants were starving, and few were working with such cheerful enthusiasm to increase production for the sake of the great Soviet state. One might rationalize this dissonance by thinking that Pyriev was perhaps making fun of his subject with over-the-top dialogue and musical numbers. Yet surely to many audiences at the time, this was escapist entertainment, and urban audiences may have had little sense of the blatant inaccuracy of the portrayals of the countryside.
Two more straightforward dramas, The Party Card (1936, below) and The District Secretary (1942), a war story, were more conventional Socialist Realist works, skillfully done but lacking the appeal of Pyriev's lighter films.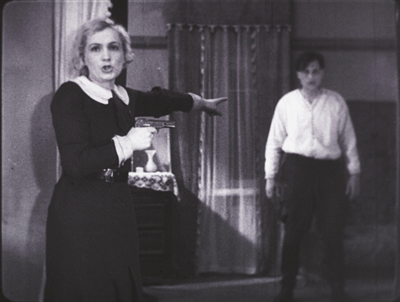 It was sad to see the one post-Stalinist film from Pyriev's late career, his adaptation of The Idiot (1958). A sumptuous production, again in color, it consisted almost entirely of overblown confrontations among characters. The actors shout all their lines at each other with almost no variation in the dramatic tone, with everything underlined by an amazingly intrusive musical score.
I saw only a few of the Walsh films, since they frequently conflicted with the Pyrievs and Grémillons and just about everything else on offer. To me, the director was a bit oversold. Peter von Bagh's introduction to the catalog says, "Unjustly, Raoul Walsh, although blessed with so much cinephilic worship, is usually placed a few notches below his more revered colleagues Ford and Hawks. Now he will have a chance to be upgraded, in our continuing series featuring extensive screenings from Walsh's silent period through his very rare early sound films." Perhaps Walsh will go up a notch in people's estimations—the screenings of his films were certainly very popular—but not, I think, the few notches it would take to place him alongside these two other masters. I enjoyed Me and My Gal, a rare 1932 comedy in which Spencer Tracy and a very young Joan Bennett adeptly exchange snappy patter, yet it occurred to me more than once during the screening that Twentieth Century (1934) is a much funnier film.
The Big Trail, shone in its original wide-screen Grandeur format on the giant Arlecchino screen, was better than I expected. Walsh was given enormous resources to tell the story of a large wagon train making its way to Oregon from the Mississippi. He showed off the crowds of wagons, cattle, and people by the simple expedient of raising the camera height so that most of the screen's height became a tapestry of people stretching into the distance, all going about their business while the main dramatic action in the foreground occurred. This often involved a very young John Wayne, whose occasional awkward delivery of lines managed somehow to fit with his character.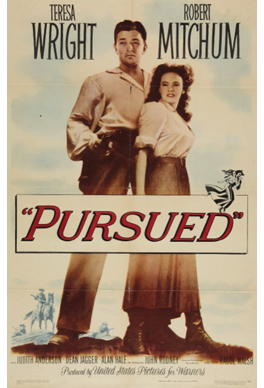 Pursued (1947), shown in an excellent 35mm print, was one of the few certified Walsh masterpieces in the series. Of course I enjoyed it. It struck me how crucial the casting of Teresa Wright as heroine Thor Callum was. So often Westerns have minor actresses as the love interest, women that one can seldom recall seeing in any other film—starlets rather than stars. Thor's dramatic arc is pretty extreme and somewhat implausible, but Wright manages to make the character convincing and sympathetic, as well as an effective counterpoint to Robert Mitchum's stolid Jeb Rand. James Wong Howe's cinematography was also a big plus.
Few of Walsh's pre-1920s films survive, but those few were shown. I skipped the wonderful Regeneration, having seen it multiple times, but I caught The Mystery of the Hindu Image, notable mainly for Walsh's own performance as the detective, and Pillars of Society, a somewhat stodgy adaptation of the Ibsen play.
I can't say much about the Weber films, since they were consistently in conflict with screenings of films by the other main auteurs. I regret having skipped one Pyriev film, Six O'clock in the Evening after the War (1944) to see Shoes (1916), which had been touted as one of the director's best. It proved a considerable disappointment, stuffed with expository intertitles that often simply described what we could already see from the action in the images. This may have been because Weber's "discovery," Mary McLaren, was so inexpressive. She almost constantly wore the same expression of resigned sadness at her family's grinding poverty, varying it occasionally with a look of annoyance at her father's shiftless behavior. I tried to steer people to The Blot, which is probably Weber's masterpiece among the surviving films.
It was fairly easy to see most of the Grémillon titles, because a number of them were repeated in the course of the week. I enjoyed Maldone, which I had seen once long ago. Its story involves a runaway heir to a large estate who has run away as a young man and now, in late middle age, works on a canal barge. Infatuated with a beautiful gypsy and spurned by her, he returns to claim his inheritance, only to be disgusted by gentrified life. Like Pyriev, Grémillon came late to one of the commercial avant-garde movements of the 1920s, French Impressionism. He uses the subjective camera effects and the rhythmic editing in a straightforward way, with little of the flashiness of a L'Herbier or a Gance. Maldone and his subsequent film, Gardiens des phare (1929), shown at the festival in a tinted Japanese print, remind me of perhaps the best filmmaker of the Impressionist movement, Jean Epstein.
This legacy might logically have led Grémillon into the Poetic Realism of France in the 1930s. Unfortunately his first sound film, La petite Lise (1930), which might be said to fit into that tradition, was not shown. After seeing several of the films on offer this year, I still think it may be his masterpiece. (We talk about it briefly in the section on early sound cinema in Film History: An Introduction.)  Though some might argue that he has at least one foot in that tradition, his work is perhaps closer to what the Cahiers du cinéma critics later dubbed the Cinema of Quality.
As for the others I caught: L'étrange Monsieur Victor (1938, dominated by Raimu as a successful merchant who is not all he seems), Remorques(1939-41, perhaps Grémillon's best-known film, re-teaming the favorite French couple of the 1930s, Jean Gabin and Michele Morgan), and Pattes blanches (literally, "White putties," 1948). I enjoyed them all, and yet there was no sense of discovering an overlooked genius. Best of the sound features for me was Pattes blanches, which tempered Grémillon's taste for melodrama with a hint of surrealism. The obsessive young wastrel Maurice (played by a very young Michel Bouquet), the gamine hunchback maid who falls in love with the reclusive and menacing local nobleman, and the nobleman himself, invariably bizarrely clad in his white puttees, help give the film a fascination that the others, for me at least, lack.
The themes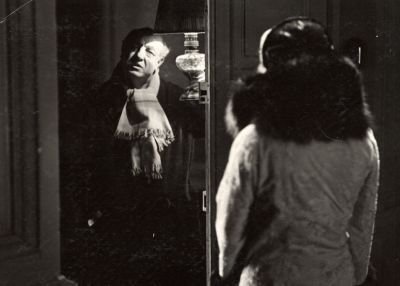 There were other threads oriented by genre or topic or period. These I sampled when it was possible to insert them into my schedule. One of these was "After the Crash: Cinema and the 1929 Crisis," which included an intriguing potpourri of documentaries and fiction films from several countries and political stances, from Borzage's A Man's Castle to two short films by Communist-leaning Slatan Dudow, director of Kuhle Wampe. Because of my interest in international cinema styles of the late 1920s and early 1930s, I went to Pál Fejös's Sonnenstrahl ("Sun Rays," 1933) was shown in the festival's first time slot, 2:30 on Saturday afternoon. It thus competed with the first showing of the Grandeur version of The Big Trail and the first program of the "Cento anni fa" set of 96 films from 1912, but such is Bologna's lavish scheduling.
Fejös, a Hungarian, made films in Hollywood, France, Denmark, Sweden, and a number of other countries. Sonnenstrahl, with its romance between German actor Gustav Fröhlich and French leading lady Annabella, is basically a reworking of the director's best-known film, Lonesome (1928), with touches of 7th Heaven (Borzage, 1927), redone for the Depression era. It's a pleasant enough piece, though not up to Fejös's best work of the 1920s. Again, the program claims to too much for the filmmaker by saying that some historians consider him "as one of the cinema's great poets, along with Murnau and Borzage."
The Depression program also included a surprisingly good early sound film by Julien Duvivier, David Golder (1931, above). It's the story of a wealthy businessman, played by Harry Baur, who discovers that his wife and daughter love him only for his money. How he could have lived this long with them without realizing this is perhaps a weakness in the plot, but from the start Duvivier showed a remarkable assurance in framing, cutting, and camera movement that was continually in evidence. Sets by the great Lazare Meerson also enhanced the style.
Baur also starred as Jean Valjean in Raymond Bernard's 1934 three-part Les Misérables. I skipped the screenings, since the film is available in a Criterion boxed set (along with Bernard's remarkable 1932 anti-war film Wooden Crosses). The Bernard film was part of the "Ritrovati and Restaurati" thread. The presence of Baur in both David Golder and Les Misérables led to the Depression and Ritorvati threads to weave together to produce a third: "Homage to Harry Baur."
The only other entry in this brief thematic collection was Duvivier's La tête d'un homme (1933), the third film based on a novel by Georges Simenon. Baur stars as Commissioner Maigret, and Valery Inkijinoff (known largely as the hero of Pudovkin's Storm over Asia/The Heir of Ghengis Khan, though he acted in numerous other films as well) plays the doomed, obsessive villain, Radek. The film is not as accomplished as David Golder, but it's an entertaining little thriller with some novel twists. Early in the film the murder is revealed, and we know from the start the Radek committed it. The duel between him and Maigret becomes the focus of the action. Moreover, the very first scene introduces a thoroughly unlikeable fellow who initially seems to be the villain, a womanizing cad who lives by gambling and other unsavory activities, yet who himself eventually comes to be tormented and threatened by Radek.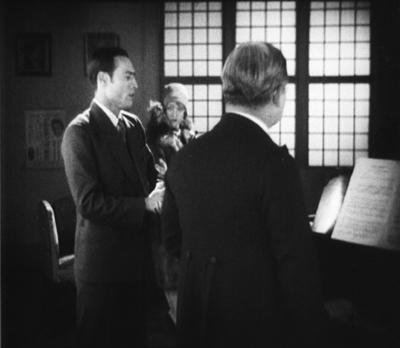 Another intriguing thread was "Japan Speaks Out! The First Talkies from the Land of the Rising Sun." Ordinarily I would have tried to see most of these, but again they conflicted with the auteur threads I was trying to follow. I did make it a point to see Mizoguchi's first sound film, Hometown (1930, above), since it's one of the hardest to see. A part talkie built around a famous Japanese tenor and opera singer, it was more an historical curiosity than a satisfying film. I reluctantly skipped Heinosuke Gosho's delightful Madame and Wife (aka The Neighbor's Wife and Mine), the first really successful Japanese talkie, having seen it a number of times. On David's and Tony Raynes' advice, I caught Yasujiro Shimazu's First Steps Ashore, a romantic tale inspired by Von Sternberg's The Docks of New York. It didn't quite match the original (as what could?) but was an entertaining tale well acted by the two leads. The first frame below reflects something of the style of Docks of New York, but the second, more typical of the film, is pure Shochiku.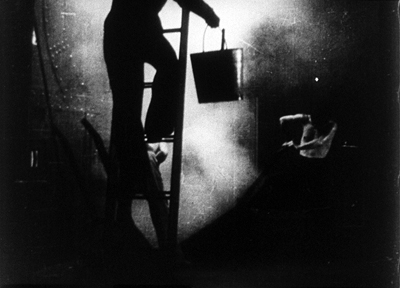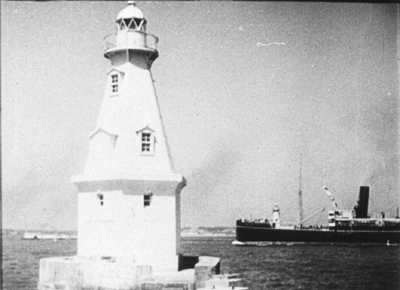 The organizers of Il Cinema Ritrovato have declared that they will continue to show films on 35mm as long as possible. Most of the screenings that I attended were indeed on film. There's no doubt that the move to digital restoration became dramatically more apparent this year. Nearly all of the 10 pm screenings on the Piazza Maggiore were digital copies, including Lawrence of Arabia, Lola, La grande illusion, and Prix de beauté. David and I don't usually go to these screenings, since we invariably want to see films in the 9 or 9:30 AM time slots and don't want to fall asleep during them. But I did catch two digital restorations shown earlier in the evening in the Arlecchino.
The first, Voyage to Italy, was flawless and sharp—perhaps a little too sharp. I liked the film much better than the first time I saw it, maybe because I understood better the claims that are made for it as a forerunner of the art cinema of the 1960s, with the aimless, confused couple presaging the characters of directors like Antonioni.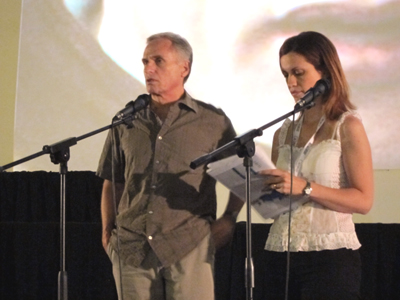 Perhaps the high point of my week, though, was an entry in an ongoing thread at the festival, "Searching for Colour in Films." There were many films in this category, which was broken down into the silent and sound eras. Bonjour Tristesse may well be my favorite Otto Preminger film. Our old friend Grover Crisp (above, with interpreter) returned to Bologna to introduce it in a digital restoration, but one which, he assured us, retained the grain of the original film. It was certainly a beautiful copy and looked great on the Arlecchino screen. (The frames at the top and bottom of this entry were taken from a 35mm copy, not a DVD or the new restoration.)
Il Cinema Ritrovato grows more popular each year. A number of our friends from other festivals and alumni of the University of Wisconsin-Madison's film studies program attended for the first time and vowed to return. Perhaps a sign that the event is gaining real prominence internationally was the fact that Indiewire  columnist Meredith Brody also made her first visit. She conveys the impressions of a newbie in a series of posts: Day 1, Day 2, Day 3, Day 4, and Day 5. For many images of the festival guests and screenings, see the official website.
---
David analyzes one Hitchcock-like scene in The Party Card in his On the History of Film Style.
July 9: Thanks to Ivo Blom for correcting my spelling of Harry Baur's name.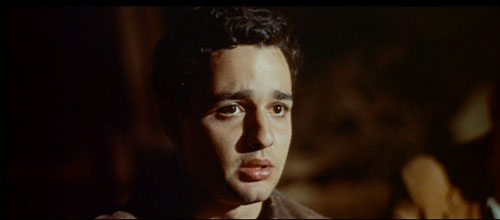 Exodus.
DB here:
Watching the film adaptation of Stieg Larsson's Girl with the Dragon Tattoo reminded me how common fragmentary flashbacks have become. Granted, we're living in a period of flashback frenzy, one comparable to the delirious 1940s and 1960s. But the format of the flashbacks has changed a bit. The Girl with the Dragon Tattoo, like many other films, gives us mere glimpses of earlier events–literally, flashes back to the past.
The technique is actually quite old. American films of the 1910s often interrupted present-time scenes to remind us of actions we've already seen or been told about. But the fragmentary flashback waned during the heyday of sound cinema. There conversations did nearly all the work. Of course there were flashbacks, as I've discussed in an earlier entry. But those flashbacks tended to be extended scenes, not the jagged bursts we get now.
A cynic might say that today's audiences are so thick-headed  and impatient that simply mentioning what happened earlier isn't enough. Viewers now would chafe at the long interrogations in The Maltese Falcon and The Big Sleep.  The scenes would need to be split up by images showing what the characters were explaining. The new rule: Add redundancy, but dress it up in whipcrack visuals.
So are the flurries of mini-flashbacks there just because filmmakers doubt that viewers can follow a twisty intrigue given in dialogue? Not necessarily. I suspect that these flourishes are traceable to a piece of current screenwriting advice. It's usually formulated as Show, don't tell.
The very distinction has some ancient ancestry. Plato and Aristotle both distinguished between verbal narration, as in the Homeric epics, and theatrical presentation. Aristotle, always more interested in craft than Plato, went on to point out that the distinction couldn't be absolute. Epic narration could include simulated conversations, for example. Aristotle did not, so far as I can tell, urge composers of epics to avoid "showing" or dramatists to avoid having characters report offstage action.
Today's bias in favor of "showing" is probably traceable to the emergence of the modern novel. "Dramatize, dramatize!" Henry James (a failed playwright) advised the novelist. That is, make the action on the page seem vivid and palpable. It was Joseph Conrad, not D. W. Griffith, who first claimed that his purpose was "to make you see." A major trend in the theory of prose fiction ca. 1900 was the effort to turn words on the page into a surrogate for visual storytelling; hence the very term "point of view" and James' comparison of unfolding narrative to a "corridor" that we traverse. It remained for Percy Lubbock, in The Craft of Fiction (1921) to sum up this trend. "A novel is a picture," he claimed, and he suggested that novels, either "panoramic" ones like Vanity Fair or "dramatic" ones like The Awkward Age, can make us forget that they are actually verbal contraptions:
The art of fiction does not begin until the novelist thinks of his story as a matter to be shown, to be so exhibited that it will tell itself.
Screenplay manuals have picked up on the general advice, even while modifying it to suit the particularities of film. Novices are advised to reduce dialogue to the minimum. Even a novel committed to "showing" will rely on conversation, but in cinema long stretches of dialogue, and especially, God forbid, monologue are uncinematic and run the risk of boring the audience. Cinema, the reasoning goes, is a visual medium, and whenever you can replace a word, or a string of them, by images you should try to do so. The aim is what we now call visual storytelling.
Now I'm all for presenting the story through pictures. Show, don't tell can challenge the screenwriter and director to get story points across through imagery and character behavior rather than expository dialogue. One mark of filmmaking skill is to guide the audience to make inferences rather than simply take in bald information.The question is: How far to go?
In their urge to picture every bit of action, contemporary filmmakers may be missing a chance to exploit another resource of cinema: the sustained scene in which a character talks about a past event without any visual supplement. A long verbal account of the past has unique virtues.
In other words: Filmmakers, consider telling and not showing what's told.
Talking it through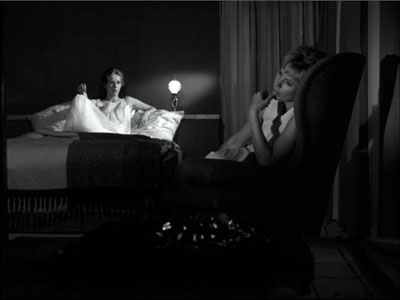 In Persona, the nurse Alma has grown more intimate with her patient Elisabeth, a famous actress who has frozen on stage and now refuses to speak. During their time together, Elisabeth's treatment becomes therapy for Alma. Compelled to fill the silences, she gradually reveals more about herself. Tonight, a little drunk, Alma confesses something shocking. Once, while her lover was away, she and a girlfriend had sex with a couple of young men. Her telling of it makes her more and more distraught, until she breaks down weeping in Elisabeth's arms.
In this nearly seven-minute monologue, Alma describes the incident. She mentions a few details, such as the weather on the isolated beach and the blue ribbon on her straw hat. Mostly, though, she simply describes what happened, in laconic but vivid sentences. The result is an anecdote of absorbing eroticism. Lacking any images of the events, we get to imagine the scene of sexual exchange. Bergman releases us from what James once called "weak specificity": perhaps no imagery this side of pornography could be as arousing as this bare-bones account.
But the fairly neutral words are given emotional coloration through Alma's manner of telling. Her reaction mixes astonishment at the pleasure, guilt at betraying her lover, and shame in telling it to Elisabeth.  By the end, she collapses into weeping confusion; the incident has made her doubt what sort of person she is. Here Bibi Andersson's performance is crucial, with trembling sincerity giving way to anguish and self-reproach.
In sum, by presenting this monologue wholly in the present, Bergman gives us two layers of action simultaneously, a charged sex scene and its long-range emotional consequences. But there's more. Had he given us flashbacks, he could not preserve the flow of the present-time action. The staging and cutting during Alma's confession use simple film techniques, but they add another layer to the scene.
The master shot, seen above, gives us the two women as Alma begins her tale.  Then straightforward analytical editing isolates each woman.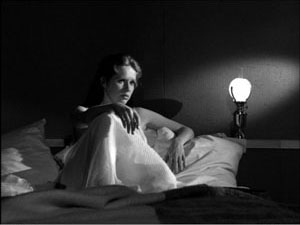 In a classic gesture of intensification, the next shots of Alma and Elisabeth are closer than the earlier ones. This  pair of shots accompanies the highest point of what Alma is telling us—the first couplings.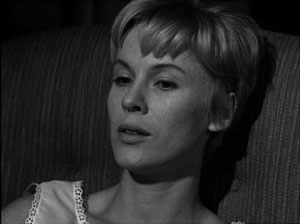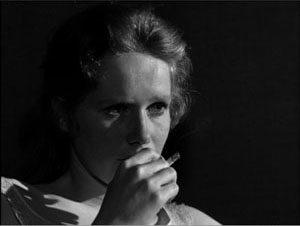 The tight shot of Alma, in which she describes achieving orgasm, lasts almost two minutes and is the lengthiest shot in the sequence. Then the action pauses as Alma nervously curls over to grab a cigarette, goes toward a distant window to light it, then settles on the sill to resume her story.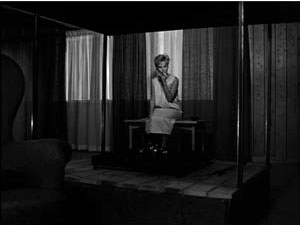 The earlier close shot of Elisabeth had hidden her reaction behind her hand. Now she watches Alma in a sort of enjoyment. Friendly empathy or triumph at eliciting a damaging admission? It's hard to say. Alma retreats to another window and turns away, as if responding to Elisabeth's smile.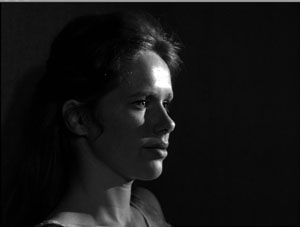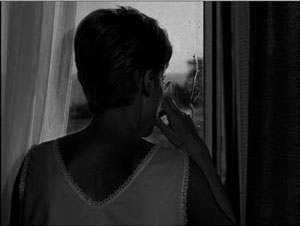 Alma finishes her tale by saying that that night, reunited with her lover, she had the most pleasurable sex of their relationship. Turning from the window, her face is angled in such a way that her confession seems at once indifferent to Elisabeth (the eyeline doesn't seem angled toward the bed) and challenging to her: "Can you understand that?"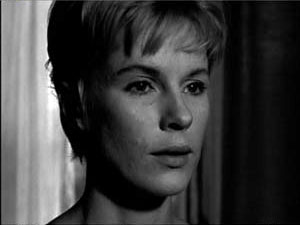 The next line of dialogue—"And I got pregnant of course"—introduces a rupture in the action's space and time.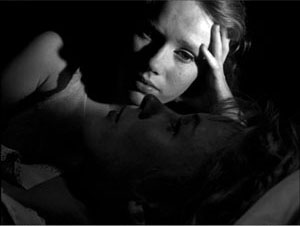 Now Alma is in bed with Elisabeth, as if her question had impelled her to the closest physical contact yet. As Alma twists in pathetic uncertainty, weeping, Elisabeth's reaction is again initially suppressed (Alma's arm blocks her patient's eyes) before finally revealing Elizabeth's face during the embrace. Yet the expression remains ambiguous—sympathetic, or victorious in having exposed her nurse's inner life.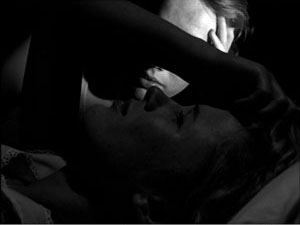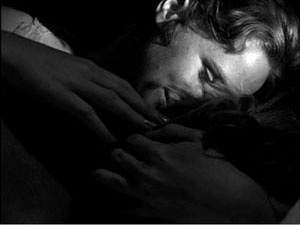 Later we will learn that Elisabeth's caresses aren't as affectionate as they might first appear. In any event, given the tenor of Alma's revelation, it is hard not to see them as erotic gestures in the present, parallel to those Alma recounted.
By telling rather than showing, then, Bergman has been able to tell and show. Bergman lets Alma's telling provide a sort of virtual flashback, while he also creates a ripening interchange between characters in the present. Instead of simply sandwiching fragments of the past into the present action, he has built up two smooth arcs of action, one that we imagine and one that is set before us in precise detail, with its own emotional modulation. The bliss of the past events is refracted through the pain of telling them.
Telling as therapy
Part of the rationale for telling rather than showing the beach orgy is, of course, the fact that much of it couldn't be presented so literally on film; censors would object. More important is the fact that showing a heavy-breathing sexual encounter would be likely to undercut the developing revelation of Alma's present feelings, the tension between the memory of uninhibited pleasure and the lingering shame and confusion.
The issue of what should be shown comes up in another classic scene of confession, the moment in Exodus when the Jewish teenager Dov Landau admits that he was an accomplice in running a concentration camp. Again the result is a tearful breakdown. Here, however, a conversational partner coaxes out the truth by quietly corrosive questions.
Dov is trying to join the Irgun, a guerrilla band seeking to drive the British out of Palestine. The senior officer, Akiva Ben Canaan, lets the cocky youth expand on his boast that he began fighting Nazis in the Warsaw ghetto but then was captured and sent to Auschwitz. At first Akiva probes gently. How did the camp officials decide who would live? And what did the Nazis do to the girls? Dov starts to shift uneasily. How was the killing accomplished?
Like Bergman, Preminger employs the standard method of providing closer views as the tension rises. Dov starts to relax as Akiva provides softball questions, but then he has to confess that the bodies were dumped in mass graves. Who dug the graves? Dov admits that demolition squads used dynamite to blow out trenches. Akiva induces him to admit that this was Dov's job.
In the course of all this, Akiva moves around the room and leans closer to Dov, but the boy remains motionless in the same setup. The fixed framing accentuates his subtly changing expressions across the scene.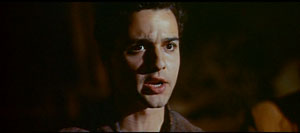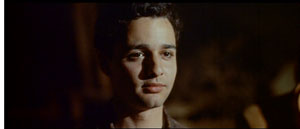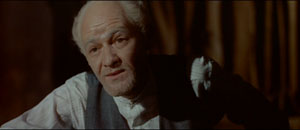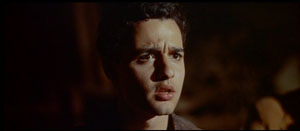 Akiva retells what Dov must have done: shave heads, collect bodies, harvest gold fillings. Dov crumples like a child under the admission (see the frame surmounting this entry), and like Alma at key points in her monologue hides his face in shame. "What could I do?"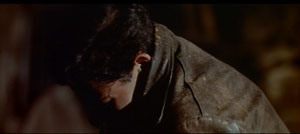 What else has he to confess? Dov won't say, until he collapses again: "They used me . . . like you use a woman."
The distant framing here prepares for the scene's final phase: the men rise and swear Dov into their group.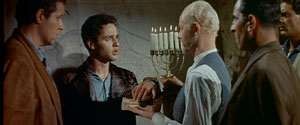 Today a filmmaker would be tempted to show at least some of what Dov tells us. We could get glimpses of life in the camp, along with subjectively distorted imagery of sexual abuse, perhaps from Dov's point of view. But this could turn out to be James' "weak specificity." "Let the reader think the evil," James advised. Accordingly, Preminger sticks obstinately to what Dov says and how Akiva's softly voiced but damning interrogation brings out the truth.
Again, the scene's power comes from the character's emotional development during the telling. We can imagine the horrors that Dov faced as a boy, and our pity comes from empathizing with his changing expressions–bravado, ruffled concern, realization that he has been caught lying, revulsion at his betrayal and the sexual assault. That is, we sympathize through his response now, rather than through direct vision of what he encountered. We react to his reactions.
By the end, Dov seems dazed that his confession has been accepted. Partly this is surprise that he isn't being rejected, but also it's as if he has awakened from a dream–that of himself as a resistance hero. Akiva Ben Canaan forces him to confront what he had not faced. Once more, the confession becomes a talking cure.
As in Persona, the confession also characterizes the interlocutor. Akiva 's gentle manner fuses wisdom and severity, making him a quietly stern father confessor. He's also a shrewd exponent of psychology, one who picks the moment of the boy's greatest self-revulsion to declare that Dov is accepted into the Irgun. The confession has broken him; the Irgun will remake him. Having surrendered himself utterly he will prove a more loyal soldier than any recruit with an innocent past.
Again, the scene of telling has given us two continuous emotional arcs in two time frames, one concrete and one virtual: a past event we're cued to imagine and a present stripping away of the teller's defenses. People who complain that the dialogue scenes in Inglourious Basterds are overlong should consider the tradition of movies like Exodus and Persona.
Psycho babble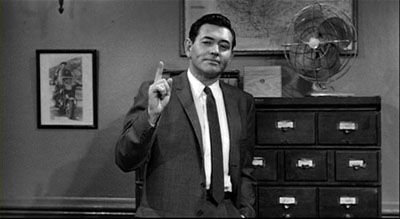 Persona and Exodus suggest two virtues of sustained recounting: arousing the viewer's imagination, and providing an unbroken arc of present-time action that can generate sympathy through face, gesture, and voice. There's one more advantage that isn't perhaps so evident nowadays.
Current films give us "lying flashbacks" fairly often. But in the old days, with very few exceptions like courtroom films and tales like Rashomon, a flashback was veridical. In recounting a story action, a character might lie or make mistakes, but if the film's narration showed us that action, we could trust that as the truth. As a result, many detective stories presented suspects' versions of events through question and answer but climaxed in a flashback that showed us what really happened.
If, however, you want to induce doubt about what really happened, you might have the detective's climactic explanation pricked by inconsistencies. This is what seems to me to be happening at the finale of Psycho. (Do I really have to warn about spoilers here?)
After Norman Bates has been captured, halted in another murder attempt, the psychiatrist Dr Richmond explains the young man's split personality—part Norman, part Mrs. Bates, his mother. Richmond claims to have gotten the truth "from the mother." At this point, he says, the Mom part of Norman has taken over wholly, a claim confirmed when we hear Norman speak in an old lady's voice in the epilogue. Richmond goes on to claim that his questioning determined that Mother "killed the girl." To get literal, it was as Mother that Norman murdered Marion Crane.
A contemporary film would very likely replay the murder so as to validate the psychiatrist's analysis: Norman dressing up as his mother, assuming a cackling old-bat accent, killing Marion in images that fill in the silhouette that we saw in the shower sequence. We would see that Norman-as-Mother is the culprit.
But this visual confirmation of Richmond's diagnosis would be made problematic by the epilogue that Hitchcock includes. In the final sequence we see Norman, staring out at the camera, and hear Mother's voice declaring that her son committed the murders. According to her, Norman is the culprit; she wouldn't hurt a fly. How then can Richmond declare that Mother told him that she killed the girl?
We might say that the doctor is extrapolating: the truth he took from the mother is that she is dissembling, shifting the guilt to Norman. But Richmond could have stated that was his reasoning, and he doesn't. The incompatibility between his explanation and Mother's soliloquy opens up the possibility that he has not probed to the depths of Norman's madness.
Despite the fact that the psychiatrist's analysis arrives at the moment when a conventional movie delivers the whole truth, the very last minutes of the film incline me to doubt Richmond's ability to grasp the whole situation. It's as if our parting vision of the character disturbs the smug certainties of the diagnosis.
I haven't dived deeply into the Talmudic sea of Psycho commentary, so it's likely that this issue has been hashed out extensively. Perhaps my construal won't stand up. Take it, then, as a possible instance of the ways in which a verbal recounting, "unconfirmed" by a tangible flashback, can stand as only a candidate explanation rather than the whole truth. In general, telling and refusing to show can induce what Meir Sternberg calls "anticipatory caution," a warning that the telling is only one, and not necessarily the most truthful, version of events.
Show, don't tell is usually good advice. But I'm suggesting a codicil. Consider showing the telling. Fill it out. Pack it with actorly detail and psychological implication. Stage and shoot and cut it so as to create an engrossing, unfolding rhythm. That's visual storytelling too, and it requires fine judgment. Who knows? More scenes relying on telling might also teach audiences to be a little patient.
---
The best modern account I know of the subtle differences between showing and telling, and the cases when the categories blur and fracture, can be found in Meir Sternberg's  
Expositional Modes and Temporal Ordering in Fiction
. I talk a little about the distinction in Chapter Two of
Narration in the Fiction Film
. See also
The Way Hollywood Tells It
for some comments on today's vogue for unreliable flashbacks. And way back in 2006 Matt Zoller Seitz wrote
a passionate attack
on the idea of "Show, don't tell" while defending the value of voice-over narration.
N. B. I'm not ignoring the possibility that film can present showing and telling in two simultaneous streams: imagery of the present situation accompanied, perhaps alongside, by continuing imagery of the past scene, as in Suddenly Last Summer. This can be a fruitful option, but it relieves the spectator of the obligation to imagine the past—an important advantage of the pure telling. There's also the tricky matter of giving the two streams of information enough density. The past event needs to gain enough body to be more than a simple illustration, while the present-time telling could become merely a prop for the flashback. In the dual-presentation mode, the filmmaker risks dividing our attention and thinning the texture of each time frame, with the result that both lose vividness. That seems to me to happen in Suddenly Last Summer.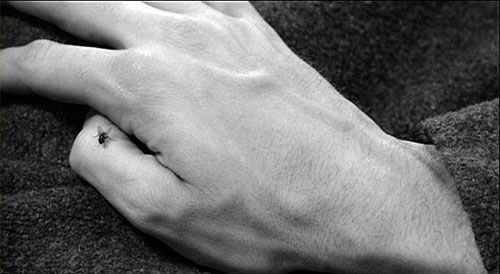 Psycho.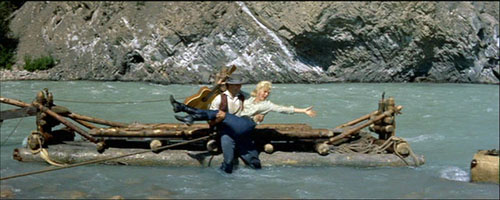 DB here:
Charles Barr's 1963 essay "CinemaScope: Before and After" has become a classic of English-language film criticism. (1) It proffers a lot of intriguing ideas about widescreen film, but one idea that Barr floated has more general relevance. I've found it a useful critical tool, and maybe you will too.
Grading on a curve
Barr called the idea gradation of emphasis. Here's what he says:
The advantage of Scope [the 2.35:1 ratio] over even the wide screen of Hatari! [shot in 1.85:1] is that it enables complex scenes to be covered even more naturally: detail can be integrated, and therefore perceived, in a still more realistic way. If I had to sum up its implications I would say that it gives a greater range for gradation of emphasis. . . The 1:1.33 screen is too much of an abstraction, compared with the way we normally see things, to admit easily the detail which can only be really effective if it is perceived qua casual detail.
The locus classicus exemplifying this idea comes in River of No Return (1954). When Kay is lifted off the raft, she loses her grip on her wickerwork bag and it's carried off by the current. (See the frame surmounting this entry.) Kay and her boyfriend Harry are rescued by the farmer Matt. As all three talk in the foreground, the camera catches the bundle drifting off to the right.

Even when the men turn to walk to the cabin, Preminger gives us a chance to see the bundle still drifting downstream, centered in the frame.

The point of this shot, Barr and V. F. Perkins argued, is thematic. As Kay moves from the mining camp to the wilderness, she will lose more and more of her dance-hall trappings and be ready to accept a new life with Matt and Mark. The last shot of the film shows her final traces of her old life cast away.
Cutting in to Kay's floating bag would have been heavy-handed; if you stress a secondary element too much, it becomes primary. Barr reminds us that any film shot can include the most important information, as well as information of lesser significance. A film can achieve subtle effects by incorporating details in ways that make them subordinate as details and yet noticeable to the viewer. Or at least the alert viewer.
In Poetics of Cinema, I wrote an essay on staging options in early CinemaScope, and Barr's idea helped me illuminate some of the strategies I discuss. (For earlier comments on Barr on Scope and River of No Return, see my article elsewhere on this site.) Today I want to consider how the notion of gradation of emphasis has a more general usefulness.
Barr contrasts the open, fluid possibilities of CinemaScope with two other stylistic approaches, both found in the squarer 1.33 format. The first approach is the editing-driven one he finds in silent film. This tends to make each shot into a single "word," and meaning arises only when shots are assembled. Barr associates this approach with Griffith and Eisenstein. The second approach, only alluded to, is that of depth staging and deep-focus shooting, typically associated with sound cinema of the late 1930s and into the 1950s.
Both of these approaches, montage and single-take depth, lack the subtle simplicity of Scope's gradation of emphasis.
There are innumerable applications of this [technique] (the whole question of significant imagery is affected by it): one quite common one is the scene where two people talk, and a third watches, or just appears in the background unobtrusively—he might be a person who is relevant to the others in some way, or who is affected by what they say, and it is useful for us to be "reminded" of his presence. The simple cutaway shot coarsens the effect by being too obvious a directorial aside (Look who's watching) and on the smaller [1.33] screen it's difficult to play off foreground and background within the frame: the detail tends to look too obviously planted. The frame is so closed-in that any detail which is placed there must be deliberate—at some level we both feel this and know it intellectually.
To see Barr's point, consider a shot like this one from Framed (1947).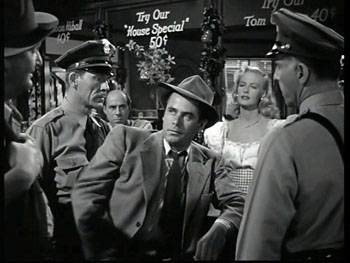 The shot, rather typical of 1940s depth staging, displays an almost fussy precision about fitting foreground and background together. That bartender, for instance, stands squeezed into just the right spot. (2) Barr claims that we sense a certain contrivance when primary and secondary centers of interest are jammed into the 1.33 frame like this.
We don't sense the same contrivance in the widescreen format, he suggests. Barr assumes, I think, that the sheer breadth of any Scope frame will include areas of little consequence, whereas that's comparatively rare in a 1.33 composition. This is an intriguing hunch, but uninformative patches of the frame may not be intrinsic to the Scope technology. Perhaps the fairly neutral and inexpressive uses of Scope that dominate the early 1950s, the sense of empty and insignificant acreage stretching out on all sides, make us expect that little of importance will be found there. Accordingly, directors can create a sense of discovery when we spot a significant detail in this stretch of real estate.
Anyhow, Barr indicates that if static deep-space staging made the frame too constrained, 1930s and 1940s directors who combined depth with camera movement created more spacious and fluid framings. He suggests that Mizoguchi, Renoir, and others anticipated the possibilities of Scope.
Greater flexibility was achieved long before Scope by certain directors using depth of focus and the moving camera (one of whose main advantages, as Dai Vaughan pointed out in Definition 1, is that it allows points to be made literally "in passing"). Scope as always does not create a new method, it encourages, and refines, an old one (pp. 18-19).
Barr believes that Scope positively encouraged gradation of emphasis, and that widescreen directors of the 1950s and 1960s have made the most fruitful use of the strategy. But he allows directors of all periods utilized gradation of emphasis, even in the standard 1.33 format. This is, I believe, a powerful idea.
Before Scope: Making the grade
Barr's discussion of silent cinema, relying on notions of editing associated with Griffith and Soviet directors like Eisenstein, is done with a broad brush, but it's typical of the period in which he was writing. We didn't know much about silent filmmaking until archivists started to exhume important work in the 1970s. It's no exaggeration to say that we haven't really begun to understand the first twenty-five years of cinema until fairly recently.
In a way, the staging-driven tradition of the 1910s, which I've often mentioned on this site (here and here and here), exemplifies some things that Barr would approve of. Directors of that period made extraordinary use of the frame and compositional patterning. They staged action laterally, in depth, or both. They let shots ripen slowly or burst with new information. This approach to using the full frame (with only occasionally cut-in elements) has come to be called the tableau style, emphasizing its similarity to composition of a painting—although we shouldn't forget that these films are moving paintings, and the compositions are constantly changing. The result is that emphasis tends to be modulated and distributed among several points of interest.
Central to this strategy, I think, was camera distance. American directors tended to set the camera moderately close, cutting figures off at the knees or hips, and by taking up more frame space, the foreground actors tended to limit the area available for depth arrangement or for significant detail.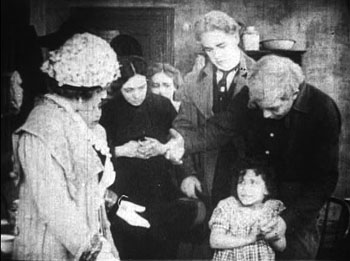 This shot from Thanhouser's The Cry of the Children (1912) is a rough 1910s equivalent of the crammed shot from Framed above. (See also the tightly composed shots from DeMille's Kindling (1915) here.)
The European directors, by contrast, tended to let the scene play out in more distant shots, creating spacious framings of a sort that would be reinstituted in early CinemaScope. Consider this shot from Holger-Madsen's Towards the Light (Mod Lyset, 1919) and another from Island in the Sun (1957).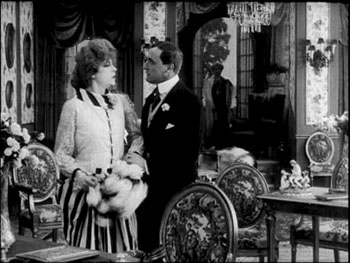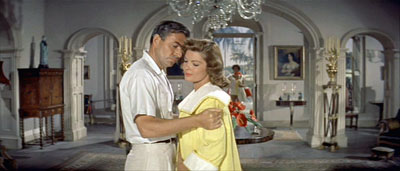 Both, it seems to me, have the type of open composition and the foreground/ background interplay that Barr praises in his article.
We can go back further. The Lumière brothers' cameramen made fiction films as well as documentaries, and we occasionally find moments that suggest early efforts at gradation of emphasis. In Le Faux cul-de-jatte (1897), an apparent amputee is begging in the foreground while in the distance a man is walking down the street.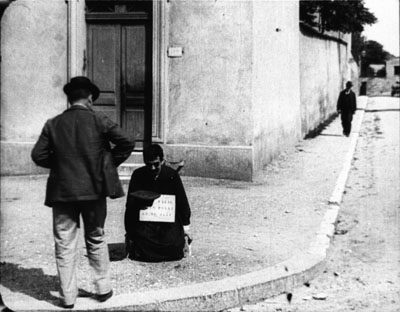 A cop crosses the street from off right and follows the pedestrian.
As the foreground fills up, the man we've seen in the distance gives the beggar some money.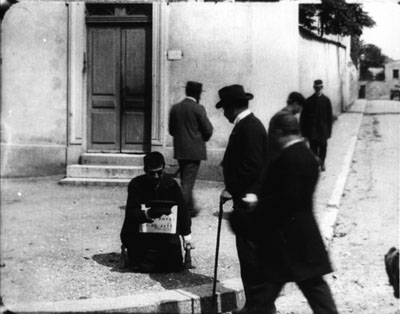 As he goes out left, the cop is still approaching, and a vagrant dog appears.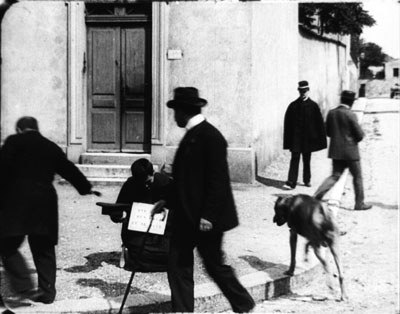 The cop comes to the beggar, partially blocking the dog, who takes care of other business. (Not everything in this movie is staged.)
The cop checks the beggar's papers and finds them to be suspect. The fake amputee jumps up and races off in the distance, with the cop pursuing.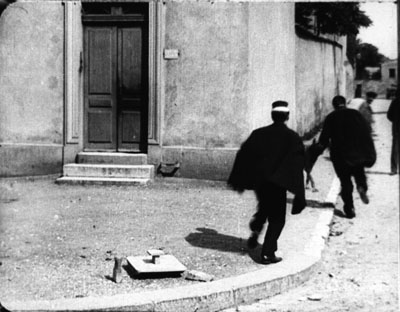 As with many staged Lumière shorts, several figures converge in the foreground in order to create a culminating piece of action. Here the distant man and the cop, both secondary centers of interest, serve as a kind of timer, assuring us that something will happen when they meet at the beggar.
These are just some quick examples. We should continue to study the ways in which, with minimal use of editing, early filmmakers found ingenious ways to create gradation of emphasis. (2)
Some uses of grading
Barr, like most critics writing for the British journal Movie, was sensitive to the ways in which technique has implications for character psychology and broader thematic meanings. Kay's bundle is one point along a series of changes in her character and her situation. But gradation of emphasis can serve more straightforward narrative purposes as well.
Consider our old friends, surprise and suspense. In the original 3:10 to Yuma (1957) Dan Evans is confronting the ruthless outlaw Ben Wade.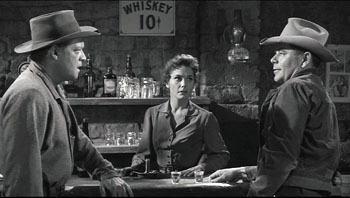 We get a string of reverse shots.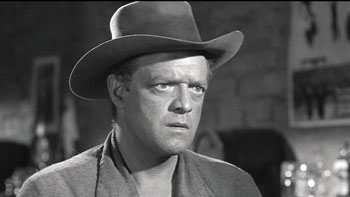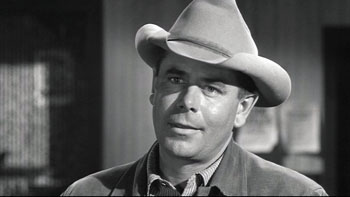 Then in one shot of Wade, without warning, a shadowy figure emerges out of focus in the left background.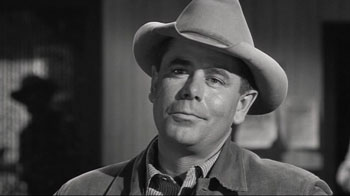 Now we realize that Evans has been diverting Wade from the fact that the sheriff's posse is surrounding him. Now we wait for Wade to discover it; how will he react?
While we're on Glenn Ford, another nice example occurs in Framed. Mike Lambert has been romancing a woman named Paula, but we know that she and her lover Steve are plotting to fake Steve's death and substitute Mike's body.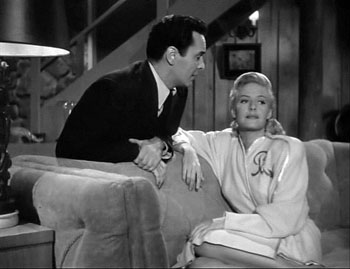 She brings Mike to Steve's elegant country house, having presented Steve as someone she knows only slightly. When Mike goes into the bathroom to wash up, we notice something important behind him.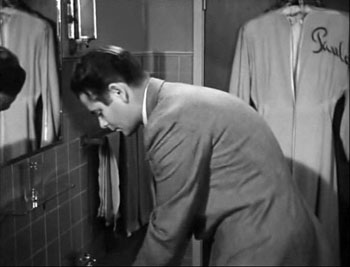 With Mike at the sink, we have plenty of time to recognize Paula's robe. Director Richard Wallace prolongs the suspense by giving us a new shot of Mike in the mirror, with the robe no longer visible.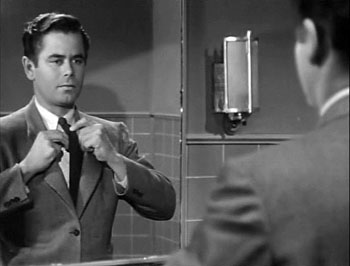 But when Mike turns to leave, a pan following him brings him face to face with what we saw, accentuated by a track forward.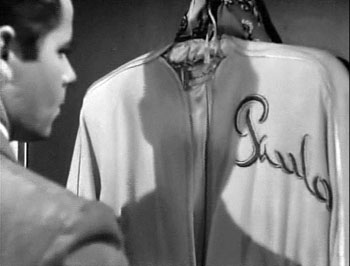 We get Mike's reaction shot, followed by a cut to Steve and Paula downstairs, suspecting nothing. "So far, so good," says Steve, looking upward at the bathroom.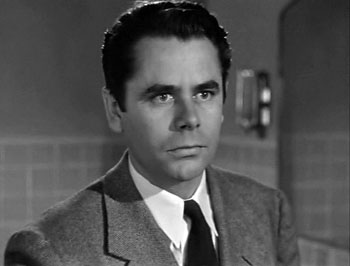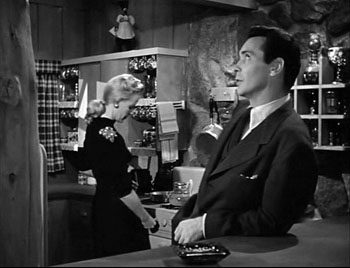 The rest of the scene will play out with Mike aware that they're deceiving him. As often happens with suspense, we know more than any one character: We know the couple's scheme and Mike doesn't, but they don't (yet) know that Mike is now on his guard.
This isn't as subtle a case as River of No Return, but I suspect that it's more typical of the way Hollywood filmmakers use gradation of emphasis. Paula's bathrobe is a good example of what I called in The Classical Hollywood Cinema the strategy of priming: planting a subsidiary element in the frame that will take on a major role, even if initially its presence isn't registered strongly. My example in CHC was a coat rack in the Dean Martin/ Jerry Lewis comedy The Caddy (1953). In effect, the distant pedestrian in the Lumière film is an early example of priming.
Howard Hawks adopts the Lumière technique in order to sustain a flow of dialogue in Twentieth Century (1934). Here the foreground conversation is accompanied by a procession of people emerging in the distance and stepping up to take part.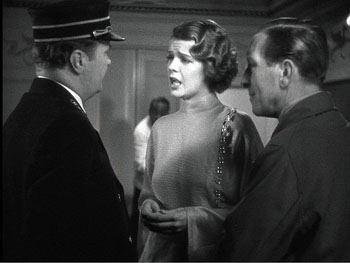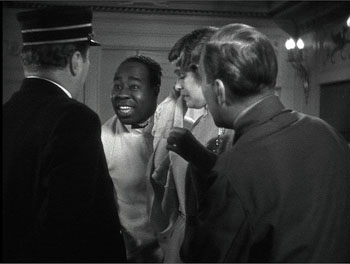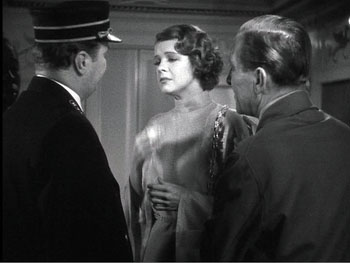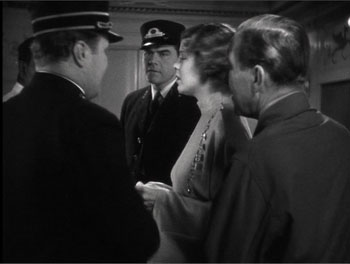 The shot concludes, as does the shot of Faux cul-de-jattes, with a retreat from the camera.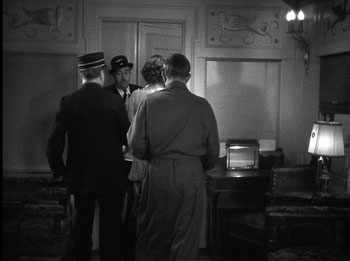 The priming of secondary elements here, the summoning of the train attendant and the conductor, obeys Alexander Mackendrick's dictum that the director ought to construct each shot so as to prepare for what will come next.
As Barr indicates, the idea of gradation shades insensibly off into general matters of cinematic expression. In The Devil Thumbs a Ride (1947), the bank robber has hitched a ride with an unassuming civilian, and they stop for gas. When the attendant shows a picture of his little girl, the robber gratuitously insults her. ("With those ears she'll probably fly before she can walk.")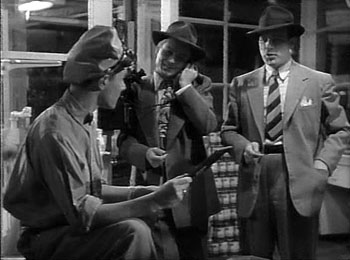 Later, the station attendant hears a radio broadcast describing the fugitive. First he has his head cocked as he listens attentively, but then his gaze drifts to the picture of his little girl.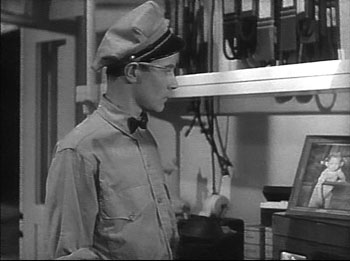 The attendant is the center of dramatic interest, but when he looks at the picture, so do we (primed by the view of it earlier). Instantly we understand that the attendant's resolve to call the police springs partly from an urge to get even with the man who insulted his daughter. A minor instance, surely, but it illustrates Barr's point that the notion of gradation of emphasis leads us to consider "the whole question of significant imagery."
The more the merrier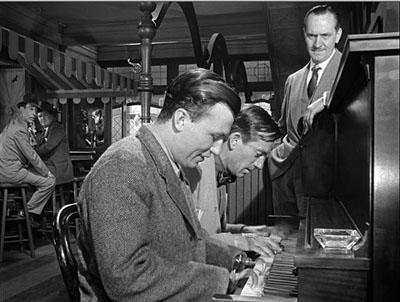 Barr seems to favor a plain style; he prefers Preminger's quiet framings to the rococo imagery of Aldrich's Vera Cruz (1954). Presumably the famous shot above from Wyler's Best Years of Our Lives (1946) would be too obviously composed for Barr's taste.
But there is merit in considering how a secondary center of interest can vie for supremacy. André Bazin declared Wyler's shot a bold stroke exactly because its self-conscious precision created a tension between what was primary and what was subordinate. (3) The action in the foreground is of dramatic interest because Homer has learned to play the piano, and this represents a phase of his coming to terms with his wartime disability. Yet the most consequential action is taking place in the distant phone booth, where Fred breaks up with Al's daughter Peggy. The gradation of emphasis is inverted, and we wait in suspense to find out what happens. Bazin taught us to recognize that what appears to be primary may actually be creatively distracting us from the scene's principal action. (4)
A director can also turn a primary center of interest into something secondary, but powerful. In one sequence of Eisenstein's Ivan the Terrible I (1944), the apparently dying tsar is being prayed over by churchmen. Ever suspicious, he peers out from under the book, using only one eye.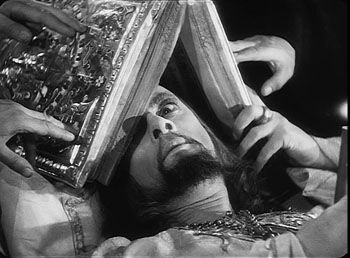 As the scene develops, Prince Kurbsky meets Ivan's wife and tries to seduce her. In the background an icon's eye glares out, as if Ivan is watching them.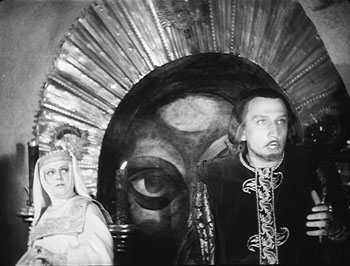 The single eye, which is a motif we find in other Eisenstein films, becomes a significant one throughout both parts of Ivan. More generally, this device manifests Eisenstein's conception of polyphonic montage, which explored how the filmmaker can control all the various aspects of his images and make them weave throughout the film—promoting one at one moment, demoting it at another. (5)
Barr's essay assumes that Eisenstein's montage stripped each image down to a single meaning. In fact, though, Eisenstein wanted to multiply the sensuous and intellectual implications of each shot by weaving objects, gestures, body parts, musical motifs, and the like into an ongoing stylistic fabric. Each shot's gradation of emphasis can suggest thematic parallels, deepen the drama, or heighten emotional expression, just as a complex score enhances an operatic scene.
Tati as well likes to create an interplay between primary and subsidiary centers of interest. Or rather, he sometimes abolishes our sense of what is primary and what isn't. The crowded compositions of Play Time (1967) often bury their gags in a welter of inessential details. During the lengthy scene in the Royal Garden restaurant, a minor running gag involves the dyspeptic manager. He has just mixed some headache medicine with mineral water, but the action is easily lost within the tumultuous image. Even the soundtrack cues us only slightly, with a bit of fizz among the music and crowd noise.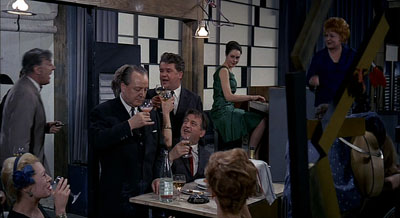 As the manager lowers the glass, Hulot thinks it's pink champagne being offered to him.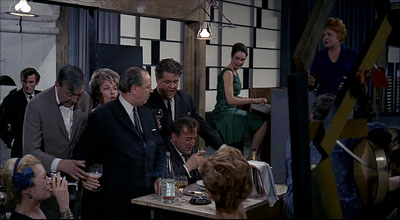 Rolling the stuff in his mouth, Hulot realizes his mistake as he earns a stare from the manager.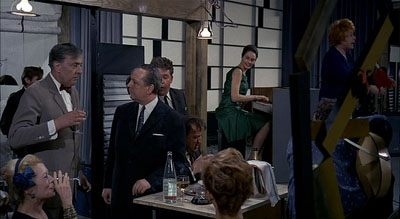 There is so much competing sound and activity in the shot that some viewers simply don't notice this bit at all. In Play Time, gradation of emphasis is often flattened out, leaving us to rummage around the composition for the gag.
Some final notes
Barr was not particularly interested in the mechanics of how we come to notice something in the shot, be it primary or secondary in value. In On the History of Film Style, I suggested that many aspects of technique work to call attention to any element in the field. The filmmaker can put a something in motion, turn it to face us, light it more brightly, make it a vivid color, center it in the frame, have it advance to the foreground, have other characters look at it, and so on. These tactics can work together in a complex choreography. In Figures Traced in Light, I argued that they depend on the fact that we scan the frame actively; the techniques guide our visual exploration. (6)
You can see this guidance at work in most of the examples I've mentioned. In River of No Return, we are coaxed into noticing Kay's bundle because we're cued by movement (the bundle falls and drifts off), performance (she shouts, "My Things!" and stretches out her arm), music (we hear a chord as the bundle splashes), and framing (Preminger's camera pans slightly as the trunk drifts away). The critic can refine our sense of the effects that a film arouses, but it's one task of a poetics of cinema, as I conceive it, to examine the principles and processes that filmmakers activate in achieving those effects.
Finally, we might ask: To what extent do we find gradation of emphasis in current filmmaking? Today's American cinema relies heavily on editing, using a style I've called intensified continuity. Each shot tends to mean just one thing, and once we get it we're rushed on to the next. The unforced openness of the wide frame that Barr celebrated has been largely banned, in favor of tight singles—even in the 2.40 anamorphic format. It seems that most filmmakers are no longer concerned with gradation of emphasis within their shots.
To find this strategy surviving at its richest, I think we have to look overseas. If you want names: Angelopoulos, Tarr, Kore-eda, Jia, Hou. (7)
(1) It was published in Film Quarterly, vol. 16, no. 4 (Summer, 1963), 4-24. Unfortunately, it's not available free online, nor is a complete version available in anthologies, so far as I know. If you have access to online journal databases, you can find it. Otherwise, off to the library w'ye!
(2) In the Poetics of Cinema piece (pp. 303-307), I argue that some early uses of Scope tried to approximate such tightly organized composition, despite technological barriers to focusing several planes of action.
(3) See André Bazin, "William Wyler, or the Jansenist of Directing," in Bazin at Work: Major Essays and Reviews from the Forties and Fifties, ed. Bert Cardullo, trans. Cardullo and Alain Piette (New York: Routledge, 1997), 14-16.
(4) Actually the phone booth is primed for our notice by earlier shots in Butch's tavern. See On the History of Film Style, 225-228.
(5) For more on Eisenstein's idea of polyphonic montage, see my Cinema of Eisenstein (New York: Routledge, 2005) and Kristin's Eisenstein's Ivan the Terrible: A Neoformalist Analysis (Princeton: Princeton University Press, 1981).
(6) For some empirical evidence of this guided scanning, see the work of Tim Smith at his website and in this entry on this site.
(7) I discuss some of these alternatives in On the History of Film Style and the last chapter of Figures Traced in Light.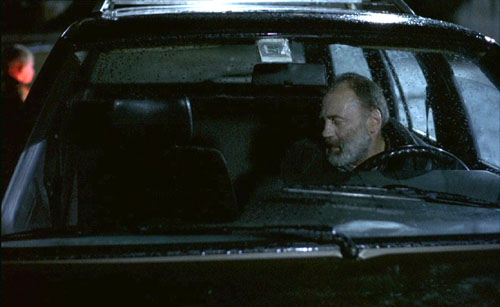 Eternity and a Day.
PS 15 Nov. Two more items. First, if the ideas floated here intrigue you, you might want to take a look at an earlier entry on this site, called "Sleeves."
Second, I had planned to include one more example, but forgot it. In Lumet's Before the Devil Knows You're Dead, Andy Hanson's life is unraveling. We follow him back to his apartment, and as he enters on the extreme left, his wife Gina is visible sitting on the extreme right, her back to us.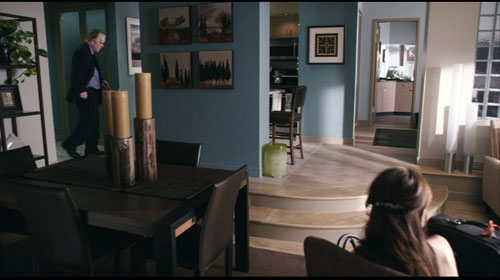 Gina forms a secondary center of attention, but the key to the upcoming action is revealed in a third point of interest: the black suitcase pressed against the right frame edge. The shot tells us, more obliquely than one showing her leaving the bedroom with the case, that she is planning to leave him. Lumet's image, reminiscent of the framing of the trunk in River of No Return, shows that gradation of emphasis isn't completely dead in American cinema. The orange scrap of yarn, knotted to the handle for baggage identification, is a nice touch of realism as well as a welcome color accent that further draws the suitcase to our notice.