Saturday | July 23, 2016
open printable version
)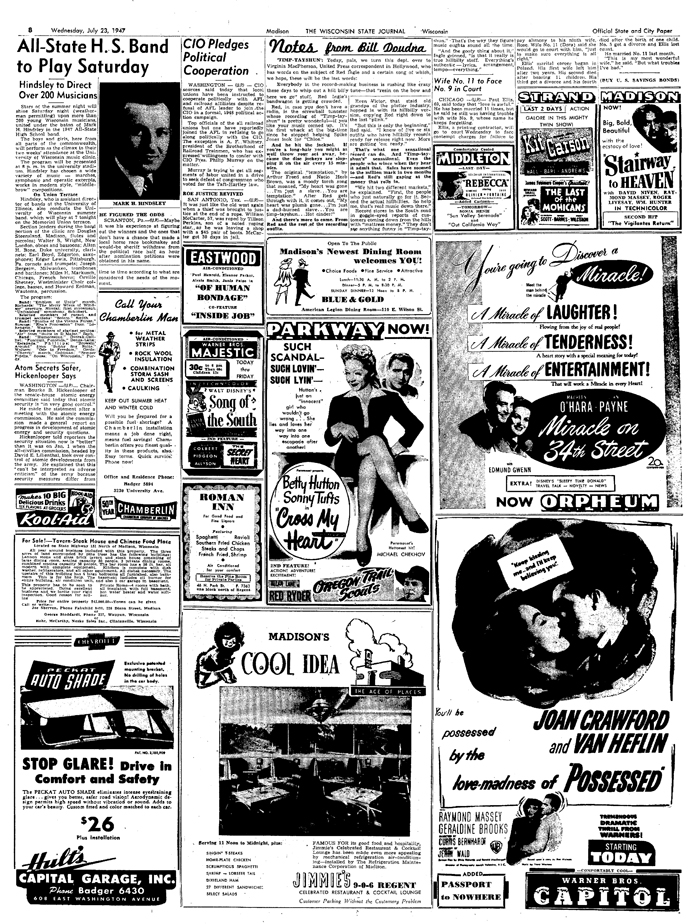 The Wisconsin State Journal, Wednesday 23 July 1947.
DB here:
Today I turn 69. (Please keep the cheers discreet.) I was born in western New York State, but I've spent over forty years in Madison, Wisconsin. So for fun I thought I'd take a look at what you could have seen on 23 July 1947 in my current home town.
This isn't (just) an exercise in baby-boomer self-regard. Looking at the movie ads in the Wisconsin State Journal for that fateful day can remind us of interesting stuff about American cinema of the postwar years. Or so I think, fueled by work on Hollywood in the 40s for a book I'm nearly done with.
Classics, just passing through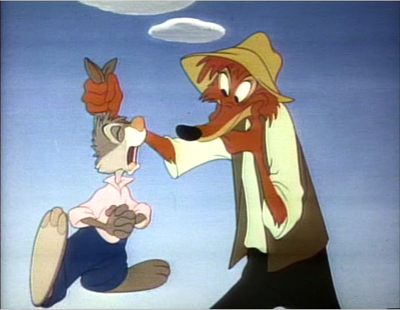 Song of the South (1946).
The first thing that strikes me the quality that's on offer. On that Wednesday you could have seen four superb films (Rebecca, Stairway to Heaven, Song of the South, Possessed) and two worthwhile pictures (Of Human Bondage and Miracle on 34th Street). These movies are still remembered and admired.
Can this morning's list of multiplex showtimes promise anything so enduring? Maybe Finding Dory and The BFG will be watched sixty-nine years from now, but our other current releases seem bound for oblivion. And of course the 1947 bill of fare was, with the important exception of Song of the South, designed for grownups.
Those who want to use this 1947 data-point as an example of the death of American cinema are welcome to do so.
Admittedly, today we don't expect summer to generate the highest-quality films. (Though it often does; think of the last Mad Max installment. And James Schamus's Indignation is coming up next week.) In 1947 the summer market was rather different from that today. Studios planned their major releases from late August onward, with big pictures playing through fall, winter, and early spring. June, July, and much of August were a slack stretch, when, Hollywood charmingly assumed, people wanted to be outside. So summer releases tended to be minor titles, and exhibitors turned to foreign fare, B pictures, and reissues.
Still, Possessed and Miracle were brand-new releases. At the end of the 40s, it seems clear, studios began releasing more of their important pictures in the summer. And as you can see, air conditioning–rare then, even in public buildings–lured some folks in.
In any case, for moviegoing purposes, I'd rather have been in Madison in July of 1947. In the two weeks sandwiching my birthday (16 July-30 July), I could have seen Brief Encounter, Her Sister's Secret, Tomorrow Is Forever, Tender Comrade, The Sea Hawk, The Sea Wolf, Dead Reckoning, The Hucksters, The Unfaithful, The Lady in the Lake, Bohemian Girl, Boom Town, The Razor's Edge, Love Laughs at Andy Hardy, Mr. District Attorney, Calcutta, I Wonder Who's Kissing Her Now, Angel and the Badman, The Dark Mirror, Till the Clouds Roll By, Pursued, and Sister Kenny—along with a couple Lone Wolf and Falcon movies. Not a bad lineup. And I'm not counting La Grande Illusion and Ivan the Terrible on the UW campus.
Safety in numbers
Possessed (1947).
Then there's quantity. Madison, Wisconsin had a population of about 65,000 in the year of my birth. It was dwarfed by Milwaukee, which had nearly ten times that. Yet by my count, over the two weeks around my birthday, a Madison moviegoer had 73 films to choose from. For the same 15-day stretch in town today, I come up with no more than 20. (For both time frames, I'm not counting campus or library screenings.)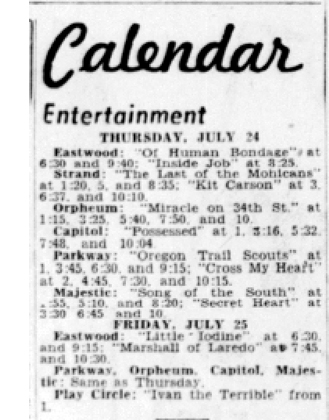 My biggest choice today involves where, when, and how to watch. The Secret Life of Pets is playing on nine screens, and I can see it in 3D or flat versions. I can see it at 8 AM or 8:20 or 8:35, and so on to 11:30 PM. The showtimes are user-friendly. By contrast, Madison movies in 1947 were appointment viewing, and most titles played only two or three times a day. While you could just drop in at any point, the newspaper did publish show times, so you could plan to watch the movie straight through if you wanted.
Of course my 69-year-old self has a much bigger choice of movies than what's in theatres. I can choose among thousands of titles on cable TV, disc, or streaming. TV wasn't a significant part of the American landscape in 1947. Cinema existed in an economy of scarcity rather than overabundance.
This circumstance led people to go immediately to see the newest picture, as they couldn't be sure it would return in second-run or a reissue. Today many of us skip a new release in theatres because we know we can catch it in a later video window. Does this all-you-can-eat plenitude make cinema seem less urgent and immediate—more a matter of "content" filling libraries and bookshelves and hard drives and Netflix queues? I think so. We're all collectors now, in a way a 1947 moviegoer couldn't be, but that means we lack the impulsion to see most films immediately. It takes effort to go out to see a film, but maybe that effort makes the experience more valuable (when the movie is satisfying, of course).
Dueling duals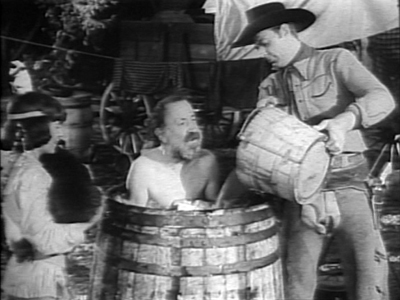 Oregon Trail Scouts (1947).
The ads reveal more about quantity. You'll have noticed that a great many of the films are playing on double bills ("duals"). From the 1930s on there was a perpetual debate about whether duals helped or hurt the industry. Most studio chiefs deplored them and confidently announced that a majority of audiences didn't like them. The trade papers regularly ran stories predicting that the dual's days were numbered.
They were wrong. Duals persisted into my college years; to see Help! (1965) twice in first release without buying another ticket, I had to sit through The Glory Guys (1965). Most exhibitors were independent of the studios, and they liked duals. So, obviously, did many viewers, who enjoyed getting two movies for the price of one.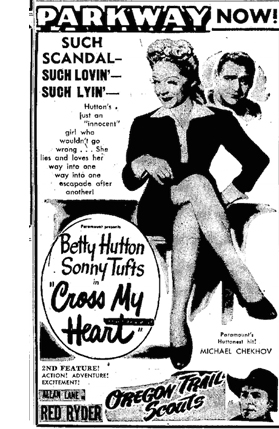 Several industrial factors are connected here. The two Madison theatres running single features were the main picture palaces. The Capitol and the Orpheum each had about 2200 seats. They were the prime first-run houses, affiliated with two studios: the Warners chain controlled the Capitol, and Twentieth Century-Fox controlled the Orpheum. No surprise then that the former ran Possessed (a Warners picture) and the Orpheum ran Miracle on 34th Street (a Fox release). So these houses could run the premiere engagement of each film, counting on the freshness of the release to attract customers. These venues screened their first-run single features for a full week.
The other theatres in the ad are running duals. Some of them ran recent releases, but late in the run. For instance, the Parkway (despite its name, another downtown theatre) was a big venue, with a 1200-seat capacity. On my birthday it screened Cross My Heart (a January '47 release) and Oregon Trail Scouts (a May release). These were first-run, but with less must-see appeal than Miracle and Possessed. Also, Oregon Trail Scouts is a prototypical B picture, running 58 minutes. So the Parkway, another Fox-controlled screen, mated a mildly attractive Paramount programmer or "nervous A" with a Republic B. A third Fox venue, the Strand, a 1300-seater on the square, drew on second-run titles and reissues for its duals.
The town's smaller theatres relied on duals. The Majestic, an old vaudeville house with some of the most skewed sightlines in Christendom, was at that point another Warners house. Yet it had no qualms about showing subsequent-run titles from Disney/RKO (Song of the South, in its third Madison run) and MGM (The Secret Heart, back for a second).
The Madison was yet another Fox house; on my birthday it was showing two Universal releases:  Stairway to Heaven (the US title of A Matter of Life and Death), paired with the unlikely partner The Vigilante Returns, a B. Both were first-run in Madison.
As a result, in my one-day snapshot every major Hollywood studio is represented; even RKO gets in with its "Passport to Nowhere" short. How can this be, in a town with four Fox screens, two Warners screens, and only one independent exhibitor? Research by our colleague Andrea Comiskey has shown a remarkable flexibility in studio screening policies. Often a subsequent-run house owned by a studio played few or none of the studio's own releases. This way everybody could make money off everybody else's movies. Such are the ways of oligopolies.
Why so many B's, particularly Westerns? Given double bills, they were what the trade papers openly called fodder, and they saved money. B's were rented on a flat-fee basis, while A's were rented on a percentage basis. Some exhibitors ran the B more frequently than the A each day, so as to keep more of the box-office take. Such wasn't the case with the Madison, though: Both Stairway and Vigilante played an equal number of times each day.
Was the B the chaser, clearing the house after the A? Maybe, but maybe someone coming to see a prestigious Powell and Pressburger would stick around for Jon Hall and Andy Devine. In any case, since the Big Five studios were making fewer pictures in the 1940s and were concentrating on A items (the big-ticket income), the ongoing demand for duals helped less important studios, which were heavy suppliers of B's.
There was only one independent house in Madison proper. The Eastwood (still standing, now a live venue and called the Barrymore) was playing second-runs in its 950-seat auditorium.
Finally, runs were tied to ticket price. I haven't got good information on ticket costs in these theatres, but the fact that the Majestic boasts of charging $.30 until 6 PM, and then bumps the cost to $.40, is typical of a second-run house of the time. First-run tickets, depending on time of day, could be $.50 or more.
Those costs, by the way, translate to ticket prices between $3.30 and $5.50 in today's currency. Another data point favoring the good old days.
Heavy rotation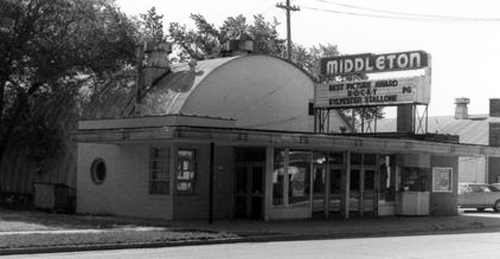 The Middleton Theatre, Middleton Wisconsin, in the 1970s. Photo courtesy Wisconsin Historical Society. 
Duals multiplied the number of pictures on offer. So did the length, or rather the brevity, of runs.
The first-run A's, Possessed and Miracle on 34th Street, ran a week; Miracle, in fact, was moved over to the Madison at the end of July for a longer stay. But most duals changed more frequently. The Madison's dual of Tomorrow Is Forever and Tender Comrade ran five days, as did the Strand's Last of the Mohicans and Kit Carson. But the Parkway typically changed bills every three days, while other theatres split up the week even more. Some programs ran only two days.
We're so used to pictures hanging on for weeks or months that these rapid playoffs are surprising. But here my birthday snapshot is a bit misleading. Many of the films brought in for two or three days were second-run titles, and a surprising number were reissues.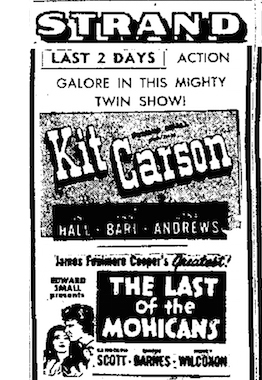 Eric Hoyt, another Madison colleague, points out in his splendid book Hollywood Vault that the Forties was a great era of reissues. Re-releasing 1930s classics like King Kong and Snow White and the Seven Dwarfs proved that an older picture might make as much or more than a new one. In any case, reissues could be cheaper for theatres to rent, especially in the slower summer months, and they could be turned over quickly.
The number of reissues increased powerfully just before my birthday. In late May, the Hollywood Reporter claimed that of 224 pictures playing in metropolitan New York, 105 were "oldies." Just after said birthday, HR reported that "the highly satisfactory boxoffice results from reissues in recent months, plus the necessity of averaging down the cost of new productions which continue to call for multi-million dollar budgets, will result in nearly twice as many reissues in 1947-48 as in the past year." That number was said to be 75 from the Majors, along with another 100 or so titles already sold or leased by non-Majors.
The oldest reissue on offer in Mad City on my birthday was The Last of the Mohicans (1936), paired with Kit Carson (1940). This package had already had great success in New York and had helped sustain the reissue boom. So strong was this Mighty Twin Show that producer Edward S. Small could demand not the usual flat-rate terms but rather a 35% of the box office. In Madison during the weeks around 23 July, you could have seen a great many other films from the 1930s and 1940s, on brief-stay duals.
Speaking of reissues, the Middleton, the venue announcing Rebecca in the ad, is interesting in its own right. Middleton is a pretty bedroom community west of Madison, then with about 2000 souls. Now, thanks to infill, it's more or less a continuation of our town. Its theatre, an independent house built in 1946 and with a capacity of 500, ran both second-run and reissues, including, during the DB magic weeks, Sun Valley Serenade (1941), The Westerner (1940), and, for one day, Once Upon a Honeymoon (1942).
Maybe more interesting is that the Middleton was a Quonset hut, with a wraparound roof.
More about the Middleton here. Kristin and I saw E. T. there, and I wish we'd gone more often. It was demolished in 1992.
Foreign accents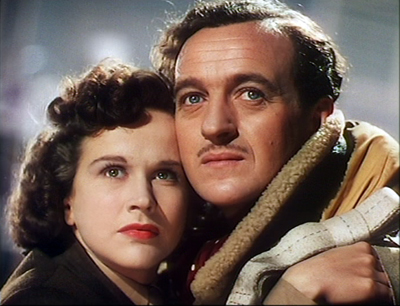 A Matter of Life and Death (aka Stairway to Heaven, 1946).
The presence of Stairway to Heaven (in first run) points up another trend. During the 1940s, foreign films gained a new prominence on American screens. While reissues were flooding New York City screens as noted, the number of imports among them was sharply up: fourteen British titles, five French, four Spanish, three Italian, two Russian, and one Swedish.
Those proportions reflect the growing popularity of British cinema. At year's end, Variety noted that the number of British releases in 1947 doubled from the previous year, from ten to twenty. In the two weeks surrounding my birthday, Madisonians could have seen Brief Encounter, also at the Madison. The Madison seems to have sometimes operated as an art house. It screened Open City a month earlier, promoted in a memorable ad that somehow plays up sexytime without showing Anna Magnani.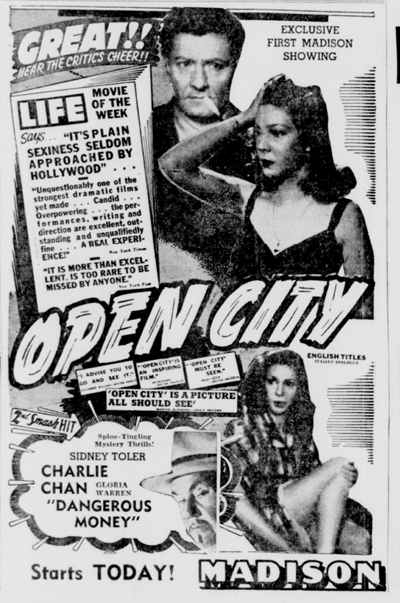 Note what's playing with it. The Madison stayed classy.
1946 was the high-water mark of American movie attendance and Hollywood studio profits. 4.7 billion US tickets were sold, and profits came to nearly $120 million. Attendance remained strong in 1947, but profits started to fall steeply, to about $87 million. The soaring costs of production, including millions spent on rights to projects that were never filmed, came due. And soon enough attendance dropped calamitously as well. Ticket sales in 1952 were only a bit more than half of 1946's total. A great many Americans stopped going to the movies.
There were rumblings, though, before I showed up. "Boxoffice of Nation on Skids," announced the headline of Hollywood Reporter for 20 May 1947. Was this just  a "spring slump," such as those before World War II, when good weather drove people outside?  "If there is no general rise in grosses by the middle of July," said one executive, "then our fears will have been realized, as it will reflect an economic crisis." Studio employment was off 20%; the Majors' building plans were put on hold; and reissues from non-Major sources were gaining a bigger share of the receipts. Ultimately, 1947 fell off only a little, but film folk were nervous. The big dip would come soon.
Another crisis: In less than a year after my birthday the Supreme Court would declare that the studios' ownership of theatres was monopolistic, and the companies would begin gradually splitting off their theatre chains.
I was born, then, on a sort of cusp. By the time I was 5, people were declaring the studio system dead. Knowing nothing of this, I continued watching new releases (Peter Pan, Francis the Talking Mule movies) and old films that were starting to show up on TV. I didn't suspect that, decades along, I would spend my more-or-less adult life studying those movies that played the Capitol, the Parkway, and the Middleton. Just looking at this page from the State Journal has me hoping that Kristin gets me a time machine for my next birthday.
---
For help in preparing this entry, thanks to Lea Jacobs, Jeff Smith, Mary Huelsbeck, Amy Sloper, Lisa Marine, and Rob Thomas.
Some sources: "Double-Bill Reissue Packages Prove Surprising B.O. on B'way," Variety (9 April 1947), 7, 18; "Re-Issues Flood New York Screens," Hollywood Reporter (22 May 1947), 1, 3; "Reissues Doubled for 1947-48," HR (26 August 1947), 1, 11;"Industry Schedules 130 Re-Releases for This Year," HR (5 February 1948), 1, 13; "Boxoffice of Nation on Skids," HR (20 May 1947), 1, 12; "Industry in Crucial Period before Upturn, Say Toppers," HR (26 May 1947), 1, 12; "July Will Disclose Actual Extent of Boxoffice Downturn," HR (9 June 1947), 10; "8 Majors and 4 Lesser Distribs Released 428 in '47 vs. 405 in '46," Variety (31 December 1947), 6. Chapter 6 of Susan Ohmer's book George Gallup in Hollywood (Columbia University Press, 2006) provides an excellent overview of the disputes about double bills.
There was another crisis in my late prenatal phase. In response to shopkeepers, the ever-watchful Wisconsin state legislature had drafted a bill banning candy, food, and drink from being sold in movie houses. Exhibitors mobilized and lobbied for tasty snack treats. "With boxoffice grosses rapidly slipping from their wartime peaks to pre-war levels, the candy, popcorn, sandwich and soft drink sales now are especially essential to keep the houses on the profit side of the ledger."  "Wisconsin Candy Sale Ban Doomed," HR (7 May 1947), 5. Fortunately for all Cheeseheads, this bill was defeated.
Browsing the wonderful site Cinema Treasures can make you aware of all those lost movie houses. The Wisconsin Historical Society presents many photos of Madison's old theatres. My photo of the Middleton in the 70s comes from this collection, Reference no. 5572.
The saga of Madison's Orpheum is told in part here, though an update on all the intrigue is probably in order. At least the magnificent sign has been redone and has gone up. The Capital Times covers the process here and here. The refurbished sign got lit up last night. For more on local theatres, including the ones I actually frequented back East, go here and here. Also relevant is this visit to Rochester's Cinema Theatre, with information from Andrea Comiskey. Also a cat.
On the importing of movies from overseas at this period, the definitive source is Tino Balio's book The Foreign Film Renaissance on American Screens, 1946-1973 (University of Wisconsin Press, 2010).
P.S. 30 July 2016: The Middleton Theatre stirs fond memories. See Nadine Goff's Facebook page on historic Wisconsin photographs for reminiscences of sticky floors and rain on the roof.

Another fateful birthday headline.