Thursday | July 21, 2016
open printable version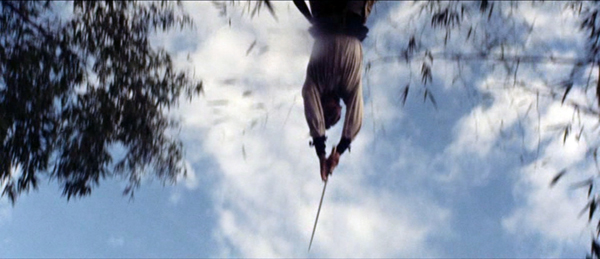 A Touch of Zen (1970).
DB here:
Criterion has just put out its DVD/Blu-ray of King Hu's A Touch of Zen. I wrote liner notes for it, which are available on the Criterion site. I haven't gotten my copy of the edition yet, but the reviews I've seen are praising Tony Rayns' interview (no surprise) and the other features.
For more on one of my favorite cuts in A Touch of Zen, you can visit this blog entry (complete with splice marks). There's also a discussion of the goldenrod combat here. In Poetics of Cinema, there's a longer essay called "Richness through Imperfection: King Hu and the Glimpse," and a chapter of Planet Hong Kong is devoted to comparing his work to Chang Cheh's and Lau Kar-leung's.
With A Brighter Summer Day, this is another Criterion triumph and a must for every cinephile. And why am I never around when a swordswoman flies by?