Archive for August 2014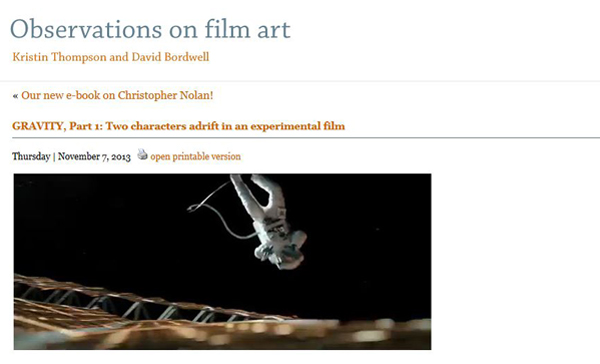 Kristin here:
Once again the fall semester approaches, and educators are pondering their film-class syllabi. As always, we have prepared a guide to our blog entries from the past year, with suggestions about how some of them might usefully be assigned alongside chapters of Film Art: An Introduction. Readers who aren't teaching could use this guide to alert them to entries they may have missed.
For the entries from past years, see 2007, 2008, 2009, 2010, 2011, 2012, and  2013.
David is at work on a book on 1940s Hollywood cinema, which he finds a strange and innovative era. Several of his entries for this past year reflect that focus.
Chapter by chapter
Chapter 1:  Film as Art: Creativity, Technology, and Business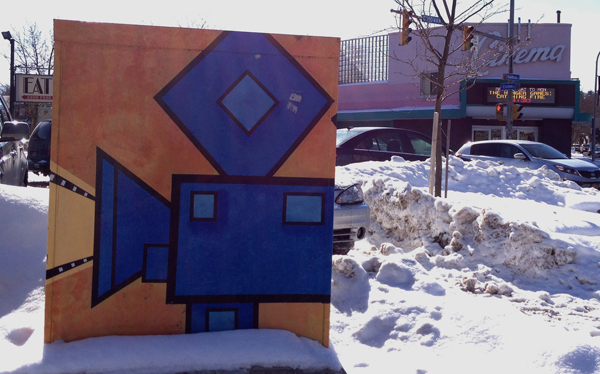 Last year several of our entries dealt with the conversion of exhibition from film to digital copies. That conversion has progressed until 35mm houses are now relatively rare. We take a look at a theater still showing movies on film in "Dispatch from another 35mm outpost. With cats."
Chapter 3:  Narrative Form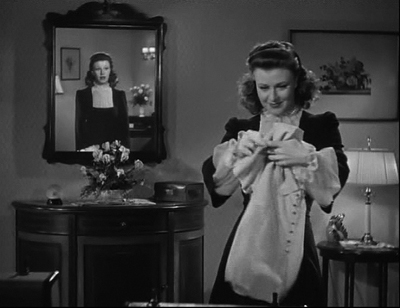 Sometimes producers force scriptwriters to change their scripts. These changes aren't always bad. They can lead filmmakers to find ingenious solutions that actually enhance the result. We look at some examples from the 1940s in "Innovation by accident." (As in Kitty Foyle, above.)
Two professors have already told me they were going to teach Gravity this coming semester, assigning our two entries on the film. These could be used for a variety of chapters: the first one, "GRAVITY, Part 1: Two characters adrift in an experimental film" is on the narrative of the film and could most obviously assist in teaching Chapter 3. It might also be a helpful reference, however, for Chapter 10, in discussing the boundaries between experimental and mainstream cinema.
The differences between suspense and surprise is a common topic in discussing narratives. We look at Hitchcock's famous distinction between them and where he got it in "Hitchcock, Lessing, and the bomb under the table" and "Hitchcock Again: 3.9 Steps to Suspense."
For advanced students, you might consider assigning an essay David has posted on his website proper, "Three Dimensions of Film Narrative." He elaborates on this essay with examples from Scorsese's The Wolf of Wall Street in "Understanding film narrative: The trailer."
Modernism involves playing with plots, sometimes in challenging ways. In another entry for advanced students, we examine such playfulness: "Pulverizing plots: Into the woods with Sondheim, Shklovsky, and David O. Russell."
During the 1940s, filmmakers sometimes explicitly broke their films down into chapters. That tradition has not disappeared–especially in the films of Quentin Tarantino. We explore some connections in "The 1940s are over, and Tarantino's still playing with blocks."
Chapter 4: The Shot: Mise-en-scene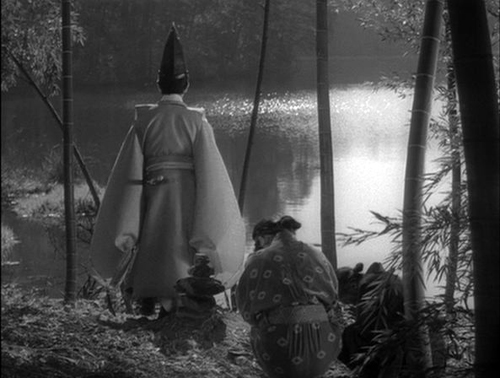 Staging is an important aspect of acting. We give some historical notes about how characters have been set up to face each other in a two-shot composition in "Where did the two-shot go? Here."
Few directors combine staging, setting, composition and acting as brilliantly as Kenji Mizoguchi. We explore his extraordinary mise-en-scene in "Mizoguchi: Secrets of the exquisite image." (Above)
Chapter 5  The Shot: Cinematography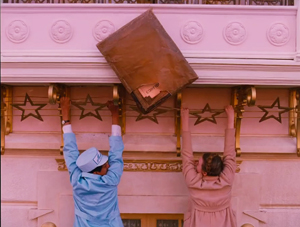 In anticipation of Gravity's release, we wrote about long takes in Alfonso Cuarón's earlier films and in particular Harry Potter and the Prisoner of Azkaban in "Harry Potter treated with gravity."
Our second entry on Gravity, "GRAVITY, Part 2: Thinking inside the Box," could be taught in connection with the entry on Harry Potter and the Prisoner of Azkaban in discussing long takes. It also, however, exemplifies cutting-edge techniques in digital cinematography, special effects, and 3D.
Wes Anderson's The Grand Budapest Hotel wonderfully exemplifies variations on aspect ratios. Its style is also based on framing perpendicularly to the backs of sets (earlier explored in "Shot-consciousness"). See "THE GRAND BUDAPEST HOTEL: West Anderson takes the 4:3 challenge." (Above)
Chapter 6: The Relation of Shot to Shot: "Editing"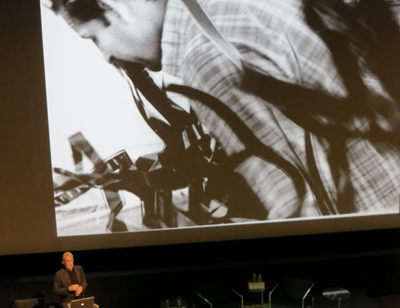 At the Vancouver International Film Festival, we caught Walter Murch's lecture on the industry's transition to digital editing. Here's our write-up:  "Film-industry pros share secrets in Vancouver."
Our two Wes Anderson blogs (here and here) discuss his customized variant of classical continuity editing.
Chapter 8: Summary: Style as a Formal System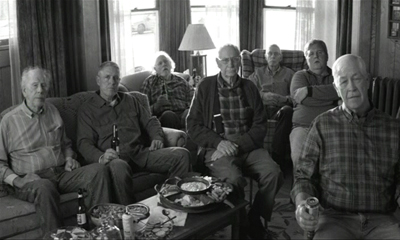 Nebraska
Teaching about auteurism and style? Kristin met Alexander Payne last year at Il Cinema Ritrovato. Then he came and visited Madison this past spring. We blogged about that visit and his films in "Alexander Payne's vividly shot reality." He was still talking to us at Il Cinema Ritrovato this year, so he must have liked the entry!
Chapter 10: Documentary, Experimental, and Animated Films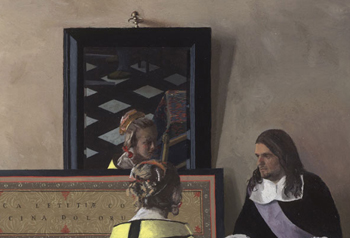 We wrote an entry on a major recent documentary film, "I am a camera, sometimes: Tim's Vermeer." Also quite teachable.
Chapter 11: Film Criticism: Sample Analyses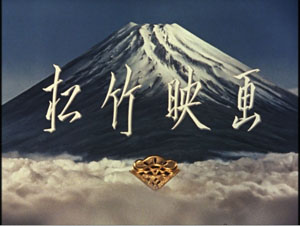 If you show Tokyo Story, or any other Ozu film, your students might be interested in Ozu's influence up to the present day. Our entry "Look well! Look again! Look! (For Ozu)" explores this subject.
Apart from the entry on The Grand Budapest Hotel linked above, we've written an analysis of his previous film in "Moonrise Kingdom: Wes in Wonderland." His recent films, starting with Fantastic Mr. Fox, strike us as very teachable.
David has written several entries on some major American critics of the 1930s and 1940s–Otis Ferguson, James Agee, Parker Tyler, and Manny Farber–and their approaches to analysis and evaluation. These would be suitable for students interested in writing film criticism themselves.
"Otis Ferguson and the Way of the Camera"
"The Rhapsodes: Agee, Farber, Tyler, and Us"
"Agee & Co.: A Newer Criticism"
"James Agee: All there and primed to go off"
"Manner Farber 1: Color commentary"
"Parker Tyler: A suave and wary guest"
and finally "The Rhapsodes: Afterlives"
Chapter 12  Historical Changes in Film Art: Conventions and Choices, Traditions and Trends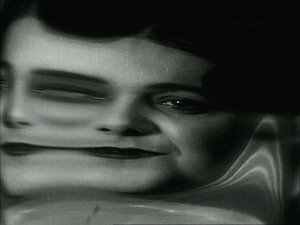 If you are looking for silent films to show as illustrations of German Expressionism, French Impressionism, silent classical Hollywood, or very early experimental cinema, try the latest entry in our surprisingly popular annual summary, "The ten best films of …1923." Not all the films are available on DVD at this point, but the ones that are are well worth seeking out.
Examples of early film and the transition to more classical storytelling can be found in our summer entry, "What's Left to Discover Today? Plenty."
An update to the Hong Kong section of the chapter can be found in our entry on Wong Kar-wai's latest film:  "THE GRANDMASTER: Moving forward, turning back."
Further resources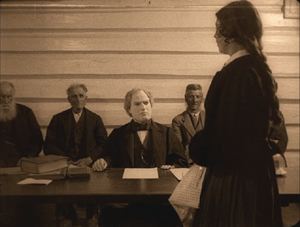 For information on some recent DVD and Blu-ray releases, see "Recovered, discovered, and restored DVDs, Blu-rays, and a book."
We've put up an ebook on Christopher Nolan, based on updated versions of our blog entries, for $1.99. It includes some brief extracts from Nolan films, though you can opt for a version without the clips. For a description, see "Our new e-book on Christopher Nolan!

Don't forget that we also have videos available for you to show or assign. For Chapter 3, on narrative, there's "Twice Told Tales: Mildred Pierce," including an imbedded Vimeo comparison of scenes repeating a crucial action. Chapter 6's discussion of editing is supplemented by our most popular video, "Constructive Editing: Robert Bresson's Pickpocket (1959)."
For the history chapter (Chapter 12), there are two video lectures: an entry on "How Motion Pictures Became the Movies 1908-1920"  and one on "CinemaScope: The Modern Miracle You See Without Glasses" (which could also be used in connection with the Cinematography chapter).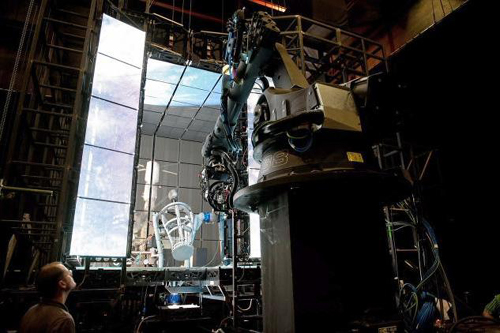 Gravity, production photograph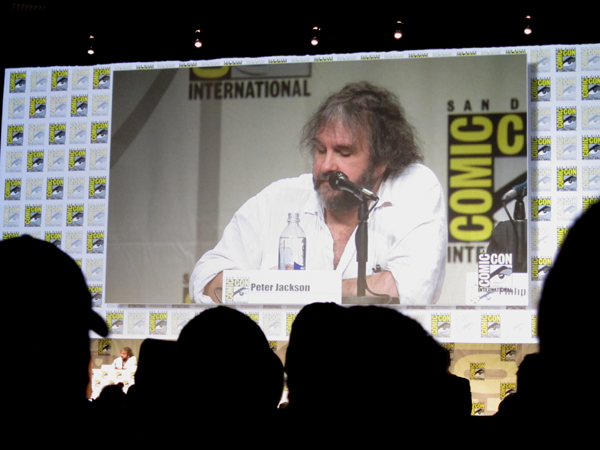 Kristin here:
Long-time readers of this blog may recall that in 2008 I went to Comic-Con for the first time. I can't recall exactly what led me to take the plunge. It may have been that by that time it was evident that the con had grown into a major opportunity for Hollywood studios to publicize their upcoming blockbusters to their core audience and I wanted to witness the process in person.  Until this year, I hadn't returned to Comic-Con. I was motivated in part by the fact that this was the last big promotional event for a film in the Lord of the Rings/Hobbit franchise. I had briefly discussed Comic-Con in relation to LOTR in The Frodo Franchise, but I had not witnessed any of the appearances of cast and crew promoting the first trilogy. This was my final chance, the end of an era.
I blogged about my first visit four times. I wrote about the LOTR/Hobbit presence on the Frodo Franchise blog. On this blog I gave an overview of the Comic-Con experience, analyzed why Hollywood poured so many resources into an event nominally about comic books, and posted a conversation between Henry Jenkins and me. Henry, who had helped found the area of fan studies back in the 1990s with such widely cited publications as Textual Poachers, was also a Comic-Con newbie that year, and we shared our reactions. (This year Henry was on a panel, "Creativity Is Magic: Fandom, Transmedia, and Transformative Works," one of a number of panels on fan culture. I missed it because I was in line for Hall H. More on that below.)
A friend of mine who has a press pass assured me that they were not as hard to obtain as I had feared, so, based on my collaboration on this blog and my position on the staff of TheOneRing.net, I applied. To my delight, I was granted one, so I set out to cover Comic-Con more officially.
Going to Comic-Con alone isn't nearly as fun, and I was lucky enough this year to meet up there with my friends, Professors Jonathan Kuntz and Maria Elena le las Carreras and their irrepressible daughter Rebecca, who are always terrific company.
Preview night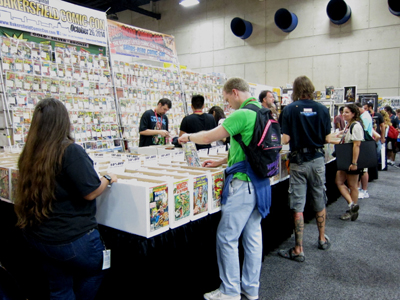 On the Wednesday evening before Comic-Con begins, there is a preview. This means that people with various special passes can get into the big exhibition hall where most of the booths are set up. These range from dealers in rare comic books to the biggest entertainment companies, like Warner Bros. and Lego. Many of them offer unique items only for sale or give-away at Comic-Con.
Many attendees have realized this, and they buy tickets that include the preview evening. The floor was much more crowded than when I attended the preview night in 2008. There were lots of lines with people trying to get those unique collectibles.
Others were there to look at comics. Yes, there are still plenty of comics at Comic-Con. There are dealers offering rarities, as in the image above. There are comics publishers with their latest offerings.
A particular favorite of ours is Fantagraphics, which specializes in reprinting comics. They've launched a set of hard-cover volumes of Walt Kelly's syndicated Pogo strips. They also, I discovered, are doing a series of Don Rosa comics, also in hardback. In fact, when I was strolling around the booth, I realized that Rosa himself was signing autographs until 8 pm. It was then 7:59, so I grabbed volume 1 and was the last person to get my copy signed. By the way, it includes "Cash Flow," one of the Uncle Scrooge stories I mentioned in our first blog entry on Inception. Volume 1 hasn't actually been published, but it's available for pre-order on Amazon.
The big moment of my evening, entirely by chance.
My first press conference
Once you're granted a press pass, your name is put on a list made available to the exhibitors and publicists planning events. Companies big and small send you announcements about signings, press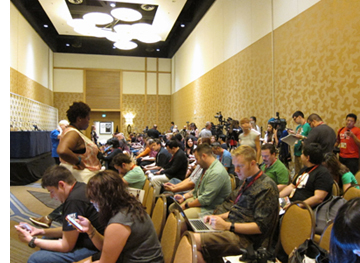 conferences, swag available at booths, parties in downtown venues, and so on. Many of these events promote video games, graphic novels, and television, but one sounded intriguing to my film interests: a press conference for Penguins of Madagascar, an entry in Dreamworks' animated Madagascar franchise. The odd thing was that the event was scheduled in the morning at 11:15, fifteen minutes before the DreamWorks panel in Hall H. If we came to the conference, we couldn't get into Hall H–unless the PR people reserved seats there for us. The big attraction was that some of the voice talent, including Benedict Cumberbatch and John Malkovich, as well as the two directors would be there.
I showed up and got a front-row seat off to the side. The room filled up (right).
The event itself started somewhat late, and two gentlemen who were not Benedict Cumberbatch or John Malkovich appeared and answered some questions. (I would give their names, but the usual signs put on the table in front of guests were not in evidence.) We were approaching 11:25. John Malkovich and another gentleman appeared. Another couple of questions were asked, and someone announced that Benedict Cumberbatch's plane had gotten in late the night before and besides we had to leave to make room for the next event scheduled in the room. We were not escorted to reserved seats in Hall H, where I hear that Benedict Cumberbatch did appear.
I can only trust that this is not how most press conferences turn out. Perhaps I will be invited to another one and find out.
Bill Plympton in person
Given that I had no option to go to the Hall H DreamWorks Animation presentation, I sought out an alternative among the several items offered during the noon slot. I had had my eye on a panel which had as its guests the well-known animator Bill Plympton, as well as Jim Lujan, the co-director of the feature-length Revengeance, in progress. David and have long been fond of Plympton's work, especially his laugh-out-loud classic, Your Face (1987), which was nominated for an Oscar. It's just a series of distortions of a man's face as he sings an utterly wimpy love ditty (above).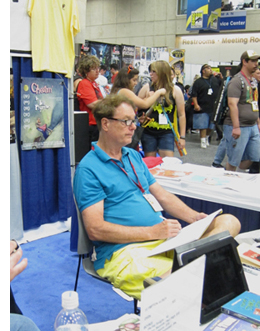 Plympton continues to be remarkably prolific. He has worked on fourteen episodes of The Simpsons, including doing twelve couch gags. Now he has a feature, Cheatin', which will be shown for a week starting on August 15 at the downtown independent in Los Angeles. (Earlier this year it played at Slamdance, but I can find no theatrical release date.) You can see a short appeal animated by Plympton for the film's Kickstarter appeal; its quite informative about the animation techniques used. The campaign itself is over, having raised $100,916, exceeding the goal of $75,000.
Apart from clips from Revengeance, Plympton also showed a brand new short, Footprints, a charming tale of a man's search for a mysterious house invader. It will be shown on August 14 as part of the Hollyshorts Film Festival, which will honor Plympton with the Indie Animation Icon Award. The film was entirely hand-drawn in black and white and then colored digitally.
During the panel there was a contest for a T-shirt. The question was: What is Bill Plympton's middle name? Despite a plethora of cell phones, laptops, and tablets in the audience, no one could come up with the right answer. A second question was put forth: what was Plympton's first theatrically released film? "The Tune," came a cry from the audience. It was Sam Viviano, art director of Mad Magazine; he walked off with the shirt. Plympton then sheepishly confessed that his middle name is Merton.
Plympton's films have been hard to find online, but this fall they will become available on Source HD: "It's the entire catalog, everything I've ever done." That includes about 60 shorts. As a result of this online exposure, he says, "I expect that when I come back to San Diego next year they're going to have to give me one of those huge 2000-seat rooms." I hope so, and I hope it will be filled–but not so jammed that I could not get a seat.
Plympton offered all attending his panel a free autographed drawing. I went to collect mine at his booth in the exhibition hall and found him drawing (right), as he must constantly be doing. Note the Cheatin' poster behind him at the left and the usual bustle of Comic-Con in the background. He paused to dash me off a delightful image of his famous Dog character. (An animator who doesn't use cels has to be really fast at drawing.)
Plympton DVDs are not all that easy to find, though you can get them and other merchandise at his website's shop. If you don't know his work, it's time to start catching up.
A new experience: The Indigo Ballroom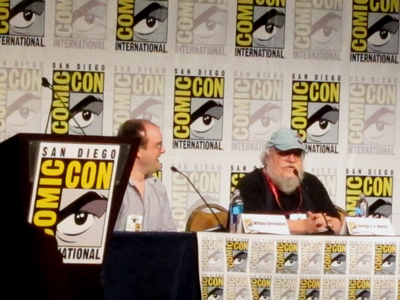 Seeking to accommodate more fans without violating fire regulations, Comic-Con has expanded into nearby buildings. One of the facilities utilized this year was the Hilton San Diego Bayfront, just across from the Convention Center on the Hall H end. That's where the DreamWorks press conference sort of took place. Its biggest room was the Indigo Ballroom. I'm not sure it had 2000 seats, but I wouldn't be surprised.
My colleagues at TheOneRing.net have been presenting panels on the Hobbit series for several years now. In fact, my visit to Comic-Con in 2008 was as a participant on one of those panels, speculating much before the fact on the shape that the Hobbit project would take. At that point the cast hadn't even been chosen. I suggested that Wisconsin's own Mark Ruffalo would make an excellent Thorin. I still think he would have, but Richard Armitage has gained a large fan following in that role. I'm not sure that at that early stage Martin Freeman was everyone's favorite candidate for Bilbo, but he soon became so–including mine. The man is a born hobbit.
That 2008 panel took place in a relatively small room in the Convention Center. In more recent years, the TORn panel has been joined by such luminaries from the filmmaking team as Richard Taylor. It has gained such a following that this year it was booked into the Indigo Ballroom.
Then we learned that George R. R. Martin was booked into the same room in the time-slot directly before TORn. (I'm sure you all know who he is, but for the few who don't, I'll just say, he's the author of the "A Song of Fire and Ice" series, of which Game of Thrones is the first book.) We were all convinced that Martin's session would be jammed and furthermore that an overlap in fandoms would mean that the audience there for Martin would stay for the TORn panel, excluding those who showed up just before the TORn session. There was much discussion as to how TORn staff not on the panel (like me) could get in and be sure of a seat. How many seats could be reserved? We didn't know.
I determined to support my colleagues and attend the TORn panel. The question was, how many sessions would I have to sit through to make sure I could get a seat? (Rooms are never cleared between sessions at Comic-Con, since doing so would take too much time and would mean that people in one room for a session would not be able to get in line for the next session in that room. Hence the strategy of sitting through multiple panels in the same room to guarantee a seat at the one you really want to see.)
I arrived early in the afternoon in the middle of a session about some show on Comedy Central. This finally ended and the George R. R. Martin panel began. To my surprise, it was only about two-thirds full. I learned later that Martin often attends Comic-Con. Moreover, this time he wasn't talking specifically about Game of Thrones. The session was billed as "George R. R. Martin Discusses In the House of the Worm." The title in question is a new comic-book series that Martin is involved with. (Above, William Christensen, publisher at Avatar Press, interviews Martin.)
I had expected to sit through Martin's session merely waiting for the TORn one to begin. I had read Game of Thrones, widely assumed to be heavily influenced by The Lord of the Rings. Game of Thrones was entertaining, but by the end I found it repetitious. I figured that the series could only become more so, so I quit there. I haven't seen the TV episodes. Yet Martin turned out to be quite entertaining. He is a long-time fan, and his reminiscences about fandoms during the 1960s and onward were fascinating. He's a lively, knowledgeable,  and entertaining speaker with a wide experience in both reading and creating fantasy works in those days. His presentation made me wish that I liked that first book better.
The next session was "An Unofficial Look at the Final Middle-earth Film: The Hobbit: The Battle of Five Armies." (Actually in the program the title said "Final Middle-Earth Film," but I'm sure my colleagues did not make that capitalization error when they proposed the panel.)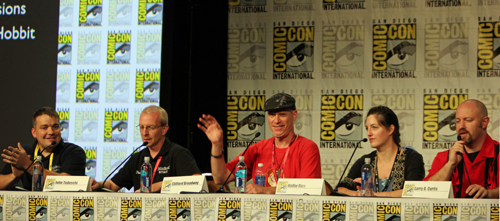 The panel consisted of, from the left, Chris "Calisuri" Pirotta, a TORn co-founder; John Tedeschi, long-time staffer; Cliff "Quickbeam" Broadway, frequent contributor to the site; Kellie Rice, staffer and half of the "Happy Hobbits" fan duo; and Larry D. Curtis, another long-time staffer and frequent contributor. Chris and Cliff were among several TORn interviewees when I was researching The Frodo Franchise.
TORn has made annual appearances at Comic-Con, usually speculating in expert fashion on what might be included–or not–in the next film. Staffers comb the previous films, trailers, Peter Jackson's production diaries, publicity photos, and cast and staff interviews, seeking for clues. While presenting their findings, they point out things in the earlier parts that people might not have noticed or may have forgotten.

The first line in the Powerpoint image above refers to widespread fan annoyance that Bilbo seems to have been pushed to the periphery of his own story in The Desolation of Smaug. This is a topic of frequent comment on the website. The TORn panel was held on Thursday, two days before any of us had a chance to see the first teaser-trailer's premiere on Saturday in Hall H. (More on that below.) Although there are shots of Bilbo in that trailer, they mainly show him staring offscreen and reacting. I was left hoping that this is not an indication of more sidelining of our protagonist. In Tolkien's book Bilbo decides to sit out the Battle of Five Armies and gets knocked unconscious early in the fighting; given that he's our point-of-view figure, the battle is mainly told through other characters describing it afterward. No one expects Peter Jackson to stay true to that action and sacrifice the chance for another epic battle scene, so maybe Bilbo will get to do his share of fighting.
This year's celebrity guest made an appearance at the end and took a few questions: Jim Rygiel, multi-Oscar-winning visual effects supervisor for The Lord of the Rings (and more recently Godzilla and The Amazing Spider-Man):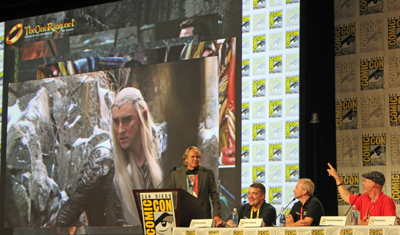 Whether the panel members were right in their speculations will not be known until December 17 (in the USA). Right or not, it was an entertaining and informative session.
What were they really there to see?

There are  many rooms devoted to Comic-Con events, not to mention the various open-air booths and attractions set up in open spaces near the convention center. Room 25ABC is fairly large, but it's considerably smaller than the Indigo Ballroom, 23ABC, and of course, Hall H. I was not alone in being puzzled as to why the panel "Fight Club: From Page to Screen and Beyond," was scheduled in 25ABC at 7 pm on Saturday evening. Sure, the topic was an older film, and the panel was largely devoted to a forthcoming graphic-novel sequel to the story. Still, the participants included David Fincher, making his first Comic-Con appearance. I can only suspect that Fincher was a late addition to the panel's line-up and it was too late to change the venue.
The result was that anyone determined to hear what Fincher had to say was bound to line up for the panels just before the Fight Club one and sit through them in order to see it. I decided to line up for "Disney's Gargoyles 20th Anniversary" at 5 pm, having no idea what the Gargoyles are, and "Publishing 360: Building a Bestseller" at 6 pm, having no intention of trying to build a bestseller.
I got into a line that looked fairly short and was defined by lines of tape laid down on the carpets in the broad corridor outside 25ABC. It turned out to be one of those Disneyland-style ribbon-candy set-ups, where the line folds back on itself time after time, and you end up walking in one direction, turning around to walk in the opposite direction, only to realize that there is another group of people doing the same thing ahead of you in the same line. Fortunately most people seem to stick to the rules pretty closely, perhaps being aware of the wrath they would call down upon themselves by attempting to cut ahead of others.
I ended up about ten people back in line when the room was full. I never did learn what the Gargoyles were, but I suspected some people behind me had been hoping to get into that panel and were not there for the Fincher event. Indeed, as it became clear that no seats were going open up, a small number of people departed, leaving me about six people back from the front. It was looking good for me to get into "Publishing 360."
At this point, from behind me I heard "Pardon me, but are you Kristin Thompson?" or words to that effect. Thus I met Ryan Gallagher, one of the stalwarts of The Criterion Cast, which describes itself as "A podcast network and website for fans of quality theatrical and home video releases." (It is not officially associated with The Criterion Collection.) I recognized his name because he has sent many a reader to Observations on Film Art. Ryan's latest podcast is a preview of Comic-Con, and I expect he will add one looking back on his experiences there.
What are the odds, I thought, and still think, that with 125,000+ visitors to Comic-Con, I would end up in line next to someone who recognized me? Turns out Ryan had been in line for the Gargoyles panel, so after a brief conversation, he departed. Eventually I was among the first into the room for the "Publishing 360″ panel, though there were people already there who didn't leave, and I suspect the audience for Gargoyles doesn't overlap all that much with the audience of people longing to write a bestseller. The procedure for building a bestseller, by the way, seems to consist primarily of getting the best agents and editors in the world. Aspiring writers, take note. Before the session began, I located an unoccupied electrical outlet and recharged my recorder. (This is a serious business at Comic-Con. The convention center is full of cell phones, tablets, and cameras dangling from outlets.)
The panel as pictured above consists of, from the left: moderator Rick Kleffel, Doubleday executive editor Gerald Howard, Fight Club author Chuck Palahniuk, David Fincher, and three artists and/or editors from Dark Horse Comics, which will bring out the Palahniuk-penned ten-part sequel starting in May, 2015.
A lot of the panel was about the graphic-novel sequel, of course. The main bit of new information about the film was that although it didn't do particularly well at the box-office, Fincher finally got 20th-Century Fox to give him figures on how many DVDs were sold. Sales totaled around 13 million, so Fincher reckons the film must have made a profit in the long run. Probably the quotation from Fincher that will be remembered is: "My daughter had a friend called Max. She told me Fight Club is his favorite movie. I told her never to talk to Max again." Fincher may not have been to Comic-Con before, but he knows how to please the fans.
Check out the Film website for an audio recording of the panel.
Hall H: Getting in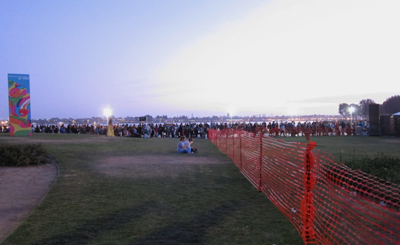 Hall H tends to draw much of the attention accorded to Comic-Con in the media. It's the largest venue, with 6500 seats–including a large number reserved for representatives of the studios presenting publicity events there. That's a big venue, but compared to the roughly 125,000 people attending the con each day, it's not big enough. Although not everyone at Comic-Con wants to get into Hall H, most days the lines snake down and across the street, along the sidewalks. (A video moving along an entire Hall H line at a walking pace was posted on Youtube last year. It runs for over fourteen minutes, despite the fact that the people toward the front of the line are walking forward past the camera; if they were standing or sitting still, it would have run even longer.) In previous years the only way to guarantee getting into the hall for the first events of a day was to get there the previous evening and stay in line overnight. Short departures were possible if someone held your place, but basically you were there for the duration.
I was lucky enough to benefit from the innovation of a new policy on Hall H admissions. Color-coded wristbands would be handed out as the line formed, pausing at 1 am and resuming at 5am. The first portion of the line got a red band, with other colors for the next portions. The purposes were 1) the management could gauge how many people were lined up; 2) those in line could know whether they would get in or not; and 3) for the first time some people could leave for longer stretches of time than required for a rest-room break, as long as someone from their group with the same color wristband remained.
At least, that was how it was described in the online announcement. Those charged with distributing the bands and keeping order informed us that "a majority" of the group had to remain. To what degree that was enforced, we never learned. Fortunately that worked for Jonathan, Maria Elena, and I, since Rebecca had formed a "Hall H-line" group on Facebook and assembled a bunch of friends to camp out in line together. We adults, with our less flexible bones, departed for dinner and some sleep at our hotel. The next morning when we came to rejoin our group, the people in charge of keeping order asked if we had been to the rest room. Yes, we had. That and other things. Apart from everything else, the parking garage under the convention center has to be cleared after 10 pm, so the Kuntzes had to leave to get their car out. Clearly some clarifications of the guidelines are in order, but based on our experience the new wristband policy has improved the Hall H-line experience considerably.
The announced wristband-distribution schedule also had to be adapted. In the past, the Hall H line has started forming in the late afternoon or early evening, depending on the popularity of the first event scheduled for the following morning. Jonathan presciently went and got in line at 2:30 pm, and he was far from the first. Our party gradually grew as other members arrived, and inevitably groups ahead of us also swelled. Soon the line was very, very long. (A small portion of it is pictured above; the line had taken a U-turn a few hundred feet behind us, off right here.) Somewhere around 6:00 the wristbands started to be handed out, and small groups were escorted across the street to line up in the relatively luxurious area on the grass near the entrance to Hall H. There were white canopies overhead and the inevitable red plastic barriers dividing the area into rows approximately one reclining person wide. Those further back in line were less fortunate, having the sidewalk to call their bed. Our group of young stalwarts settled in for games, sleep, and an endless supply of trail mix and donuts. Rumor has it that anyone who arrived after about 9:30 pm didn't get in. The last wristbands were handed out at around 2:30am. Presumably the handout did not pause at 1 am as planned, since clearly everyone who was going to get in when the hall opened was already there.
The next morning we received a call from Rebecca saying the group had been moved into the "chutes," a process which had started at 7 am. These are slightly narrower strips of grass with the same plastic barriers; the chutes are opened one at a time, allowing the people in each to go in before the next chute is opened. More people are moved into the emptied chutes, and the process continues until the hall is full.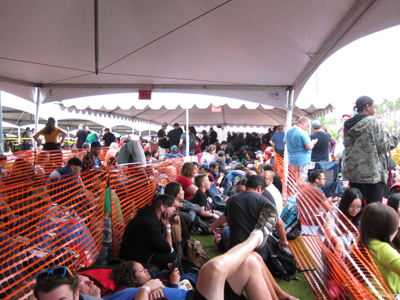 Although the handlers had said we would be let in at 9:30 for a 10:00 start, they got the process going at 9 am. By 10 we were all seated and ready for the Warner Bros. extravaganza to begin. There I am, wearing my vintage licensed Fellowship of the Ring T-shirt and the crucial pink wristband: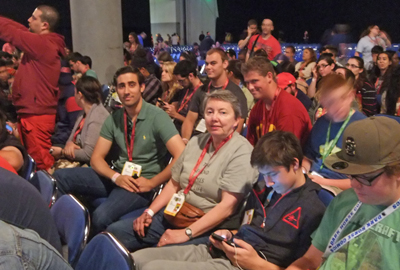 Expensive flash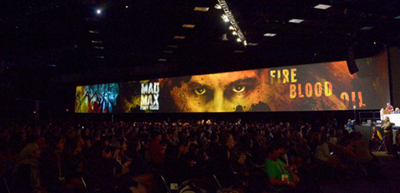 Warner Bros. had two hours in Hall H on Saturday morning to promote their films. The full program is not announced in advance. People were assuming that The Hobbit: The Battle of Five Armies, as the biggest item on tap, would be saved for the end. That turned out to be correct.
The event started with curtains sliding back to reveal a long, panoramic screen on either side of the big central one. This surrounded about the front half of the audience in a U-shaped set of images. Warners installed these screens at a cost of hundreds of thousands of dollars; naturally no other studios were allowed to use them.
Some short presentations opened the program, beginning with Zack Snyder coming onstage. He introduced Ben Afleck, Henry Cavill, and Gal Gadot, none of whom spoke. We saw a very brief clip from Batman vs. Superman. The two lead characters' first meeting had them glaring at each other with glowing eyes, white and red respectively. (Naïve me, wondering why if they're both good guys, they don't just join forces to fight evil.) My main impression was that Batman looks like he's wearing a small tank turret on his head. The fans were apparently pleased with what they saw.
The moderator then introduced Channing Tatum, who stood below the screen as a montage of footage from Jupiter Ascending was shown. This made no impression on me, and I have no memory of it, except that the big action scene looked pretty conventional.
The event really got going with a much longer promotion with George Miller talking about Mad Max: Fury Road. This used the side panels to good effects (above). David and I have been fans of Miller and the Mad Max series ever since Mad Max II (aka The Road Warrior in the USA) appeared. It was a treat to hear him talk about the new film, though what he said is pretty much what he has said in other interviews: there's little CGI in the film, he storyboarded the whole thing rather than writing a script, it's an attempt to do a continuous chase sequence for an entire film, etc.
Miller presented a montage of quick scenes from the film. It looked good but familiar. There's Max, chained up on the front of one of the villains' vehicles, as were some of the captives in The Road Warrior. A lot of the minor characters recall those of the same film. The digital image looked brighter and sharper than the previous films–not necessarily a good thing, since the three first films were muted, conveying a sense that everything and everyone was coated with dust. Unseasonal rains in Australia forced the new film's shoot to move to Namibia, which looks like it stands in for the Outback pretty well. We must trust that, just as the first three films were significantly different from each other, this fourth film will have a unique flavor not apparent in the footage shown.
This was, by the way, the second preview I've seen recently of a film that imitates the awesome (in the old and literal meaning of that word) dust-storm in this well-known National Geographic clip online. And why not, though CGI can never equal the real thing in this case.
Hall H for Hobbit
Quasi-Spoilers ahead:
The second half of Warners' slot was given over to The Battle of Five Armies. An opening blast of music accompanied the appearance from left to right of a panorama of images from all three Hobbit films:

Even this fairly comprehensive view of the screens leaves out two or three images on the far right. The most revelatory of these shows Galadriel, Elrond, and Saruman at Dol Guldur, rescuing Gandalf. The panorama stayed up throughout the presentation. (A rather juddery pan around the whole things can be seen on Youtube.)
Steven Colbert, widely known as a devoted and highly knowledgeable Tolkien fan, MCed the panel, dressed in his costume from the third film, in which he has a nonspeaking bit part. He expressed his love for Tolkien and the films and showed the brief scene in which he appears. Then he introduced the impressive eleven-person panel Warner Bros. had managed to assemble:

From the left, Colbert, Peter Jackson, Philippa Boyens, Benedict Cumberbatch, Cate Blanchett, Orlando Bloom, Evangeline Lilly, Luke Evans, Lee Pace, Graham McTavish, Elijah Wood, and Andy Serkis
Of course, most of us couldn't see them this clearly with the naked eye. Seated about a third of the way back in the auditorium, my view was as shown in the image at the top of this entry. Peter (that's he in the lower left corner) looked mighty small in reality, but in Hall H three large screens magnify the proceedings for the crowd. (Similar video screens are used in the other very large auditoriums, notably the Indigo Ballroom.)
One highlight was the first screening of the long-awaited teaser trailer. This was released online two days later; the best place to see a large, sharp image that starts streaming almost instantly is on Peter's Facebook page. I have to say that it looks pretty promising, apart from the continued presence of the distracting and tedious Azog and Bolg.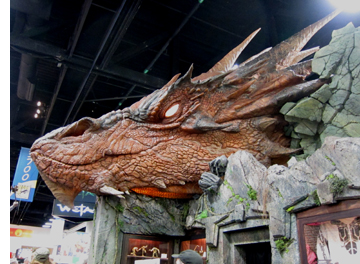 I won't give a complete run-down on this panel, since a good video of it has been posted on Youtube (with the two screenings of the teaser trailer cut out).  Much of it consists of typical star chit-chat. The most interesting thing said came from Peter. There has been considerable speculation among fans as to whether the filmmakers will stick to the book and let some characters die during the battle. Peter stated that the grim parts of the book are being retained and implied that several characters will indeed die. (This should mean that here will be much lamentation among the "hot Dwarves" aficionados.)
There has also been much speculation as to whether Peter Jackson or anyone else will be filming other adaptations of Tolkien's work. This question wasn't addressed during the panel, but the obvious answer is no. The production and distribution rights to The Hobbit and The Lord of the Rings were sold by Tolkien and his publisher Allen and Unwin to United Artists in 1969. Rather than placing a time limit on the rights, as is customary, they sold them in perpetuity, and any control over the use of those rights forever passed out of the hands of Tolkien and subsequently of his estate. His son Christopher Tolkien has objected to the films that have been made, and he quite possibly will find a way to prevent any sale of film rights relating to the other books, even after his death. The Silmarillion, which takes place primarily in the First and Second Ages of Middle-earth, is, I think, virtually unfilmable. The most filmable single work, The Children of Hurin, is unremittingly grim and would be unlikely to attract any support within the industry. Apart from all that, Peter probably has no desire to prolong the franchise, either as a director or a producer.
In short, we have almost certainly seen the final "Middle-earth" presentation at Comic-Con. I'm glad I was there to see it. The franchise as a whole will undoubtedly have a presence at Comic-Con for years to come. Weta Ltd. has become a major force in the world of film and its future seems assured in a way that it did not a decade ago, when Peter Jackson's projects were its main customers. Weta Workshop now has taken over making the collectible figures not only for Peter's work but for other films, and it develops its own original projects for collectibles, television, and publishing. Its booth this year (below) was considerably bigger than the one I saw in 2008. (See the top image here.) It was doing very good business every time I passed by. The full-size Smaug head (above right) attracted considerable attention.
It's still the case that the vast majority of Comic-Con attendees are not in costume.
---
All photos down to the one of George R. R. Martin, plus the two of lines for Hall H and the Smaug head on the Weta booth were taken by me.
My camera failed me during the Fight Club panel, so I have borrowed one from Anie Bananie's Tumblr site, "David Fincher Stole My Life." The photo of the panoramic screen with the Mad Max image is by Albert L.Ortega for Getty Images and  illustrates the Variety story linked as "Warners installed …" in the second paragraph below it.
I mentioned that I was at the con with my friends Jonathan, Maria Elena, and Rebecca. Jonathan and Rebecca provided all the photos taken inside Hall H. (That's Maria Elena's TA James Shetty beside me in the green shirt.) Rebecca took the photos of the TORn panel, and Jonathan the ones directly above and below.
Many thanks to Jonathan for booking me a San Diego hotel room while I was in Egypt this past spring, and to Rebecca and her Facebook group for heroically camping out and holding our place in the Hall H line.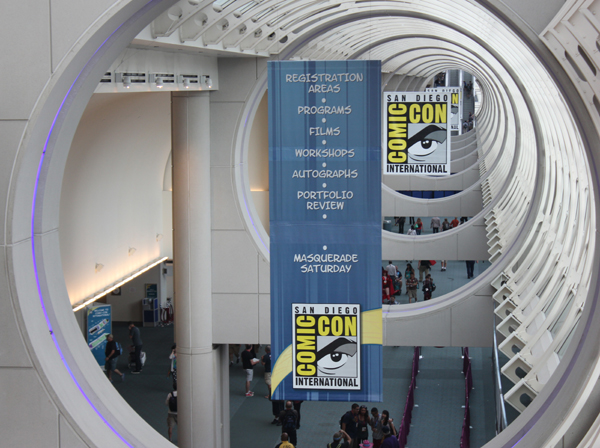 The San Diego Convention Center: an escalator's point of view