Archive for the 'Directors: Panahi' Category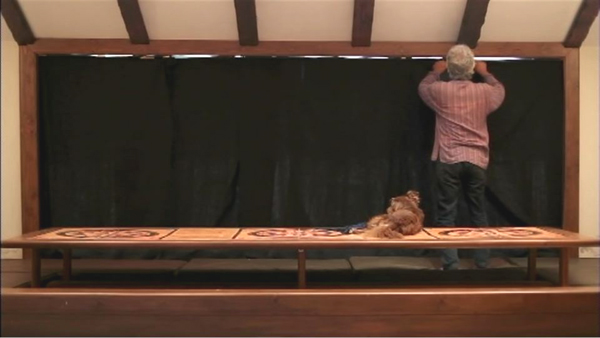 Closed Curtain (2013).
Kristin here:
Two years ago David and I wrote about a group of Iranian and Israeli films that featured prominently in the 2011 VIFF program. This year's program boasted several more, many of them by the same directors.
Closed Curtain (Jafar Panahi and Kambuzia Partovi, 2013)
Despite still being banned from filmmaking and forbidden to leave Iran, Panahi has followed This is Not a Film with another  fascinating feature that has made its way abroad. This time he co-directs with Kambuzia Partovi, who also plays one of the main characters, a screenwriter.
The writer flees to a seaside house (apparently Panahi's) to hide his dog from a roundup of animals deemed "unclean" under Islam. Once ensconced, the writer tries to conceal his pet by sealing the many large windows with opaque curtains. Eventually their privacy is invaded by another refugee, a young woman sought by local police for participating in a nearby party.
This first section of the film seems to be a straightforward allegory for Panahi's own situation, but well after the midpoint, Panahi himself appears and takes over as the main character. With the curtains removed, he stares at the pond behind the house, seemingly having a vision of himself amid the beauties of nature. He also gazes at the sea in front of the house, envisioning himself walking into it to commit suicide.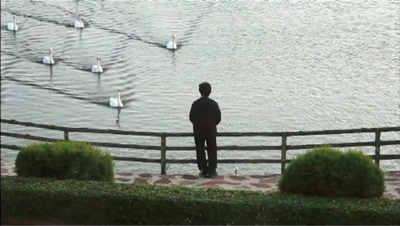 The opening stretches emphasize suspense, when the writer hears voices and sirens outside, and unseen officials hammer against the door.  The result is an image of the creative artist forced to conceal himself from forces of authority. With Panahi's appearance, the film becomes more subjective than allegorical, and the abrupt juxtaposition of the two parts of the film create a puzzling whole. But that whole is rigorously filmed and arouses interest throughout.
Manuscripts Don't Burn (Mohammad Rasoulof, 2013)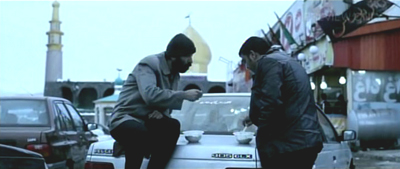 In 2010, I posted about Rasoulof's beautiful film, The White Meadows (2009), an overtly allegorical film about the sufferings of various sectors of Iranian society. At that point I wrote, "He was arrested alongside Jafar Panahi (who edited The White Meadows) and about a dozen others on March 2. Fortunately he was released fairly soon, on March 17. What his future as a director in Iran is remains to be seen." Most immediately, he was given a prison sentence and banned from filmmaking. Neither condition evidently kept him from finishing the impressive Goodbye (2011), which I discussed here. More recently, upon returning to Iran from Europe, Rasoulof has had his passport seized and is unable to travel or to reunite with his family. Most observers believe that this treatment is a response to his harshly critical new film, Manuscripts Don't Burn, which has attracted attention at several festivals.
Manuscripts Don't Burn differs considerably from The White Meadows. There is no hint of allegory here as Rasoulof examines the state surveillance system.The plot centers around two dissident authors and their strategies for hiding their manuscripts and evading the authorities. While a ruthless, educated young official decides on two authors' fates, two working-class men carry out the kidnapping, torture, and murders that he orders. The hitmenare seen as victims themselves, as one of them, trying to pay medical bills for a sick child, continually finds that his last job's payment has not yet been transferred to his bank account. They endure stakeouts in chilly weather and grab takeout food on the fly. The whole film is shot in muted tones (in both Tehran and Hamburg) and conveys a sense of unrelenting grimness.
The plot is drawn from unspecified real-life events, and the film cautiously carries no credits for cast or crew. (For more information on the film's background, see Stephen Dalton's informative review from the film's premiere at Cannes.)
The Past (Asghar Farhadi, 2013)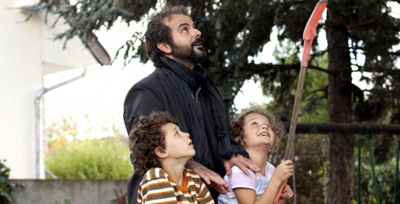 Since A Separation (2012; see our entry here) became the first Iranian film to win an Oscar for best foreign-language film, Farhadi has become the most prominent director working in that country. This is witnessed by the fact that his new film, The Past, has been put forth as Iran's candidate for this year's Academy nomination.
The plot of the new film draws upon familiar strategies that created a strong, moving situation in A Separation. Again a husband and wife are on the brink of divorce. In this case, the husband, Ahmad, is Iranian, and the wife, Marie is French. Clearly they had lived together for a time in France, since when Ahmad arrives from Tehran, he knows how to get around Paris. Marie has two daughters from a previous marriage and plans to marry the small-businessman Samir, by whom she is pregnant. Samir has a morose young son who resists the idea of having Marie as a mother.
With this larger cast of characters, disagreements and obstacles pile up. Marie is extremely strict and strong-willed. Her older daughter is rebellious and stays out late. Ahmad tries to mediate between Samir's miserable son and Marie's scolding, while Samir tries to please Marie and still help his son adjust to the upcoming marriage.
As in A Separation, The Past builds up a mystery about an unhappy event. Samir's wife has attempted suicide. What led her to this desperate measure? Her chronic depression? An embarrassing argument with one of Samir's customers? Or did she know of Samir's affair with Marie? Ahmad's attempts to solve this mystery provide a strong, intriguing subplot alongside the shifting conflicts among the main adult characters.
With so many characters involved, the accumulation of problems and unhappiness eventually threatens to tip over into an exasperating melodrama. But I think Farhadi juggles all these motivations and events so well that we never feel that he has gone too far.
There has been some controversy over the fact that the film was shot entirely in France and therefore has little Iranian about it. Indeed, the Farsi-speaking emigrés who attended the VIFF screening to hear their native language spoken were perhaps disappointed that it was all in French. Yet in an ensemble cast, Ahmad remains the central character, helping to reconcile the others and comfort the three children (as in a rare cheerful moment when he helps the younger ones get a toy out of a tree).
If not quite as satisfying a film overall as A Separation, The Past confirms Farhadi as an Iranian director who can make appealing films for an international audience.
Trapped (Parviz Shahbazi, 2012)
Trapped is probably closer than most Iranian films shown at festivals to the sort of thing seen by popular audiences in its home country. The program notes describe it as a "moral thriller." It revolves around Nazanin, a studious first-year medical student (see image at bottom) forced through lack of dormitory space to share a flat with party-loving Sahar, who is trying to leave Iran. Sahar has borrowed money to pay for her exit visa and, unable to pay it back, is imprisoned. Nazanin struggles selflessly to help her out, including foolishly signing a promissory note taking on Sahar's debt and even sharing the threat of imprisonment.
The plot reminded me of the "child quest" tales that were prominent in the golden age of the Iranian cinema of the 1980s and 1990s, such as The Mirror and Where Is My Friend's Home. (Shahbazi was the assistant director of Panahi's The White Balloon, as well as conceiving its basic premise.) Here the heroine is distinctly older than the protagonists of those films, but she retains a naivete that makes her seem more childlike than the other characters, who manipulate and ultimately threaten her.
While Trapped doesn't have the simplicity and charm of those earlier films, it offers an absorbing story. It paints a grim picture of Tehran and gives some insight into the realities of life there. Like many Iranian films, it raises the prospect of emigration, though in this case Nazanin's strong desire to stay in the country and become a doctor is held up as the better choice.
A Place in Heaven (Yossi Madmony, 2013)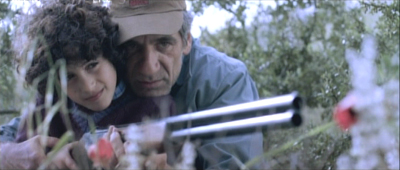 Two years ago I also reported on Madmony's Restoration. A Place in Heaven is a considerably more ambitious film. It traces the life of a military hero, known only by his wildly inappropriate nickname Bambi, across much of Israeli history. The title derives from a flashback scene early on, when a cook at a military camp praises Bambi's brave deeds and remarks that he has already earned a place in heaven. A secular Jew, Bambi scoffs at the notion and signs an impromptu contract trading that place to the cook in exchange for a daily spicy omelet.
Although Bambi dotes on his son Nimrod, the boy grows up to become a strictly religious Jew who disapproves of much that his father does. Still, when Bambi is on his deathbed, Nimrod goes in search of the cook to get back the place in heaven. As with Restoration, the plot is largely based around the father-son relationship, though there is also a touching and tragically short relationship between Bambi and his beautiful wife.
Unlike the largely urban Restoration, this film shows off the bleakly beautiful landscapes of Israel's desert.
There were many other striking and moving films on display at VIFF this year. David and I really can't do justice to all of them, but in a final post he will consider Koreeda's Like Father, Like Son, Jia's A Touch of Sin, Johnnie To's The Blind Detective, the Godard segment of 3x3D, and Oliveira's Gebo and the Thief. Like the items I've invoked here, each deserves an entry to itself, but time limits and further travels force us to be quick. Still, we hope that you can tell from our entries, VIFF 2013 yielded an extraordinarily high level of quality. As usual!
P.S. 17 October 2013: Thanks to Hamidreza Nassiri for correcting the original entry: Panahi is not, as we had said, under house arrest.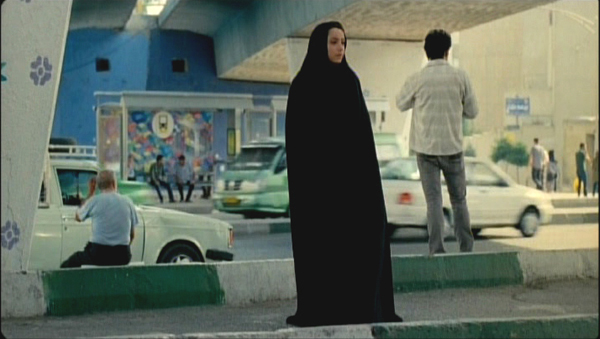 Trapped (2013).
Jafar Panahi, May 2010.
DB here:
From Tehran comes the shocking news that Jafar Panahi, one of the finest of Iranian filmmakers, has been sentenced to six years in prison. The sentence also bans him from filmmaking for twenty years, forbids him to leave the country, and forbids him from giving interviews to the press, foreign or domestic. Panahi's collaborator Muhammad Rasoulof was also sentenced to six years in jail.
This is the next step in a series of confrontations between Panahi and the government. He was earlier arrested for attending the funeral of Neda Agha-Soltan, the young woman shot in the 2009 protests. His passport was later seized. Before his most recent arrest he was forbidden to leave the country to attend the Berlin and Cannes festivals. Between March and May of this year he was in prison, during which he undertook a hunger strike. In May he was released on bail.
Since the mid-1990s Panahi has directed several extraordinary films, all explicitly or tacitly critical of aspects of Iranian society. Like his mentor Abbas Kiarostami, he attracted attention with films centering on children, notably The White Balloon (1995) and The Mirror (1997). The latter is a fine example of how Iranian directors have merged social realism, unexpected character psychology, and experimental storytelling strategies. The first half shows a stubborn little girl trying to get home from school. On a bus, she gets tired of pretending to be in a film and goes off on her own, with her microphone still attached. The crew tries to track her down, and much of the rest of the action takes place on the soundtrack, as we hear her encounters with street life and the crew's commentary on what they manage to shoot. Sometimes the sound drops out entirely.
The Circle (2000) shifts to the adult world, illuminating critical moments in the lives of several women as they traverse the streets. Crimson Gold (2003), from a script by Kiarostami, shifts from presenting a crime-thriller situation to providing an unusual view of Tehran's prosperous upper class. Offside (2006) won attention for its exuberant portraitsof women who disguise themselves as men to watch a soccer match. Panahi remarked drily to the court: "The space given to Jafar Panahi's festival awards in Tehran's Museum of Cinema is much larger than his cell in prison."
The charges and the replies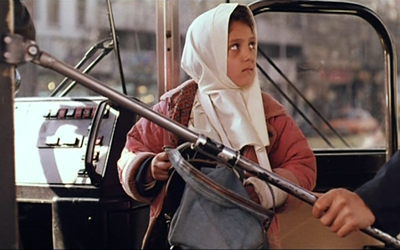 The Mirror.
The oppression of filmmakers isn't new, of course. Authoritarian political regimes across film history have banned films and punished their creators. In recent times, the Turkish actor-director Yilmaz Güney was imprisoned several times; while incarcerated, he wrote scripts to be filmed by others. After Devils on the Doorstep (2000), Jiang Wen was banned by Chinese authorities from film activities for some years, as was actress Tang Wei for appearing in Lust, Caution (2007).
But Güney was convicted of civil crimes, although of a political nature; his films were not, as I understand it, explicitly part of the charges. And although Jiang and Tang were punished for their film work, that punishment didn't include jail time.
Panahi is in an unusually vulnerable situation. He is set to be imprisoned for preparing a film.
The official charges are "assembly and colluding with the intention to commit crimes against the country's national security" and "propaganda against the Islamic Republic." The authorities charge that he and his colleague Rasoulof were "preparing an anti-government film bearing on the post-electoral events" of June 2009, when thousands of Iranians protested the disputed reelection of President Ahmadinejad. "You are putting me on trial for making a film that at the time of our arrest was only thirty percent shot." Panahi was shooting his film in his home, and government authorities seized the footage.
Other accusations sought to bolster the case. Panahi's household, according to the prosecution, held "obscene films." In his defense statement last month, he replied that these were film classics that have inspired him. He was charged with participating in demonstrations, but he replied that he was there to observe, and this was within his rights. He notes as well that he shot no footage of the demonstrations, acknowledging that filming was forbidden. As you know, on-the-spot reportage leaked out through Facebook, Twitter, and YouTube.
Panahi was accused of making his film without permission, but he responded that there is no legal requirement that a filmmaker obtain permission. He was accused of organizing protests at the opening of the Montreal Film Festival, but there he served simply as the head of the jury. He was charged with giving interviews to foreign media, but he pointed out that there are no laws forbidding someone from being interviewed. He was even accused of not giving scripts to his actors! He explained that he works with non-professional actors, and it's common for Iranian filmmakers to simply explain what the actor must do and say.
The charges may be simply a pretext for silencing a prominent figure critical of current Iranian society. Panahi's films do not circulate legally there, and he is widely believed to be in sympathy with liberal forces. The government has sought to eradicate the most visible of these factions, the Green Party. Even Islamic clerics have been swept up in the crackdown. A parallel case to Panahi's is the attack on Mohammad Taqi Khalaji, a dissident cleric. Last January he was arrested and his computer and papers were seized. He too was incarcerated in Evin prison before being released on bail. Yet he was not formally charged with anything. His personal papers, including his passport, were not returned to him.
You can get some grim satisfaction for knowing that movies still matter in some parts of the world. Films have the power to shock bureaucrats and threaten authoritarian regimes. Instead of being simply "assets" or "content" to be extruded across platforms and shoved through release windows, cinema is in some places taken seriously as political critique.
Panahi's case, his lawyer asserts, will be appealed.
Out of bounds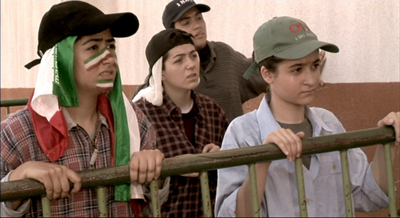 Offside.
Lest we Americans savor our superior virtue, consider this: Four months before 9/11, Panahi was traveling between Hong Kong and Argentina and stopped over in New York. He had been told he did not need a transit visa, but he was detained by American authorities at JFK Airport for lacking one. Here is Stephen Teo's account in Senses of Cinema:
On his way to the Buenos Aires International Festival of Independent Cinema on 15 April, 2001, after having attended the Hong Kong International Film Festival, Panahi was arrested in JFK Airport, New York City, for not possessing a transit visa. Refusing to submit to a fingerprinting process (apparently required under U.S. law), the director was handcuffed and leg-chained after much protestations to US immigration officers over his bona fides, and finally led to a plane that took him back to Hong Kong. As far as is known, this incident was not reported in any major US newspaper, even though The Circle was being shown in the United States at the time (another irony: for that film, Panahi was awarded the "Freedom of Expression Award" by the US National Board of Review of Motion Pictures).
We are in the season in which critics are likely to use the word courage casually, as in "Natalie Portman gives a courageous performance in Black Swan." The ongoing struggle of Panahi and thousands of his fellow Iranians remind us what real courage, in the world outside the movie theatre, looks like.
---
A petition addressed to Iran's leaders in regard to Panahi and Rasoulof''s case can be signed
here
. For one proposal for how world film culture could respond, go
here
.
A fairly detailed chronology of events around Panahi's imprisonment can be found on Wikipedia. Panahi's counter to the official charges, as well as the source of this entry's title quotation, can be found here.
I have so far found no U.S. coverage of Panahi's treatment in America in spring 2001. A report here from Australia suggests that he was detained but not arrested. Senses of Cinema has published Panahi's letter to the Board of Review protesting his treatment on that occasion.
The case of Mohammad Taqi Khalaji is discussed here and here.
P.S. 22 December 2010: Yesterday Jonathan Rosenbaum posted his June 2001 review of The Circle. It's an excellent piece, providing both in-depth analysis and broader context, and it does make reference to Panahi's detention upon arriving in the U. S.
P.P.S. 22 December 2010: Thanks to Shelly Kraicer for a name correction.
P.P.P.S. 26 December 2010: Director Rafi Pitts has published an open letter to President Ahmadinejad about Panahi and Rasoulof's sentence. Read it here at mubi.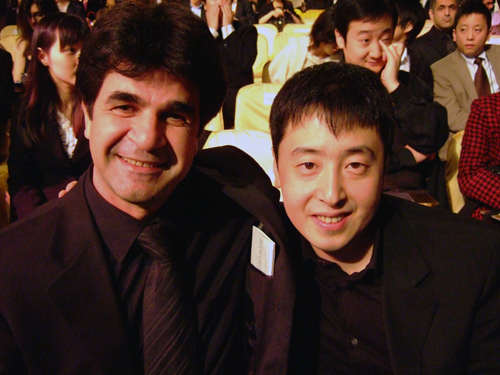 Jafar Panahi and Jia Zhang-ke, Asian Film Awards 2007. Photo by DB.