Thursday | April 2, 2020
open printable version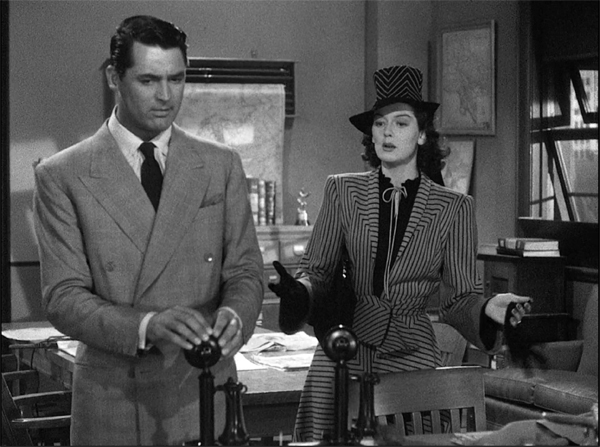 DB here:
Manohla Dargis and A. O. Scott have had the excellent idea of picking a film for readers to watch over the weekend and inviting them to write about it. Here's the viral viewing scheme.
I'll be keen to read what the multitudes have to say.
If you're interested, our site has paid homage to this classic several times. First I rehearsed a bit of history about how it snuck into university courses. Then I wrote an appreciation of it to accompany the release of the packed Criterion disc. (Find out why it's called His Girl Friday!)
That disc release included a video essay in which I analyzed some things that fascinate me about this endless enjoyable movie. The video now accompanies the film on the Criterion Channel. There's a vast trove of Hawksiana there as well, with expert comments and background information.
From its first edition in 1979, our textbook Film Art: An Introduction has used the film as a prime example of classical Hollywood storytelling. My colleagues Lea Jacobs and Vance Kepley have written a lot about it too. It's the movie of our whole Wisconsin film studies program.
What more do you want? The 1940s. Hawks. Grant, Russell, the sublimely sincere Ralph Bellamy. His Girl Friday draws breakneck comedy out of  how the fast-talking and quick-witted can trounce the fumblers and boobs. (Would that it happened in real life.) The whole carnival is played out by one of the greatest scramble of sharp-edged character actors in Hollywood history.
And thanks for reading the second paragraph.
---
Thanks to Peter Becker, Kim Hendrickson, Curtis Tsui, and all their colleagues at Criterion for making this Hawksapalooza possible.