Tuesday | March 20, 2007
open printable version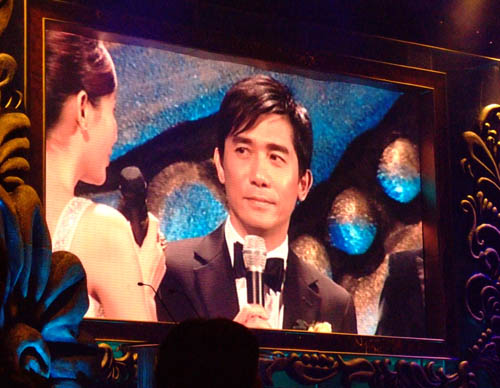 Short version:
This year the Hong Kong Entertainment Expo has launched the Asian Film Awards, a celebration of outstanding films and filmmakers created by the HK International Film Festival. Over 700 films were sifted by a jury and a handful of finalists were chosen in several categories. At the ceremony on Tuesday night, Bong Joon-ho's The Host, which I wrote about at Vancouver's film festival, won several: best film, best actor (Song Kang-ho, the put-upon father of the family), best cinematographer (Kim Hyung-goo), and best visual effects (The Orphanage). Best director honors went to Jia Zhang-ke for Still Life. Other winners:
Best actress: Miki Nakatani (Memories of Matsuko)
Best screenply: Mani Hagighi (Men at Work)
Best production design: Tim Yip (The Banquet)
Best musical score: Rahayu Supanggah (Opera Jawa)
Best editing: Lee Chatametikool (Syndromes and a Century)
A special award for Outstanding Contribution to Asian Cinema went to the great actress Josephine Siao Fong-Fong, presented by Luc Besson in an eloquent tribute.
I was fortunate enough to be given an award for Excellence in Asian Film Scholarship.
Long version follows.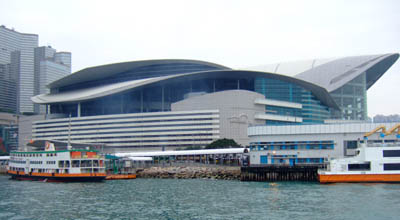 Tuesday morning-early afternoon: The film market, Filmart, is held in the overwhelming Convention Center on the harbor: at least seven floors of steel and glass, shaped like a wingspread gull and full of gigantic auditoria and meeting rooms. Sellers have set up booths to showcase films, TV shows, and the like. There's also a film financing forum, where directors come to pitch projects to likely funders.
After getting my credentials, I shmoozed with old friend Shelley Kraicer, a Chinese film expert who's a consultant for several festivals. I also spent time with Ho Yuhang, whose Rain Dogs I'd seen at Vancouver. Ho is a great fan of film noir, and I brought him some DVDs that seemed up his alley. He's planning a psychological crime drama for his next project, and don't be surprised if touches of David Goodis and Jim Thompson show up in it.
Late afternoon: After climbing into a suit, back to the Convention Center. At the preshow reception, met Fred Milstein, who works as a completion guarantor at Cine Finance; Fred went to film school, so we had several friends in common.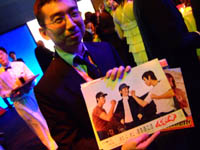 Also reunited with King Wei-chu, a programmer for Montreal's wonderful Fantasia film fest, and Frédéric Amboisine, passionate adherent of Asian cinema and writer for the lush French magazine Kumite. (King and Frédéric awed me with the memorabilia they tote around, rare posters and books they'll whip out to show you.)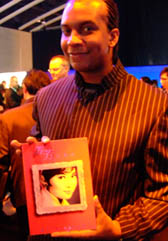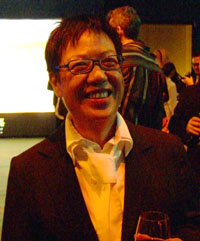 Also ran into director Ann Hui, looking happy and relaxed as usual. Ann, who's one of Hong Kong's best filmmakers, visited UW-Madison to show Summer Snow back in the 1990s.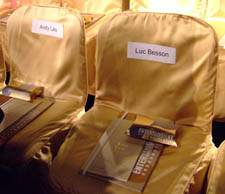 Evening: The ceremony approached. We spilled into the auditorium, with assigned seats. Mine was in the front row, and as I passed the center section I saw plenty of indications of star power.
I was lucky enough to be seated beside the remarkable Iranian director Jafar Panahi (The Circle, Offside) and next to him was Jia Zhang-ke, who remembered me from a panel we'd been on together in Shanghai. You can see that they were in good spirits. On my other side sat Vicki Zhou Wei and Song Kang-ho.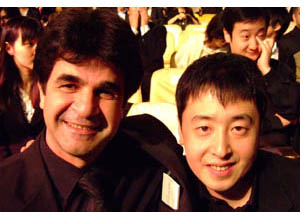 Before the curtain rose, I caught up with Tony Rayns, wearing an amazingly horticultural bow tie, and Peggy Chiao, the godmother of the New Taiwanese Cinema.
The big noise of the night was the presence of Korean pop star Rain, who brought shrieks from the crowd whenever he turned his head. Still, there was no shortage of fan response for Andy Lau and Tony Leung, the spokesman for Entertainment Expo.
The ceremony was principally in English, from a clever script written by the resourceful Grady Hendrix. Karen Mok started things off in her plummy English accent, but then David Wu showed up with his rapid-fire patter, eventually joined by Fiona Sit.
I missed some stretches because I had to go backstage before my award, but here are some pictures before and after. First, Mani Haghighi gets his screenplay award.
Here's Siao Fong-Fong getting her special award: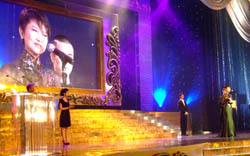 And here's the Korean contingent as they realize they're on a roll: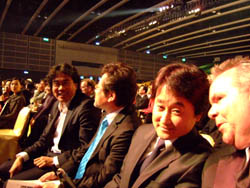 Late evening: At the afterparty, in a bar called JJ's, I met with Grady, Stuart Levy of Tokyo Pop (who grasped the importance of Asian pop culture before nearly anybody else), his Japanese associate Matsuhashi Masashi, and several other folks—not least the indispensable Athena Tsui, who had worked very hard to make the Awards show a success. On the way out, got my picture taken with the charming Song Kang-ho.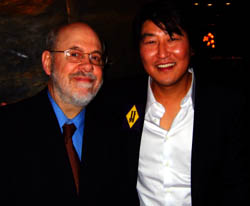 Later evening: Quiet dinner at a great fish restaurant with pals Yuhang and Michele, including Tony Rayns sans bowtie. We had some fine dishes, including pissing prawn (don't ask).
Finally: Say hello to my lee'l fren'. The awards statuettes were designed by Wong Kar-wai art director William Chang.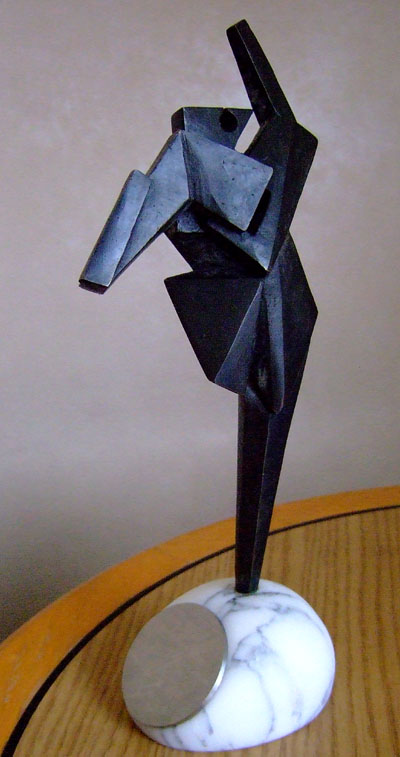 In the spirit of awards ceremonies: Thanks to everyone who's helped me work on Asian film over the years, especially Tony Rayns, Donald Richie, Komatsu Hiroshi, Li Cheuk-to, Athena Tsui, Shu Kei, Sam Ho, Ding Yuin Shan, Stephen Teo, Doug Gomery, and Gabrielle Claes, along with several archives, festivals, and film distributors. Thanks also to Mr. Johnnie To, who kindly presented me with the award.