Archive for the 'Directors: Bahrani' Category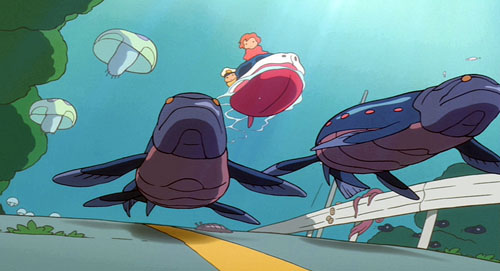 Ponyo on a Cliff by the Sea.
DB here:
Travel took me out of Madison for half of June and nearly all of July. While overseas, I saw only one recent US release. So I caught the American Summer Movies in two gulps–over a couple of weeks early on and over the last month or so. In all, exactly 50 days? Well, were there exactly 50 first dates in that movie?
Herewith, comments on a batch of titles. There are spoilers sprinkled throughout, but most of what I say won't harm your encounter with the film. Because all my remarks amounted to an even longer blog than usual, I've broken it into two parts. The next installment, coming up in a few days, talks about The Taking of Pelham 123, Public Enemies, and Inglourious Basterds.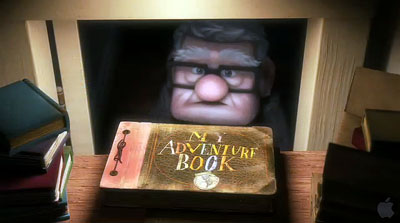 My summer movies were bracketed by two animated pictures. Up is to my mind the most mature Pixar film yet. It has all the virtues we associate with this studio: quick but not frantic pacing, expert handling of resonant motifs, technical brilliance (especially in its depiction of settings), and one-off gags. The poker-playing dogs had me laughing out loud. But as we've argued in other blogs (here and here and here), the Pixar team likes to set itself tough challenges. First there is the technical challenge of 3-D, which is easily surmounted. The 3-D effects get more pronounced once the plot lands in South America. More important, I think, is the challenge of representing the emotion of sorrow.
Another movie would have organized its plot around the kid, Russell, and let him meet the elderly Carl in the course of his adventures. That way, Carl would emerge as a merely touching secondary character. But by focusing point of view around Carl's life, showing his marriage and widowhood, Pete Docter and his team have tackled one of the hardest problems of classic moviemaking. How do you render pure sentiment without becoming sentimental?
The protagonist's portrait is surprisingly hard-edged. Carl is tightly wound even in his youth, unlike the exuberant and extroverted Ellie. Yet the couple seems to have no friends throughout their marriage, and it becomes easy to see how Carl could will himself into crabby isolation after her death. Thanks to the choice of viewpoint, Carl becomes no mere crank but a truly empathetic figure.
This is fragile stuff, and Docter handles it with tact. Many movies want you to cry at the end, but Up daringly invites you to indulge in its first ten minutes. It then spends the rest of its running time brightening your mood, so that the title could describe the film's emotional trajectory. It's one of my two favorite new movies I saw this summer.
Just a few days ago Kristin and I saw Ponyo on a Cliff by the Sea. We've been Miyazaki fans since Totoro, and have especially admired Kiki's Delivery Service and Spirited Away. As with this last and with Howl's Moving Castle, I have a hard time figuring out the premises of the plot. What rules govern Ponyo's transformations? Why can't she become a real girl, exactly? And then why is she permitted to? The well-timed interventions of her mother, like the Witch's change of heart in Howl, seems a way out of plot difficulties, and as often happens in Miyazaki the plot resolution seems rushed in comparison with the leisurely development of characters' relationships.
But as usual I was won over by the effortless virtuosity of the imagery and the weird conviction suffusing Miyazaki's concept of nature. As in Spirited Away, animation becomes animistic. The sea is bursting with hidden forces: goldfish with extraordinary powers of group effort, waves that turn into blue fish, and bubbles as solid and slippery as balloons. Nobody but Miyazaki could imagine the quasi-Wagnerian scale of Ponyo's race, atop gigantic fish-waves, to catch up with Sosuke and his mother fleeing in their car.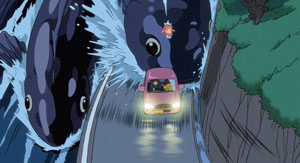 These shots burst with more dynamic shifts of mass and scale than I've felt in any official 3-D picture.
Sometimes Nature is scary. Although nothing here is as traumatic as Spirited Away's transformation of parents into swine, the tsunami scenes induce genuine awe at nature's exuberant destructiveness. There follows a reassuring calm. Ponyo and Sosuke glide along the flood waters while ancient creatures zigzag in the depths, and the townspeople quietly accept that their homes have been engulfed. Ponyo is a gentle movie, aimed (as Miyazaki explains here) at a younger audience than was his recent work. It's suffused with simple human affection, seen in acts of spontaneous generosity. What American movie could include a moment when Ponyo, fish become girl, offers a nursing mother a sandwich to help her make milk for her baby? Again, sentiment without sentimentality. Ponyo offers more evidence that whatever the disappointments we may find in live-action movies, we are living in a golden age of animation.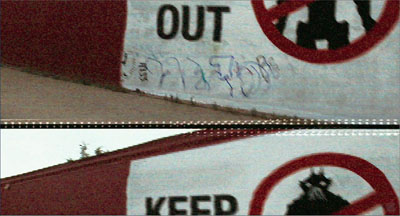 Am I just being perverse in finding Transformers 2: Revenge of the Fallen not as abysmal as others have? Don't get me wrong. It is not what you'd call good. It is rushed and overblown. What other movie accompanies its opening company logos with gnashing sound effects? Its plot is even more preposterous than the first one's. Its performers bear that sheen of meretriciousness that fills nearly every Michael Bay project. It is also lazy in its plotting. Worse, I couldn't really make out the design of the 'bots. It's not that the cutting is abnormally swift (a mere 3.0 seconds ASL, about the same as in Up and slower than that in The Hurt Locker). The problem is that the digital camera is swirling around the damn things so fast as they take shape that you can't get a fix on what they actually look like. All those spinning wheels and dangling carburetors ought to be worth a glance.
But still….For non-Transformers shots Michael Bay at least puts his camera on a tripod, which these days counts as a plus with me. And a minibot humps the heroine's leg. And John Turturro is in it. Would he grace a movie that signals the fall of Western Civilization?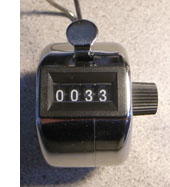 In a similar vein but more satisfying was District 9. Its "racial subtext" is as perfunctory and confused as such weighty hidden meanings usually are, and anyhow whatever political points the movie wants to make drift out of view halfway through. Moreover, its "documentary immediacy" is inconsistent: despite footage marked as coming from surveillance and TV cameras, we have unimpeded access to all plot matters. But here the Bumpicam probably allows for cheaper CGI, and as a run-around-shooting-things movie, it needs to keep things simple.
I found the smash-and-grab look far more distracting in The Hurt Locker. Kathryn Bigelow has directed several first-rate movies, notably Near Dark (where she used a tripod), Blue Steel (ditto), and Point Break (tripod mostly). On this project, she seemed to me to be doing more conventional work. There are the titles telling us that time is running out ("16 Days Left"). There's classic redundancy of characterization, as when we're told that James is a hot dogger–"He's reckless!" "You're a wild man!"–as we watch him be all that he can be, and more. There's the hapless kid who is so near to the end of his tour that you know he's a marked man. There are even aching slow-mo replays of explosions bowling guys to the camera. What if war films gave up this convention and just showed bombs going off and bodies hurled around as fast as in reality? Might war look a little less picturesque?
The camera is locked down for these iconic slow-mo shots, but most of the scenes are handled in heat-seeking pans, artful misframings, chopped-off zooms, and would-be snapfocusing that can't find something to fasten on. The editing plucks out bits of local color and sprinkles in some glimpses of onlookers that tend to turn them into props. I've tried to show elsewhere that this trend in rough-hewn technique nonetheless adheres to the conventions of classical style: establishing/ reestablishing shots, eyelines, reactions, and close-ups to underscore story points. Even wavering rack-focus can still orient us to the action quite clearly.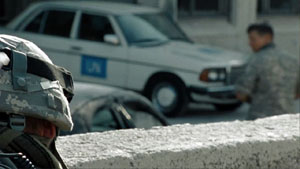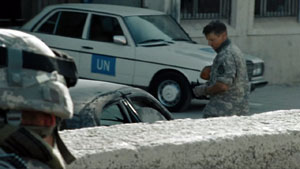 The question is what the harsher surface adds, especially when it's so pervasive. Habituation is one of the best-proven phenomena in psychology, and movies like this seem to prove that it works. After the first few minutes, we've adapted to any visceral punch that the Unsteadicam hopes to provide. Maybe it serves to ratchet up suspense? Doubtful. A director would have to be a real duffer to dissipate suspense in a movie about dismantling an explosive device. The trick is to do something different, as in bomb-disposal movies like the Chinese Old Fish and the British Small Back Room.
Still, the plot is decently engaging, and there's a taut, unpredictable siege in the desert. That long sequence displays a disciplined interplay of optical viewpoints, a sense of constantly revised tactics, a new aspect of James's leadership style, and nice details about sharing juice boxes. In another era, The Hurt Locker would have been a studio picture in the vein of Anthony Mann's bleak Men in War. I suppose it shows that yesterday's genre film, executed with conviction and a certain edginess, can become today's art movie.
Speaking of suspense: I thought that the setup to A Perfect Getaway was reasonably engrossing. There was some clever self-referential teasing: our hero's a screenwriter, and there's talk of a "second-act twist." And it was mostly shot on a tripod. I hoped that director-writer David Twohy would have the courage to stick with its initial premise and be Deliverance in Hawaii.  But sure enough, the things that smelled like red herrings were red herrings, and the reversal that you feared comes to pass in one of those point-of-view switcheroos that movies now indulge in. Come to think of it, that was the second-act twist.  But I did like the strategically placed telemarketer call.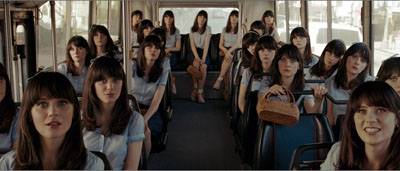 We're evidently allotted one crossover indie movie per summer, a fact acknowledged in the title of this year's hit. (500) Days of Summer, which really needs its parentheses not just because everybody now overuses them (there's even a blog confessing it), but because its strategy is to disarm you with its knowing cuteness. It is so self-consciously winning your teeth will ache. It's a twentysomething romance of the sort usually called "bittersweet." The guy's after love and the girl withholds commitment. Guaranteed result: emotional roller coastering, because we've seen her flighty sort before in kooky-girl figures like Petulia. There's a fantasy musical number with a touch of animation, an avuncular narrating voice sliding in and out, a shuffled time scheme sorted out for us with a sort of daily odometer reading, and pop-culture references including retro ones to The Graduate and Ringo Starr. Everybody smiles a lot, and when they're not smiling they're crinkling up their faces.
(500) Days plays by the book. Tom and Summer work for a greeting-card company, a satiric target only a little harder to hit than the Pentagon. As in the movies mentioned above, the cutting is intent on making sure we see everybody deliver every syllable. (What ever happened to offscreen dialogue? Did TV kill it?) (Sorry about the parentheses.) The four-part script layout is as neat as embroidery: the first kiss at the photocopiers comes at 24:00, the splitup comes at 47:00, Tom delivers his diatribe against the lies about love at about 72:00, and the epilogue, with its fatal final line, finishes at 90:00. Yet I'm not curmudgeon enough to despise a movie so desperate to be liked, and at last I found a film whose narration clicks along in syncopation with my little tally counter.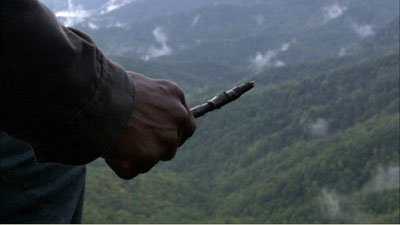 The real indie film I admired in my fifty days was Ramin Bahrani's Goodbye Solo, or Good Bye Solo as the credit title has it. Kristin and I have registered our admiration for Bahrani's films here and here on this site, and his latest is no less modest, well-crafted, and affecting. A Senegalese emigre cab driver befriends an enigmatic old man who at the start of the film offers him $1000 to pick him up on October 20 and drive him to Blowing Rock Mountain. Solo infers that William is planning a suicide and so starts to intervene in his life. His involvement with William gets intertwined with his family problems and his hopes of becoming an airline attendant.
Goodbye Solo exemplifies the "character-driven" movie. Solo is sunny, quick-witted, and socially adroit; his audition for the airline managers shows him as an ideal employee. William is just the opposite–morose, aggrieved, profoundly unhappy. The treatment is observational, with lengthy shots (an average of over twelve seconds) capturing dialogue and slowly shifting character response.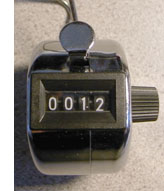 The characters change, but Bahrani and his co-screenwriter Bahareh Azimi, wary of quick fixes, don't push this too far. It would be easy to make William soften more, even eventually make him likeable, and to keep Solo an indefatigable force for optimism. Instead, if William accepts more of Solo's ministrations, it's largely due to his passivity, not a fundamental change of heart. Meanwhile, Solo becomes more anxious and pessimistic, shedding some of that casual charm that captivated us in the opening. Neither executes that neat character arc that Hollywood tends to favor and that's visible in Up and (500) Days of Summer.
Bahrani's hatred of cliché obliges him to make his story events mundane and equivocal. As in Man Push Cart and Chop Shop, the plot emerges from variations in routine, a lesson well-taught by European festival cinema of the 1950s. But when you have a stubborn, taciturn character like William, and you're restricted to another character's range of knowledge, it's hard to give the film a forward propulsion. You have a deadline, but no momentum. So plot dynamics arise from Solo's relation to his wife and daughter, his career goals, and above all his investigation of William's past–his search for what could drive the man to suicide. And this investigation turns on conveniently discovered clues.
Someday I must do a blog entry on tokens in narratives. Any plot of some complexity seems to need physical objects that encapsulate dramatic forces, spread out information, or become emotion-laden motifs. The photograph is probably the most traditional one, but notes, diaries, rings, and so on are useful too. In Goodbye Solo, William's tokens move the drama of disclosure forward, and it's possible to object to the film's reliance on so many of them.
The problem Bahrani faces is that the film has to give us personal information about William while retaining tact and respect for characters' integrity. For William to open up into a Tarantino-style confession would tear the movie apart; even a quiet moment of sobbing vulnerability is too indiscreet here. The film needs its tokens, however awkward they may seem as narrative devices, to keep faith with its people.
Staying a little outside the characters, allowing them to retain some private motives, is exactly what (500) Days of Summer doesn't attempt. Bahrani's discretion extends to the very last scene. The title becomes a line that someone should speak but doesn't. Up till now, the quietly precise images have been shot by a camera locked down, but atop a mountain the camera leaves its tripod and supplies some mildly shaky imagery. And now it fits. It's not just that the drama has reached an emotional pitch. The camera is simply buffeted by the wind. Once more Bahrani lets his world do its work.
---
You can read about our summer film-related travel 
here
and 
here
and 
here
and 
here
and 
here
.
Overwhelmed by all the material on Pixar and Up, I merely point to two encyclopedic experts: the ever independent-minded Mike Barrier and the always-informative Bill Desowitz, who offers information on Pixar's approach to 3-D here. For Ponyo background and an interview with Miyazaki, turn again to Bill D, here; he provides a transcript of a conversation between Miyazaki and John Lasseter here. A fat book of Miyazaki interviews and essays has just been published, and it includes some incendiary stuff, such as "Everything that Mr. Tezuka [Osamu, the 'god of animation'] talked about or emphasized was wrong" (197).
The parentheses in (500) Days of Summer are explained by screenwriter Scott Neustadter at Jeff Goldsmith's Creative Writing podcast.
Roger Ebert has reviewed nearly all these films and as always he has sensitive things to say, particularly on Goodbye Solo. He's been championing Bahrani's films for many years and he offers a warm career appreciation here.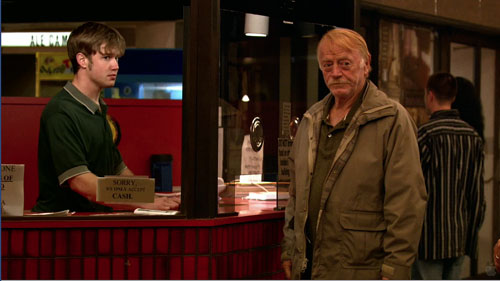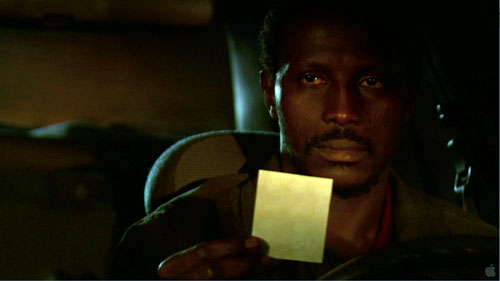 Goodbye Solo.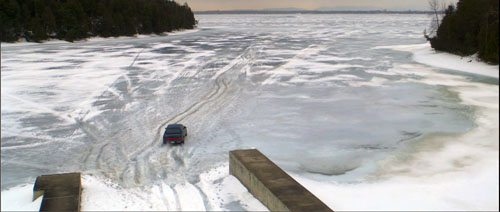 Art is not reality; one of the damned things is enough.
Attributed to Virginia Woolf, Gertrude Stein, and others.
DB here, with another followup to Ebertfest:
Ebertfest, once known as the Overlooked Film Festival, has always been keen to support American independent filmmaking. In previous incarnations, Roger spotlighted Junebug, Tarnation, and other movies that flew below the multiplex radar. This year's crop was especially ripe. Besides The Fall and Sita Sings the Blues, there were important documentaries like Begging Naked and Trouble the Water. In particular, two fiction features set me thinking about types of independent storytelling and how they might be considered realistic.
The river is wide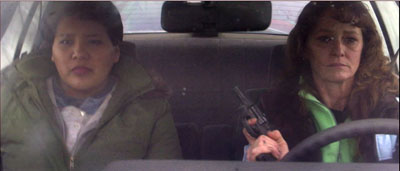 Roger noted that when he first saw Frozen River, he wanted to bring it to his festival, but then it became the very opposite of an overlooked movie. It has grossed $4.3 million worldwide, a very healthy amount for a small-budget film without big stars. It won eleven national awards and was nominated for fourteen others, including a Best Original Screenplay Oscar. By now, you've probably seen it. I had been away during its Madison run, so I was happy to catch up with it.
"You have five minutes to show the audience you're in charge," commented director Courtney Hunt in the Q & A, and her film follows that advice. Seconds into Frozen River, we hit a crisis. Ray finds that her no-good husband has grabbed their savings and taken off to gamble, even as she waits for the delivery of their new prefab home. What begins as a drama of pursuit, with Ray trying to track down her husband, turns into a blocked situation. He's gone and she has to not only pay off their mortgage but also keep her two sons going, counting on their school lunches to offset their domestic meals of popcorn and Tang.
Drama is about choices, and good drama is about bad choices. Ray has clearly made her share of mistakes—addictive mate, kids she can't support, a bigscreen TV she can't afford—and the plot shows her making the biggest of all. To scrape together money she agrees to transport illegal immigrants from Canada to upstate New York, driving across the frozen St. Lawrence. She casts her lot with Lila Littlewolf, a Native American with her own bad choices, and their common fate creates a series of parallels about motherhood that are resolved through Ray's final sacrifice. The film also activates some current concerns about immigration, racism, and the problems shared by poor whites and ethnic minorities.
Resolutely unHollywood in its setting, theme, and characters—deglamorized women, especially—Frozen River still adheres to classical script structure. We have characters with goals, encountering obstacles and entering into conflicts, and the turning points come at the standard junctures. The ending is a resolution, although not an entirely happy one. In the course of the plot, suspense is built up at many points. Will Ray and Lila be caught by the state troopers who grimly monitor their comings and goings? What will become of that abandoned baby? The film is a sturdy example of how classic principles of construction can be applied to subject matter that is worlds away from our prototype of Hollywood filmmaking.
Neo-neo and all that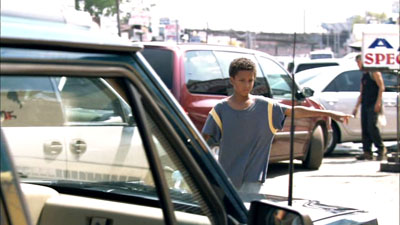 Ramin Bahrani's Chop Shop, which I was also just catching up with, offers another flavor of independent dramaturgy. Roger has been a staunch supporter of Ramin's films since Man Push Cart, and he has declared him "the new great American director."
Bahrani has mastered a somewhat different narrative tradition than the crisis-driven plotting of Frozen River. "Neo-neorealism," A. O. Scott has called it, linking Goodbye Solo to Wendy and Lucy, Treeless Mountain, Old Joy, and other films that offer us an "escape from escapism." Now, Scott suggests, American cinema is having its delayed Neorealist moment. Richard Brody offers some useful, sometimes scornful, qualifications of Scott's conjecture, reminding us of the urban dramas of the 1940s and the rise of Method acting. Scott has replied, claiming that their dispute essentially depends on their differing tastes in movies.
Here's my $.02. "Neorealism" isn't a cinematic essence floating from place to place and settling in when times demand it. The term, like the films it labels, emerged under particular circumstances, and it's hard to transfer the label to other conditions. Moreover, there are many problems just with applying the term to Italian cinema, since it tends to cover not only the purest cases, like Bicycle Thieves, but also more mixed ones like the historical drama The Mill on the Po.
Still, because postwar Italian cinema had a big influence on other national cinemas, we have a prototype of The Italian Neorealist Movie. The filmmaker focuses on the lives of working people. He emphasizes their daily routines and travails. The film will be shot on location (at least in the exteriors) and may use nonactors in some or all roles. Bazin pointed out that we're likely to find an elliptical or unresolved plot. It's also very likely that we'll see washlines and women in slips.
Why not just call this an Italian variant of that broad tradition of naturalism or verismo or "working-class realism" that we find in many national cinemas? In France there was the work of Andre Antoine (e.g., La Terre, 1921) and Jean Epstein's Coeur fidele (1923) and his lyrical barge romance La Belle Nivernaise (1923). More famous are Renoir's Toni (1935) and The Lower Depths (1936). (Recall that Visconti was Renoir's assistant on A Day in the Country, 1936.) In Italy, there were harbingers too, not only the famous ones like Four Steps in the Clouds (1942) but also the charming Treno Popolare (1933). And Japan gave us many instances in the 1930s, notably Ozu's Inn in Tokyo (1935) and The Only Son (1936).
Realer than real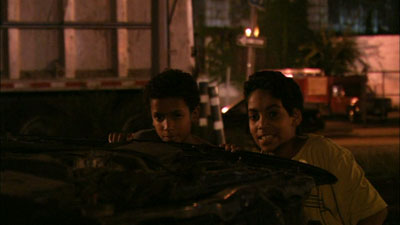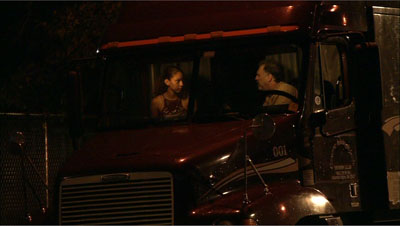 On an Ebertfest panel Ramin Bahrani argued for a realist aesthetic. "Most people in movies never seem to pay rent or keep track of how often they can eat out . . . [Ordinary people] have day-to-day struggles; they ask how to survive." That's to say that a realistic work is distinguished primarily by its subject matter, the social milieu it presents. Bahrani also mentioned that some plot devices are unrealistic. Criticizing Slumdog Millionaire, he remarked: "My world doesn't end in a Hollywood fantasy." He didn't deny the need for a dramatic structure, but he did insist on avoiding "obvious plot points like 'He crossed the door and can't go back.'"
This leads me to another $.02 contribution. I'm reluctant to contrast realism with something like artifice or formula. To me, realism comes in many varieties, but none escapes artifice. All realisms I know rely on conventions shaped by tradition.
For example, Chop Shop shows us a slice of life that most of us don't know, the world of garages and salvage yards clustered around Shea Stadium. Such a low-end milieu is a convention of literary naturalism (Zola, Gorki). In this tradition, an artwork acknowledging the lives of the poor gains a dose of realism that, say, a novel by P. G. Wodehouse or a play by Noël Coward will lack. Some critics complained that when Rossellini's Europa 51 and Voyage to Italy presented upper-class life, he left Neorealism behind.
There seem to me other conventions at work in Chop Shop. In one garage we find a boy, Alejandro, who has two goals. He wants to set up a food van that will sell meals to the men working in the neighborhood, and he wants to keep his sister Isamar safe from bad companions. Goal-driven plotting is central to Hollywood dramaturgy, as it is to much literary realism (e.g., An American Tragedy). It's true that in real life people often form goals, but many do not, and those who do seldom come to a state of heightened awareness in the time frame typical of a movie's plot. Alejandro fails to achieve one goal but partially achieves another, so we have an open, somewhat ambivalent ending—another convention of realist storytelling and modern cinema (especially after Neorealism). Life goes on, as we, and many movies, often say.
Instead of following a crisis structure, as Frozen River does, Chop Shop presents what we might call "threads of routine." Most scenes consist of ordinary activities: the work of the garage, Alejandro's sales of candy and DVDs, opening and closing the shop, Alejandro watching from the window of his room. But these vignettes aren't sheer repetitions. They vary as Alejandro encounters progress or setbacks with respect to his goals. Most of the routines establish a backdrop against which moments of change and conflict will stand out.
Building a movie out of routines can also make convenient coincidences seem plausible. For instance, dramas have always relied on accidental discoveries of key information—the overheard conversation, the token that betrays what's really happening. In Chop Shop, Ale and his pal Carlos discover that Isamar has become one of the hookers who service men in the cab of a tractor-trailer. They might have discovered this, as in life, by simply wandering by the spot on a single occasion. Instead, Bahrani's script motivates their discovery by explaining that they habitually spy on the truck assignations. "Let's go to the truck stop and see some whores." Planting information in scenes of everyday activities seems more natural than giving it special emphasis at a moment of crisis. In two later scenes, the truck-stop becomes an arena for conflict, so Ale's initial discovery motivates his later actions.
As for plot points, Chop Shop has them. (At about 15 minutes, the zone of the Inciting Incident, Ale declares his intention to buy the van. At about 30 minutes he discovers that Isamar is turning to prostitution.) Likewise, the threaded routines yield poetic motifs, such as the pigeons that are carefully established early in the film. Bahrani's plotting is meticulous, and it highlights the paradox of realism: It takes effort and calculation to "capture reality." De Sica was said to have endlessly rehearsed the boy in Bicycle Thieves.
What gives the film a more episodic organization than Frozen River, I think, and what gives it a greater sense of "dailiness," is that it lacks deadlines. There's relatively little time pressure on the action, except for Ale's sense that he's getting close to having enough money for the van. Chop Shop's refusal of Hollywood's ticking clock seems to me to confirm the observation, made by Geoff Andrew and J. J. Murphy, that in some respects American indie film is located midway between classical narrative cinema and "art cinema."
The threads-of-routine pattern can be harnessed to character-driven drama, as in Chop Shop, but it can also be more opaque or minimalist. During at least half of Elia Suleiman's Chronicle of a Disappearance, we watch anonymous characters go through routines, but instead of revealing their psychological drives, the scenes show the people overwhelmed by their surroundings. Narrative development is charted through changes in the spaces that the figures inhabit and vacate. The result is a "surreal realism" that evokes the anxieties of Magritte or de Chirico.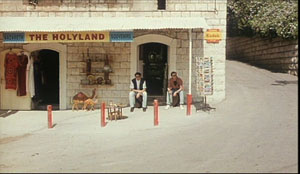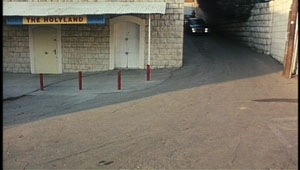 To say that realist traditions rely on conventions doesn't make them less worthwhile. Chop Shops seems to me quite a good film. Nor would I deny that realist conventions do capture some aspects of real life. Both the crisis structure and the threads-of-routines structure can be taken as realistic. Sometimes our lives are in crisis, and at other times we do just plod along. But more stylized narrative forms can capture important aspects of reality too. The Searchers, a work of high artifice, renders a portrait of a self-destructive racist that many of us recognize in the world outside the movie house. Has any film better caught the adolescent yearning for romantic love and family stability than Meet Me in St. Louis?
The problem comes when we think that only one variant of realism can lay claim to validity, let alone beauty. Sometimes fidelity takes a back seat to vivacity. In Roy Andersson's films, everyday nuisances like checking in to a plane flight or waiting in a clinic are inflated to grotesque, gargantuan proportions, becoming torments in a vision of hell. Like all caricatures, the exaggeration captures something true.
Comparing Wilkie Collins and Dickens, T. S. Eliot notes that both writers give us vivid characters. Collins' characters are "painstakingly coherent and life-like," terms of praise that we could assign to Bahrani's films as well. But, Eliot adds, "Dickens' characters are real because there is no one like them."
---
What was Neorealism? Some of André Bazin's invaluable essays on the subject can be found in
What Is Cinema?
vol. 2 (Berkeley: University of California Press, 1971). Kristin and I offer a survey of some historical factors in Chapter 16 of
Film History: An Introduction
. (Go
here
for a little bibliography.) For more on art cinema and its commitments to realism and open endings, see my essay, "The Art Cinema as a Mode of Film Practice," in
Poetics of Cinema,
151-169. On American indies' borrowing of art-cinema conventions, see Geoff King,
American Independent Cinema
(Bloomington: Indiana University Press, 2005) and J. J. Murphy,
Me and You and Memento and Fargo
(New York: Continuum, 2007). J.J. also has a blog entry on
Chop Shop
here
. The quotations from T. S. Eliot come from "Wilkie Collins and Dickens,"
Selected Essays
(New York: Harcourt, Brace, 1950), 410-411.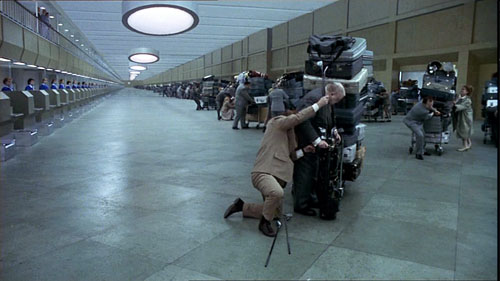 Songs from the Second Floor (Roy Andersson, 2000).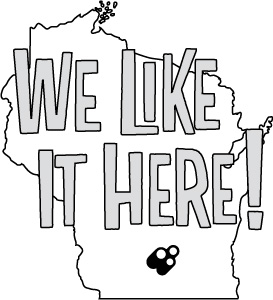 Kristin here-
David has gone halfway around the world to attend a film festival and will be reporting more on what he sees in Hong Kong. But in Madison we have the Wisconsin Film Festival going on now, and there's plenty to watch here as well, even if it's only for four days rather than two weeks.
So far I have seen four films in two days and plan to see five more before the festival ends tomorrow night. That means that so far I've sat through the short festival prologue film that announces its sponsors four times. Each year we have a different little prologue film. This year director Meg Hamel and her team found a snappy promotional film for Wisconsin that looks like it was made in the late 1950s or early 1960s. Its slogan is "We like it here!" and it features not only our famous dairy and other farm products but also things which are fast disappearing from local industry–like cars and tractors. I'm not sure how I'll feel about this little film after watching it nine times, but so far it's amusing.
And our Wisconsin products have followed David to Hong Kong. Shopping for breakfast items in a local grocery store, he found some familiar fare: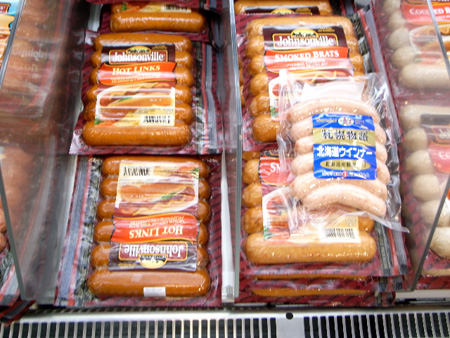 We've served many a Johnsonville brat during our annual Labor Day cook-out. They look pretty good compared with the pale Chinese version juxtaposed in the photo. And a product from even closer to home, Bagels Forever bagels, which set up shop here in Madison a few years after we did: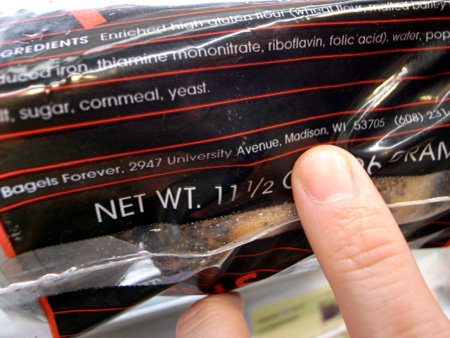 Of course, we have Hong Kong imports here as well. I've got a ticket to see Johnnie To's Sparrow tonight.
So far I've seen some excellent films. Agnès Varda's The Beaches of Agnès was a salubrious way to start. It's an autobiography of sorts, built around visits to the various seaside locales that have played a big part in her life, from childhood visits to the resorts of Belgium to an escape to Corsica to the fishing village that featured in her first film, the 1954 short feature La Pointe-courte to Venice in Los Angeles. Not that her tale is told chronologically. There are numerous diversions, such as meetings with the children who appeared in that first film, now grown old. There are clips from her films and encounters with friends. Varda even managed to get the notoriously camera-shy Chris Marker to participate, though he appears only as a large cat cut-out, and his voice has been altered. (See below.)
Naturally there are passages concerning Varda's late husband, Jacques Demy, including some candid on-set photos and footage of a very young Catherine Deneuve in costume. We see Varda strolling around an exhibition of her photographs of French movie stars and mourning their deaths, having at 80 outlived most of them. It's a rambling film and yet somehow all hangs together, with self-deprecating humor, nostalgia, wacky juxtapositions, and moving moments as the director visits old haunts and friends. It was a real crowd-pleaser at the screening I attended, and deservedly so.
Ken Jacobs' 2006 experimental feature, Razzle Dazzle: The Lost World was a must. Like Tom, Tom, the Piper's Son, Jacobs' most famous film, this one takes an early Edison short and plays with it. Parts of the image get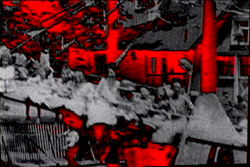 enlarged, frozen, played in slow motion, and colored. Here Jacobs is working not on an optical printer but on a computer, using a single shot that is a view of a large rotating swing full of merrymakers. The result is a movement back and forth between abstract images, representational ones, and combinations where we must struggle to see glimpses of bodies, signs, and walls. I found this theme-and-variations portion of the film to be a bit overlong, with some computer graphics seemingly used simply because they were possible. But there are extraordinary moments. The scene of the swing takes place in daytime, but in the middle section suddenly blackness, superimposed rain, and the sound of thunder transform the scene into a frightening nighttime storm through which the giant swing is dimly visible,continuing to carry its occupants on swoops and glides through the dark. Another passage, illustrated here, manages to suggest a flickering nitrate fire–another frightening moment in a different way.
The more interesting parts of the film for me were manipulations of stereoscope-card images. By quickly alternating the right and left photos on the cards, Jacobs creates some remarkable effects of apparent motion. (David discussed a similar effect last year in his comments on Capitalism: Child Labor.) Even with only two camera positions represented on the cards, at times an illusion of continuous movement is created, especially in a dramatic shot of ocean waves. There are portions of the image where the water seems to be flowing right to left in an unstopping stream. In other shots the camera seems to be gliding in an arc around the subjects. Jacobs has been doing a lot of experimentation with creating an appearance of 3D using only regular film equipment and still photos, and I for one would have liked to see more of the stereoscope cards and a little less of the play with the Edison shot. But that's just a quibble. It's a fascinating film, well worth seeing.
A late addition to the program was the foreign-language Oscar winner Departures. Steve Jarchow, one of the heads of Regent Entertainment, is a Madison native, and he appeared after the film for a lively question-and-answer session. Regent has other forthcoming films in the festival's schedule, including Tokyo Sonata, which we blogged about from the Palm Springs International Film Festival.
David will probably have something to say about Departures, which he saw last week in a theater in Hong Kong. (He warned us all to bring our tissues, since it's a good, old-fashioned Shochiku tear-jerker, albeit with many amusing touches.) Steve's answers to questions put to him by Emeritus Professor Tino Balio and the audience were equally interesting. At a time when Hollywood studios are closing down their art-film niche divisions and foreign-language cinema seems an endangered species, Steve's company is providing a healthy counter-force. A relatively small firm, it can thrive on titles that bring in a few million dollars–chicken feed by studio standards. Apart from foreign-language titles, Regent is catering to the gay and lesbian market, both for films and television programming. Steve also re-confirmed something that we know well: that Madison is a great town for art cinema, one of the best outside the big metropolitan areas.
From Steven's Q&A I went off to see Goodbye Solo, Ramin Bahrani's fifth film, and his third since coming to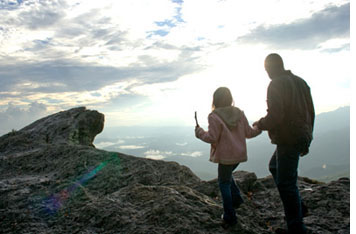 wider public attention with Man Push Cart. Roger Ebert has been a champion of Bahrani's work, and we'll be seeing his previous feature, Chop Shop, at Ebertfest in a few weeks.
Goodbye Solo is set in Bahrani's hometown, Winston-Salem, North Carolina. It deals with a genial Senegalese cab-driver who decides to befriend a prickly white man who he suspects intends to commit suicide. Beautifully shot, the film is to Winston-Salem what Collateral is to Los Angeles, and the final scene in the autumnal Great Smoky Mountains is gorgeous. It's a moving tale, and one which manages to be emotionally uplifting without falling into the trap of solving all its characters' problems and becoming a feel-good film.
For those in the Madison area, the festival continues today and tomorrow.