Sunday | May 3, 2009
open printable version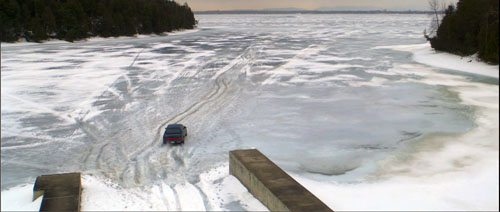 Art is not reality; one of the damned things is enough.
Attributed to Virginia Woolf, Gertrude Stein, and others.
DB here, with another followup to Ebertfest:
Ebertfest, once known as the Overlooked Film Festival, has always been keen to support American independent filmmaking. In previous incarnations, Roger spotlighted Junebug, Tarnation, and other movies that flew below the multiplex radar. This year's crop was especially ripe. Besides The Fall and Sita Sings the Blues, there were important documentaries like Begging Naked and Trouble the Water. In particular, two fiction features set me thinking about types of independent storytelling and how they might be considered realistic.
The river is wide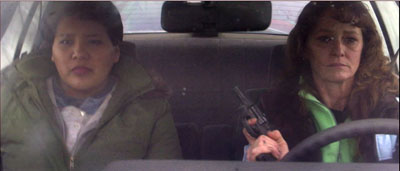 Roger noted that when he first saw Frozen River, he wanted to bring it to his festival, but then it became the very opposite of an overlooked movie. It has grossed $4.3 million worldwide, a very healthy amount for a small-budget film without big stars. It won eleven national awards and was nominated for fourteen others, including a Best Original Screenplay Oscar. By now, you've probably seen it. I had been away during its Madison run, so I was happy to catch up with it.
"You have five minutes to show the audience you're in charge," commented director Courtney Hunt in the Q & A, and her film follows that advice. Seconds into Frozen River, we hit a crisis. Ray finds that her no-good husband has grabbed their savings and taken off to gamble, even as she waits for the delivery of their new prefab home. What begins as a drama of pursuit, with Ray trying to track down her husband, turns into a blocked situation. He's gone and she has to not only pay off their mortgage but also keep her two sons going, counting on their school lunches to offset their domestic meals of popcorn and Tang.
Drama is about choices, and good drama is about bad choices. Ray has clearly made her share of mistakes—addictive mate, kids she can't support, a bigscreen TV she can't afford—and the plot shows her making the biggest of all. To scrape together money she agrees to transport illegal immigrants from Canada to upstate New York, driving across the frozen St. Lawrence. She casts her lot with Lila Littlewolf, a Native American with her own bad choices, and their common fate creates a series of parallels about motherhood that are resolved through Ray's final sacrifice. The film also activates some current concerns about immigration, racism, and the problems shared by poor whites and ethnic minorities.
Resolutely unHollywood in its setting, theme, and characters—deglamorized women, especially—Frozen River still adheres to classical script structure. We have characters with goals, encountering obstacles and entering into conflicts, and the turning points come at the standard junctures. The ending is a resolution, although not an entirely happy one. In the course of the plot, suspense is built up at many points. Will Ray and Lila be caught by the state troopers who grimly monitor their comings and goings? What will become of that abandoned baby? The film is a sturdy example of how classic principles of construction can be applied to subject matter that is worlds away from our prototype of Hollywood filmmaking.
Neo-neo and all that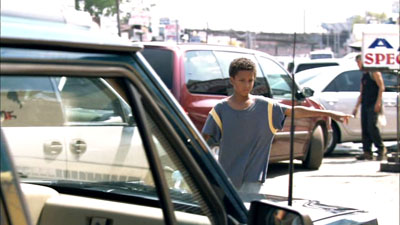 Ramin Bahrani's Chop Shop, which I was also just catching up with, offers another flavor of independent dramaturgy. Roger has been a staunch supporter of Ramin's films since Man Push Cart, and he has declared him "the new great American director."
Bahrani has mastered a somewhat different narrative tradition than the crisis-driven plotting of Frozen River. "Neo-neorealism," A. O. Scott has called it, linking Goodbye Solo to Wendy and Lucy, Treeless Mountain, Old Joy, and other films that offer us an "escape from escapism." Now, Scott suggests, American cinema is having its delayed Neorealist moment. Richard Brody offers some useful, sometimes scornful, qualifications of Scott's conjecture, reminding us of the urban dramas of the 1940s and the rise of Method acting. Scott has replied, claiming that their dispute essentially depends on their differing tastes in movies.
Here's my $.02. "Neorealism" isn't a cinematic essence floating from place to place and settling in when times demand it. The term, like the films it labels, emerged under particular circumstances, and it's hard to transfer the label to other conditions. Moreover, there are many problems just with applying the term to Italian cinema, since it tends to cover not only the purest cases, like Bicycle Thieves, but also more mixed ones like the historical drama The Mill on the Po.
Still, because postwar Italian cinema had a big influence on other national cinemas, we have a prototype of The Italian Neorealist Movie. The filmmaker focuses on the lives of working people. He emphasizes their daily routines and travails. The film will be shot on location (at least in the exteriors) and may use nonactors in some or all roles. Bazin pointed out that we're likely to find an elliptical or unresolved plot. It's also very likely that we'll see washlines and women in slips.
Why not just call this an Italian variant of that broad tradition of naturalism or verismo or "working-class realism" that we find in many national cinemas? In France there was the work of Andre Antoine (e.g., La Terre, 1921) and Jean Epstein's Coeur fidele (1923) and his lyrical barge romance La Belle Nivernaise (1923). More famous are Renoir's Toni (1935) and The Lower Depths (1936). (Recall that Visconti was Renoir's assistant on A Day in the Country, 1936.) In Italy, there were harbingers too, not only the famous ones like Four Steps in the Clouds (1942) but also the charming Treno Popolare (1933). And Japan gave us many instances in the 1930s, notably Ozu's Inn in Tokyo (1935) and The Only Son (1936).
Realer than real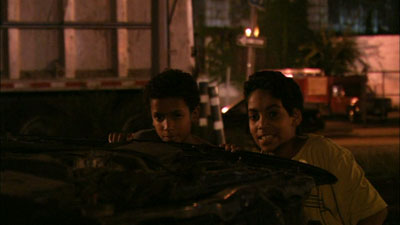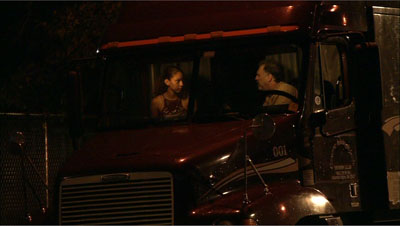 On an Ebertfest panel Ramin Bahrani argued for a realist aesthetic. "Most people in movies never seem to pay rent or keep track of how often they can eat out . . . [Ordinary people] have day-to-day struggles; they ask how to survive." That's to say that a realistic work is distinguished primarily by its subject matter, the social milieu it presents. Bahrani also mentioned that some plot devices are unrealistic. Criticizing Slumdog Millionaire, he remarked: "My world doesn't end in a Hollywood fantasy." He didn't deny the need for a dramatic structure, but he did insist on avoiding "obvious plot points like 'He crossed the door and can't go back.'"
This leads me to another $.02 contribution. I'm reluctant to contrast realism with something like artifice or formula. To me, realism comes in many varieties, but none escapes artifice. All realisms I know rely on conventions shaped by tradition.
For example, Chop Shop shows us a slice of life that most of us don't know, the world of garages and salvage yards clustered around Shea Stadium. Such a low-end milieu is a convention of literary naturalism (Zola, Gorki). In this tradition, an artwork acknowledging the lives of the poor gains a dose of realism that, say, a novel by P. G. Wodehouse or a play by Noël Coward will lack. Some critics complained that when Rossellini's Europa 51 and Voyage to Italy presented upper-class life, he left Neorealism behind.
There seem to me other conventions at work in Chop Shop. In one garage we find a boy, Alejandro, who has two goals. He wants to set up a food van that will sell meals to the men working in the neighborhood, and he wants to keep his sister Isamar safe from bad companions. Goal-driven plotting is central to Hollywood dramaturgy, as it is to much literary realism (e.g., An American Tragedy). It's true that in real life people often form goals, but many do not, and those who do seldom come to a state of heightened awareness in the time frame typical of a movie's plot. Alejandro fails to achieve one goal but partially achieves another, so we have an open, somewhat ambivalent ending—another convention of realist storytelling and modern cinema (especially after Neorealism). Life goes on, as we, and many movies, often say.
Instead of following a crisis structure, as Frozen River does, Chop Shop presents what we might call "threads of routine." Most scenes consist of ordinary activities: the work of the garage, Alejandro's sales of candy and DVDs, opening and closing the shop, Alejandro watching from the window of his room. But these vignettes aren't sheer repetitions. They vary as Alejandro encounters progress or setbacks with respect to his goals. Most of the routines establish a backdrop against which moments of change and conflict will stand out.
Building a movie out of routines can also make convenient coincidences seem plausible. For instance, dramas have always relied on accidental discoveries of key information—the overheard conversation, the token that betrays what's really happening. In Chop Shop, Ale and his pal Carlos discover that Isamar has become one of the hookers who service men in the cab of a tractor-trailer. They might have discovered this, as in life, by simply wandering by the spot on a single occasion. Instead, Bahrani's script motivates their discovery by explaining that they habitually spy on the truck assignations. "Let's go to the truck stop and see some whores." Planting information in scenes of everyday activities seems more natural than giving it special emphasis at a moment of crisis. In two later scenes, the truck-stop becomes an arena for conflict, so Ale's initial discovery motivates his later actions.
As for plot points, Chop Shop has them. (At about 15 minutes, the zone of the Inciting Incident, Ale declares his intention to buy the van. At about 30 minutes he discovers that Isamar is turning to prostitution.) Likewise, the threaded routines yield poetic motifs, such as the pigeons that are carefully established early in the film. Bahrani's plotting is meticulous, and it highlights the paradox of realism: It takes effort and calculation to "capture reality." De Sica was said to have endlessly rehearsed the boy in Bicycle Thieves.
What gives the film a more episodic organization than Frozen River, I think, and what gives it a greater sense of "dailiness," is that it lacks deadlines. There's relatively little time pressure on the action, except for Ale's sense that he's getting close to having enough money for the van. Chop Shop's refusal of Hollywood's ticking clock seems to me to confirm the observation, made by Geoff Andrew and J. J. Murphy, that in some respects American indie film is located midway between classical narrative cinema and "art cinema."
The threads-of-routine pattern can be harnessed to character-driven drama, as in Chop Shop, but it can also be more opaque or minimalist. During at least half of Elia Suleiman's Chronicle of a Disappearance, we watch anonymous characters go through routines, but instead of revealing their psychological drives, the scenes show the people overwhelmed by their surroundings. Narrative development is charted through changes in the spaces that the figures inhabit and vacate. The result is a "surreal realism" that evokes the anxieties of Magritte or de Chirico.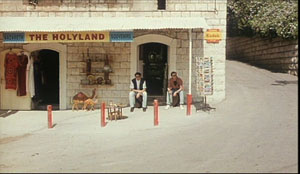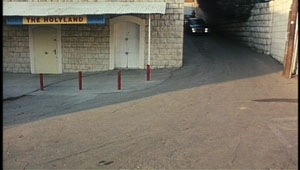 To say that realist traditions rely on conventions doesn't make them less worthwhile. Chop Shops seems to me quite a good film. Nor would I deny that realist conventions do capture some aspects of real life. Both the crisis structure and the threads-of-routines structure can be taken as realistic. Sometimes our lives are in crisis, and at other times we do just plod along. But more stylized narrative forms can capture important aspects of reality too. The Searchers, a work of high artifice, renders a portrait of a self-destructive racist that many of us recognize in the world outside the movie house. Has any film better caught the adolescent yearning for romantic love and family stability than Meet Me in St. Louis?
The problem comes when we think that only one variant of realism can lay claim to validity, let alone beauty. Sometimes fidelity takes a back seat to vivacity. In Roy Andersson's films, everyday nuisances like checking in to a plane flight or waiting in a clinic are inflated to grotesque, gargantuan proportions, becoming torments in a vision of hell. Like all caricatures, the exaggeration captures something true.
Comparing Wilkie Collins and Dickens, T. S. Eliot notes that both writers give us vivid characters. Collins' characters are "painstakingly coherent and life-like," terms of praise that we could assign to Bahrani's films as well. But, Eliot adds, "Dickens' characters are real because there is no one like them."
---
What was Neorealism? Some of André Bazin's invaluable essays on the subject can be found in What Is Cinema? vol. 2 (Berkeley: University of California Press, 1971). Kristin and I offer a survey of some historical factors in Chapter 16 of Film History: An Introduction. (Go here for a little bibliography.) For more on art cinema and its commitments to realism and open endings, see my essay, "The Art Cinema as a Mode of Film Practice," in Poetics of Cinema, 151-169. On American indies' borrowing of art-cinema conventions, see Geoff King, American Independent Cinema (Bloomington: Indiana University Press, 2005) and J. J. Murphy, Me and You and Memento and Fargo (New York: Continuum, 2007). J.J. also has a blog entry on Chop Shop here. The quotations from T. S. Eliot come from "Wilkie Collins and Dickens," Selected Essays (New York: Harcourt, Brace, 1950), 410-411.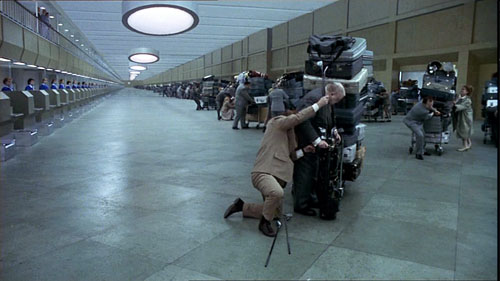 Songs from the Second Floor (Roy Andersson, 2000).