Tuesday | September 8, 2009
open printable version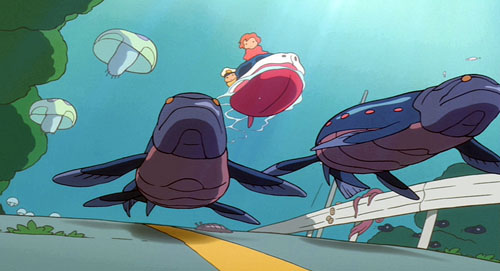 Ponyo on a Cliff by the Sea.
DB here:
Travel took me out of Madison for half of June and nearly all of July. While overseas, I saw only one recent US release. So I caught the American Summer Movies in two gulps–over a couple of weeks early on and over the last month or so. In all, exactly 50 days? Well, were there exactly 50 first dates in that movie?
Herewith, comments on a batch of titles. There are spoilers sprinkled throughout, but most of what I say won't harm your encounter with the film. Because all my remarks amounted to an even longer blog than usual, I've broken it into two parts. The next installment, coming up in a few days, talks about The Taking of Pelham 123, Public Enemies, and Inglourious Basterds.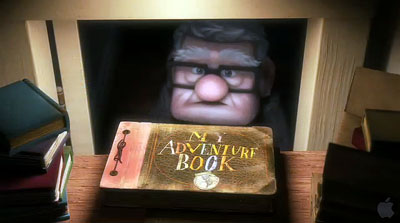 My summer movies were bracketed by two animated pictures. Up is to my mind the most mature Pixar film yet. It has all the virtues we associate with this studio: quick but not frantic pacing, expert handling of resonant motifs, technical brilliance (especially in its depiction of settings), and one-off gags. The poker-playing dogs had me laughing out loud. But as we've argued in other blogs (here and here and here), the Pixar team likes to set itself tough challenges. First there is the technical challenge of 3-D, which is easily surmounted. The 3-D effects get more pronounced once the plot lands in South America. More important, I think, is the challenge of representing the emotion of sorrow.
Another movie would have organized its plot around the kid, Russell, and let him meet the elderly Carl in the course of his adventures. That way, Carl would emerge as a merely touching secondary character. But by focusing point of view around Carl's life, showing his marriage and widowhood, Pete Docter and his team have tackled one of the hardest problems of classic moviemaking. How do you render pure sentiment without becoming sentimental?
The protagonist's portrait is surprisingly hard-edged. Carl is tightly wound even in his youth, unlike the exuberant and extroverted Ellie. Yet the couple seems to have no friends throughout their marriage, and it becomes easy to see how Carl could will himself into crabby isolation after her death. Thanks to the choice of viewpoint, Carl becomes no mere crank but a truly empathetic figure.
This is fragile stuff, and Docter handles it with tact. Many movies want you to cry at the end, but Up daringly invites you to indulge in its first ten minutes. It then spends the rest of its running time brightening your mood, so that the title could describe the film's emotional trajectory. It's one of my two favorite new movies I saw this summer.
Just a few days ago Kristin and I saw Ponyo on a Cliff by the Sea. We've been Miyazaki fans since Totoro, and have especially admired Kiki's Delivery Service and Spirited Away. As with this last and with Howl's Moving Castle, I have a hard time figuring out the premises of the plot. What rules govern Ponyo's transformations? Why can't she become a real girl, exactly? And then why is she permitted to? The well-timed interventions of her mother, like the Witch's change of heart in Howl, seems a way out of plot difficulties, and as often happens in Miyazaki the plot resolution seems rushed in comparison with the leisurely development of characters' relationships.
But as usual I was won over by the effortless virtuosity of the imagery and the weird conviction suffusing Miyazaki's concept of nature. As in Spirited Away, animation becomes animistic. The sea is bursting with hidden forces: goldfish with extraordinary powers of group effort, waves that turn into blue fish, and bubbles as solid and slippery as balloons. Nobody but Miyazaki could imagine the quasi-Wagnerian scale of Ponyo's race, atop gigantic fish-waves, to catch up with Sosuke and his mother fleeing in their car.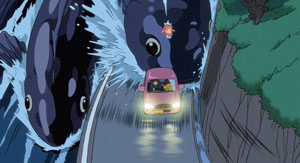 These shots burst with more dynamic shifts of mass and scale than I've felt in any official 3-D picture.
Sometimes Nature is scary. Although nothing here is as traumatic as Spirited Away's transformation of parents into swine, the tsunami scenes induce genuine awe at nature's exuberant destructiveness. There follows a reassuring calm. Ponyo and Sosuke glide along the flood waters while ancient creatures zigzag in the depths, and the townspeople quietly accept that their homes have been engulfed. Ponyo is a gentle movie, aimed (as Miyazaki explains here) at a younger audience than was his recent work. It's suffused with simple human affection, seen in acts of spontaneous generosity. What American movie could include a moment when Ponyo, fish become girl, offers a nursing mother a sandwich to help her make milk for her baby? Again, sentiment without sentimentality. Ponyo offers more evidence that whatever the disappointments we may find in live-action movies, we are living in a golden age of animation.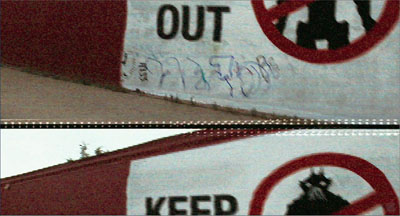 Am I just being perverse in finding Transformers 2: Revenge of the Fallen not as abysmal as others have? Don't get me wrong. It is not what you'd call good. It is rushed and overblown. What other movie accompanies its opening company logos with gnashing sound effects? Its plot is even more preposterous than the first one's. Its performers bear that sheen of meretriciousness that fills nearly every Michael Bay project. It is also lazy in its plotting. Worse, I couldn't really make out the design of the 'bots. It's not that the cutting is abnormally swift (a mere 3.0 seconds ASL, about the same as in Up and slower than that in The Hurt Locker). The problem is that the digital camera is swirling around the damn things so fast as they take shape that you can't get a fix on what they actually look like. All those spinning wheels and dangling carburetors ought to be worth a glance.
But still….For non-Transformers shots Michael Bay at least puts his camera on a tripod, which these days counts as a plus with me. And a minibot humps the heroine's leg. And John Turturro is in it. Would he grace a movie that signals the fall of Western Civilization?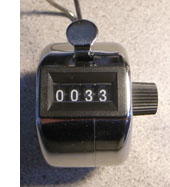 In a similar vein but more satisfying was District 9. Its "racial subtext" is as perfunctory and confused as such weighty hidden meanings usually are, and anyhow whatever political points the movie wants to make drift out of view halfway through. Moreover, its "documentary immediacy" is inconsistent: despite footage marked as coming from surveillance and TV cameras, we have unimpeded access to all plot matters. But here the Bumpicam probably allows for cheaper CGI, and as a run-around-shooting-things movie, it needs to keep things simple.
I found the smash-and-grab look far more distracting in The Hurt Locker. Kathryn Bigelow has directed several first-rate movies, notably Near Dark (where she used a tripod), Blue Steel (ditto), and Point Break (tripod mostly). On this project, she seemed to me to be doing more conventional work. There are the titles telling us that time is running out ("16 Days Left"). There's classic redundancy of characterization, as when we're told that James is a hot dogger–"He's reckless!" "You're a wild man!"–as we watch him be all that he can be, and more. There's the hapless kid who is so near to the end of his tour that you know he's a marked man. There are even aching slow-mo replays of explosions bowling guys to the camera. What if war films gave up this convention and just showed bombs going off and bodies hurled around as fast as in reality? Might war look a little less picturesque?
The camera is locked down for these iconic slow-mo shots, but most of the scenes are handled in heat-seeking pans, artful misframings, chopped-off zooms, and would-be snapfocusing that can't find something to fasten on. The editing plucks out bits of local color and sprinkles in some glimpses of onlookers that tend to turn them into props. I've tried to show elsewhere that this trend in rough-hewn technique nonetheless adheres to the conventions of classical style: establishing/ reestablishing shots, eyelines, reactions, and close-ups to underscore story points. Even wavering rack-focus can still orient us to the action quite clearly.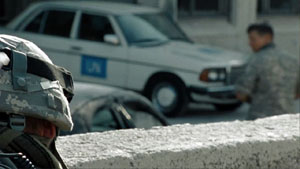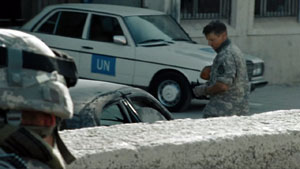 The question is what the harsher surface adds, especially when it's so pervasive. Habituation is one of the best-proven phenomena in psychology, and movies like this seem to prove that it works. After the first few minutes, we've adapted to any visceral punch that the Unsteadicam hopes to provide. Maybe it serves to ratchet up suspense? Doubtful. A director would have to be a real duffer to dissipate suspense in a movie about dismantling an explosive device. The trick is to do something different, as in bomb-disposal movies like the Chinese Old Fish and the British Small Back Room.
Still, the plot is decently engaging, and there's a taut, unpredictable siege in the desert. That long sequence displays a disciplined interplay of optical viewpoints, a sense of constantly revised tactics, a new aspect of James's leadership style, and nice details about sharing juice boxes. In another era, The Hurt Locker would have been a studio picture in the vein of Anthony Mann's bleak Men in War. I suppose it shows that yesterday's genre film, executed with conviction and a certain edginess, can become today's art movie.
Speaking of suspense: I thought that the setup to A Perfect Getaway was reasonably engrossing. There was some clever self-referential teasing: our hero's a screenwriter, and there's talk of a "second-act twist." And it was mostly shot on a tripod. I hoped that director-writer David Twohy would have the courage to stick with its initial premise and be Deliverance in Hawaii.  But sure enough, the things that smelled like red herrings were red herrings, and the reversal that you feared comes to pass in one of those point-of-view switcheroos that movies now indulge in. Come to think of it, that was the second-act twist.  But I did like the strategically placed telemarketer call.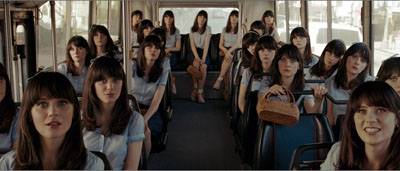 We're evidently allotted one crossover indie movie per summer, a fact acknowledged in the title of this year's hit. (500) Days of Summer, which really needs its parentheses not just because everybody now overuses them (there's even a blog confessing it), but because its strategy is to disarm you with its knowing cuteness. It is so self-consciously winning your teeth will ache. It's a twentysomething romance of the sort usually called "bittersweet." The guy's after love and the girl withholds commitment. Guaranteed result: emotional roller coastering, because we've seen her flighty sort before in kooky-girl figures like Petulia. There's a fantasy musical number with a touch of animation, an avuncular narrating voice sliding in and out, a shuffled time scheme sorted out for us with a sort of daily odometer reading, and pop-culture references including retro ones to The Graduate and Ringo Starr. Everybody smiles a lot, and when they're not smiling they're crinkling up their faces.
(500) Days plays by the book. Tom and Summer work for a greeting-card company, a satiric target only a little harder to hit than the Pentagon. As in the movies mentioned above, the cutting is intent on making sure we see everybody deliver every syllable. (What ever happened to offscreen dialogue? Did TV kill it?) (Sorry about the parentheses.) The four-part script layout is as neat as embroidery: the first kiss at the photocopiers comes at 24:00, the splitup comes at 47:00, Tom delivers his diatribe against the lies about love at about 72:00, and the epilogue, with its fatal final line, finishes at 90:00. Yet I'm not curmudgeon enough to despise a movie so desperate to be liked, and at last I found a film whose narration clicks along in syncopation with my little tally counter.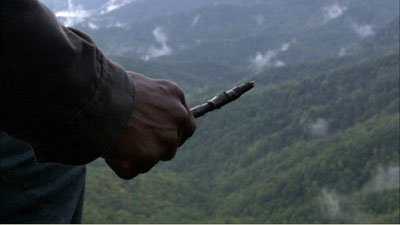 The real indie film I admired in my fifty days was Ramin Bahrani's Goodbye Solo, or Good Bye Solo as the credit title has it. Kristin and I have registered our admiration for Bahrani's films here and here on this site, and his latest is no less modest, well-crafted, and affecting. A Senegalese emigre cab driver befriends an enigmatic old man who at the start of the film offers him $1000 to pick him up on October 20 and drive him to Blowing Rock Mountain. Solo infers that William is planning a suicide and so starts to intervene in his life. His involvement with William gets intertwined with his family problems and his hopes of becoming an airline attendant.
Goodbye Solo exemplifies the "character-driven" movie. Solo is sunny, quick-witted, and socially adroit; his audition for the airline managers shows him as an ideal employee. William is just the opposite–morose, aggrieved, profoundly unhappy. The treatment is observational, with lengthy shots (an average of over twelve seconds) capturing dialogue and slowly shifting character response.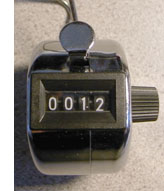 The characters change, but Bahrani and his co-screenwriter Bahareh Azimi, wary of quick fixes, don't push this too far. It would be easy to make William soften more, even eventually make him likeable, and to keep Solo an indefatigable force for optimism. Instead, if William accepts more of Solo's ministrations, it's largely due to his passivity, not a fundamental change of heart. Meanwhile, Solo becomes more anxious and pessimistic, shedding some of that casual charm that captivated us in the opening. Neither executes that neat character arc that Hollywood tends to favor and that's visible in Up and (500) Days of Summer.
Bahrani's hatred of cliché obliges him to make his story events mundane and equivocal. As in Man Push Cart and Chop Shop, the plot emerges from variations in routine, a lesson well-taught by European festival cinema of the 1950s. But when you have a stubborn, taciturn character like William, and you're restricted to another character's range of knowledge, it's hard to give the film a forward propulsion. You have a deadline, but no momentum. So plot dynamics arise from Solo's relation to his wife and daughter, his career goals, and above all his investigation of William's past–his search for what could drive the man to suicide. And this investigation turns on conveniently discovered clues.
Someday I must do a blog entry on tokens in narratives. Any plot of some complexity seems to need physical objects that encapsulate dramatic forces, spread out information, or become emotion-laden motifs. The photograph is probably the most traditional one, but notes, diaries, rings, and so on are useful too. In Goodbye Solo, William's tokens move the drama of disclosure forward, and it's possible to object to the film's reliance on so many of them.
The problem Bahrani faces is that the film has to give us personal information about William while retaining tact and respect for characters' integrity. For William to open up into a Tarantino-style confession would tear the movie apart; even a quiet moment of sobbing vulnerability is too indiscreet here. The film needs its tokens, however awkward they may seem as narrative devices, to keep faith with its people.
Staying a little outside the characters, allowing them to retain some private motives, is exactly what (500) Days of Summer doesn't attempt. Bahrani's discretion extends to the very last scene. The title becomes a line that someone should speak but doesn't. Up till now, the quietly precise images have been shot by a camera locked down, but atop a mountain the camera leaves its tripod and supplies some mildly shaky imagery. And now it fits. It's not just that the drama has reached an emotional pitch. The camera is simply buffeted by the wind. Once more Bahrani lets his world do its work.
---
You can read about our summer film-related travel 
here
and 
here
and 
here
and 
here
and 
here
.
Overwhelmed by all the material on Pixar and Up, I merely point to two encyclopedic experts: the ever independent-minded Mike Barrier and the always-informative Bill Desowitz, who offers information on Pixar's approach to 3-D here. For Ponyo background and an interview with Miyazaki, turn again to Bill D, here; he provides a transcript of a conversation between Miyazaki and John Lasseter here. A fat book of Miyazaki interviews and essays has just been published, and it includes some incendiary stuff, such as "Everything that Mr. Tezuka [Osamu, the 'god of animation'] talked about or emphasized was wrong" (197).
The parentheses in (500) Days of Summer are explained by screenwriter Scott Neustadter at Jeff Goldsmith's Creative Writing podcast.
Roger Ebert has reviewed nearly all these films and as always he has sensitive things to say, particularly on Goodbye Solo. He's been championing Bahrani's films for many years and he offers a warm career appreciation here.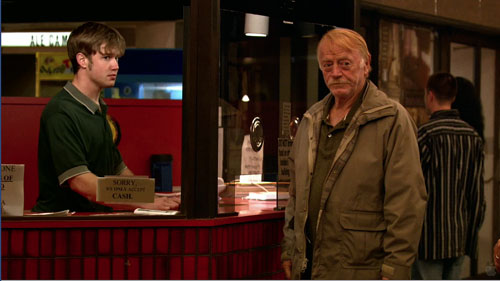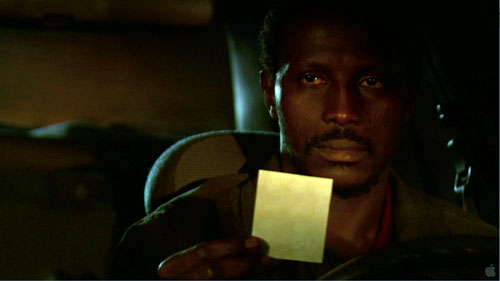 Goodbye Solo.