Friday | May 6, 2022
open printable version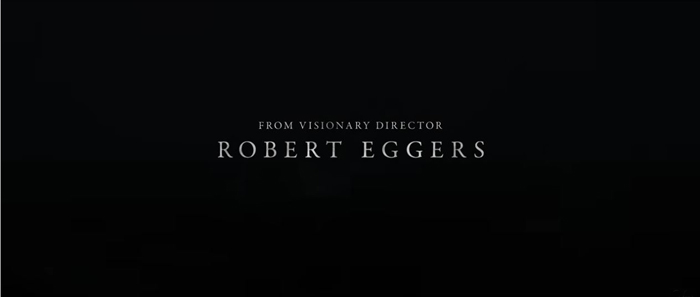 Trailer, The Northman (2022).
Kristin here:
Ever since last August I have been venturing into our local multiplexes to see movies. Fully vaccinated, twice boosterized, wearing a mask, and attending weekday matinees in the company of maybe four to ten other people, I have felt safe. It's great to see movies on the big screen again, and I've seen nearly twenty, starting with Annette in August and not counting the five I saw at the Wisconsin Film Festival.
The latest was The Northman, on April 25, a Monday. I had seen the trailer for it three or four times before I realized that it was by Robert Eggers, director of The Witch, which I liked well enough, and of The Lighthouse, which I admire very much.
Before the film there was the usual flood of trailers, including ones for Nope, Men, and The Black Telephone. It struck me as I watched them that despite the fact that I am not particularly fond of the horror genre, there I was, waiting to see a horror film–at least I'm classifying it as such under the rather casual criteria I'm using here. And if you doubt it's a horror film, I present you with a frame of the character identified in the credits as the He Witch, holding the mummified head of Heimar the Fool. (The story is based on an ancient Scandinavian myth, the same one whence Hamlet was derived. This may be the equivalent of the Yorick scene.)
Not only was I there to see a horror film, but I was looking forward to seeing two of the three such films previewed: Jordan Peele's Nope and Alex Garland's Men. (Apparently these succinct titles are designed to avoid even the faintest whiff of a spoiler.) Later, musing on that confluence of horror films coming out this spring, it occurred to me that all three of these directors had concentrated exclusively on the genre in the features they have made so far–three apiece, coincidentally. And while all three had had some degree of critical, popular, and/or financial success, none of the directors has so far moved into the world of franchise blockbusters. It's so common these days for indie directors to be swept from the world of low-budget art-house filmmaking to to heady heights of franchise series that I suspect one or more of the three have received nibbles from the studios.
One or more may eventually succumb to the blandishments that have attracted such indie directors as Taika Waititi, Guillermo del Toro, and Chloe Zhao into the world of Hollywood blockbusters. For now, though, it's remarkable to find three directors with such similar careers in many ways who have stuck to the modest genre that brought them success when they probably had other options. It's so common these days for an aspiring filmmaker to break into the industry with a low-budget horror film that becomes a hit and then immediately to be helming an epic with a budget distinctly into nine figures. (For a list of superhero-film directors who started in horror, see here; for a more general one of indie directors who jumped to blockbusters, here.)
There's a fourth director who belongs with this group. I haven't yet seen a trailer for Ari Aster's Disappointment Blvd., which is being kept under wraps but is due out this year. It is described as a comic horror film. Gamerant has the fullest information on it that I've found. Excerpts:
Following the tradition of his previous movies, Aster will serve as both writer and director of Disappointment Blvd. While the movie is shrouded in mystery and doesn't have a trailer yet, it will be a decades-spanning horror-comedy about a famously successful entrepreneur. And if Hereditary and Midsommar are anything to go by, it will be a genre-bending horror-comedy at that. In conversation with UC Santa Barbara students, Aster described Disappointment Blvd. as a 4-hour long "nightmare comedy," though whether he was joking about its length remains to be seen.
A24 will distribute Disappointment Blvd. as well as co-produce it with Square Pegs: Ari Aster and producer Lars Knudsen's production company. Disappointment Blvd. began production in June last year and is set for release later this year, though no official date has been given yet.
There is speculation that the movie will have its world premiere at the Cannes Film Festival due to take place from 17 to 28 May 2022. Fortunately, the festival announces its lineup on the 14th, so fans won't have to wait long to find out.
Eggers, Peele, Garland, and Aster all unquestionably belong to a trend that has recently been given a name–in fact, two: "elevated horror" and "prestige horror." Elevated horror as a concept began to gain currency after the release of Eggers' first feature, The Witch, in 2015. I suspect that Garland's Ex Machina, which came out in 2014, had something to do with that. Many would count it as science-fiction, but under my loose criteria here, it counts as horror–especially since Garland's two subsequent films undeniably fall into the horror genre. Elevated horror, according to The Hollywood Reporter, is a treatment of films as quasi-art cinema, as well as a focus more on psychological dramas than gore.
I don't care for the term "elevated horror," since it could imply simply a ratcheting up of the level of horror included in the film. This is far from what these directors are doing, although The Northman has little interest in psychology and contains plenty of graphic dismemberment.
In recent years there has come to be a vituperative reaction against "elevated horror" among fans, who claim it implies that the rest of the genre is trivial, trash, whatever. I have no interest in the resulting debate, but google "elevated horror," and you'll find it.
The same basic debate simmers concerning the term "prestige horror," with fans claiming that treating prestige as something new to horror films dismisses the many classics of the genre that have gained critical respect, awards, and status as classics. Yet The Exorcist, Rosemary's Baby, Jaws, Children of Men, Bram Stoker's Dracula, and others have been and remain well-respected. They have, in fact, prestige, as do the films of this younger group of filmmakers who have stuck to the horror genre. But the classics just listed were directed by people who worked in a variety of genres and did not stick to horror.  I'll use "prestige horror" here, since it seems to me to accurately describe what distinguishes the work of these four directors and other films (e.g., A Quiet Place, Saint Maud) from more conventional mainstream horror films. The term basically, I think, is a suggestion of something more respectable emerging from an era in which "torture porn" seemed to dominate the genre.
This entry doesn't aim to present an overview of prestige horror. I have simply been intrigued to see what these four filmmakers, who have made a body of work which could be considered the core of the current prestige-horror trend, have in common and how those commonalities have helped create this new perception of a trend within the larger genre.
My interest arises from the fact that within a short period these directors have each made multiple reasonably successful feature-length horror films that have attracted favorable attention from critics, film festivals, fans, and institutions dishing out awards.
The Films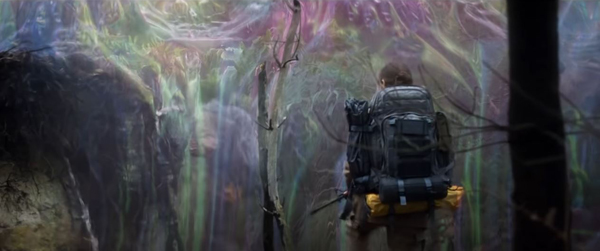 Annilhilation
Here is a chronology of the four directors' films, with information relevant to explaining their prestige status.
2014
EX MACHINA (Alex Garland)  Dist. A24
Budget: $15,000,000
Worldwide Gross: $36,869,414
Rotten Tomatoes: 92% critics 86% audience (6 points difference)
2015
THE WITCH  (Roger Eggers) Dist. A24
Budget: $4,000,000
Worldwide gross: $40,423,945
Rotten Tomatoes: 90% critics 59% audience (31 points difference)
2016
None
2017
GET OUT   (Jordan Peele) Prod. Blumhouse and Dist. Universal
Budget $4,500,000
Worldwide gross  $255,407,969
Rotten Tomatoes: 98% critics  86% audience (12 points difference)
2018
ANNIHILATION (Alex Garland) Prod. Skydance Media and Dist. Paramount
Budget: $40,000,000
Worldwide gross: $43,070,915
Rotten Tomatoes: 88% critics  66% audience (22 points difference)
HEREDITARY (Ari Aster) Prod. and Dist. A24
Budget:  $10,000,000
Worldwide gross  $80,200,936
Rotten Tomatoes: 89% critics  68% audience (21 points difference)
2019
THE LIGHTHOUSE (Robert Eggers) Prod. and Dist. A24
Budget: est. $11,000,000
Worldwide BO $18,177,614
Rotten Tomatoes:  90% critics 72% audience (18 points difference)
MIDSOMMAR (Ari Aster) Prod. and Dist. A24
Budget: $9,000,000
Worldwide gross: $47,967,636
Rotten Tomatoes: 83% critics  63% audience  (20 points difference)
US (Jordan Peele) Prod. Monkeypaw Productions and Dist. Universal
Budget  $20,000,000
Worldwide gross  $255,184,580
Rotten Tomatoes: 93% on RT, 60% audience (33 points difference)
2020
None
[DEVS, Alex Garland, 8-episode mini-series for Hulu]
2021
None
2022
THE NORTHMAN (Robert Eggers) Prod. by Regency and Dist. By Focus (specialty wing of Universal)

Budget: est. $70-90,000,000
Worldwide gross to May 4: $43,934,635
Rotten Tomatoes: 89% critics  66% audiences  (23 points difference)
MEN (Alex Garland) Prod. and Dist. A24
Budget: Unknown. Collider refers to it as "a low-budget horror film."
NOPE (Jordan Peele) Prod. Monkeypaw Productions and Dist. Universal
Budget: Unknown [July 23, 2022. Variety now reports the budget as $68 million.]
DISAPPOINTMENT BLVD. (Ali Aster) Prod. and Dist. A24
Budget: Unknown
Clearly the pandemic has delayed the completion and release of horror films, as it has with other genres, resulting in a rush of releases by all four directors in the same year. There might have been films by all four directors in 2019, but Garland was presumably busy producing, writing. and directing all eight episodes of the FX series Devs, which premiered on March 5, 2020. The series could be described as being a combination of the sci-fi and horror genres, rather like Ex Machina.
The prestige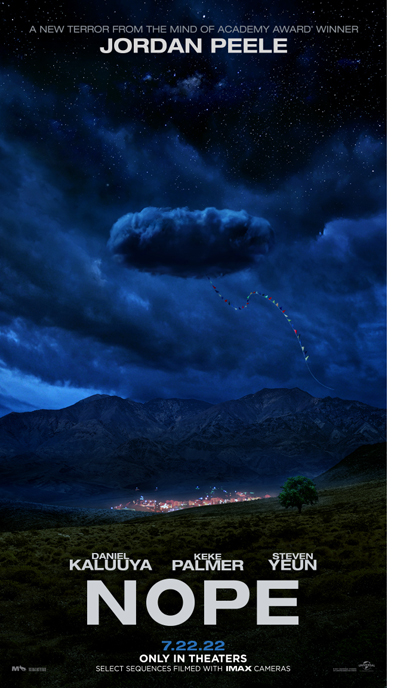 Reviews, professional and amateur
These days, one indicator of public prestige, albeit a crude one, is the critical aggregator site, Rotten Tomatoes. It is striking that every film in this group has been rated more highly by professional critics than by audience members. Other films mentioned in discussions of prestige horror also see a similar split, as with Saint Maud (2019, Rose Glass, distributed by A24), which had a 93% critical rating versus 64% audience approval. On the other hand, Saw (2004, James Wan, distributed by Lions Gate), which is definitely not in the prestige category, had a 51% critics rating and 84% audience approval.
Festivals and Awards
It is perhaps going a bit far to call these art-house horror, since they usually play multiplexes. Still, some premiere at prestigious festivals dedicated mostly to indie films that do play art houses. These include Sundance for The Witch, Get Out, and Hereditary. Ex Machina and Us were first shown at SXSW, the latter as the opening night film–a position held by A Quiet Place the year before. The Lighthouse premiered out of competition at Cannes, and Men will do so later this month (and possibly Disappointment Blvd., see above). Announcing the latter, Deadline commented, "The non-competitive independent sidebar to the main Cannes festival has grown in reputation in recent years, having premiered pics such as Robert Eggers' The Lighthouse, Sean Baker's The Florida Project and The Rider by Oscar winner Chloé Zhao."
For Nope, Peele took a more mainstream approach, revealing an extended trailer at Cinemacon on April 27, 2022.
Obviously awards signal prestige. To name some of the most notable, Eggers won for best director of a dramatic film for The Witch at Sundance. The Lighthouse won the critics' FIPRESCI prize at Cannes, was nominated for an Oscar for best cinematography, and won the cinematography prize from the American Society of Cinematographers. Peele's Get Out was nominated for four Oscars, winning best original screenplay. Peele made Time's list of the 100 most influential people in the world and the top-ten lists of the National Board of Review, the AFI, Time, and others. (He was also nominated as a producer of BlacKkKlansman.) Ex Machina surprised just about everyone by winning the Visual Effects Oscar in competition with Mad Max: Fury Road, The Martian, Star Wars: The Force Awakens, and The Revenant. The Hollywood Reporter considered its win "arguably the night's biggest upset."
These are some of the highly prestigious prizes. Festivals and prizes have proliferated in recent years. Local critics' associations and proliferating specialist sci-fi/horror/fantasy festivals give out hundreds of awards, most of which never come to the general public's attention. They do, however, stimulate interest among the core audience for horror films. (Extensive lists of such festival's nominees and winners are provided on IMDB.)
Production and Distribution
The first three films on the above list made impressive profits on small budgets–especially Get Out. Ex Machina and The Witch were financed by cobbling together money from small, obscure companies and then picked up for distribution by A24. Both films came out one and two years respectively after A24 had released its first film in 2013, so relatively early in the company's existence. They were among the many that have made A24 the most successful, admired producer and distributor of independent and foreign films. Ex Machina provided A24 with its first Oscar win.
The third, Get Out, made a spectacular amount of money on its modest budget.
These successes may have encourage Paramount to pick up the fourth, Annihilation, in the expectation of a similar success. Despite being one of the best films of the group (in my opinion), it was not popular and is the biggest money-loser of the group (though the final grosses for The Northman are yet to come).
The sub-genre bounced back with Heredity, which was (and may still be) A24's biggest money-maker. The company then bankrolled Aster's follow-up, Midsommar, which was profitable, if less so than Heredity. A24 also produced both films, so it  was able to keep the entire take. These successes were perhaps some consolation for The Lighthouse's probable failure to break even. (A24 also produced it.) Eggers departed A24 for Regency, with an estimated $70-90,000,000 budget for The Northman–far and away the largest of any of the films released so far. Its worldwide gross as of May 4, two weeks after its release, is a bit under $44 million, making a profitable result unlikely.
The importance of A24 to the prestige horror film should be obvious. It has distributed six of the eleven films and produced three of those six.
A24 was formed in 2012. Today, the company's astonishing list of films includes many indies of all types, including Moonlight, Minari, First Cow, The Florida Project, The Tragedy of Macbeth, and most recently Everything Everywhere All at Once.
A24 seems committed to Alex Garland, having announced that they will produce and release his next film beyond Men, entitled Civil War. That doesn't sound like a horror film, but who knows?
A24 has clearly been crucial to the careers of Garland, Eggers, and Aster, but Peele has followed a different path to success. In 2002 he began as a stand-up comic and soon was appearing in occasional episodes of such shows as The Mindy Project and Fargo. He gained fame in the comedy series Keye & Peele, which ran from 2012 to 2015. He also produced it, forming his own production company, Monkeypaw Productions in 2012. Coincidentally this was the same year that A24 was formed, perhaps helping explain why the careers of these directors have progressed in parallel.  He has continued to produce  shows like Twilight Zone and Lovecraft Country. He turned to filmmaking in 2017 with Get Out, which was produced by Blumhouse, known for its low-budget, ordinarily less prestigious horror films. Universal distributed what became the most profitable film of the entire group, compared to its original budget, and soon formed a closer relationship with Peele.
In an interview with Indiewire, Peele described being cautious about asking for a larger budget for his next film, Us.
When he sat down with Universal, the studio that distributed "Get Out," to pitch his sophomore feature, "the cards were kind of in my hands," Peele said. "It didn't feel like an audition. It was me telling them, 'This is what I want to do, this is where I want to do it, how's that sound?'" […]
"I had about five times the budget on this one, which by movie standards is still not that expensive of a film," he said. "That was the key for me. Otherwise, I may not have had my freedom. As a filmmaker, I also thrive with a certain restriction. I didn't want to overreach with the budget and all of a sudden have a studio being responsible on me." He laughed. "There's never been a point where they've expressed anything but wanting to make this." When Universal gave Peele the green light to make "Us," it also signed a first-look deal with his Monkeypaw Productions.
Universal financed and released the film, sending it to SXSW for its premiere. Remarkably, it and Get Out generated almost identical worldwide grosses. Indeed, they are far and away the top earners among this set of films. In 2019, the year Us came out, Universal signed Peele to a five-film contract, reportedly worth $300-400,000,000.
As a result of all this, Peele stands out from the rest of the group by being a very rich man. His worth in 2021 was widely estimated at $50,000,000.
This deal presumably included the recent remake of serial-killer film Candyman (2021), produced and written by Peele and directed by Nia DaCosta.
How much higher the budgets will be for these future films is impossible to predict. It is notable, however, that Nope was shot by Hoyte van Hoytema, cinematographer of Christopher Nolan's Interstellar, Dunkirk, Tenet, and upcoming Oppenheimer. It was made on film and had sequences done in 65mm. It will be shown in Imax theaters, an obvious step up from the previous two films.
Moreover, Peele is among top Hollywood directors collaborating on Imax's development of its next generation of cameras. Indiewire reports:
The new models are expected to be an improvement over IMAX's current offering of cameras that utilize their proprietary 65mm film. The new cameras will be quieter, with a series of new features added to enhance usability. In addition to the four new cameras, many existing IMAX cameras and lenses are expected to be updated and improved.
If that was not exciting enough, the company will be collaborating with some of Hollywood's top visual artists on the camera designs. Major directors including Christopher Nolan and Jordan Peele will weigh in on the new film cameras, as will top cinematographers including Hoyte van Hoytema ("Tenet"), Linus Sandgren ("No Time To Die"), Rachel Morrison ("Black Panther"), Bradford Young ("Arrival"), and Dan Mindel ("Star Trek"). Combined, those filmmakers account for many of the most acclaimed large-scale movies shot on film in recent years, in addition to even more that were shot digitally.
If Nope is a success, as Forbes is predicting it will be, will Peele branch out into other genres or continue to make prestige horror films on a bigger budget? His enthusiasm about Imax technology may hint at an inclination to break out of his current pattern for other effects-heavy genres. Still, perhaps a clue comes from the name he gave his production company, Monkeypaw Productions, invoking the classic Le Fanu horror story.
The distributors, and in the case of A24 producers, of these films have turned these directors into brand names elevated above most directors of horror films. The trailer for The Northman touted Eggers as "visionary" (top) while Paramount combined the signs of prestige in its poster: "new terror," emphasizing Peele's consistency as a director of horror; his "mind," suggesting his genius for this sort of filmmaking; and naturally his record as an Oscar winner (above left).
Midsommar madness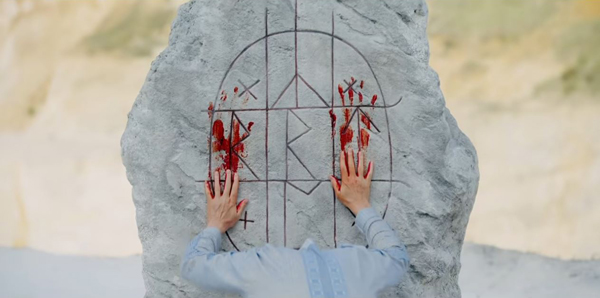 Midsommar has emerged as one of the most admired films of the cycle, despite having had the lowest Rotten Tomatoes critics score and third lowest audience score. Its move toward prestige began quickly when less than two months after the film's July, 2019 release, Aster appeared at the Scary Movies Festival at Film at Lincoln Center, introducing the Director's Cut of the film. The length was increased from 148 to 171 minutes.
Martin Scorsese unexpectedly helped to raise Aster's profile. Readers will remember his infamous remarks about MCU films not being cinema and his subsequent explanation of what he meant in The New York Times. There he listed some directors whose films exemplify genuine cinema:
Another way of putting it would be that they are everything that the films of Paul Thomas Anderson or Claire Denis or Spike Lee or Ari Aster or Kathryn Bigelow or Wes Anderson are not. When I watch a movie by any of those filmmakers, I know I'm going to see something absolutely new and be taken to unexpected and maybe even unnameable areas of experience. My sense of what is possible in telling stories with moving images and sounds is going to be expanded.
That's pretty heady company for a director of horror films who has made two features, but there was more to come.
Scorsese followed up by writing an introduction to a book accompanying A24's release of the Director's Cut on Standard Blu-ray and 4K Ultra HD, available only directly from the company and packaged in jewel boxes charming enough that they could grace a Wes Anderson film. It shipped on July 20, 2020, about a year after the film's release.
In early 2020, there was a considerable expectation among critics and fans that that the film would be nominated for Oscars. When that failed to happen, journalists' lists of snubbed films often mentioned it indignantly. The Washington Post ran a story entitled, "The Oscars should get over their fear of horror films," mentioning Midsommar, Us, and Heredity and especially Florence Pugh's and Toni Colette's performances. Indiewire listed Midsommar alongside The Farewell, Her Smell, Portrait of a Lady on Fire, Booksmart, and Uncut Gems as films unfairly receiving no nominations.
Remarkably, a protest of sorts against Midsommar's lack of nominations was mounted during the opening musical number of the 2020 Oscars show, on February 9. Janelle Monáe headlined and staged it, including a group of backup dancers, some of whom were dressed as various characters from some of the year's best-picture nominees: Joker, Jojo Rabbit, and Little Women.  Prominent among them, however, are four women in white Midsommar costumes, and to make the point completely clear, Monáe herself donned a copy of the protagonist's floral May Queen dress for the last part of the number (see bottom). Pugh was in fact nominated for Best Supporting Actress that year, but it was for Little Women. She didn't win, but she managed to get an implicit shout-out in the opener.
The extensive press coverage of the number suggested that the content was Monáe's idea, but the Academy of Motion Picture Arts and Sciences must have approved and cooperated to some extent, given that it presumably provided the costumes and would have been aware during rehearsals that the film references in the song and dance gave the snubbed films equal or even greater attention than the nominated ones. The number inspired considerable coverage in the press, and many upset Midsommar fans posted tweets that suggested they were somewhat placated by the number.
The Academy made further amends two months later, when on May 9 the Academy Museum announced that it had put in the winning bid ($65,000) for the original May Queen dress from the film, which was sold in one of A24's series of real movie props-and-costumes auctions for Covid-related charities (FDNYFoundation being the Fire Department of New York).
The dress was put on display in the Museum in time for the September 30, 2021 opening.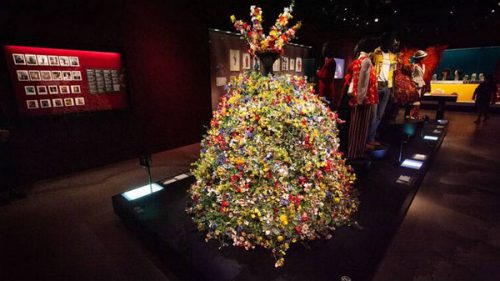 Based on a preview tour for journalists, on September 22 Timeout declared the dress one of the eleven coolest things to see at the Museum, a list which also included Judy Garland's ruby slippers and the shark from Jaws. The first "prestige horror" film to be represented in the Academy Museum (I presume) had brought the genre a new level of respect.  Maybe next year Alexander Skarsgård or Steven Yuen or Jessie Buckley or Rory Kinnear might actually receive actor nominations, not to mention some best-picture nods for the new films.
One final observation. The prestige phenomenon has been happening for some time now with foreign films seeking release in North American market. Making inexpensive horror films occasionally works as a way for unknown directors to break into an otherwise difficult market for unknown directors. Examples would include the Swedish film Let the Right One In (2008, Tomas Alfredson), the Icelandic Lamb (2021, the first feature of Valdimar Jóhannsson), which premiered at Cannes and was nominated for best international film this year, and currently the Finnish Hatching (2022, the first feature of Hanna Bergholm). Interestingly, the pattern of critics rating the films higher than audiences as measured by Rotten Tomatoes holds true for such films as well, with the three titles scoring respectively: 98%/90%, 86%/61%, and 92%/59%. Their distributors were, respectively: Magnolia Pictures (under its genre label, Magnet Releasing), A24, and IFC Midnight (ICF Films's genre label).
---
A few notes.
[Oct 31, 2022: for more on prestige horror and A24 see my analysis of Men and discussion of A24 as an "auteur studios."
Scott Derrickson is an interesting case where a director has specialized in mainstream horror films before moving on to a MCU franchise blockbuster, Doctor Strange (2016). He was at work on the sequel when a disagreement of some sort with Marvel led to his departure. He has returned to horror with the upcoming serial-killer film The Black Phone (distributed by Blumhouse) which I mentioned seeing the trailer for. His announced projects appear to be mainstream horror and fantasy.
The prestigious horror films of the past that I mentioned all received Oscar nominations, with some wins (in bold), mainly in below-the-line categories. The Exorcist: adapted screenplay, sound, picture, actress, supporting actor, supporting actress, director cinematography, art direction, editing; Rosemary's Baby: adapted screenplay, supporting actress; Jaws: sound, editing, musical score, picture; Children of Men: adapted screenplay, cinematography, editing; and Bram Stoker's Dracula: costume, sound effects editing, makeup, set design.
Directors of modest horror films do sometimes return to the fold after making a blockbuster. After a string of horror films, Scott Derrickson directed Doctor Strange (2016) but now returns with The Black Phone. From the trailer referenced above, this looks like a conventional serial-killer film, apart from having Ethan Hawke as its villain. Guillermo del Toro returned to his more comfortable indie roots after Pacific Rim, and Taika Waititi apparently is keeping his word about alternating big projects (Thor: Ragnarok and an upcoming Thor film) and personal ones (Jojo Rabbit); among his many announced films are several franchise films, but also Tower of Terror, apparently a horror film.
[May 17, 2022] Alex Garland seems to be abandoning the horror genre, at least for his next film. As its title, Civil War, suggests, its an action film about that conflict. As he says in a recent interview, he's even contemplating giving up directing and sticking to screenwriting.
[May 22, 2022] Collider's Chase Hutchinson has posted a list ranking A24's twenty-one horror films from worst to best. (I don't know when it was originally posted, but it was updated yesterday, presumably to include Garland's Men.) As I said, I'm not a big horror fan, so I had never heard of most of these, so I'm obviously not one to quibble with the ranking–apart from the fact that I would put The Lighthouse higher than Midsommar and The Witch. I haven't seen Jonathan Glazer's Under the Skin, which tops the list, so I have no idea whether it really deserves to be number one.]