Wednesday | April 20, 2022
open printable version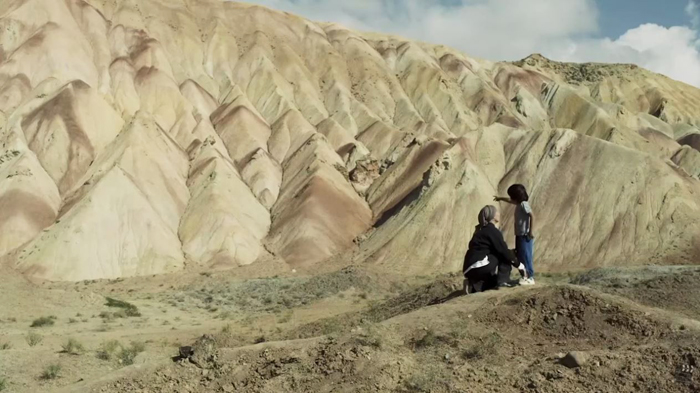 Hit the Road (2021).
KT here:
The Wisconsin Film Festival ended last week. This was the first in-person festival after one cancelled (2020) and one presented through streaming (2021). Given David's health situation, I was not able to attend many films, but here are some of the highlights that I caught.
Wisconsinite David Koepp visited the festival, bringing two films he scripted, Kimi (Steven Soderbergh, 2022) and Death Becomes Her (Robert Zemeckis, 1992), as well as one that inspired the former, Sorry,  Wrong Number (Anatole Litvak, 1948). David and I had already seen Kimi on streaming, but I jumped at the chance to see it on the big screen. The sell-out crowd was utterly enthralled throughout, and David K. charmed them during an all-too-short Q&A session. I won't say anything more about it, since David B. has blogged about it. I did enjoy two Middle Eastern films and the new Claire Denis. (Not the one about to be in competition at Cannes. The woman is certainly cranking them out.
Amira (2021)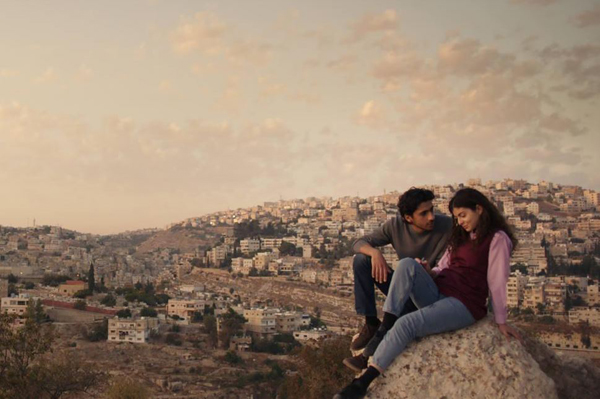 In 2017, the Wisconsin Film Festival showed Mohamed Diab's extraordinary Clash (2016), an epic restaging of the 2013 riots that brought down the Muslim Brotherhood government, all observed by a group of prisoners in a police paddy-wagon. I was excited to see that this year's festival included Diab's next film, Amira.
The new film is quite different from Clash. While that showed a cross-section of Cairo participants in the riots or simply bystanders swept up by the police, Amira centers on a personal drama of an extended family living in an unidentified occupied Palestinian area of Israel. (The film was shot in Jordan, so local landmarks would be no help in figuring out exactly where the family lives.) Amira's parents have never consummated their marriage, since the husband, Nawar, is imprisoned for life, and his wife Warda became pregnant through semen smuggled out of the prison. Amira is officially the daughter of Nawar's brother, but she is fiercely devoted to Nawar, going through elaborate security procedures to visit him in prison.
The plot gets going when it is revealed that Nawar has a genetic abnormality that rendered him sterile from birth. The close-knit family descends into vicious arguments and accusations, with Warda being suspected of infidelity, the men on both sides of the family indignantly refusing to take DNA tests, and Amira concocting wild schemes to protect both her parents and ultimately take revenge on the person deemed guilty of bringing disgrace on the family.
Despite the impressive shot of Amira and her boyfriend against the city (above, a cropped image from the widescreen film), the film opts for crowded interiors most of the time–though not as limited as the paddy-wagon of Clash. Small apartments, narrow alleyways, and above all the visits to the prison create a claustrophobic atmosphere where nature and the bustle of society in the city are largely eliminated.
The prison scenes involve extended shot/reverse-shot conversations between Nawar and his family members through a glass barrier.
Shot with telephoto lenses, the scenes use shallow focus to concentrate our attention on the central characters. At the same time, though, reflections and planes of action out of focus create a sense of cramped space and similar conversations going on in a cramped room. Here Nawar suggests that he and Warda have a second child, since an opportunity to smuggle out some of his semen again. Amira's delight at the idea and Warda's doubtful expression set up the disastrous revelation to come: that Nawar cannot in fact be Amira's father.
Checking Diab's filmography on IMDb, I was surprised to learn that he is the main director on the current Marvel streaming series, Moon Knight. I had been completely ignoring this show, since I have little to no interest in the MCU. I did notice some comments by Egyptological friends on Facebook that the hieroglyphic texts were authentic (an important chapter from the so-called Book of the Dead), as attested by actual Egyptologists. One reviewer commented, "Hollywood has had a problem with how Egypt is represented in both film and TV. 'Moon Knight' has done a superb job with episode three, showing Egypt as an actual modern civilization as opposed to a barren wasteland of only sand with a yellow tinted filter over it." He does not seem to have noticed that this might be due to the fact that an actual Egyptian director was chosen.
I suppose this is not terribly surprising, since for years there has been a trend toward Hollywood producers suddenly elevating talented foreign and indie directors into the ranks of makers of big franchise films. Taika Waititi went from What We Do in the Shadows and Boy to Thor: Ragnarok and Chloe Zhao from Nomadland to Eternals. (I list a considerable number of similar leaps from the festival scene to the world of blockbusters in my entry on Waititi's rise to international fame.) Still, Diab seems a strange choice. Maybe Clash was sufficient demonstration that he could do epic scenes of violence. I suppose I shall have to give Moon Knight a look.
Hit the Road (2021)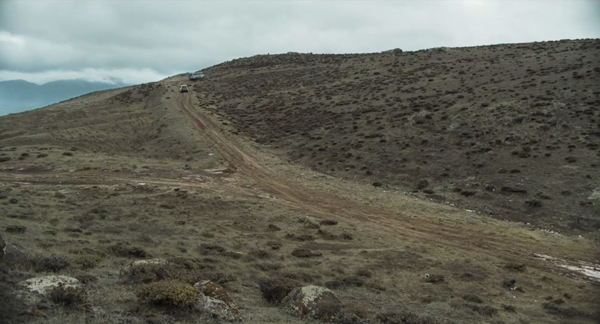 For years now we've been blogging about Panahi films (click on Directors: Panahi in the Categories at the right). Now we have another, but it's not by Jafar. Panah Panahi is his son, and this is his feature debut. Panah began by making shorts, worked as a set photographer, and later as an editor, most notably on his father's latest feature, Three Faces.
Hit the Road (the Farsi title is more literally translated as "Dirt Road") reminded me more of the films of Abbas Kiarostami than of the elder Panahi. Jafar worked as an assistant director on Kiarostami's Through the Olive Trees (1994). Panah was only ten years old at that point, having been born in 1984, the year of Kiarostami's early feature documentary, First Graders. The New Iranian Cinema came to world prominence later in the 1980s and into the 1990s. Jafar moved into directing features in 1995 with The White Balloon.
Growing up, Panah must have become familiar with the now-classic films of Kiarostami and Mohsen Makhmalbaf, as well as those of his father in the years before the latter's arrest in 2010.
Hit the Road is reminiscent of the "child quest" films of the early years of the movement. In this case, though, the child in question is not the center of the plot, even though the rambunctious kid steals every scene he's in. He's accompanying his parents and older son on a road trip that occupies the entire length of the film. The older son is as quiet as his brother is noisy, but it gradually comes out that he is heading for a spot where he will join others being smuggled out of the country in search of better lives. The parents keep this a secret from the little boy, fearing that he will blurt out something that will draw attention to their goal.
The film is a skillful blend of suspense on that account, of a poignant if quarrelsome love among the family, and a good deal of comedy supplied by the little boy. Amid all the raucous exchanges there are quiet moments, as when during a rest stop the unnamed mother nags her older son about smoking too much while sharing a cigarette with him and asking what his favorite movie is. By this point we suspect that she fears that she will never see him again once they reach the border. (Richard Brody's insightful review captures this mixture of tones.)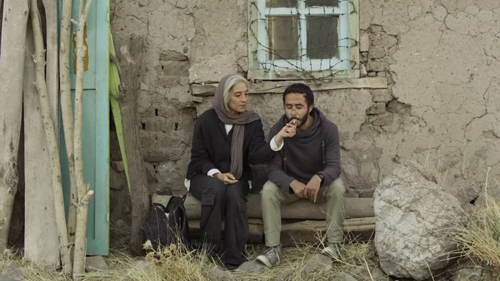 Unlike Amira, Hit the Road is shot entirely out of doors, and often in beautiful, bleak Iranian landscapes (top of entry and below).
At times the family's SUV climbs hills in shots that recall those of Kiarostami's films,especially And Life Goes On and The Taste of Cherries, as in the frame at the top of this section. (The literal translation of the Farsi title, Jaddah Khaki, is "Dirt Road.")
The film has been critically acclaimed and successful on the festival circuit, winner Best Film at the London and Mar del Plata festivals. It seems likely that we will now have two Panahis to report on from future festivals.
Avec amour et acharnement (aka Fire, 2022)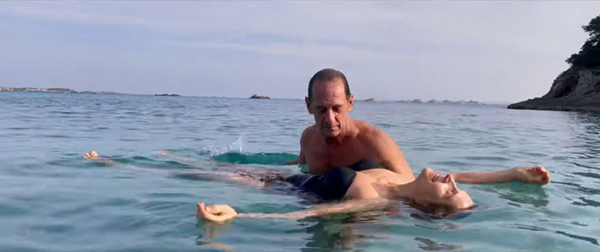 I found Denis's latest a frustrating and puzzling film for almost its entire length. It reminded me of a similar experience I had with Pablo Larraín's Ema at the 2019 Venice International Film Festival. I described my initial reaction to that film at the time: "While watching it, I could not discern much of a plot or even a coherent character study."
Denis's film, shown outside France under the rather baffling title Fire, starts out innocently enough with a scene of lovers, played by Juliette Binoche and Vincent Lindon, enjoying a blissful, solitary, wordless swim in the ocean. This sets up the "amour" part of the original title. Surprisingly enough, this idyllic sequence, the most visually attractive of the film (above and at the bottom of the entry) was shot during the pandemic on a phone with just the two actors, the director, and the cinematographer present.
Sara and Jean are long-time lovers, and their happiness together continues as they return to their Parisian flat. Soon, however, Sara's previous lover, François, re-enters their life. He has asked Jean, who has in the past been in prison for some unspecified crime, probably financial, to join him in a athletic scouting agency. Coincidentally, Sara has spotted François in the street, an encounter that seemingly stirs up her old passion for him. She mentions the encounter to Jean, but treats it as a minor thing, expressing pleasure that Jean has been given an opportunity to go into business with his old friend.
From that point the film becomes largely a series of increasingly fraught arguments, as Sara seems to pledge her devotion to both men while resenting the jealousy that they both increasingly feel. All three are revealed to be unpleasant characters acting unwisely, and I, at least, wondered what the point of it all was. The plot seemed to be the classic love triangle, with the question being which man Sara should end up with and whether she will make the right decision–and the issue seeming not to make a great deal of difference for the viewer.
I don't want to say any more about the plot, since the point of it is to figure out at the very end what Denis had been up to all along. I realized that she was undercutting our expecations about the very clichés that she had presented to us. Apparently I was right. In an interview with Denis, Joseph Cronk mentions that "In an interview in the press notes for the film, you mentioned that the film's simplicity was 'a way of foiling clichés.'" Indeed. I'm not sure that many people in the audience with whom I saw the film got the point. I heard some grumbling among the spectators as we left the theater.
It is rather odd to make a film where the audience can "enjoy" it only in retrospect.
I should add that the title Fire does not help a bit.I don't know who came up with it, but it's misleading. As Denis has pointed out in interviews, there is no equivalent word to acharnement in English. In the interview mentioned above, Cronk suggests that "With Love and Fury" might be a better title. Denis responds:
No, archarnement doesn't mean fury. There's no direct translation, but it means something–from our body, something from your flesh. A sort of tension in the flesh. Fury is something different than acharnement. When I tried translating Avec amour et acharnement, I found no English word I liked that could convey what acharnement means. But Stuart [Staples, the composer] had written the song "Both Sides of the Blade," and I thought this would be the perfect English title."
Actually I don't think "Both Sides of the Blade" would give the spectator much of a clue as to what's going on in the film. Keeping in mind Denis's explanation of the French title, however, would.
---
The quotations from Joseph Cronk's interview appear in the latest issue of cinema scope, #90 (July 31, 2022), "Not on the Lips: Claire Denis on Avec amour et acharnement."
Thanks as always to Jim Healy, Ben Reiser, Mike King, and all the staff and volunteers of the Wisconsin Film Festival.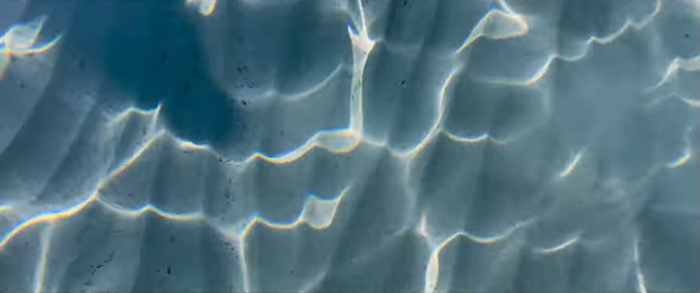 Avec amour et acharnement (aka Fire).