Sunday | February 20, 2022
open printable version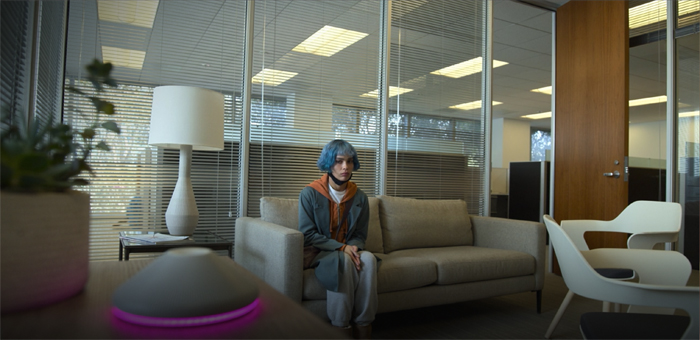 Kimi (2022).
DB here:
Just when I worried that the solitary-woman-in-peril cycle had ended, along comes Steven Soderbergh's Kimi on HBO Plus. Following on the fine No Sudden Move from last year, his latest effort shows how an imaginative script (from Friend of the Blog David Koepp), elegant direction, an unpredictable score, and an engagingly eccentric central performance (from Zoë Kravitz) can revivify some classic conventions.
Some critics think that when parodies show up, the genre is on the downturn. The streaming release of The Woman in the House Across the Street from the Girl in the Window (2022) might suggest that the cycle based on The Girl on the Train (2016) and The Woman in the Window (2021) had run its course. But actually, parodies can show up at any point in the life cycle of a genre. The Great K & A Train Robbery (1925) didn't kill off the western, and Spaceballs (1987) didn't wipe out space opera. So it's good to know that the  presence of Woman in the House Across the Street etc. doesn't make a straightforward but sophisticated entry like Kimi any the less sparkling.
It depends on what I've called the Eyewitness Plot, and I've tried in Revisiting Hollywood to show how that emerged from the flurry of creative activity we find in 1940s studio cinema. Here the protagonist sees what may be a crime and asks the authorities to intervene. There's enough uncertainty about the incident itself, and about the reliability of the witness, to make the police doubt that there's been a crime. So the protagonist has to investigate–while becoming a target of violence in turn. Rear Window (1954) is the standard example, but it has many predecessors in fiction, film, and radio, notably The Window (1949). A variant relies not on sight but sound: the protagonist hears something of criminal consequence. That alternative is played out in Sorry, Wrong Number (1948) and, later, The Conversation (1974) and Blow-Out (1981).
Koepp and Soderbergh, both connoisseurs of classic Hollywood, understand the power of locking us into the perceptions of the witness while at the same time keeping us aware of the larger context of the action. Rear Window is exceptionally strict in limiting us to what Jeff sees and hears, but even then there is a telltale moment when we're given information that would seem to contradict his belief that his neighbor has murdered his wife. More common is a balanced narrration that ties us to what the protagonist knows but occasionally strays away to supply backstory and ancillary information–usually, just enough to foster suspense.
That's enough setup. Major spoilers follow! If you haven't seen Kimi yet, visit and return.
She looks and listens
Angela Childs lives in lockdown. Not just the pandemic but a traumatic sexual assault has made her afraid to leave her Seattle loft, and more basically resistant to emotional contact. She works from home for Amygdala, a company promoting an Alexa/Siri gadget called Kimi. Unlike the competitors, which rely on machine learning, Amygdala has an army of monitors that track actual user dialogues with Kimi in order to correct its errors. Angela is a monitor, and on one recording she hears, muffled by music and noise, what seems to be a murder. After cleaning up a dense recording and inducing a more experienced hacker to find the user's entire log of Kimi conversations, Angela discovers a crucial one that seems to lead up to the crime.
Here the official reluctance to believe the witness takes the form of an Amygdala executive's demand to listen to the recording. When Angela insists that the FBI be present for the playback, the corporation takes steps to silence her. The second large section of the film consists of a prolonged chase and, back in her loft, a final confrontation with the men who committed the crime.
The film's opening establishes, as a sort of intrinsic norm, the alternation between the wider view of the crime's circumstances and Angela's limited perspective. The first scene sets up Bradley Hasling awaiting Amygdala's IPO, but worried because he's paying off someone for suppressing information about an unnamed woman.
With our curiosity aroused, the plot can afford to introduce us to Angela and her routines in a more leisurely way. Without the Hasling scene, this stretch would be mostly character portrayal, but it gains keener interest as we must wonder how Angela's fate will intersect with his. Glimpses of Angela fussily making her bed, brushing her teeth, and exercising on her bike also serve to illustrate how she activates Kimi for music and for computer access.
Just as important are the passages of optical POV that show her at her window scanning her street. She looks across at a family in the building opposite, and then looks up and to her left, where she sees the bearded man we'll learn is called Kevin. He looks back at her.
She swivels her gaze to another window opposite and sees a closed curtain.
Later on the balcony she looks at the window and this time sees Terry, her casual lover, getting ready for work.
She texts him, and after an external, objective pan shot links the two buildings, she asks Terry if he wants to join her for a breakfast at the food truck down below.
However, she's afraid to leave the apartment, and her fractured activity is rendered in discordant POV angles. After a shot of her in the shower, we see Terry at the truck, from her usual station point. There's no lead-in shot of her looking; is she watching from offscreen after the shower, or has the narration worked behind her back, while reminding us of her usual position?
Finally, when she collapses on the floor, unable to leave, we get the same high angle on Terry at the truck, texting her and looking up.
Cut back to her still on the floor. The narration is now operating independent of her vision, but with traces of her viewpoint lingering.
The passage is capped by a shot of her at the window looking down, followed by an optical POV of the food truck, sans Terry.
Another shot of her seals the sequence, but when she pulls away from the window, we get an extra, new angle on her: from outside and above. It's a fair approximation of what Kevin's viewpoint on her might be. Yet there's no shot showing him watching.
The "unclaimed" POV shots that close this scene acknowledge that however much we're tied to the protagonist's perceptions, the narration won't limit us to them–that there is wiggle room to supply extra information, and to imply that our heroine is watched by others. This fluctuating access will become important in the crosscutting that provides the film's climax.
She flees and fights
The fusion of external viewpoints and subjective ones continues in different ways later. When Angela plays the recordings of the attack, Soderbergh gives us her mental imagery–first as blurred cutaways, then as superimpositions. She's imagining the assault. Later we'll learn she has been a rape victim herself.
We'll later discover that the faces of the murderers are those of the thugs who will pursue her. Yet she hasn't seen them yet, so she can't plausibly be visualizing them in the scene.
This is an innovation, I think. In the Forties and since, if these visualized images were to accompany the playback, the faces of the killers would have been indiscernible. Soderbergh is willing to violate plausibility in order to gain economy (introducing us to the thugs) and to continue his initial strategy of rendering subjective experience while also adding information for us.
A milder version of the tactic will be used in the climax, after Angela is captured and lying semi-unconscious in the van. We see her awake and apparently listening to the thugs' dialogue, while superimpositions suggest the passage of the van through the neighborhood.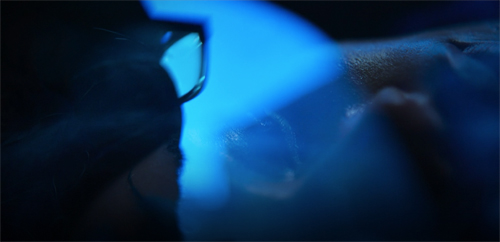 Incidentally, these are good examples of the persistence of "Impressionist" cinema techniques from the silent era. Soderbergh had made use of them in Unsane (2018), another film about a woman in peril.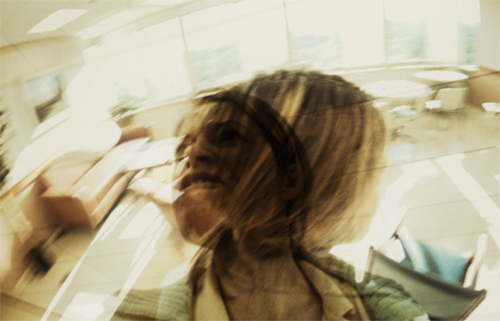 Apart from the prologue showing Hasling's phone call, the film's first stretch is confined to Angela's loft. It's a classic "bottle" situation, a premise that Koepp is fond of. (Cf. his script for Panic Room, 2002.) It's Angela's sympathy for the victim of the crime that propels her out of her bubble into the wider world. Here Zoë Kravitz's performance takes on a new dimension.
In her loft she's clipped and brusque, dominating everyone she talks to. Her vulnerability, though, is suggested by her obsessive hand sanitizing. Emphasized by her waving her hands to dry them, it becomes practically a nervous tic.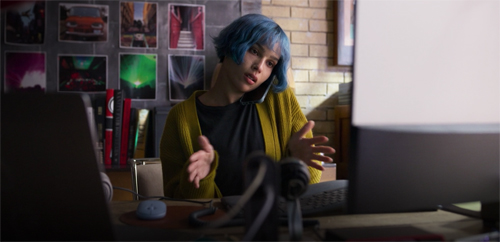 Once outside, she scoots along, arms jammed to her side, head buried in her hoodie, and body as stiff as Max Schreck's. She tries to be as locked-in outdoors as she is indoors.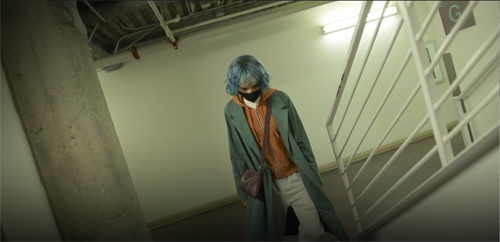 Soderberg compensates for her rigidity with camera technique that's liberated from the confines of her loft. As Manohla Dargis points out in her review, now the film becomes a procession of canted angles and hurtling camera moves, swooping around her and trying to keep up.
Once back in the loft, however, the framing gets poised again and we're subjected to a precise exercise in suspense. Close-ups and abrupt changes of angle provide exactly what we need to see at each instant.
And things planted quietly in the opening, particularly Angela's knowledge of building construction, become crucial to her survival. Kimi proves to be a lifesaving sidekick, proving Hitchcock's dictum concerning Jeff's use of flashbulbs to save himself in Rear Window: you should use everything you've put into your scene.
One nice felicity: You might expect that Terry would turn out to be the "helper male" of so many women-in-peril plots (e.g., the Joseph Cotten character in Gaslight, 1944). Prototypically, this character rescues the protagonist and provides romantic interest for the future. Koepp's screenplay shrewdly sets Terry up for this role when Angela looks outside during the gang's siege and sees Terry's apartment empty.
Later Terry is shown in a street-level, objective shot, walking to Angela's building. This violation of the intrinsic POV norm suggests an impending rescue. But that prospect is canceled when he stops as if remembering something and turns back.
He does arrive, but too late to help. Terry's expression as Angela calls 911 is a perfect capstone for the scene. The same wit flashes out of the epilogue, which suggests she's broken out of her shell, but she still prudently uses sanitizer.
The domestic suspense thriller focused on a female protagonist remains a popular genre of novels. I devoted a chapter to it in my forthcoming book Perplexing Plots: Popular Storytelling and the Poetics of Murder. There haven't been many film adaptations of them since The Woman in the Window, but maybe the neo-Gothic The Girl Before (2021) will unleash more. In the meantime, I'm glad that Koepp and Soderbergh have found ways to give the conventions brisk new life.
---
David Koepp remarks: "You're right about the lingering effect of 40s cinema, as you and I have discussed many times. I'd say Sorry, Wrong Number was the direct antecedent here. . . I mean, the party line in Sorry, Wrong Number is basically the Alexa of its time, no?" Interesting in this connection is that the lengthy survey of Angela's loft in the epilogue shows Kimi no longer there.
Another grace note: KT wondered if the precariously balanced kombucha bottle is psychologically revealing. It turns out to be the consummation of a moment from an earlier Koepp film.
The bottle on the edge of the counter — that was me making good on a setup I did in Secret Window, fifteen years ago. Seriously. There's a shot in there where Johnny's character, in a state of high anxiety and agitation, sets a glass down on his kitchen counter hastily, and doesn't notice it's only half on the counter. We did seventeen or twenty takes to get exactly the right gravity-defying balance on the edge. It was a pretty literal visual metaphor — you know, he's on edge.
Thing was, in post-production I realized I had put in a perfect setup, but never paid it off. Why not have the glass fall and smash twenty minutes later, when we're least expecting it?? Wished I had, never did.
So I used it again in Kimi, but with the (to my mind) required payoff, and at a moment of high tension. So, Angela, in her argument with Terry, is highly agitated, and smacks the bottle down on the counter carelessly, not realizing how close it is to the edge. (The KT hypothesis proves correct!) Angela forgets about it. So do we. Ten minutes later, when we're all keyed up about something else, SMASH! 
Thanks to David for corresponding.
The Hitchcock remark is this: "Here we have a photographer who uses his camera equipment to pry into the back yard, and when he defends himself he also uses his professional equipment, the flashbulbs. I make it a rule to exploit elements that are connected with a character or location. I would feel that I'd been remiss if I hadn't made maximum use of those elements" (Truffaut/Hitchcock, rev. ed. 1983, 219).
Kimi (2022).