Wednesday | May 8, 2019
open printable version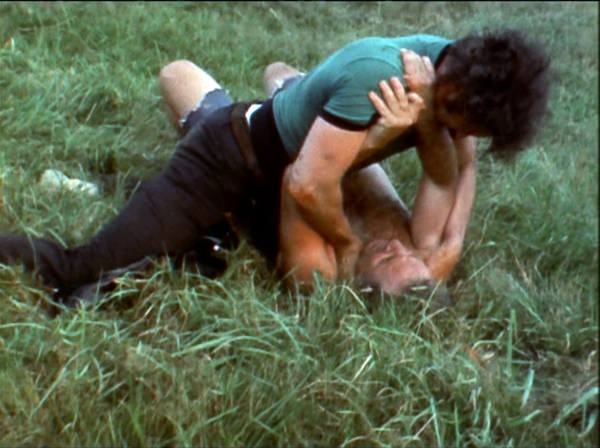 Maidstone (1970).
DB here:
Did you ever want to beat up Norman Mailer? The impulse must have flitted through the minds of many who paged through his work, saw him on TV, or encountered him swaying pugnaciously at a party. Rip Torn took the opportunity. One day in 1968, he whacked Mailer with a hammer and started to strangle him. As the distinguished author tried to bite off Torn's ear, Mailer's wife leaped into the fray and his children shrieked with fear.
This scene, totally unscripted, appears in Mailer's film Maidstone (1970) and opens J. J. Murphy's new book Rewriting Indie Cinema: Improvisation, Psychodrama, and the Screenplay. Nothing could better prepare us for his exploration of the traditions–and sometimes jarring consequences–of spontaneous performance in modern American movies.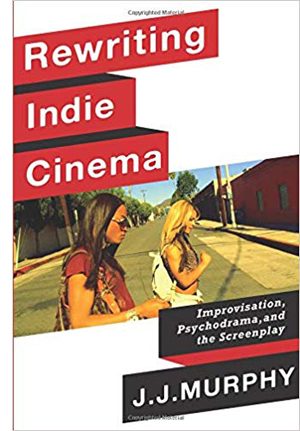 I couldn't have predicted that J. J., who was in grad school with Kristin and me, would turn to research. He began as part of the Structural Film movement, achieving wide renown with Print Generation (1974) and (my personal favorite) Sky Blue Water Light Sign (1972). After he was hired here at Wisconsin, he rejuvenated our production program and went on to make independent features: The Night Belongs to the Police (1982), Terminal Disorder (1983), Frame of Mind (1985), and Horicon (1994).
At the same time, he was teaching both production and screenwriting. His books reflect his deepening interest in the creative process of making a film outside the Hollywood system. His initial study, Me and You and Memento and Fargo: How Independent Screenplays Work (2007), focused on the principles of screenplay construction that emerged with US indie cinema. Then, in The Black Hole of the Camera: The Films of Andy Warhol (2012), J. J. offered the most complete analysis of this superb body of work. In the process, he opened up a new vein of exploration. The idea of psychodrama proved an exciting way of explaining the fascinating, awkward performances in films like Kitchen (1965), Vinyl (1965), and Bike Boy (1967).
Now the concept of psychodrama gets full play in an ambitious account of the changing role of improvisation in off-Hollywood cinema. What happens, J, J. asks, when filmmakers give up the screenplay? How do they construct a story, define characters, build performances? Rewriting Indie Cinema sweeps from the 1950s to recent films like The Rider and The Florida Project. By looking for alternatives to the fully prepared screenplay, it posits a fresh way of thinking about American film artistry.
Human life isn't necessarily well-written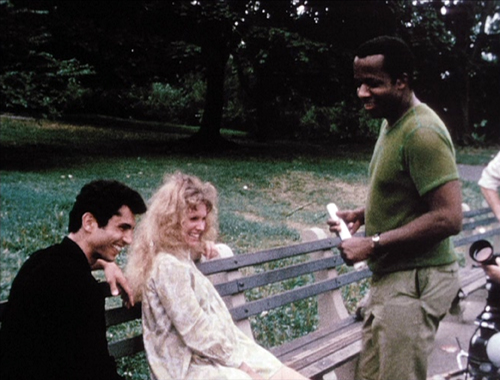 Symbiopsychotaxiplasm: Take One (1968).
To start off, J. J. proposes that we think of improvisation in a systematic way. Of course, the concept can be treated broadly. Even Hitchcock, we learn from Bill Krohn, improvised on the set much more than he claimed. But J. J. suggests that improvisation can be considered as a basic creative concept, a founding choice for art-making.
In the 1950s, many American artists began to embrace chance, accident, and personal expression. Abstract Expressionism, bebop, the Judson Dance Theater, Robert Frank's snapshot aesthetic, and other tendencies valued spontaneity as both authentic self-expression and a challenge to conformist culture. The idea of spontaneity was carried into cinema by Jonas Mekas and fueled what became the New American Cinema of John Cassavetes, Shirley Clarke, and other filmmakers.
But the idea had deeper sources in another trend that J. J. painstakingly brings to light. The Austrian theater director Jacob L. Moreno developed in the 1920s what he called the Theatre of Spontaneity (Das Stegreiftheater). Performances consisted of purely improvised dialogue. When Moreno emigrated to America, he founded "Impromptu Theatre" in the same vein. His 1931 performance at Carnegie Hall was greeted by the New York Times with some disdain:
The first play, like the ones that followed, turned out to be a dab of dialogue uneasily rendered by its hapless players. . . . It became more and more evident that heavy boredom, rather than "forms, moods and visions," were [sic] the product of the actors. De­manding wit above all else, the Mo­reno players lacked that essential as fully as the premeditation upon which they frown so heartily. The legitimate theatre, it can be reported this morning, is just about where it was.
Of course improvisation had already proven its worth in vaudeville and in jazz and other musical idioms. Today versions of Moreno's "spontaneous theatre" flourish in comedy clubs.
Before coming to America, Moreno had discovered that improvisation had therapeautic functions as well. When a couple enacted the frustrations of their marriage, the audience was moved and Moreno was convinced that this "psychodrama" harbored artistic possibilities. Moreno's wife Zerka called psychodrama "a form of improvisational theatre of your own life."
J. J. shows Moreno's pervasive influence on the postwar American scene. Psychodrama became one trend in social psychology, used to help prisoners, narcotics addicts, and even business executives. Woody Allen, Arthur Miller, and other artists were aware of Moreno's work as well.
Drawing on Moreno but recasting him for film-related purposes, J. J. proposes a spectrum of improvisational options. There's the completely improvised, ad-lib option, seen in Maidstone and much of Warhol's work. Here the performers just make it up as they go, though with minimal framing of a situation. Then there's the possibility of "planned" improvisation, in which there's a story outline and more or less pre-set scenes. Sean Baker's Tangerine (2015), for example, was made from a seven-page treatment that included only a couple of lines of dialogue. Then there's the "rehearsed" option, in which the players collaborate to prepare the scenes and develop the characters, workshop fashion. In production the performers mostly stick to the "script" they've created. J. J. points to the films of Cassavetes as a clear case.
Any given film can mix these options, so that some scenes are planned roughly while others are purely ad-lib. And a filmmaker can explore the spectrum across several films, as Joe Swanberg has done.
Where does psychodrama come in? J. J. shows that any of the three points on the improvisation spectrum–pure, planned, and rehearsed–can yield performances that are based in the actual mental states and personal histories of the players. In our Cinematheque screening devoted to his book, Abel Ferrara's Dangerous Game (1993) served as an example. Harvey Keitel invested his character, an intransigent film director, with the still simmering emotions he felt after his breakup with Lorraine Bracco. Meanwhile Ferrara set up scenes that would provoke Madonna, playing Keitel's actress, to break character and reveal her immediate responses.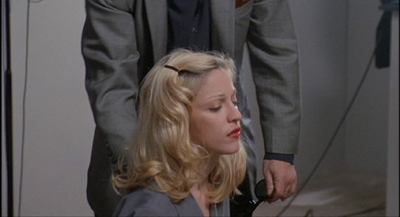 Ferrara wanted to attack Madonna's celebrity image, and J. J. reads the aftermath to a rape scene in the film being made as projecting the star's own stammering outrage at having been exploited.
Throughout the book, when improvisation becomes psychodrama, fiction moves closer to documentary. The last chapter examines how certain films considered documentaries, like Robert Greene's Actress (2014) and James Solomon's The Witness (2015), cross over into psychodrama from the other side, so to speak.
A detailed study of William Greaves' Symbiopsychotaxiplasm: Take One (1968) shows how Greaves used psychodramatic techniques to create an even more complicated film-within-a-film than Dangerous Game. Two characters, Freddie and Alice, are played by five different pairs of actors, with all their scenes recorded by a bevy of camera and sound staff.
Greaves also incorporates self-criticism. When crew members object to the script, another participant remarks: "Human life isn't necessarily well-written, you know."
Given these conceptual tools, J. J. goes on to trace the production methods employed by a wide range of filmmakers, from Morris Engel in The Little Fugitive (1953) and Cassavetes in Shadows (1959) to Mumblecore and after. Through a mixture of film analysis and background research, he brings to light a vast variety of creative options that can bypass fully-scripted cinema.
Rewriting the unwritten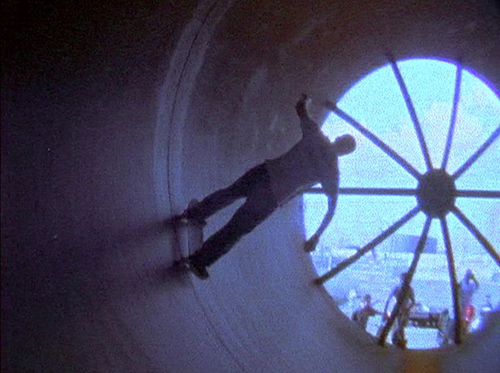 Paranoid Park (2007).
J. J.'s survey of production methods is embedded in a new historical argument about the shape of off-Hollywood filmmaking. The New American Cinema of the 1950s, which Mekas called "plotless cinema," was wedded to a sense of realism. But it operated within limits. Cassavetes serves as a benchmark: "I believe in improvising on the basis of the written work and not on undisciplined creativity." By balancing the planned with the impromptu, his films allowed for the actors to surprise one another. At the same time, Shirley Clarke's Portrait of Jason (1967) showed how psychodrama could pass easily into documentary, exemplifying Erving Goffman's theory that everyone is playing theatrical roles in everyday life.
This open approach to screenwriting and screen acting was explored by many filmmakers in the 1960s and a little after: not only the well-known Warhol and Mailer but also Kent Mackenzie, Barbara Loden, William Greaves, and Charles Burnett. J. J. examines all this work in admirable detail. I was especially happy to see that he includes Jonas Mekas' The Brig (1964), the harrowing film that showed me, in my undergrad days, what the New American Cinema could do in filming a play.
By the time Ferrara made Dangerous Game, most independent filmmaking had moved away from improvisation toward more tightly scripted expression. J.J. traces the institutional pressures operating here. The Sundance Film Festival and PBS's American Playhouse favored fully-planned projects compatible with the Hollywood standard. The Sundance Institute, launched in 1981, explicitly aimed to correct what was considered the two faults of  independent production: screenplays and performances.
The success of polished work like sex, lies, and videotape (1989) and Pulp Fiction (1994) created new norms for American indie cinema. Director-screenwriters like Soderbergh, Tarantino, David Lynch, Hal Hartley, Todd Haynes, the Coens, and Todd Solondz were models for younger filmmakers. As J. J. points out, their screenplays were often published as part of the marketing of the films. Framing the new trend as dominated by the screenplay helped me understand why Bryan Singer, Doug Liman, Karyn Kusama, and other indie filmmakers who came up in the wake of this generation moved so easily to mainstream genres and big-budget projects.
But history plays strange tricks. In the 2000s, filmmakers who felt constrained by the demands of tight scripting began to try something else. J. J. pays special attention to Gus Van Sant, who after proving his commercial craft, made some films with varying degrees of improvisation: Gerry (2002), Elephant (2003), Last Days (2005), and Paranoid Park (2007). Some of the Mumblecore directors relied on screenplays, but the prolific Joe Swanberg adopted a free-form approach, to which J. J. devotes a chapter.
J. J. goes on to survey the work of Sean Baker, the Safdie brothers, Ronald Bronstein, and other directors who have revived the New American Cinema's impulses in the digital age. He concludes:
Digital technology in effect, democratized the medium, allowing young filmmakers to revive cinematic realism precisely at a time when indie cinema was at risk of losing its identity. In the new century, the use of improvisation and psychodrama provided a sense of continuity with indie cinema's roots.
J. J. retired from UW–Madison at the end of 2018, and last Saturday night he was honored at our annual screening of student projects. He has been a constant force for good in our department, and we owe him more than we can say. Among those debts is this outstanding contribution to US film studies.
The book's title carries a double meaning. American independent cinema has been, at crucial periods, "rewritten" by filmmakers who relied on spontaneity rather than a cast-iron screenplay. At the same time, J. J.'s panoramic research in effect rewrites that history. I'm sure that other researchers will build on his wide-ranging arguments, which put the creativity of artists–filmmakers, performers–at the center of our concerns.
---
J. J.'s books join a cascade of recent work by other colleagues here at Wisconsin. This blog has highlighted Jeff Smith's Film Criticism, the Cold War and the Blacklist (2014), Kelley Conway's Agnès Varda (2015), Lea Jacobs' Film Rhythm after Sound (2015), Lea's and Ben Brewster's enhanced e-book of Theatre to Cinema (2016), and Maria Belodubrovskya's Not According to Plan: Filmmaking under Stalin (2018).
P.S. 9 May 2018: Thanks to Adrian Martin for correction of a misspelled name!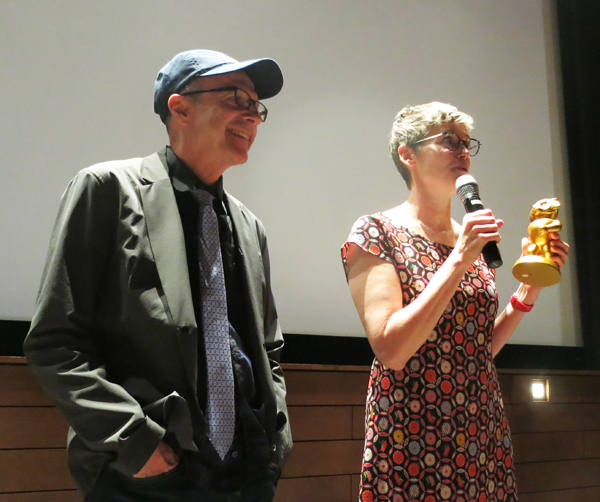 Kelley Conway awards J. J. Murphy a gilded Badger at the Communication Arts Showcase, 4 May 2019.