Monday | August 3, 2015
open printable version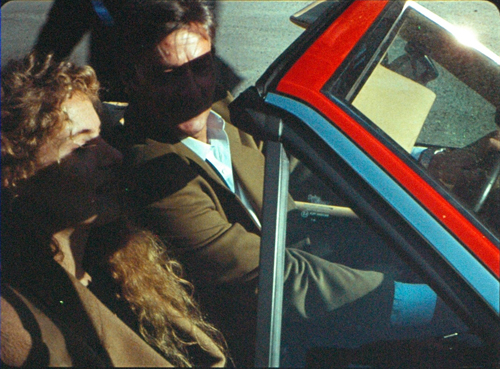 Nouvelle Vague (1990).
DB here:
At this year's Summer Film College in Antwerp, Peter Bosma pointed out that the event seems to be a unique mixture.
Films are screened from morn to midnight: this time, 38 films across 6 days and two half-days. But it's not exactly a film festival, as there are no new releases.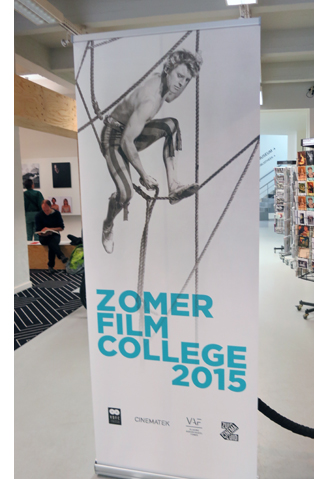 So is it like Bologna's Cinema Ritrovato? Not exactly. While the shows included some restored titles (notably the Belgian Cinematek's pretty makeover of Pollyanna, 1920), the films were mostly original prints with an occasional DCP.
Moreover, the films cluster around two or three major themes. This year we had Late Godard (fourteen titles, counting episodes of Histoire(s) du cinema) and the career of Burt Lancaster (eleven). In addition, there were nightly showcases called "Masterworks in Context," which included one surprise film, title undisclosed. But unike most movie marathons, the Summer Film College introduces screenings with lectures and discussions. This year there were fourteen sessions, each running about ninety minutes. These are serious, intensely informative talks—very far from the usual brief introductions one gets at festivals or in art house warm-ups.
So is it an educational enterprise? Definitely, but without assignments, tests, or grades. It's designed to serve Flemish-speaking professors and students, but also civilians who are just interested in a weeklong package of film and film talk. The event helps forge a community of film appreciation.
Finally, there's often a guest filmmaker on hand, usually related to the main threads. This time it was Bill Forsyth, who directed Burt in Local Hero. That film was screened, along with Bill's wonderful Housekeeping.
So what would you call the College? I once called it Cinephile Summer Camp, and that still seems accurate in evoking the sense of fun and camaraderie that pervade the place. We don't all get mosquito bites, but after a week you come to enjoy seeing familiar faces and talking with them about what they're seeing. Just as when you go to summer camp, you get to stay up late. But at no summer camp I ever attended did we drink so much beer.
JLG/SJ/DB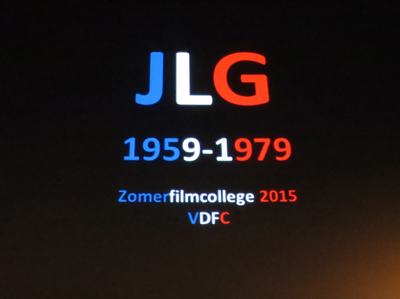 The principal speakers were Tom Paulus and Anke Brouwers, who covered Burt, and Steven Jacobs on Late Godard. The Masterworks in Context shows were introduced by several guest speakers, including Lisa Colpaert (excellent on I Walked with a Zombie) and Vito Adriaensens (covering both Murder! and Vampyr). For Pollyanna, Bruno Mestdagh of the Cinematek staff explained the process of restoration. I played utility infielder, offering one talk on Burt and three on JLG.
How often do you get to see 35mm prints of Une femme mariée, Passion, Je vous salue Marie, Détective, JLG/JLG, Eloge de l'amour, and Nouvelle Vague? The Godard series, which ended with a 3D show of Adieu au langage, was a high point of my summer viewing. Back home I had prepared by rewatching all Godard's features from Sauve qui peut (la vie) onward, but my video homework didn't prepare me for the way the big screen amps up their prickly, seductive power.
I don't speak or read Dutch, so I missed many subtleties in Steven Jacobs' talks, but thanks to Power Point I could figure out the main points. Few lecturers can pack so much information and ideas into ninety minutes.
We had no way of knowing how familiar the audience was with Godard, early or middle or late, so Steven started with an orienting talk on JLG's pre-1980 work (above). He swiftly reviewed key aspects of Godard's New Wave period, traced his shift toward "a critical cinema" between 1967-1969, and explored the move into his Marxist phase. Along the way, he stressed the way cultural developments like auteur theory, Pop Art, Maoism, Brechtian theatre, and semiotics shaped Godard's films. Particularly acute was his discussion of the "one image after another" sequence in Ici et ailleurs (1975). In all, the talk was an ideal prelude to Une femme mariée, which pointed up so many motifs of the later work: the focus on the couple, the emphasis on media-based images, and the persisting shadow of the Holocaust.
Steven is an art historian at University of Ghent; he earlier appeared on this blog as co-author of the imaginative book The Dark Galleries. After tracing Godard's return to mainstream cinema and his move to Rolle, Switzerland, Steven focused on that splendid example of JLG the painter, Passion. Steven has written eloquently on the film in his Framing Pictures, and here he widened his focus to discuss its relation to other films centered on the tableau vivant, like Pasolini's La Ricotta and Ruiz's Hypothesis of the Stolen Painting.
You'd expect that Steven would have a field day with Histoire(s) du cinema, and he did. Unlike most Godardophiles, I'm not wild about this series of video essays. I can't take them as serious studies in film history, and too often I sense he's just playing around. (Enough with the stroboscopic flashes, okay?) But Steven obliged me to rethink them by showing how they fit into the Postmodern art scene, especially the video art movement after the 1970s. He pointed out the central importance of the Hitchcock episode and the series' constant concern with the Holocaust, often in dialogue with Shoah. Citing Godard's claim that video taught him to see cinema in a new way, Steven suggests that the format also created a tenor of paradoxical melancholy. It's as if JLG's experiments with this new technology drove him to celebrate the death of the cinema he knew.
My three talks on Late Godard tried to ask something that I didn't find many traces of in the literature. What are these films doing with (or against) narrative? I think that the focus on JLG as "film essayist" has sometimes obscured the fact that he has long insisted that he needs stories. Yet he seems to have no interest in the craft of storytelling as we understand it. He avoids dense exposition, careful foreshadowing, well-timed revelations, and cumulative climaxes. He tends to spoil the narrative expectations he sets up.
As a result, his plots—for his films have them—are distressingly opaque. Exactly what happens in a Late JLG film is often difficult to determine. I'm always surprised when discussions of these late films provide capsule plot summaries, for the very difficulty of arriving at these should claim our attention. As just one instance, many critics seeing Adieu au langage for the first time thought the film centered on one couple. It centers on two. But the fact of that mistake ought to interest us enormously: What in the film's presentation made it difficult to follow the basic situation? Are there strategies Godard follows in creating his apparently willful obscurity?
Godard's unique strategies of storytelling are carried down into felicities of visual and verbal style. Again, I think that critics haven't sufficiently acknowledged just how strange and opaque the surfaces of these movies are. For one thing, characters are unidentifiable from scene to scene, thanks to camera setups that cut off their faces, wrap them in shadow, or leave them offscreen altogether.
I've touched on these matters earlier (here and here), but just as a quick example, consider this shot from the opening of Nouvelle Vague. It has to be one of the most oblique introductions to a protagonist we can find in cinema.
Corporate owner Elena Torlato Favrini strides out of her mansion past her chauffeur while taking a transatlantic call. Any other director would favor us with a close view of her, perhaps tracking as she cuts a swath through her entourage. Instead we get a shot framing her chauffeur climbing out of their Mercedes.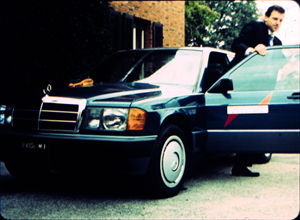 As he crosses in front of the car, we hear her on her cellphone. She can be glimpsed fleetingly in the background, through the car window.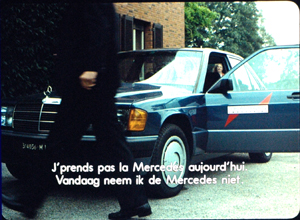 She approaches us, becoming briefly visible as she passes the car, but when she stops, she's decapitated. We don't get anything like a good look at her, and the locked-down camera refuses to reframe her. Instead, the framing emphasizes her slipping on her gloves.
The gesture ties into other imagery in the film. A little before this shot, there's an isolated shot that establishes hands as a major motif in the film. But we should also notice that this fairly abstract shot also presents the gesture of Elena slipping on a glove. Or rather, it almost presents it, as the shot is abruptly chopped off just as the gesture begins.
So slipping on the glove, started in an earlier shot, is finished at the Mercedes. But just as important, the visual idea of a hand gesture broken by a cut resurfaces at the climax. When Richard Lennox helps Elena out of the water, the action is also incomplete. Only five frames show him grabbing her arm before a cut interrupts the action.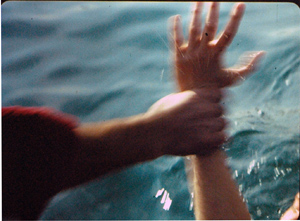 Another filmmaker would have held the image on that triumphant grip, but Godard denies us this little burst of satisfaction. Of the five frames in this bit of the shot, there is just one frame showing Richard's hand seizing her. Godard again spoils a solid narrative effect. But he does narrative in his own way, with the broken-off gestures counterpointed by the hands that do meet at other points in the film.
Every scene in Nouvelle Vague, and most scenes in Late JLG, seem to me to be built on one or more fine-grained pictorial and auditory ideas like these. Those ideas can seem perverse, as in the chauffeur scene: why let us see his face but play down Elena's? He's not a major character; we don't even learn his name until the film's final moments. Unhappily, this peculiar instant of comparison is lessened in the 1.66 version of the film available on DVD. That image suppresses the driver's face no less than Elena's, losing Godard's peculiar version of "gradation of emphasis."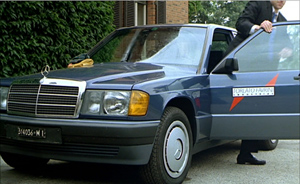 All the more reason to try to see these films in their full-frame glory, as I've argued before.
BL (Beautiful Loser)/AB/TP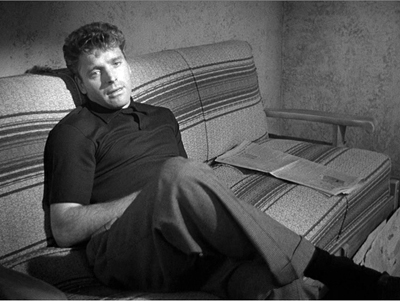 Criss Cross (1949).
With big tousled hair, unadulterated sinew, and teeth gleaming like a Pontiac grille, Burt Lancaster came to fame in the late 1940s. He belonged to a new cohort of actors quite different from the 1930s Debonairs (William Powell, Melvyn Douglas, Cary Grant) and the Bashful Boys (Cooper, Fonda, Stewart). Yet the new lads were also at variance with the rugged Ordinary Joes (Cagney, Bogart, Tracy, Gable).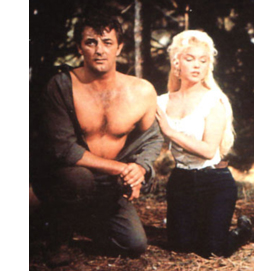 For one thing, Lancaster, Victor Mature, Robert Ryan, Robert Mitchum, Kirk Douglas, and Charlton Heston were brawny—monsters, in a way. They often took off their shirts. One publicity still for River of No Return shows Mitchum more unclothed than Monroe. Three of them played prizefighters, and Mitchum, himself a boxer, had the broken nose of a brawler.
Of the group, Burt had probably the strongest A-list career overall. He fostered a great variety of projects. Who else of his generation appeared in films by Visconti and Malle? What other unflinching liberal was prepared to play a US general bent on a coup (Seven Days in May) or a conspirator behind the Kennedy assassination (Executive Action) or an obstinate officer fighting in Vietnam (Go Tell the Spartans)? He portrayed a renegade officer demanding the revelation of the brutal policy behind the Vietnam War (Twilight's Last Gleaming). His closest rival and frequent costar Kirk Douglas didn't enjoy such a vigorous and prestigious twilight. Only Brando kept beating him to the prize: Burt wanted to play the lead in Streetcar Named Desire and The Godfather. Unpredictably, he wanted as well to play the gay prisoner in Kiss of the Spider Woman.
I had had only slight interest in Burt as a star before this edition of the Summer School. But listening to the talks, seeing the films, and preparing my contribution made me realize how extraordinary an actor he was, and how important in Hollywood postwar history. Burt was well-served by the fine lectures offered by Tom Paulus and Anke Brouwers.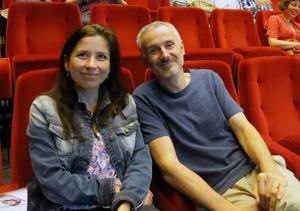 Anke provided an in-depth survey of how Burt and the Brawny Gang brought to a new level the culture of male athleticism—on display in Fairbanks and Valentino, developed further in the body-building craze of the 1930s, and culminating in what one 1954 magazine article called Hollywood's "Age of the Chest." She brought in forgotten pin-up boys like Guy Madison and pointed out how Burt and his peers paved the way for Rock Hudson and Tony Curtis. Anke went on to specify Burt's beefcake persona, established in The Flame and the Arrow (1950) and locked into place in The Crimson Pirate (1952), which we saw. In her followup talk next day, she surveyed Burt's place in the industry. He was one of the few stars to supervise a successful independent production company, Hecht Hill Lancaster (earlier, Norma Productions and Hecht Lancaster).
Tom moved on to consider Burt's star charisma. He traced how Burt adjusted his authoritative image to different roles—the con man, the confident leader, the embittered idealist. Tom was especially good at analyzing Burt's acting technique, tying it to particular trends in theatre and film of the time and pointing up the physicality of his performance of specific, precise tasks. Given the standard situation of rigging a bomb, he contrasted Burt's meticulous finger work in The Train (1964) with that of Kirk going through the motions in The Heroes of Telemark. Tom even spared some time for Burt's diction—a quality that really popped out when we watched Elmer Gantry (1960).
In a later lecture, Tom surveyed "Late Burt," and his relation to political cinema of the 1960s and 1970s. He followed that with a revealing account of Burt's relation to the trend of "Mexican Westerns" launched in the 1950s. Another arc in Burt's career: from Vera Cruz (1954) to Ulzana's Raid (1972), with The Professionals (1966) in between. That we saw in another gorgeous print.
I could go on a lot more about Tom and Anke's lectures, but I don't want to give away too much. The talks contained so much original research and discerning analysis of both the films and trends within film history that I'm hoping Tom and Anke will lay these ideas out at book length. Part "star study," part film criticism, part industry history, their lectures were exhilarating.
My own contribution was minimal, a talk on First-Phase Burt. The Brawny guys were well-suited to the trend toward hard-boiled movies, those crime pictures we later decided to call "noirs." Those weren't usually suitable for older players (though there were some makeovers, such as Dick Powell and Fred MacMurray). To fill these roles came Alan Ladd, Glenn Ford, Dana Andrews, and Richard Widmark, along with the beefcakes. At the same time, "independent" producers within the studios began contracting their own new talent and loaning it out. Burt was signed by Hal Wallis at Paramount, who also had Kirk Douglas, Wendell Corey, and Lizabeth Scott in his stable. Films like Desert Fury (1947) and Sorry, Wrong Number (1948) were Wallis package projects.
Hired straight from the stage with no film experience, Burt debuted as the Swede in The Killers (1946), on loanout to Mark Hellinger at Universal International. Burt benefited from a galvanizing entrance. Lying on a bed in the dark, refusing to flee the hitmen on his trail, Burt is a shadowed, curiously languid torso in a tight undershirt.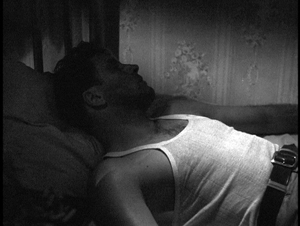 Only after a beat do we see something else: massive hands rubbing a weary head. Soon that head is revealed.
As the killers burst in, the whole image comes together.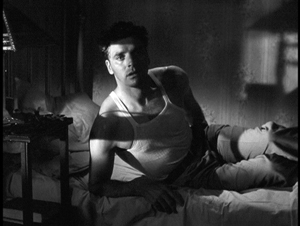 Has a Hollywood beginner ever been given such a gift as this opening?
With this onscreen wattage, it's all the more striking that this young discovery is curiously absent from his early films. He's onscreen for only a third of The Killers' running time, and not even half of Brute Force (1947) and Sorry, Wrong Number. The film Wallis wanted to be his debut, Desert Fury (1947), gives him only twenty-three minutes out of ninety, and in the second male lead at that. All My Sons (1948) puts him in an ensemble drama.  I Walk Alone (1948), the Norma production Kiss the Blood Off My Hands (1948), and another Universal project, Criss Cross (1949) start to make him a proper, central protagonist. By then, he is ready to become the star attraction of the swashbuckling films.
Moreover, in his early phase, he mostly plays losers. Not the brightest guy in the room, he's easily suckered by a femme fatale in The Killers and Criss Cross. He makes amateurish mistakes at crime (Sorry, Wrong Number) and, coming out of prison, he is the last to realize the rackets have gone corporate (I Walk Alone). At the start of Kiss the Blood he punches a man too hard and kills him. He's caught and whipped and imprisoned, and when he comes out he stumbles back into crime again. He's shrewd enough to set up a prison break in Brute Force, but so doggedly determined is he to reunite with his girl on the outside that he launches a suicidal bloodbath.
When he finally catches on to his fate, we get expressions ranging from stupefaction to anguish (The Killers, Criss Cross).
He even cries (All My Sons, Kiss the Blood).
Loser or winner, when he is onscreen, he has the outlandish physical presence of the born star. Most obvious is a physique (Kiss the Blood, Brute Force).
Even his back, featured with a prominence we get with few other actors, is straining against a drenched prison uniform (Brute Force) or a tailored suit (Criss Cross).
The face was a cameraman's dream; it could be craggy or somber, thoughtful or tormented (The Killers, Brute Force x2, Criss Cross).
He can be stiff-armed and zombielike coming out of prison in Kiss the Blood, but he can also gamely cock his elbows, ready to spring, like Cagney and Cary Grant (I Walk Alone).
The enormous hands, which look likely to crush a skull (Criss Cross) or rip apart a phone cord (Sorry, Wrong Number), could be surprisingly delicate, tentatively touching his girlfriend's wheelchair or laying down plans like playing cards (Brute Force).
In The Killers he makes skillful use of those hands, pocketing his busted one or spreading out the scarf given him by the treacherous Kitty.
Easily taken in by Kitty's plan, he seems to have a qualm when his gripping embrace relaxes and the fingers splay in hesitation.
This sort of handwork would become crucial, as Tom pointed out, to Burt's performance style, particularly in The Birdman of Alcatraz.
"I'd never looked in eyes as chilling as Lancaster's," Norman Mailer once said. You can see what he meant.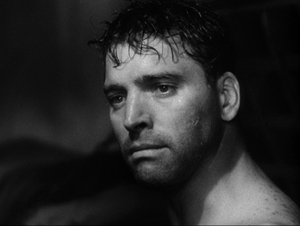 Again, though, the actor is in control. Some years back I wrote that eyes by themselves aren't very expressive: the eyelids, eyebrows, and mouth tell us more. I still think that's right, but Burt manages to convey the sense of the beast at bay with remarkable control of just the eyeballs. He seems to be looking for an escape hatch without moving his head an inch.
While Burt was playing losers, his counterpart Kirk Douglas was often playing heels—cynical manipulators who stomp on everybody else, as in I Walk Alone. Sometimes Kirk learns his errors (Young Man with a Horn, 1950) but several roles of the period, in Out of the Past, Champion, and Ace in the Hole, make him a glib villain or tawdry antihero. Somewhat later Burt explored this characterization too, notably in Vera Cruz, Elmer Gantry, and The Rainmaker (1956). How did he shift from the beautiful loser to the fast-talking con artist?
I think there are hints from the start. In The Killers, after he's washed up as a fighter, the Swede goes in for street crime. When he confronts his old friend the cop, Lancaster brings those arms and hands into play. In his enormous unstructured topcoat, he lifts his fists up to his waist. It's both the businessman's getting-down-to-brass-tacks sweep, but also a kind of puffing up, exposing that massive frontal expanse. Little Sam Levene can grasp his lapels, but he doesn't stand a chance against this.
Burt uses the same imperious gesture when, in Sorry, Wrong Number, he's trying to bully  a company employee into joining a crooked deal.
In these noir movies, his intimidation of others won't put him ahead of the game. But perhaps these arm movements begin to sketch a more flamboyant loser like Gantry. By striking what actors used to call an "attitude," Burt could start to build an entire character: a hell-for-leather charlatan.
Seeing the films, listening to Tom and Anke, and studying Lancaster's work on my own brought home to me again the importance of the details of performance and the presence of a star. These movies would be utterly different if Mitchum or William Holden played the Burt parts. Our actors don't wear masks or Hazmat suits. We're powerfully affected by what they bring to the character in voice, body, face, and gesture—the expressive dimensions of cinematic presence.
BL/JLG/BF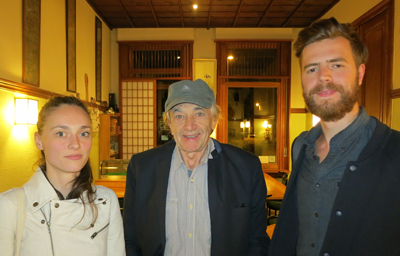 College coordinators Lisa Colpaert and Bart Versteirt, flanking Bill Forsyth.
What do Burt and JLG have in common? For one thing, some images from Criss Cross in Histoire(s) du cinema 1a (see above). For another, Bill Forsyth.
With the success of Gregory's Girl (1981), Bill was invited by David Puttnam, then at Columbia, to make a Scottish movie with a couple of American actors. The result, Bill says, now looks to be a "soft-core environmental movie." Local Hero (1983) remains much loved, and for good reason. It makes nearly all of today's multiplex raunch look adolescent. It has a tone of civility, an embrace of eccentricity, and a genuine interest in people reminiscent of Ealing comedies. For me it's a masterpiece of sweet, light-hearted art.
Local Hero feels loose and leisurely, but it's actually a very economical movie. The first few minutes should be studied by screenwriters interested in tight exposition and fast attachment to a protagonist. It's peppered with sidelights on its central drama, such as the Russian's song about how "even the Lone Star State gets lonesome." That neatly sums up the situation of the yuppie sad sack MacIntyre ("I'm more of a Telex man") learning about village life. As usual, I was moved by Mark Knopfler's plangent score, the electronic overtones meshing with the pulsations of the Northern Lights.
Burt's role is that of CEO deus ex machina. Having assigned Mac to buy a Scottish seacoast town for an oil refinery, Mr. Happer eventually descends in his chopper and decides to establish a laboratory there instead. Burt's crisp delivery and tight fingerwork are still on display at age seventy. The other actors don't use their hands as much as he does–partly so they're not distracting us from him, I suspect, but also because newer-style Hollywood acting doesn't encourage it. In any case, as usual Burt uses his acrobat's sense of physicality to intensify his performance. Even clasping his hands behind his back tells about the character's authoritative dignity.
Bill learned that Burt regretted not doing more comedy, so he wrote the mogul's part with him in mind. Burt signed on eagerly. He showed up on the set with a full beard, hoping Bill would let him keep it; they compromised on a mustache.
Bill had worked mainly with teenage actors on That Sinking Feeling (1979) and Gregory's Girl, so Burt was really the first adult performer he ever directed. Across their three weeks together, Burt demanded nothing, except that he wanted to loop his dialogue. Bill preferred not to loop, and as it turned out only one scene needed to be rerecorded.
Burt and Bill skipped lunch in order to prepare the next scene, becoming "lunch bums." Bill remembers Burt hanging out with the other actors and chatting with extras. He freely made fun of Bill's accent: ""He speaks no known language." He told Bill: "I don't know what you're saying, but I know what you mean."
Bill talked as well about his own career. Starting out in the days before home video, he learned dialogue and pacing by audio taping classic films. (Sounds like a good idea to me.) He became a performer's director. "The only thing I've ever said to a cameraman is: 'Accommodate the actors." He quoted Burt approvingly: "The space in front of the camera is the actor's space."
What's the connection to JLG? It turns out that Godard was the director Bill most admired in his salad days. During the 60s he sated himself on art cinema, especially New Wave imports. When he saw Pierrot le fou, he left the theatre stunned. Godard became "the master. He still is, for me."
Accordingly, Bill's earliest cinema efforts were in an avant-garde vein. One piece, puckishly called Film Language, started with ten minutes of black leader while a text by Beckett was read out. Another, Waterloo, included a vast ten-minute shot in which the camera left one household, climbed into a car, rode a great distance, and ended up in another home. The film played at the Edinburgh film festival to an audience of 200. By the end three viewers were left. "I'd moved my first audience."
Bill remarked that he sometimes regrets not sticking with experimental media. Today, he says, he might be a video-installation artist. A teasing idea. But we should be grateful that we got his features. I don't know if Jean-Luc would agree, but I bet Burt would.
---
Thanks to Bart Versteirt, Lisa Colpaert, and their colleagues for a great week. Thanks as well to the participants, whose willingness to take on anything we threw at them was very encouraging. And a farewell to two friends who have projected films at every Summer Film College I've attended over the last sixteen years: Esther Dijkstra and Joost De Keijser. They have helped make the event the splendid enterprise it is.
Peter Bosma's informative book Film Programming: Curating for Cinemas, Festivals, Archives is available here.
A detailed "index of references" for Histoire(s) du cinema is provided by Céline Scemama.
Our first encounter with Bill Forsyth was at Ebertfest. For more on actors' handiwork, try this entry.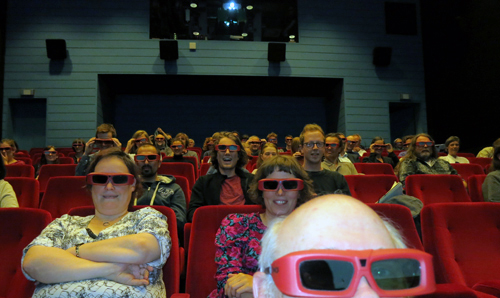 An eager crowd of campers awaits Adieu au langage.