Tuesday | July 10, 2007
open printable version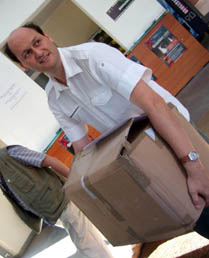 The three chiefs of Cinema Ritrovato: Peter von Bagh and Gianluca Farinelli strategize, while Guy Borlée does some heavy lifting.
Our last days at Bologna's Cinema Ritrovato were as busy as the first ones. Inevitably, choices, choices. Invasion of the Body Snatchers in a rare SuperScope print, or Asta Nielsen as Hamlet? Emilio Fernandez's melodrama Enamorada (1946) or a 1907 version of Little Red Riding Hood, with a big dog playing the Wolf? You can't see it all, but we offer some notes on some of the choices we made.
I can't say that I am a great fan of Frank Borzage's films of the 1930s and 1940s. For me his great period was the mid- to late 1920s. 7th Heaven (1927) somehow manages to climb beyond its blatant sentimentality, much as the hero and heroine ascend the stairs of their tenement apartment house, and earns our emotional investment in their transcendent love. For me, Lazybones (1925) and Lucky Star (1929) were the revelations of the Borzage retrospective during the 1992 Giornate del Cinema Muto in Pordenone. It is a true pity that both remain largely unknown.
Borzage's No Greater Glory (1934) was shown in a stunning print supplied by Sony Columbia. It didn't fall into any of this year's themes but was simply one of the "Ritrovati & Restaurati" items. The film deals with rival youth gangs in Budapest who organize themselves along strict military lines. Purportedly an anti-war tale, it manages to make the self-imposed discipline and even gallantry of the boys seem almost redemptive. I found the young hero, a scrawny but brave lad who struggles to be worthy of promotion within the ranks of his chosen gang, a bit too calculated to tug at the heartstrings. Still, it was entertaining, and the print showed it—and especially Joseph H. August's cinematography—off to the best possible advantage. (KT)
While Kristin was watching Borzage, I decided to revisit Ilya Trauberg's Goluboi Express (1929), one of the least known of the Soviet Montage films. Like Pudovkin's Storm over Asia, it's an attack on Western imperialism. Chinese, many sold into servitude, are packed into the rear cars of the train, while colonialists loll around up front. Two western soldiers of fortune attack a Chinese girl, and a young Chinese tries to defend her. This launches a prolonged battle and chase while the train roars on. By 1929, Trauberg had absorbed the lessons in cutting taught by Kuleshov, Eisenstein, and Pudovkin, and he adds his own imaginative touches. The taut construction and torrential editing (over 1400 shots in less than an hour) create an electrifying experience.
This particular version is an intriguing rarity. In his introduction, Bernard Eisenschitz explained that Soviet authorities persuaded Abel Gance to distribute the film in France. Gance recut it to avoid censorship, and he commissioned musical accompaniment by Edmund Meisel, the experimental composer who scored Battleship Potemkin. Meisel's score amplifies and sharpens Trauberg's hammering visuals. (DB)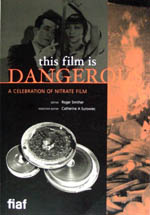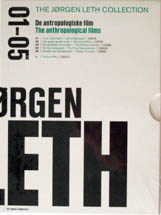 The book room was running for only about half the festival, so I was glad I nabbed my consumer durables early. Many high points, including a fascinating DVD collection of Marey films, but the most memorable, if only because of the struggle to carry it back home, is This Film is Dangerous. Published by the International Federation of Film Archives, this colossal book appears to present everything you wanted to know about this incendiary filmstock. It includes discussions of how nitrate came to be an ingredient of film, how the nitrate preservation movement ("Nitrate won't wait") started, case histories of restorations, poems in praise of nitrate, a chronology of nitrate fires, and an anonymous contribution called "Nitrate Pussy." In all, virtually a film geek's bathroom book, although its bulk demands a large lap. It doesn't yet seem to be available on the FIAF website, but it should be soon.
Speaking of swag and plunder, Dan Nissen of the Danish Film Institute kindly gave me a copy of their latest DVD publication, the first of several volumes devoted to Jørgen Leth. It's a handsome production and sure to increase interest in the man behind The Perfect Human and the target of Lars von Trier's painstaking abuse in The Five Obstructions. It's available at the DFI website. (DB)
Although Michael Curtiz's 1929 epic Noah's Ark has been shown at various festivals in recent years, I somehow had always managed to miss it. Perhaps this was just as well, since the print shown in Bologna as part of the salute to Curtiz is longer than most and has the original sound restored from the Vitaphone records. (More often the film has been shown in its silent version.) Piecing together bits from several release prints held in different archives, something approximating the 1929 release version has been reassembled and matched to the sound. The credits in the program—"Print restored by YCM laboratories, funded by Turner Entertainment Company and AT&T in collaboration with La Cinémathèque Française and The Library of Congress"—hints at the complexity of the task.
Like The Jazz Singer and other early talkies, Noah's Ark has long stretches of purely musical accompaniment. At intervals, though, characters suddenly start speaking, usually at the lugubrious pace typical of performances at the dawn of sound. The effect is startling, especially when the transition happens within a scene. Such switches proved jarring to the reviewers of the day, but the chance to see a film hovering between silent and sound can be fascinating to a modern viewer. The pacifist message of Noah's Ark reflects a general anti-war sentiment in Hollywood films of the 1920s and 1930s—a healthy reminder of a day when the majority of good, patriotic Americans could take a dim view of warfare. The film's ending, in fact, optimistically declares that the Great War had put an end to all wars. (KT)
Having written a book on Ernst Lubitsch's silent features, Herr Lubitsch Goes to Hollywood, I was particularly interested in a dossier on the director. It included a reconstruction of Die Flamme (1922), of which only one reel survives, using publicity photos, set designs, and descriptive intertitles. Though still short at only 44 minutes, this version gives a good sense of the plot, which was certainly not evident from the existing footage.
We have long known that Lubitsch's intended first project in Hollywood was to be a version of Faust with Mary Pickford as Marguerite. That fell through, but it went far enough that screen tests were made. Twelve minutes of tests for a series of actors trying out for the part of Mephistopheles were shown. These were not exactly a revelation, but they do shed light on this transitional moment in the director's career. (KT)
What do we do with a terrible movie by a sublime filmmaker? I'd argue that at least three directors achieved greatness in the years before 1920: D. W. Griffith, Louis Feuillade, and Victor Sjöström. Sjöström's Ingeborg Holm (1913), Terje Vigen (1917), The Girl from Stormycroft (1917), The Outlaw and His Wife (1918), and Sons of Ingmar (1919) remain deeply moving and cinematically inventive. Sjöström moved smoothly from the fixed camera, long-take "tableau" style of the early 1910s to profound mastery of continuity editing on the US model only a few years later. He continued into the 1920s with such key American films as The Scarlet Letter (1926) and The Wind (1928).
So it's saddening to report that A Lady to Love (1930) is a turkey. Edward G. Robinson, in full hambone overreach, plays an Italian-American grape farmer who seems to be flourishing despite the Volstead Act. Tony brings a down-at-heel waitress from the big city to be his wife, and she grows to love him, despite a little indiscretion involving Tony's best friend. The sort of inert stage adaptation that gave talkies a bad name, A Lady to Love is solely for completists (of which Cinema Ritrovato boasts many). It was Sjöström's last Hollywood picture. (DB)
The programs of 1907 films continued to yield treasures. Max Linder's career got going that year, and he had not yet settled into the debonair, top-hatted persona that would within a few years become so familiar. In the simple and not terribly funny Débuts d'un patineur, he plays a novice ice-skater reduced to tears at by the film's end, and in the more amusing Pitou bonne d'enfants Linder is a bumbling soldier who loses a baby confided to his care by his nursemaid sweetheart. The same program contained Louis Feuillade's ever-popular Le Thé chez la concierge, where the guests start carousing so loudly that they drown out the bell rung by tenants trying to get into the house.
There were many early attempts to record synchronous sound, though all too often the accompanying discs have been lost even if the image track survives. The 1907 films contained a few such, but one, La Marseillaise, had its singer's original voice, remarkably clear and perfectly synchronized. The result was an unusually poignant and vivid sense of a link to a hundred-year-old performance, an immediacy that went beyond what most silent films can convey, wonderful though they might be.
A familiar but welcome short was La course aux potirons ("The Pumpkin Chase"), one of the great entries in the very familiar genre of the day, the chase film. Special effects allow a wagon-load of pumpkins (looking like they were probably constructed from old tires) to bounce along city streets, up a chimney, and through windows, followed by the usual growing group of passersby. The inclusion of a donkey, duly hauled through the windows and up the chimney, makes the whole pursuit far funnier than in most such films.
Finally, the inclusion of a series of films about bomb-throwing anarchists, another common genre of the day, reminds us that the current international situation is not altogether a new one. (KT)
The DVD awards singled out efforts to making unusual cinema available in the DVD format. The top prize, Best DVD, was won by the Ernst Lubitsch collection, from Transitfilm and the Murnau Stiftung (available, with some variations, on Kino in the US). The committee commended it as "a model in the elegant packaging of rare materials in a form that is certain to attract new audiences."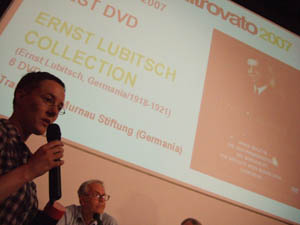 Anke Wilkening of the Murnau Stiftung accepts the award for best DVD.
Other awards: L'amore in città (Minerva, Italy), Best discovery; Seven Samurai (Criterion, US), Best Extras; the series on German cinema published by the Munich Film Archive, Best Series; and Akerman films of the 1970s (Carlotta, France), the French Naruse set (Wild Side) and the British Naruse set (Eureka), Best Box Sets.
Peter von Bagh commented that DVD producers are continuing the traditional work of film archives, and they often go beyond what archives can afford to tackle. Ironically, we sometimes find ourselves in the position of having excellent DVD versions of films that don't exist in equally good prints. (DB)
Finally, some snapshots. Glancing around the book room, you'll see Sawako Ogawa and Hiroshi Komatsu pouncing on items.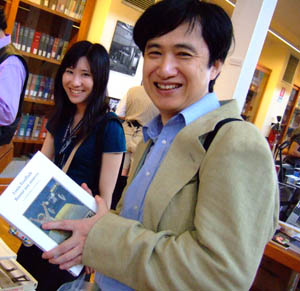 Not to be left behind, Janet Bergstrom and Richard Koszarski display Janet's find.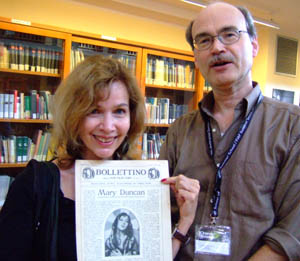 Every year, Frank Kessler's birthday occurs during Ritrovato; this year was his fiftieth, and so Sabine Lenk made it a special treat.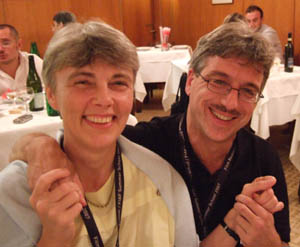 At another meal, Danish film archivist Thomas Christensen, who really ought to know better, fends off the camera's magical powers.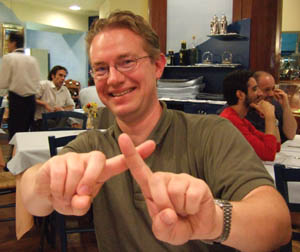 Same meal: shellfish and pasta sacrificed in a good cause.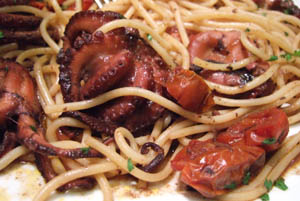 Danish film historian Casper Tybjerg and Kristin sample gelato. Later I ate the one in the middle.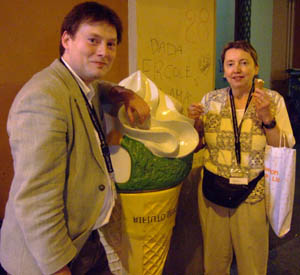 On the final evening, the film cans are wheeled out. Ci vediamo l'anno prossimo!