Saturday | July 14, 2007
open printable version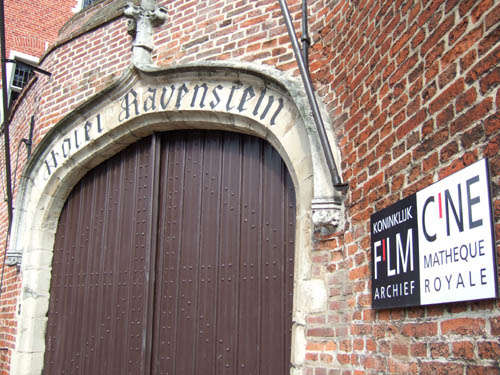 For the number of films you can see on any given day, Brussels gives Paris a run for its money. It also has the advantage of efficiency. Several multiscreen repertory cinemas are within easy walking distance of one another, and normally the Cinémathèque Royale de Belgique programs five different movies per day, plus a rotating program of another ten or so in another venue. For details on these venues, go here.
I've heard tales of Parisian cinephiles making the pilgrimage here to see films that their country had banned (e.g., Paths of Glory) or had not released in subtitled versions. I make my own pilgrimage every year, to watch films in the archive and to attend Cinédécouvertes, the annual festival that selects noteworthy items that don't yet have a local distributor. For fifteen days, three titles are shown each night; you have two chances to see each one. It's a great way to keep up with films that might not make it to the US or show up only on DVD.
The Cinémathèque, which runs the festival, provides prizes. A jury selects one or two best films, and a cash prize is awarded to a local distributor who agrees to acquire it. There's also the Prix de l'Age d'or. Named in honor of Buñuel's scandalous movie, this prize goes to a film that breaks with "cinematic conformism." Past winners include Carlos Reygadas' sober and disturbing Japon, Kornel Mundruczo's frenzied hospital opera Johanna, and Paz Encina's maximally minimalist Paraguayan Hammock.
The Palais des Beaux Arts is undergoing a huge renovation, and so the original venue, which I've visited almost every year for twenty-three years, is shut down.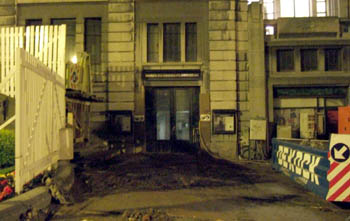 The screenings have moved from this shell of a building to the Shell Building down the street. That location boasts a large foyer done in Postwar Euro Harmless Abstraction.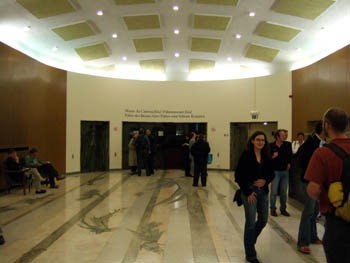 A much bigger venue than the old place, this is a fine auditorium, and attendance has been brisk.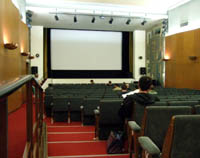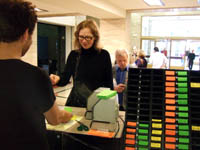 Alas, using only one screen has cut the number of Cinémathèque programs considerably, but next year the renovated Musée will resume its two-screen, heavy-duty schedule. In the meantime, there are always Styx, Nova, Actors Studio, Movy Club, and Cinema Arenberg–with its admirable summer blitz Ecran Total.
A late arrival from Bologna, a heavy archive schedule, and persistent jet lag kept me from several films in the festival, most unhappily Harmony Korine's Mr. Lonely. Of those I did see….
Shotgun Stories (Jeff Nichols, 2007) A man has two sets of sons by different wives, and the boys start to feud. A laconic US indie, apparently laid back but ready to spring into violence. I liked the unpretentiousness of it; quiet presentation of harsh conflict is often welcome.
The Optimists (Goran Paskaljevic, 2006) Five episodes set in today's Serbia, with a popular comedian playing a different role in each one. It had that mixture of humor, melancholy, and fatalism that one finds in Eastern European films of the 1960s. A couple of the episodes seemed merely anecdotes, but one, about a crazed little boy taught by his parents to eat anything that appeals to him, is good dirty fun. Some lovely long takes, shot in digital video.
Syndromes and a Century (Apichatpong Weerasethakul, Thailand, 2006) I saw it in Vancouver last fall and couldn't wait to see it again. Lyrical, finely paced, and unremittingly mysterious. A female doctor works in one clinic, a male one in another (now I get it); beyond that, the connections are teasingly obscure. A parallel-universe movie? A time-travel movie? Two halves of two uncompleted films? Political comment, though oblique, is there as well, most evident in a stockpile of artificial limbs in a hospital basement, adjacent to the military wing.
Mogari Forest (Kawase Naomi, Japan, 2007) Speaking of mystery, it's ladled on pretty heavily in this Cannes Grand Prize winner. A woman working with the elderly in a care facility follows an old man into the forest; epiphany occurs. I have liked, mildly, Kawase's earlier films Suzaku and Shara, but this one felt a little heavy-handed in its appeal to elemental forces. Still, the rhythm is engrossing, and it's remarkably tactile, making you feel the dampness of loam and ferns.
Blue Eyelids (Ernesto Contreras, Mexico, 2007) At first I thought I was seeing a likable but unambitious commercial film about two lonely souls brought together. Then things slip sideways. A shy working woman wins a vacation trip for two, but she doesn't really know anybody to ask along. She meets a former schoolmate and invites him. As they prepare for their holiday, their relationship becomes freighted with emotional investments. Nicely managed shifts in point of view both reveal and hide key information, and we get fine performances. But was the bird symbolism really necessary?
This year's winners were Mogari Forest and Hotel Very Welcome (Sonja Heiss, Germany) for best films (10,000 euros each) and La influencia (Pedro Aguilera, Spain/ Mexico) for the L'age d'or prize (5,000 euros). Above, Cinémathèque director Gabrielle Claes introduces the jury.
Next time: Visiting the archive and checking out local cinemas (at last I catch Inland Empire). Maybe some beer as well.