Monday | November 27, 2017
open printable version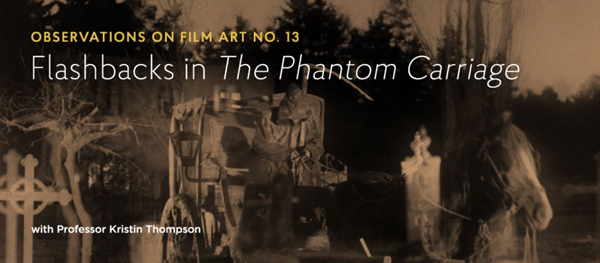 DB here:
Today our comrades at the Criterion Channel on FilmStruck have posted Kristin's new installment of our series, "Observations on Film Art." It's devoted to one of the most complex and intriguing of all silent films, Victor Sjöström's Phantom Carriage (1921).
Sjöström was one of the greatest directors of the silent cinema. Although many of his films haven't survived, we're lucky to have several of his masterpieces, including Ingeborg Holm (1913), Terje Vigen (A Man There Was, 1917), The Girl from Marshy Croft (1917), The Outlaw and His Wife (1918), The Sons of Ingmar (1919), The Scarlet Letter (1926), and The Wind (1928). He mastered tableau staging in the early 1910s, then quickly learned the nuances of continuity editing, all the while drawing splendid, subtle performances from his actors.
The Phantom Carriage is a sort of horror fantasy. The premise is that the last person to die in a year becomes the escort for the dead of the following year. To this striking idea, taken from a novel by Selma Lagerlöf, the film adds an exceptionally intricate flashback structure.
Silent films made frequent use of flashbacks, usually brief ones to remind the audience of things seen earlier in the film, or longer ones that supplied backstory for the current situation. (In this respect, our films today are rather similar to silent movies.) The Phantom Carriage pushes farther, building its plot out of blocks of flashbacks that are presented out of chronological order, and not all representing memories. It was as daring in its time as The Power and the Glory (1933) and Citizen Kane (1941) were in theirs.
Because of its complexity, The Phantom Carriage long circulated in versions that were cut and rearranged. Once it was restored, we could appreciate just how ambitious a movie it was. Kristin traces the film's various time schemes and shows that the shifts of chronology and point of view powerfully enrich a story of a man's hard-won redemption. Her comments are enhanced by some excellent graphics from the keyboard wizards at Criterion.
---
As ever, we thank our Criterion collaborators: Kim Hendrickson, Peter Becker, Grant Delin, and their team.
A complete listing of our thirteen "Observations" entries is here. For more on Sjöström's films, see our director tag.