Archive for the 'National cinemas: Australia' Category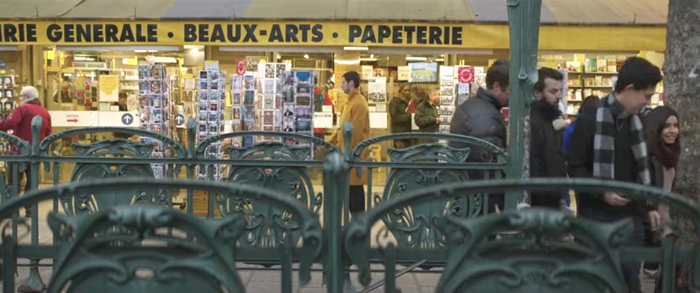 Synonymes (2019).
Kristin here:
After visiting museums on the one free day we allowed ourselves in Turin before the festival began, we launched into viewing films from around the world. Here are three of the best we've seen, to add to the ones David has discussed.
Synonymes (France/Israel/German, dir. Navad Lapid)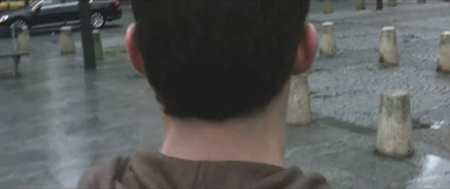 Israeli director Navad Lapid has become a familiar figure for us as we have visited past festivals in Vancouver. We blogged about his Policeman in 2011 and The Kindergarten Teacher in 2014. His latest film raises his profile considerably, having won the Golden Bear at Berlin and had its North American premiere at Toronto. (Ozon's By the Grace of God, which we blogged about from Vancouver, won the Silver Bear.)
Synonymes started with an abrupt chase, with the camera bouncing about as it follows our hero, Yoav, as he dashes through the streets of Paris (above). I was worried that this loose style of shooting would dominate, but Lapid has something more disciplined involved. The unfastened camera is usually used for exteriors, while interiors are made up of static shots.
He arrives at a large empty flat that someone has loaned him, where the heat has apparently been turned off. He proceeds to take a cold shower, and, having neglected to lock the door, he finds his backpack and sleeping bag stolen. He is left naked with no possessions whatsoever. A wealthy young couple from downstairs rescue him from hypothermia and become fascinated with him, taking him in briefly. Émile gives him money, as well as clothes. He holds up a long series of colorful shirts, which he himself apparently never wears, judging from his own muted wardrobe.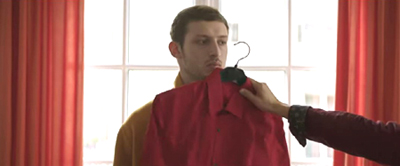 Lapid matches these colors to the decor, especially the distinctive, bright mustard-hued overcoat that Yoav wears through much of the film. The coat makes him easy to spot and marks him as an outsider among the more conventionally dressed Parisians around him (see top).
We soon learn that he is fleeing from his oppressive life in Israel and wants to become a Frenchman as soon as possible, refusing to speak anything but French despite his elementary grasp of the language. (The title comes from his habit, when wandering around alone, of muttering a series of words with similar meanings.)
There's not much of a goal operating here, apart from Yoav's increasingly strained efforts to turn himself into a Frenchman and abandon the violence inculcated into him by his time in the Israeli army. His one conventional job is as a security guard at the Israeli consulate. His violent outbursts and willfully eccentric behavior increase as the film goes along.
The rather episodic film revolves around the driven performance of Tom Mercier, an Israeli theater student who knew no French and, remarkably, is making his film debut here.
Kino Lorber has released Synonymes  (as Synonyms )in North America. For a plot summary and a list of theaters where it has played and will be playing into January of next year, see the company's webpage.
True History of the Kelly Gang (Australia, dir. Justin Kurzel)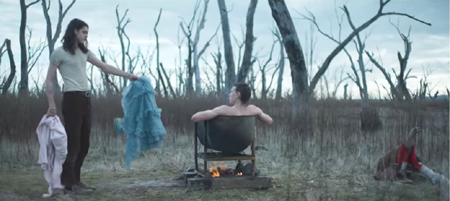 Bushranger films, of which True History of the Kelly Gang is one, are more or less the Australian version of American westerns. The tale of Ned Kelly and his gang is almost a mini-genre in itself, going back to what is claimed to be the world's first feature film, The Story of the Kelly Gang (1906, dir. Charles Tait, partially surviving).
Justin Kurzel adopts a fresh take on the familiar Kelly tale, which is as much myth as fact. He based his film on Peter Carey's novel of the same name, which won the Booker Prize and many other awards. By adding "True" to his title, Carey both acknowledged the fact that he was embroidering the national legend as much as adhering to the facts.
Kurzel does the same. A title appears on the screen: "Nothing you are about to see is true." All of the words besides "true" fade out, and the rest of the film's title fades in beside it. Those of us not steeped in Australian history and culture will not be able to fill in the inauthentic parts, but it doesn't really matter. It's a gripping story nonetheless.
The film opens when Ned is a boy, living with his mother Ellen and siblings in a bleak part of the bush consisting mainly of stubby dead trees (above). Although an honest lad to start with, he is drawn into the family's long-time opposition to the local constabulary and military forces. Despite her fierce love for her family, Ellen sells him into apprenticeship to a putative merchant and herder (played with not quite too much gusto by Russell Crowe). The man turns out to be a highway robber, and Ned is reluctantly pushed toward a life of crime.
The film follows the novel in using a voiceover narration by Ned, reading from a diary purporting to be for his young daughter after his inevitable demise. (In fact the figures of the wife Mary and the daughter are part of the tale's embellishment.) Indeed, we are nearly always in his presence and are led to sympathize with him because almost everyone around him except Mary exploits him.
The film is visually impressive, including some shots that leave one wondering how they were accomplished. At intervals there are fast drone shots above the sea of dead trees as Kelly and others ride horses through the landscape. One shot at night features an immense pool of light from above that moves smoothly with the horseman, keeping him visible as the stark gray trees appear from and disappear into the inky surroundings.
The climactic shootout between Kelly's gang of four men in home-made armor and a large posse approaching from the distant background provides an unforgettable image. The last man standing, Kelly himself, back to camera, fires at a line advancing figures. They appear spread across the screen as tiny white figures–looking distinctly like Ku Klux Klan men in full garb. (See bottom.)
True Story of the Kelly Gang contains considerable strong profanity and violence, which would seem to warrant a risky hard-R rating in the US. Nevertheless, just before the film's world premiere at Toronto, IFC acquired the North American rights to the film for a reported seven-figure sum, bidding against three other distributors. IFC will evidently release it in 2020. (The first trailer has just been posted on Youtube, but there is currently no mention of the film on the IFC website.)
Noura's Dream (Tunisia/France/Qatar, dir. Hinde Boujemaa)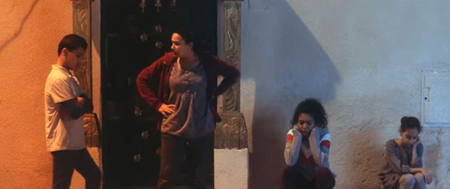 Increasingly female directors working in Middle Eastern and North African countries are gaining a foothold in the international film market. Recent notable films have been Saudi director Haifa Al Mansoor's The Perfect Candidate in competition at Venice and Nadine Labacki's Lebanese film Capernaum, Jury Prize winner at Cannes in 2018.
Tunisian director Hinde Bujemaa's Noura's Dream centers on a woman with three children who is awaiting an imminent divorce from her incarcerated husband, Jamel, so that she can marry her lover, a car-repairman, Lassaad. Meanwhile she is working in a laundry to enhance her government checks and support her family (above).
Though Tunisia is somewhat more liberal than other Muslim countries, Noura still faces traditional prejudices. In the opening scene, an official tries to talk her out of the divorce for the sake of her children–as if living with an abusive criminal for a father is more desirable than having a kinder stepfather.
Jamel is released unexpectedly early, and Noura must live with him for the few days until the divorce is final. She pretends to be considering staying with him, despite the fact that he returns to his criminal activities and abuses his family, at one point throwing them out of the house (above). As Bujemma points out in a Variety interview, however, Jamel is not all bad, not taking the option of betraying to the police Noura's adultery with Lassaad, still a criminal act in Tunisia.
In a way Noura's Dream seems to reflect the considerable impact that Asghar Farhadi's Oscar-winning films have had on other directors in the region. The situation of an impending divorce recalls A Separation, yet Farhadi's films tend to have quiet, "everyone has his reasons" plot arcs with twist revelations and moral ambituities. Here, telling such a story and eager to display the biases against women in Tunisian society. Bujemma takes a more melodramatic approach. Jamel is an unrepentant criminal and Noura is a brave, determined woman struggling to separate herself and her children from him. Lassaad is a decent fellow nevertheless ultimately driven to reject her when she shows no signs of leaving Jamel.
It's a film that effectively builds up considerable sympathy for Noura, played by prominent Middle-Eastern star Hind Sabri, and withholds hope, or possible hope, until the last shot.
Noura's Dream has played several festivals, including Toronto, London, and now Torino and has releases in Europe and its native country, but there is so far no North American distributor.
The Horror Thread
As David mentioned in our previous post, the Torino Film Festival includes a retrospective program each year. This time it was horror films, from Das Cabinet des Dr. Caligari to Roy Ward Baker's Dr Jekyll & Sister Hyde (1971, UK). I fit some of these into my schedule in between the new films.
There were 35mm prints of I Walked with a Zombie (1943, Jacques Tourneur), The Masque of the Red Death (1964, Roger Corman) and The Devil Doll (1936, Todd Browning), among the films I saw. The DCPs of The Body Snatcher (1945, Robert Wise) and The Innocents (1961, Jack Clayton), the latter shown immediately after the former, offered two gorgeous examples of black-and-white cinematography. In all the retrospective included 36 films, many of them probably being viewed by Italian attendees for the first time in their original languages, rather than dubbed versions.
---
We wish to thank Jim Healy, Emanuela Martini, Giaime Alonge, Silvia Saitta, Lucrezia Viti, Helleana Grussu, and all their colleagues for their kind help with our visit.
For more Torino images, visit our Instagram page.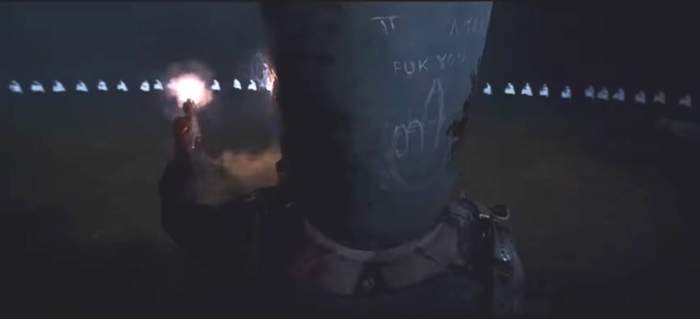 True Story of the Kelly Gang (2019).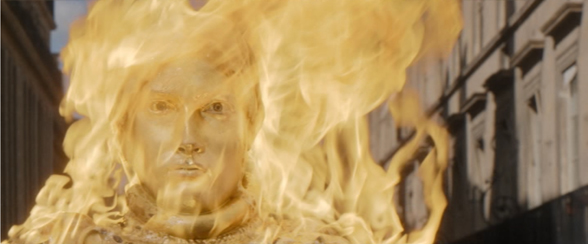 Nocturama (2016).
DB here:
Despite my recent jab at D. W. Griffith, I gladly give him credit for making crosscutting a central technique of narrative cinema. Using editing to switch our attention from one story line to another is a fundamental resource of moviemaking everywhere.
Crosscutting is most apparent in those passages of quickly alternating shots that build tension during chases and last-minute rescues. That's a prototype of what we credit Griffith with consolidating. But crosscutting is used outside such climactic stretches. Hollywood silent features often crosscut story lines throughout the film, without pressure of a deadline and without much happening in some lines of action. It seems to be a way that filmmakers found to keep the audience aware of many story strands.
Crosscutting is a cinematic version of a very old narrative strategy, that of alternating presentation. Once you have several story lines, you can switch among them. Homer does this in the Odyssey, interweaving Ulysses' wanderings, Telemachus' efforts to find him, and Penelope's holding off the suitors.
Homer initially handles these lines in large blocks, in separate "books." After attaching us to Telemachus in Books 1-4, Homer shifts us to Ulysses for a long stretch. Such interlacing can be found in medieval narrative too, and of course it dominates modern novels, with chapters shifting among action lines and character viewpoints.
Crosscutting large chunks can give way to shorter bursts. Ulysses' travels occupy several books, but as he approaches Ithaca, Homer interrupts Book 15 to switch back and forth between him and Telemachus, also headed for home. In cinema, this sort of accelerated crosscutting, often driven by a deadline, has become identified with Griffith's The Lonely Villa (1909), A Girl and Her Trust (1912), and other Biograph shorts. He lifts the principle of crosscutting to a vast scale in his features. The Birth of a Nation (1915) alternates North and South, home front and battlefront, carpetbaggers and Klansmen in a novelistic fresco.
Crosscutting usually implies some degree of simultaneity. While Telemachus searches for his father, Ulysses leaves Calypso and the suitors run riot in the palace. The notion of actions taking place at more or less the same moment is especially important in chases and last-minute rescues.
As a plot reaches its climax, there can be a sort of site-specific crosscutting too. Once Ulysses and Telemachus have joined forces to slaughter the suitors, Homer's narration sometimes switches among areas of the fight, as in the battle scenes of the Iliad. While father and son hold off the suitors in the main hall, two servants capture one suitor in a storeroom. We recognize this technique of adjacent alternation when novels and films gather all the major characters in one spot for the climax and shuttles among them.
Crosscutting remains a basic filmmaking tool for most movies on our screens. Where would the Fast and Furious franchise be without it? But some contemporary filmmakers have made fresh uses of the technique. In Inglorious Basterds, Tarantino adopts the big-segment option, alternating lengthy blocks of action before using faster crosscutting when characters converge at the climax. Christopher Nolan has experimented with various tactics, including crosscutting different phases of the same action (Following) and crosscutting among embedded segments, dreams within dreams (Inception).
So there are still lots of options out there to be explored. Just look at some films shown at our Wisconsin Film Festival. Beware, though, of light and heavy spoilers.
Attachment plus anxiety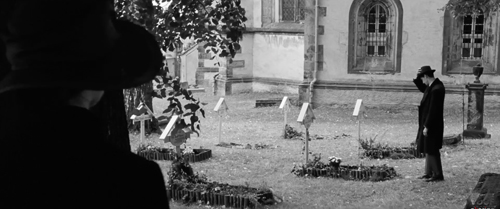 Frantz (2016).
At one end of the spectrum: Must you always use crosscutting? Wigilia, a charming short feature by Graham Drysdale, suggests not.
It's built on two Christmas eves a year apart. In the first, a Polish refugee who cleans house for a brusque businessman is alone for the holiday and in his apartment prepares the traditional holiday meal—not for herself but for her absent family. She's interrupted by the businessman's vaguely hippy brother, and the two learn about each other as they share the meal. In the second evening, after the businessman has left the apartment to his brother, she returns and they bond more intensely.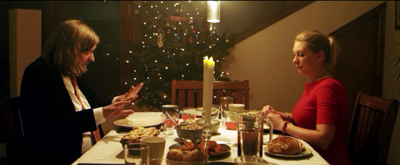 Apart from an inserted dream sequence, we stay within the apartment. This concentration derives from the production circumstances; Graham explains that he was given a chance to make the film in short order, and to keep it manageable he came up with the idea of limiting the locale. He shot 53 minutes of footage in five days in the apartment, then did the two final scenes in two days. The narrowly focused drama, with many lines improvised, has no need for the free-roaming tactics we associate with crosscutting.
Crosscutting tends to give us a fairly unrestricted range of knowledge; often we know more than any one character. In The Girl and Her Trust, the telegraph operator holding off the robbers can't be sure that her boyfriend is rushing to her rescue, and he can't know how close the robbers are to seizing her. Alternatively, when we're mostly restricted to one character, we don't find a great deal of crosscutting.
That's the case in François Ozon's Frantz, a remake of Lubitsch's Broken Lullaby (1932), also shown at WFF. Anna's fiancé Frantz has been killed in the Great War. Out of sympathy his parents have taken her in and treat her as a daughter. But when she sees Adrien, a melancholy Frenchman, haunting Frantz's grave, she gets curious. Most of the ensuing film is restricted to what Anna learns,
Adrien visits the family. Flashbacks lead us to think he's what he hesitantly claims to be: a friend of Frantz from prewar Paris. But he has been pressed to tell the parents what they wished to hear. Adrien actually came to the village to beg their forgiveness for killing Frantz on the battlefield, where they met for the first time.  Although we surely have reservations about the sad, apprehensive young man, we don't learn the truth until Anna does, at about the midpoint of the film's running time. By this time she has fallen in love with him.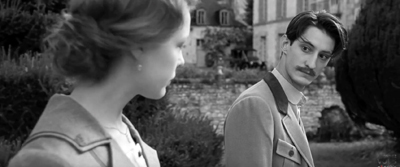 There is some alternation of viewpoint in the film. A few scenes attach us to Adrien during his stay in the village, chiefly when he confronts bitter locals who still consider France their enemy. Still, these scenes don't give us much direct information about the true backstory. And after Adrien has left and Anna has sought to keep the parents in the dark about the past, we remain attached to her. No crosscutting shows us Adrien's return to France and his life there. As a result, we're able to feel curiosity and suspense when Anna decides to track him down. The revelation of his civilian life raises a set of unexpected conflicts.
Both Wigilia and Frantz show that avoiding crosscutting can be a powerful way to keep our attention fastened on characters, the better to let their words and behaviors, as well as their inner lives, get primary emphasis. Crosscutting yields a panorama, while refraining from it can aid portraiture.
Crosscutting as usual

The Student (2016).
More toward the center of the spectrum lies ordinary crosscutting, the alternation among scenes that provide a broad perspective on the action. In Arturo Ripstein's Western Time to Die (1965), the plot alternates between scenes featuring the returning convict Juan Sayago and episodes showing the reactions of different townsfolk—chiefly the sons of the man he killed. We also learn of efforts from women in the town to prevent the sons from taking revenge. This "moving-spotlight" narration isn't perfectly omniscient, though. The plot gradually fills in information about what led up to Sayago's crime, while revealing that the sons' mission would amount to avenging a dishonorable father.
A similar sequence-by-sequence approach is seen in The Student, aka The Disciple, a Russian film by Kirill Serebrennikov. A fanatical teenager has become the scourge of the classroom, barraging teachers and pupils with Bible quotations and denunciations of bikinis. His mixed-up fundamentalism, which leads him at one point to challenge evolution by donning a gorilla outfit, is unpredictable and a pure power trip, Biblical bullying.
His mother can't manage him, the administrators are reluctant to take stern action, and the school priest sees him as a potential recruit to the clergy. Only one teacher, Elena, challenges him with a mix of humor and sympathy. But to combat his increasingly wild behaviors, which include making himself a full-size cross which he can stretch out on, she too sinks into Scripture. She hopes to quote the Bible back at him and dislodge his dogmatism, but she too becomes obsessed and estranges herself from her boyfriend. Meanwhile, Venya gets his one true disciple, a limping underdog, and his campaign against homosexuality, science, and secularism turns violent.
A good part of the narration locks us in to Venya's Dostoyevskian ferocity, thanks to a restless use of the "free camera" in lengthy following shots. (The film has only about 150 shots in 113 minutes.) But we do range more widely to get a broader view. The moving spotlight shows the mother's frantic consultations with school officials, and Elena's clashes with them, as well as with her boyfriend. Still, the climactic scene, which assembles all but one of the characters in a single meeting, has no need of a broader view. Like Wigilia, The Student draws its final power from drilling down into a confrontation around a table.
Gaps and folds in time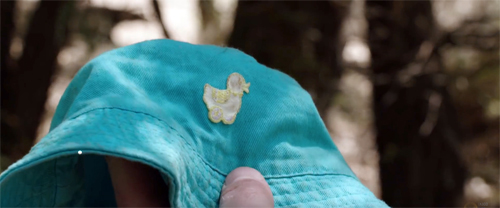 Killing Ground (2016).
Griffith rang many changes on his last-minute-rescue template, and one of the most startling occurs in Death's Marathon (1913). A dissolute husband, bored with his life, decides to commit suicide and notifies his wife by phone. She calls the family friend, who races to prevent the death. Surprise: He's too late.
A hundred-plus years later, crosscutting builds and then deflates suspense in the Romanian film Dogs, by Bogdan Mirica. There are two protagonists: Roman, a city fellow who has inherited his grandfather's idle farm, and Hogas, the police chief. Both face off against sadistic hoodlum Samir and his thugs. A human foot has popped up (literally, in the first shot), and Hogas tries to trace its owner, while Roman decides how to dispose of the farm. Samir explores other possibilities, none very savory.
At first we're restricted to Roman, who is frightened by distant lights and gunshots out on the property, and Hogas, who doggedly pursues his investigation. The alternation between them keeps Samir offscreen for some time. When he surfaces in a suspenseful drinking bout with Roman, and when Roman's girlfriend comes to pay a visit, the threats start building.
The climax starts out as pure Griffith. Mirica crosscuts Roman's drive back to rescue his girlfriend, Hogas' pain-ridden walk to the farmhouse, and Samir's ominous approach to the isolated woman. Interestingly, the pace of the cutting doesn't much accelerate in these last moments; there isn't a lot of alternation, and the emphasis is on prolonged actions (Hogas' trudging pace, interrupted by coughing up blood, and Samir's laconic dialogue with the girlfriend).
By the time Hogas arrives, he finds he's too late. The conventional mystery and suspense of the first stretch are undercut by showing us only the eerie aftermath of a violent climax. Art-cinema norms can de-dramatize crosscutting, but the maneuver remain a revision of what Griffith tried for in 1913.
Three years after Death's Marathon, Griffith showed the possibility of crosscutting radically different time frames. Intolerance (1916) interweaves four historical epochs while using crosscutting within each one as well. Since then, crosscutting has sometimes been used to juxtapose past and present (The Godfather Part II, The Hours), or alternative futures (Sliding Doors), or a real story and a fictional one (Full Frontal). Interestingly, Griffith is a bit more daring than these directors. These films usually alternate sequences or entire blocks. At first Intolerance does that too, using titles to mark the shift among its four eras. But as the film reaches its climax, Griffith cuts freely from one period to another. These shot-to-shot time shifts, jumping centuries in the burst of a cut, remain an audacious formal discovery.
In all these examples, we're cued to realize when we move to another period. But Killing Ground, a grueling Australian thriller by Damien Power, doesn't announce its time-shifting. It exploits our default assumption that crosscutting implies more or less simultaneous action.
At first Killing Ground does give us rough simultaneity, alternating between the yuppie couple, Ian and his fiancée-to-be-Sam, and a pair of gun-loving locals. But then the couple make camp near another family's tent.
Through careful use of eyeline matches and other continuity cues, the narration welds together actions that are actually taking place at different times. The family's evening meal and their foray into the woods happen well before Ian and Sam arrive, but the cutting implies that the two groups are living side by side.
Like Griffith, at moments Power shifts between the two periods on a shot-by-shot basis. Small disparities, like a baby bonnet and the placement of the campers' vehicles, accumulate. By the time Ian follows one of the psychopaths into the woods, we realize that earlier events have been salted through the present-time action, the better to delay revealing the family's fate. From then on, orthodox crosscutting takes over as Ian runs for help and Sam tries to hold the rampaging peckerwoods at bay.
The kids aren't alright
At the distant end of the spectrum, how about building a whole movie out of full-blown crosscutting? A sustained example at WFF was Bertrand Bonello's Nocturama. (Major spoilers ahead.)
For the first fifty minutes or so, we follow nine young people silently threading their way through Paris. They ride the Métro, pace along the street, pair up,  separate, crisscross, and assemble at four sites—a line of parked cars, an office building, a Ministry, a statue of Joan of Arc. They're setting bombs.
We can identify them only through their looks and behaviors. David and Sarah touch fingers fleetingly on a train. We learn from flashbacks that Samir and Sabrina are sister and brother, and their friend is the younger African Mika, all presumably from emigrant families. Flashbacks also show them meeting to plan their action and, once set on course, dance the night away.
There's an unexpected shooting, but the bombs go off more or less as planned. The group assembles in an upscale department store to meet another confederate, the security guard Omar who will host them overnight. This brief "nodal" moment of unification melts away. Crosscutting follows them as they wander from floor to floor in a parallel to their passages through Paris.
The first section merges the art cinema's best friend, the prolonged walk, with a thriller-based suspense: we don't really know what they're up to until we see a pistol at around 18 minutes and bomb materials somewhat later. The threads knot when we see a quick montage of the bombs.
This fine-grained crosscutting looks ahead to the fragmentary handling of the action in the department store, where the moving spotlight shifts rapidly as the conspirators disperse, assemble in pairs or trios, and disperse again.
Crosscutting is the principal way filmmakers imply simultaneous action, but a lesser option, often favored by Brian De Palma, is the split screen. Bonello uses this device to show the result of the bombings. The shot looks forward to the quiet surveillance-camera display in the security office as the police prowl the shopping aisles. We see the kids moving from quadrant to quadrant, with an occasional flare marking a nearly soundless kill.
The terrorists' motives are barely sketched, and they're a cross-section of middle-class and working-class kids. Some are unemployed, others have low-end jobs, while others are on track for professional careers. A flashback shows several, perhaps meeting for the first time, while waiting for job interviews. The film's second large part paints them as victims of consumer lust as they try on upscale fashions and make-up, but the point isn't hammered home. To some extent they're just killing time in what they think is a safe house.
Nocturama's crosscut climax balances, in more condensed form, the first section, as the conspirators are discovered by the police. At one point, an innocent who has come upon them by accident gets more emphasis than the gang members. His final moments are replayed through multiple viewpoints, as if the stranger's fate drives home to them what death looks like up close. Soon enough each one will know exactly.
It might seem the height of film nerdery to join up films seen at a festival through their different uses of one technique. But is it any more of a strain than those journalistic accounts of how a batch of festival choices reflects The Way We Live Now? Every Berlin or Cannes or Toronto seems to bring forth think pieces looking for a common thread among radically different films, hoping to find today's social mood in movies begun perhaps years before? Like most zeitgeist readings, they're pretty easy to whip up.
But technical choices are more concrete than hints of the mood of the moment. Moreover, if you're interested in cinema as an art, it can be enlightening to reveal the variety of creative options that are still available. The art may not progress, but our understanding of it can. And it's heartening to find filmmakers refreshing traditional techniques to give us powerful experiences.
Just as important, studying how our contemporaries find new possibilities in something as old as crosscutting can encourage ambitious filmmakers today. The menu is open-ended. There's always something new, and rewarding, to be done.
---
We had a wonderful time at this year's Wisconsin Film Festival. Thanks to all the people and institutions involved, and especially the programmers Jim Healy, Mike King, and Ben Reiser. Each year it just gets better.
Wigilia is currently streaming on Amazon. Nocturama has just gotten a US distributor, the enterprising Grasshopper Film.
Good discussions of interlaced plotting in medieval tales are William W. Ryding, Structure in Medieval Narrative (Mouton, 1971) and Carol J. Clover, The Medieval Saga (Cornell University Press, 1982). Yes, it's Carol "Final Girl" Clover.
For Tarantino's use of block construction and time-bending, go here. We discuss Nolan's penchant for crosscutting in this entry and that one, and at greater length in our e-book on his work.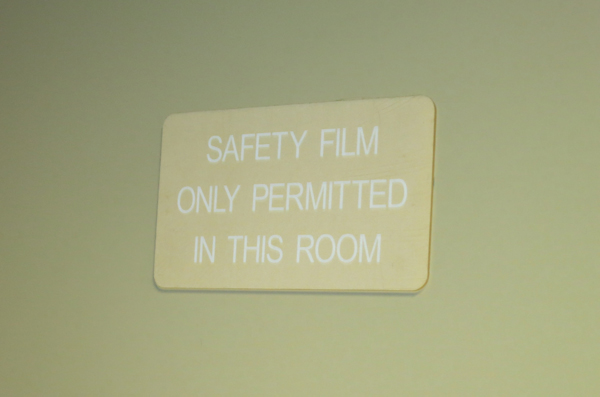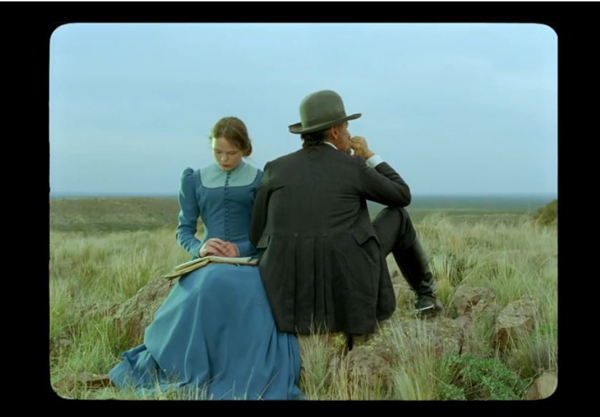 Jauja.
Kristin here:
The Vancouver International Film Festival ended this past Friday. I had hoped to post a wrap-up entry over the weekend, but illness intervened. Herewith a summary of several films I enjoyed this year.
Too clever by half
Some films are obviously and thoroughly pretentious. This year Field of Dogs (Lech Majewski, 2014) fell into that category. I had had high hopes for it, since I very much liked Majewski's The Mill & the Cross at the 2011 festival. Unfortunately, it's a completely different film, overcomplicated and, for me, nearly unwatchable.
Two film, however, suffered from a different problem. They had absorbing stories and interesting stylistic approaches. I enjoyed both very much–except for unwise additions, in each case unnecessary and annoying.
Stations of the Cross (Dietrich Bruggemann, Germany, 2014) revolves around Maria, an adolescent girl raised in a household where a strict, old-fashioned version of Catholicism is practiced. Bruggemann takes the not uncommon approach of filming each scene in one lengthy, and in most cases static, take. In the opening scene, a priest instructs a small class of children about to take First Communion. The camera is placed in a planimetric framing, a technique used in several shots in the film: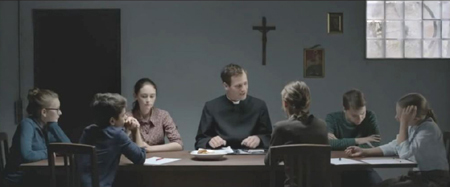 As the lesson continues, Maria, seated to the priest's right, gradually emerges as the student most versed in the topics under discussion. She stays after the others leave and hints to the priest that she wants to sacrifice herself to earn a miracle for her four-year-old brother, who has never spoken. Her belief that she must deny herself virtually all pleasures, comforts, and even necessities, as well as her guilt over the slightest perceived infraction, become increasingly apparent across the narrative. Her arguments with her harsh and inconsistent mother, who dominates the family, reveal her suffering. Despite the static shots, the story is never boring, and a scathing indictment of this brand of religious extremism builds up.
The problem is that Bruggemann inserts chapter titles before each scene/shot, numbered and with the descriptions of the fourteen Stations of the Cross. This inevitably connects Maria's sufferings to those of Jesus. Each scene contains some parallel, however tenuous, to the station that it is supposed to illustrate. I found this distracting and occasionally ludicrous, as when the title describing Christ's being stripped of his clothing cuts to a shot of a partially undressed Maria seated on a doctor's examining table. (Jay Weissberg's review for Variety sees deliberate humor in the film, but as far as I could see, Bruggemann takes all this as deadly serious.) This could have been an excellent film without the insistence on allegory, but as it is, one must try to ignore the interruptions to focus on the story.
Something rather similar happens in Jauja (Lisandro Alonso, Argentina, 2014). Again there is an absorbing story, though a very different one. In nineteenth-century Patagonia, a Danish engineer is doing surveying work to help a military group determined to wipe out the indigenous population. When his daughter runs off into the forbidding desert with a young soldier, the engineer follows on his own and experiences a series of increasingly disturbing and mystifying incidents, including some that could be classed as magical realism.
This is fascinating stuff, and in the print we saw, the beautifully composed landscape shots (almost the entire film takes place out of doors) were presented in a masked format reminiscent of old lantern slides or stereoscope images (see top, the opening one-shot, long-take scene). Most of the images from this film on the internet are in a more conventional 1:66 ratio, but the masked version seems far superior. One can only hope that the video release preserves it.
It's a lovely, evocative, disturbing film, but just as we see a shot of the protagonist disappearing into a valley in a bleak landscape of black volcanic rocks, there is a cut to an epilogue set in a beautiful Danish castle. The daughter wakes up and goes for a walk with some dogs. End of film. How this is supposed to relate to the preceding story is a mystery, and one which thoroughly undercuts the tension slowly built up over the course of the Patagonian-set story. The scene of the hero disappearing would have made a fitting ending, leaving the solution to the tale's mysteries open-ended.
I note from a recent story in Variety that Alonso has been chosen as the second filmmaker to be hosted in the Film Society of Lincoln Center's new "Filmmaker in Residence" program. That's good news, I think, but I hope Alonso will trust more in his story-telling ability and less in flashy tactics like this pointless epilogue.
Brief notices
One director who displays such trust is Alejandro Fernández Almendras, whose Chilean revenge tale To Kill a Man (2014) is both entertaining and morally and psychologically complex. We are almost entirely confined to the presence and knowledge of Jorge, a forest ranger who has grown accustomed to the casual violence in the neighborhood where he lives. He tries to avoid trouble, but his family is increasingly harassed by Kalule, a loathsome petty gang leader. As Jorge is mugged, his son is shot and then wrongfully imprisoned, and his house pelted with stones and threatening messages, he doggedly insists on going through the police, while his wife becomes increasingly frustrated with their lack of response.
Finally, after Jorge's daughter is assaulted and nearly raped, he decides to act and sets out to eliminate Kalule. The film then follows his patient, careful planning, culminating in an understated but riveting long take of the truck in which Jorge has his victim trapped as he systematically sets up the mechanics of the killing. The death itself is not shown: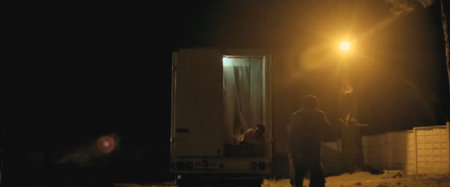 Hitchcock has said that in making Torn Curtain's big fight scene in the farmhouse, he wanted to show just how physically difficult it is to kill someone–as opposed to the seemingly effortless killings that fill American genre films. Almendras' film is almost entirely about how difficult it is in all ways. Jorge takes a long time making his fateful decision, in executing it, in dealing with the body and evidence, and in living with what he has done. Most spectators, attuned to more conventional revenge plots and frustrated by Jorge's initial resignation in the face of intolerable injustice, are probably cheering him on from an early point in the plot. But, as Almendras thoroughly shows us, it just isn't that easy.
Charlie's Country (Rolf De Heer, 2013) also centers very tightly on a protagonist beset by difficulties, but it sets a very different tone. It's another Australian film focusing on aborigines and their problems under the rule of the white majority. Charlie is a genial elderly man living in impoverished circumstances in a village set aside for aborigines and run by local police. Their laws mystify him. His gun is taken because he cannot afford a license, and when he fashions a spear for hunting for food, it is taken away and destroyed as a dangerous weapon.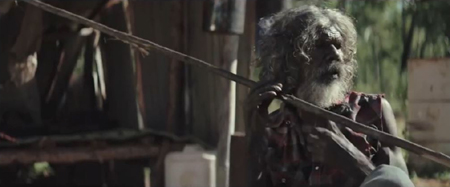 His health declines so far that the authorities send him to a hospital in a city far from his home, an apparent signal that he is dying. Instead, he escapes, lives with some street people, and finally makes his way home.
The film is entertaining enough, though it deals with familiar subject matter. It exists, though, primarily as a love letter to David Gulpilil, the most successful Australian aboriginal actor. His first film is also one of his best-known outside Australia, Walkabout, which I saw when it first came out, just after I had gotten my BA and was about to commence film-studies as a graduate student. (It's a bit disconcerting to watch him playing an old man here and realizing that he is three years younger than me!) Gulpilil turns in an endearing performance that pretty much carries the movie.
I enjoyed and was impressed by Russian director Andrei Zvyagintsky's Leviathan (2014), though I'm not sure it quite lives up to all the hype following its debut in competition at Cannes, where it won best screenplay. The story centers around the owner of a sprawling, dilapidated garage in a declining fishing port on Russia's northwestern coast. He struggles to prevent a corrupt local mayor from appropriating his property illegally. (The hypocritical official wants to use the land to build a church to further his own reputation.) At the same time, the protagonist has remarried, and he must deal with his teenage son's reluctance to accept a young stepmother.
The depiction of modern Russian society in the provinces is a grim one, albeit one displayed in sweeping landscape shots that suggest the waste of this stunning region. Many scenes involve the characters putting away great quantities of vodka. These include a hilarious set-piece in which the family and friends drive into the countryside for a drunken picnic complete with a shooting competition using portraits of historical Soviet leaders as targets.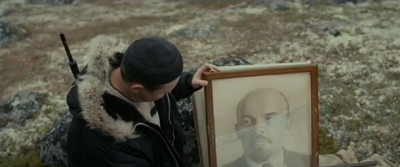 Leviathan will be released in the USA by Sony Pictures Classics on December 31.
Papusza (Joanna Kos-Kralize and Krzysztof Kralize, 2013) is the second new black-and-white Polish film I've seen this year. The first was the much-heralded Ida (Pawel Pawlikowski, 2013), an austere tale of a young woman in the 1960s, about to take her vows as a nun when she learns that she comes from a Jewish family persecuted during World War I. Papusza is a more easily engaging film, with a relatively fast-moving historical drama set among Poland's Roma ("gypsy") population.
Papusza centers around Bronislawa Wajs, the first Roma woman to learn to read and write; she became a well-known poet nicknamed Papusza. The film adeptly balances sympathy for the Roma group at the center of the story, the victims of racial prejudice, with a clear-eyed depiction of the less savory aspects of Roma culture. Girls, kept ignorant and oppressed, are married off at a young age. The Roma society practices its own prejudices, rejecting any interactions with people outside their clan and treating non-Roma as fair game to be fleeced at any opportunity.
The lively culture of the Roma and their closeness to nature are shown in impressive landscape scenes, as in shots of the caravans on the move through bucolic countrysides or when the band sets up a camp and market outside a traditional church (below).
As of now there is no indication that the film will receive an American release. The only DVD available seems to be the Polish one, with no optional subtitles. Various small streaming services claim to be offering it, but again, possibly without subtitles and in some cases with timings that don't correspond to the original 131 minutes.
And so another year at Vancouver has ended. As usual, we are left with the feeling that this event is one of the most pleasant ways to catch up with a huge amount of what is happening in world cinema.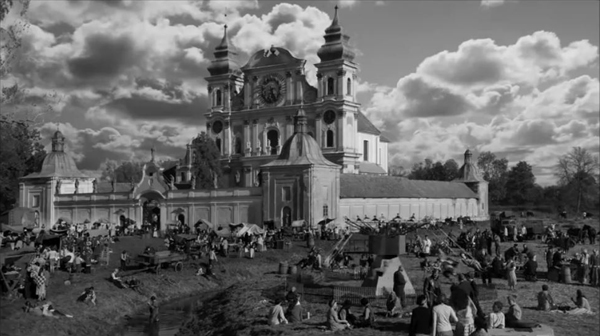 Papusza