Archive for the 'Directors: Kitano' Category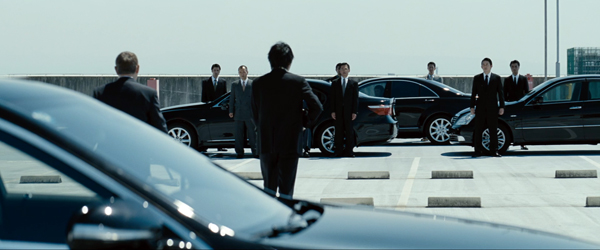 Outrage Coda (2017).
DB here:
The period from 1985-1995 was a sterling era for world cinema. Whatever you think of Hollywood of that time (it wasn't as bad as they say), American independent film was flourishing then. On the global stage, things were even better, as witness the rising careers of Hou Hsiao-hsien, Edward Yang Dechang, Jackie Chan, Tsui Hark, Abbas Kiarostami, and Wong Kar-wai. It was exhilarating to watch these and other directors turn out splendid work like City of Sadness, A Brighter Summer Day, Police Story, Project A Part II, Peking Opera Blues, Once Upon a Time in China, The Blade, Where Is the Friend's Home?, Through the Olive Trees, Days of Being Wild, Chungking Express, and more.
That's not all. In Hong Kong, John Woo was redefining the urban action film with the flamboyant, romantic A Better Tomorrow (1986), The Killer (1989), and Hard-Boiled (1992). In Japan, a standup comedian known as "Beat" Takeshi Kitano took over the helming of a crime thriller, Violent Cop (1989), and decided to continue directing, turning out not only the bored-hitman saga Sonatine (1993) but also the lyrical A Scene at the Sea (1991). Another Japanese filmmaker, Kore-eda Hirokazu, launched his career with the meditative, Hou-ish Maborosi (1995).
I loved these films, and still do. Woo and Kitano belong to an older generation (mine, actually), while Kore-eda is younger. None has gone away. All came to Venice 74 with murder on their minds.
Confessed, but to what?

The Third Murder (2017).
The Third Murder (Sandome no satsujin) is Kore-eda's first venture into the crime genre, and he brings to it the same steady humanism we find in all his work. I've elsewhere recorded my uneasiness with his current visual style. Unlike the grave, long-take Maborosi, his films of the last decade or so are pictorially conventional, even academic, with their big close-ups, needlessly sidling camera moves, and other features of intensified continuity. But he continues to take narrative risks, and his almost Renoirian willingness to see many moral and psychological points of view make every film fairly gripping.
The Third Murder begins abruptly. An unseen victim is bludgeoned and the body is burned. The killer is the man we'll come to know as Misumi. He's captured. Like 99% of people charged with crimes in Japan, he readily confesses. His lawyers face only the question of sentencing: Should they try to get him life imprisonment rather than execution? When one attorney, Shigemori, decides to investigate more closely, he peels back layers of uncertainty about the circumstances, the victim, and the motive(s). Like many a victim in crime fiction, this businessman needed killing.
Following conventions of the investigative procedural, the plot relies on secrets, viewpoint shifts that drop hints, twists that frustrate simple understanding, and flashbacks that make us question what we thought we knew. Shooting in anamorphic widescreen, Kore-eda produces some extreme framings reminiscent of Kurosawa's High and Low, one of the films he studied while preparing the project. Despite occasionally flashy moments, it's a soberly told tale, emphasizing characterization and social critique. By the end, Misumi acquires a weary, radiant dignity, while entrepreneurial capitalism and the justice system are revealed as compromised. (In this respect it recalls I Just Didn't Do It, 2007, by another 80s-90s director, Suo Masayuki.) In moving to the sordid terrain of the crime story, The Third Murder shows that Kore-eda hasn't given up his sympathetic probing of human nature and his praise for un-grandiose self-sacrifice.
Bullets to the head and elsewhere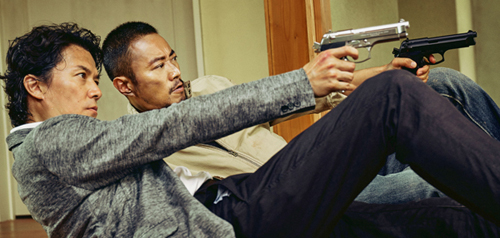 Manhunt (2017).
Sober and un-grandiose don't apply to Manhunt (Zhuibu), John Woo's return to bloody brotherhood and outsize ordnance. After prestige Hollywood efforts like Windtalkers (2002), the nationalistic costume picture Red Cliff (2008-2009), and the ensemble-disaster movie The Crossing (2014-2015), Woo is back with what he does best: showing many people firing many guns, dodging bullets (bad guys have bad aim), diving for cover in slow-motion, floating through hazes of cordite, and instantly recovering from wounds that would finish off you and me. These characters also run endlessly, hop into the path of trains, overturn vehicles, and set loose unconscionable numbers of pigeons.
1990s Hong Kong directors could make cheap pictures look expensive; given bigger budgets, they made expensive pictures look cheap. Here that cheapness shows most in some video-generated shots that recall the bad old days of edge enhancement. But who has time to study such problems when you're smacked by a fusillade of 3000-plus shots in 105 minutes? Resistance is futile, and the pace doesn't relent. When the fights and pursuits pause, the dialogue scenes flash by in a flurry of cuts and unfortunate lapses into English. (Much of the soundtrack recalls the eerily dubbed voices on US videos of The Killer.)
You've got no time to worry much about all this after an opening that drops us straight into an ambush. Ultra-cool Du Qiu drifts into a bar and quotes yakuza movies before leaving the hostesses to slaughter the gangsters dining there. It does get your attention, and it encourages you to sit through the exposition showing Du as the trusted lawyer for a corrupt pharmaceutical company. He proceeds to be framed for murder and goes on the run. Meanwhile stalwart detective Yamura, charged with bringing Du in, begins to suspect that there's a bigger scheme afoot. Of course he is right.
This is all completely preposterous and continually enjoyable, with constantly startling action choreography and an overheated soundtrack that at one point breaks into Turandot. Here those damn pigeons don't just soar into the sky; thanks to CGI, they flap annoyingly into the middle of fight scenes, spoiling a punch or a gunman's aim. We have, besides our twinned heroes, one corrupt cop, one psychopathic son, one fairly mad scientist, two expert hitwomen (one played by Woo's daughter), a fleet of black-suited motorcycle assassins, and two docile women who acquire some non-negligible lethality. In the press conference, Woo emphasized his eagerness to create women warriors, and he hasn't stinted. There are hallucinatory images of a bloody wedding dress to enhance the feminine mystique.
Manhunt is a kind of palimpsest of Asian action movies. It's a remake of a 1978 Takakura Ken movie released to great popularity in China during the 1980s. Woo, in Hong Kong, had already succumbed to that actor's spell. What Alain Delon was to The Killer, Takakura is to this, and the steelly self-possession of Zhang Hanyu gives the film a solemnity amid all the flamboyance.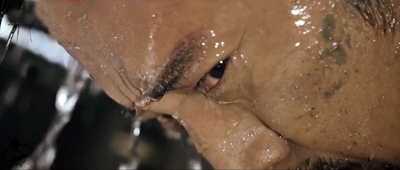 Woo has turned the Japanese original into a real Hong Kong movie, vintage 1992. It lacks the mournful homoeroticism of his prime-period work; these two men don't gaze moistly at each other, but fire quips and complaints in the Lethal Weapon manner. (The bonding is strongest between the duo of female killers.) Still, it's very welcome, with its proudly retro air and fanboy in-jokes. It earns the right to begin with a reference to a Japanese classic and conclude with a wink to A Better Tomorrow, as if that movie were the next link in a grand tradition.  "Old movies always end this way," says one of the survivors of the carnage. I wish more new movies did the same.
Hitmen in cars getting shot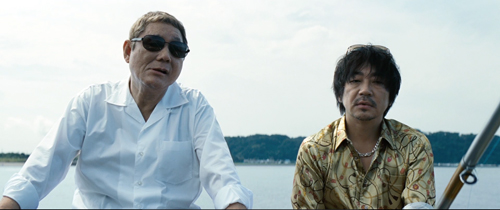 Outrage Coda (2017).
Compared to Woo, Kitano is brutally laconic. In Outrage Coda, except for one Wooish slow-mo massacre, violence is brusque, shocking, and over fast. In a film full of bland pans following yakuza cars here and there, the end of one panning movement  bursts into shooting before you realize it's happening, and it ends just as suddenly. Kitano likes his confrontations, for sure, and sometimes there's a buildup, but mostly the blood just erupts, punctuating long scenes of gangster intrigue.
Here that intrigue involves three rival gangs, each with bosses capable of remarkable lip contortions: the Hanabishi yakuza family, its once-powerful subsidiary the Sanno group, and a gang of fixers operating in Japan and Korea under the auspices of boss Chang. Add in two cops, one ready to knuckle to corrupt superiors, the other raging against them, and you have the world through which Otomo (Kitano) and his sidekick Ichikawa move. Normal life, as it's commonly known, has no place here.
The action bristles with schemes, shifting alliances, double-crosses, faked deaths, and power grabs."Your methods," remarks one boss to a co-conspirator, "are increasingly more intricate." Remarkably, after an introduction humiliating the not-so-bright Hanaba during a sexcapade, Otomo isn't seen that much. Two-thirds of the running time are devoted to the machinations of the gangs and the cops. Otomo and Ichikawa swing into action rather late, their task being to chop through the knots of plot and counterplot.
The opening few minutes spread out the key motifs. A fishing scene displaying Kitano's characteristic love for boyish pastimes is interrupted by the discovery of a pistol. The credits sequence announces the importance of cars with gorgeous shots of Otomo being driven through neon-lit streets, his ride seen from straight down as lights play over it. Throughout, deals are struck or broken in cars, and one memorable execution makes creative use of a Toyota. Even that banal filler, shots of cars pulling up and disgorging their riders, gets played for variations: distant thunder when bosses arrive for a conference, abstract configurations when rival forces meet on a rooftop.
During the 1990s Kitano was one of those directors working with what I've called planimetric staging and compass-point editing. (Wes Anderson, Terence Davies, and others worked the same territory.) Characters face the camera in medium shot, and shots change along the lens axis or at 90 degrees to it. It's as if we were in between the characters. When I asked Kitano about the technique back then, he claimed that it was his effort at realism, capturing how people faced one another in conversation.  He added that he didn't know how to direct a scene, and this was the easiest way.
I thought that his images' paper-doll simplicity suggested a naivete suited to Kitano's childish hitmen. Moreover, this rigorous, geometrical technique takes on special impact when presenting mobster shootouts. Instead of ducking for cover as Woo's heroes do, Kitano's stand up and keep blasting, firing straight out at the viewer in tit-for-tate exchanges. His unflinching framing, refusing Woo's camera arabesques, gives these encounters a ceremonial gravity, turning them into rituals of professional righteousness. Last man standing, indeed.
The face-to-face shootouts in Outrage Coda adhere to this style, and early in the film so do the conversations. Here is Otomo discovering Hanada in his masochistic rig.
But for many dialogue scenes Kitano has gone with more orthodox staging and shooting. We get over-the-shoulder shots for conversation, tight close-ups to emphasize character reactions, and even that commonplace of modern cinematography, the arcing movement around a speaker to pick up a listener in the background. These choices allow Kitano to expose the ripe performances of the two conspiratorial dons Nishino (Nishida Toshiyuki) and Nakata (Shiomi Sansei); their leathery skin, slip-sliding jaws, and shouted outbursts gain a lot from this treatment. Not that I'm really complaining. In a slightly longer film than Manhunt, Kitano gives us around 700 shots, less than a quarter of Woo's outlay. Each image carries a lot of weight.
Outrage Coda concludes a trilogy, and at the press conference Kitano said that he conceived this and Outrage Beyond (2012) as one continuous phase of the story. He wanted the series to finish. The ending of this installment will fuel much speculation about his next move, and he hinted that he might adapt a forthcoming novel, one that's a love story. He's done one before in A Scene at the Sea, and arguably in Kikujiro (1999). His fans, who mobbed him at the panel, are certainly ready for whatever he comes up with.
---
Thanks as ever to all those at the Venice Film Festival who made our stay so enjoyable. Special thanks to Peter Cowie, Alberto Barbera,  Michela Nazzarin, Jasna Zoranovich, and our colleagues at the Biennale College Cinema endeavor.
For more on John Woo's style of action cinema, see my book Planet Hong Kong. I discuss planimetric staging and compass-point editing in On the History of Film Style and several blog entries, notably the persistently popular Shot-consciousness (which has side notes on Kitano) as well as entries on Wes Anderson.
John Woo and Kitano Takeshi satisfy their fans.