Monday | April 19, 2021
open printable version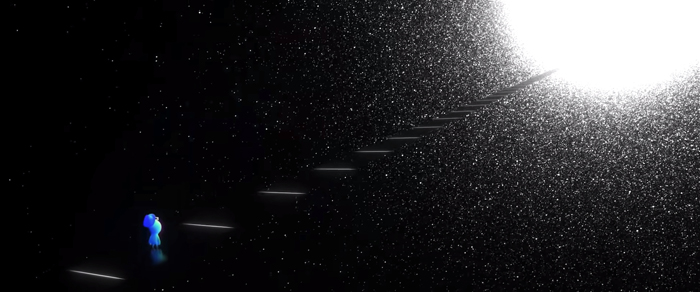 Soul (2020).
Jeff Smith here:
After a short hiatus, I'm back with a preview of this year's Oscar nominees for Best Achievement in Music Written for Motion Pictures. As with everything else in the COVID pandemic, this year's nominees represent a slight departure from previous years. With the massive shuffling of release schedules, some films like No Time to Die, Dune, and In the Heights that would have been strong contenders in these categories will have to wait until next year.  At the same time, the closure of theaters, and the attendant changes regarding Oscar eligibility, meant that some smaller films' fortunes were boosted by their availability on top streaming services like Netflix and Amazon Prime.
Here I survey the five scores that received nominations and offer a prediction regarding the eventual winner. Later this week, I'll do the same for the Best Original Song nominees.
The usual caveats apply for those readers interested in the online betting markets. My picks are for "entertainment purposes only."
Moreover, I admit that my track record hasn't exactly been stellar. If memory serves, I've gone five for eight in my previous predictions. That's about a 62% accuracy rate. Better than chance but hardly anything to brag about.
Consequently, I advise readers to treat both predictions as the equivalent of a handicapper's pick for a daily double. It feels really good if you are right. But truth be told, odds are against it.
Let's turn now to the nominees for Best Original Score. At first blush, it would be hard to imagine a more disparate group of nominated films. It includes a Western, an adventure film, a family drama, a retro-styled biopic, and a metaphysical comedy in cartoon form.
Composers Trent Reznor and Atticus Ross are heavy favorites going into Sunday as double nominees. They were recognized both for their jazz-flavored orchestral score for Mank and, along with fellow nominee Jon Batiste, for their electronic atmospherics in Soul. As previous winners for The Social Network (2010), they stand a good chance of adding more little gold men to their mantles.
The long shot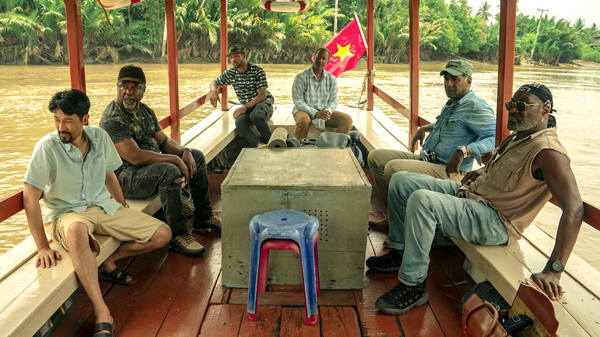 The Oscar betting markets have Terence Blanchard's score Da 5 Bloods as the nominee with the longest odds. That is a shame insofar as Blanchard remains one of the most underrated composers writing for films. Using a 90-piece orchestra, Blanchard provides an epic sound for Spike Lee's clever take on The Treasure of the Sierra Madre. I wouldn't say Blanchard and Lee's collaboration on Da 5 Bloods is a career best. For me, their peak is represented by the magisterial score in 25th Hour (2003), one of the best films of the 2000s. Still, Blanchard's music for Da 5 Bloods is awfully, awfully good.
Besides the resources of a conventional orchestra, Blanchard also engaged the services of Pedro Eustache to play the duduk, an Armenian double reed instrument that adds an unusual tone color to some of the score's melodies. The duduk adds a touch of exoticism as a reminder that the protagonist Paul and his crew of Vietnam vets are strangers in a strange land. Yet the score wisely avoids the kinds of Orientalizing musical gestures that are common in many Hollywood films with South Asian settings. The duduk is heard in a handful of cues that underscore Otis' relationship with Tien, his old Vietnamese girlfriend.
In contrast, strings and brass are key to several cues pitched in an elegiac register. As Todd Decker notes in his book, Hymns for the Fallen: Combat Movie Music and Sound after Vietnam, this style of music became especially common in Hollywood war films after Samuel Barber's famous Adagio for Strings was used so memorably in Oliver Stone's Platoon (1986). A good example is "MLK Assassinated" where the squad reacts to Hanoi Hannah's announcement of the civil rights leader's death.
Blanchard, too, mines this vein in cues accompanying scenes where the crew recalls the death of their squad commander Stormin' Norman Earl Holloway.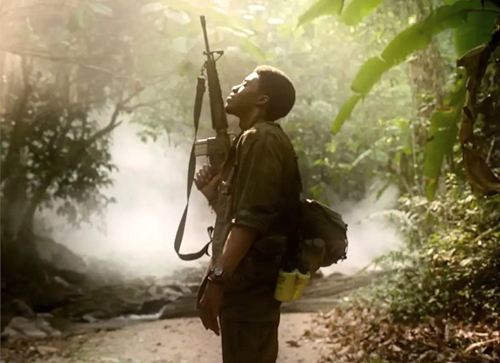 Da 5 Bloods is a film of greed and grief, rage and remorse. Blanchard's score not only captures the frustrations occasioned by America's racial reckoning, but also reveals the deep sadness beneath, paying tribute to the sacrifices Black soldiers made while serving in Vietnam.
The Newbie
Our second nominee is Minari, which features the music of composer Emile Mosseri. Mosseri studied film scoring at the prestigious Berklee College of Music in Boston. But he also is a member of an indie rock band, The Dig, which has released three albums and four EPs since their debut in 2010. Mosseri got his first major film assignment in 2019 when he wrote the score for Joe Talbot's acclaimed debut, The Last Black Man in San Francisco. Mosseri soon established himself as an up-and-comer in the world of American Indie cinema. In 2020, Mosseri not only wrote the music for Minari, but also scored Miranda July's Kajillionaire.
Minari tells the autobiographical story of a Korean-American family's move to Arkansas in the 1980s. When Mosseri offered to help with the film's music, director Lee Isaac Chung gave the composer only one directive. He told him not to do something Korean. Instead, Chung and Mosseri discussed the work of Maurice Ravel and Erik Satie, seeing their impressionistic, delicate tone as an idiom more fitting for the story. Mosseri took the unusual step of writing some sketches before production began. This assured that the tone of the score was "baked in" to the film throughout post-production. It also allowed Chung and his film editor to adjust the duration of shots and select takes to better fit Mosseri's already existing music.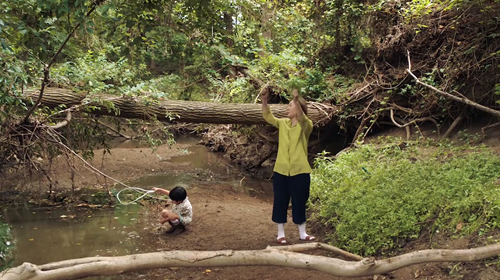 Given Ravel's and Satie's influence on the score, it is not surprising that Mosseri's melodies and orchestrations emphasize piano and strings. Mosseri, though, varies the tonal palette by occasionally adding voices, winds, and vintage LFO synthesizers, instruments whose timbre helps to suggest the feeling of a "dream-memory" soundscape. Many of the cues unfold as patterns of slowly shifting harmonies. This is evident in "Outro" which can be heard below.

Mosseri notes that the real challenge in the film was to communicate Minari's warm and gentle tone without being saccharine. The score's modesty makes it appear to be the polar opposite of Blanchard's epic style in Da 5 Bloods. Whereas Blanchard goes for emotional sweep and impassioned sorrow, Mosseri strives for reserve and subtlety. Moreover, although Blanchard writes for a 90-piece orchestra, Mosseri's ensemble is less than half that size. Lastly, whereas Da 5 Bloods contains a lot of music — not just Blanchard's score, but also another ten period-appropriate songs — Minari has a little over thirty minutes of underscore, heard for less than a third of the film's 115-minute running time.
Still, Minari and Da 5 Bloods have one thing in common. A film composer's first job is to serve the story, tailoring their music to the specific needs of each scene. Blanchard and Mosseri have done that as well as anyone this past year. I would be happy to hear either one of their names called out as the winner come Sunday night.
The Oater
The third film nominated for Best Original Score is the Paul Greengrass Western, News of the World. Unlike Mosseri, who is a first-time nominee, this is composer James Newton Howard's ninth nomination. During a career in Hollywood that spans more than 35 years, Howard has enjoyed close collaborations with directors like M. Night Shyamalan and Francis Lawrence. His music has also been a vital component of popular franchises like The Hunger Games and the Harry Potter spinoff, Fantastic Beasts and Where to Find Them.
On a personal note, Howard played a key role in my own musical biography. Earlier in his career, Howard did string arrangements and played keyboards on Elton John's Blue Moves (1976), an album that was among the first dozen or so I bought as a teenager. I also listened repeatedly to its biggest hit, "Sorry Seems to Be the Hardest Word," trying to slavishly duplicate both Elton's piano part and Howard's nifty keyboard solo. Elton won last year for Rocketman in the category of Best Original Song. It somehow seems fitting that Howard could take home an Oscar this year for Best Original Score.
News of the World tells the story of Captain Jefferson Kyle Kidd, a Civil War veteran who travels across Texas, reading news stories aloud in frontier towns for both entertainment and edification. Early on, Kidd comes across an overturned wagon and discovers a lost child. Abducted by the Kiowa, Johanna was being escorted back to her family by a federal officer when their party was bushwhacked. Kidd learns that Johanna will have to wait several months for the return of the Bureau of Indian Affairs representative. So the Captain decides to deliver Johanna to her surviving family. The rest of the film dramatizes their growing bond as Kidd and Johanna make the 400-mile trek through hostile territory to her aunt and uncle's homestead.
Adapted from Paulette Jiles' 2016 novel, News of the World feels a bit like a mashup of The Searchers (1956) and the Coen Brothers' remake of True Grit (2010). Its kidnapped-child premise seems inspired by the former while the picaresque journey structure and "father-daughter" emotional dynamic derive from the latter.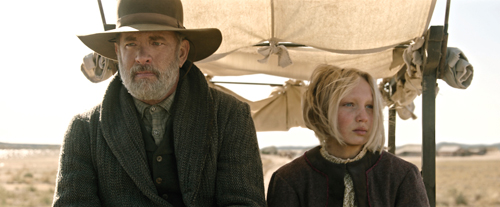 Several of the film's plot elements, though, offer comment on contemporary politics. The brusque handling of Johanna by Union Army officials in Texas can't help but remind us of the Trump administration's family separation policies. Similarly, when Kidd and Johanna are stopped by brigands from a radical militia, they are taken to a town governed under White Supremacist principles, an episode that serves as a grim reminder of contemporary threats of domestic terrorism.
Like Mosseri's score for Minari, much of Howard's music in News of the World strives to capture the intimacy and deepening trust that develops between the central characters. That relationship is reflected in one of Howard's main musical themes heard here in a cue entitled "Kidd Visits Maria."
Howard's cues often feature long languid melodies in the strings, but he also nominally adheres to genre convention by incorporating harmonica, mandolin, banjo, guitar, and scratchy fiddle airs to flavor the score with a folksy, period sound. For a handful of scenes involving shootouts, hazardous travel, and hair's breadth escapes, Howard furnishes the rhythmic drive and dynamics that give them their emotional punch. But the score is most effective in its quiet and reflective moments. Kidd and Johanna both suffer from a sense of loss and loneliness. As they gradually come to realize how much they need each other, Howard's music communicates that well of feeling, expressing what the characters themselves are too reticent to admit.
Souls and the Soulless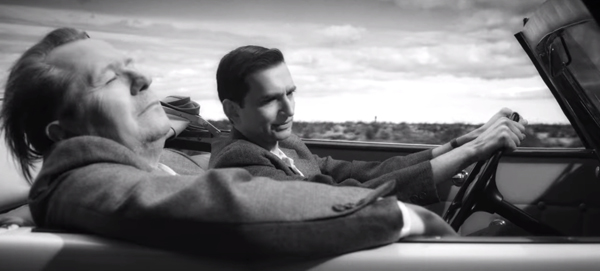 This brings us to the final two nominees: Mank and Soul.  For Mank, Trent Reznor and Atticus Ross sought to create a score that would seem experimental if it were featured in a film made in 1940. To some extent, they succeed. By opting for an orchestral jazz sound, they evoke a style that did not become common until the 1950s when it was popularized by later Hollywood composers like Alex North, Elmer Bernstein, and Henry Mancini. Still, despite that disjuncture, Reznor and Ross' score still seems period appropriate insofar as it recalls much of the popular music recorded during the 1930s.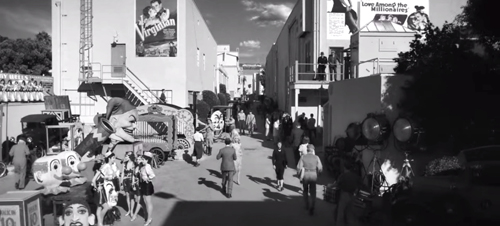 In preparing Mank's score, Reznor and Ross decided to write cues in two different, but related styles. One set of cues involved big-band and foxtrot arrangements that would underscore scenes involving studio politics. An example is the cue "Fool's Paradise" heard below.
The other set of cues deployed an orchestral palette and speak more to Mank's emotional journey over the course of the film.
Notably, Reznor also admits that they often referred back to Citizen Kane during the writing process. Not surprisingly, some cues, like "Welcome to Victorville" and "Absolution," sound a bit "Herrmannesque" in their evocation of Kane's famous score.
A few, such as "San Simeon Waltz," are even in the lyric mode Bernard Herrmann used in scores like The Magnificent Ambersons (1942) and The Ghost and Mrs. Muir (1947). The latter, not coincidentally, was directed by Herman Mankiewicz's younger brother, Joseph.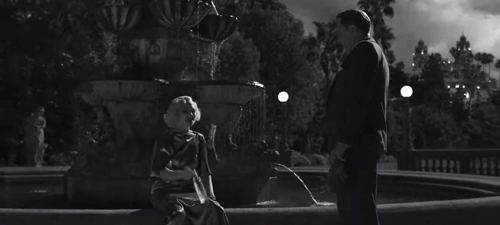 For the most part, Mank's music hits all the right notes, as bracing as a warm breeze on a summer day. The score is aptly sweet and tender for the heart-to-heart talks between Mank and Marion Davies, arch and mischievous for moments that display Mank's acrid wit. In fact, Mank's score seems most period-appropriate on the rare occasions when it indulges a bit of "Mickey-mousing." An example of this occurs in the scene where Mank drunkenly stumbles as he exits a car in front of Glendale Station. As Ross notes, the music "gets drunk" as well with muted horn figures that could easily have been pulled from an MGM or Warner Bros. cartoon.  All that's missing is the sound of Mank's hiccup.
And then there's Soul. Reznor and Ross' collaboration with New Orleans musician Jon Batiste is a favorite with good reason. The film's protagonist is a jazz pianist, an element of the story that makes music integral to the viewer's experience. Such narrative motivation has certainly helped several previous winners, like La La Land, The Red Violin, and Round Midnight. It also helps that Soul has swept almost all of the year-end critics' awards for Best Score as well as winning a Golden Globe, a BAFTA, and a Society for Composers and Lyricists Award.
Like the score for Mank, most of the music for Soul consists of two types.  On the one hand, there is the earthbound jazz performed by Joe Gardner, the film's protagonist. These cues provide Jon Batiste an opportunity to shine. Anyone who knows Batiste from his regular gig with Stay Human, the house band on Late Night with Stephen Colbert, are well aware of his enormous talent. For me, even more amazing is Pixar's skill in animating Joe's pianistic skills which mimic Batiste's virtuoso scale runs and arpeggios.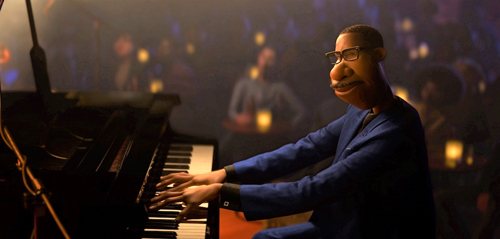 On the other hand, though, we have the music Reznor and Ross wrote for the film's depiction of the "Great Before," the way station where counselors prepare unborn souls for their journey to Earth.
And for the zone, a place where souls can experience euphoria upon realizing their life's passions.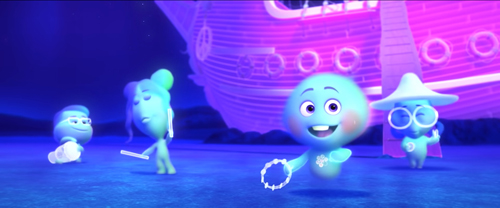 Some reviewers have characterized these cues as spacey New Age music, and that description has a grain of truth to it. Yet, the sounds created by Reznor and Ross seem more like an extension of the electronic experiments they explored in their cutting-edge work on The Social Network, Gone Girl (2014), and Waves (2018).
According to Reznor, to convey the sense of the afterlife as a world both strange and comforting, he and Ross brought in some ideas about microphone placement, vocal textures, and scraping noises they had tried out in their studio. They also processed the sounds from samples and recordings of instruments to give them a slightly off-kilter quality. Such techniques were intended to underline the "imperfections of humanity" in an interesting way. The end product is a "very sublime synthetic score," in the words of sound designer Ren Klyce. To it, Klyce added the sounds of waving wheat fields and children's voices to create an environment that felt safe, peaceful, relaxing, and nurturing.
The tranquil score is a perfect fit for director Pete Docter's vision of the "Great Before." Yet it also feels a bit uncanny coming from Reznor, a pioneer of industrial music, a style of rock music as cacophonous, abrasive, and propulsive as its name implies. Reznor's primal howl as the frontman for Nine Inch Nails remains a cultural touchstone of premillennial, post-adolescent angst.  Reznor's contributions to Soul not only show he has mellowed with age, but also that the guy has got extraordinary range.
Prediction
This is the easy one. Barring some groundswell of support that would produce a Minari sweep, Soul will take home the Oscar for Best Original Score. All of its previous awards are very strong indicators. It's hard to see how the Academy will be any different from any of the 35 other organizations that have recognized Soul's score as the best of the past year.
---
As always, my go to source for information about the Academy Awards' music categories is Jon Burlingame, Variety's film music specialist.  Burlingame's coverage of these races is always informative and insightful.  Some examples of his reportage can be found here, here, and here.
The Hollywood Reporter also has published some useful articles about this year's nominees, which can be found here.
Besides the interviews mentioned above, one can find many other interviews through the web.  An interview with James Newton Howard about his work on News of the World can be found here.
Discussions with Emile Mosseri about the collaboration with Lee Isaac Chung can be found here, here, and here.
Terence Blanchard talks about the music for Da 5 Bloods and his long partnership with Spike Lee here, here, and here.
Trent Reznor and Atticus Ross discuss their approach to Mank here.
The duo are featured in a long video discussing and demonstrating their creative process here.
Lastly, a link to Todd Decker's Hymns for the Fallen can be found here.
Soul.