Thursday | April 22, 2021
open printable version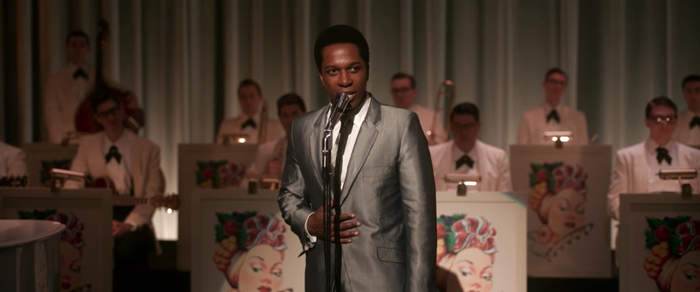 One Night in Miami (2020).
Jeff Smith here:
On Monday, I offered an overview of the five nominees for Best Original Score as well as a prediction regarding the winner. Today, I do the same for the Best Original Song nominees.
The usual caveats apply for those readers interested in the online betting markets. My picks are for "entertainment purposes only."
As we'll see, the race in the Best Original Song category is extremely competitive. Indeed, I almost flipped a coin to make my final decision. I didn't. But the very fact that I thought about it indicates the low level of certainty I have about my prediction.
I should add that there are a few SPOILERS AHEAD.  If you don't want to know some of the key plot twists in Eurovision Song Contest: The Story of Fire Saga or a small but important plot point of The Life Ahead, you can skip to the last section.
Best Original Song: The Underdog
One striking detail about this year's nominees is the fact that four of the five function as "needle drops" introduced as the film's closing credits start to roll. Perhaps a steady diet of television episodes streamed during the pandemic has accustomed viewers to expect that this is the way songs now function in movies. Several shows, both old and new, have used these needle drops quite creatively. (I'm thinking here of Mad Men, The Marvelous Mrs. Maysles, and WandaVision. I'm sure you all have your own favorites.)
Set off from the narrative flow of the episode, music supervisors found they could use a song as a curtain closer to highlight elements of theme, tone, or mood without worrying about things like time period or the musical tastes of the show's characters. Such transmedial influences eventually might establish this as the primary function of popular songs in films. If this year's nominees are any indication, the trend is already well on its way.
The one exception is "Husavik (My Hometown)" from Eurovision Song Contest: The Story of Fire Saga. The film, of course, is a vehicle for star Will Ferrell. He plays an Icelandic version of his usual man-child persona. It adds, though, a musical competition element borrowed from other comedies, like Pitch Perfect, and from popular music shows, like American Idol.
Ferrell plays Lars Ericksong, a humble "meter maid" whose lifelong dream is to compete in the Eurovision Song Contest. Eurovision, of course, is an annual event in real-life. It remains the longest running internationally televised music competition. The contest played an instrumental role in launching the careers of artists like ABBA, Céline Dion, and Julio Iglesias.
Lars hopes to follow in their footsteps, but his ambitions are mocked by the other residents in his small town.
Lars' only defender is Sigrit, his childhood friend and his partner in the musical duo Fire Saga.  Fire Saga plays a vital role in the town's musical culture, performing regularly at a local bar. Yet their audience mostly rejects their musical offerings. Instead, they prefer "Ja Ja Ding Dong," a sexually suggestive nonsense song that is the antithesis of past Eurovision winners.
Sigrit, played winningly by Rachel McAdams, is steeped in Icelandic folklore. She makes offerings to a small den of elves that she hopes will prompt Lars to return her considerable affections for him. She also believes in the "speorg note," a mystic tone that Sigrit's mother tells her represents the truest expression of the self.
Fire Saga enters the national competition hoping to earn the honor of representing Iceland. During an Icelandic Public Television meeting, their song is picked at random simply to meet Eurovision's requirements for a country's eligibility. At Reykjavik, Lars and Sigrit nervously wait backstage for their performance. Sigrit wishes that she could sing in their native language since it would calm her down. Lars, though, warns against it noting that a song in Icelandic would never win Eurovision.
Fire Saga loses to a talented competitor named Katiana, played by Demi Lovato in a nice cameo. Embittered, Lars refuses to attend a party celebrating the winner and Sigrit joins him in solidarity.  When the boat hosting the party explodes, killing everyone aboard, Fire Saga becomes the Icelandic entry as the only surviving runner-up.
Once in Edinburgh, the site of the 2020 competition, Lars and Sigrit clash regarding the best way to present their music. (In reality, the 2020 Eurovision contest was to be held in Rotterdam but was cancelled due to the pandemic.)  Lars wants to wow the audience with elaborate costumes and stagecraft. He also hires a K-Pop producer to remix their recording, giving it a hip new arrangement. Sigrit would rather just let the music speak for itself.
During the semi-finals, Fire Saga's performance of "Double Trouble" seems to be going well. But Lars' desire for showmanship backfires when the absurdly long scarf he has given Sigrit gets caught in the gears of his giant hamster wheel.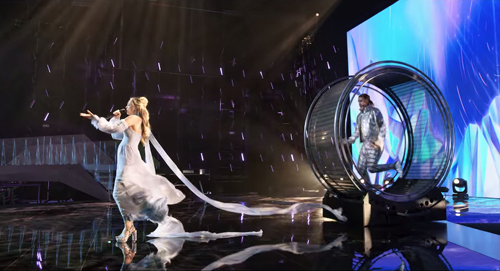 Sigrit is able to free herself before she suffers the fate of Isadora Duncan. But the hamster wheel breaks free and crashes into the audience. Although Lars and Sigrit recover just in time to finish the song, they are initially met with stunned silence. This is followed by some snickers scattered amongst the crowd. Lars and Sigrit leave the stage dejected, smarting from their humiliation.
Crestfallen, Lars returns to Húsavik, reconciled to life as a fisherman rather than a musician. Sigrit stays behind to continue her dalliance with Alexander Lemtov, a rival contestant from Russia. Sigrit is gobsmacked when she learns that Fire Saga has been voted through to the finals, a plot twist perhaps inspired by the real-life hate-watching that produced surprisingly long runs by American Idol contestants like Sanjaya Malakar.
Lars makes a mad dash back to Edinburgh, both to participate in the finals and to declare his love for Sigrit. Looking like the Gorton Fish guy, Lars sneaks onstage just as Sigrit has begun "Double Trouble." He stops her mid-phrase and persuades her to sing a new song even though he knows the change will result in Fire Saga's disqualification. Sigrit begins tentatively but soon grows in confidence as she reaches the chorus, sung in Icelandic much to the delight of those watching in Húsavik. The song builds to its climactic final note, a high C# that is held for several seconds, leaving both the audience and Lars rapt in awe. This time Fire Saga's performance is met with thunderous applause. In an aside just for the viewer, Lars exclaims, "The speorg note!" 
There's a lot wrong with Eurovision. Some of the film's gags misfire badly. The race to get Lars from the airport to the auditorium features the kind of crazy stunt work that's grown stale from overuse. (Think spinning car and reaction shots of screaming passengers!) And at 126 minutes, Eurovision has two or even three subplots too many.
Yet the filmmakers definitely stick the landing with Fire Saga's triumphant performance of "Husavik (My Hometown)." Seeing Lars cede the spotlight to Sigrit and her rise to the moment brings a lump to the throat, just as it does in other show-biz success stories like 42nd Street (1932) and A Star is Born (2017). (It's an old formula but a potent one.)
Moreover, the sequence pays off several dangling causes (the reference to Icelandic lyrics in the scene backstage, the rekindled romance of Lars' father and Sigrit's mother, the speorg note). Even Fire Saga's disqualification strikes the right tone by making the duo the musical equivalent of Rocky. They win by losing, content in the knowledge they were worthy contenders and in the realization of what they truly value. Watching the folks back in Húsavik swell with community and nationalist pride is just the cherry on top of a very satisfying sundae.
Any one of Eurovision's Europop pastiches would have been worthy of nomination. For example, the faintly ridiculous quality of Lemtov's "Lion of Love" makes it a perfect surrogate for the character's ostentation and vanity.  But only "Husavik (My Hometown)" both tickles the fancy and tugs the heartstrings.
Still, despite its appositeness for Eurovision's story, I think it is a long shot when it comes to claiming the trophy. You have to go back to The Muppets in 2011 to find an Oscar-winning song in a live action comedy. And that was a strange year in which there were only two nominees. Before that, you have to reach all the way back to 1984's The Woman in Red. That year, the winner was "I Just Called to Say I Love You," written and performed by the great Stevie Wonder. Despite its considerable craft, "Husavik (My Hometown)" seems unlikely to alter a trend that rewards songs in dramas rather than comedies.
The Bridesmaid (as in "Always the…")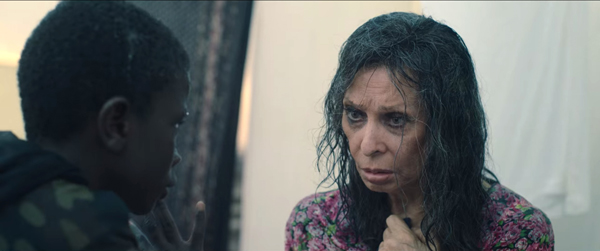 This past February, Diane Warren received her twelfth Academy Award nomination for "Io Sì (Seen)," featured in the Italian film, La Vita davanti a sé. Warren has won an Emmy, a Grammy, and two Golden Globe awards, but has yet to claim an Oscar. This puts Warren in some pretty good company. Her colleague, composer Thomas Newman, has been nominated fifteen times without winning. Composer Victor Young received 21 nominations before finally breaking through with Around the World in 80 Days (1956). Sadly, Victor Young didn't live long enough to actually receive the award. He died at age 57 just months before the ceremony.
Warren's latest effort, "Io Sì (Seen)," is the type of soaring power ballad she has spent much of her professional life perfecting. The song starts with a modest piano figure that accompanies Laura Pausini's indomitable voice at a moderate tempo. The lyrics offer a simple but powerful declaration of emotional support regarding the need to be "seen." Pausini's voice rises in the chorus as she vows in Italian, "But if you want, if you want me, I'm here." The addition of a string orchestra and tasteful percussion accents provides additional emotional heft.
The modest arrangement allows the song's simple beauty to shine through. Its mood and Pausini's vocal delivery seem miles away from the bombast that made Aerosmith's "I Don't Want to Miss a Thing," one of Warren's earlier nominees, a chart-topping single.
For me, though, that is all to the good. La Vita davanti a sé is itself an unassuming coming-of-age tale that depicts the unlikely friendship that develops between Madam Rosa, an elderly Holocaust survivor, and Momo, a 12-year-old orphan from Senegal.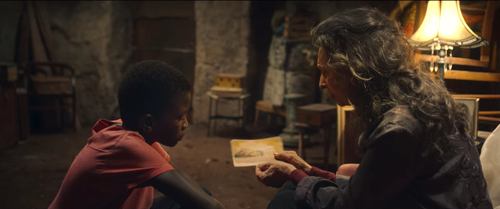 Buoyed by Sophia Loren's valedictory performance, the song reflects the strong filial bonds that form when Momo becomes Rosa's ward. The lyrics' reassurance that "I'm here" capture the ways in which Momo and Rosa have learned to care for one another. Placed just after the funeral ceremony that closes the film, "Io Sì (Seen)" sustains the scene's bittersweet, melancholy tone and carries it into the credits. The song also reiterates the story's central themes regarding the need for unconditional acceptance and love's ability to overcome differences in gender, race, and age.
La Vita davanti a sé has become an unlikely hit for Netflix. At the peak of its popularity, it reached the streaming service giant's top ten in 37 different countries. Perhaps that sleeper success will bolster Warren's chances among Academy voters. She is eminently deserving of the award as a sort of career honor.
Could this be Warren's year?  Perhaps. Still, the fact that more famous songs by Warren, like "Because You Loved Me" and "How Do I Live," also suffered defeat raises some doubts.
Panthers and Boxers and Yippies (Oh My!)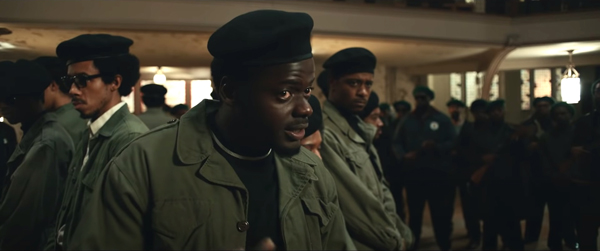 The three remaining nominees are all songs featured in films that look back at the legacy of sixties political activism. Unlike Eurovision Song Contest and La Vita davanti a sé, Judas and the Black Messiah, One Night in Miami, and The Trial of the Chicago 7 all received multiple nominations. Often the halo effect created by that reflected glow can make a difference in very competitive races. Moreover, the two titles receiving Best Picture nominations – Judas and Chicago – also benefit from the massive "For Your Consideration" ad campaigns that appear in trade publications like Variety.  All of this suggests that, if you are looking for this year's winner, you might look here.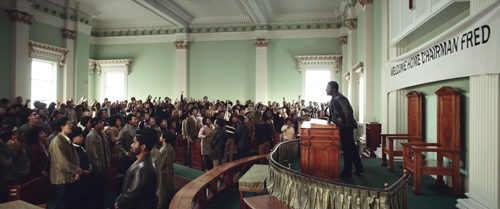 Let's start with "Fight for You," the groovin' track by H.E.R. that closes Shaka King's Judas and the Black Messiah. The song self-consciously evokes music from the period depicted in the film. As H.E.R. told Variety, she wanted the music to have a hopeful vibe, but lyrics that connected to the Black Panthers' historic fight against injustice. She drew upon the classic soul music of Marvin Gaye, Nina Simone, and Sly and the Family Stone, artists who made records that were both popular and politically astute.
The final product is a remarkable synthesis of these different elements. The syncopated brass and organ chords recall vintage Sly and the Family Stone tunes like "Stand." The spare but funky bass line and the supple guitar melody wouldn't be out of place on Gaye's classic, "Let's Get it On" while the doubling of H.E.R.'s voice, sometimes in octaves and sometimes in thirds, conjures up his masterful What's Going On album. The string arrangements and choral melody also bring to mind Curtis Mayfield's classic score for Superfly (1972) for good measure. Only one of the five nominees will make you want to get up dance, and this is it. With its Funk Brothers arrangement and uplifting social message, "Fight for You" educes a bit of folk wisdom from P-Funk guru George Clinton: "free your mind… and your ass will follow."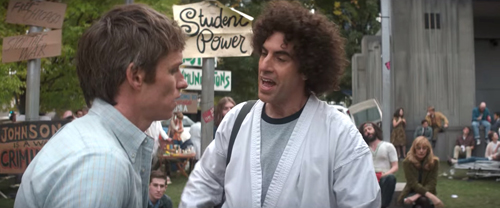 Celeste and Daniel Pemberton's "Hear My Voice" from The Trial of the Chicago 7 also evokes sixties soul, albeit with more of pop flavor and even a dash of Northern soul. Celeste grew up around Brighton on England's southern coast. Her interest in music was nurtured by her early exposure to American jazz vocalists like Ella Fitzgerald and Billie Holiday. Those influences can be heard in Celeste's elegant phrasing on "Hear My Voice." (Beware ads.) But her vocal style has also drawn comparisons to more contemporary British soul singers like Amy Winehouse and Adele.
The end result doesn't slavishly duplicate any of those other singers, emerging as something else entirely. In fact, although Celeste's voice has a timbre all her own, to my ears, the slightly retro vibe of "Hear My Voice" evokes sixties pop and blue-eyed soul artists like Dionne Warwick and Dusty Springfield. The song itself is a mid-tempo ballad with a loping, syncopated beat and an arching upward melody furnishing the tune's main hook. Pemberton's arrangement heightens the pop elements in the recording by emphasizing the piano and strings climbing steadily upward.
The Trial of the Chicago 7's title is fairly self-explanatory, dramatizing the prosecution of activists from the Black Panthers, the Yippies, and Students for a Democratic Society after protesters violently clashed with police at the 1968 Democratic Convention. David's blog on Aaron Sorkin shows, among other things, how the screenwriter/director drew upon the "drama of ideas," a tradition associated with "turn of the century" playwrights like Henrik Ibsen and George Bernard Shaw. In a slight break from that tradition, though, Sorkin sought to end the film on a note of optimism and hope that would yield a sense of empowerment.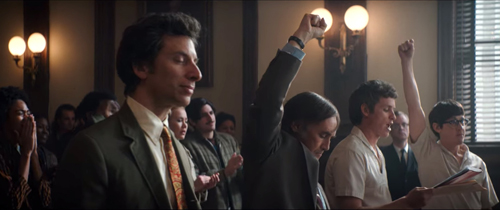 According to Pemberton, the director's first choice for an end-title song to reflect that tone was the Beatles' classic from Abbey Road, "Here Comes the Sun." The composer, though, gently persuaded Sorkin to try something fresh, a new song unburdened by the enormity of the Beatles' legacy. He also reminded Sorkin of the huge licensing fees that any Beatles song would inevitably command. Pemberton and Celeste's much-deserved Oscar nomination vindicates the composer's instincts. Had Sorkin used "Here Comes the Sun," viewers would have soaked in its upbeat vibe.  But The Trial of the Chicago 7 would have gotten only five nominations rather than the six it ultimately received.
Last, but certainly not least, we have Leslie Odom Jr. and Sam Ashworth's "Speak Now," featured in Regina King's directorial debut, One Night in Miami. The film offers a fictionalized account of a fabled meeting of four icons of the 1960s: Malcolm X, Jim Brown, Muhammad Ali, and Sam Cooke.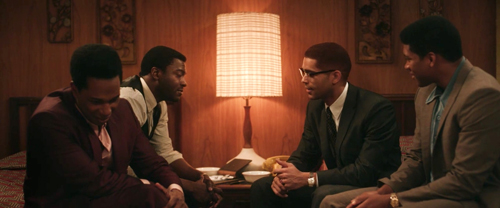 The group assembles in a room at the Hampton Hotel to celebrate Ali's victory over then heavyweight champion Sonny Liston. Yet, with only some vanilla ice cream and a flask of booze as party favors, the good-natured banter soon devolves into a debate about the best ways to achieve social change on the path toward racial equality.
Both musically and lyrically, "Speak Now" seems keyed to an important scene in the film where Malcolm chides Cooke for recording trifling love songs rather than music that speaks to the ongoing struggle for civil rights. He pulls out a copy of The Freewheelin' Bob Dylan and plays "Blowin' in the Wind." Malcolm then asks Sam why it is that a white boy from Minnesota makes music that seems so perfectly attuned to the historical moment. Isn't "Blowin' in the Wind" the type of song Cooke should write? Malcolm's criticism becomes a dangling cause that is picked up in the film's epilogue. As a guest on The Tonight Show, Sam performs "A Change is Gonna Come" for the first time, showing how he embraced Malcolm's challenge to him.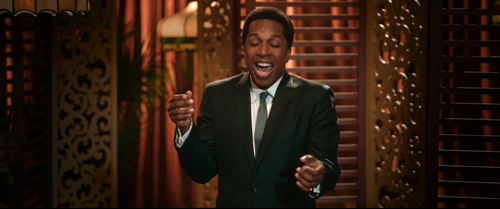 Beginning with a syncopated acoustic guitar riff, "Speak Now" not only recalls several moments of the film where Cooke pulls out his own guitar, but also evokes the type of folk music that was Dylan's stock in trade during the early sixties. The guitar is soon joined by a swirling Hammond B-3 organ. The instrument's timbre evokes both the gospel music that inspired Cooke throughout his career and Al Kooper's distinctive organ stylings on two Dylan masterpieces recorded after he went electric: Highway 61 Revisited and Blonde on Blonde. Floating above both is Odom's plaintive voice, urging the film's viewer to "Listen, listen, listen." Providing the link between past and present, the lyrics entreat the audience hear to the "echoes of martyrs" and the "whispers of ghosts." Odom's soaring falsetto suggests both vulnerability and hope. The song gradually builds, adding strings and percussion, until it reaches a rousing climax.
With its simple arrangement and its mixture of styles, "Speak Now" sounds like the musical child that Bob Dylan and Sam Cooke never had the opportunity to conceive. It provides a fitting end to One Night in Miami by reminding us that the struggle for civil rights continues, especially at a historic juncture where America is challenged to confront the structural and institutional foundations of white privilege and white supremacy.
Prediction
On Oscar night, I will be watching with bated breath to see if…..
…singer Molly Sandén hits the "speorg note" during the performance of "Husavik." If she does, it will bring down the house (or at least break a few champagne glasses).
But the winner? Your guess is as good as mine. This is among this year's most competitive races. In Variety, Jon Burlingame notes that Diane Warren's past nominations made her the early favorite, but adds, "You can't count out anyone, however, in this year's level playing field."
If the vote reflects the song that is most clearly integrated into the film's story, it's "Husavik." It is also rumored to be making a late charge, aided by late campaigns by Netflix and the tiny town of the title.
If, on the other hand, the vote reflects the song that I'd want next in my iTunes queue, it's "Fight For You." It's got a funky groove that just keeps on keepin' on.
That being said, I don't think either of those two songs will carry the day. Ever since the nominations were announced, it's generally felt like a two-horse race: Diane Warren vs. Leslie Odom Jr. The voting could split between those who desire to finally recognize Warren after so many nominations and those who find Odom deserving of the award for Best Supporting Actor but who still voted for Daniel Kaluuya instead.
The fact that Odom is a double nominee would seem to help his chances. But his song's social significance also gives it a slight edge. In 2015, Common and John Legend took home the prize for "Glory," their inspirational song from Selma. Like "Speak Now," the lyrics of "Glory" captured the zeitgeist surrounding the Black Lives Matter movement, particularly the protests in Ferguson, Missouri. The message of "Speak Now" is just as relevant and just as timely. It is possible that voters will want to acknowledge it for that very reason.
Still my gut tells me this is Diane Warren's year. Thirty-three years ago, Warren sat in the venerable Shrine Auditorium as a first-time nominee. She came in with a fighter's chance. Her song, Starship's "Nothing's Gonna Stop Us Now," had a fighter's chance having hit the top of the charts in five different countries, eventually earning gold or platinum record status in four of them. But it was aced out by an even more popular song, "(I've Had) The Time of My Life" from Dirty Dancing. It had gone to #1 in six countries and earned gold or platinum status in seven different markets.
Warren's been waiting ever since for a chance to pop the cork in a champagne bottle at an Oscars afterparty. I think the bubbly finally flows for her this Sunday.
---
Once again, a shoutout to Jon Burlingame for his coverage in Variety of the Academy Awards' music categories. His analysis of the Best Original Song nominees can be found here, here, and here.
To find short interviews with all of the songwriting teams, check out these items from The Hollywood Reporter and Billboard.
A podcast with H.E.R. discussing her collaboration with Tiara Thomas and D'Mile on "Fight For You" can be heard here.
A very long interview with Daniel Pemberton describing his work on The Trial of the Chicago 7 can be found here.
Leslie Odom Jr. talks about writing "Speak Now" here and here.
Finally, Diane Warren performs a medley of all twelve of her Oscar-nominated songs here.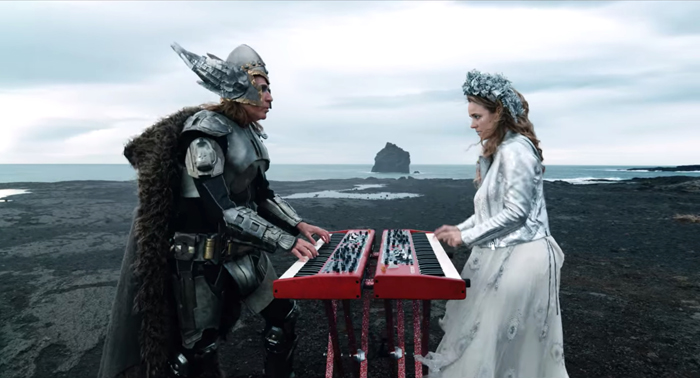 Eurovision Song Contest: The Story of Fire Saga (2020).