Sunday | February 7, 2021
open printable version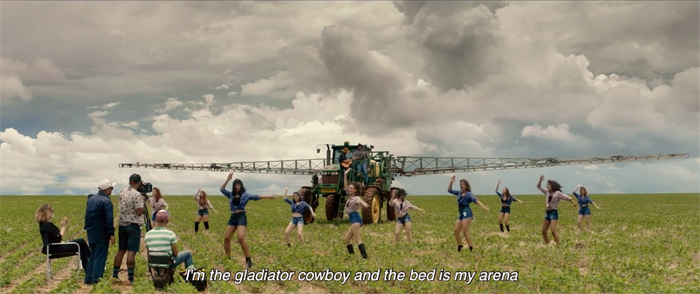 Madalena (2021).
DB here:
A mixure of moods and tones for our final communiqué from the International Film Festival Rotterdam. Its fiftieth year has been a lively one.
The Madalena mystery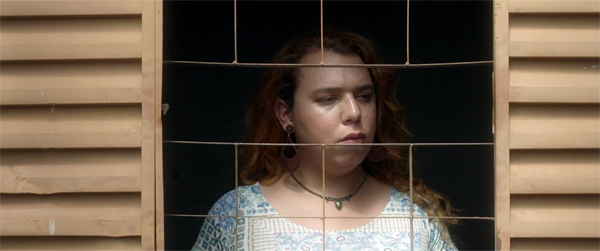 Madalena (2021).
In earlier entries (especially here) I've noted that the thriller genre is well-adapted to festival circulation. It doesn't require the budget of a blockbuster. It can attract major actors who want tricky parts to play. It can be shot on contemporary locations. And the appeal to suspense and surprise fits comfortably with edgy narrative strategies favored by art cinema. At the limit, a filmmaker can arouse our thriller appetites and then try a bait-and-switch that not only warps the genre's conventions but sets us thinking.
The Brazilian film Madalena, by Madiano Marcheti, starts as a classic mystery. In a vast field of soy, reas stalk gracefully as a monstrous pesticide-sprayer grinds toward them. But among the rows lies a corpse.
What follows is more fractured and prismatic. A first section attaches us to Luci, a friend of Madalena's who works as manager of a club. She also picks up work dancing for TV commercials, one set in that very acreage. Then we follow Cristiano, whose father owns the land and demands he hustle to harvest. A third section takes us with trans woman Bianca and her girlfriends, who sort through Madalena's belongings before setting out for a day of driving, swimming, gossiping, and teasing one another, the memory of Madalena never far from their thoughts.
Marcheti skips some of the standard scenes. We never see the police investigation, or even the discovery of the body.  The crime plot has been a pretext to reveal a cross-section of life in the community, from the wealthy farmers to the cottages where the staff live. The resolution shifts the question of who did it to the broader impact of the death, and how it stands for a horrifying statistic: Brazil has the world's biggest murder rate of transgendered people.
Throughout, sexualization of bodies is a central motif. Luci and her posse hang out at curbside, Bianca and her posse turn tricks and find boyfriends, and Cristiano, after sizing up the crowd at Luci's bar, winds up dancing with himself in mirror reflection.
To say much more would spoil things, so I'll just note that this story is filmed with a pictorial intelligence that one seldom sees these days.  The imagery of the soy fields is at once magnificent and ominous. Drones hover over it like birds of prey, and its horizon haunts the people's lives.
Overwhelming as the landscape is, it doesn't blot out the characters' routines and the crises that disrupt them. Moving from Luci's aimless days and nights to Cristiano's panic to Nadia's quiet  tribute to Madalena, a locket set adrift in the stream that runs along the field, the film pauses for intimate moments. It reminded me a bit of Varda's great Vagabond (Sans toit ni loi), in which an enigmatic figure's fate charts the range of human indifference, but also affords glimpses of sympathy.
An informative discussion of the film with Marcheti is provided by IFFR here.
As we too like it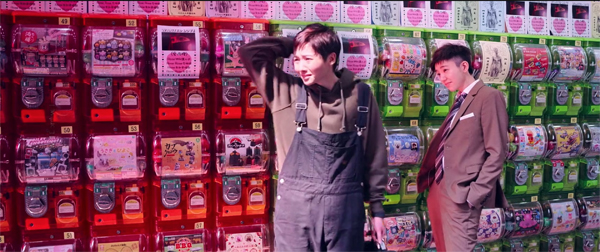 As We Like It (2021).
This movie saw me coming a mile away. It does for As You Like It what Lurhmann did for Romeo and Juliet, but to an Asia-pop beat. Four romantic couples lose and rediscover one another in a magical milieu–not the Forest of Arden (currently under corporate development) but a district of Taipei with no Web connections.  In Heaven, a sign informs us, there is no Internet.
Accordingly, people must deliver messages in person, seek out each other by dint of shoe leather and motorbikes, and actually meet face to face. So Rosalind's quest to find her father the Duke (a genial tycoon) intertwines with Orlando's search for her. But of course she's disguised as a boy and aided by Celia, a fortune-teller who's the dream girl of Orlando's sidekick Dope.
The film's world is maximum kawai, pushing beyond camp to a fangirl fantasy of irresponsible sweetness. This candy-colored city, with its pink blimps and anime posters, spills over with tweens, teens, and twentysomethings shopping in malls, flirting at stalls, and sipping bubble tea.
In the process, old stuff becomes cool.  Tradition, in the form of calligraphy and handmade paper, is a retro decorator choice, while letting your date clean your ears old-style makes him a friend with benefits.
It might all seem sappy, but like Tati's Play Time and Wong Kar-wai's Chungking Express, the film seeks to distill authentic poignancy out of kitsch, schlock, consumer clichés, lethal cuteness, and the detritus of urban lives. Frivolity must be good for something; why else would God give us giggles?  Comic form, as Shakespeare acknowledged, redeems a lot of silliness, especially if the gags are hurled at us with the ruthless conviction that anything goes.
Did I mention that all the roles are played by female performers?
In a switcheroo on Elizabethan theatre, globalization inverts the Globe. The film, a final title tells us, is dedicated to Shakespeare "but also to the patriarchy who would not allow female actors upon the stage." The frisson is akin to that of Tsui Hark's Peking Opera Blues and The East Is Red, where gender-blurring yields both humor and genuine feeling. From instant to instant, you see a character go male or female or something in between; a painted-on mustache and a swaggering gait become cosplay, not deep definitions of you. Unless you want it to be.
Identities are fluid. Okay, says Orlando, so he falls in love with Rosalind, then Roosevelt, and refinds him/her as Rose. What's in a name? You get to call yourself, and be, what you wish, and love whoever.
Not a fresh-minted message these days, but the sparkle comes with how it's all carried off. Every scene finds a clever way to amuse or bemuse. When Rosalind as Roosevelt slips into a trim suit, she pads out the crotch with a towel, and teeny gull-like waves waft out. That's soft power, the equivalent of a mystic ring. Eventually she has to go along when Orlando visits the men's room. While he stands at the pissoir, she ducks into a toilet pretending to take a dump, her groans covering the sound of peeling open a maxi-pad.
The project was co-directed. Wei Ying-chuan, a graduate of NYU's Educational Theatre division, is a founder of Shakespeare's Wild Sisters Group in Taiwan. Chen Hung-yi's feature The Last Painting was chosen for IFFR in 2017 and won a best feature award at Cines del Sur. The pair bring an unflagging energy to the task of creating a paradise of easy living and loving–bereft of villains, open to any piece of harmless fun and heartbreak. As We Like It is a must for every LBGTQ film event, but its hella dirty fun for any festival whatsoever. Couples welcome.
Again, the IFFR provides a fine discussion of the film with the directors, moderated by our old friend Shelly Kraicer.
St. Tropez, mon amour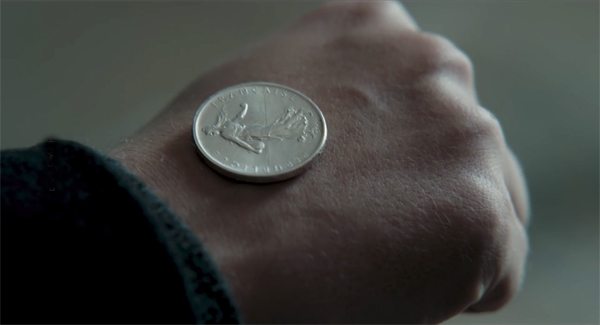 Suzanna Andler (2020).
Eric Bentley once described great serious literature as "soap opera plus." Anna Karenina, Othello, and the rest offer us tormented love affairs, sexual jealousy, hidden schemes, and forced confessions of betrayal, but it's all endowed with wider significance through characterization, implication, style. But can we have soap opera minus?
In Daisy Kenyon, Anatomy of a Murder, and other films, Preminger moves in this direction, banking the fires of conflicts drawn from lurid bestsellers, but other filmmakers have gone further in de-dramatizing melodrama. Dreyer's Gertrud and some of Oliveira's adaptations offer examples. Here we have the classic fraught situations, but muffled and fragmented and punctured through long pauses and wayward, looping, maddeningly banal conversations.
Marguerite Duras made this artistic strategy peculiarly her own, notably in her masterpiece India Song (1974) and its counterpart Son nom de Venise en Calcutta désert (1976). In a curious reversal, she often prepared the film first and then published the text as a quasi-play, as if scraping away the luscious imagery and ripe sound would create something even purer, soap opera distilled to Racinian starkness.
Suzanna Andler, a Duras theatre piece from 1968, has now been adapted to film featuring Charlotte Gainsbourg and three other players. The result isn't as severe as the play reads, since director Benoît Jacquot has filmed it in a gorgeous villa overlooking the Mediterranean. It remains, however, in the tradition of kammerspiel. The bulk of the action takes place in a salon and the terrace outside, with one sequence, also in the play, set on a rocky beach.
The situation is sheer bourgeois melodrama. Suzanna is in a loveless marriage with the philandering Jean. She has apparently stayed with him for the sake of their children and the wealthy life they lead. Now Michel, a young journalist, has tempted her into a love affair, and she has for the first time cheated on Jean–who seems okay with it. Today's crisis, if this counts as one, is her need to decide: Will she lease this villa for the summer with the kids? Or will she accept Michel's invitation to go to Cannes? In the course of about four hours, she may make up her mind.
If some of my synopsis seems hazy, it's partly because the exposition comes out in bits as Suzanna and others chat about her past, and partly because what she says may not be wholly truthful. She sometimes admits to lying. And what was her relation to the never-seen Bernard Fontaine, who has just been killed in a car crash? The blurry backstory is one strategy Duras uses to tamp down the melodrama, which usually gives its plots clear-cut contours and definite revelations.
In filming the play, Jacquot has taken an approach that approximates the rigor of Duras's aesthetic. He has shot the blocks of action using slightly different techniques. Not for him obvious alternatives like color/ black-and-white or a range of tonalities. The differences are made harder to spot because Jacquot has not given us separate chapters corresponding to the act divisions; the scenes blend, punctuated only by long shots. So there are stylistic spoilers coming up.
At the start, Suzanna is shown the house by the real estate agent de Rivière. This segment is filmed in distant shots that emphasize the landscape and straight-on views of the sitting room opening out onto the terrace and the sea. The agent is seen from behind or at a distance, while the few close views we get concentrate on Susanna.
Staying behind alone, she falls asleep and awakes when Michel enters. This is a second phase of the play's first act, and now Jacquot's camera setups take a more oblique view of the room. The full-length windows dominate again, but now at an angle that recalls the magic mirror of India Song (on which Jacquot was an assistant).
The couple is often seen at a distance, but now closer views of Suzanna emphasize the mirror motif.
At a high point, the camera celebrates a momentary reconciliation with a track in to their embrace (the first such florid move in the film, I think).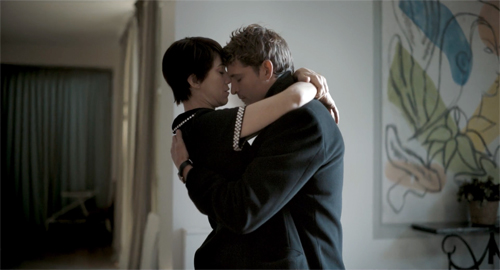 In the sequence corresponding to the second act, Suzanna meets her friend (and Jean's ex-lover) Monique. On the beach they talk of their pasts. Now the conversation is rendered in many rapid, tight shots of the two women. The orthodox shot/ reverse shot setups are sometimes given a strange emphasis when instead of A/B alternation we get two (but only two) variants of a view of each one as she speaks (A1/A2, then B1/B2). So a cut like this::
. . . is followed by ones like these:
Back at the villa, Suzanna answers a phone call from Jean, and they discuss their plans, with the uncertainty typical of all the film's conversations. This scene is handled in circular tracking shots around Suzanna, from a moderately close distance.
As the conversation ends, Michel returns. After he reveals some key information about his relation to Jean, he stretches out on the sofa. In a long take running several minutes, the camera swings around them in a half-circle, clockwise and counterclockwise, often adjusting to her shifts in position.
The changing angle also captures Suzanna perched against a painting of very 60s boomerang shapes that echo the camera's trajectory.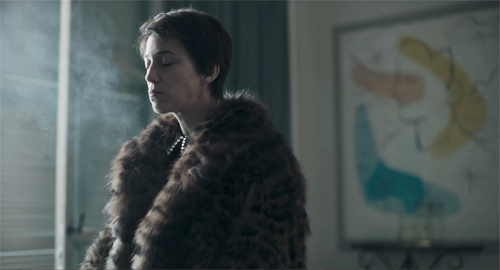 As the action approaches what might be a climax, Michel drifts out to the terrace and sits on the balustrade above the sea. Suzanna approaches.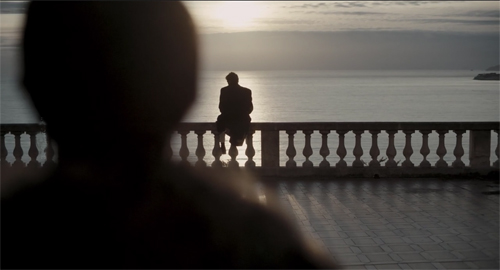 Telling you what happens next would truly be a spoiler. On seeing it, I thought it was something that Jacquot added to the play, but nope . . . it's there in the text, and he's perfectly faithful to it.
As if all this patterning doesn't look finicky enough, the scene on the beach is punctuated by a single shot of the Quai de Passy with a Métro train rumbling by.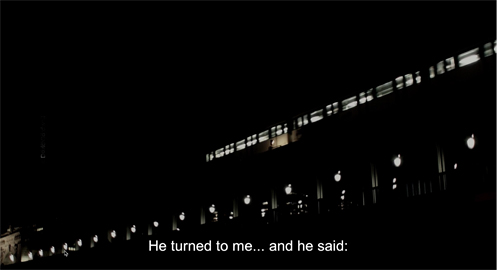 This bump comes exactly halfway through the film, at the moment Suzanna mentions the surge of attraction she felt when Michel looked at her on their first encounter. Believe it or not, the line in the play also comes midway through the text. This alien shot functions expressively, I think. It underscores the epiphany Susanna felt upon learning she might be loved. Another filmmaker might have stressed the moment with music under her monologue, but Jacquot goes for a formal bonus: breaking the visual texture just here further articulates the design of his film.
The rigorous geometry Jacquot has clamped down on the play is interesting in itself, and the abstract array of options adds, I think, to the hieratic quality Duras is after. Yet each style matches the tenor of the action it carries and doesn't conceal the subdued feelings rippling through the scenes. This dimension depends on Gainsbourg–her slim silhouette, her microdress, and especially her face, with her alert chin and hard mouth. Her vacillations have nothing of the diva about them, but still she stands forth as a new avatar of The Confused Woman so beloved of art cinema (Voyage to Italy, L'Avventura, The Headless Woman). Without those closer shots, the film might fall flat.
Once asked what would be his ideal final shot, Jacquot replied: "A distinctive glance [un certain regard] in close-up." His ending delivers that.
Duras is doing something similar to what Wei and Chen do in As We Like It. She is seeking genuine emotion in clichés (unfaithful husband, wrung-out wife, surly rescuer). But she  hasn't exempted her characters from social critique. Hiroshima, mon amour renders the meeting of two lovers as an intertwining of two national histories. The colonialists of India Song, drifting through their sparsely attended embassy parties, trying to replicate salon society in the tropics, cannot hear the voices offscreen of the people they subjugate. Likewise, Suzanna's anxiety may or may not register some distant tremors. In summer of 1968 her world is sliding into something she isn't prepared for. Far away from St. Tropez, in Paris students are hoping to find their own beach, but they're doing it by tearing up the pavement.
---
Again, thanks to Gerwin Tamsma, Monika Hyatt, Frédérique Nijman, and their colleagues at the International Film Festival Rotterdam for allowing us to visit their event virtually. Here's to another fifty years of ambitious programming!
A very helpful edition of Suzanna Andler has been published in conjunction with the film's release. It contains a lot of stimulating background information and critical commentary. Bentley's comment about "soap opera plus" comes from The Life of the Drama (Applause, 1991), 14. Thanks to Kelley Conway for sharing with me the Jacquot interview  in "Réponses à tout," Libération (14 May 2004), 1.
Jacqout's rendition of Duras's play exemplifies what I called in Narration in the Fiction Film "parametric narration." This rare approach consists of playing out a range of expressive possibilities, scene by scene, in ways that both shape the ongoing plot and "anthologize" sharply contrasting cinematic techniques. Noël Burch first proposed this idea in his enduring Theory of Film Practice (1973), although Eisenstein and Bazin envisioned it. But then they envisioned everything.
P. S. later: The Rotterdam prize winners have been announced (per Variety).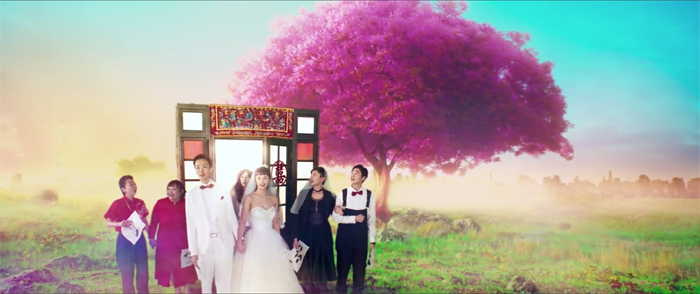 As We Like It (2021).