Tuesday | February 2, 2021
open printable version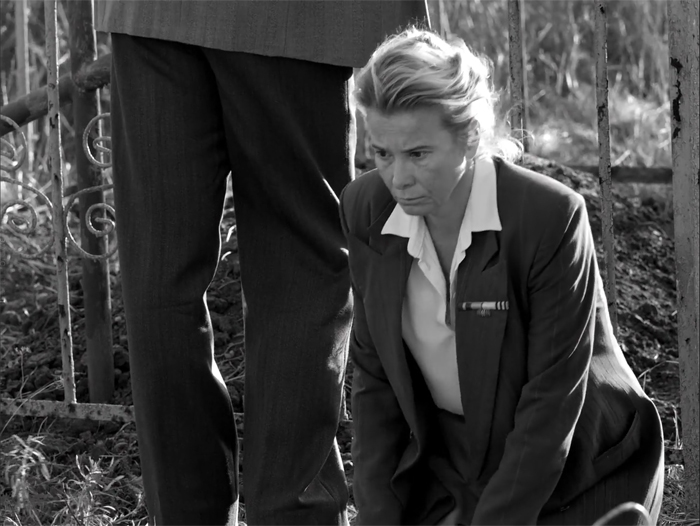 Dear Comrades! (2020)
DB here:
Thanks to Gerwin Tamsma, Monika Hyatt, Frédérique Nijman, and their colleagues at the International Film Festival Rotterdam, we're able to visit this venerable event, celebrating its fiftieth year! As with Venice and Vancouver, we're happy to get online access to some outstanding films. We pass along the news to you here and in upcoming entries.
A dish best served cold?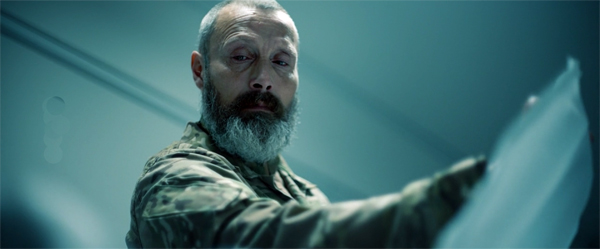 Riders of Justice (2020).
Why is revenge so common as a driving force in film, fiction, and drama? Well, it sets up story action we like: search, mysteries, discovery, pursuit, confrontation. And it's an impulse we find easy to understand. If you wrong me or mine, I'm likely to want payback.
As a high-school teacher once said to me, when I protested that the punishment wasn't fair: "I don't want to be fair. I want to be just." In real life, Trump whines about unfairness, but he wouldn't recognize justice if it met him head-on. Which it just might. Anyhow, in movies justice becomes our noblest excuse for the pleasures of vengeance.
Once our sympathy for the avenger is aroused,  the storyteller has to decide how to treat the plot. Revenge shouldn't be easy. It comes with a price. In Hong Kong films, revenge is usually the righteous settling of accounts.The price it demands is usually physical (wounds, maybe death) and social (the loss of friends cut down in the assault).
There's another tradition of revenge drama that emphasizes the moral costs of revenge, the sense that it taints the avenger. You turn implacable, self-righteous, prone to error. Maybe the target isn't really guilty? And can't you forgive? And aren't you turning obsessive? Can you sacrifice the other parts of your life to this mission?  All of these questions haunt Anders Thomas Jensen's seriocomic thriller Riders of Justice.
Markus, a stolid soldier, returns home when his wife is killed in a subway accident. His daughter Mathilde is traumatized. Markus's stoic grief changes to rage when he is told by the statistician Otto, who survived the accident, that the crash was engineered by a gangster killing a rival. Markus's icy pledge to vengeance sweeps up Otto, his two hacker friends, Mathilde, her boyfriend, and others.
In early days of this blog I wrote a lot about Danish films, which I've always admired. Many years ago Anders Thomas Jensen, director of Riders of Destiny, brought to our Wisconsin Film Festival The Green Butchers (2003). His scripts, for his own films and those directed by others, find a unique, tightly designed blend of drama and humor, with a penchant for showing the dumb side of male bonding (In China They Eat Dogs, 1999; Flickering Lights, 2000; Adam's Apples, 2005)
Riders of Justice is in this vein, but it plays with larger ideas too. It starts and ends with a network-narrative premise (again, very Danish) emphasizing remote human connections. In between the characters come to grips with the role of chance in their lives. Scenes both serious and comic show them trying to reckon the reason behind their impulses. Even the numbermumbler Otto, who calculates probabilities of everything, admits to Mathilde that even the simplest event is impossible to explain through cause and effect.
You know that comfortable feeling you get at the start of a movie, when the story has hooked you, the characters command your sympathy (even when they make mistakes), and you realize that you're in good hands for the next couple of hours? That was my response to Riders of Justice. Not least, it brings together for the umpteenth time two of the finest actors in world cinema, Mads Mikkelson (scary, in a trim Pentateuch beard) and Nikolaj Lie Kaas (sensitive, blinking behind wire-rims).
Riders of Justice has been purchased by Magnolia and is planned for a spring release.
Bolshevik nostalgia in 1.33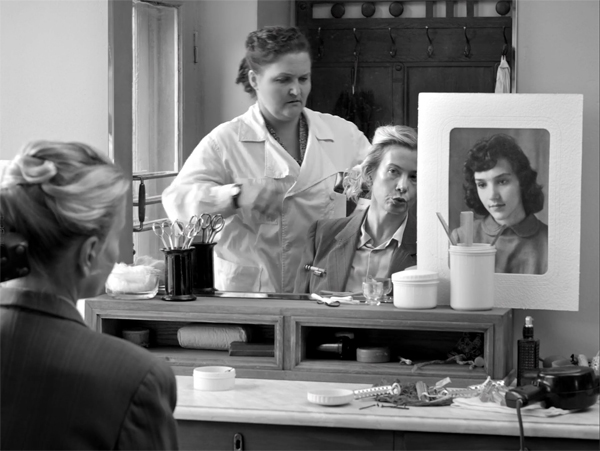 Dear Comrades! (2020)
"Dear Comrades!" is the salutation of a letter never sent. At a meeting of officials trying to handle a sudden strike, Lyudmila Syomina voiced a need for harsh reprisals for these traitors to the Soviet state. But after being called to write a letter and read it at a forum, she flees. She is torn by fear that her daughter has been captured or killed during the very violence she advocated.
Dear Comrades!, the latest and perhaps best film from the distinguished, pleasantly erratic director Andrei Konchalovsky, is set in Novocherkassk, 1962. The strike and the massacre were revealed in 1975 by Alexandr Solzhenitsyn and confirmed by an  inquiry in 1992. Konchalovsky has undertaken a historical recreation, an examination of his parents' postwar generation, and, I think, an oblique critique of authoritarianism. He seems equivocal about Putin's "managed democracy" (though he's not as big a booster as his brother Nikita Mikhalkov). In any case,  we can't help seeing the film as echoing the tyranny on display in Russia's recent years, i.e., yesterday. Unlike the current demonstrators supporting Navalny, though, Konchalovsky's characters yearn for well-run autocracy. After all, under Stalin, prices went down.
Classic Soviet fiction and film featured what's come to be called a "conversion narrative." In order to build any plot, you need drama. But you also have to conform to Bolshevik ideology. Some conflict can be supplied by villains ("traitors," "wreckers") seeking to undermine the Great Soviet Experiment. You can also create drama with characters who are ignorant of the true way, or uncertain about abandoning personal commitments and embracing the Party. So the plot can trace the gradual conversion of a character to sturdy Communist principles. This functions, in classic Socialist Realist storytelling, as psychology.
But Lyudmila is a hard-core Party loyalist. She benefits from the perks of office: a love affair with her superior in a nice apartment, the ability to jump the queue scrambling for food and matches, a paycheck that pays for a European-style coiffure. In exchange she mouths, with unblinking cobra severity, a strict adherence to policy. Yet her daughter Svetka has joined the strike and goes missing during the melée.Lyudmila's search doesn't easily dissolve her ideological tenacity. Like Mother Courage, Lyudmila stubbornly refuses to see what's in front of her. She can't believe that the KGB, not the Army, would plan a massacre that mowed down citizens.
Eventually we get glimpses of a de-conversion narrative. Lyudmila starts to sense that the current system is corrupt. "What am I supposed to believe in if not communism? Blow it all up and start again." Yet what should replace it? The only alternative she knows. "I wish Stalin would come back."
Konchalovsky has shot the film in lustrous, drypoint black and white, and in a silent-era ratio of 1.33:1. It's one of the most elegantly composed and staged films I've seen in recent years; it could be studied just for its use of axial cuts. I'd almost call it "Straubian-Huilletian," were it not so defiantly committed to the melodrama of a family crisis within social turmoil. But Dear Comrades! is far from your standard historical pageant. It's at once austere and inventive.
Konchalovsky activates a great many motifs from classic Soviet film, treating them both for sly comedy and sharp drama. Satire on bureaucracy, another traditional source of plot developments, pervades the first half. Like Eisenstein in October, Konchalovsky can spare a shot mocking an empty conference table after the staff has fled.
Eisenstein is of course more grotesque: the panicked Mensheviks have leaped out of their furs, or been Raptured. The portrait of Khrushchev stands in for the Stalin picture hanging in every Socialist Realist office, parlor, bivouac, and meeting hall.
Konchalovsky stages the massacre of the strikers mostly through the heroine's viewpoint. In place of the vast views supplied by Eisenstein in October (1928), the camera is tied down to a beauty shop.
In Soviet World War II films, the officials plan strategy in monumental headquarters (Front, 1943). The shabby offices of Konchalovsky's provincials seem both cramped and hollow.
During the agitation and cleanup, Konchalovsky seems to me to rework specific images from Eisenstein's Strike (1925). The hosing of blood from the streets seen in reflection echoes a shot of the factory in Strike. And in both, the police study the spies' snapshots of strikers.
Dear Comrades! deserves all the attention it's getting. Winner of this year's Special Jury Prize at Venice, it has been picked up by Neon for US release. It's also Russia's submission for the Best International Feature Film Academy Award. It's being streamed by several film festivals, notably Seattle's, which offers it at a very reasonable price. But how I long to see it on the big screen.
---
I discuss some Danish network narratives in Chapter 7 of Poetics of Cinema and other examples in some entries. Katerina Clark has an excellent discussion of the conversion narrative in The Soviet Novel: History as Ritual (Indiana University Press, 2000). For a discussion of Socialist Realist film style, see this entry.
P.S. 4 Feburary 2021: Anders Thomas Jensen gives a very informative interview about Riders of Justice in Variety.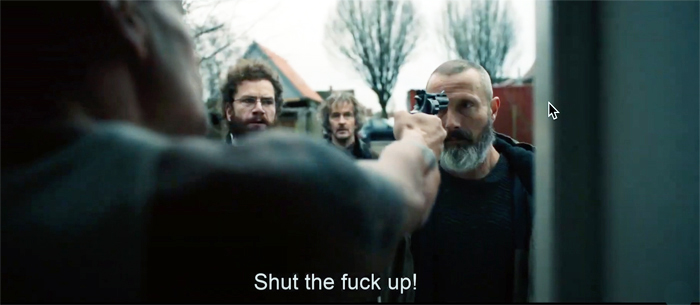 Riders of Justice (2020).